Come along, readers! This is the second installment of the Geek Chic column's series on fashion inspired by the BBC program Doctor Who. This time around, I'll be focusing on the current Doctor's friends and foes, while Part 3 of this series will cover the Ninth and Tenth Doctors' companions.
Never watched the show or need a quick recap? Read Doctor Who Fashion: Part 1 to get all caught up! 
And for more geeky goodness, check out previous Geek Chic posts about Star Trek-inspired fashion, The Big Bang Theory-inspired fashion, and The Lord of the Rings-inspired fashion.
Know Your Geek: About the Doctor's Companions
Also called an "assistant", the companion is someone who travels with the Doctor on his adventures. They're not always there by choice and they don't always stay for long, but one thing's for sure: they certainly are lucky! (I'm sure most of us would absolutely love a trip on the TARDIS!)
Since the Doctor has pretty much seen it all in his centuries of time travel, he likes having humans around so he can vicariously re-experience the excitement of seeing the universe for the first time. Companions often act as his conscience; the Doctor himself has said that "my friends have always been the best of me." He's captivated by their oh-so-human capacities to hope, to love, and to dream.
In addition, the human companions serve as a lens for the audience; since we're not 900-year-old Time Lords, the companions often ask the same pressing questions about time and space that we want answered.
Companions tend to be young, attractive females: While the Doctor and his companion are usually just friends, there's been the occasional romance onboard the TARDIS. Current companions Amy and Rory are the first married couple to ever travel together with the Doctor.
Outfits Inspired by The Doctor's Friends and Foes
Okay kids, this is where it gets complicated…hold on tight as we embark on another fashion-fueled adventure through the Time Vortex!
Amy Pond
Amy, played by the gorgeous Karen Gillan, may not be not the feistiest ginger to ever grace the TARDIS (Donna Noble will forever hold that title), but she's definitely one spirited Scottish lass! She first meets the Doctor at the age of seven, but due to a slight timey-wimey mishap, she doesn't get to travel with him for another twelve years.
Nevertheless, she's extremely loyal to the Doctor (sometimes to a fault) and lives for adventure. Though there was initially some viewer outcry about her abbreviated hemlines, Amy's definitely proved to be a strong female character unafraid to speak her mind. In the beginning of her story arc, Amy often displayed childish, petulant behavior. Now, she's transitioned from being the girl who waited to being an independent woman.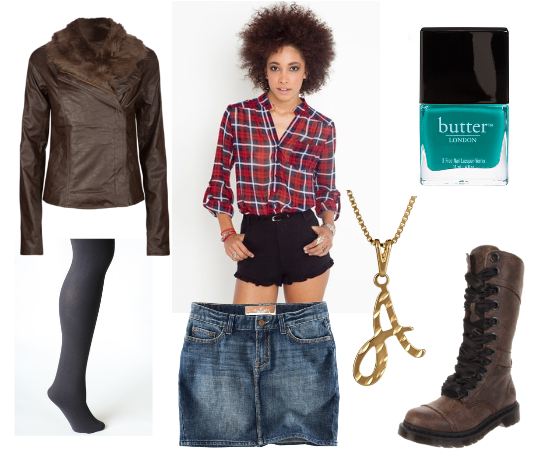 Product Information: Jacket, Shirt, Skirt, Boots, Necklace, Tights, Nail Polish
The great thing about Amy's style is that it's really accessible: Most of her key pieces are already hanging in the typical college girl's closet, and a great deal of her wardrobe comes from mall/high-street shops like Topshop, H&M, American Apparel, and UNIQLO. Copying her whole outfit is no fun (unless you're cosplaying), so add a trendy twist on her classic plaid shirt with this sheer blouse. Amy's never met a leather jacket she didn't like, and she'd surely snap up this faux-fur trimmed one in a heartbeat.
Karen Gillan definitely lucked out in the genetic lottery, but a denim mini is cute even if you haven't got never-ending legs like hers! Get her exact footwear with Doc Marten Triumphs, or slip on your favorite pair of ankle boots or Converses. Accessorize with a pair of tights and fun nail polish, then personalize the look with a necklace with your own first initial.
Rory Williams
Rory, played by Arthur Darvill, is Amy's boyfriend and later her husband. He starts off as a well-meaning but rather hapless bloke, but he undergoes some serious changes after joining the TARDIS crew. While Amy and the Doctor love jumping into the thick of things, Rory is usually more hesitant.
Don't be fooled by his cautious demeanor, though: This compassionate nurse definitely comes into his own as a courageous and mature character. He's incredibly faithful to his friends and family and is often the one who ends up really moving the audience with his actions; most memorably, Rory chose to protect his wife for over two thousand years in the form of The Last Centurion. (All together now: Awwwww!) In one particularly tear-jerking episode, Amy calls him "the most beautiful man she's ever met."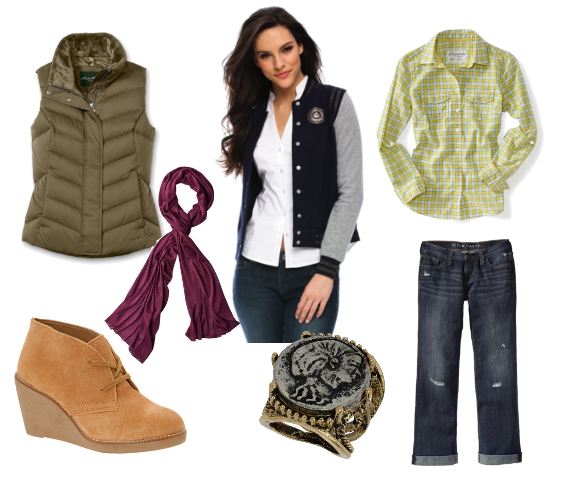 Product Information: Shirt, Vest, Jacket, Jeans, Scarf, Shoes, Ring
Rory, like his wife, is a big fan of plaid and also wears a good deal of Topman clothing. (Topman is the men's offshoot of Topshop.) Layer a yellow gingham shirt and neutral puffer vest, then add a pair of appropriately named boyfriend jeans for a sporty but put-together look. Top it all off with a varsity jacket. (Letterman-inspired outerwear has been a hot trend this year!)
Now it's time for accessories. Wedge heels put a feminine spin on Rory's usual desert boots and add another hint of a trend. Finally, as a nod to Rory's title of The Last Centurion, add a Roman-inspired ring and a burgundy scarf reminiscent of his cloak.
River Song
Dr. River Song, played by Alex Kingston, is an archaeologist and time-traveler with a mysterious past. Keep in mind that there may be readers who haven't watched the show yet, so please try to avoid major spoilers in the comments! Although the Doctor and River's paths have crossed many times, they don't always meet in the right order. As such, River always documents her adventures in a TARDIS-blue journal so she and the Doctor can match their timelines at each encounter.
River Song may have a melodious name, but she's no shrinking violet: River has major fighting chops and isn't afraid to use them, though the typically pacifistic Doctor doesn't always approve of her aggressive approach.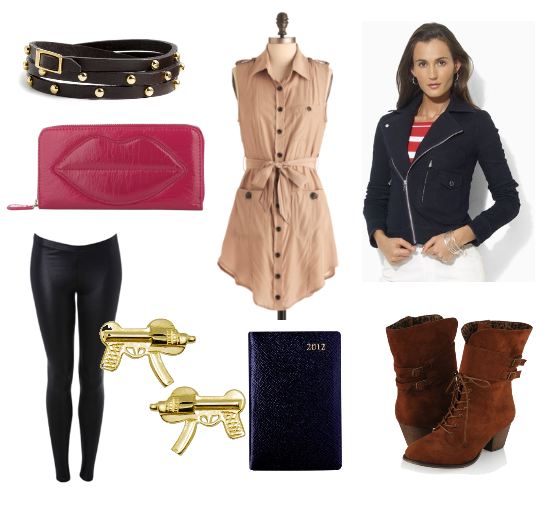 Product Information: Jacket, Tunic, Leggings, Boots, Clutch, Bracelet, Earrings, Planner
Dr. Song has a fierce wardrobe to match her take-no-prisoners attitude; she favors sexy silhouettes and labels like AllSaints Spitalfields and Christian Louboutin. A cargo tunic and denim moto jacket paired with sleek liquid leggings make for a practical outfit that still oozes sex appeal. River's ready to run with the Doctor at a moment's notice, so make sure to pick sturdy footwear like these buckled boots.
Accessorize with a leather wrap bracelet that's both pretty and tough, then add some fun allusions with a blue planner similar to River's journal, gold earrings shaped like her trusty alpha meeson blaster, and a pouty patent clutch that references her handy-dandy hallucinogenic lipstick. Hello, Sweetie!
Amelia Pond
As I mentioned above, Amy first meets the Doctor at the age of seven; back then she went by the name Amelia. Played by Karen Gillan's real-life cousin Caitlin Blackwood, Amelia Pond is a gutsy orphan who lives with her aunt and yearns for adventure – she's not at all fazed when a strange man in a blue box drops out of the sky into her front yard.
Since the Doctor's fresh out of regeneration when he meets her, he's starving but has no concept of what he likes, and demands that she "fry him something." After a series of culinary experiments, he finally settles on fish fingers and custard. The Doctor promises to take her along with him in the TARDIS after he makes some quick repairs, so Amelia eagerly packs her suitcase and waits for him all night. Twelve years and four psychiatrists later, she still hasn't given up hope on her "Raggedy Doctor."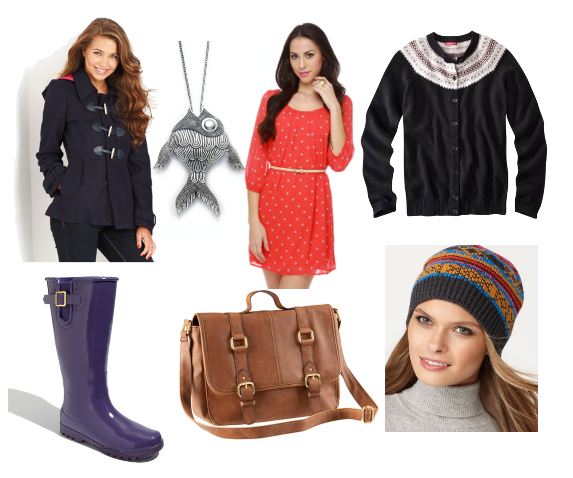 Product Information: Coat, Dress, Cardigan, Boots, Hat, Bag, Necklace
Not only is Amelia Pond an extremely brave seven-year-old, but she's also got some bold fashion sense! Get her look with a toggle coat similar to her Topshop one. A polka-dotted dress and Fair Isle cardigan form a more grown-up take on her cute nightgown and bed jacket.
It wouldn't be very practical to carry a suitcase to class, so pack up your school supplies in this briefcase-inspired satchel. A pair of bright wellies and cozy hat make the outfit perfect for a rainy or chilly day. Finally, add a fish pendant as a reference to Amelia's most celebrated recipe.
The Weeping Angels
Created by current showrunner Steven Moffat, the Weeping Angels were first introduced in the absolutely terrifying Tenth Doctor episode "Blink" (which featured Carey Mulligan in one of her earlier roles), though they've since appeared in a few Eleventh Doctor stories. Widely recognized as some of the creepiest Doctor Who monsters ever, the Weeping Angels are an ancient race of aliens with an ingenious defense mechanism: When someone is looking at them, they become "quantum-locked" and turn to indestructible stone.
But don't underestimate these aliens: Glance away — even for a split second — and they can move faster than the wind. Unfortunately, they generally want to kill you and/or feed off your potential temporal energy. So remember: Don't blink — don't even blink. Blink and you're dead. Don't turn your back. Don't look away. And don't blink.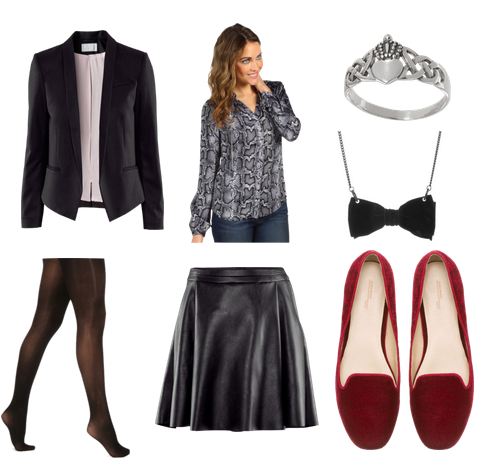 Product Information: Dress, Jacket, Shoes, Ring, Earrings, Eyelashes
To channel one of the Lonely Assassins (so called because they cannot look at each other for fear of being forever turned to stone), start with a draped dress in heather gray, then add a polished charcoal blazer. Silver and gray would make for a rather predictable pairing, so slip on strappy bronze platforms instead for an unexpected color combo. A pair of wing-shaped earrings and a stone ring complete the lethally elegant ensemble.
If you followed the Doctor's instructions, you should have your eyes wide open by now, but if you absolutely must blink, make sure you're wearing a pair of false eyelashes: Perhaps your flirty, fluttering lashes will persuade the deadly Angels to take mercy! (But seriously, don't blink.)
What did you think?
Would you wear these looks? Who is your favorite of the current companions? (I'd certainly like a Rory in my love life!) Are you looking forward to fashion inspired by previous companions? What other geeky inspirations would you like to see? (A genetically modified little bird told me that the column will be paying tribute to Panem next time.) Let me know in the comments!