Since I write the Geek Chic column here at CF, it should come as no surprise that I obsess over a lot of sci-fi/fantasy series. Of all these, though, it's The Lord of the Rings that will always be my…precious… and the one tale to rule them all.
J.R.R. Tolkien's story of nine unlikely allies and their epic quest to save Middle-earth is beloved by millions and has been adapted several times. Peter Jackson's critically acclaimed film adaptations starred Elijah Wood, Sean Astin, Viggo Mortenson, Sean Bean, Orlando Bloom, John Rhys-Davies, Dominic Monaghan, Billy Boyd, and Sir Ian McKellen as the Fellowship of the Ring and won a total of 17 Academy Awards. (The Return of the King won all of its 11 nominations and was the first and only fantasy movie ever to win Best Picture!)
Individual breakdowns for every character would make this post longer than a back-to-back viewing of all three extended editions of the films; instead, I've put together looks based on styles from six realms of Middle-earth through which members of the Fellowship travel.
For more sci-fi/fantasy fashion, check out previous Geek Chic posts about looks inspired by Star Trek, looks inspired by Doctor Who, and looks inspired by The Big Bang Theory!
Know Your Geek: About The Lord of the Rings
The three volumes of the series (The Fellowship of the Ring, The Two Towers, and The Return of the King) recount The War of the Ring, which occurred in the Third Age of a land called Middle-earth. Sauron, the deceitful overlord of Mordor, was defeated in an earlier age but his malevolence lives on in the form of the Ring. (It's like the granddaddy of all Horcruxes.)
Now, Sauron has risen and again threatens the Free Peoples of Middle-earth. The Ring has fallen into the hands of Frodo Baggins, a hobbit. He and eight companions must embark on a mission to destroy the Ring in the fires of Mount Doom and thus vanquish Sauron once and for all.
Tolkien was an Oxford professor of philology (i.e. literary studies, history, and linguistics); he first created several Elvish languages, then began to weave a mythology behind these constructed tongues, which eventually led to The Hobbit and subsequently The Lord of the Rings. Although we know him best for his stories, Tolkien's real passion was languages – in his lifetime, he constructed at least twenty of them, each with its own functioning grammar and vocabulary.
Sweet Valentine's Day bonus fact: In The Silmarillion, Tolkien's comprehensive history of Middle-earth, he recounts the epic, undying love between Beren, a mortal Man, and Luthien, an immortal Elf-maiden. Tolkien's beloved wife Edith was his inspiration for the character Luthien, whom he described as the most beautiful of all living creatures. He passed away just 21 months after Edith's death in 1971; inscribed below their names on their headstone are the names "Beren" and "Luthien."
Outfits Inspired by The Lord of the Rings
Three Rings for the Elven-kings under the sky, seven for the Dwarf-lords in their halls of stone, nine for Mortal Men doomed to die, one for the Dark Lord in his dark throne…and six Middle-earth looks for you to try!
The Shire
The journey begins in the Shire, home to a race of people called hobbits. Hobbits are short (on average, three foot six) and have tough, hairy feet. They're easygoing folk who enjoy the simple pleasures in life: a pint of ale, a festive birthday party, a brace of coneys, some nice taters. Naturally, their garb reflects this playful, pastoral nature.
Ngila Dickson, the trilogy's Oscar-winning costume designer, dressed the film hobbits in clothing that evoked the 18th century English countryside: Women typically wore puff-sleeve blouses and pinafores with fitted bodices and full skirts, while men wore cotton shirts, waistcoats, and cropped trousers. Hobbits also tend to wear natural fibers in harvest tones.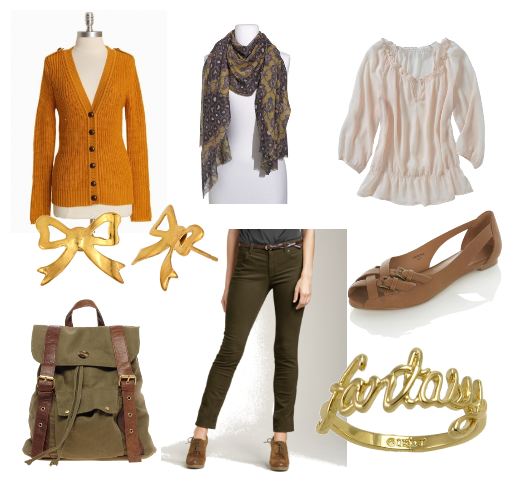 Product Information: Cardigan, Blouse, Cords, Scarf, Shoes, Backpack, Earrings, Ring
If you're going to be taken to Isengard, you may as well go in style. This outfit references all four hobbits in the Fellowship: I've included a woolen scarf for Pippin and a mustard cardigan for Merry. You can purchase official replicas of the One Ring, but for a subtler homage to Frodo the Ringbearer, go with a golden script ring that also describes the story's genre. Last but certainly not least, the bow earrings represent Samwise Gamgee and his lady love, Rosie Cotton, who danced with ribbons in her hair.
Add cropped corduroys, tan peep-toe flats (unless you have hobbit feet, going barefoot is not advised) and an airy blouse for a distinctively Shire look. Finally, a canvas knapsack is perfect for toting your books on those long treks across campus.
Rivendell
Next, the journey leads our heroes to the Elven outpost Rivendell, home of Lord Elrond and his daughter Arwen. Rivendell is situated in an idyllic valley, surrounded by waterfalls and gorgeous foliage. It's here that the Council of Elrond meets and the nine companions — Frodo, Sam, Merry, Pippin, Aragorn, Boromir, Legolas, Gimli, and Gandalf — are declared the Fellowship of the Ring.
The immortal Elves the are fairest and wisest of all beings, and their elegant clothing certainly reflects this high status. Rivendell residents typically wear rich autumn hues and beautifully draped fabrics like silk, velvet, brocade, chiffon, and suede. Elves are very connected to the environment, so their clothing always has an organic quality; medieval style and Art Nouveau also inspired their film look.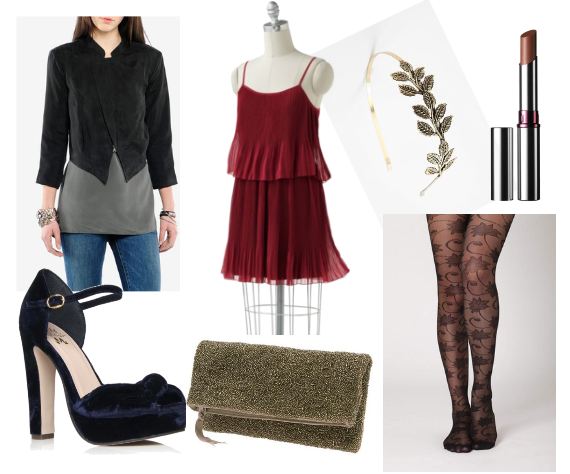 Product Information: Jacket, Dress, Shoes, Clutch, Tights, Headband, Lipstick
Capture the timeless elegance of Rivendell with this outfit. A structured suede jacket is a nice contrast to the soft drape of a burgundy tiered dress, and velvet platform heels in a regal navy blue look luxurious without being over-the-top. In the films, many of Arwen's gowns have intricate embroidery and beading, so add some embellishment in the form of a gold beaded clutch and delicate vine tights. Finally, slip on a leaf headband for an ensemble that's fit for an Elven princess.
Remember to keep your makeup simple to let your natural beauty shine! (If you want a film-accurate look, Liv Tyler [Arwen] wore cult fave Clinique Almost Lipstick in Black Honey onscreen.)
Lothlorien
After passing through the Mines of Moria, the Fellowship arrives at the mysterious realm of Lothlorien, which is governed by the Lady Galadriel and Lord Celeborn. The greatest of Elven women, Galadriel possesses one of the three Elven rings of power and uses it to ensure Lothlorien's safety. The realm is an enchanted place where time slows down and evil cannot linger.
Although Lorien is known as The Golden Wood, the film series portrays it more as a vision of grays and silvers. Galadriel favors shimmering white gowns shot through with silver thread, while her husband Celeborn wears elaborately embroidered silk robes. Other inhabitants of Lorien, such as Haldir, typically wear light layers of wool in muted shades of green and gray.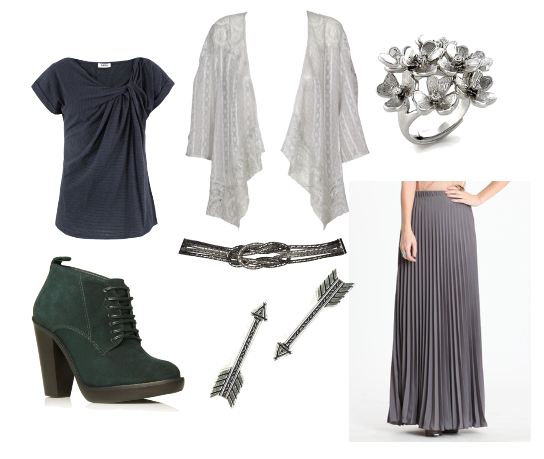 Product Information: Jacket, Shirt,Skirt, Belt, Shoes, Ring, Earrings
I considered choosing a white lace minidress for this look, but didn't think that quite captured Lothlorien's ethereal radiance. Instead, don a knotted jersey shirt, delicate lace jacket, and graceful maxi skirt: Psychic powers and immortality notwithstanding, nothing will make you feel more like Galadriel than the soft drape of flowing chiffon as you glide across campus. Sturdy olive boots keep the look grounded.
This woven metal belt is quite similar to the one that Celeborn wears, and the blossom ring is reminiscent of Nenya, Galadriel's ring. Wood-elves of Mirkwood (such as Legolas) and Lorien are skilled archers, so reference that talent with arrow earrings. If you like, plait a few fishtail braids into your hair to truly channel the Elves of Lorien. (Pointy ears are definitely optional.)
Rohan
Ruled by King Theoden, Rohan is a grassland realm, populated by Men known as the Rohirrim, who are renowned for their skill as great horse lords. Anglo-Saxon culture (think Beowulf) heavily inspired Tolkien's imagining of Rohan. This influence is quite apparent in Rohirric attire, which features thick leather chestplates, bulky chainmail, golden horse and sun motifs, and predominantly red, brown, and green colors.
Eowyn, the king's niece and a shieldmaiden of Rohan, wears beautiful but oppressive gowns of heavy wool, velvet, and jacquard. Although she loves and respects her uncle, she chafes at the restrictions placed on her as a woman and yearns to show great valor in battle; she later disguises herself as a man to achieve this goal.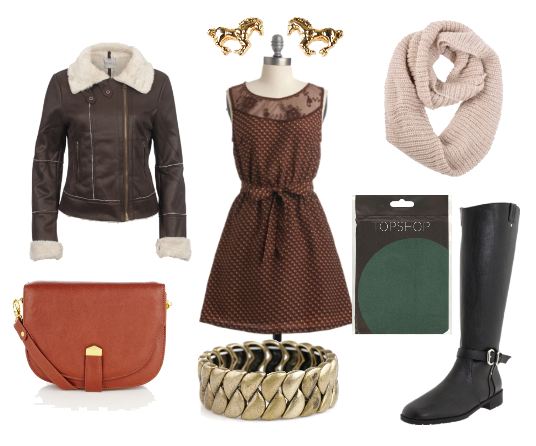 Product Information: Jacket, Dress, Scarf, Boots, Tights, Earrings, Bracelet, Bag
There'd certainly be "neigh-sayers" if horses weren't somehow included in a Rohan-inspired outfit, so start with a chocolate brown frock in a subtle horse print. Stay warm with a faux shearling jacket and cozy oatmeal scarf. Emerald tights recall Eowyn's green velvet gown and add some color to an otherwise monochromatic ensemble. To reflect Rohan's hardy nature, choose substantial jewelry like this chunky gold bracelet.
Now it's time for accessories: Add more equestrian details with sturdy riding boots, horse earrings, and a cross-body saddle bag. You don't have to ride with the cavalry or slay the Witch-king of Angmar to prove yourself, but you can certainly stand proud in a look inspired by the valiant Rohirrim.
Gondor
Gondor is the greatest realm of the race of Men. It's a proud civilization steeped in ancient tradition, but its power is slowly crumbling. The capital Minas Tirith houses the White Tree, which does not flower due to the broken lineage of rulers; Gondor has had no king for centuries and Stewards such as Denethor, father of Boromir and Faramir, rule in their stead. However, as the long-lost Heir of Isildur, the Ranger Aragorn is destined to reclaim the throne and become King of Gondor.
Tolkien based Gondor on the Byzantine Empire, which can be seen in the militant nature of the kingdom and in civilians' clothing. Gondorian warriors, who always bear the White Tree crest, wear refined chainmail and plate armor inspired by that of 15th century Italian soldiers.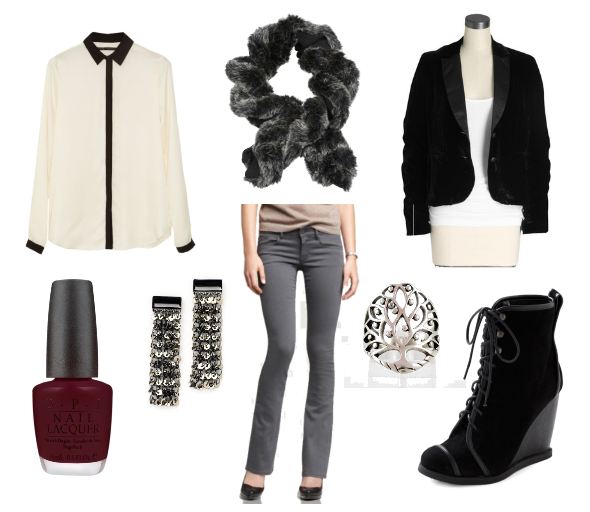 Product Information: Jacket, Shirt, Scarf, Jeans, Boots,Earrings, Ring, Nail polish
Most Gondorian clothing comes in somber shades of black, gray, and white. Use the minimalist color palette to your advantage with a chic ensemble that captures the proud grandeur of The White City. A jet black velvet blazer and ivory blouse convey a no-nonsense attitude, while a gray fur stole adds a touch of opulence. Cool lace-up wedge boots up the style factor.
Wear chainmail-inspired earrings as a nod to Gondor's militant culture; a sterling silver ring shaped like the White Tree alludes to the kingdom's heraldry.  For a splash of color, paint your nails a deep maroon. While some might contest that Gondor has no king and that Gondor needs no king, there's no question that you'll rule the school with this Minas Tirith-inspired look!
Mordor
The Dark Lord Sauron rules over the land of Mordor, an evil place shrouded in shadow. In the form of a Great Eye, he is ever-watchful over his domain. It's a desolate wasteland populated by orcs, twisted creatures that exist only to carry out the nefarious bidding of their master. The nine Men who were gifted rings of power have since been corrupted into the Nazgul, or Ringwraiths, who are slaves bound to the power of the Ring.
It's to this foul place that Frodo and Sam must travel in order to cast the Ring into the fires of Mount Doom, the volcano in which Sauron forged his ring of power and the only place where the Ring can be destroyed.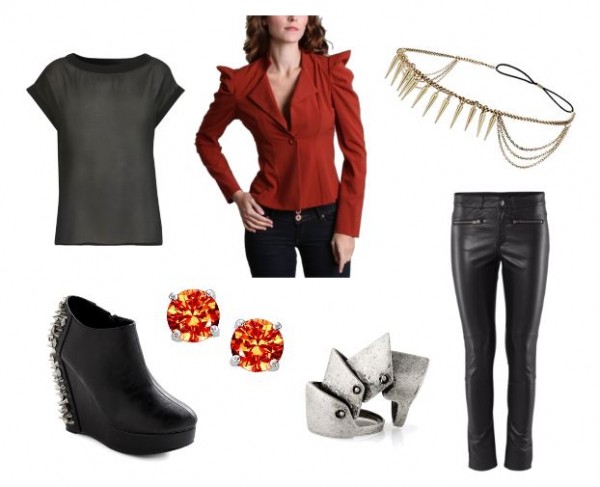 Product Information:Blazer, Shirt, Pants, Earrings, Shoes, Ring, Headband
As Boromir says, one does not simply walk into Mordor; nevertheless, you can take a walk on the bad side with an outfit inspired by Sauron and his minions. This look combines elements of the Dark Lord in both living and disembodied-eye form: A tough knuckle ring and a blazer with bold shoulder detailing resemble his battle armor, while fiery opal earrings reference the Eye of Sauron.
Though you probably have no desire to actually look like an orc, you can channel their ferocity with spiky boots and leather pants. A sheer black shirt evokes the ghostly malevolence of the Nazgul. Finally, a chain and spike headband completes this wickedly villainous look. It's good to be bad!
What did you think?
Do you love The Lord of the Rings? Would you wear these looks? Which land do you like best? Do you have a favorite character? (Mine's Boromir!) Are you absolutely dying to see The Hobbit: An Unexpected Journey in December? And more importantly, will you go in costume? What other geeky inspirations would you like to see? (Next time, we're visiting the last centurion and the girl who waited!) Let me know in the comments!
P.S. Hope you're not too disappointed with the lack of a Gollum-inspired look. I tried my best, but a scraggly loincloth does not a school-appropriate outfit make.