This post may contain affiliate links, which means we may receive a commission if you purchase through our links. Please
read our full disclosure here
.
After the previous Geek Chic post about fashion inspired by the original Star Wars trilogy, it seemed only natural to return to that galaxy far, far away with a post about the Star Warsprequel trilogy.
The prequels introduced us to pod-racing, midichlorians, and the much-abhorred Jar-Jar Binks. (I'll be honest, though: maybe it's because I was only 7 when I saw The Phantom Menace in theaters, or maybe it's because I wasn't a die-hard fan back then, but I remember thinking that Jar Jar was pretty cool.)
(For more Geek Chic, check out previous posts about Lost-inspired fashion, The Avengers-inspired fashion, Sailor Moon-inspired fashion, Doctor Who inspired fashion (plus Part 2 and Part 3), Sherlock-inspired fashion, Star Wars Original Trilogy-inspired fashion, The Hunger Games-inspired fashion, The Big Bang Theory-inspired fashion, the Lord of the Rings-inspired fashion, and Star Trek-inspired fashion.)
Know Your Geek: About the Prequel Trilogy
In 1999, sixteen years after the release of The Return of the Jedi, Episode I: The Phantom Menace was released. Episode II: The Attack of the Clones and Episode III: The Revenge of the Sith were released in 2002 and 2005, respectively.
The prequels are set 32 years before the events of Episode IV and explain the creation of the Empire, and subsequently, the Rebel Alliance. They also explore the history behind the Skywalker family.
Outfits Inspired by Padme Amidala
This time around, we'll be focusing on just one character: when it comes to the prequel trilogies, Natalie Portman's Padme Amidala is the undisputed fashion star. While her wardrobe might not have the iconic status of her daughter's cinnamon-bun hair or slave bikini, Padme definitely passed on some rockin' fashion genes to her offspring.
(For more on her style, be sure to see our guide to Padme Amidala's outfits.)
Queen Amidala
Padme Naberrie was only 14 when she was elected queen of the planet Naboo. After ascending the throne, she was known as Queen Amidala. She was adored by her people because of her compassion, intelligence, diplomacy, and utter dedication to her planet's well-being.
With Amidala's young age and petite frame, it makes sense that her wardrobe is heavy on volume to accentuate and symbolize her power as queen. Channel her regal air with an outfit that makes a big impression: Pair a peplum top with wide-leg trousers for a look that features volume but is still flattering and polished. A sock bun is a modern and more practical take on Amidala's intense hairdos, while fun jewelry alludes to the decorative details on Amidala's robes.
Product information: Blouse, Trousers, Lipstick, Necklace, Bracelet
The Galactic Senate
After completing her two-year term as elected monarch, Padme became a Senator, representing Naboo in the Galactic Senate. As Senator Amidala, Padme can be seen wearing stiff velvet gowns in somber colors. Although she's an adept politician, Padme can only watch in horror as the democratic Republic becomes corrupted into the totalitarian Empire.
If you ask me, it's never too early to start thinking about fall fashion, and Padme's Galactic Senate attire is a great autumn inspiration. Rich hues like burgundy, amethyst, and olive make this simple combination of a skirt, top, and jacket stand out. The sash belt and stone earrings add just a touch of shine.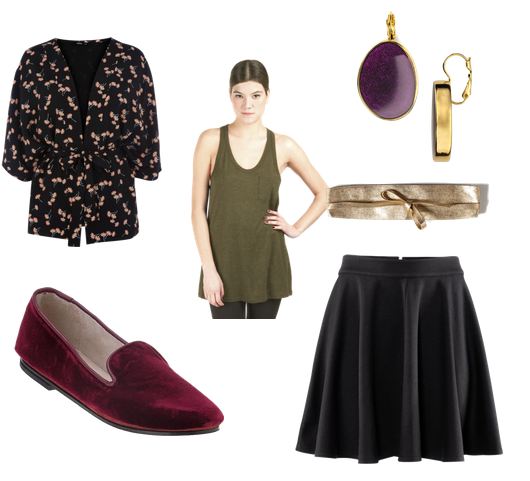 Product information: Tank, Jacket, Skirt, Loafers, Belt, Earrings
Just Padme
After several attacks on the Senator's life, it's decided that Padme should be assigned a protector in the form of Jedi Apprentice Anakin Skywalker, whom she met several years earlier when he was just a young slave boy and she was in disguise. Together, they travel to Padme's home planet and stay at an idyllic lakeside villa, where they fall in love.
Far from the oppressive decorum of Coruscant, Padme is free to be herself and to dress as she pleases. Unlike the heavy royal and Senate gowns, Padme's Naboo wardrobe is airy and feminine, featuring light embroidery and romantic chiffon. This romantic, Padme-inspired look is perfect for spring: Wear a breezy top and skirt with lace details with natural canvas wedges and a pretty floral necklace. An ivory bracelet is reminiscent of the japor snippet pendant Anakin carved for Padme when he was a boy.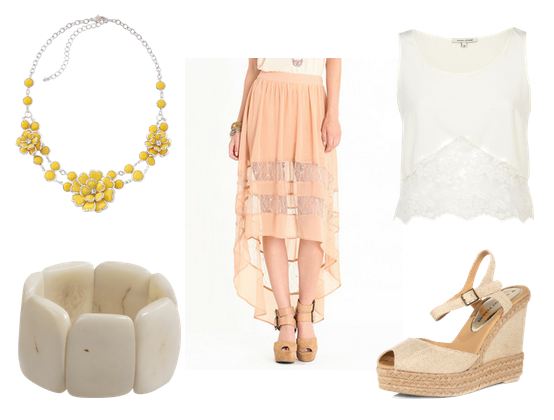 Product Information: Top,Skirt, Sandals, Necklace, Bracelet
Prepared to Fight
For the most part, Padme believes in pacifism. However, she definitely isn't subservient! If necessary, Padme will fight for what she believes in and for those she loves. (It tends to be on these occasions that she wears [very skintight] pants.)
Capture Padme's fearlessness with a bold summer look. White jeans are much easier to wear than white leggings; plus, they're the quintessential summer pant! Add a cool cutout top in cobalt, one of the hottest shades for 2012. Finally, toughen up the look with leather and metal shoes and accessories.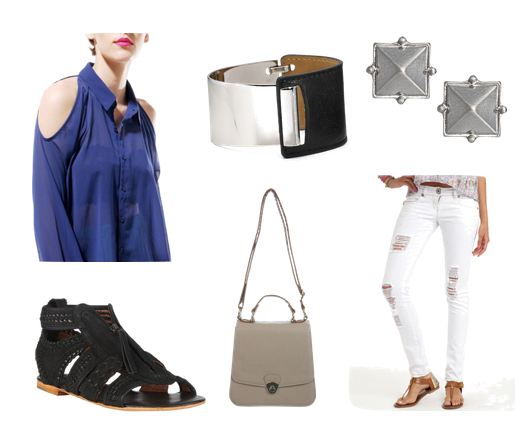 Product information: Top, Jeans, Shoes, Bracelet, Earrings, Bag
What did you think?
Would you wear these looks? Did you watch the prequel trilogies? Thoughts on Jar Jar? What other geeky inspirations would you like to see? (Next time, we'll turn to — what else? — a blog, for some horrible inspiration. It'll be a brand new day!) Let me know in the comments!