This post may contain affiliate links, which means we may receive a commission if you purchase through our links. Please
read our full disclosure here
.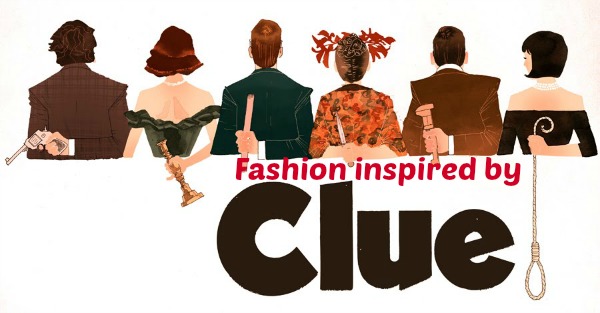 When the weather starts to get chilly and bleak, one of my favorite things to do is to curl up with a blanket and a good mystery, whether it's in novel or in movie form.
While I appreciate a properly dramatic and suspenseful thriller, there's nothing quite as wonderfully wacky and morbidly fun as Clue, the 1985 film adaptation of the popular board game (known as Cluedo for our readers outside of North America).
The murder mystery parody stars Tim Curry, Eileen Brennan, Madeline Kahn, Christopher Lloyd, Michael McKean, Martin Mull, and Lesley Ann Warren as the guests at Mr. Boddy's fateful dinner party.
It was___ with the ____ in the ____: About Clue
The film, set in 1954, has the same basic idea as the board game: find out who killed Mr. Boddy, with what weapon, in what room.
It features the same cast of characters: Miss Scarlet, Colonel Mustard, Mrs. White, Mr. Green, Mrs. Peacock, and Professor Plum. Each of them has been invited to Mr. Boddy's mansion, where it's revealed that they've all been blackmailed by their host.
True to the game's nature, the movie has three possible endings.
Although the movie was financially unsuccessful upon its release in 1985, it has since developed a cult following.
Outfits Inspired by the Characters of Clue:
Ready to find out whodunnit? Let's meet some of our rather unusual suspects!
Miss Scarlet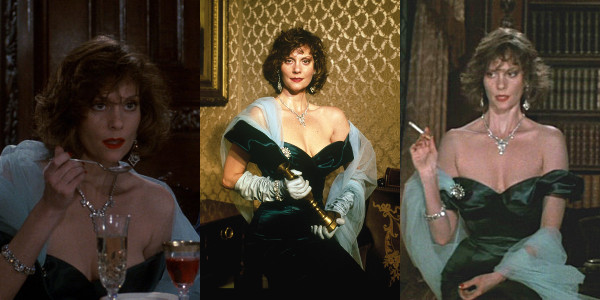 Miss Scarlet, played by Lesley Ann Warren (a dead ringer for Susan Sarandon, no?), is a sardonic madam who runs an escort service in Washington, D.C. She's willing to do almost anything to protect her secrets.
Although the board game character is typically depicted as a femme fatale dressed entirely in her namesake color, the film paints her as a "scarlet woman" who actually wears very little scarlet. Capture Miss Scarlet's sultry movie look with a silky teal cami and a luxurious kimono jacket paired with dramatic wide-leg trousers. A lacy bralette adds a hint of the boudoir, while a sparkling necklace glams up the ensemble. Finally, pay homage to the board game version with a sexy pair of red patent stilettos and a matching satin clutch.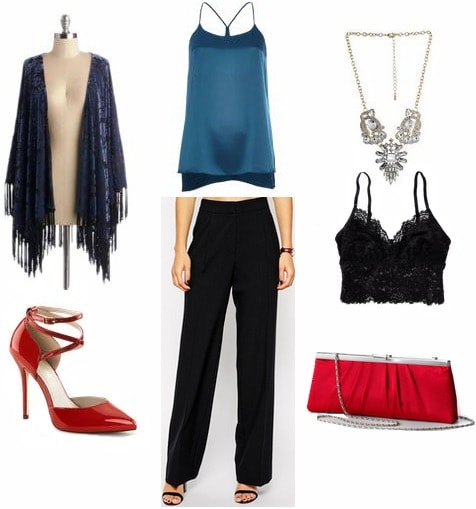 Product Information: Jacket, Top, Bralette, Trousers, Heels, Purse, Necklace
Mrs. White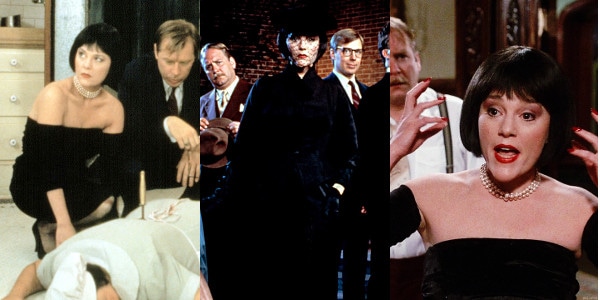 While Mrs. White, played by Madeleine Kahn, is typically depicted as a maid in the board game, the movie's version is quite the black widow. The darkly cynical and deeply jealous Mrs. White has left five deceased husbands in her wake, but denies involvement in any of their demises.
No need to develop homicidal tendencies to emulate Mrs. White's killer style! Just pair a classic yet sultry LBD with lacy stockings and a pair of ankle-strap stilettos. A stark-white coat and luxurious faux-fur stole allude to the character's name and will satisfy your Olivia Pope wardrobe fantasies. And what's a black widow without a red hourglass? Make sure to complete the look with a swipe of bright crimson lipstick.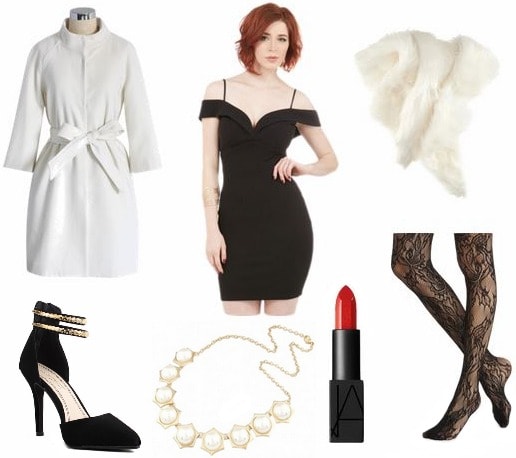 Product Information: Coat, Dress, Scarf, Shoes, Necklace, Tights, Lipstick
Mrs. Peacock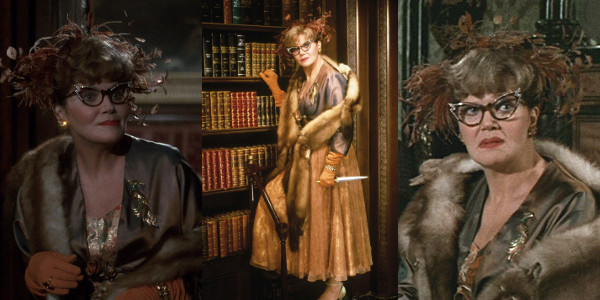 Mrs. Peacock, played by Eileen Brennan, is a chatty senator's wife who's prone to hysterics. She's being blackmailed for taking bribes to ensure her husband's vote, but denies these accusations.
Aside from the prominently featured feathers in her movie costume, you'd almost think that Mrs. Peacock was in fact Colonel Mustard! Nevertheless, Mrs. Peacock's ensemble is wonderfully kooky, just like her. Steal her delightfully eccentric aging-socialite look for yourself by pairing a feather-emblazoned cardigan with a mustard yellow skirt and shimmering sequin top. Orange socks tucked into ankle boots are an unexpected touch, while an eye-catching necklace further references Mrs. Peacock's namesake bird. As a final touch, slip on cat-eye shades and clip some feathers into your hair.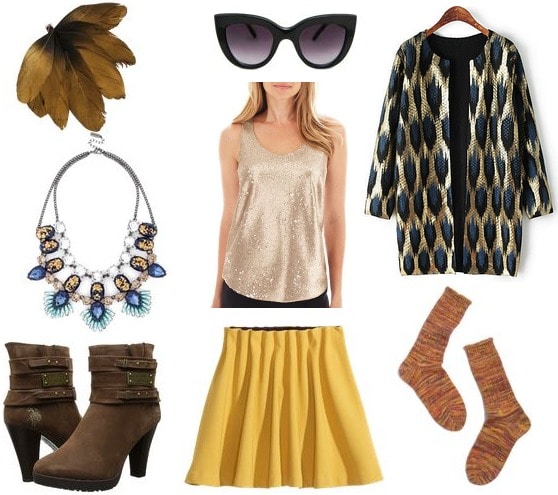 Product Information: Cardigan, Top, Skirt, Socks, Boots, Necklace, Hair Clip, Sunglasses
Professor Plum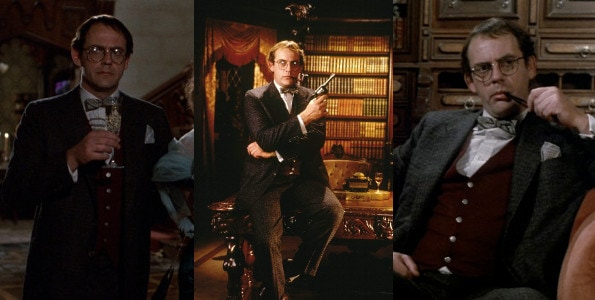 Professor Plum, played by Christopher Lloyd, is a womanizing ex-psychiatrist whose medical license was revoked due to his philandering ways. True to his board game counterpart's typical characterization as the absent-minded professor, Plum wears a tweed suit complete with a bow tie and wooden pipe.
Snag his style and wear it with aplomb: a plaid, double-breasted blazer pairs perfectly with sharp, wine-colored trousers and a tie-neck blouse. Oxfords and wooden-rimmed glasses complete the academic look, while a pair of revolver-shaped earrings allude to the weapon that Professor Plum receives at the start of the movie.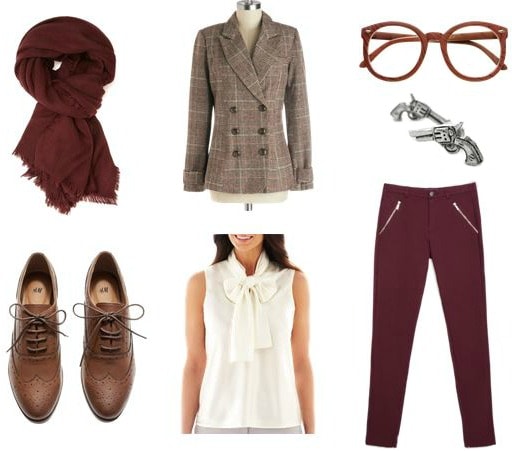 Product Information: Blazer, Blouse, Scarf, Trousers, Shoes, Glasses, Earrings
What did you think?
Would you wear these outfits? Are you a big fan of Clue? (Or should I say "Cluedo" for our friends across the pond?) What other movie inspirations would you like to see? Let me know by leaving a comment!