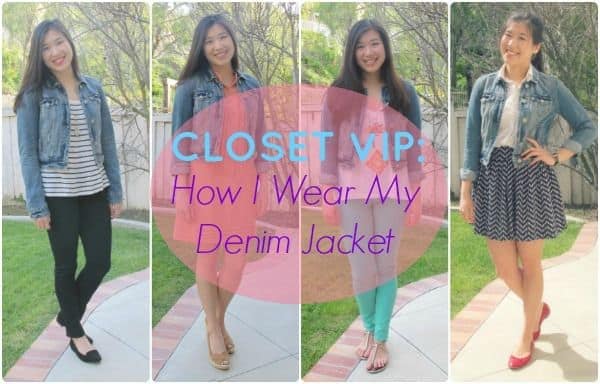 I was originally going to write about chambray shirts in this installment of Closet VIP, but I totally dropped the ball and forgot to pack my beloved chambray shirt in my suitcase when I headed home to California for spring break!
Instead, I'm going to show you a few ways to style another blue-jean favorite: the denim jacket. Like the navy blazer, this dependable outerwear piece is super versatile and a great way to quickly pull an outfit together.
How to Choose the Perfect Denim Jacket
Quality and Fit
For a jacket that'll last, look for a sturdy denim that has little to no stretch.
The jacket doesn't need to button up – I don't think I've ever worn mine buttoned – but make sure it's big enough that you can move comfortably.
Wash & Weathering
Just like jeans, denim jackets come in all shades of blue. (And other colors, although blue is definitely the most common.) A jacket in a medium wash denim is the most versatile and can be dressed up or down.
If you're looking for a heavier denim jacket for autumn and winter, try a dark wash jacket. Due to the darker color, these usually look more polished.
For summer or springtime wear, a jacket in a more casual light wash tends to go better with the airy sundresses and sunnier color palette of the season.
Personally, I find the look of broken-in denim more appealing than when it's stiff and pristine: if you feel the same way, look for a jacket that comes pre-weathered. This applies mainly to light and medium wash jackets, as the dark wash ones usually aren't that weathered.
Classic or Cropped?
A classic denim jacket hits at hip length, which is ideal for pairing with jeans or pants, since it won't cut you off at the waist.
A cropped denim jacket is a good choice if you want to wear it with skirts and dresses, as the shorter length visually raises your waist and elongates your legs. Just don't go too short, as it can look a little dated! Ideally, the hem will hit right around your belly button.
Retailer Suggestions
Just about any place that's known for its jeans usually makes nice denim jackets, but some of my favorites are American Eagle, Aeropostale, Gap, Old Navy, J. Crew, Lucky Brand, and Levi's.
About My Denim Jacket
The jacket I'm wearing below is from American Eagle. I think I got it at secondhand at a Buffalo Exchange, but I'm not 100% sure. I've had it for three or four years now, and it still looks fab.
The lighter wash, weathering, and cropped cut make it a great piece for warmer weather. During spring and summer, I usually wear this jacket once or twice a week.
How I'm Wearing My Denim Jacket
I was eager to get reacquainted with my warm-weather wardrobe while I was in sunny California, so here are four different ways to wear a denim jacket for springtime:
Classic Stripes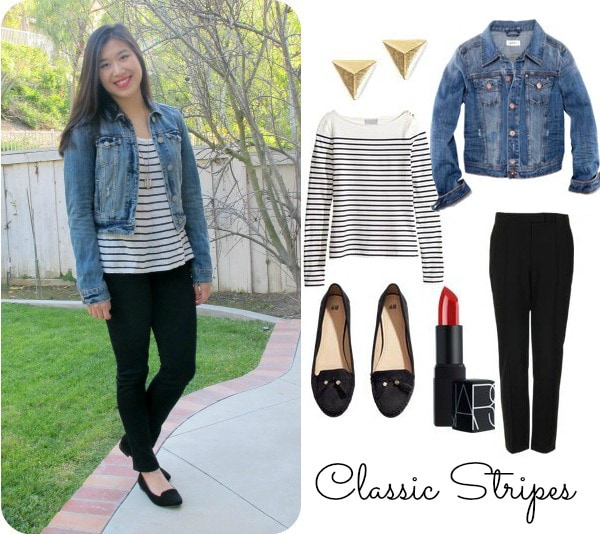 Product Information: Jacket, Top, Trousers, Loafers, Lipstick, Earrings
If you're still eagerly waiting for spring to arrive but the chill hasn't quite subsided, try incorporating a denim jacket as a layering piece! You can pretty much never go wrong with a simple striped top and black jeans, and a denim jacket updates the look for spring and serves as a functional layer during the transition of seasons.
All-American Girl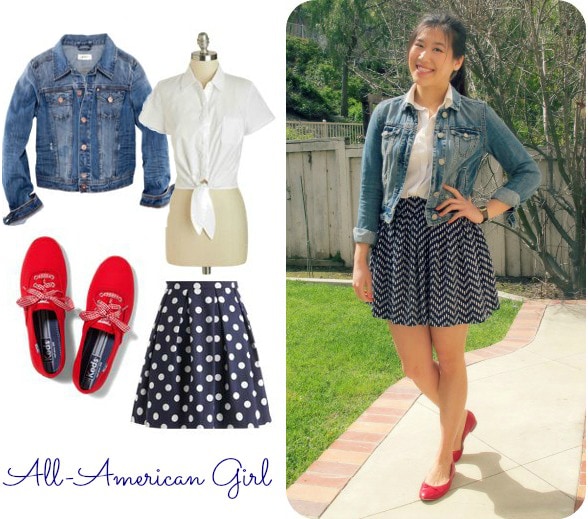 Product Information: Jacket, Top, Skirt, Shoes
The blue jean jacket is an iconic piece of Americana, so pay homage with a sweet and classic outfit incorporating red, white, and blue. A crisp white button down and pleated skirt complement the more casual, worn-in denim, while a pair of practical flats in a punchy hue complete the "girl-next-door" look.
West Coast Weekend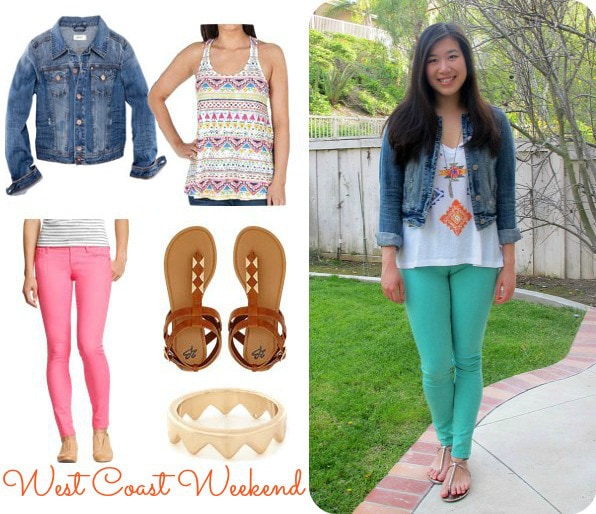 Product Information: Jacket, Tank, Jeans, Sandals, Ring
Denim jackets have a casual vibe that pairs perfectly with fun patterns and bright colors. I wore mine with a pair of mint jeans and a Southwestern print tee. Simple sandals and jewelry are all the accessories you need for an easy, breezy walks-on-the-beach outfit.
Garden Party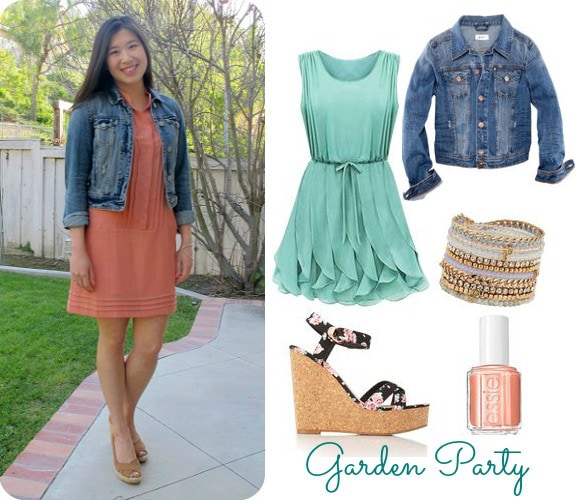 Product Information: Jacket, Dress, Wedges, Bracelets, Nail Polish
A denim jacket is a great topper for a floaty chiffon dress – they're structured enough that it doesn't look sloppy but rugged enough to provide some contrast to a feminine frock. Cute wedges provide some lift, but also won't sink into grass if you'll be outdoors.
What did you think?
Would you wear these outfits? Is a denim jacket a VIP in your wardrobe? What other closet staples would you like to see featured? Let me know in the comments!