This post may contain affiliate links, which means we may receive a commission if you purchase through our links. Please
read our full disclosure here
.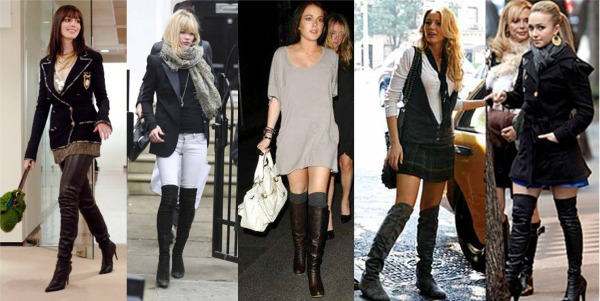 Hot last year and coming back for round two, over-the-knee boots are both hot for fall and tricky to wear – making them perfect for this week's Fashion Challenge! If you weren't sure about these boots last year, now is the perfect time to try them out… if you dare!
Ready to rock the challenge? Read on for some tips and inspiration, then read the instructions at the bottom and send us YOUR outfits!
Tips and Tricks for Rocking Over-The-Knee Boots
Much like any other trend, consider proportions for the most flattering look. The perfect pair of boots should hit about an inch above your knees. For hip coverage, consider pairing them with a longer top or tunic.
Squeamish about showing too much thigh? This trend looksjust as chic with jeans, jeggings, or leggings.
Want to rock this trend, but low on cash? Try wearing a pair of mid-calf or knee-high boots with a tall pair of socks underneath for a very "model off duty" look!
Short girls can rock this trend too. Pint-sized starts such as the Olsen twins, Hayden Panettiere, and Hillary Duff have all been spotted in over-the-knee boots. I'm only 5'2″ so I understand the hesitation. As long as the boot hits the right part of your thigh, it will look just fine! If you're still nervous, pair your boots with a pair of leggings that match their color– your legs will look miles long!
Let the boots be the focus. As with all trends, a little goes a long way.
Ready to buy a pair?Look for styles that can be adjusted to last throughout the seasons. After we featured the Chinese Laundry Tripin Boots last season, I rushed out and bought myself a pair. These boots have no heel (perfect for day or night), can be scrunched down to make a shorter slouchy boot, or can be buttoned or unbuttoned for several different looks!
Affordable Picks

From the Left: 1, 2, 3, 4, 5, 6
Outfit Inspiration
Outfit #1 – Casual Over-the-Knee Boots Outfit for Class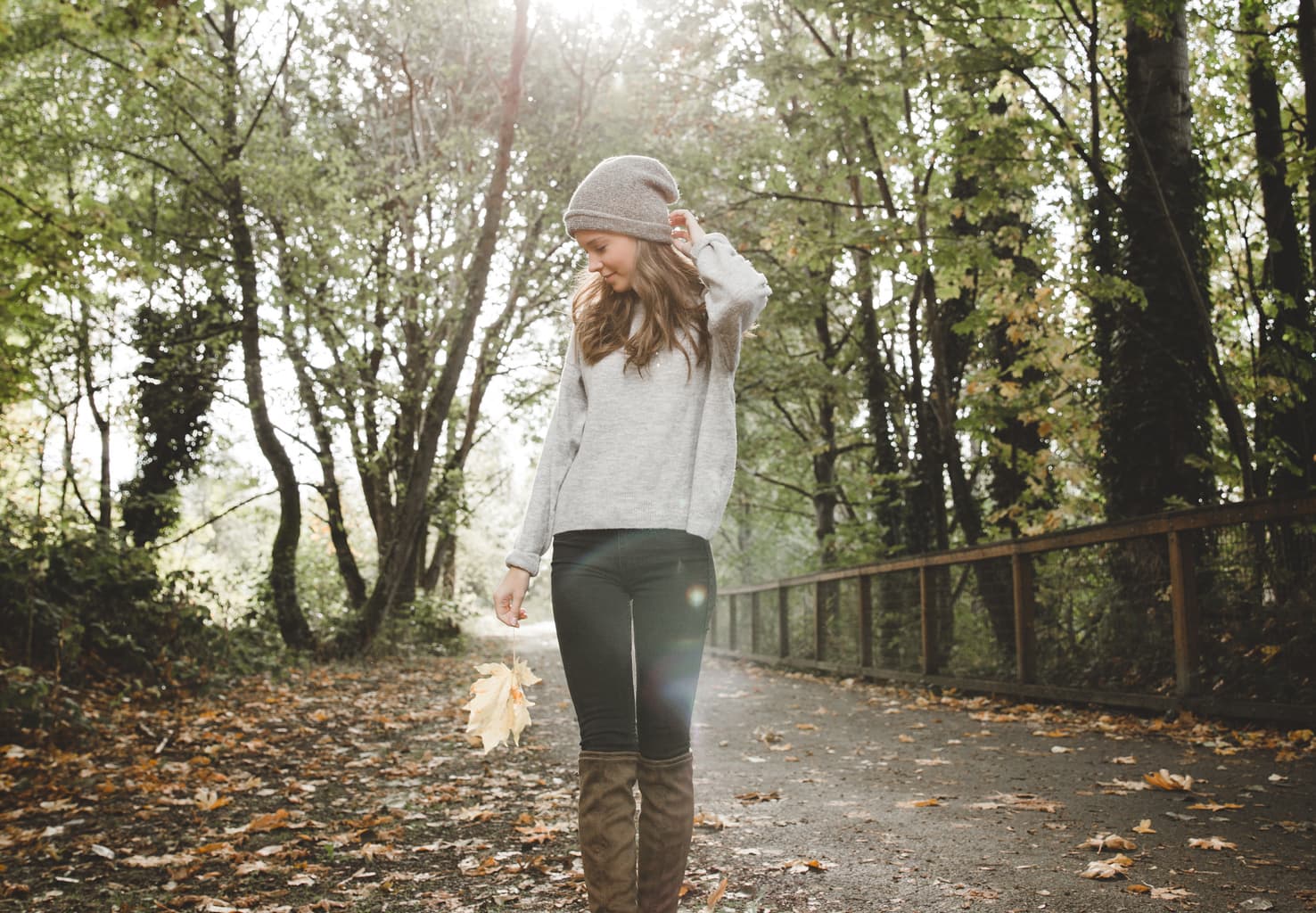 An outfit like this is casual enough for the daytime–perfect for going to class! Pair your trusty skinny jeans with a cozy striped tunic. I absolutely adore these boots–brown suede is right on trend for this season. Finish with a trendy white watch and add your favorite jewelry.
Outfit #2 – Subtle Over-the-Knee Boots Look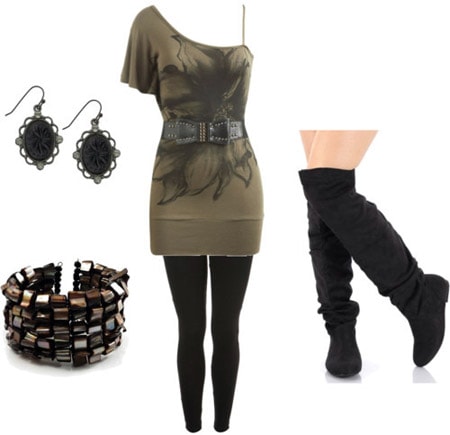 Tunic, Leggings, Boots, Earrings, Bracelet
This outfit is a great way to rock over-the-knee boots if you're still on the fence about this trend. Pair a tunic with black leggings, and top it off with black suede boots. From far away, it won't be obvious that you're wearing over-the-knee boots, so you can test the waters without making a huge statement. Finish off with some edgy jewelry.
Outfit #3 – Daring Over-the-Knee Boots Ensemble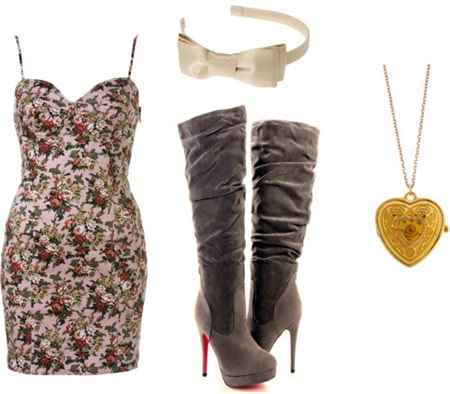 Dress, Boots, Locket, Headband
This is a bold look, but is totally perfect for any of you foxy CF readers if worn with confidence! Pair this adorable dress with a girly locket and bow headband, then contrast the outfit's sweetness with a badass pair of boots! High heeled over-the-knee boots aren't as versatile as flat ones, but it you find a good deal on a pair, be sure to snatch them up!
Outfit #4 – Faux Over-the-Knee Boots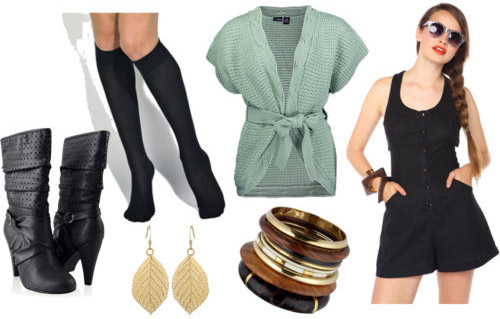 Boots, Socks, Earrings, Bracelets, Sweater, Romper
If you're not quite ready to commit to a full on pair of over-the-knee boots, capture the same look by wearing a pair of long socks underneath knee-high boots. One of my friends wore an outfit similar to this out this weekend and I thought she looked so chic! If you're trying this for the first time, stick with basic, dark colors, like the black boots and socks featured. Throw on a cozy romper and cover your shoulders with a wrap sweater if it's chilly out! Finish with a stack of bangles and leaf earrings.
Rocked the Challenge? Be our Cover Girl!
Now for the best part of this post – it's time for YOU to take the challenge!
Put together an outfit and send pictures of you wearing over-the-knee boots to fashionchallenge AT collegefashion.net along with your name, school, and a description of what you're wearing. We'll post your outfits here to inspire your fellow CF readers 🙂
Can't wait to see your stylish outfits!
What do you think?
Did you wear over-the-knee boots last season? Excited that they are making a comeback? Do you ever let your socks peek over your boots? What challenges would you like to see in the future? Let me know what you think!