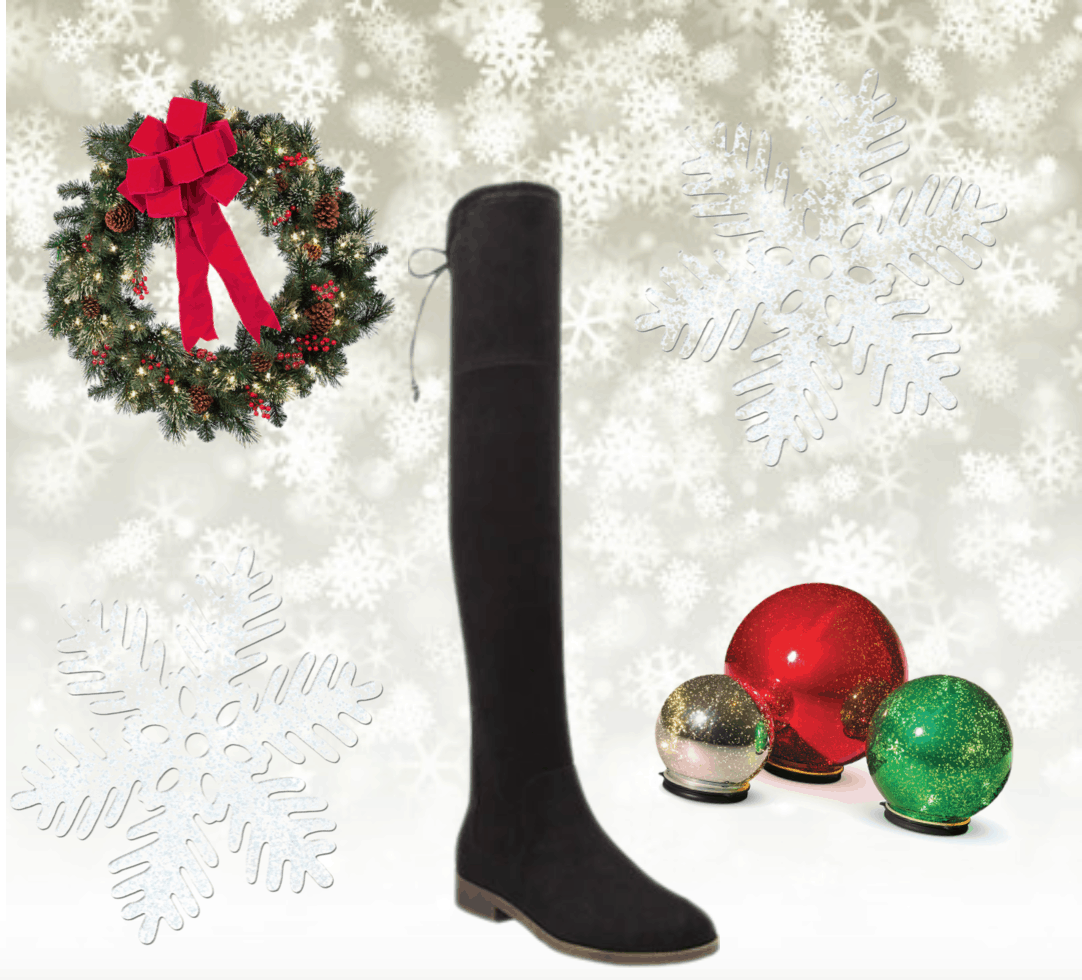 Products: Boots, Wreath, Spheres, Snowflakes, Backdrop
The "Fabulous Find of the Week" column brings you a new style steal weekly that will both keep some cash in your wallet and keep you looking, well, fabulous.
When I think of winter, the first things that pop into my head are boots. Snow boots, long boots, short boots, (faux) leather boots, suede boots . . . boots. We've already talked about the best boots for fall, but what about the perfect winter boot? No worries, I've got you covered.
For this week's cheap steal, I spotted these insanely cheap + stylin' black over-the-knee boots that will match quite literally everything in your closet. They're classy and easy to dress up, but because they don't have a high heel, you can wear them casually too and won't hurt your feet in the process (win win).
So, if you need a pair of cute boots to carry you through the remainder of fall and the whole of winter, these are the shoes for you. Oh, and did I mention they're $19.99? Yeah, steal.
Keep scrollin' for 3 over the knee boots outfits, and by the end of this article, go ahead and order a pair for yourself. Treat yo'self.
Over-the-Knee Boots Look 1: A Full Day of Class + Errands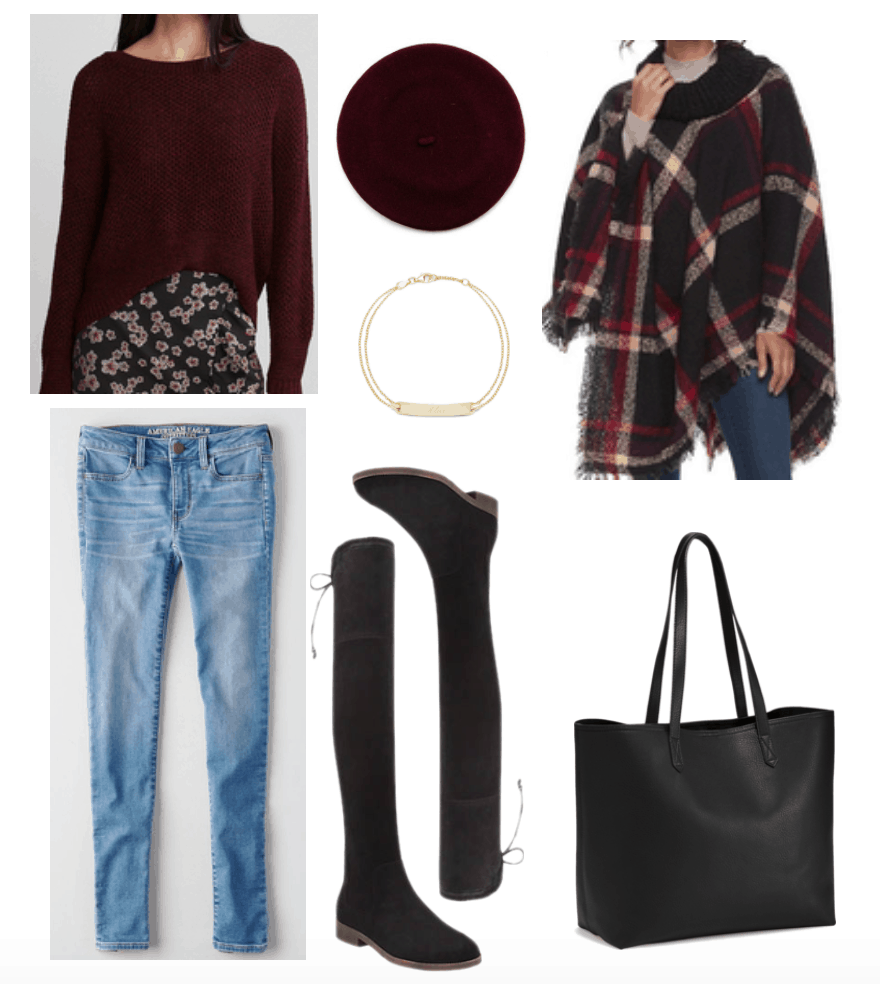 Products: Boots – Belk, Sweater – Express, Poncho – Kohl's, Jeggings – American Eagle, Tote – Old Navy, Beret – Amazon, Bracelet – Eve's Addiction
Alright ladies, over-the-knee boots do not just have to go over leggings and tights! If you get a nice jegging/skinny jean, these boots complement them perfectly. With that said, grab your favorite pair of classic skinny jeans, and a cozy, chunky burgundy sweater.
A plaid poncho comes next and layers over the sweater wonderfully. It adds a bit of pizazz and a good amount of warmth to the look. A super cute burgundy beret and a simple, personalized gold bracelet are the perfect complementary accessories. Finally, pack all your stuff in this classy black tote. Love it.
Over-the-Knee Boots Look 2: Did Someone Say Date Night?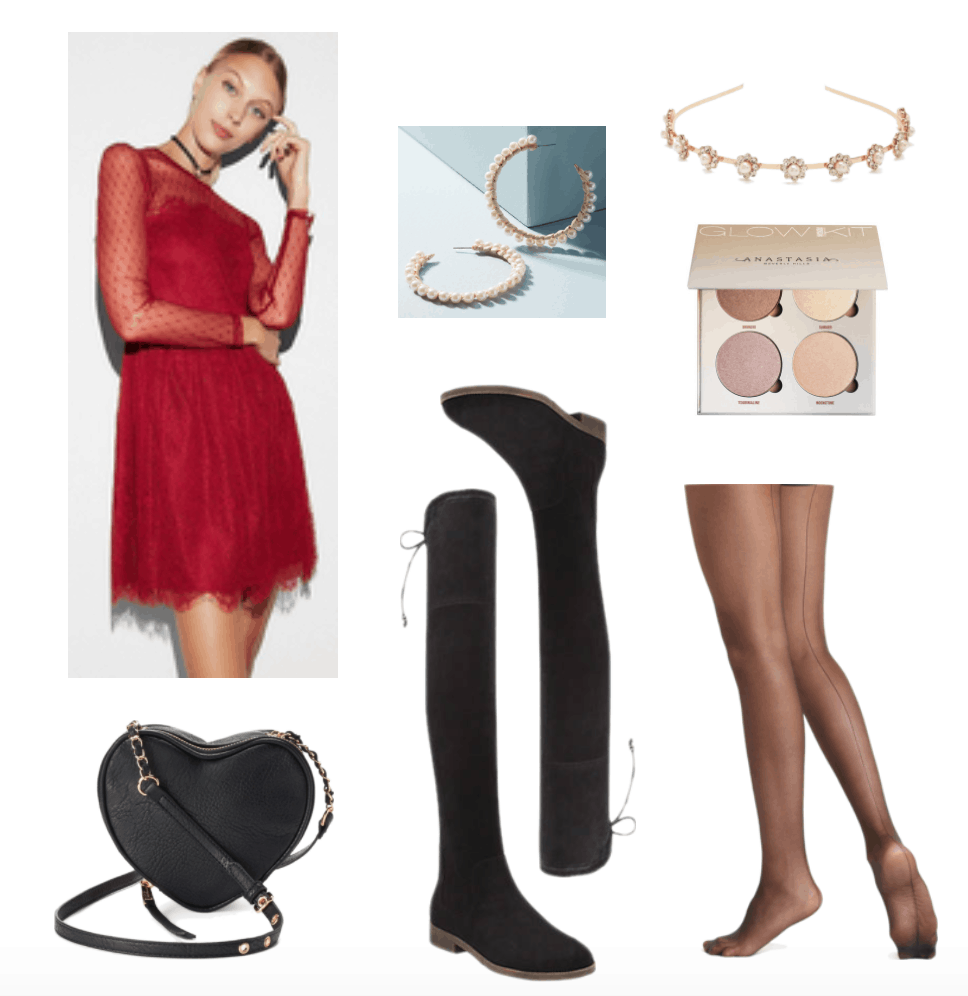 Products: Boots – Belk, Dress – Express, Bag – Kohl's, Earrings – Anthropologie, Tights – Macy's, Headband – Forever 21, Glow Kit – Anastasia Beverly Hills
Our next look is the typical over-the-knee boots + tights outfit (hey, it's still good to stick to the basics). Pair them with this adorable red lacey dress for a bit of Christmasy/holiday spunk, and sheer black tights. A slick pony or bun suits this look well.
For accessories, add stylish, dainty pearls: Pearl-covered hoop earrings and a gorgeous pearl headband should do the trick. Carry your phone and lipstick in this heart-shaped crossbody, too. Finally, swipe a bit of shimmery highlighter on your cheekbones for some extra glitz. Ooh la la.
Over-the-Knee Boots Look 3: Prepster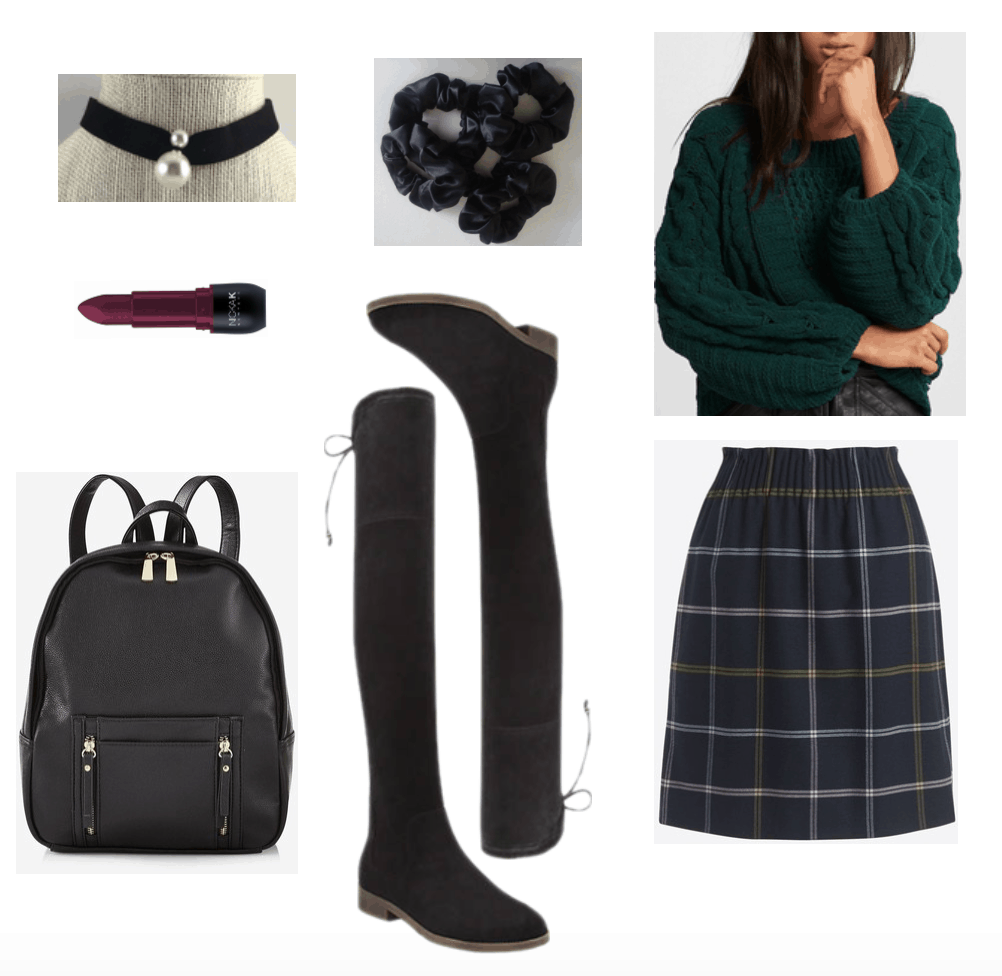 Products: Boots – Belk, Skirt – J.Crew Factory, Sweater – Express, Tote – Express, Scrunchies – Etsy, Choker – Etsy, Lipstick – Amazon
This third look boasts a preppy, spunky, schoolgirl vibe and I'm DIGGIN' it. Pair your boots with this chic navy plaid skirt and wintery emerald chunky sweater. Slip on a black velvet pearl choker to add a bit of edge to this preppy look.
Straighten your locks and throw them up into a loose pony with these '80s-inspired satin scrunchies. (I'm obSESSEd with scrunchies right now.) Carry your books and laptop in a faux leather backpack. The final step is to swipe on some burgundy matte lipstick and you are set. Smart and beautiful.
How does this Fab Find suit you?
Will you be buying some over-the-knee boots this winter? What are your favorite boots? Do you like these looks? Please let me know. 🙂