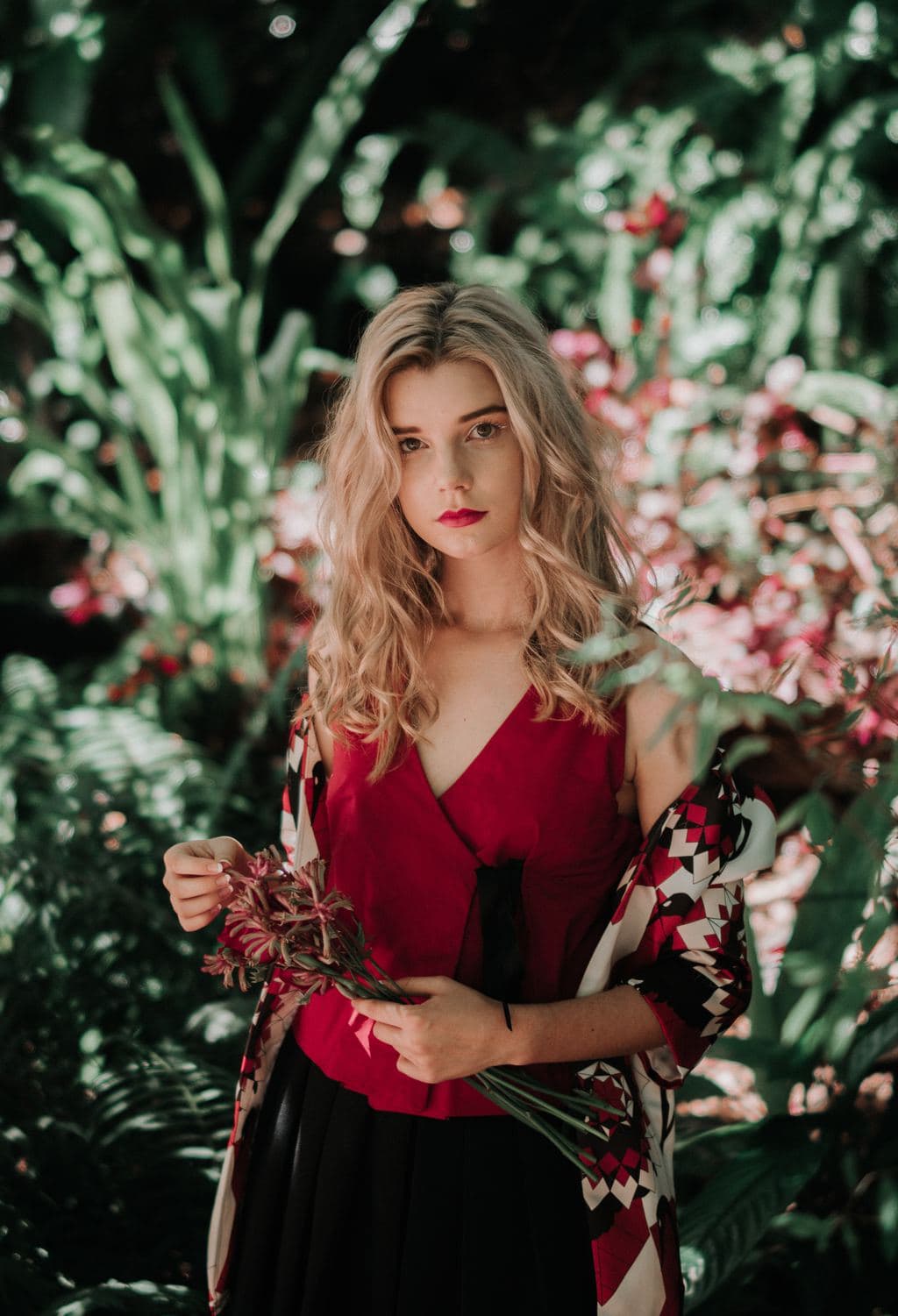 Fall is finally here and we are so pumped. Enter pumpkin patches, caramel apples, brightly colored leaves, and, our favorite thing, fall fashion.
Fall is the perfect time to show off your favorite pair of boots, a cool new bomber jacket, or your tried-and-true cozy flannel. Fall is also the time to transition your wardrobe from bright neons, pastels, and airy fabrics to darker colors and cozier knits.
Some of these colors include red, black, olive, burnt orange, and, of course, burgundy. However, it's easy to start wearing these colors over and over again in the same ways. You know what I mean: black leggings + olive oversized sweater. Blue jeans + red checkered flannel. These are great combinations, but I like mixin' things up.
This is why I am here to show you how to wear one of the best fall colors, burgundy, in a new way (well, 3 new ways, to be exact). If you're interested in seeing burgundy take on new forms, keep on scrollin'.
How to Wear Burgundy – Outfit 1: Add a Pop of Color, Like Teal!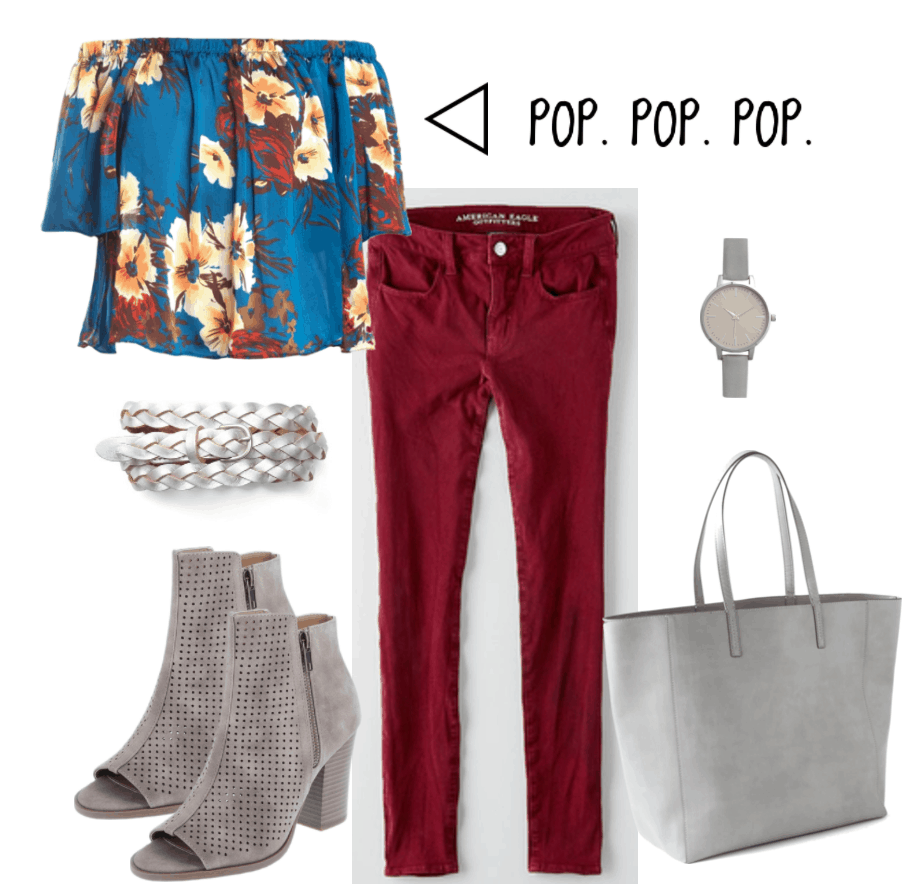 Products: Jeggings – American Eagle, Top – Sans Souci, Booties – Payless, Tote – Gap, Belt – Gap, Wristwatch – H&M
Let's say you have a plain 'ol burgundy piece that needs a little livening up…add a piece in a contrasting color that makes it pop!
For example, these burgundy jeggings from American Eagle might be a little lonesome on their own, but with a saucy teal off-the-shoulder blouse, the colors come alive.
Because the teal and burgundy are the focal points of this look, I kept the rest of the outfit muted. Add some suede peep toe booties (and maybe some black nail polish!) and a grey tote to carry your things. Finally, slip on a simple belt and watch, and you're all set.
How to Wear Burgundy – Outfit 2: Don't Be Afraid to Double Dip!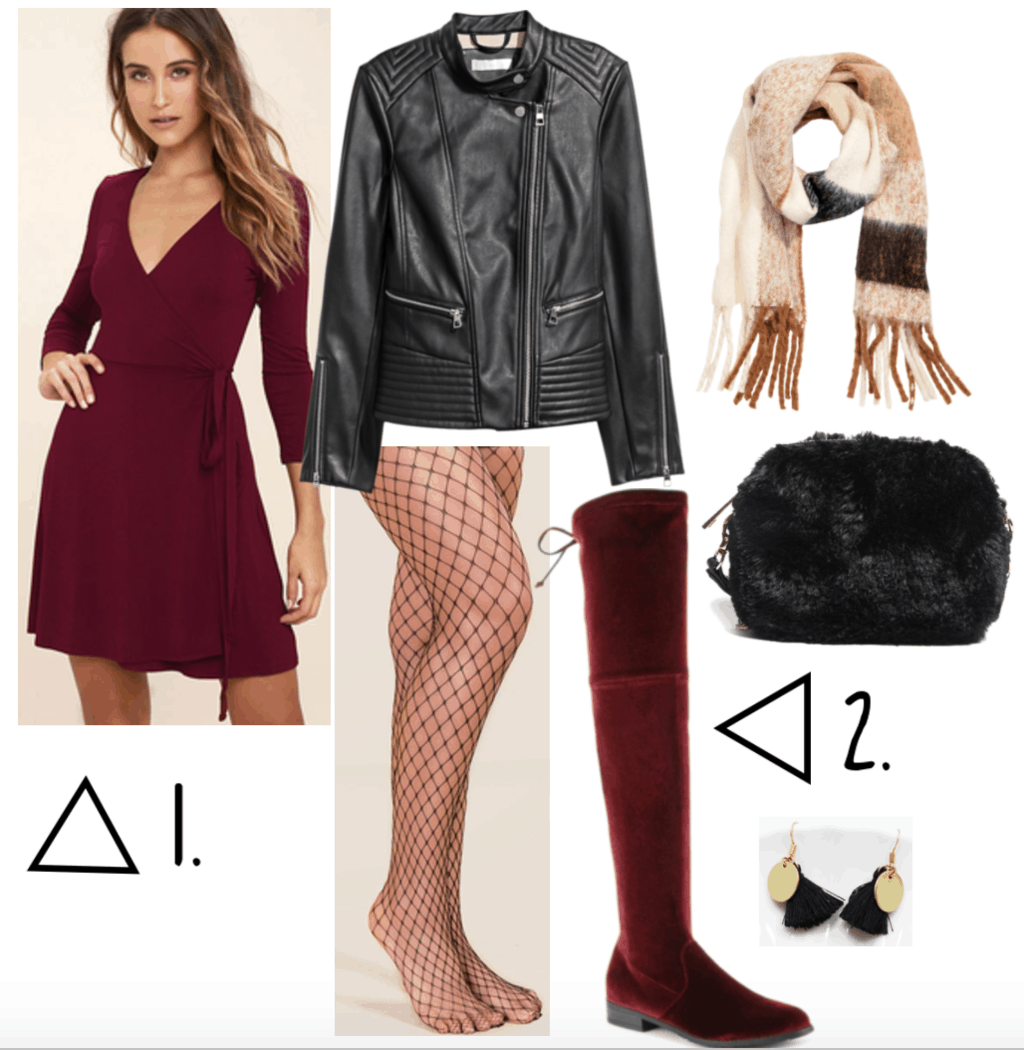 Products: Dress – Lulu's, Tights – Francesca's, Boots – DSW, Bag – Forever 21, Jacket – H&M, Scarf – H&M, Earrings – Etsy
Double dipping on colors, textures, fabrics, patterns, etc. in outfits can be such a scary concept but I promise you, it can be done!!
If you don't know what I mean by double dipping, take something of the same color (like these burgundy boots and this burgundy dress) and pair them together! Sure, you'll be a sight to see in all that red, but that's the point. You'll be turning heads because you are exercising a trend not many people do.
To add even more pizzazz and edge to this look, slip on a pair of black fishnet tights and a biker jacket. Wrap your neck with a large checked scarf and store your things in this sweet faux fur crossbody bag. Add a cutesy set of fringey earrings and you are ready to rock n' roll.
How to Wear Burgundy – Outfit 3: Layer It On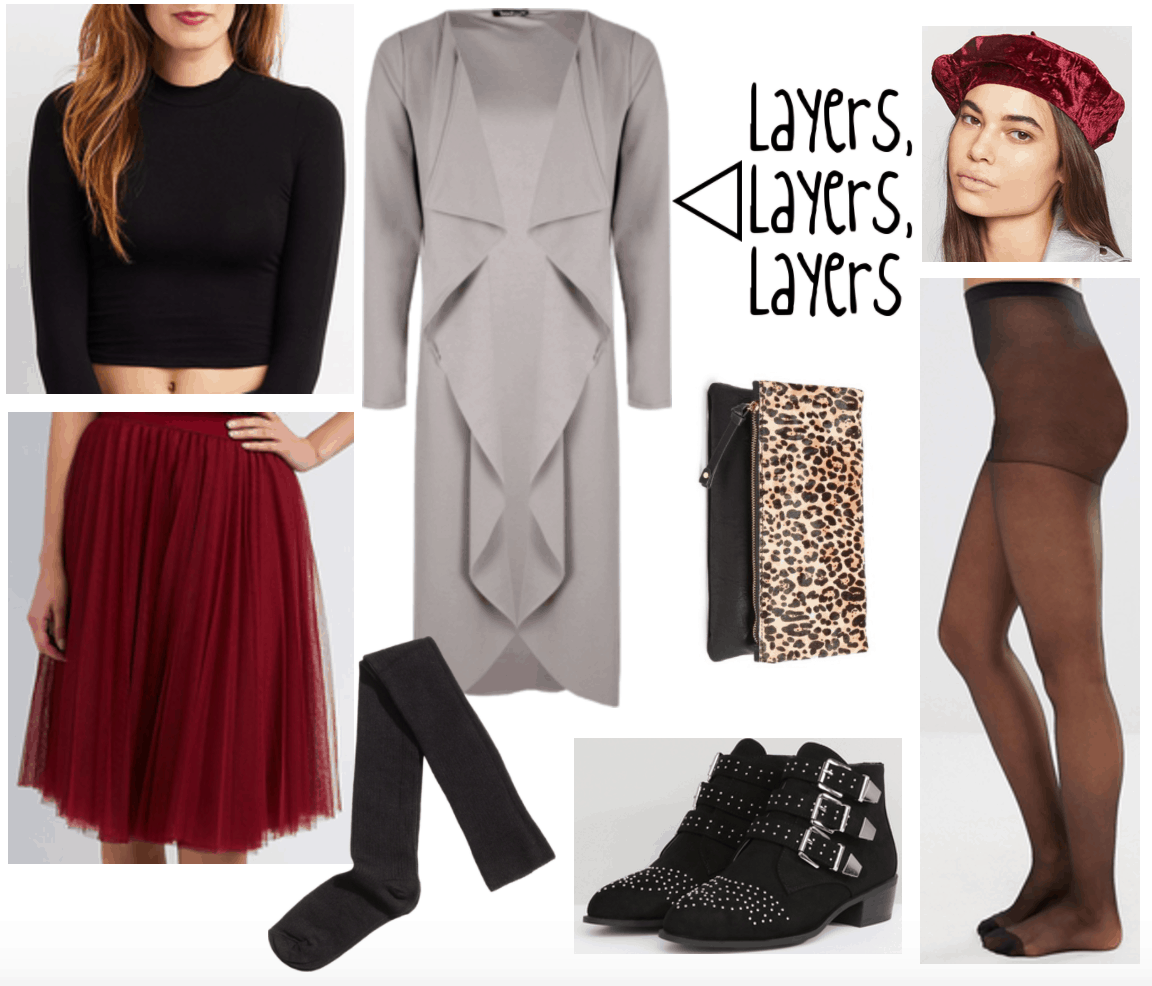 Products: Skirt – Charlotte Russe, Top – Charlotte Russe, Tights – ASOS, Duster – Boohoo, Boots – ASOS, Socks – H&M, Clutch – Nordstrom, Beret – Forever 21
Okiedoke, my third and final piece of advice for you to reinvent burgundy is don't shy away from layers!
Now that fall has arrived, the chilliness of the air is the perfect excuse to layer up. Case in point, this fun and frilly burgundy tulle skirt looks perfect over black sheer tights, and thigh-high socks over those! Finish your feet up with some studded black boots.
A mock neck crop top pairs nicely with this skirt, as does a chic taupe duster over top. To glamorize, add another burgundy piece with this velvet beret (because…well, why not?) and a fun cheetah print clutch. Et voilà! Your layers will not only keep you warm but will make you look chic in the process. Burgundy has never looked better.
What do you think?
How do you feel about good 'ol burgundy? Do you like these looks? If so, which one(s)? How do you reinvent burgundy? Let me know down below.