This post will show you 10 outfit ideas for how to style combat boots.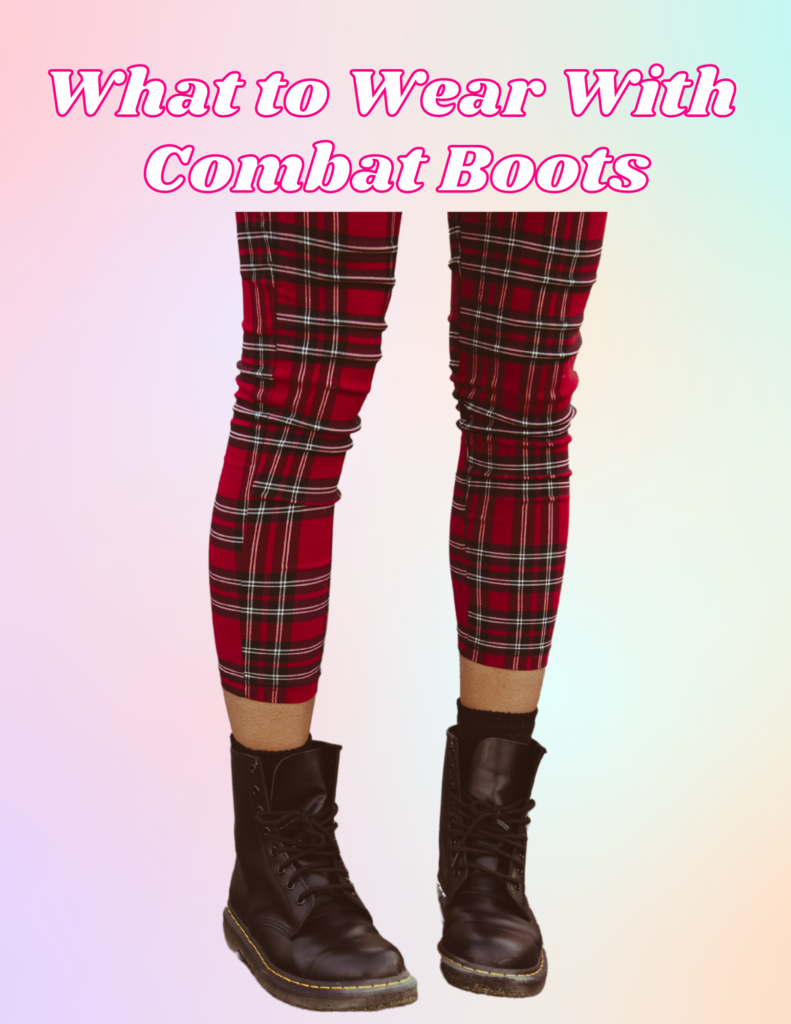 Once upon a time, combat boots were restricted to fall and winter. A staple of the cool seasons, they were usually paired with pants, scarves, and sweaters. But in this decade, that's completely changed.
Now, combat boots have become an important fashion trend and a staple in every girl's closet. These days, they're worn year-round, for nearly every occasion. You can find a pair in every color, pattern, size, and height imaginable.
With so many varieties available, the styling options can be overwhelming. So, below I'll give you a large variety of combat boot outfit ideas to teach you how to style combat boots for different styles and occasions.
Without further ado, let's get started!
About Combat Boots
First, what are combat boots? And how did they become the fashion items they are today?
Originally, the boots were designed for military purposes. Made of hardened (sometimes waterproof) leather, soldiers wore them during combat (hence the name). They were made tough and meant to provide ankle stability, grip, and foot protection.
In the civilian world, the boots were first appropriated by workers, especially those in the construction industry. When the fashion industry finally adopted them, they were worn within the goth, punk, and grunge subcultures.
These days, people wear combat boots not only because they are cool, but because they will last much longer than other shoes, they are comfortable, and they are wearable beyond their intended purpose. In conclusion? Combat boots have always been a great investment, and that's particularly true today.
How to Break In Your Combat Boots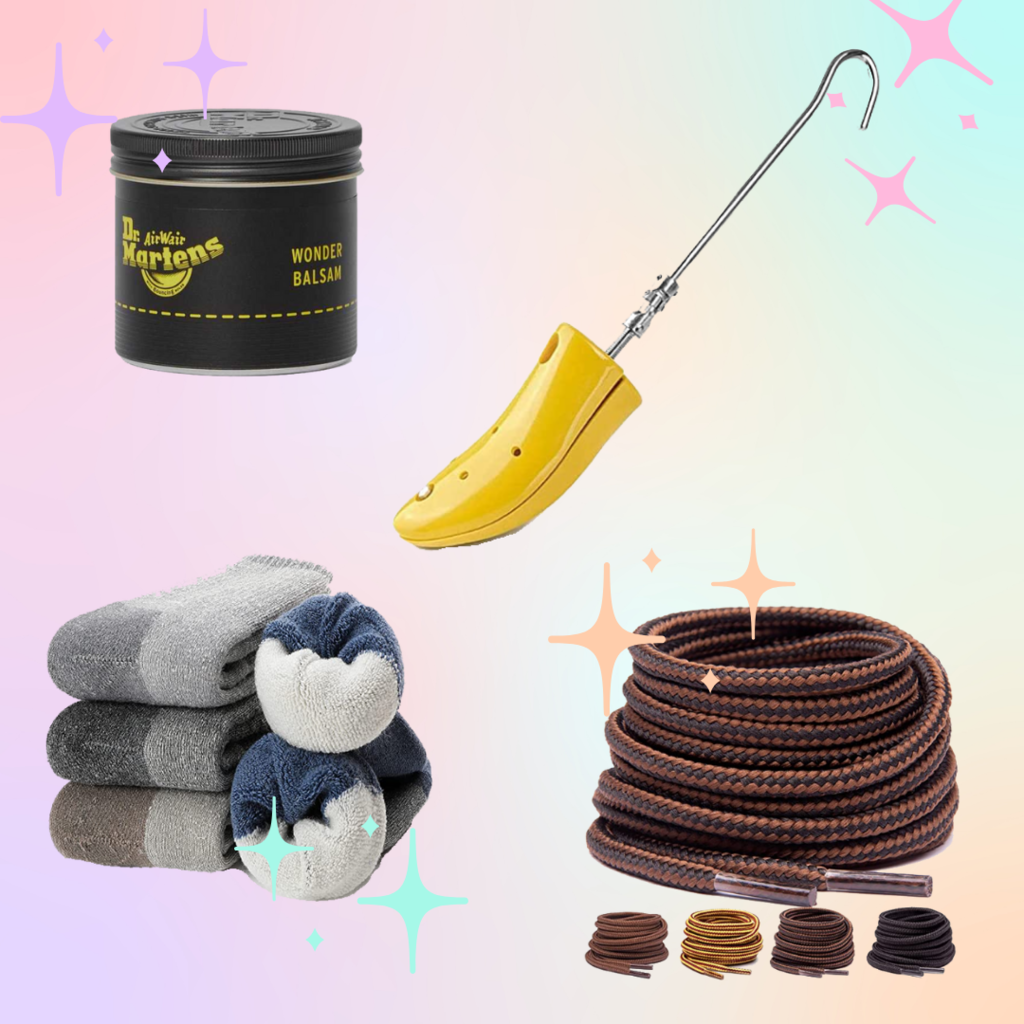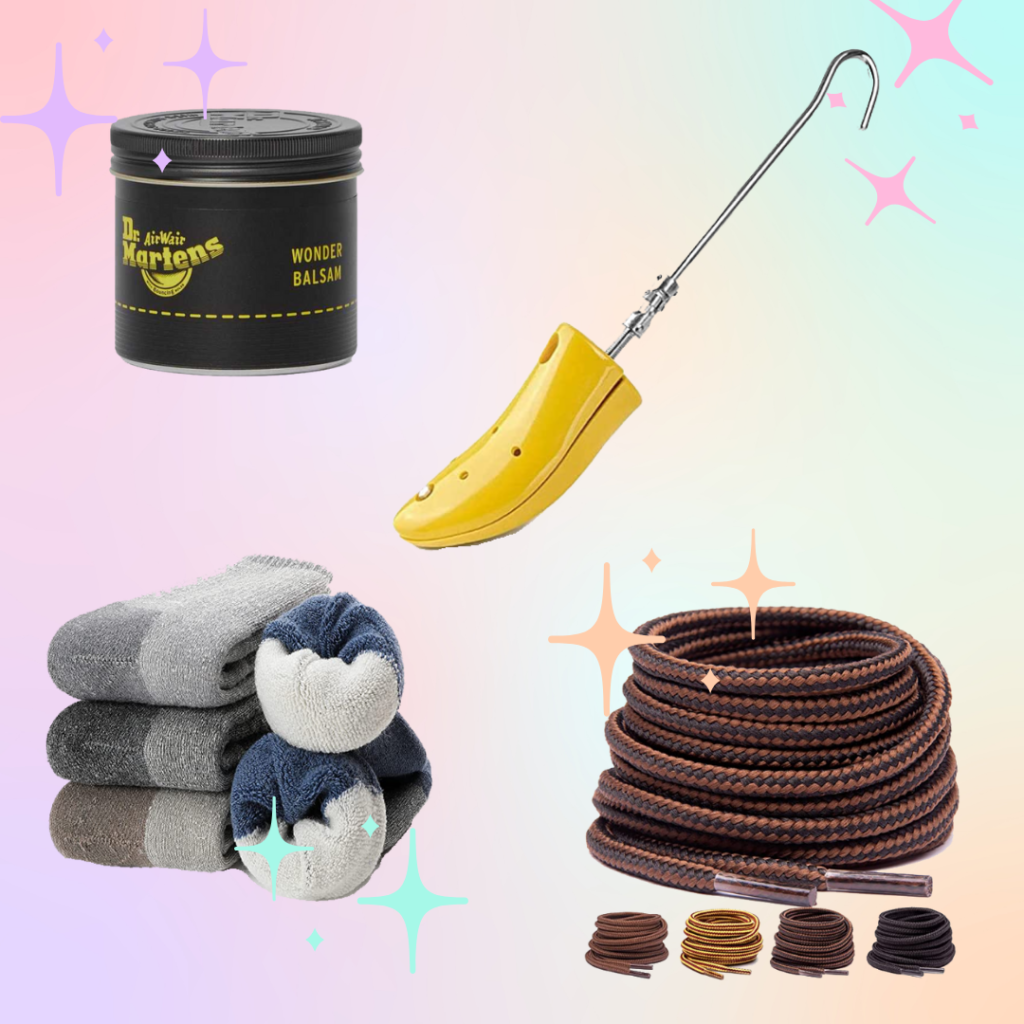 I remember when I first got my beloved Doc Martens. I was 18 and I got them on a trip to San Diego. It was summer and it was a hot one, so I didn't wear them during my time there. At the end of the trip, they didn't fit in my suitcase. So I wore them to fly home. What could go wrong, except taking them off at security, right?
When I finally got to my seat on the plane, I wanted to cry. My feet were so sore and I actually had blisters. I even had markings on my calf from the edge of the boot rubbing it. I made a rookie mistake. I didn't break them in.
I mentioned earlier, combat boots are comfortable. But, that's only true once you break them in.
Durable, hardened leather (and even faux-leather) can be very rough on your feet the first few times you wear it. That's just a fact. So, here are a few tips on how to break in combat boots without hurting your feet in the process.
Walk in them
It seems obvious, but this is the most efficient and cost-effective tip. Put on a pair of thick socks. If you have super thick winter socks, wear those. The thicker the better. Then, put on your combat boots and walk around in your boots for an hour or two a day for a couple of weeks.
Use shoe trees
In between wears, put shoe trees in your boots. This will help the boots retain the shape they had when they were warmed up.
Treat your boots with balsam
Massaging the boots with shoe balsam helps a lot. Dr. Martens has a pretty good one that will soften the leather and you can use it later on to shine them.
Adjust your laces
Sometimes readjusting the laces can help with the initial tightness. Skip some of the eyelets when you lace your boots up to give the leather less resistance.
Use Band-Aids
Get ahead of the problem and wear Band-Aids or any extra type of protection for your feet before you don your boots. This way, you won't get hurt while wearing the boots to break them in.
What color combat boots should you buy?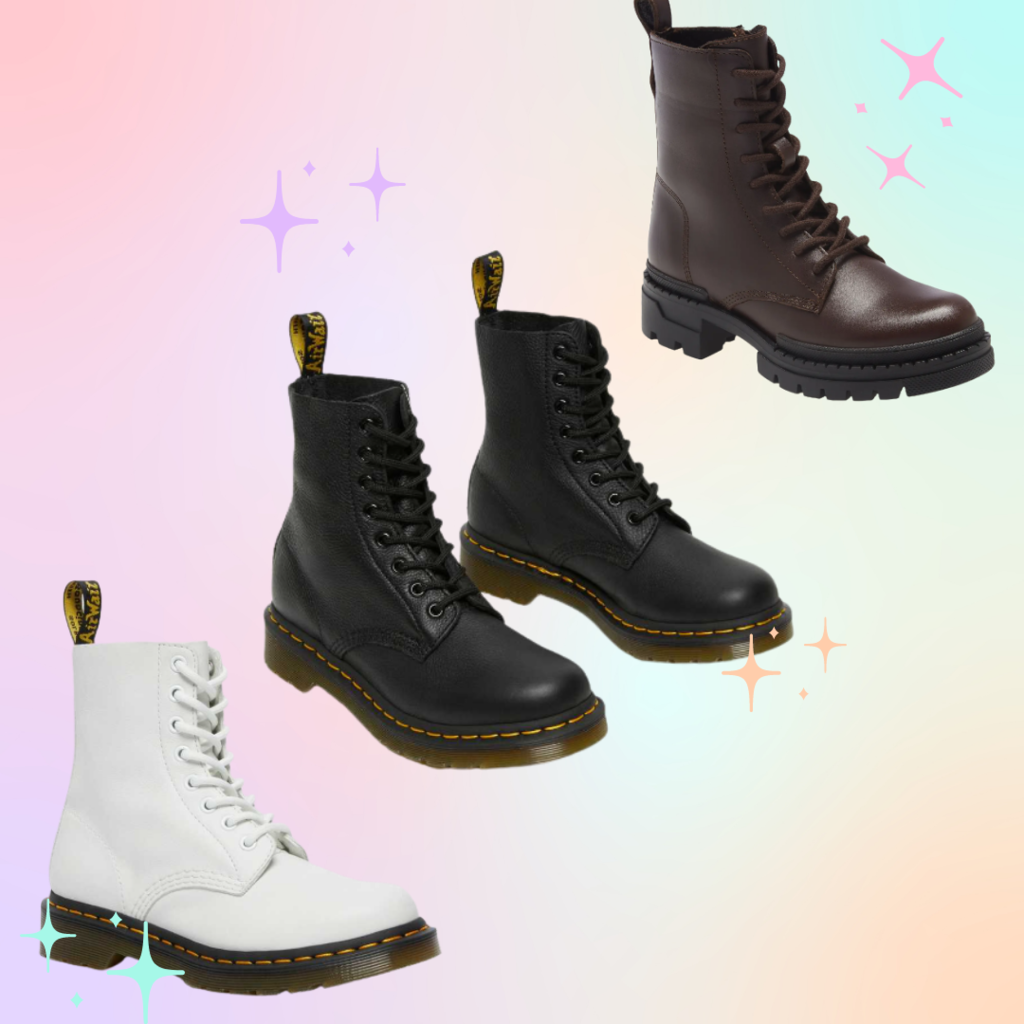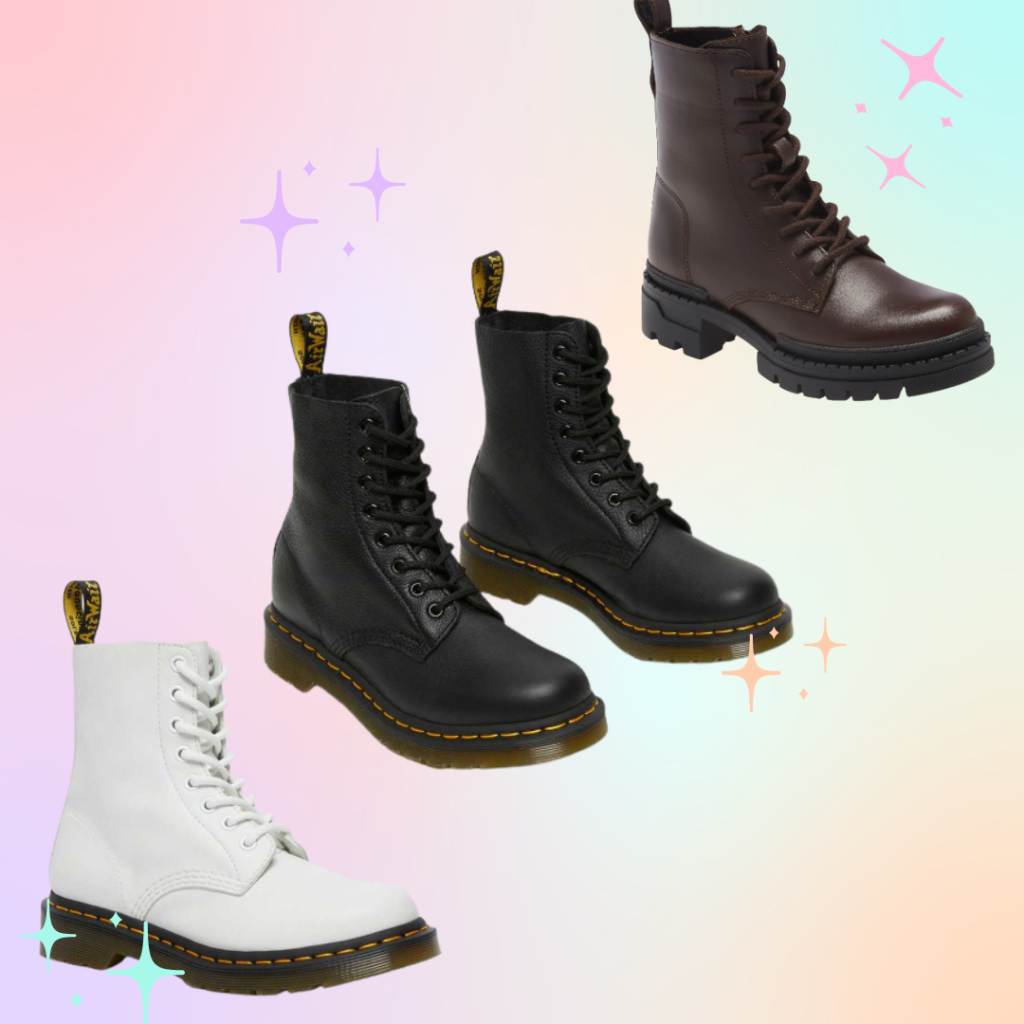 You can find combat boots in tons of colors now. But if you're buying your first pair (or two), I recommend one of three neutral colors: black, brown, or white. These are the colors that will pair with the largest number of outfits, so they're the best bang for your buck. All the outfits will include one of these three options.
With that out of the way, let's get to styling!
How to Style Combat Boots with Skinny Jeans
Let's start with an easy one. Skinny jeans are not everyone's cup of tea these days, but they are still incredibly versatile and the easiest jeans to wear with most types of boots. (If you prefer wide leg jeans, you can definitely swap them in for skinnies here.)
Start off with a classic pair of black skinny jeans and then throw on an oversized striped t-shirt. To add contrast, instead of black stripes, go for navy blue stripes. Black combat boots are the perfect type of boots to give this classic look an edge. Keep your accessories simple and neutral with a black neck scarf and a structured cream purse.
How to Style Combat Boots with Wide Leg Pants
I absolutely love loose-fitting pants right now. They can be dressy without compromising comfort, and they look so chic with everything, including combat boots.
Pair some linen pin-stripe loose pants with a brown knitted crop top. A brown baseball cap is perfect if you are having a bad hair day or just want to tone down the rest of the look. For a bag, a beige backpack coordinates with both the pants and the shirt, and it will be perfect for classes or work. Brown combat boots tie everything together.
How to Style Combat Boots with Leggings
Blair Waldorf once said that leggings are not pants. And while the jury is out on whether that's true, one thing is — leggings can definitely be worn in a cute, non-athletic way.
Start with a simple base: a white tank top and black leggings. To make this a put-together, Blair-Waldorf approved look, throw on an oversized checkered blazer. Black combat boots will elongate your legs and make the rest of the outfit cool. Accessorize with tortoiseshell sunglasses and a cognac leather tote bag.
How to Style Combat Boots with Short Dresses
A short dress is a girl's best friend in the summer. Short, bright-colored, floral dresses are feminine, easy, and comfortable for every occasion.
To make them edgy and super modern, try wearing a red, floral short dress with a pair of white combat boots. White combat boots are not for everyone, but I think they are a really cool and different item to have, and they're amazing for summer. A pair of gold and red earrings will complement the dress perfectly. Finish the outfit off with a cream shoulder bag.
How to Style Combat Boots with Midi Dresses
Midi dresses are a natural partner for combat boots. They make the best team because the height of the boots and the length of the skirt match perfectly.
A white square-neck midi dress with a minimal red rose pattern looks great with a pair of black combat boots. The combo is especially perfect for cooler summer nights. Accessorize with simple items, like a gold layered necklace and a black camera bag. The basic accessories will keep the outfit looking cool, edgy, and put-together.
How to Style Combat Boots with Mini Skirts
Mini-skirts are back and I am so happy about that. They are now available in every size, color, and fit imaginable.
Create an edgy look by pairing a simple gray t-shirt with a black faux-leather mini skirt. Add a pink oversized shirt as a light layer. For shoes, black boots are the obvious choice, but white combat boots give off an edgier vibe with this look. Finish the look with a pink purse to tie everything together.
How to Style Combat Boots with Midi Skirts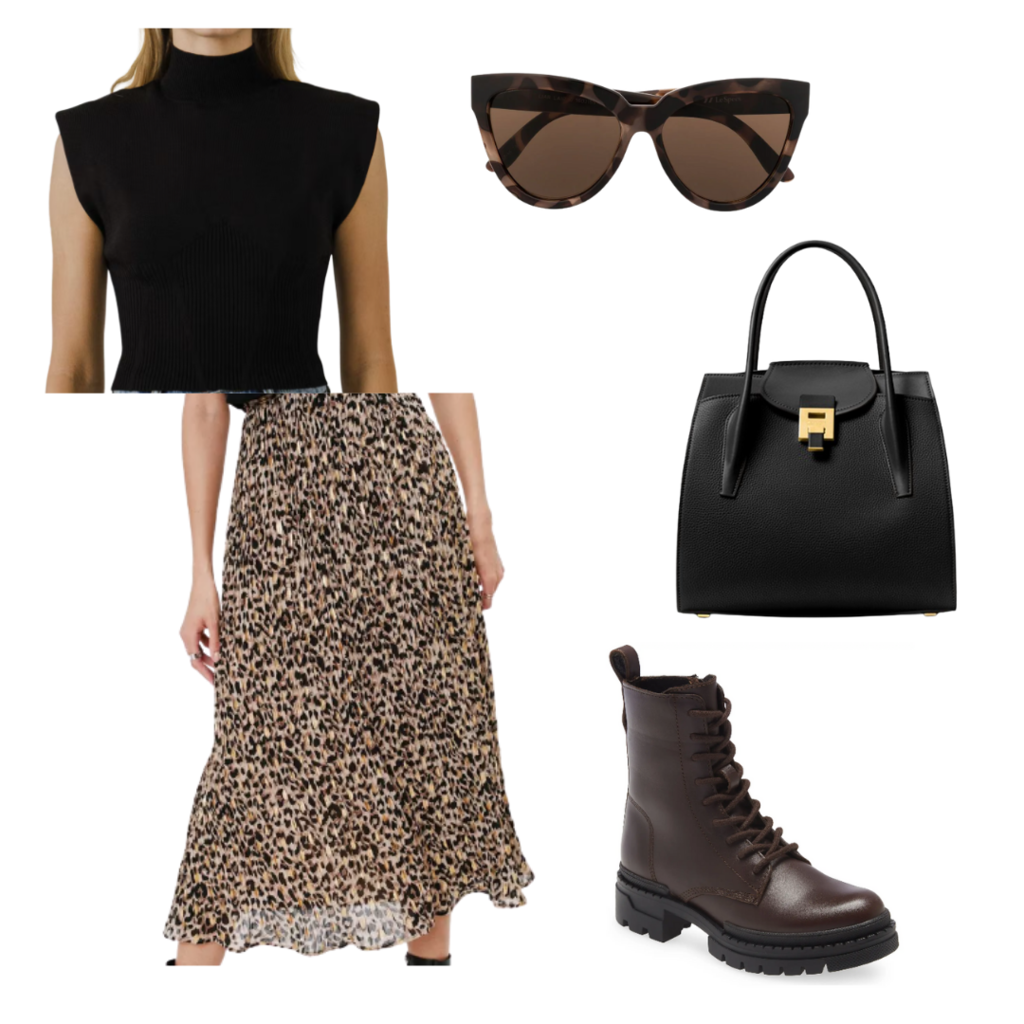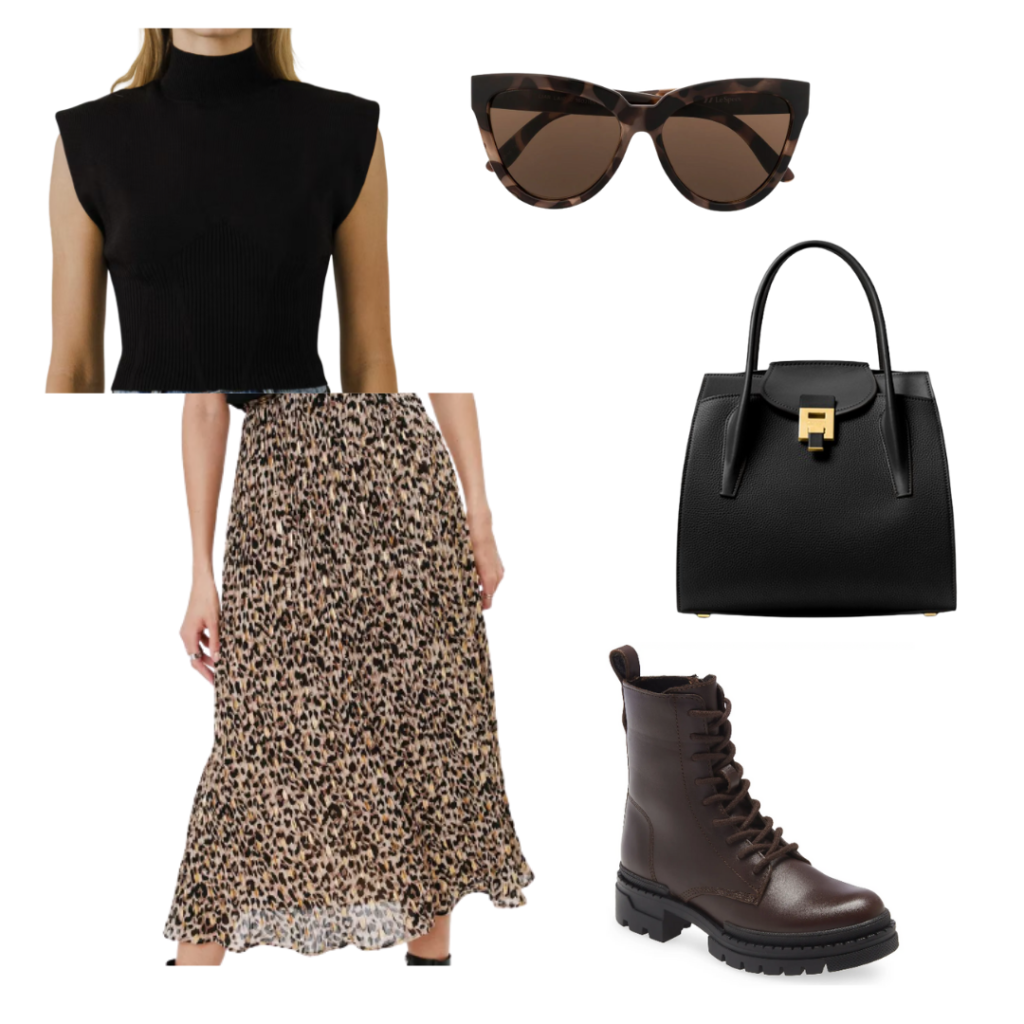 As with midi dresses, midi skirts are perfect to pair with combat boots. Also, they are ideal to wear year-round and this outfit will work the same way with minor tweaks.
Start off with a black sleeveless mock-neck top and an animal print midi skirt. Brown combat boots will complement the print on the skirt. Black cat-eye sunglasses and a black top-handle purse will give the look a poised vibe.
How to Style Combat Boots with Shorts
Now, let's go with something more casual. Shorts are our favorite item to just chill and be comfortable, and they go well with combat boots.
For this look, wear a cool graphic t-shirt with a pair of black, high-waisted denim shorts. This combination always works for a day full of errands or a day of fun activities. For shoes, white combat boots will take this look to another level. An off-white shoulder bag and colorful hoop earrings are the perfect accessories.
How to Style Combat Boots with Trousers
To some people, trousers can be very formal and too preppy or stuffy. But, like everything else, they can also be super cool and fashionable when styled correctly.
Try using a pair of wide-leg cognac trousers with a cropped white shirt. Then, wear a pair of black combat boots and an oversized denim jacket to add edge and texture to the look. Finish the look with a brown cross-body bag.
Also read: Closet VIP: How I Wear My Cargo Jacket
How to Style Combat Boots with a Suit
Pantsuits and combat boots seem to be the antithesis of each other. I assure you, they are not. They are somehow even better when worn together.
Wear a neutral-colored pantsuit, like this light pink one, with a graphic t-shirt in a darker color. Black combat boots are easier to pair with something like a suit because they can look more formal than brown or white would. Finish with a classic cross-body bag in light pink.
How do you style combat boots?
Do you like combat boots? Do you have combat boots? Which outfit would you wear? Do you have a specific item you want to pair combat boots with? Let us know in the comments below!