This post may contain affiliate links, which means we may receive a commission if you purchase through our links. Please
read our full disclosure here
.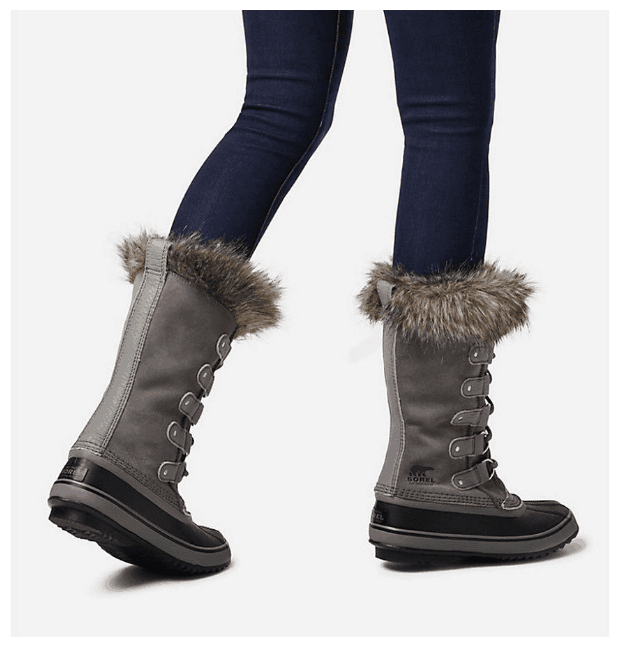 It might be hard to believe, but Winter is fast approaching! (Seriously though, didn't Fall just start, like, a week ago?) And, with the dropping temperatures and potential for snowfall (cue awkward wailing), it means it's time to start thinking about transitioning your wardrobe to suit the changing seasons.
Of course, that also means changing your footwear, and swapping out your lightweight sneakers and ankle boots for something a little more substantial–not to mention practical.
Today, we're sharing our cute snow boots guide, with our favorite cute winter boots for college.
And yes, I know that winter boots — especially the more functional snow boots — have a reputation for being clunky and ugly. However, that doesn't have to be the case!
Below, I've rounded up six pairs of cute winter boots for college that are not only stylish, but will also help you stay warm and dry.
Ready to see them? Just keep scrolling!
Cute Winter Boots for College: For Mild Winters
1. Chooka Eastlake Faux-Fur Waterproof Boot in Olive
If you live in a place that only receives mild snowfall during the winter, you'll be just fine in these stylish faux-fur–lined Chelsea-style rain boots.
In addition to olive green, these boots are available in black and charcoal gray. However, I'm partial to the olive shade, as they stand out a little more while still working well with almost any other color.
Personally, I'd suggest wearing them with a sweater-dress, leggings, a parka jacket, and a pom-pom beanie for a cute, laid-back look.
2. Light Beige Pile Boots
These thick-soled pile boots are perfect for anyone who wants to stay nice and warm this winter, while remaining on-trend. I'd recommend these to someone who lives in a place where the winter weather doesn't get too terrible. This is because lots of snow/water contact will likely ruin the pile material.
For a fun and trendy look, style these boots with a a turtleneck, a pair of cropped mom jeans that hit just above the boots' opening, and an oversized coat and scarf.
For Moderate Winters
3. Sperry Syren Gulf Duck Boot in Red/Black Plaid
Calling all prepsters: These red-and-black plaid duck boots are perfect for you! This is especially true if you live in a place that receives moderate snowfall and gets quite cold in the winter.
This pair of cute snow boots features a cozy lining made of microfleece. It also has soles with traction to help ensure that you don't slip on any ice patches you may encounter.
Pair these boots with a cardigan, a skater skirt, opaque tights, a knit scarf and mittens, and a faux-shearling jacket for an outfit that's classy and chic.
4. Warm-lined Suede High Top Boots in Black
If you enjoy experimenting with new trends, you'll love these adorable and Moon Boot-esque boots!
This faux-fur-lined pair is perfect for moderately snowy and cold winters. Moreover, it's sure to keep you warm and dry on blustery days.
I'd recommend wearing these boots in a cool and sleek way by styling them with an oversized sweatshirt, faux-leather leggings, a futuristic hip-length metallic puffer jacket, nylon ski gloves, and a brightly colored beanie.
Cute Snow Boots: For Severe Winters
5. Sorel Joan of Arctic™ Boot in Quarry/Black
As a lifelong Canadian, I like to think that I have a pretty good grasp on dressing for severe winters. However, I've come to terms with the fact that if you want to keep your feet warm during the winter, it's unfortunately likely that you'll have to spend a little extra on high-quality boots.
The Joan of Arctic Boot, made by popular Canadian brand Sorel, is great for heavy snow, thanks to its waterproof construction and recycled felt inner boot insulation.
I also really love the gray faux-suede on these. It not only goes with everything, but also won't show salt stains as badly as a darker color (e.g. black) would.
Try wearing these boots with a chunky cable-knit sweater, dark-wash skinny jeans, a beret, knit mittens, and a warm faux-fur jacket for an ensemble that is both comfortable and fashion-forward.
Also, be sure to see our post on what to wear in freezing temperatures for full outfit ideas to go with these cute snow boots.
6. UGG Adirondack Tall Boot III in Chestnut
If you're really looking to splurge on a pair of winter boots, I'd highly recommend looking into the Adirondack Tall Boot III by UGG.
This pair of boots features the same ridiculously soft and warm lining as the Classic UGGs we're used to seeing. However, they're a little more streamlined, for those seeking a sleeker look.
Not to mention, unlike the Classic styles, these are actually meant for snow, slush, and ice. This means that you won't find yourself walking around with soaked-through and salt-stained boots all season long. (Which, let's face it, is not a fun time for anyone!)
For a look that's both timeless and cozy, wear these boots with an oversized cardigan worn over a turtleneck top and leggings (don't be afraid to go for a pair made especially for cold weather, like these), wooly socks, a knee-length puffer jacket, and whichever hat/scarf/gloves will keep you the warmest.
What do you think of these cute snow boots?
What are the winters like where you live? Which of these boot styles most closely resembles the ones that you typically wear during the winter? Do you have any other recommendations for cute winter boots for college?
Let me know in the comments!