Here are the top alternatives for those who want a more budget-friendly, yet similar option to UGG boots.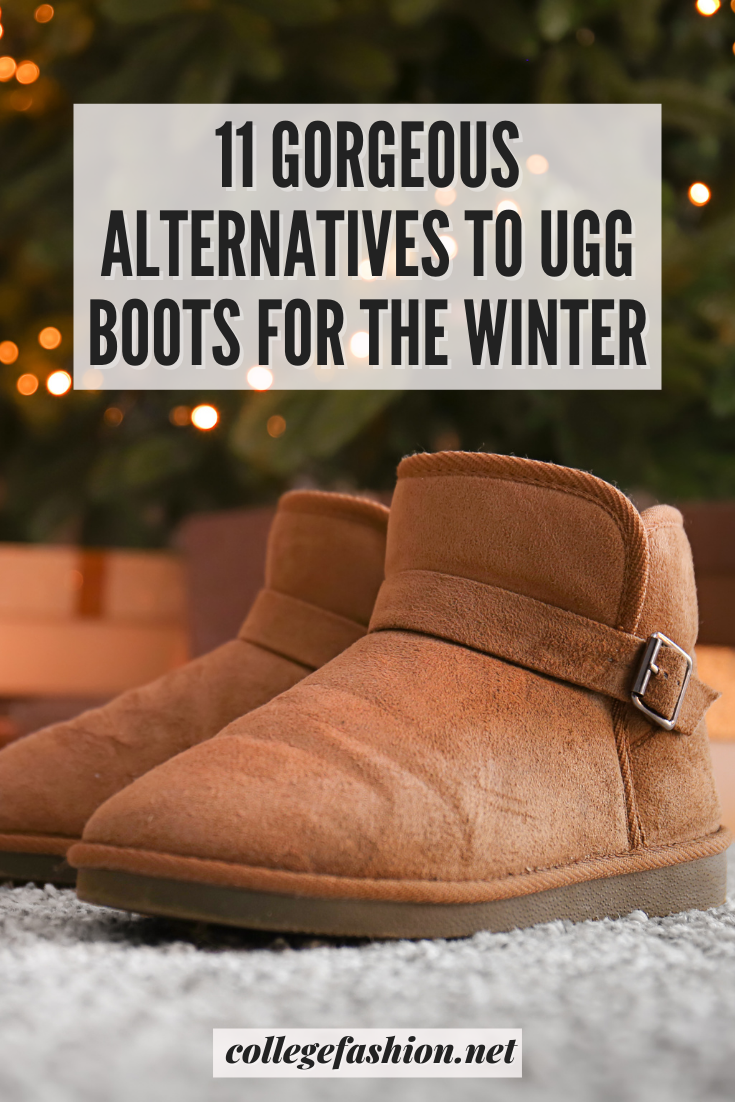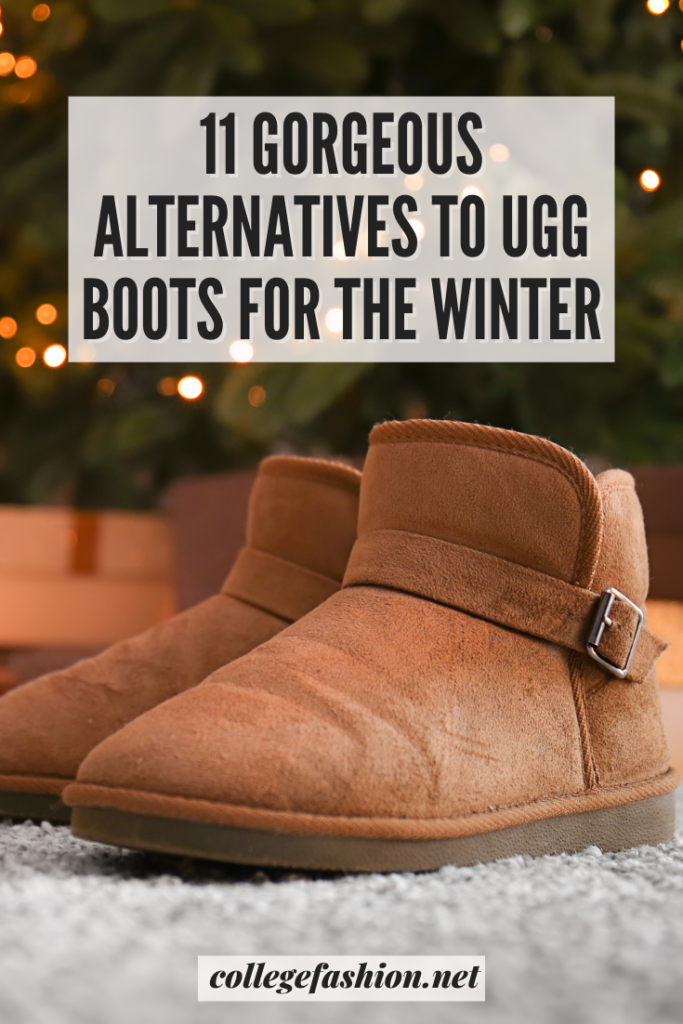 For a cozy winter outfit, UGG boots are usually our go-to option. Although UGGs are high-quality and last, the price is certainly high and getting a pair of your own is an investment. Fortunately, there are lots of affordable boot alternatives out there that are very similar to UGGs and give off the same vibe.
It's no secret that UGGs are ultra-comfortable. That said, if there's one downside to them, it's that sometimes they can make your outfit look a tad bit too casual. Sometimes you just want the delicious, soft comfort of UGGs, but also want to look more put-together.
If you're going out, UGGs wouldn't be the first shoe we'd recommend. Especially if you're going to the bar or trudging through wet weather – UGGs can get easily ruined! So, why wear such an expensive shoe out that could get ruined? You see where we're going with this…
You have tons of time to treat yourself to more expensive shoes when you are older, but in college, the more affordable route is a safer bet. In addition to not being weatherproof, you don't want to spend a lot of money on something that may quickly go out of style.
If you agree with any of these thoughts, then this is the winter boot post for you! Below you'll find several super cute and affordable alternatives to UGG boots. Also, if UGGs aren't really your thing, the second half of the post is dedicated to alternative winter footwear options.
One more thing: if you find a pair of boots here you like but you're not sure how to style them… we can help out with that too! Be sure to check out our post UGGs Are Officially Back & Here's How to Style Them in 2021.
Without further ado, let's hop to it.
Boots Similar to UGGs
Similar Option 1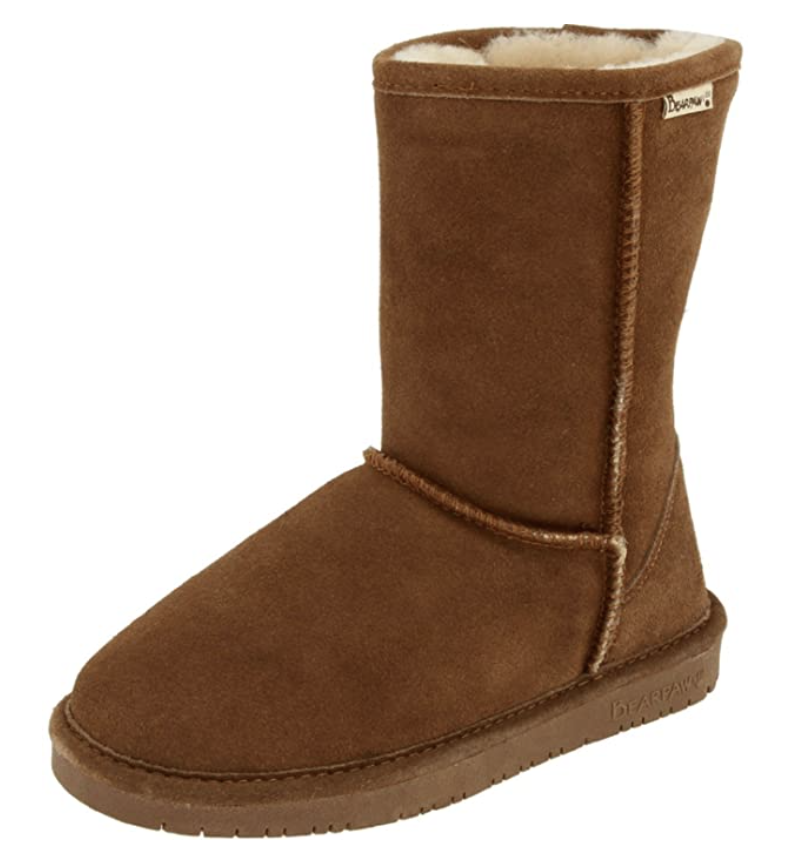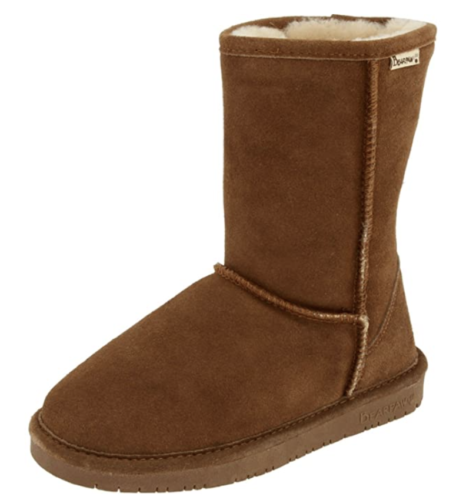 The first boot is a brand that you have probably heard of and they are known for making perfect dupes at a more affordable price. These are the Bearpaw Emma Short Snow Boot in the light brown color. They are similar to the short-height classic UGGs. These boots are 100% suede with a rubber sole and fur lining.
These are perfect for throwing for class in the colder weather, running errands, or going to a coffee shop to study for exams. I don't see classic UGGs going out of style anytime soon and this height is perfect with leggings, sweatpants, and yoga pants.
Similar Option 2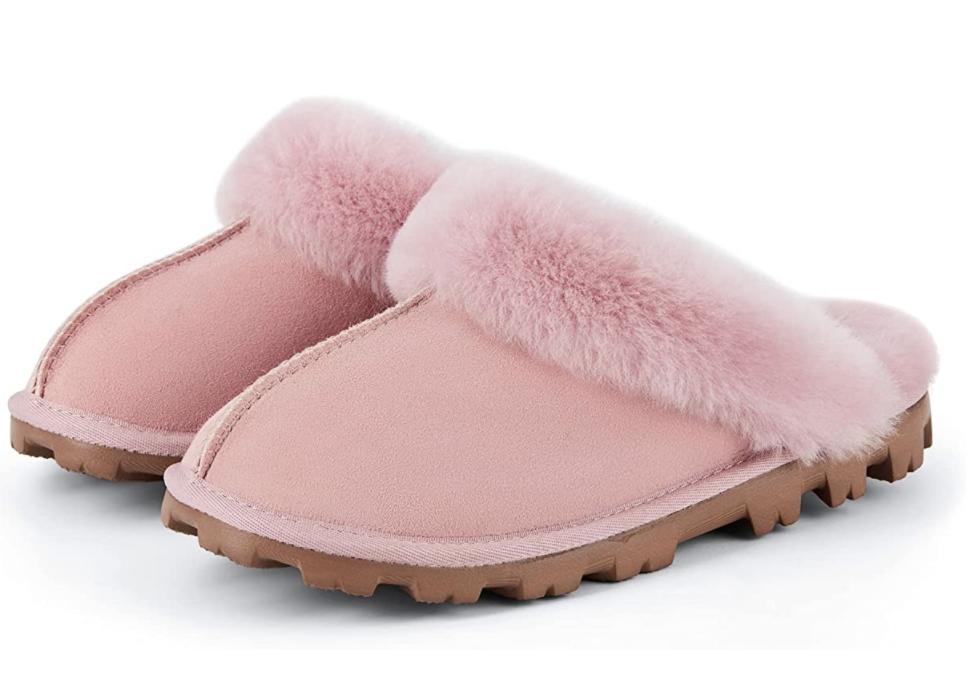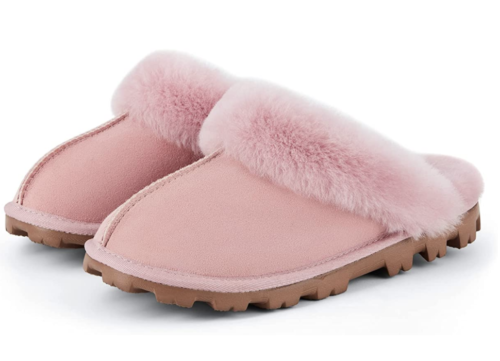 This next dupe is for everyone obsessed with UGG slippers. These are the WaySoft Genuine Australian Sheepskin Slippers. They are in this adorable baby pink color but also come in 5 other colors if this shade isn't for you. They are water-resistant, warm, fluffy, and the perfect slippers for both inside the house and outdoors.
These are a great alternative for cozy, soft slide slippers, but obviously at a much more affordable price. These slippers would also make a great gift this holiday season as they come packaged in a beautifully designed shoe box.
Similar Option 3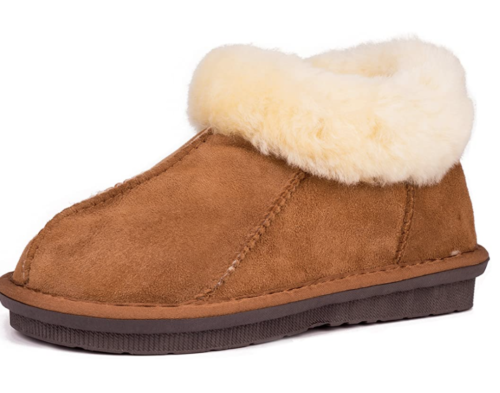 This next pair is the coziest slip-on bootie for winter. These are the Warmie Australian Sheepskin Super Thick Premium Sheepskin Slippers. They are in this cute chestnut brown color and are both durable and extra fluffy. I love the style of these booties and how the fur lining goes down the outside, as well as the inside of the shoe.
These have a rubber sole with a suede leather outer material and a cozy, warm sheepskin as the inner material. They feature a super easy slip-on design and are extra thick and warm for this coming season.
Similar Option 4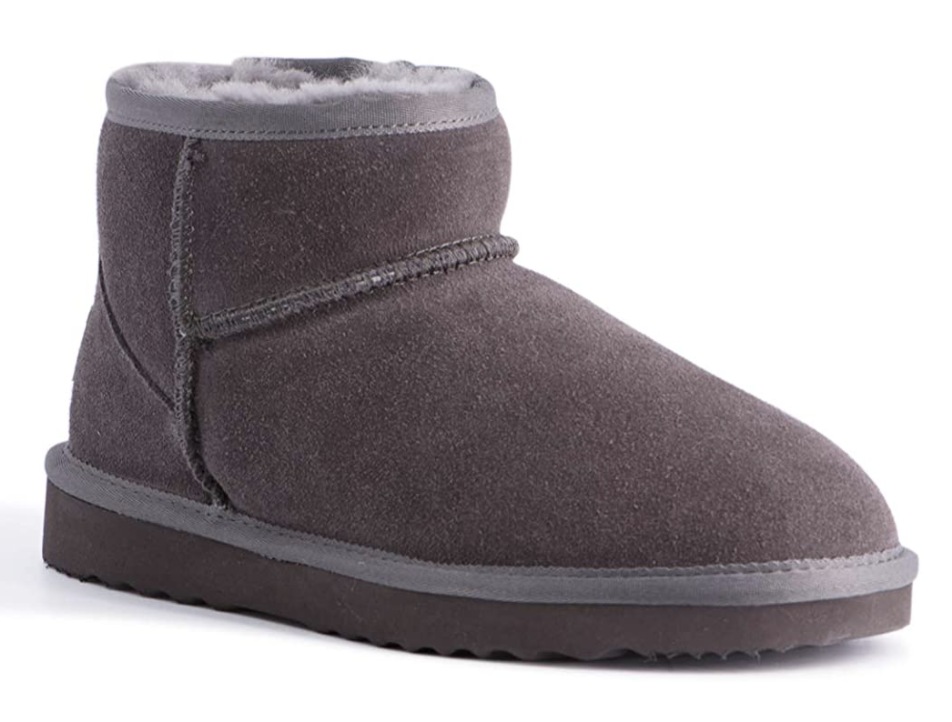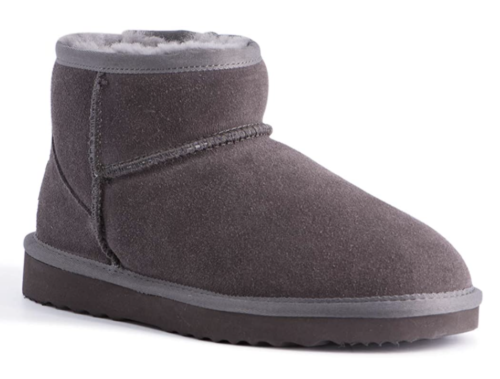 This next footwear option is a similar height to the ultra-mini UGG boots that have been trending recently. These are the Aus Wooli Sheepskin Short Ankle Boots. They are shorter than the medium-height UGGs and come in a super cute grey color. Some of the best features include being water-resistant and having a full leather suede upper.
These boots are extremely comfortable and lined with sheepskin. These boots are also sustainably sourced and eco-friendly processed, so you can feel good about how your boots were made!
These grey booties would look so cute with some baggy grey joggers and a cropped chunky knit sweater; the perfect fall and winter outfit to wear around campus!
Similar Option 5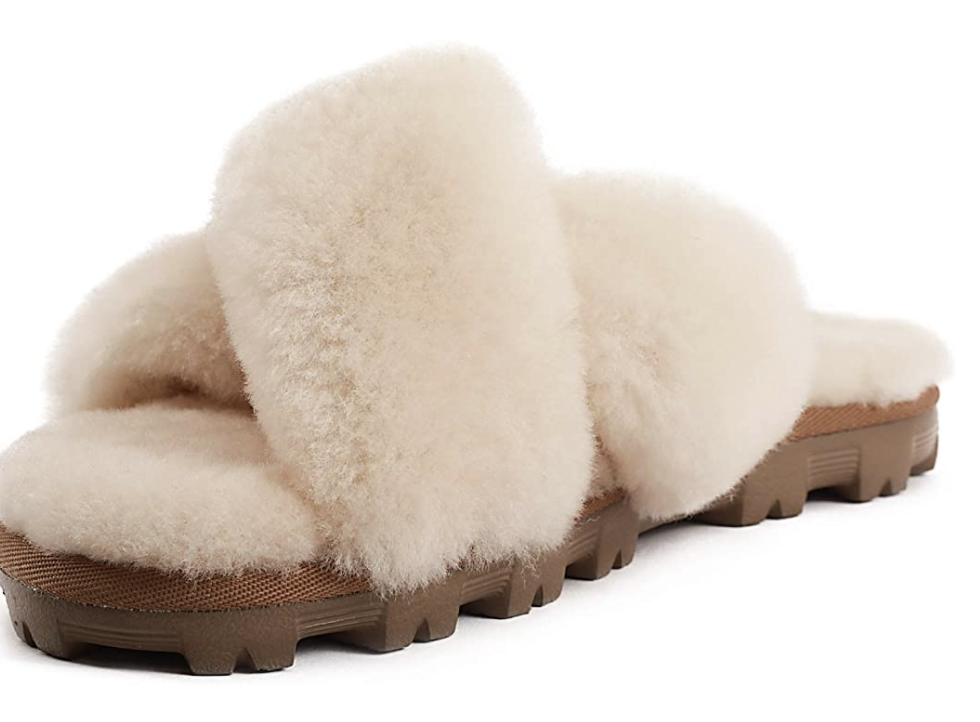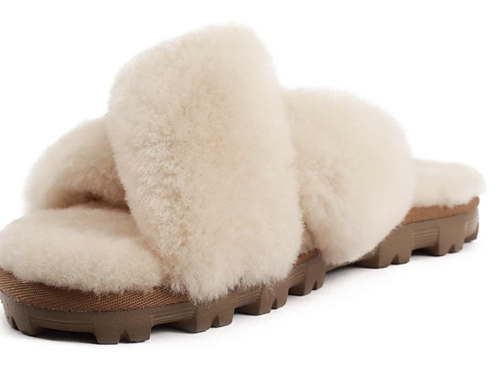 This next shoe is the coziest slipper ever. It's an ultra-trendy style right now and we can't get enough of it. These are from the brand WaySoft and these are the Genuine Australian Sheepskin Cross Band Slippers. From being available in four different colors to the shearling fluffy fur lining, they're on top of our Christmas list. They have a lightweight and flexible sole with wide crossover straps.
These slippers feel like clouds on your feet and are so comfortable and warm. You can wear this inside or outdoors and they go with pretty much anything. They are the perfect slip-on slides when you are in a hurry and need to grab a pair of shoes. Perfect for dorm life or college apartments. Also, these would make a great gift this holiday season!
Similar Option 6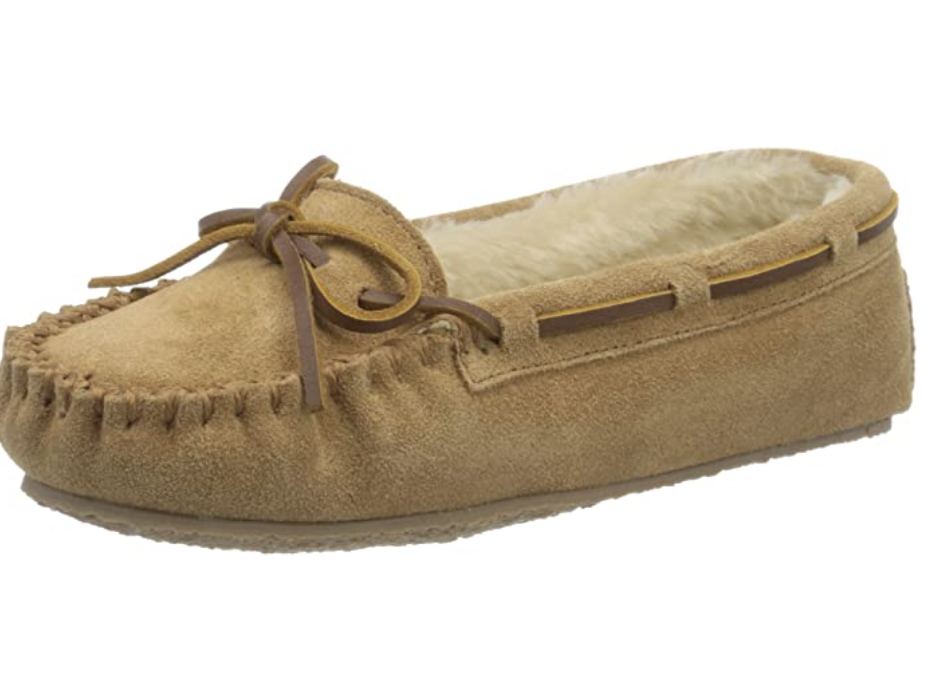 This last similar UGG option is the Minnetonka Women's Cally Faux Fur Slippers. These moccasins are the perfect, cozy around-the-house slipper for winter. They are 100% suede with a suede sole and imported materials. These are timeless style that provides comfort and durability at the same time. These slippers are made to stretch, so each pair fits so comfortably and snugly.
The thick pile lining keeps your feet warm all winter and gives you that almost barefoot feel. You can choose from so many different colors and pair them with countless different clothing pieces, making them versatile slippers for winter.
Alternative Winter Boot Options
Alternative 1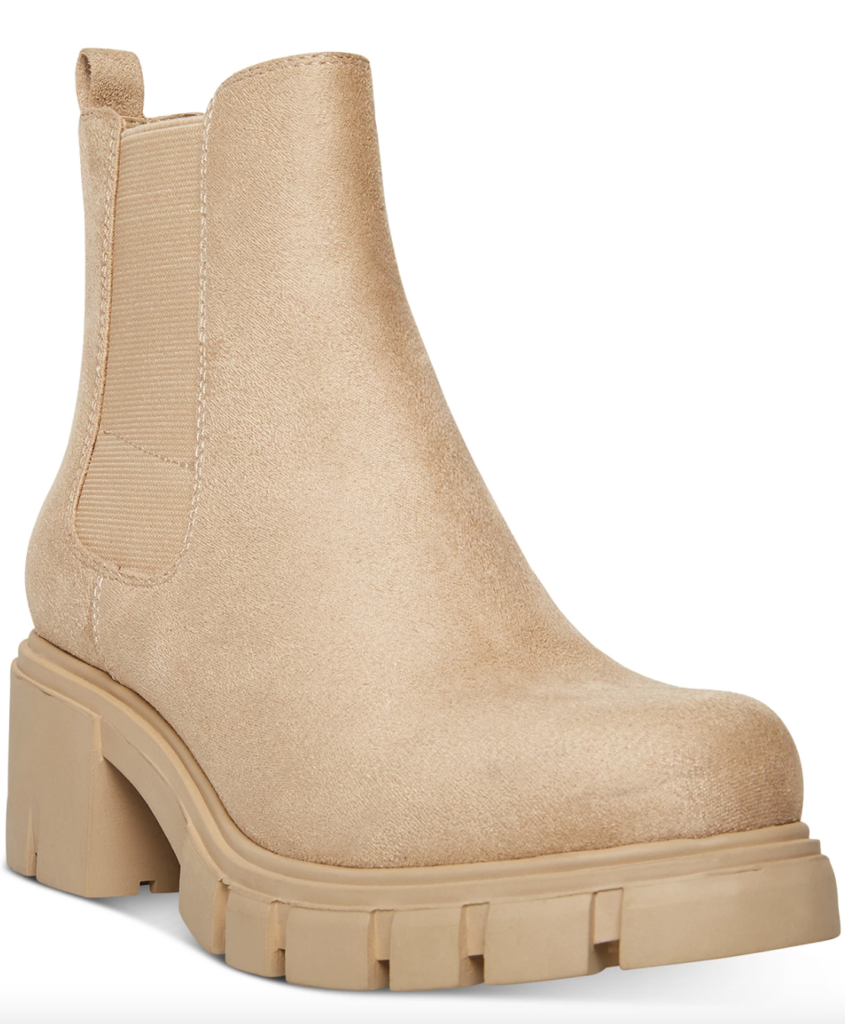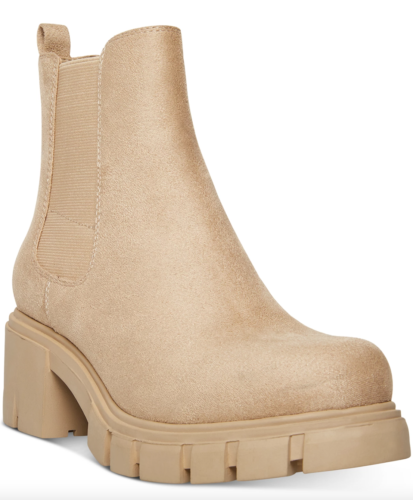 If UGGs aren't really your thing but you like the general look of them, I have come up with some alternative options that will fit your fancy. This pair of Madden Girl boots can give you a more structured or dressed-up look compared to the classic, casual feel of UGGs.
This pair has been trending everywhere lately and are definitely the perfect boots for fall and winter. The sand color is perfectly on-trend but they also come in black and pink, as well as a patent material for that shiny look. These boots pair so well with so many different clothing items.
They have a block heel and platform for that chunky boot look as well as some added height. A round toe with a pull tab on the back makes for easy slip-on convenience. Style these with some baggy light wash jeans and a nude chunky knit sweater for a brunch-ready look. You can also throw over a neutral oversized flannel and a fun scarf for warmth!
Alternative 2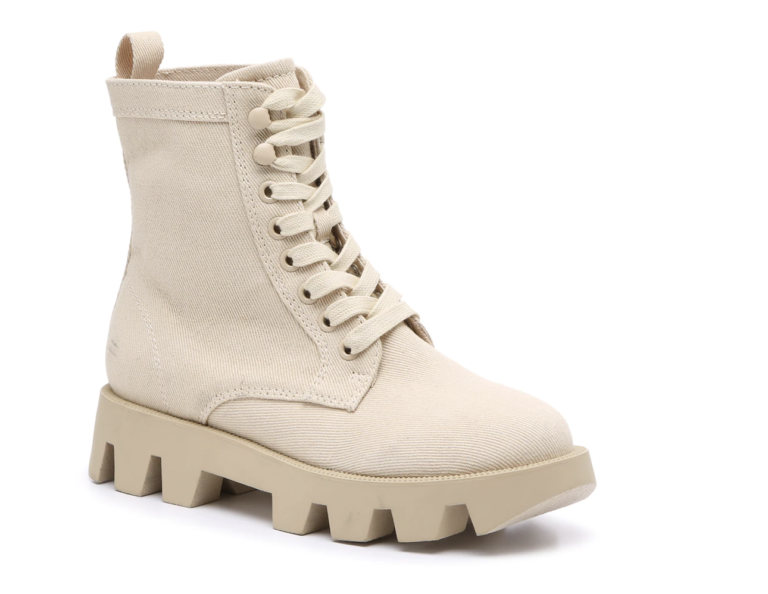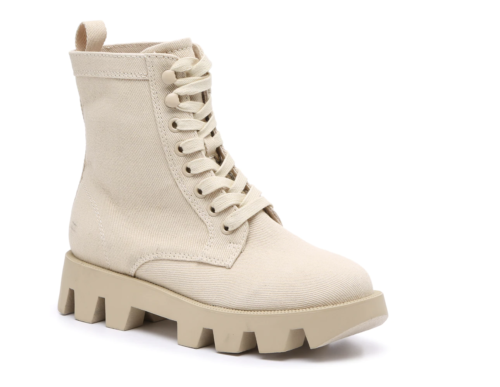 This next pair of boots is for someone who leans toward a more edgy vibe. These are those construction-style combat boots that are super trendy right now. The Jenson Boots are the Mix No. 6 brand from DSW and come at a wallet-friendly price. If nude isn't your thing, they are available in black as well.
These boots have a platform sole and a chunky heel. They feature a trendy, exaggerated lug sole and lace-up the front. As an added bonus, these boots have a padded footbed and extra padding throughout, so they are extremely comfortable and easy to wear.
Alternative 3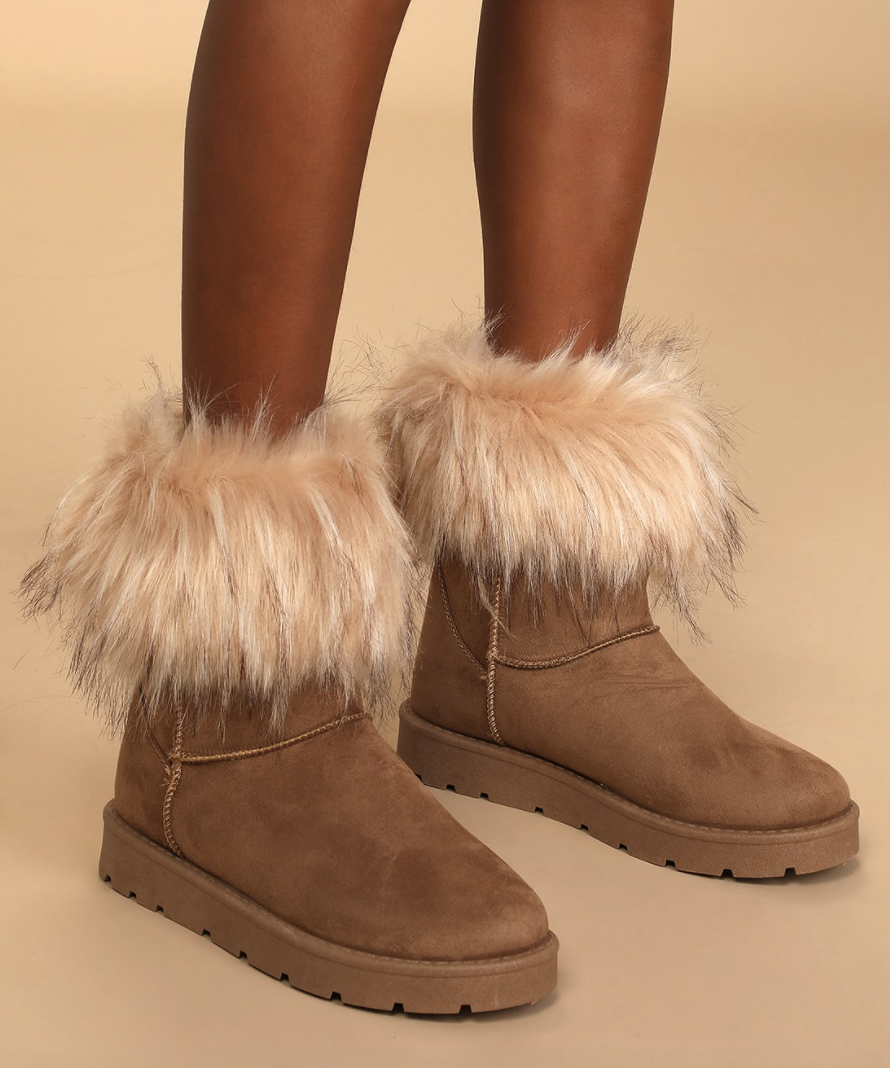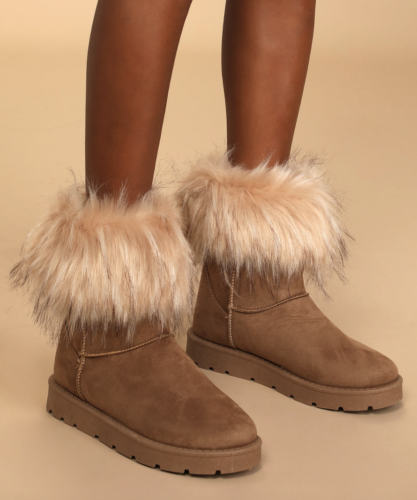 This next alternative is closer to the look of casual UGG boots with a little added flare. These boots are the brand Chinese Laundry, available at Lulu's for a reasonable price. The Sugar Hill Natural Suede Faux Fur Boots are so fun for the winter and play on an iconic trend.
They feature a soft faux suede material with a rounded toe and a mid-calf shaft trimmed with fluffy, dramatic faux fur. These boots also have a small platform for some added height and comfortability.
Alternative 4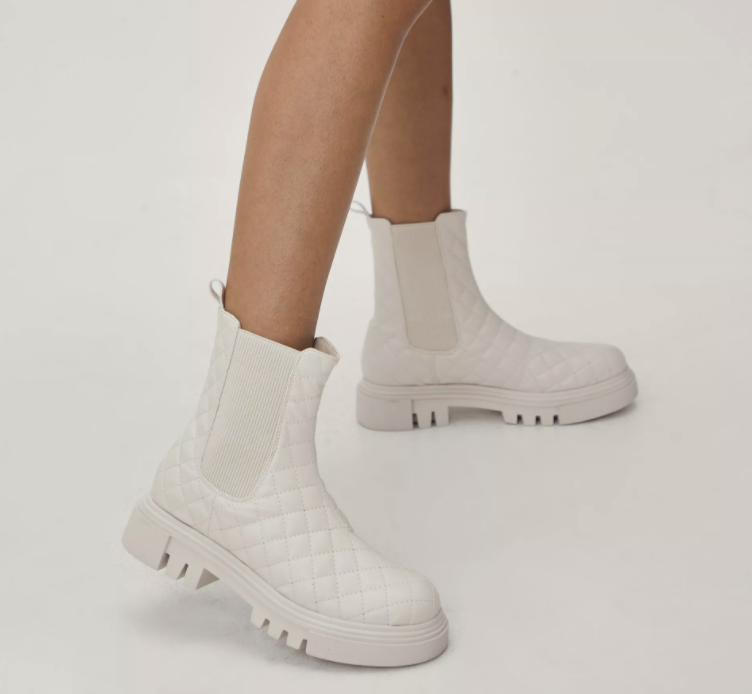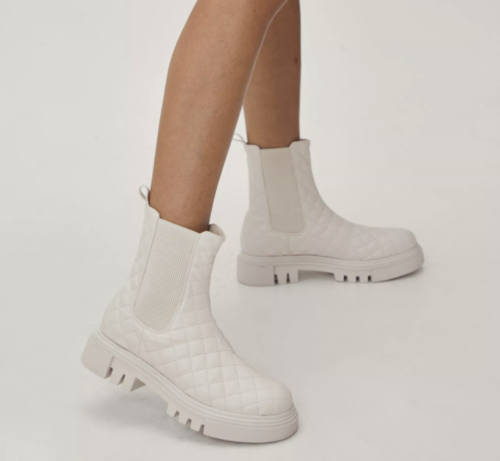 These quilted Chelsea boots are definitely going to be my next purchase. I am obsessed with them! They are from Nasty Gal, one of my favorite online clothing stores to buy from recently. They offer such trendy pieces at such great, affordable prices. These are the Quilted Faux Leather Ribbed Chelsea Boots and they come in both this muted nude color and classic black.
They are faux leather with a quilted design, round toe, and partially cleated chunky sole. The boots have a high ankle silhouette and a chunky style to them. These would look amazing paired with skirts and dresses and even some sheer tights layered underneath.
Alternative 5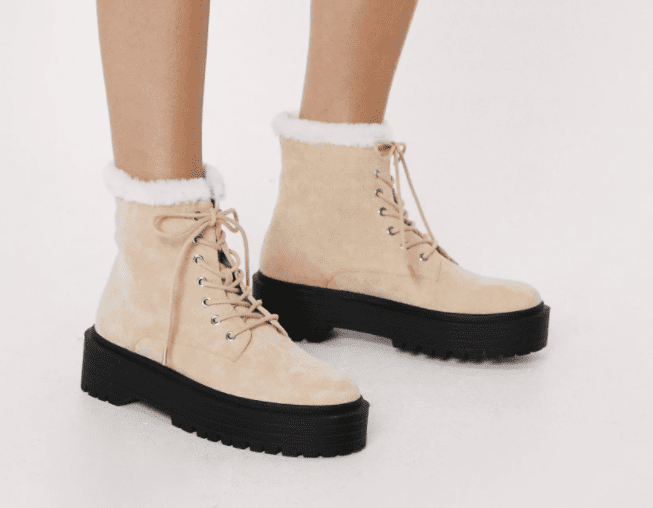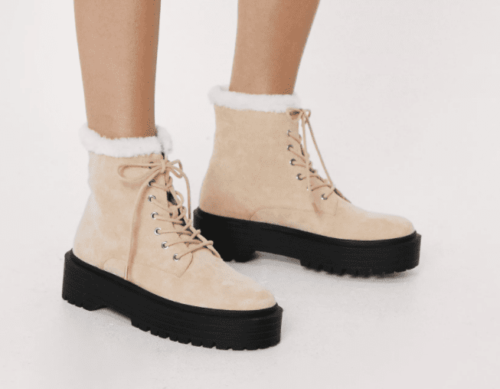 The last boots also come from Nasty Gal. These are the Faux Suede Faux Fur Trim Ankle Boots in a neutral beige color. If you love the fur insides of UGGs, these boots are for you. They create a more structured look, in contrast with the traditional UGGs, because of the lace-up detail and chunky, thick platform sole.
I would style these with some fun patterned pants, a bodysuit, and a leather jacket. They would be great for going out at night but also can be worn casually during the day with a sweater and leggings to class.
Which of these boots that are similar to UGGs are your favorite?
Are you a fan of Uggs? Which of these do you like best? Let me know in the comments below!