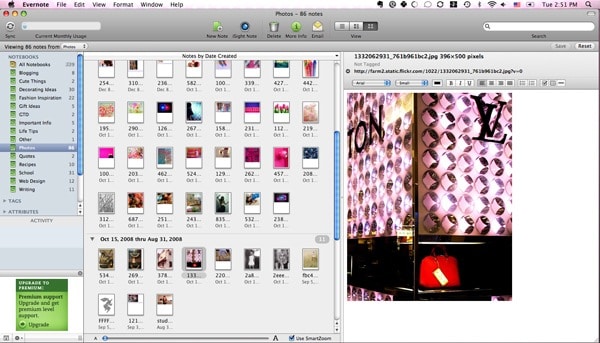 Since I wrote about Evernote in my article on How to Shop last week, I've been bombarded with emails wanting to know how I use the program. I've been meaning to write about Evernote for a while because it's such a great tool to organize everything in your life. If you're a super-organized list-making Virgo like me or if you'd just like to be more organized in general, you'll love it.
What is Evernote?
First, a quick overview. Evernote is a computer program that helps you get organized and remember everything. Here's a short description from the Evernote website:
Evernote allows you to easily capture information in any environment using whatever device or platform you find most convenient, and makes this information accessible and searchable at any time, from anywhere. Did we mention that it's free?
Basically, you can save anything to this program and access it from your computer, from the web, or even your phone! It allows you to keep track of whatever you want and find it again whenever you want. It's a super organizational tool and there are millions of ways to use it.
How I Use Evernote
Here's a list of the many ways I use the program to organize my life.
Fashion Inspiration
Probably one of the most important ways I use Evernote is to keep track of my fashion inspiration. Since I'm a fashion blogger, it's important for me to keep up with the latest trends. That's why I use Evernote to save pictures of pieces I love, photos of runway looks I want to remember, celebrity looks that inspire me, and whatever else catches my eye. I even make lists of my favorite looks of each season complete with runway photos.
For more on using Evernote for shopping and fashion inspiration, see The Ultimate Guide to Shopping.
Blogging
I love using Evernote for blogging because it keeps all my blog-related ideas together in one place. For example, I have a Blogging notebook where I keep a long list of blog post ideas, inspiring articles about blogging, and pictures of products I'd like to use in future blog posts. Whenever I want to save something blog-related, it goes in here.
I also have a Photos notebook where I save Creative Commons pictures from Flickr to use in future blog posts. I have tons of great photos in there, and it saves me having to scramble to find the right picture when it's time to post an article.
School
Evernote is also super-useful for college. If you're the type to bookmark zillions of sources when you're working on a project or paper, you need to start using Evernote instead. Make a notebook for your project and copy each site into its own note. That way you have all your sources in one place where you can search them all easily. Even better, you can access that notebook from anywhere, so you'll still have all your sources if you want to use a different computer. You can even look at them from your iPhone.
You could also use Evernote to keep track of all your notes for class if you're bring a laptop to lectures. A notebook for every class would save paper and make all your notes easily searchable. Perfect when you're looking for your notes on a specific topic but can't remember what day you discussed it!
Decorating Ideas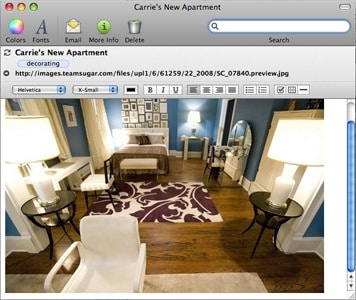 I just moved in to a new apartment, and I used Evernote to organize all my ideas for how I wanted to decorate. I clipped pictures from HGTV.com, Apartment Therapy, decor8, and other interior design websites so I could keep track of my inspiration & remember what styles I was going for. (No, I didn't try to copy Carrie's apartment above, but how fabulous is that place?)
I also used it to keep track of which IKEA pieces I wanted to buy and got them up on my phone when I was in the store. Instant shopping list!
Recipes
Because I'm vegetarian, I have to cook a lot of my own food, which means keeping track of lots of recipes. Whenever I find a good recipe online that I want to make, I clip it to Evernote and add it to my Recipes notebook. Then when I want to make something for dinner, I can find that recipe in 2 seconds.
Gift Ideas
Instead of waiting 'til the day before a friend's birthday to think of a gift, I keep a running list of gift ideas in Evernote. Whenever I come across something that would be perfect for a friend or family member, I add it to that person's note and it's saved forever. That way, it's easy to find the perfect gift for everyone.
Quotes
If you love to save famous quotes, Evernote is perfect for you. In my Evernote I have a Quotes notebook with lots of different sections – one for fashion-related quotes, another for love quotes, etc. Whenever I come across a new quote that I want to remember, a simple copy & paste and it's added to my notebook.
Important Information
Do you have so much paperwork piling up that your desk is a mess? Think about using Evernote to keep track of it instead.
One of the coolest things about the program is that it automatically recognizes words, even in pictures, so you can search them easily. If you have a scanner, a phone with a camera, or even a computer with a built-in camera, you can take pictures of your paper documents and save them in Evernote. Your information will be safe, but those piles of paper won't be messing up your desk anymore. You can also back up your personal information – things like insurance card numbers, bills you paid, and other paperwork are easy to keep track of with Evernote.
Other Evernote Ideas
You've seen how I use Evernote, but those are just a few of its many uses! Here are some more cool ideas for how you could use the program:
Daily journal – Evernote would make a great daily journal. You could make a notebook and add a new note to it each day. Since it syncs to the web, you could update your journal from anywhere, without having to carry around a paper diary.
Web design – Starting a blog or redesigning your website? Save all your design inspiration in Evernote for easy referencing from anywhere.
Keeping track of receipts – Compulsive shopper? Keep track of everything you buy by scanning your receipts and putting them into Evernote. Fewer pieces of paper to fill up your handbag, and come tax time, you'll be all set.
Takeout menus – If you love takeout (and what college student doesn't?), keep all your takeout menus in Evernote instead of all over your fridge.
List making – Love lists? Evernote has fabulous list-making features, with checkboxes you can x off when you've completed something, options for different fonts and colors, and lots more.
Cute photos – Are you addicted to CuteOverload.com? Save your favorite cute photos to Evernote & look at them whenever and wherever you want.
Even More Ways to Use Evernote
Not enough for you? Here are some links to ways that other people are using Evernote.
Using Evernote to Save Your Schooling
Evernote: Why it Will Make it & 20 Awesome Ways to Use It
How To Use Evernote To Remember Everything
What do you think?
Now that you know all about Evernote, do you think it's a program you'd use? Do you currently use Evernote? If so, how do you use it? Leave your thoughts in the comments – I'd love to know what you all think.