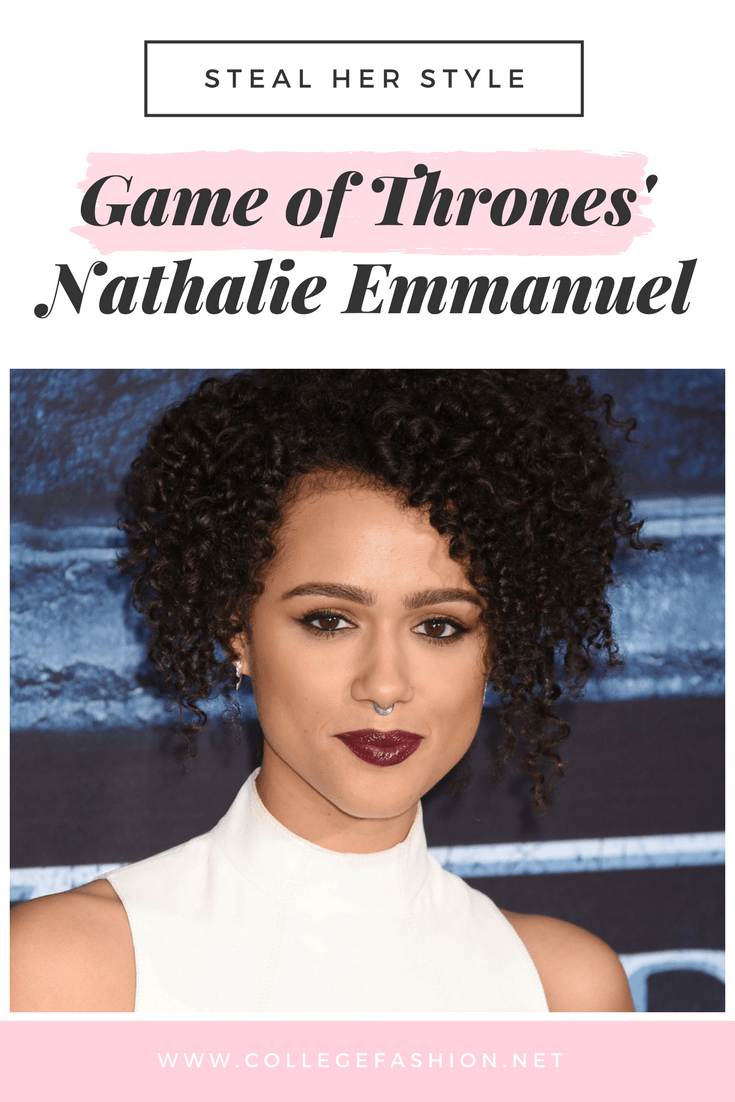 Welcome to another chapter of my quest to delve deep into the styles of lesser-known icons. (Last time I covered Instagram star Jeanne Damas.)
Believe it or not, most of my style inspiration comes from women who don't work in the fashion industry. Instead, I'm inspired by women who are making a name for themselves in their own realm, be it in acting, sports, music, writing – you get it. This week, I'm drawing from that pool and sharing the greatness that is Nathalie Emmanuel.
A year or two ago, I stumbled upon this photo of Nathalie Emmanuel on Instagram:
At first, I was eager to stalk her page in hopes of finding potential spoilers for GoT. Unfortunately, Nathalie is good at staying mum — BUT I did notice that she dresses adorably. All. The. Time. And after watching her page gain followers, I appreciate that she has kept her style consistent and hasn't yet allowed a stylist to make her over.
If you don't know who Nathalie is, here is a primer:
She plays Missandei, the dear friend and translator of Daenerys Targaryen on Game of Thrones.
She is a recurring character in the Fast and the Furious movies since Fast 7.
She has been the face of Speedo before
She is also a vegan! (As a fellow vegan, I always get excited to find other vegans since our community is still fairly small.)
She has some of the most envy-inducing skin you'll ever see.
TL;DR: Nathalie is a Game of Thrones actress and brand ambassador living in the UK.
Now that I've planted a seed of interest in your mind, you can reorganize your mood board to fit the newest style inspiration you'll get from her look.
Nathalie Emmanuel's Clothes:
In this cute photo, it's clear that Nathalie's style can be defined as laid back, yet cool. 
Sneakers keep the outfit sporty and casual, and the socks make the look quirky. The bomber jacket is cool and on-trend. And is that a super thin choker I see? Yep. That's it. I need to be her friend.
Notice that Nathalie's look is comfortable, sporty, and cozy, yet she's wearing a skirt and dainty jewelry. The line between all-out girly and tomboy-cool is Nathalie's sweet spot, and I love that!
If this outfit isn't your favorite, I at least recommend you take note of that fabulous color scheme Nathalie has going on. As you'll soon see, Nathalie's fashion color palette is all over the place…and it's GREAT.
Just one more photo here so we can also look at some colder weather inspiration. (This goes out to my girls who live in areas that get cold in fall; I wish I was there with you instead of melting in Texas.)
This look is everything: cool, ladylike and reminiscent of the Dior New-Look that swept the runways long ago. What I love is the use of darkness to keep the look streamlined and united. Otherwise, the patterns might not work with the shoes. (By the way, she's wearing head to toe Coach, which – fun fact – I believe costs about the same as my semester tuition. *sobs*).
Once again, the look is interesting, fresh, and quirky, but contains elements of classic looks. And another great lesson we can learn from her in general is that layering is our friend. Can you tell I'm excited for colder weather already?
A capsule collection for Nathalie's wardrobe might look a bit like this: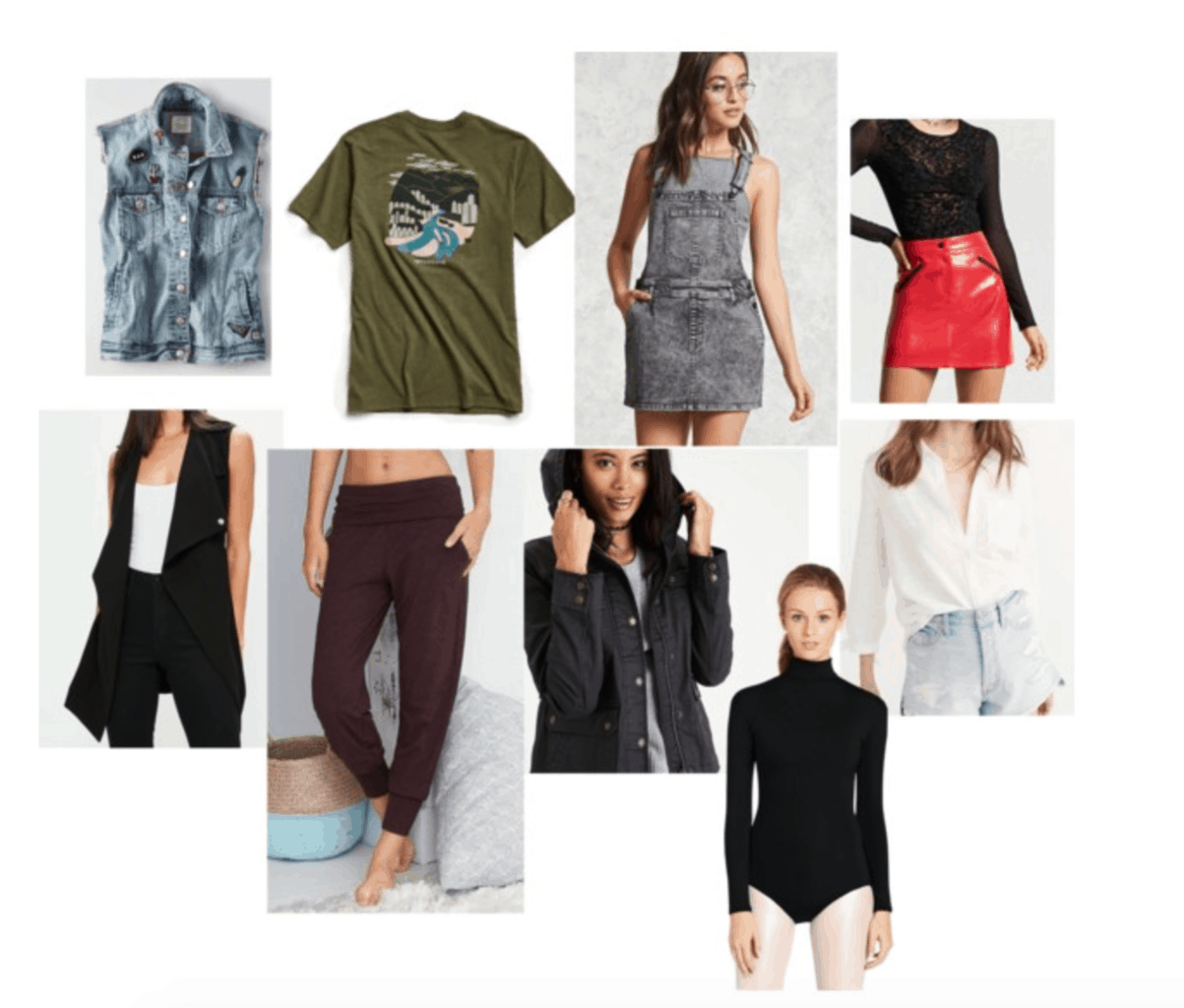 This capsule contains a little bit of everything – mostly layering pieces that can be mixed to your heart's content this fall!
Starting off with the outerwear in this capsule: the jackets and vests can be layered with long sleeves underneath for the transitional weather that's approaching. The graphic tee can be worn with the vinyl skirt and trainers (a look Nathalie wears a lot in her downtime), or with trousers and heels. The bodysuit can be layered, too.
All the pieces can be dressed up or down, and can be adapted for different climates, all while keeping a low-key chic look.
Nathalie Emmanuel's Accessories and Shoes:
Now let's move on and discuss Nathalie's Accessories and Shoes!
In this clear shot, you can spot Nathalie's septum ring, which she has worn for quite some time. If you are keen on emulating her exact look, then I'd suggest looking into a septum ring, because it usually makes a cameo in every outfit of hers.
(FYI: Fake septum rings like this one are available and cheap, so you might want to do a test run that way before committing to a piercing. Just sayin'.)
The rest of her accessories are mostly edgy and a bit boho. Nathalie fluctuates between maximalism and minimalism, occasionally wearing just her septum ring and a thin ring, or going all out and cramming silver rings onto her knuckles.
When it comes to shoes, she prioritizes comfort over everything else. For red carpet occasions and other special days, she'll pull out the heels; but otherwise, it's sneakers and booties.
What I noticed is that she respects the 'busy-ness' level of her outfit. If she is wearing a head to toe patterned look, then she'll keep extras minimal, and vice versa. Remember guys, keep things balanced to nail her vibe.
A capsule of Nathalie's accessories might look like this: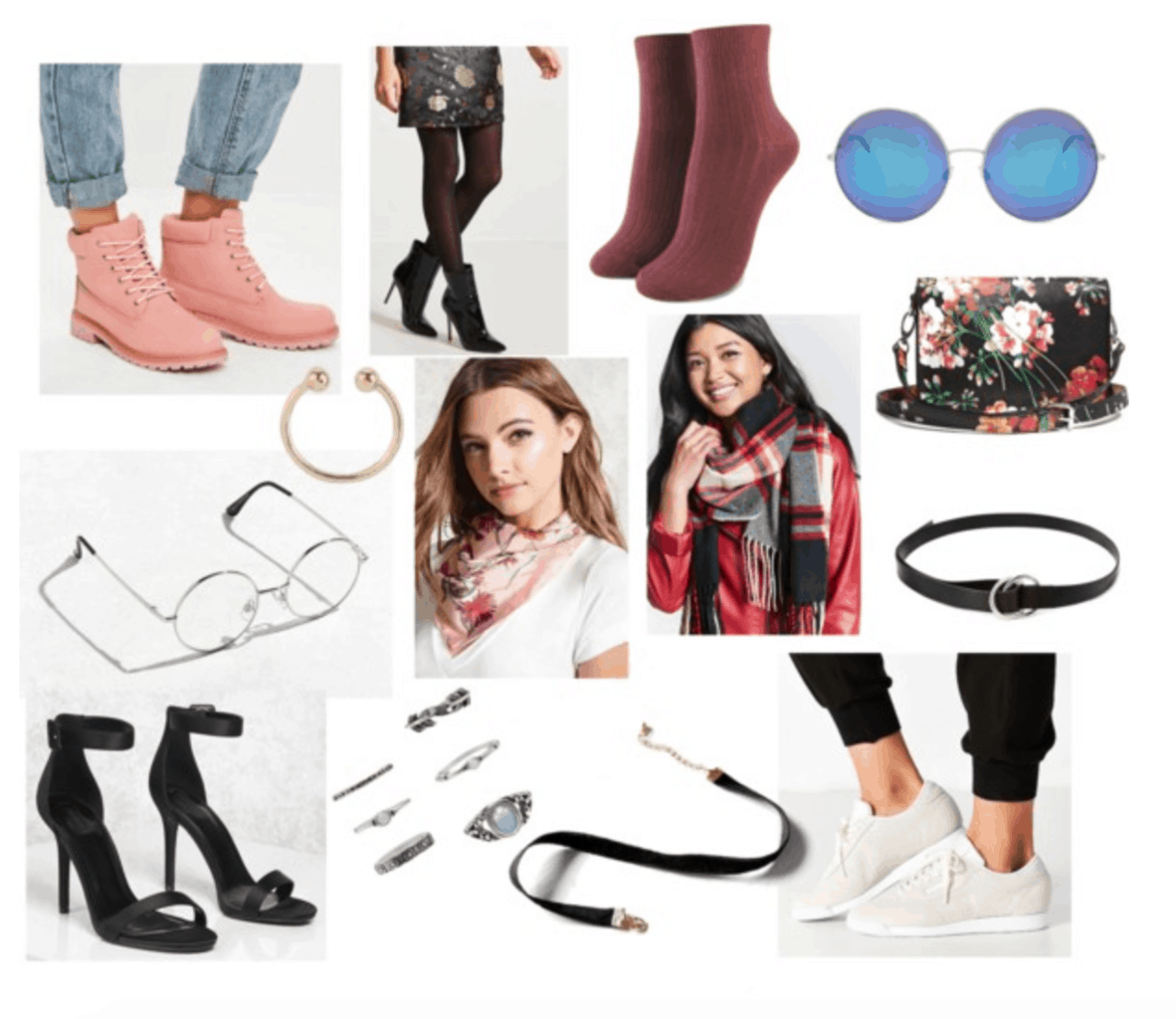 Nathalie's look is often eclectic, so for shoes I'd suggest to look for sneakers, or sporty types of flats. I can see her wearing a minimal style mule. Comfort is huge, so don't feel limited to these shoes!
For accessories, I included a fake septum ring if you want to take her look more literally. She occasionally wears that small pendant necklace, but more often wears choker necklaces, as shown below:
One thing is for certain – she definitely does not shy away from patterns on her clothing, shoes, and accessories. So don't be afraid to pull out all your funky pieces!
Nathalie Emmanuel's Beauty Routine:
When she isn't filming, Nathalie keeps her beauty routine very natural. And it's obviously working for her!
Okay, this is a little weird to say, but her skin is perhaps the clearest that I have ever seen. I have combed through the internet to find any sort of interview where she gives away the secret to her skin. As of this article's publication, I have not gotten anywhere. I will keep you guys updated!
What I found instead was an interview where she explained what hair products she uses, and I felt this was relevant since curly hair is her signature. Nathalie proudly wears her hair natural on red carpets and on Game of Thrones too – and I absolutely love this choice. Nathalie swears by the brand Deva Curl, which makes a popular "no poo" shampoo.
For makeup, Nathalie is a natural girl most of her time, so a full face of makeup won't happen every day. I'd recommend keeping your brows groomed, since hers frame her face significantly (bushy browed girls unite!). Otherwise, just showing your skin some love and drinking a lot of water should help boost your glow!
As for special events – like dates, dinners, and other events that pop up during college – or red carpets if you're Nathalie – I notice she wears vivid lip colors and keeps her eyes neutral. A few times on Instagram I saw her wear bright coral and red lipsticks, even blue once!
And once in a blue moon, she wears (and totally rocks) blue eyeliner, evidence of which I will leave below since she looks so awesome in it:
A quick peek inside Nathalie's beauty drawer might look a bit like this: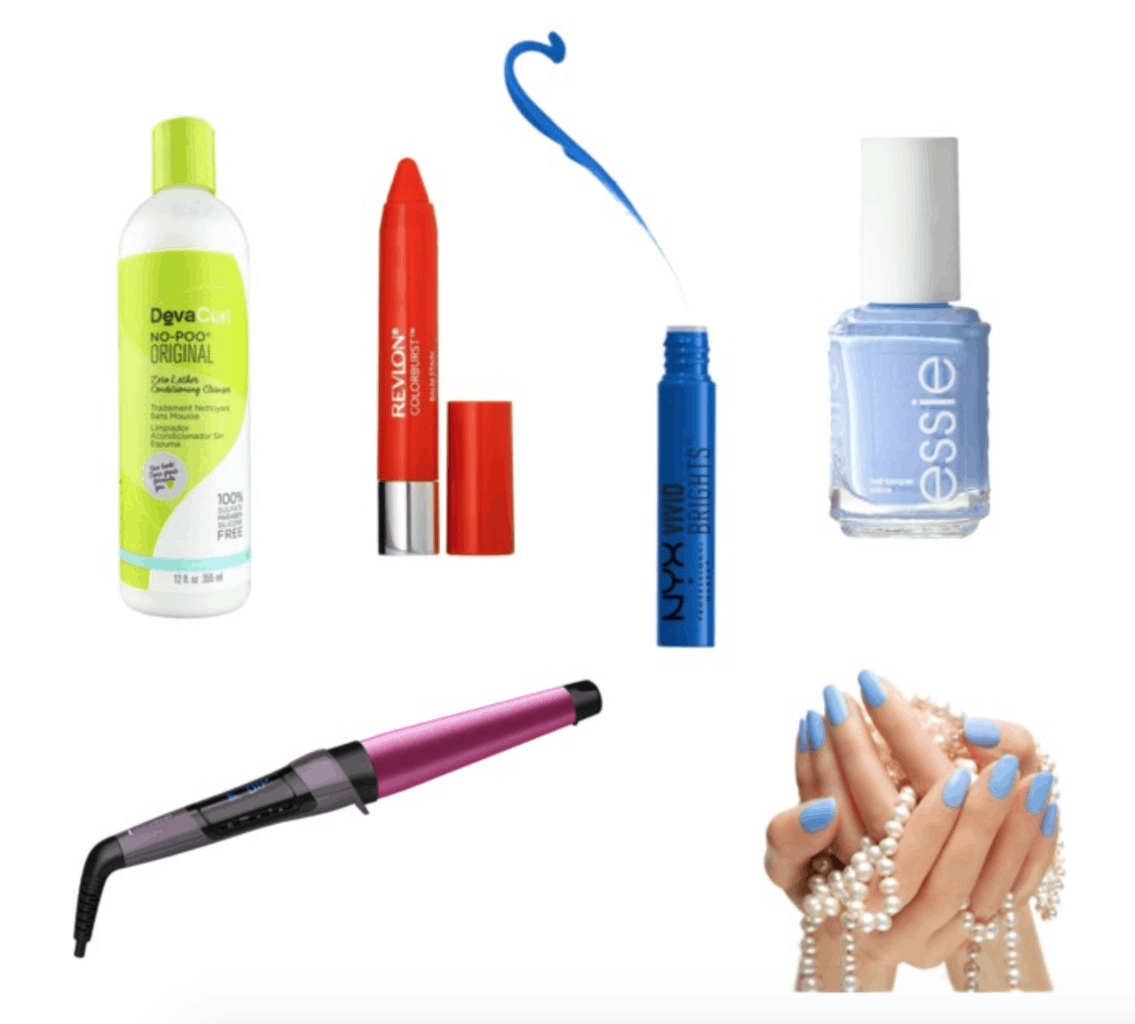 To channel Nathalie's look, get yourself some curly hair-friendly hair products and some fierce lip colors. And embrace the natural hair movement if you've got textured hair like hers.
Also look into brightly colored nail polishes and be THAT girl who doesn't give into the vampy colors that come with autumn. WEAR those bright blues and purples! In a sea of shorts and college t-shirts, rock those lively colors that you're shying away from! And imagine me, cheering you on from a distance.
And there you have it!
I hope you enjoyed this in-depth guide to snagging Nathalie's style while also preparing you for the coming fall weather! *Rubs hands together and cackles* I'm so excited for fall and this 'get the look' was too much fun to put together!
Let me know if you decide to take on this eclectic and funky look, and remember to put your own spin on it if you don't feel fully "you".