This post will show you 10+ outfit ideas on what to wear with blazers of all kinds.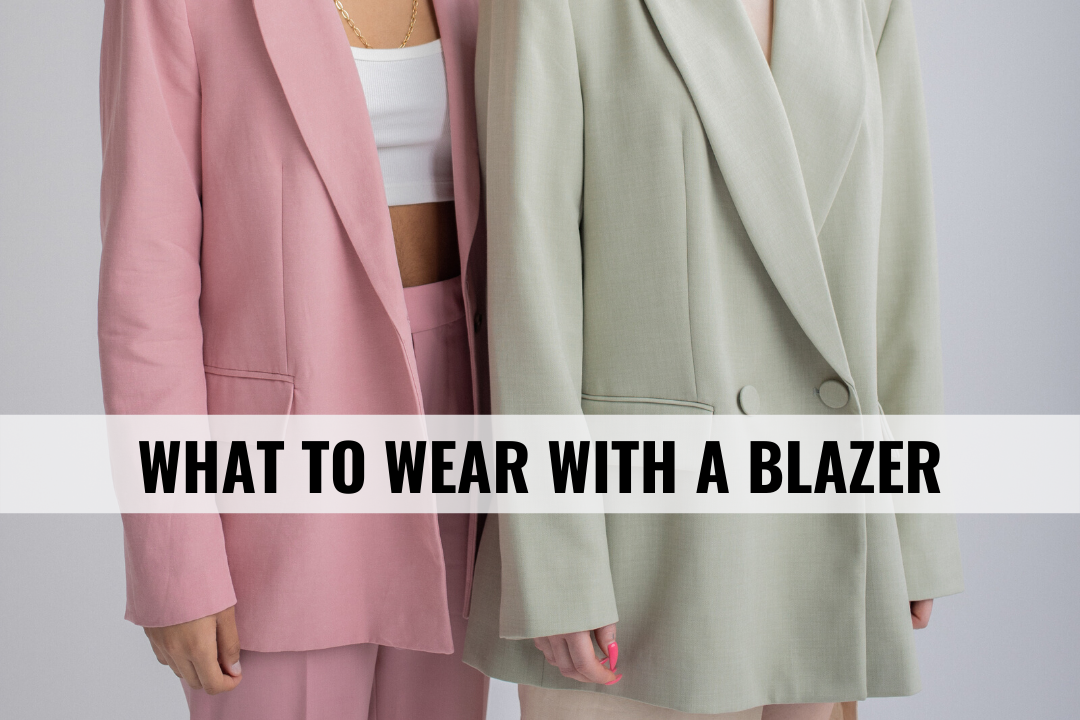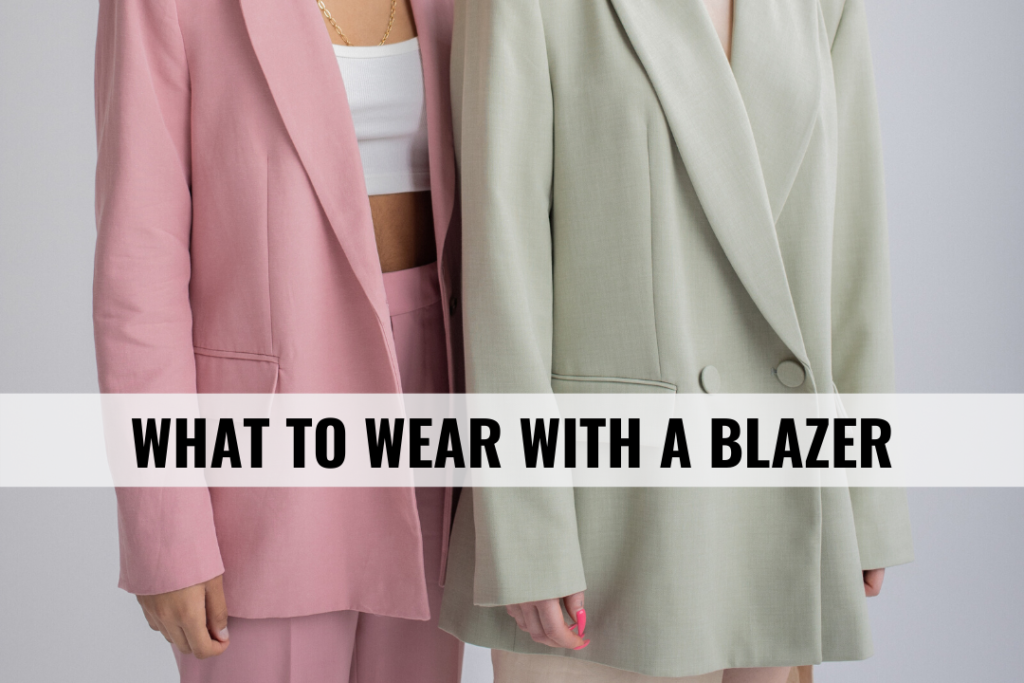 Gone are the days when blazers were confined to the walls of an office. These days, a blazer has become one of the most important items to have in your closet, no matter your style or age.
These days, blazers are worn for all occasions, and you can find a blazer to wear in every store, year-round…. in every color, fabric, pattern, fit, and shape.
Still, it can be hard to find new, exciting ways to style blazers. That's where we come in. Here, we'll share 10 ideas for what to wear with a blazer for women.
Related reading: How to Style Suits (+ Tons of Tips & Real-life Examples)
But what is a blazer exactly?
Isn't a blazer just a suit jacket?
Actually, blazers are similar to suit jackets. They are not the same. The main difference is the way they're cut: blazers have a looser fit and, therefore, are considered less formal.
Suit jackets were originally worn for formal black-tie events, like galas, weddings, and ceremonies. For white-tie events, these suits were replaced with tuxedos. Blazers, on the other hand, were originally made for sporting events, school uniforms, and business casual ensembles.
The second difference is that suit jackets are part of a suit. Blazers, however, don't necessarily have matching pants and may not be part of a set.
Today, for most of us, suit jackets and blazers are pretty much interchangeable. To us, they are formal jackets we can throw on to take any outfit to the next level. They provide a light layer and you can wear them for any season or event.
When to Wear A Blazer
A blazer can be a great addition to your wardrobe for a number of different occasions. Here are some guidelines for when to wear a blazer:
For a professional or formal look, wear a blazer with a dress shirt and tie.
For a more casual look, wear a blazer with a t-shirt or sweater.
A blazer can also be worn as part of a suit.
So, whether you're dressing up for work or want to add a touch of style to your everyday look, a blazer is the perfect way to do it.
5 Type Of Types of Blazers
1. Single-Breasted
Single-breasted blazers are the most popular style out there. A single-breasted blazer (or jacket) is called 'single-breasted' because it has one column of buttons and a narrow overlap of fabric.
Usually, they have two or three buttons; one or four-buttoned jackets are rare. The lapels are one of the most changeable details of the jacket, so there is not just one type of lapel for this type of blazer.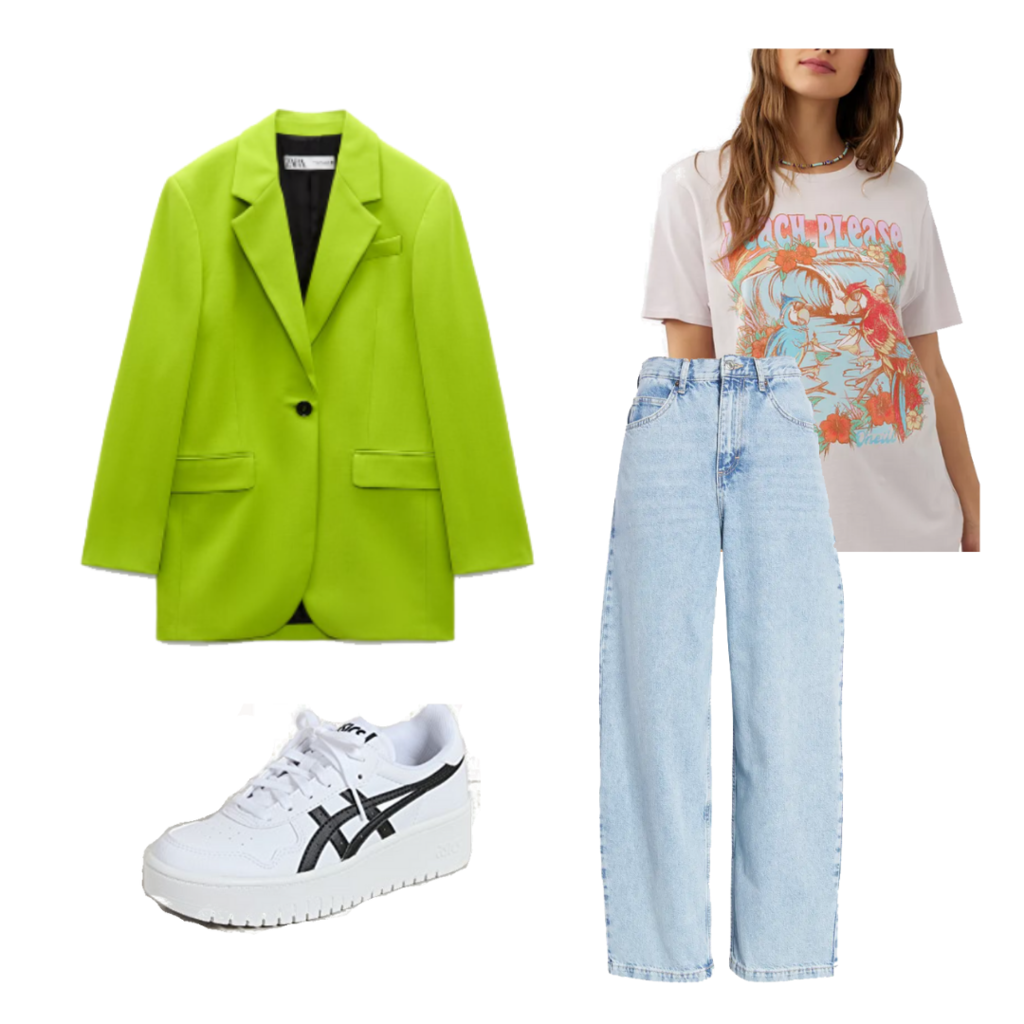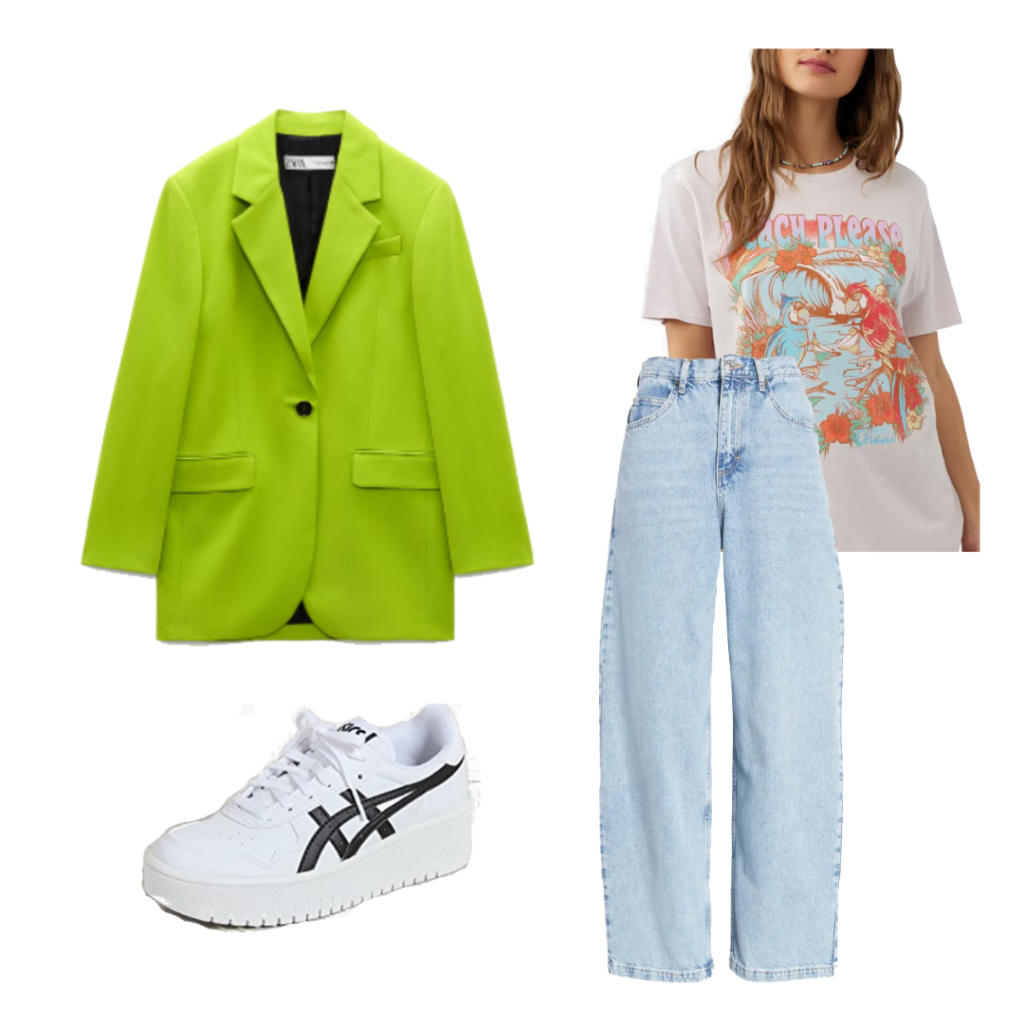 Products:
A single-breasted blazer is a perfect partner for another closet staple: a pair of well-fitting jeans. Layer your blazer over a graphic t-shirt. Single-breasted blazers are great for pairing with graphic tops because the lapels won't cover the print. Finally, sneakers are great to finish this look.
2. Double-Breasted
Double-breasted blazers are the younger sister to single-breasted blazers. These blazers have two visible parallel rows of buttons and a wider overlap of fabric. Typically, these blazers have one to four rows of two buttons each.
On most modern double-breasted blazers, one column of buttons is decorative, while the other is functional. They also have a jigger, or anchor button, on the inside of the blazer.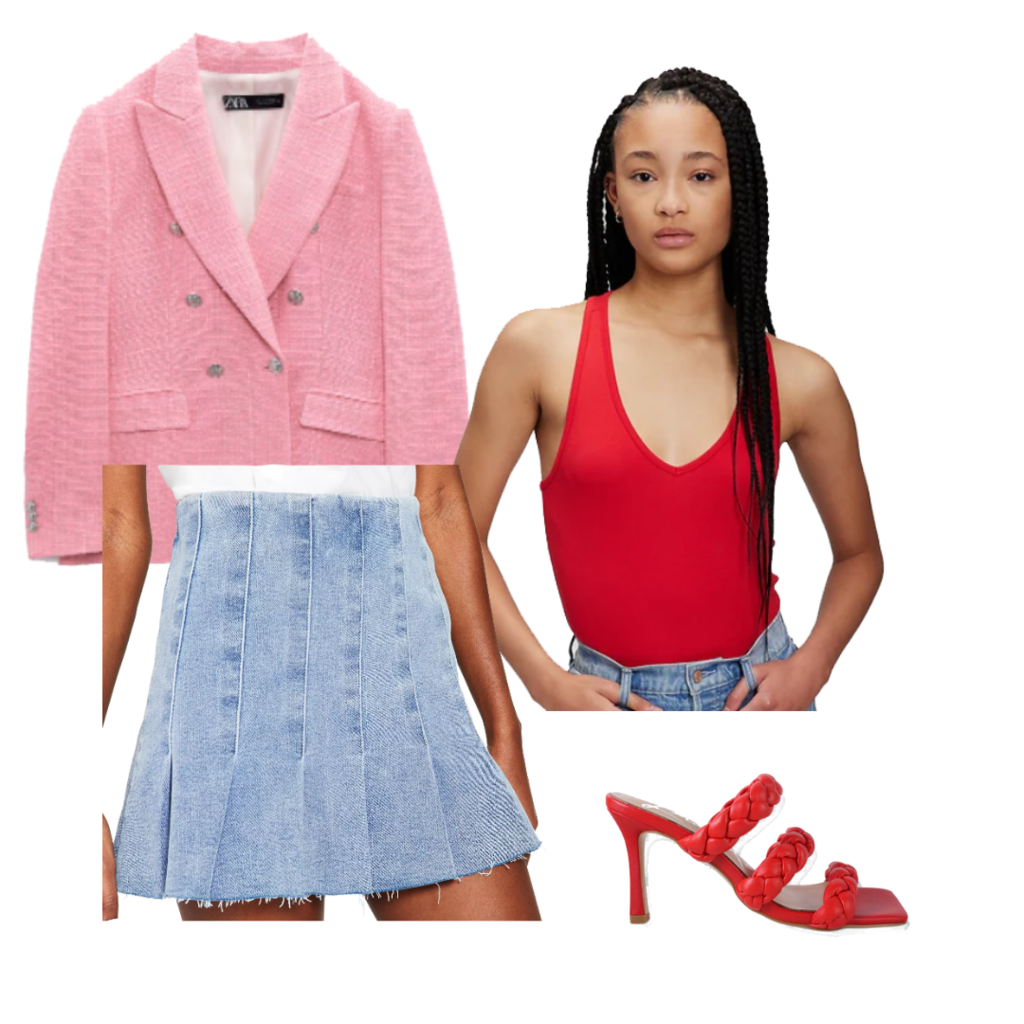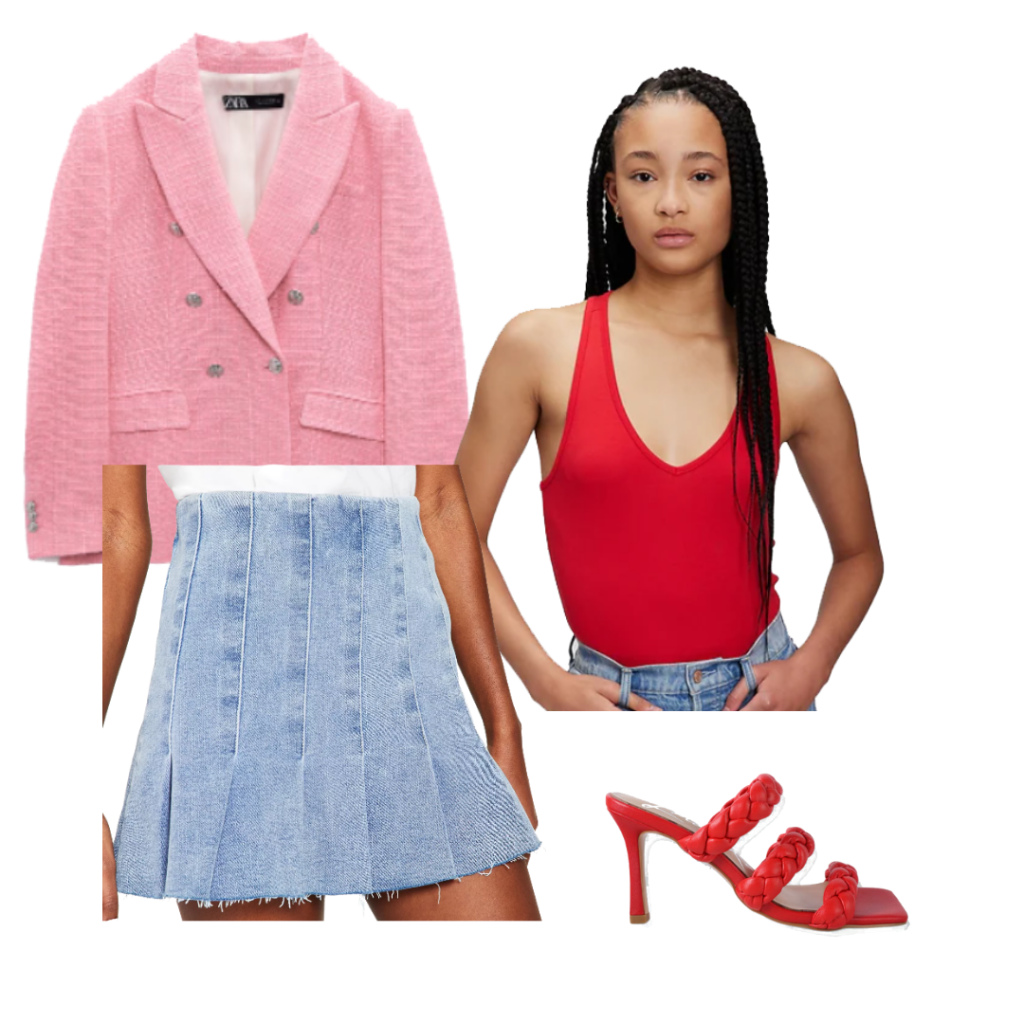 Products:
A double-breasted blazer is the perfect statement piece for any outfit. Wear one with a simple base like a mini denim skirt and a bodysuit. The contrast of colors and styles will make the blazer pop. Finish with summery heels, and you are ready to go.
3. Peplum
A peplum blazer is; basically, a blazer with a short flared, gathered, or pleated strip of fabric attached at the waist. Think Dior's 1947 New Look with a white, peplum blazer and black A-line skirt. This type of blazer gives the illusion of an incredibly cinched waist and an hourglass figure.
Peplum blazers can be single or double-breasted. These blazers are usually worn buttoned to preserve their shape. This also allows more room for peplum blazers to be worn without a shirt or blouse underneath.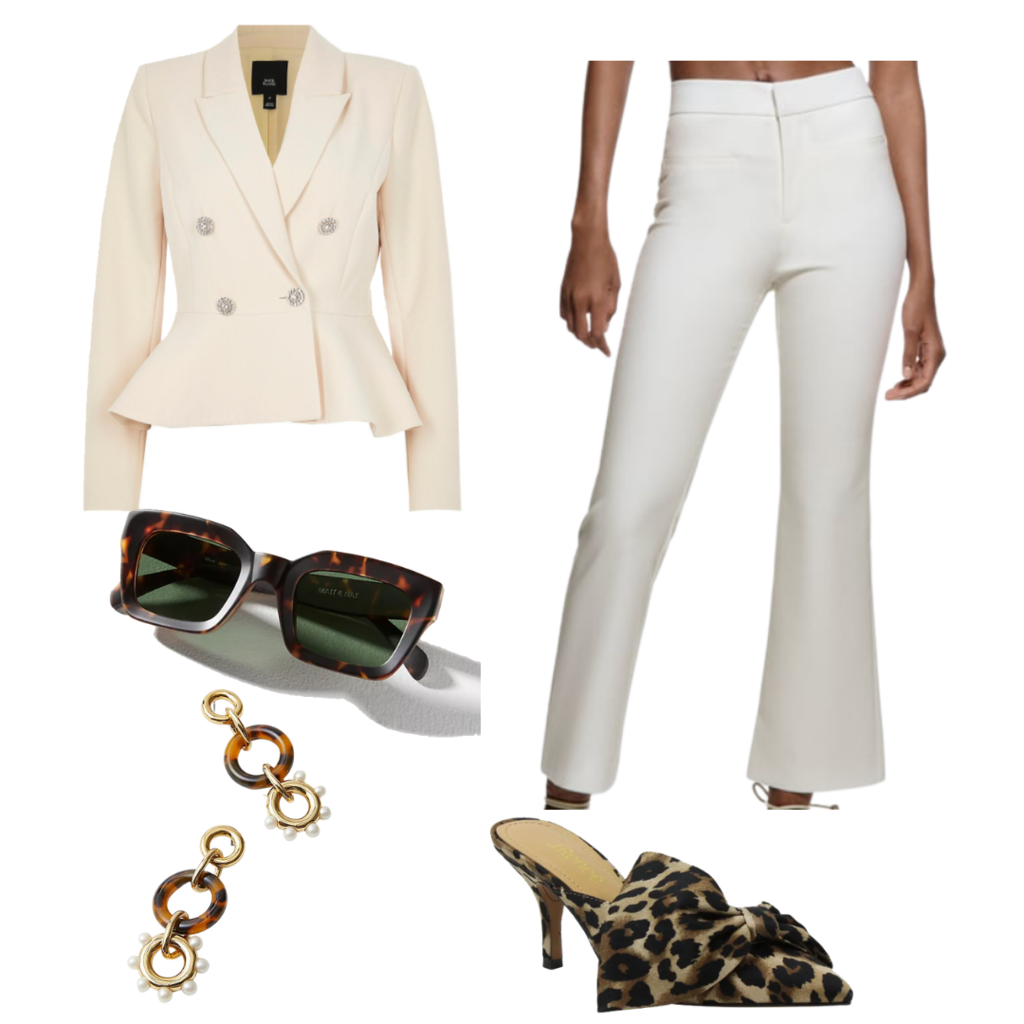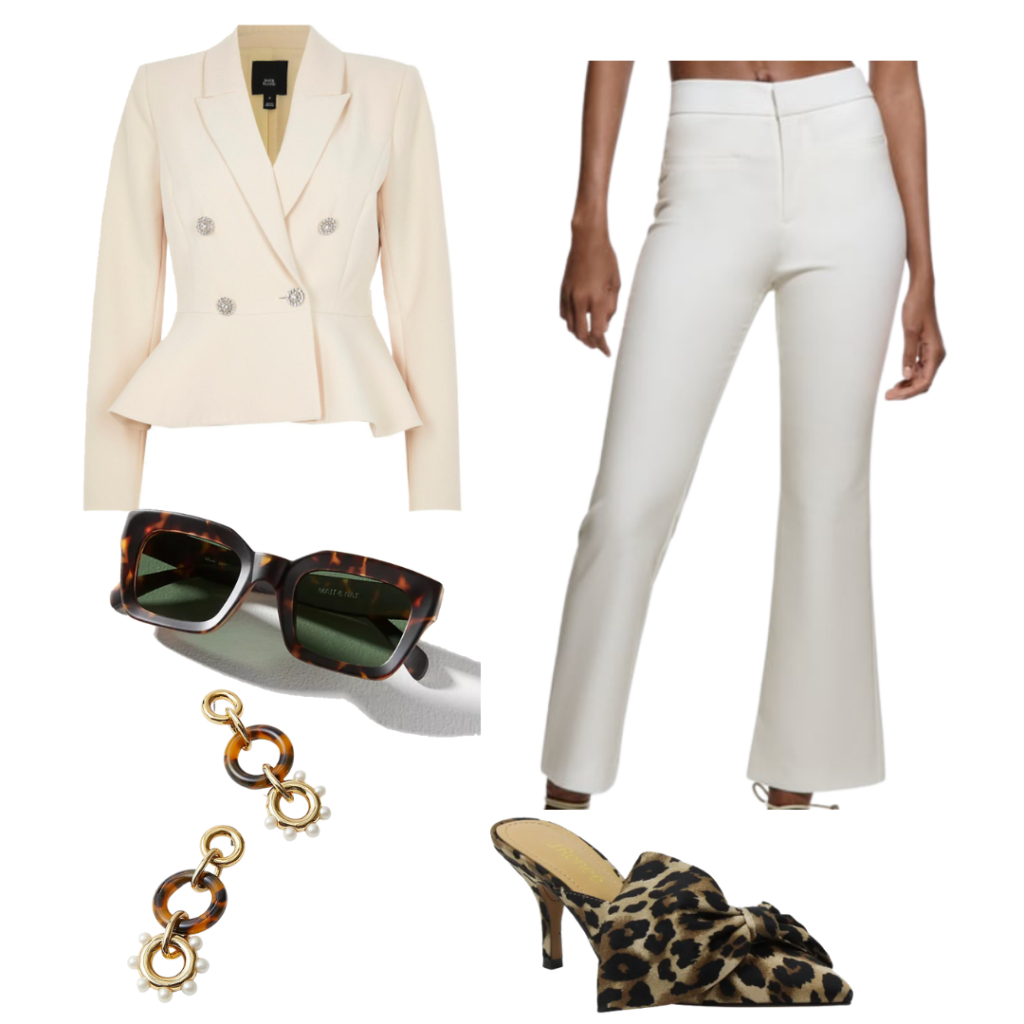 Items:
Try wearing an off-white peplum blazer with a pair of mini-flare pants in a similar shade. The simplicity of the pants will give the blazer room to shine. Then add a pair of pointed-toe mule heels in an animal print.
Complement the rest of the look with tortoiseshell accessories, like sunglasses and earrings. The animal print and tortoiseshell will give the outfit more depth and texture.
4. Draped
Draped blazers, also known as waterfall blazers, are the most casual type of blazer on this list. They are named for the way in which the fabric hangs from the shoulders and over the waistline.
Generally, draped blazers are always open and don't have any buttons. At the most, they can have a tie to close the blazer if necessary.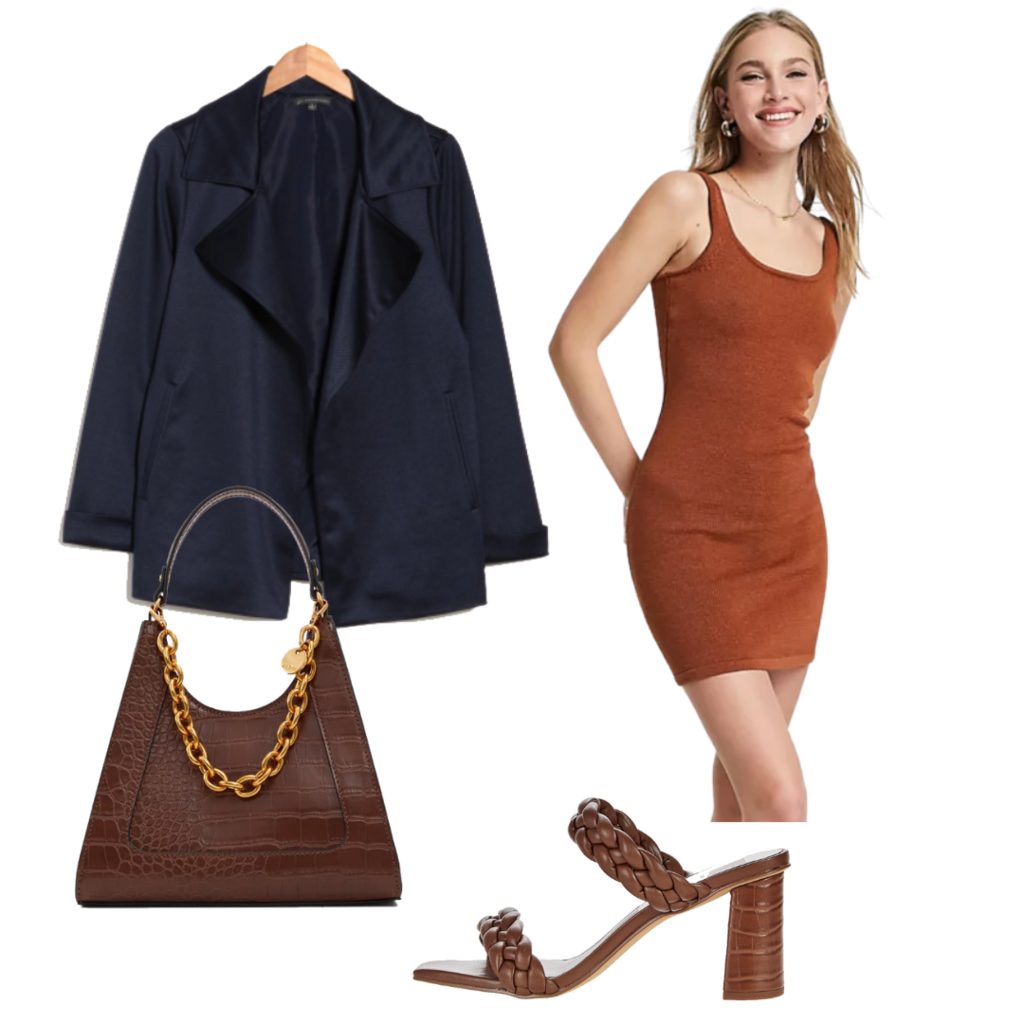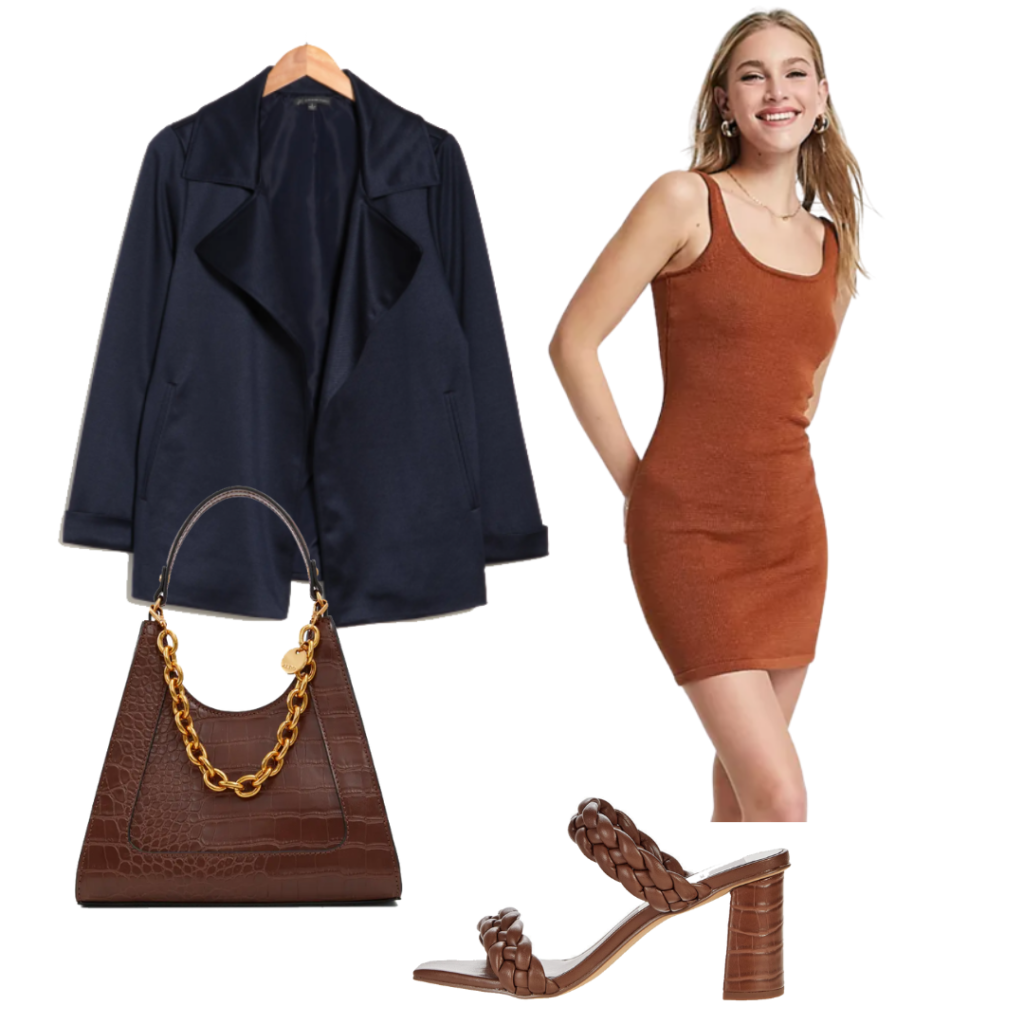 Items:
Throw a navy blue draped blazer on top of a simple, brown body-con dress. The blazer adds movement to the look, and it's the perfect light layer for summer. Dress the outfit up with a pair of brown sandal heels and a matching brown bag.
5. Wool blazer
A wool blazer can look dressier due to its refined material. Plus, they're perfect for colder weather. During the winter or fall, these look best with dark jeans, or even corduroy if you prefer a more formal look.
What to Wear With a Blazer?
Wear it with a crop top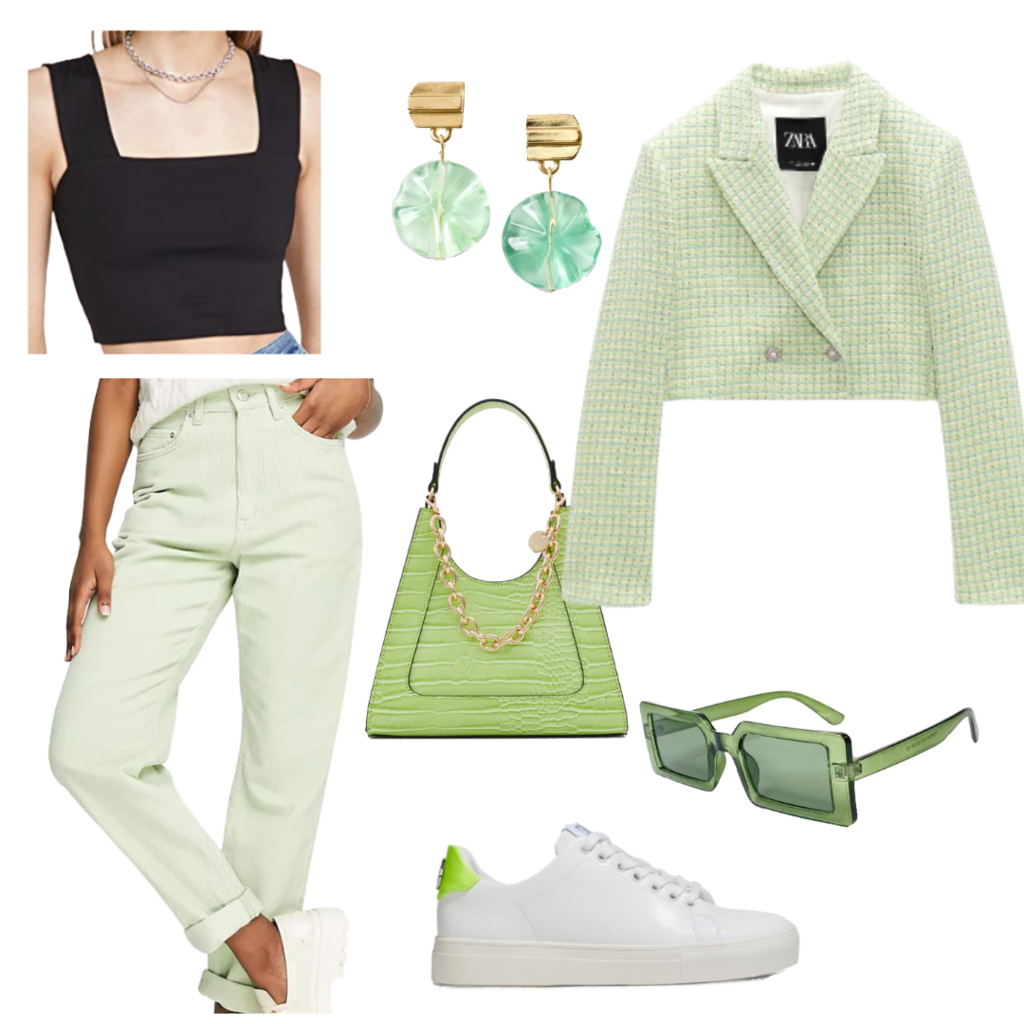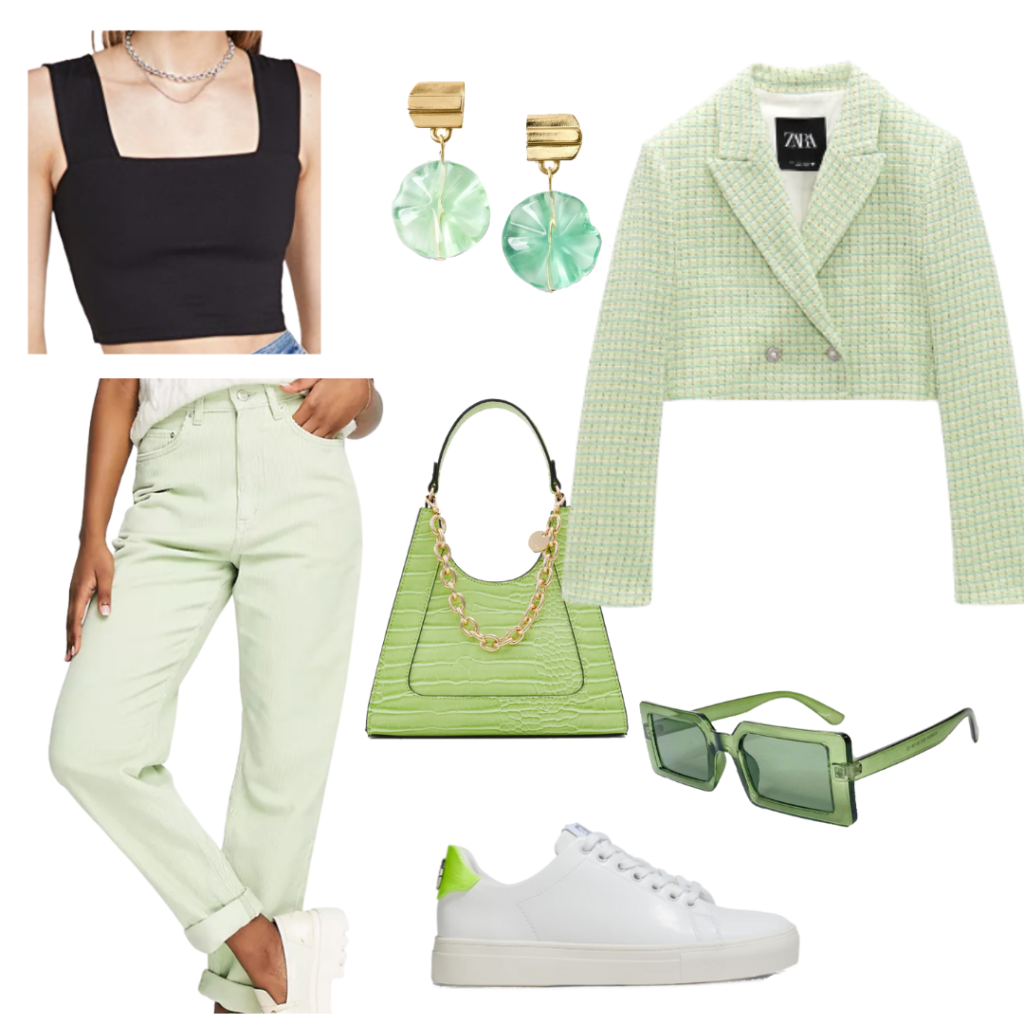 Items:
Blazers now come in all shapes and sizes. So, let's start with a cool, new fit. Start off with a simple base: a black crop top and mint green mom jeans. A cropped green tweed blazer is the perfect statement piece that takes this outfit to the next level. Keep it casual with a pair of white sneakers.
Accessorize with matching items: gold & green earrings, super trendy green sunglasses, and a cute green handbag.
Wear it with a tank top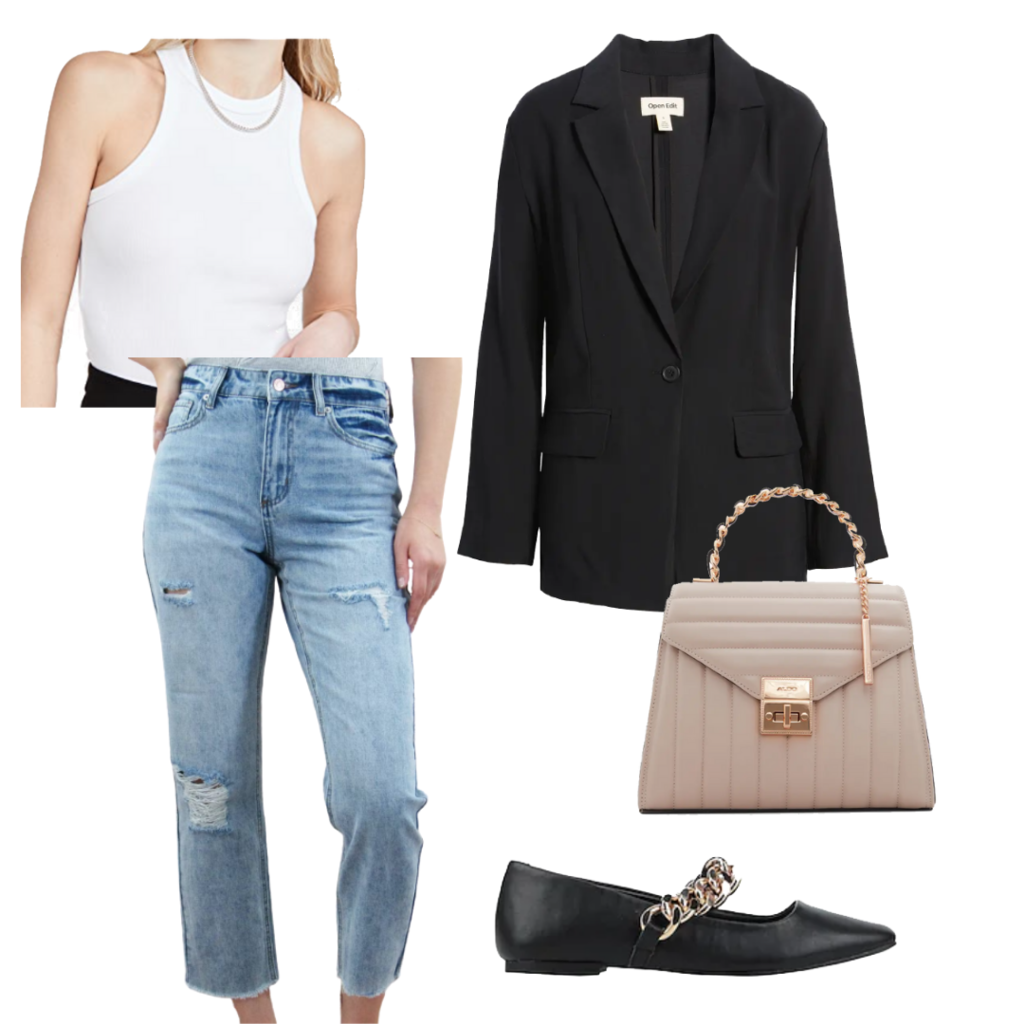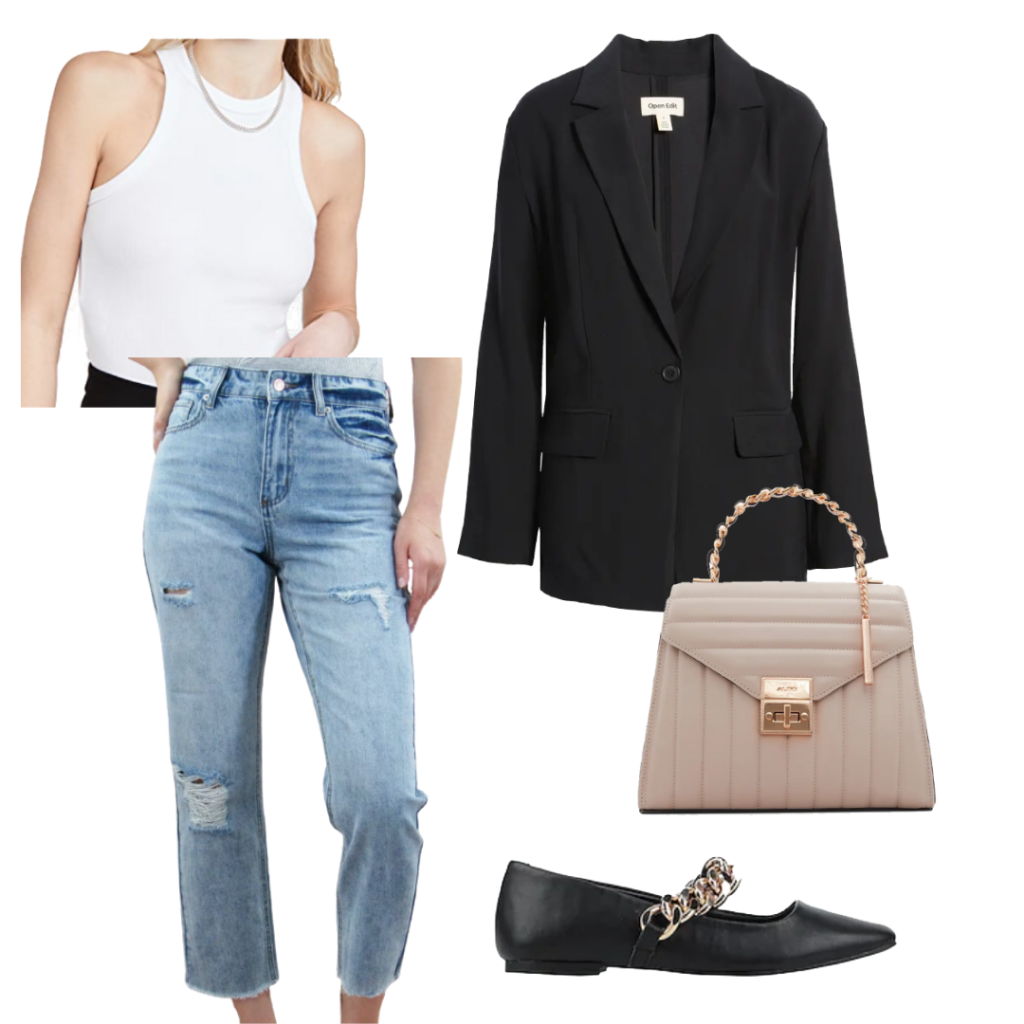 Items:
For this outfit, I took inspiration from the effortlessly poised and endlessly chic French girl aesthetic. Go back to basics and wear a white tank top with a pair of medium-wash relaxed-fit jeans. Then, throw on a single-breasted black blazer.
For shoes, black ballet flats with golden details are the perfect classic pairing for this look. Finish with a neutral accessory, like a structured purse in cream.
Wear it with a t-shirt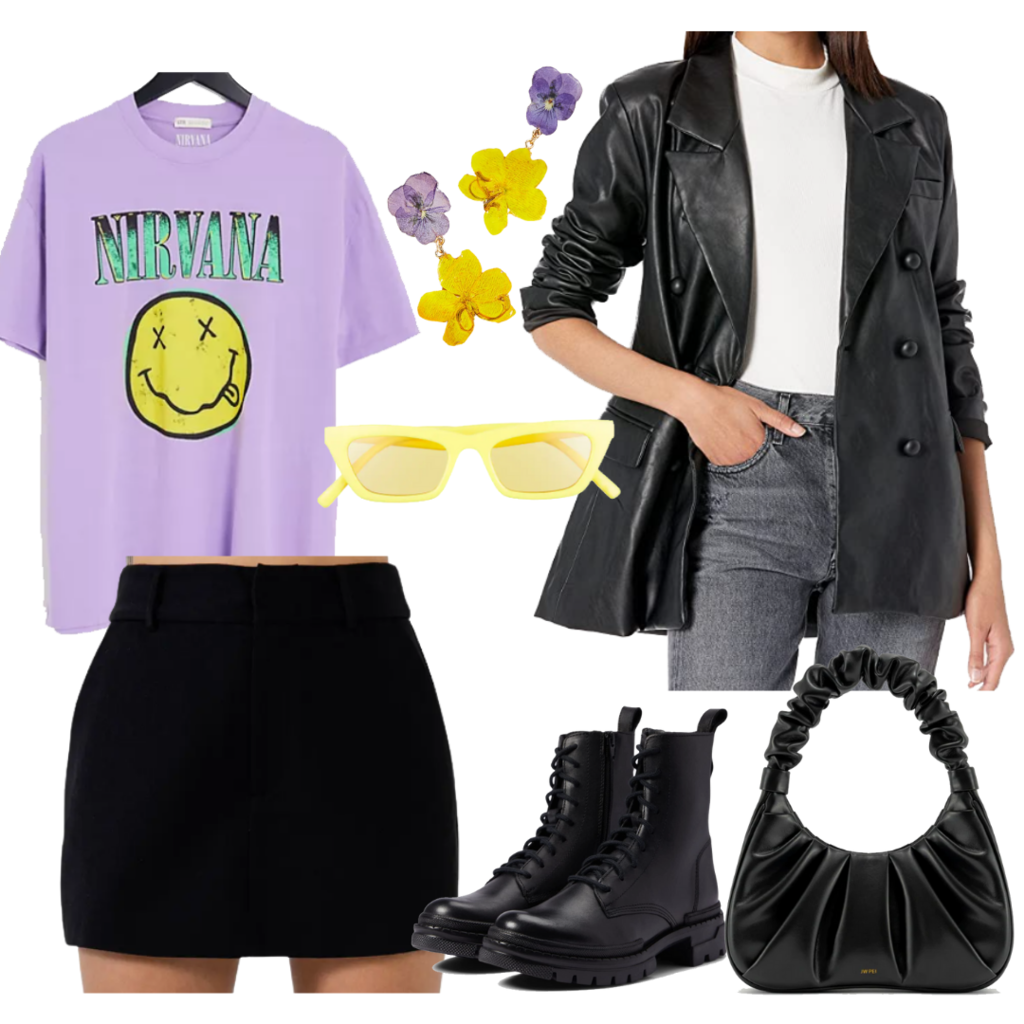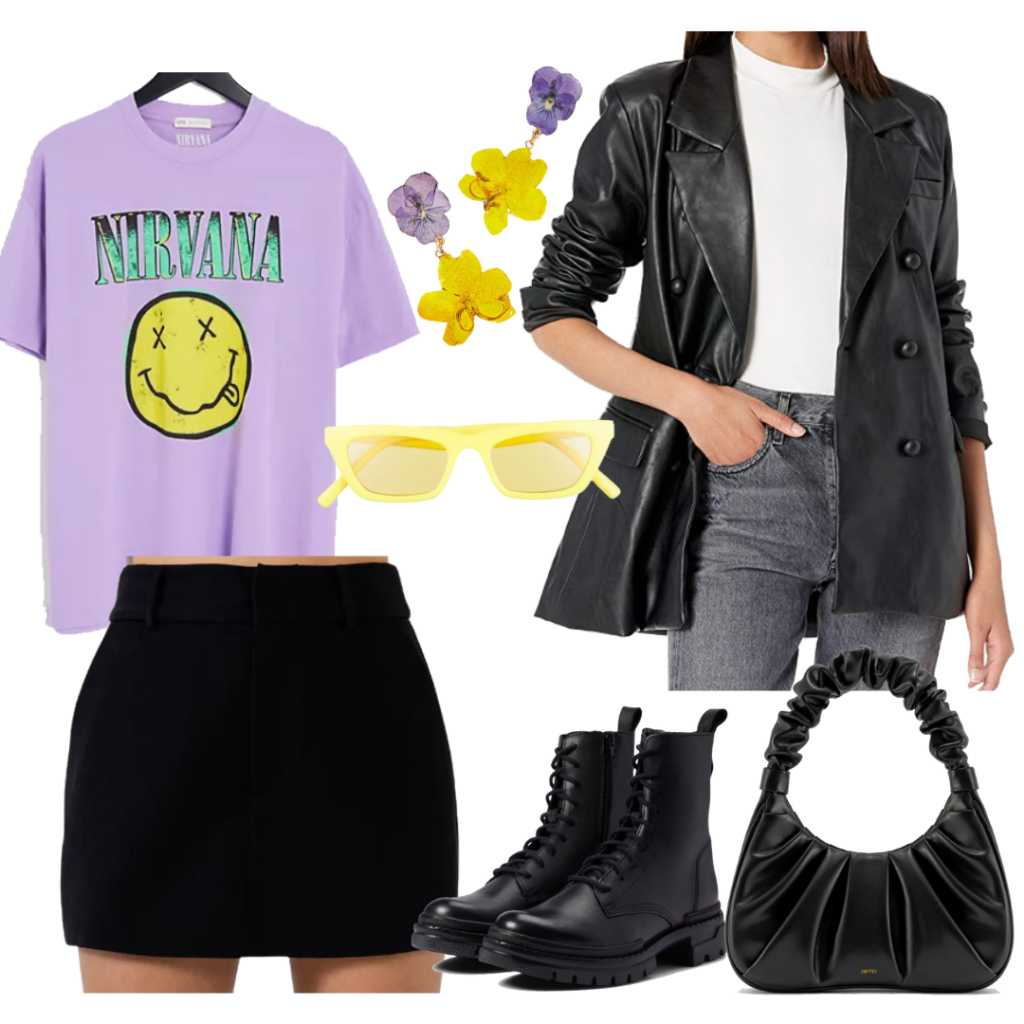 Items:
Sometimes, all you want to wear is a t-shirt. With this in mind, I've created an outfit for edgy girls who want to wear a blazer without looking preppy or stuffy.
Take a lilac t-shirt or a t-shirt you love in your favorite color, and pair it with a simple black skort. As mentioned earlier, blazers now come in every fit, size, color, and fabric imaginable. Seize this opportunity and go for a faux-leather black blazer in a relaxed fit. It will add a little bit of edge to the look and won't take away from the comfort of the t-shirt. A pair of black combat boots are the perfect shoes for this outfit.
Accessorize with a fun pair of earrings, like these flower ones in yellow and lilac, and add matching sunglasses. Here, I exemplified it with yellow sunglasses. Finalize with a black leather shoulder bag.
Wear it with a white t-shirt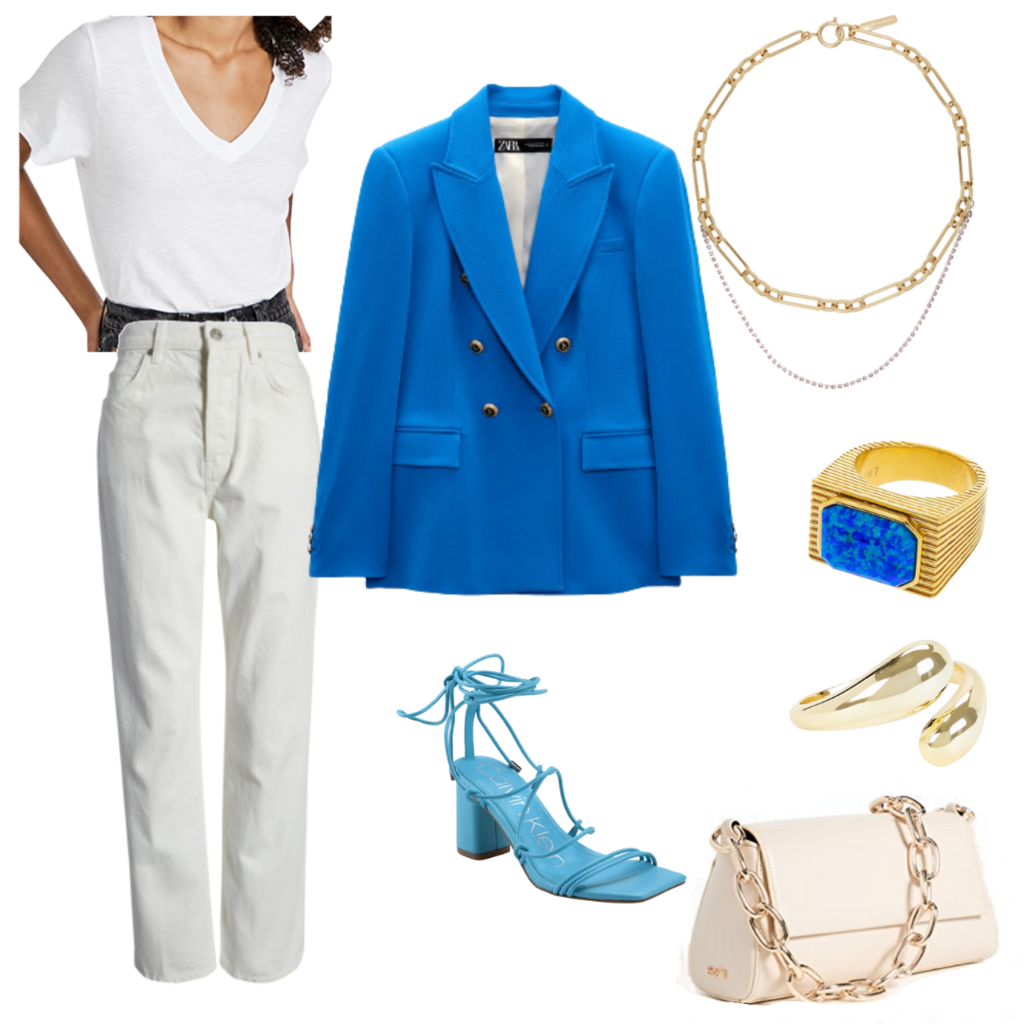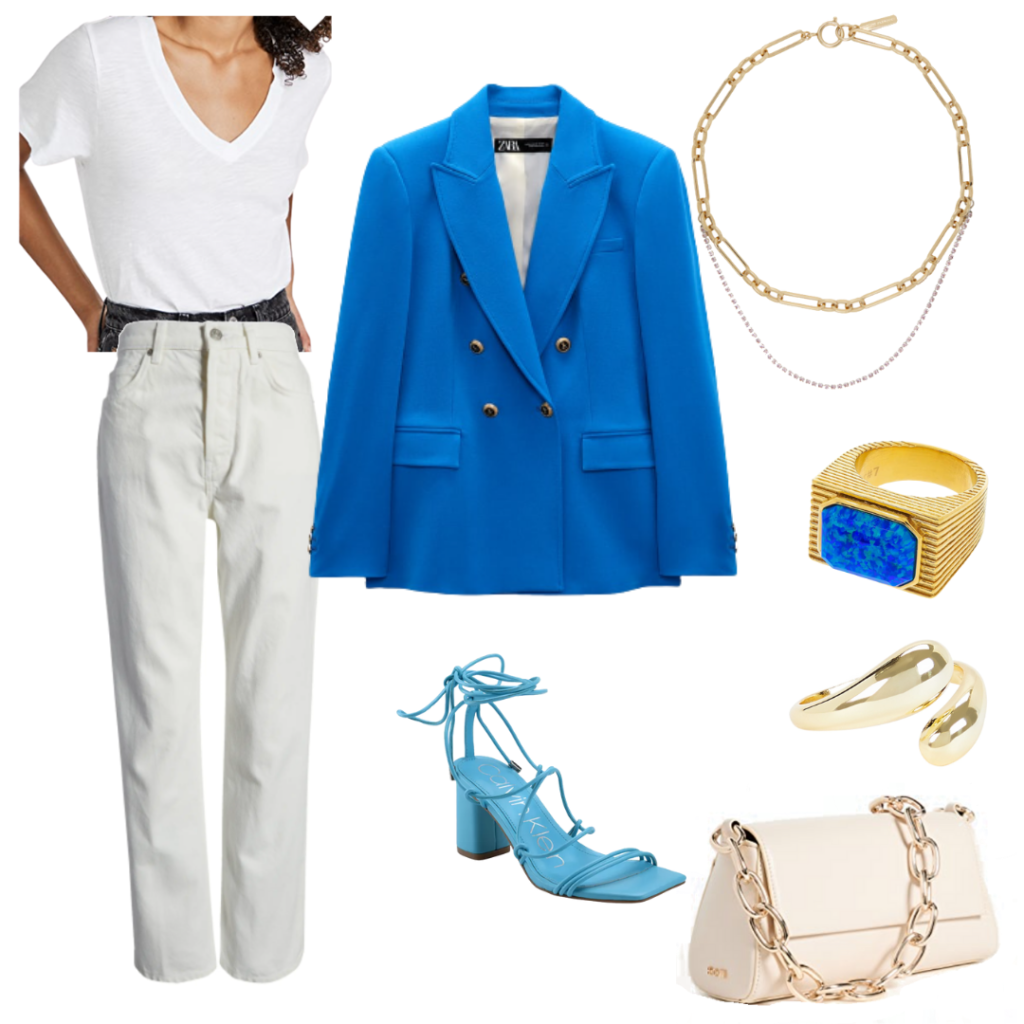 Items:
White tees are classic. They go with any look, and when in doubt, they can save any outfit from disaster. And they are, naturally, a blazer's best friend.
For this colorful look, start with a simple base: use a white tee with a pair of off-white high-waisted jeans. Throw on a royal blue blazer to give the look the pop of color it needs. For shoes, continue the blue tones with strappy blue heels.
Accessorize with gold jewelry, like a wrap-around ring, a signet ring with a blue stone, and a simple gold chain necklace. Finish it off with a structured cream purse to tie everything together.
Wear it with a turtleneck top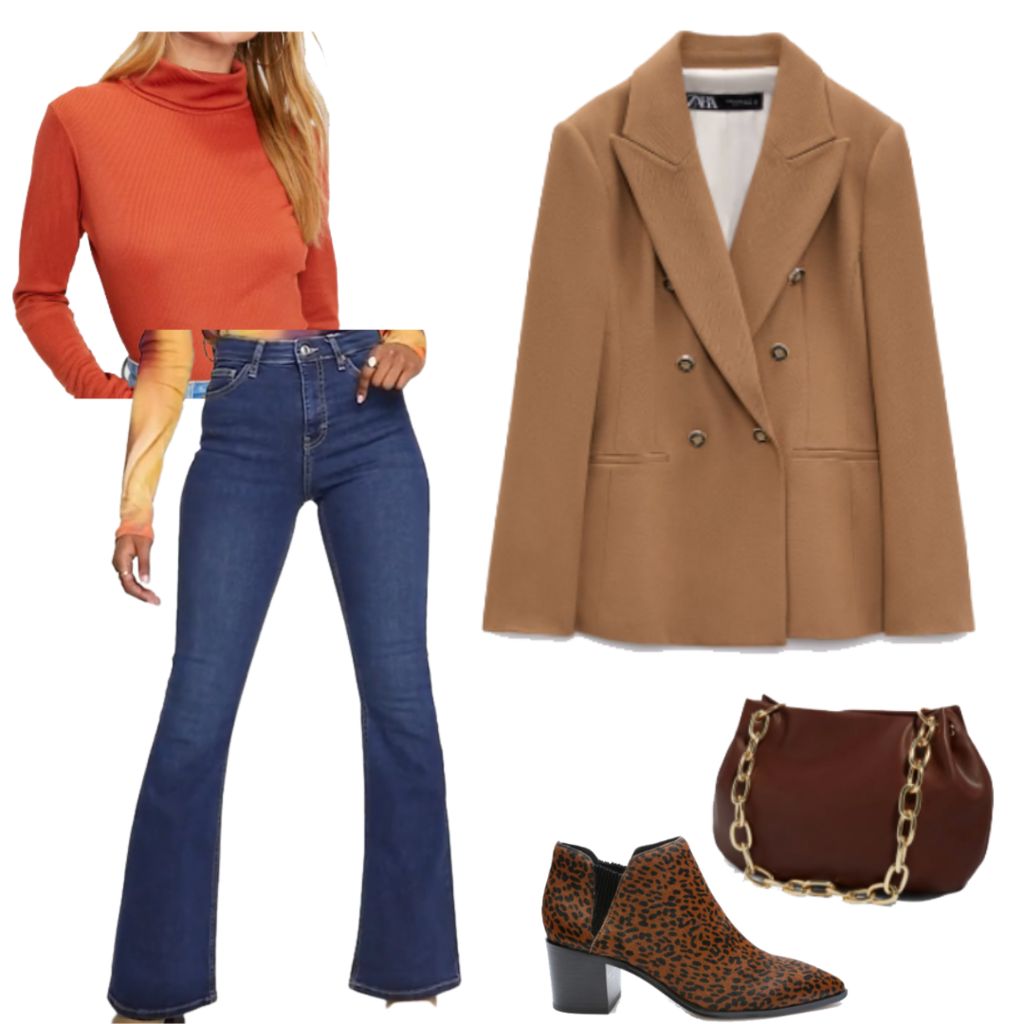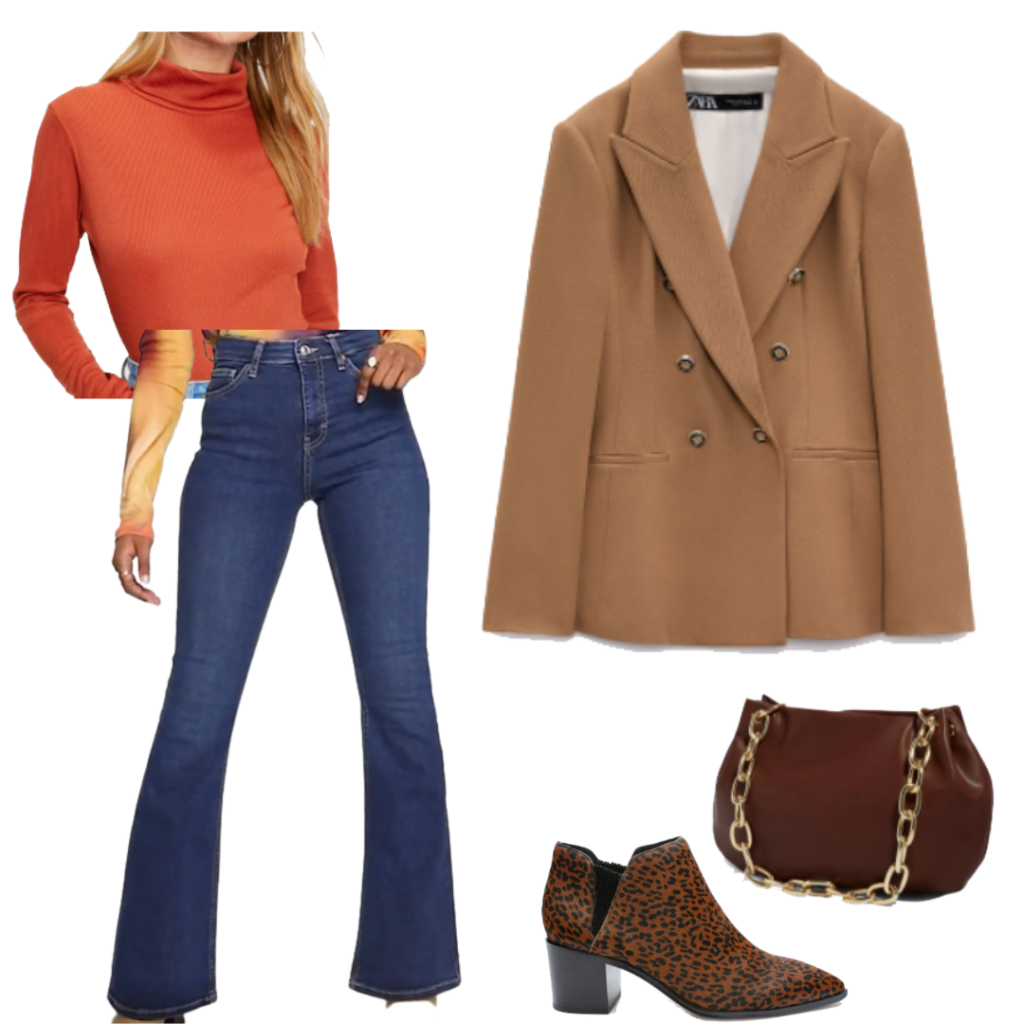 Items:
Okay, I'm leaning into fall with this one, but I want you to be prepared for every occasion. Turtlenecks and blazers have been working together since the beginning.
An orange turtleneck shirt and a camel double-breasted blazer go perfectly together. For pants, bell-bottom jeans will elongate your legs and give the look a '70s vibe. Add texture to the outfit with animal print booties. A brown scrunched tote with a golden chain will finish the look perfectly.
Wear it with shorts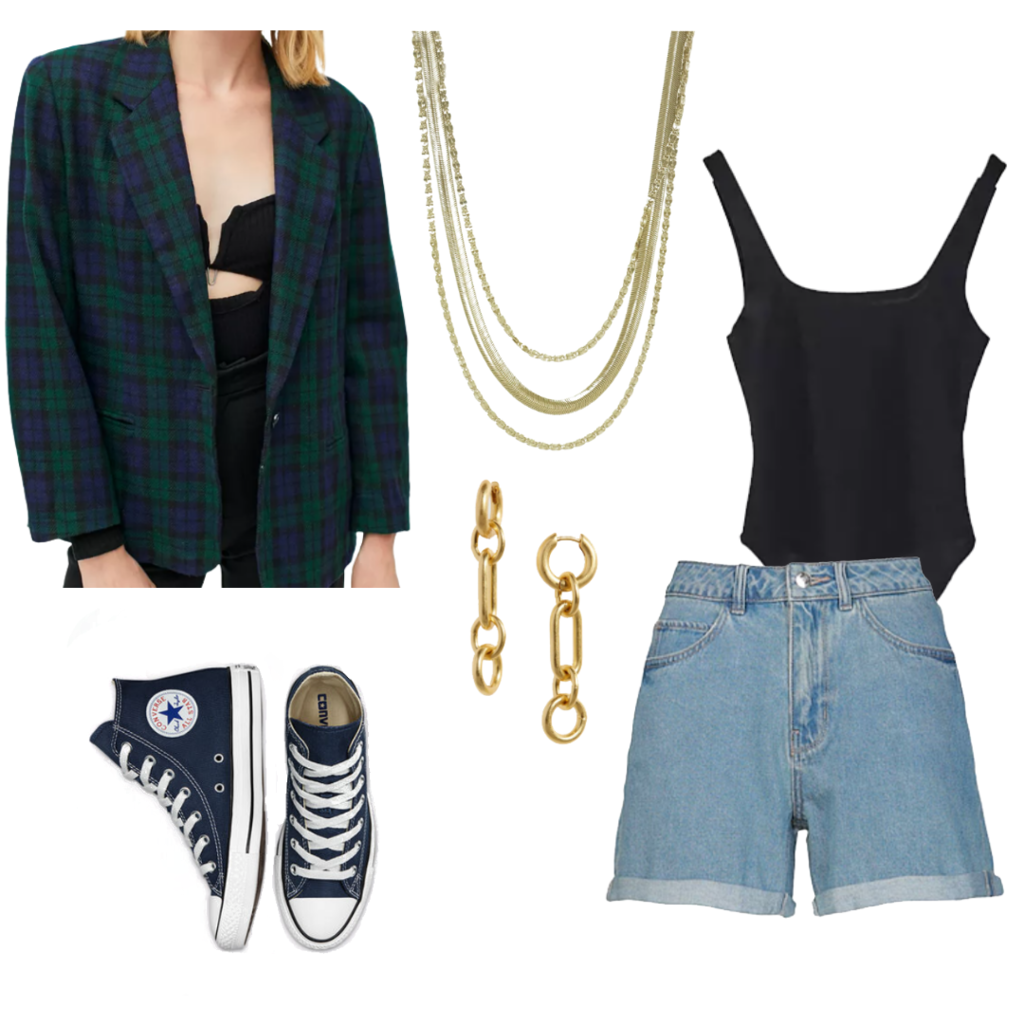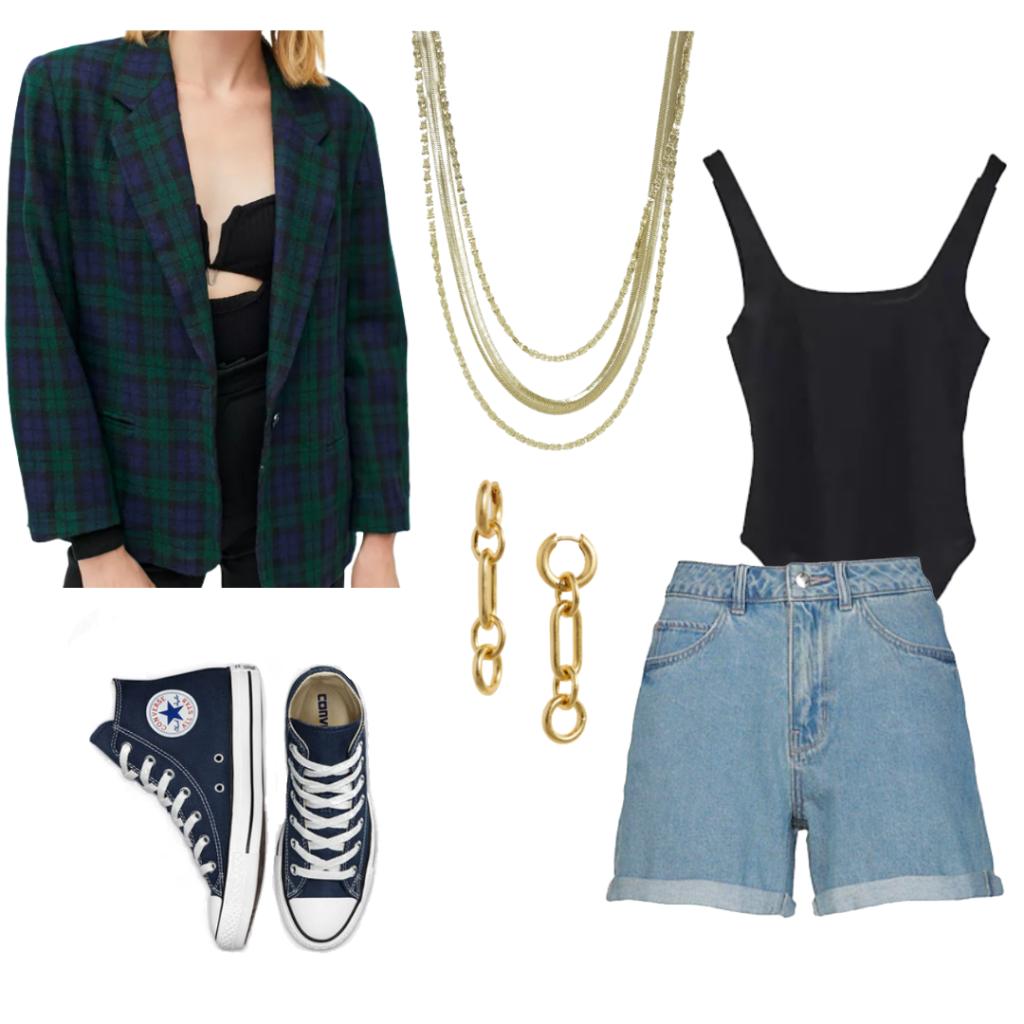 Items:
From fall, we jump to summer. This is a day-to-night type of look that's perfect for warm weather. A black square-neck bodysuit (a swimsuit works too!) teams with a classic pair of medium-wash denim shorts for the perfect combo to tackle hot summer days.
Use a green and blue tartan blazer as a light layer in case you catch a chilly summer breeze. (Bonus: This blazer is even more amazing in the fall season!) Use a gold layered necklace to give the look a little bit of shine. Finally, a pair of classic blue Converse will get you comfortably through the day.
Wear it with a mini-skirt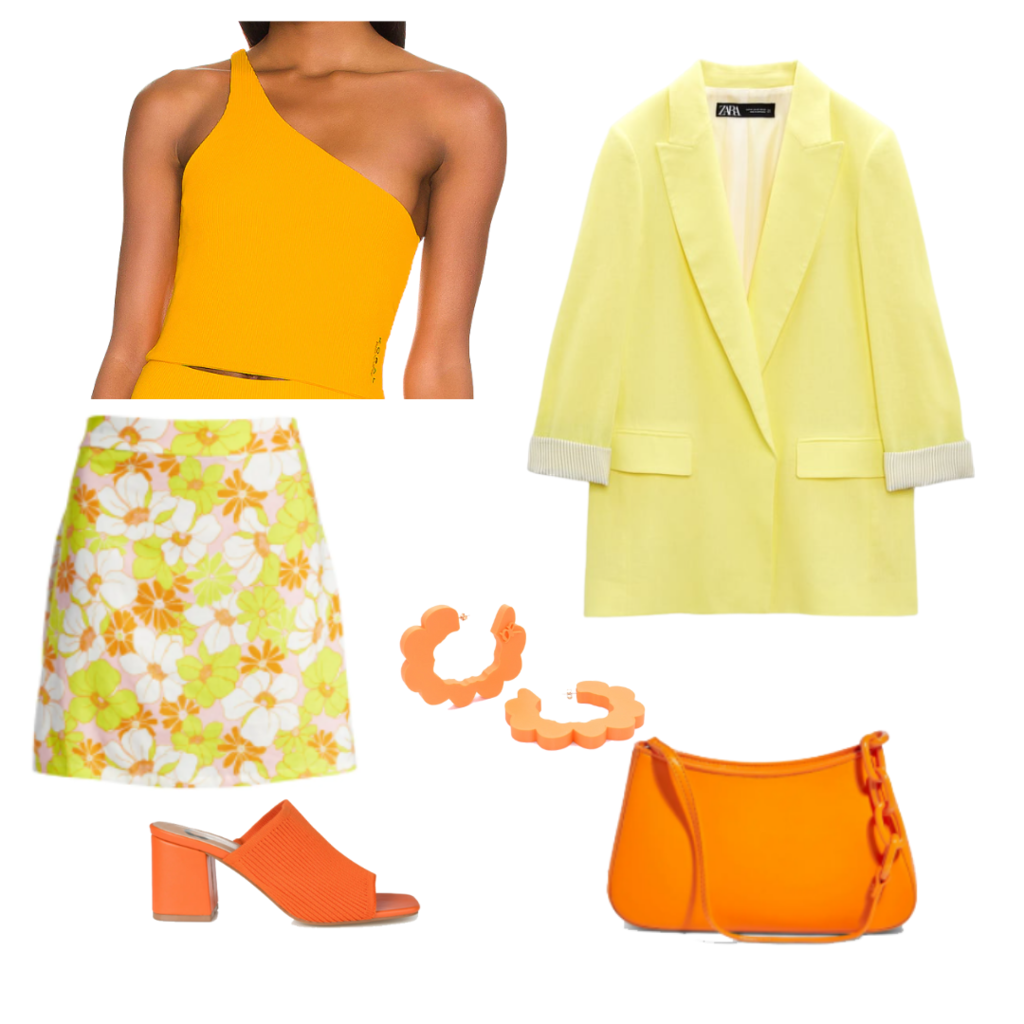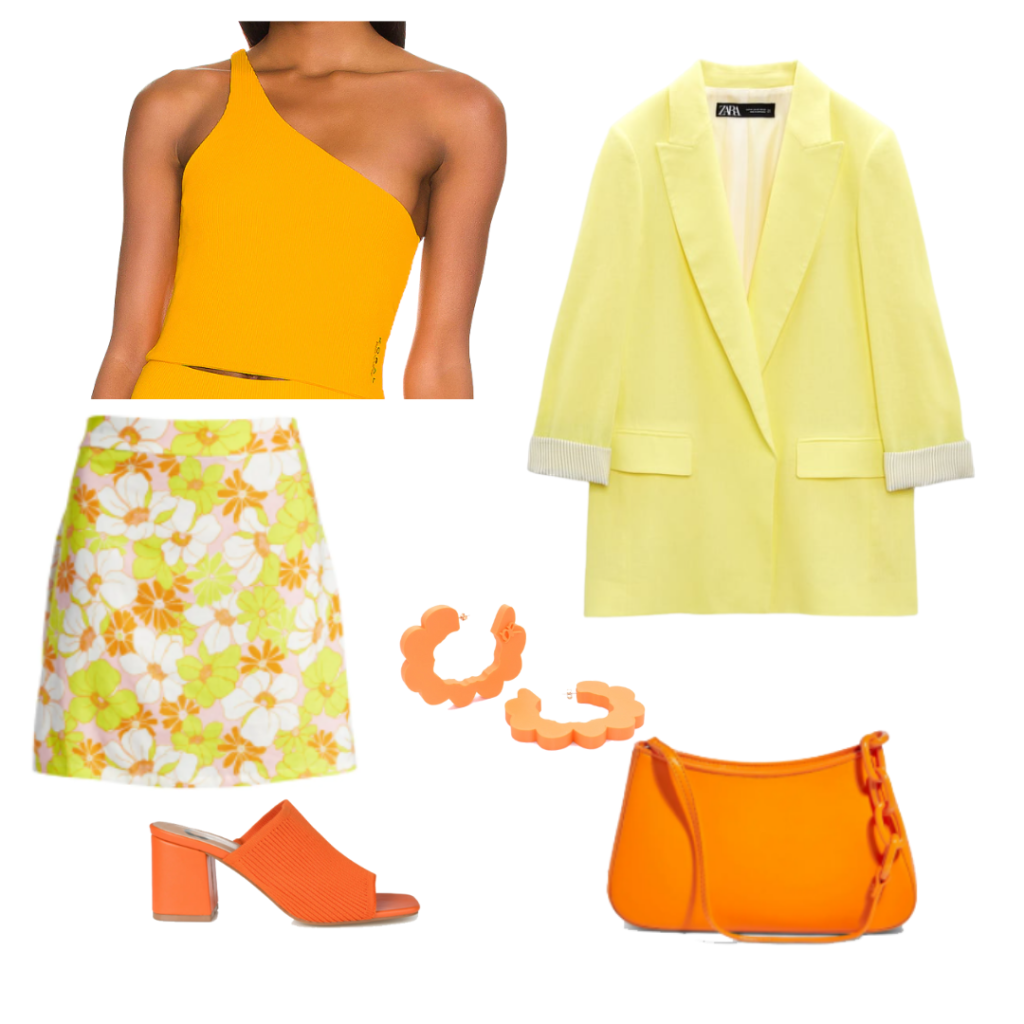 Items
Hot days are just around the corner. That means the return of mini-skirts, florals, and bright, pastel colors. And a bold, colorful outfit like this is certain to brighten your day.
An oversized blazer in pastel yellow is an amazing staple to own for spring and summer. For the base of the look, wear an orange one-shoulder top with a floral mini-skirt. The floral pattern is in yellow and orange, so it will tie everything together nicely.
Mule heels are super trendy now. Try wearing orange mules to coordinate with the rest of the look. A cute pair of floral orange earrings and an orange shoulder bag are the perfect finishing touches.
Wear it with a midi-skirt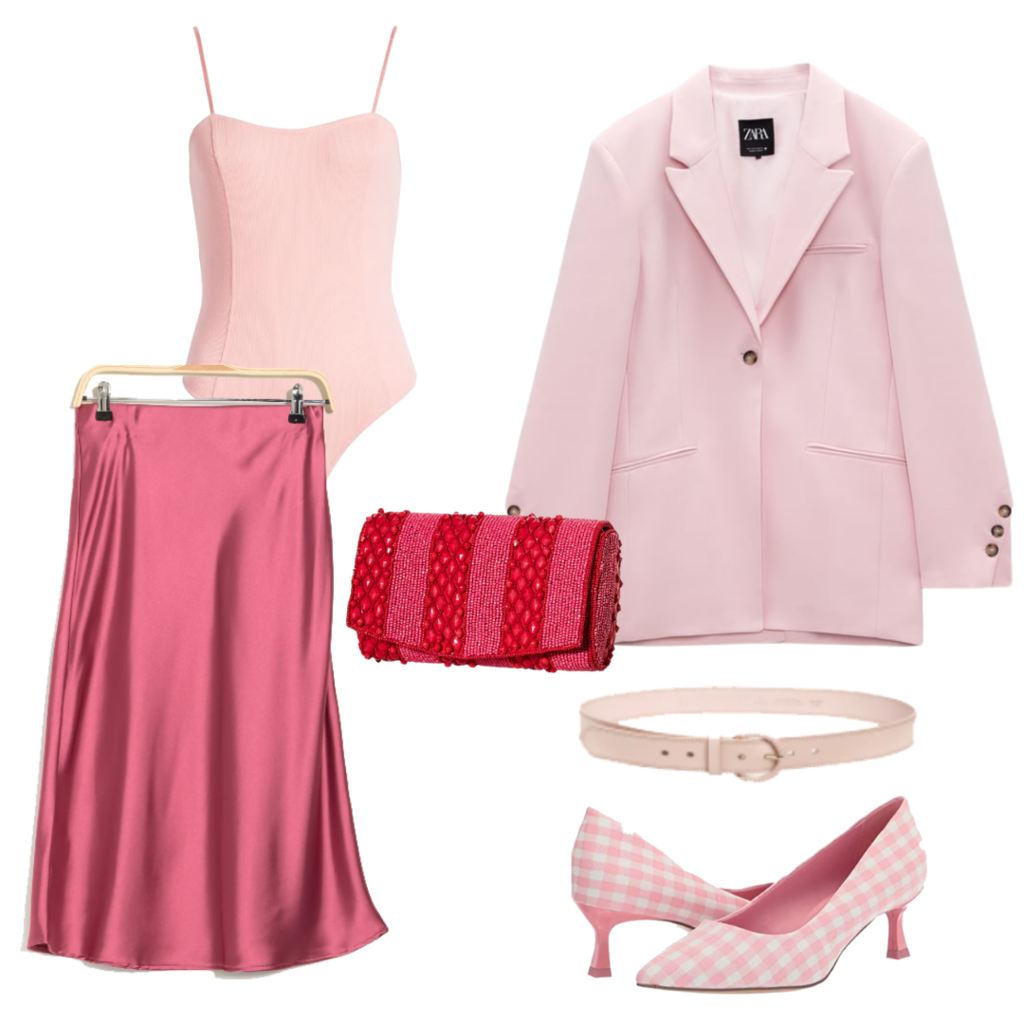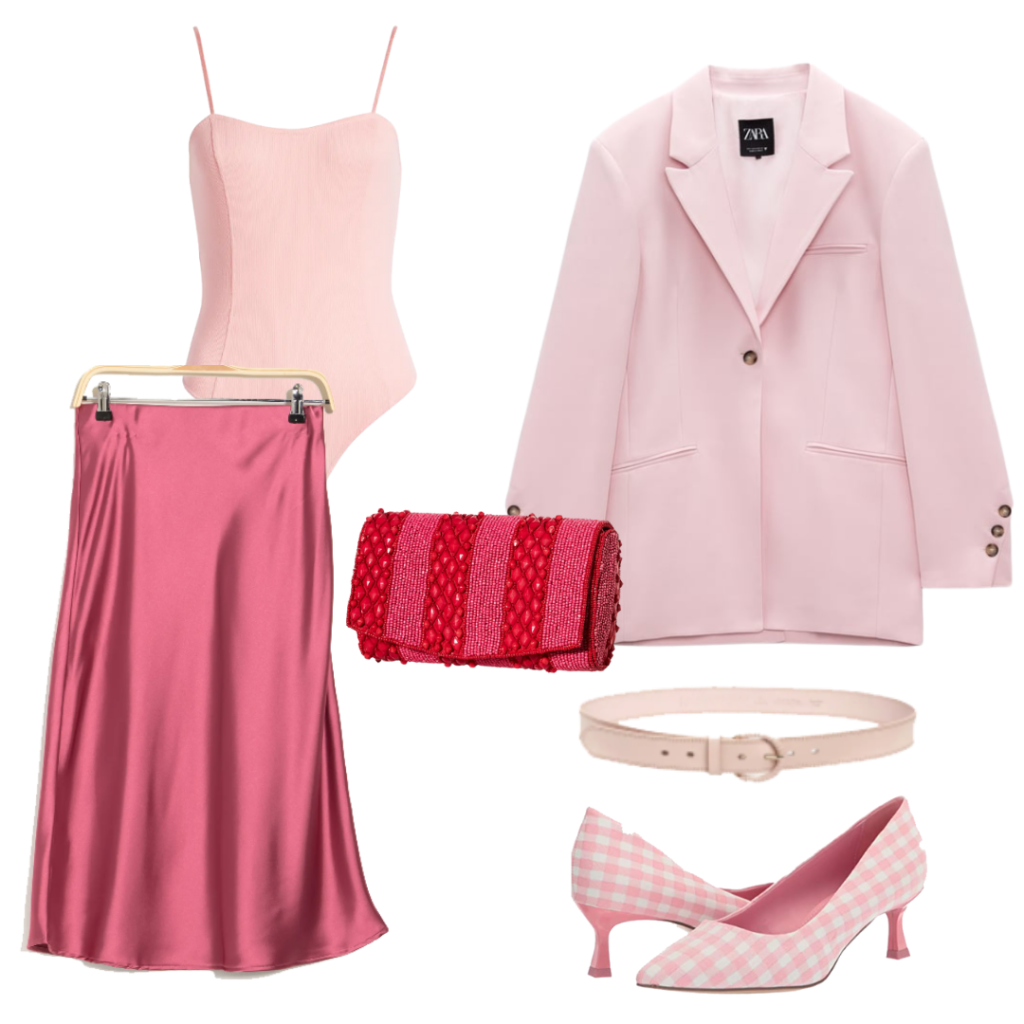 Items:
Midi skirts are some of my favorite items to wear year-round. They are cute, comfortable, and insanely versatile. And pink is an amazing color for every season. For this outfit, I took inspiration specifically from Dior's New Look.
Grab a light pink bodysuit with a slight heart neckline and wear it with a fuchsia satin midi skirt. Then, use a light pink blazer and close it. Cinch the waist with a dusty pink belt. Have fun with the shoes, with a pair pink gingham kitten heels. Wrap it up with a red and fuchsia cross-body bag.
Wear it with wide-leg pants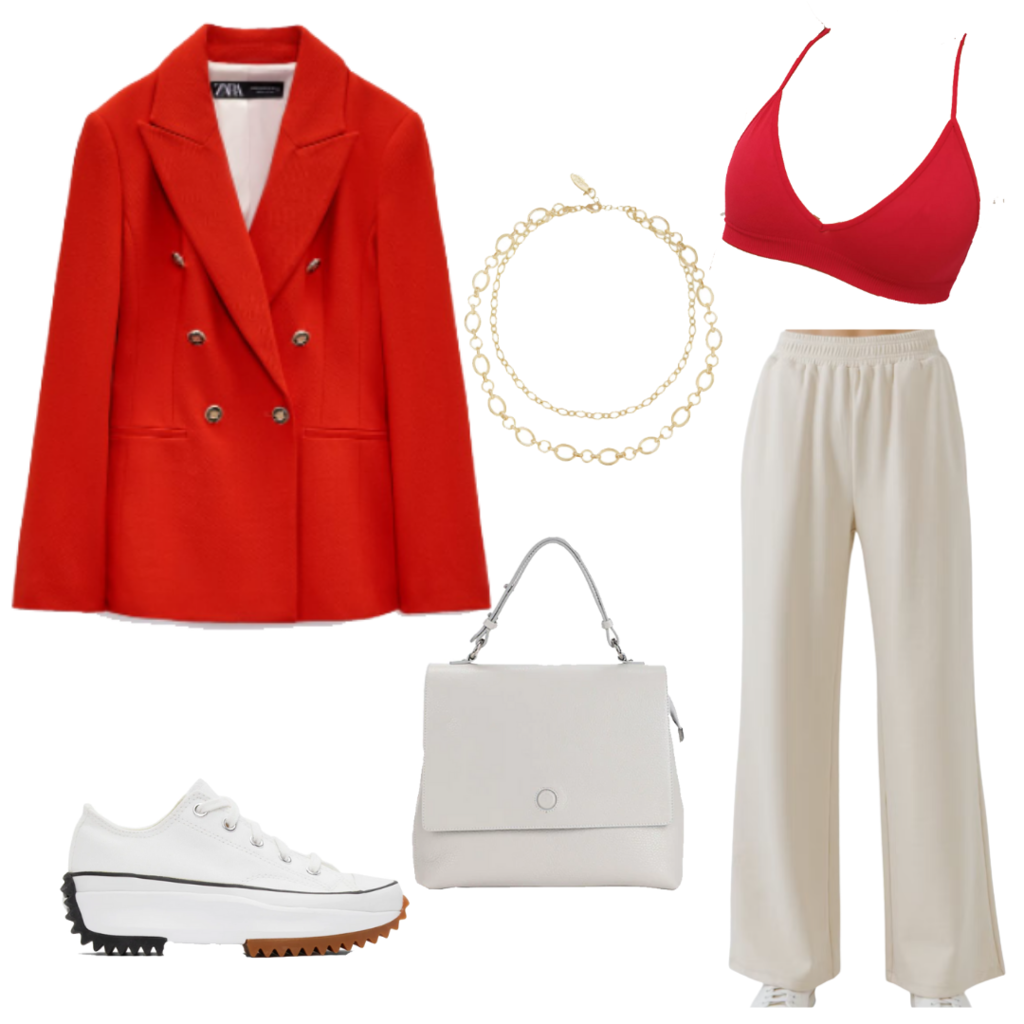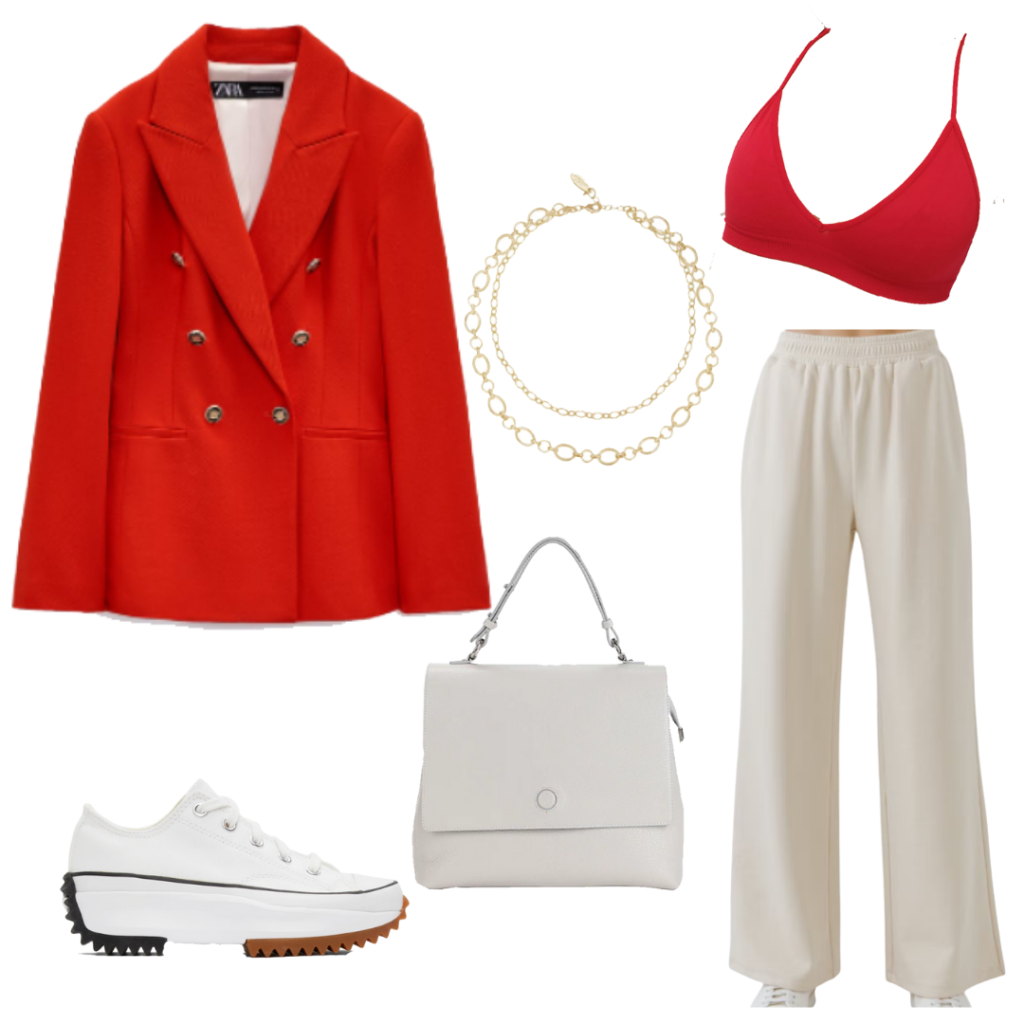 Items:
Wide-leg pants and blazers are the perfect combos if you want to be chic and comfortable. This outfit is perfect for Saturday mornings: You can wear it to run errands, have brunch with your friends, and even go out later on.
To create the base of the look, put on a red bralette and off-white wide-leg pants. Then, throw on a red, double-breasted blazer. You can wear it open, but I'd recommend wearing it closed. This way, the bralette is just a peek-a-boo moment and not something to be overthinking all day. Stay comfortable with chunky cream-colored sneakers.
A cream faux-leather backpack will be a great addition and will actually be practical throughout the day. Accessorize with a gold layered necklace.
Wear it with high-waisted jeans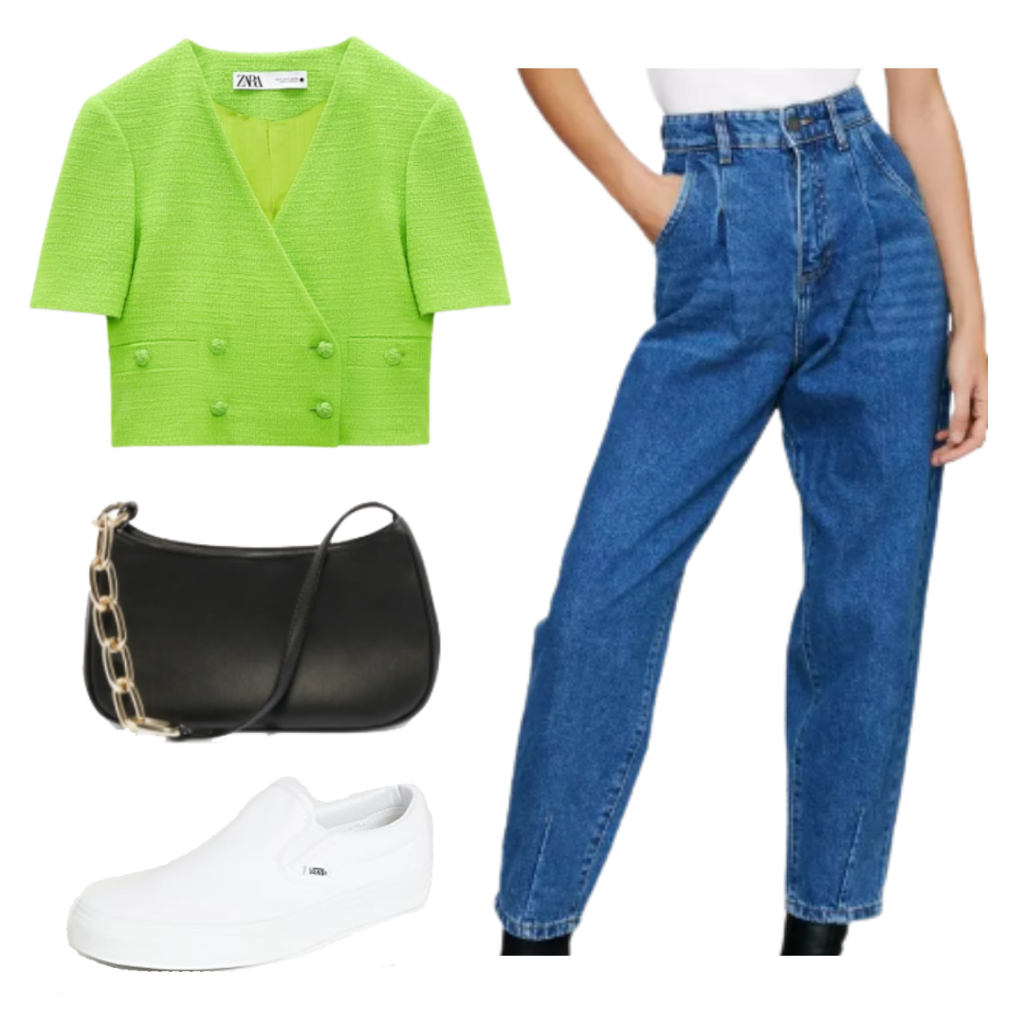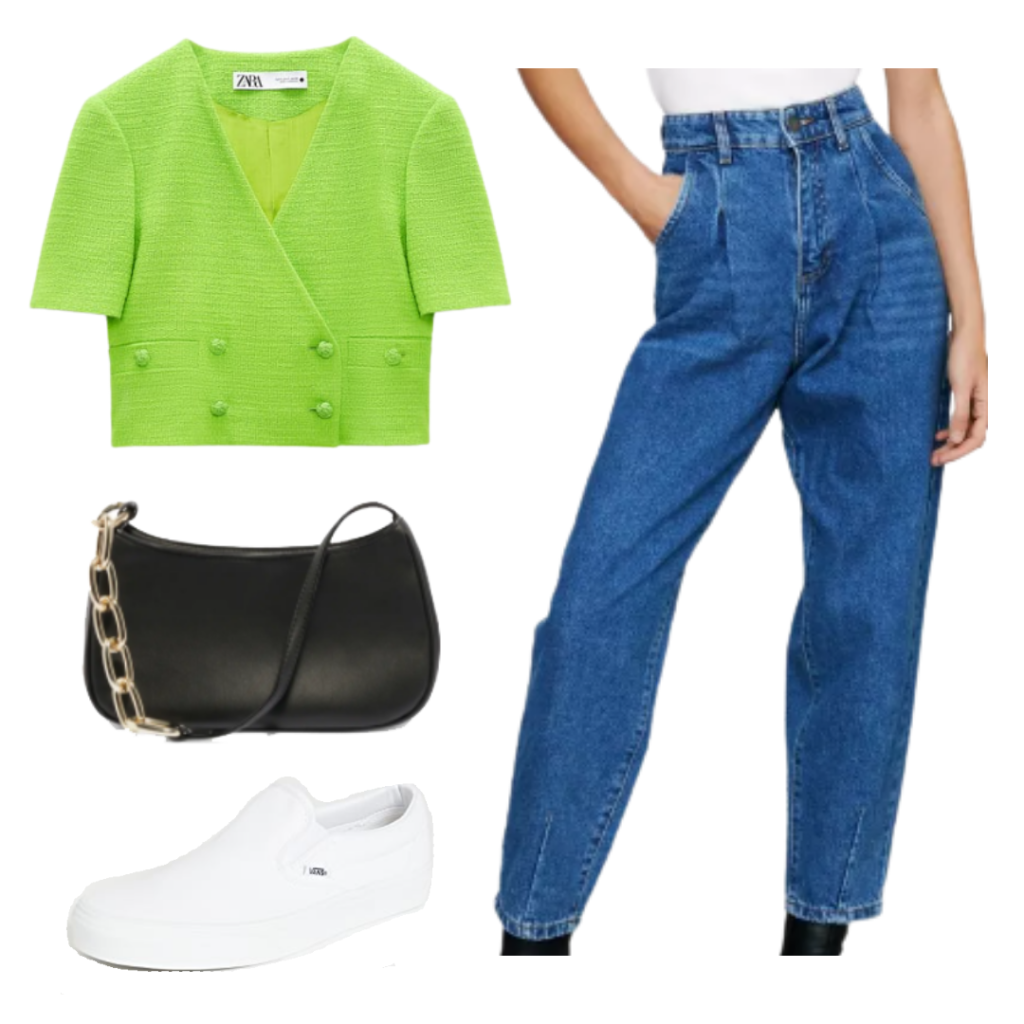 Items:
Casual but put-together is my favorite type of look. This outfit is just that. And you won't even need a shirt or blouse.
Blazers can totally serve as tops, especially now that they come in so many cuts and fits. A short-sleeved, neon green cropped blazer is perfect to wear as a top. Pair it with some high-waisted medium-wash jeans.
Since comfort is key, a pair of crisp white slip-on sneakers will give you both the comfort and the polished look we're going for. Finish it up with a black shoulder bag. But if you need more space, a backpack or tote bag would also work with this outfit.
Wear it with… a casual dress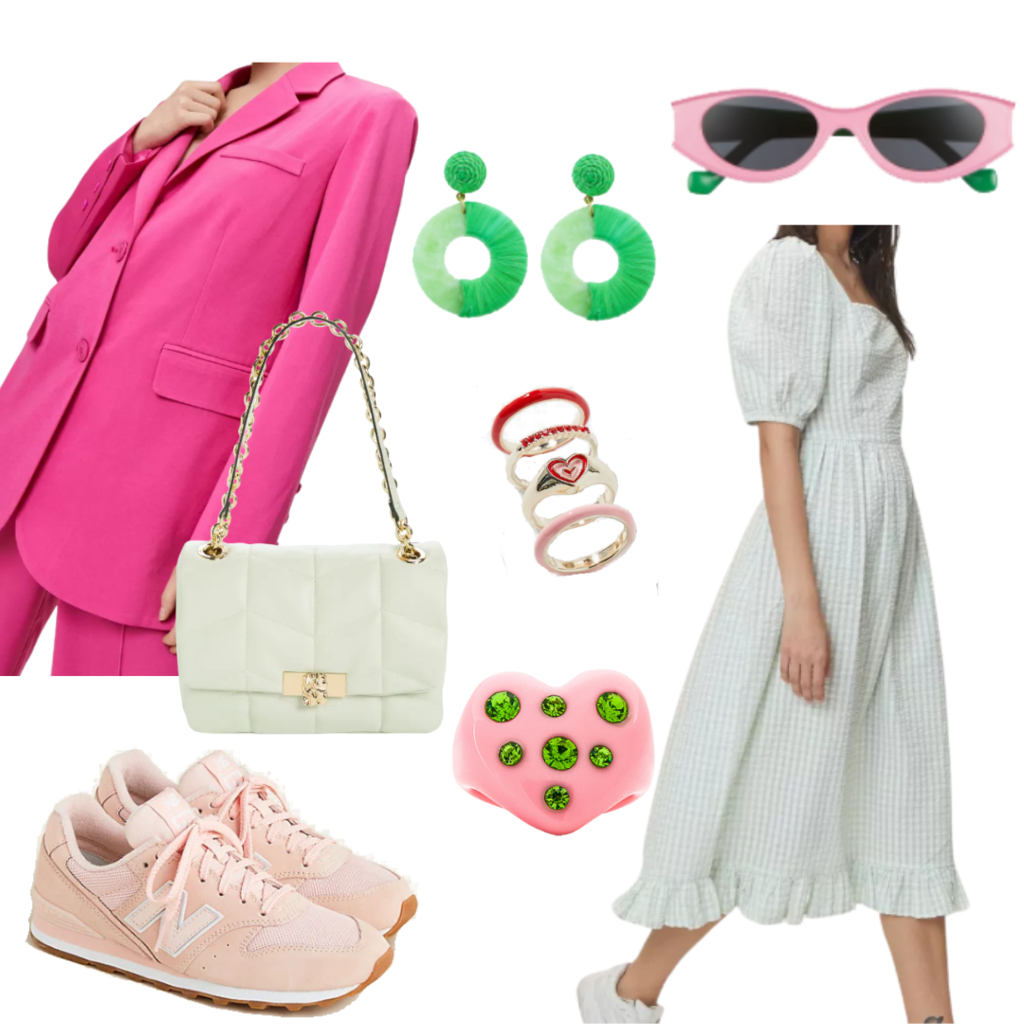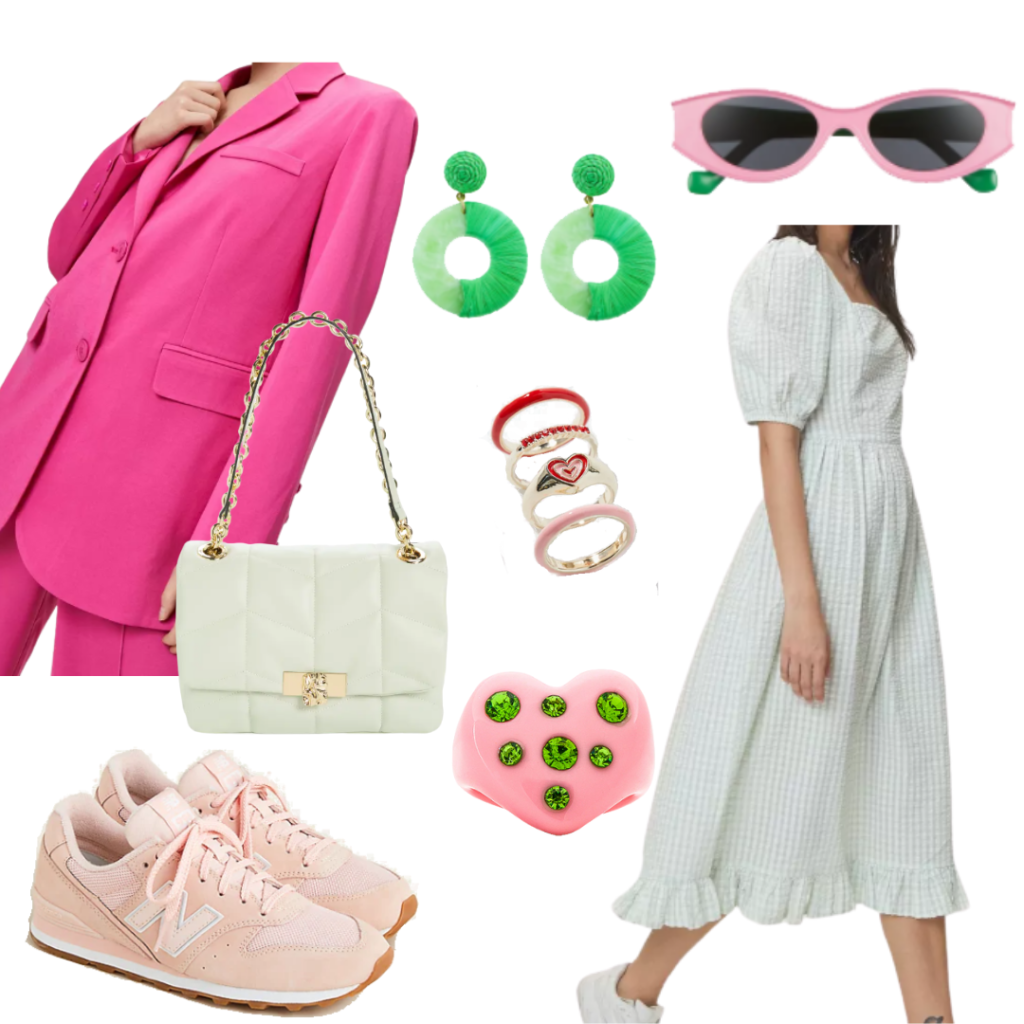 Items:
Pink and green are the perfect color combination for spring and summer. And flowy dresses are just so cute and breathable. So this look combines both.
A light green, gingham midi dress, and a hot pink blazer work together so well. Keep it casual with dusty pink sneakers. For a purse, a light green purse goes perfectly.
The outfit is so simple that you can go nuts with accessories. Try wearing an acrylic pink & green ring, a stack of dainty pink rings, and green earrings. Finish the look with a pair of cool sunglasses in bubblegum pink and bright green.
Wear it with a jumpsuit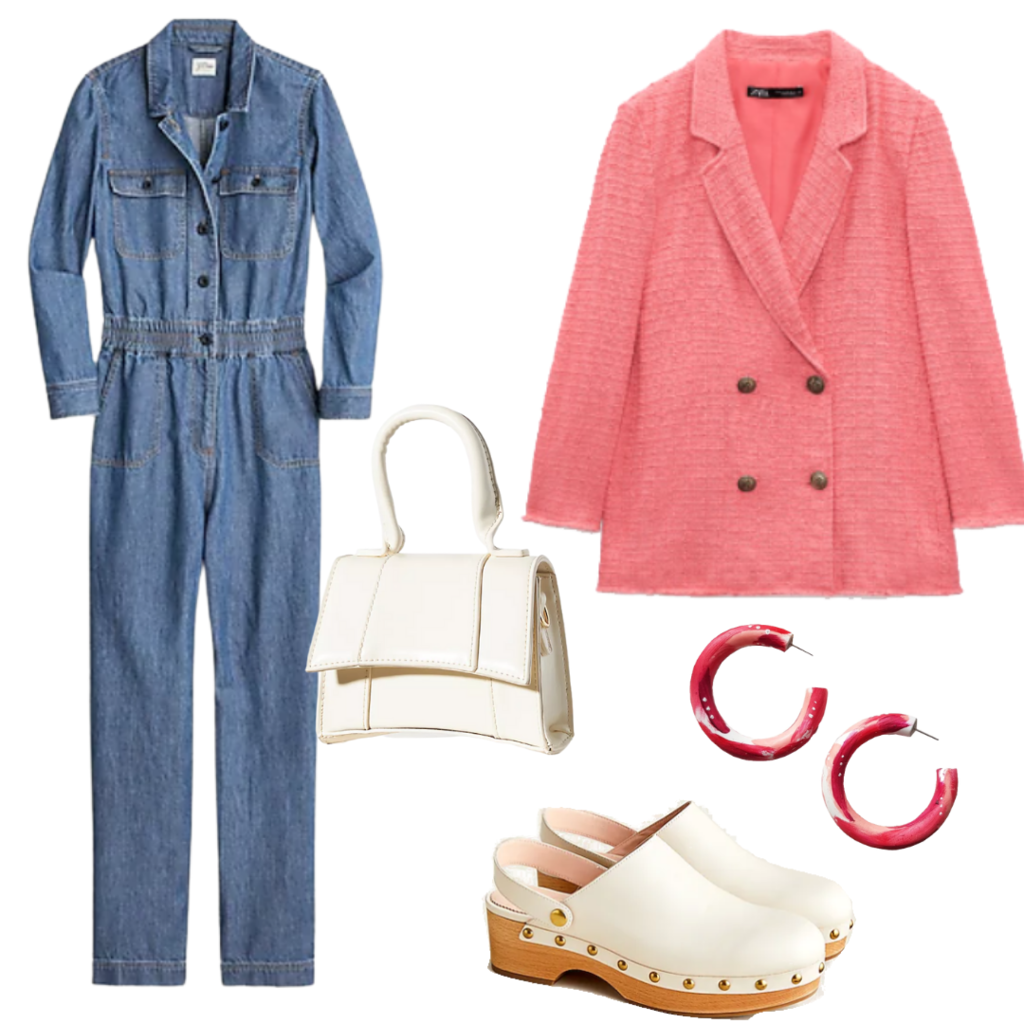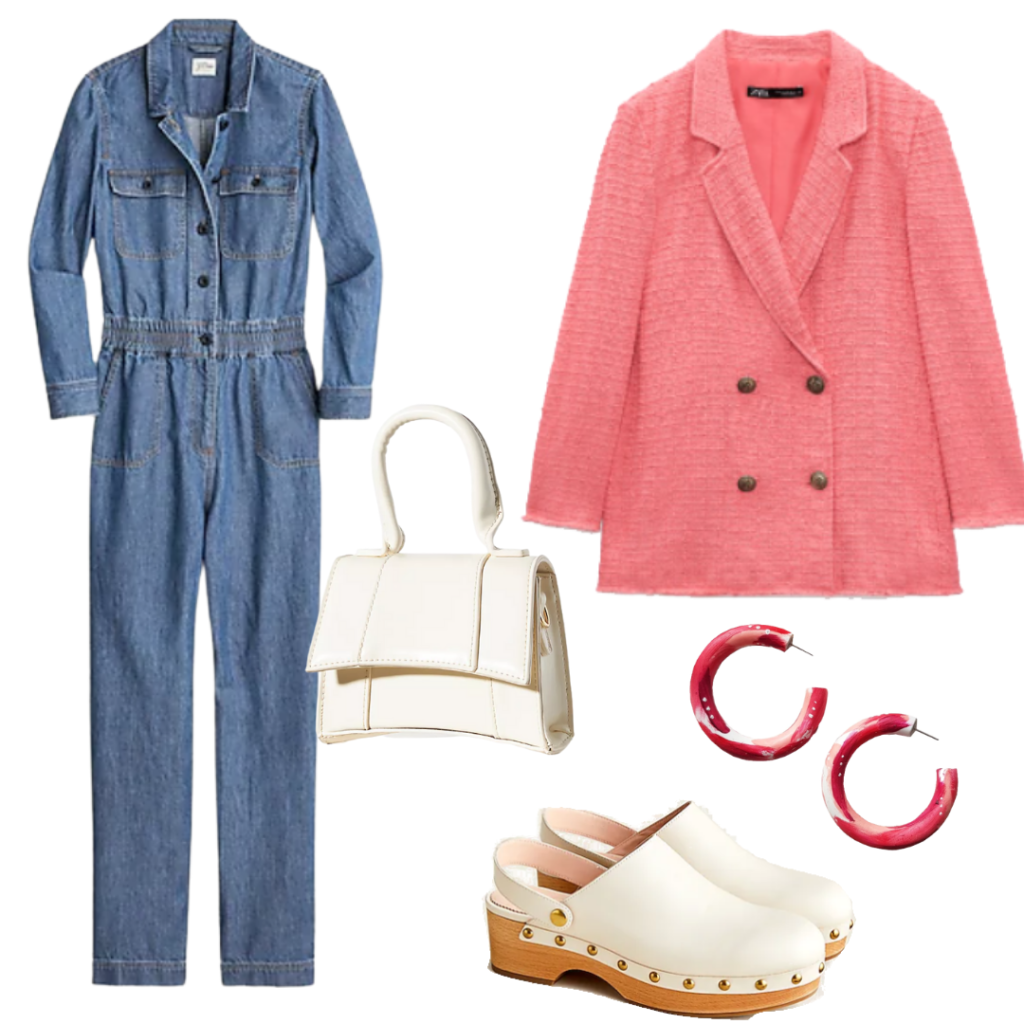 Items
Let's wrap it up with my favorite look on this list. Jumpsuits are everywhere, and they are usually worn as a single statement piece. But a blazer is the best item to take any jumpsuit to the next level.
Wear a denim jumpsuit with a coral tweed blazer. The contrast of casual denim with the elevated texture of tweed makes this outfit look so cool.
Clogs have been all over the place, and I know not everyone is into them, but I really love them. They are an amazing replacement for sandals if you, like me, prefer closed-toe shoes. Off-white clogs look great with this look — they will give you height and freshen up the color palette.
Keep the accessories simple since the textures of the rest of the look are busy. Round coral earrings and a structured cream handbag are just what the outfit needs.
What do you wear with a blazer?
Blazers can be the new best friend you need in your closet. They are so versatile and can take any look to the next level. But I know they can be hard to style sometimes, especially if you don't want to look preppy or office-y.
Hopefully, this list of outfit ideas will help you get inspired and find new refreshing ways to wear your blazer or blazers.
For more fashion tips like this on what to wear with blazers, find out more from our favorites —
Would you wear these outfits? Which look is your favorite? Do you have a specific blazer you need help styling? Let us know, and leave a comment below!