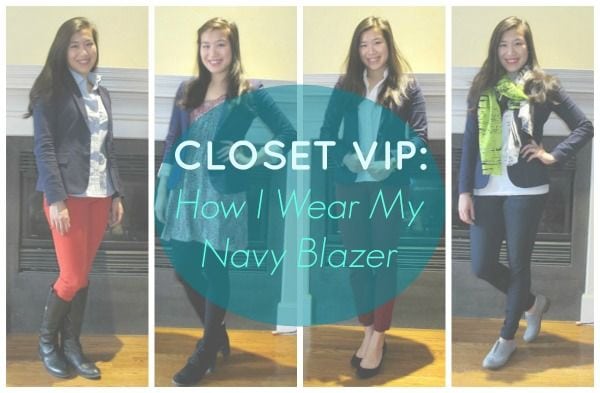 If you're anything like me, you have a full closet in serious need of spring cleaning, yet you always seem to reach for the same article of clothing over and over, either because it's easy to style or because it just makes you feel instantly put-together. I call these my "closet VIPs" – very important pieces of clothing that are both versatile and dependable.
In this new series, I'll show you some of the workhorses of my own wardrobe and the various ways that I style them! I'm starting with what's probably the number one most worn item in my closet: a navy blazer.
How to Choose the Perfect Blazer
Color & Cut
While a black blazer is definitely a worthy investment, I prefer navy for a slightly more casual look that works for both day and night.
A one or two-button blazer that hits at the hip is usually the most flattering and versatile. While they're not quite as easy to style, a slouchy boyfriend style, a double-breasted cut, or a cropped schoolboy blazer are also fun variations on this classic jacket.
Try it on in person to ensure a flawless fit!
When it comes to an article of clothing you'll be wearing so frequently, quality definitely counts! Check that the fabric is sturdy and not prone to wrinkling. Also, look for a blazer with a lining and strong seams – these help guarantee that the jacket will last and won't lose its shape.
Online shopping is fun, but with a fitted garment like this, you'll want to try it on before you buy. Even though I usually wear my blazer unbuttoned, I made sure that it could fasten. Swing your arms around and hug yourself to check that the shoulders aren't too tight – if you can't comfortably move your arms, the blazer is too small.
Retailer Suggestions
About My Navy Blazer:
The blazer that I'm wearing in these pictures is from Theory and originally retailed for around $300. I bought it at The Closet, a consignment store in Boston, for $45 two years ago.
I'd actually just purchased a nearly identical navy blazer from H&M for $30 when I walked into The Closet. When I tried on the Theory jacket, though, it was way more flattering and the fabric more crisp despite being secondhand. I immediately bought it and walked right back to H&M to return the first blazer.
The $15 difference was totally worth it: I've been wearing my blazer about 3-4 times a week and it still looks just as nice as it did when I first bought it!
4 Ways to Style a Navy Blazer
Read to see four of my favorite ways to wear a blazer:
Back to Basics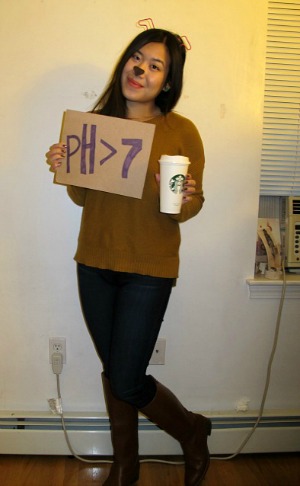 Product Info: Blazer, T-shirt, Jeans, Shoes,Scarf, Lipstick
I wear a variation on this exact outfit at least once a week: a slouchy tee, my favorite skinny jeans, an eye-catching scarf, and comfy flats or boots are a no-brainer combination that looks polished and put-together. I also love the contrast of super laid-back Converse sneakers paired with a tailored blazer.
When the rest of the outfit is this basic, I like to pep things up with a bold lip color. I'm wearing Revlon Colorburst Matte Balm in Audacious, a punchy coral that contrasts nicely with a neon green scarf. A lip color that matches your scarf would also be really cute!
Classic Prep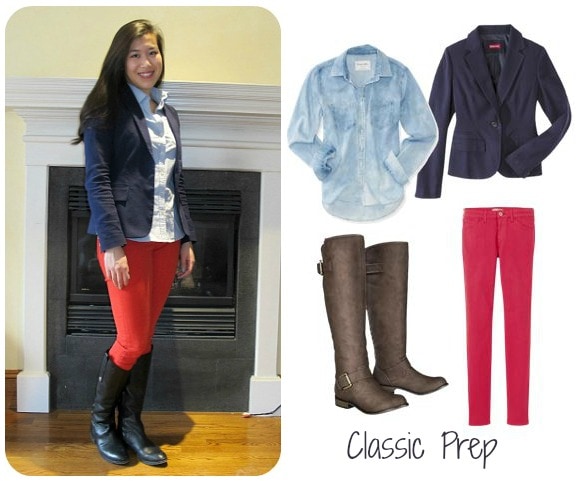 Product Info: Blazer, Top, Jeans, Boots
For those days when I want to pretend I'm Kate Middleton, my blazer helps me indulge my royal fantasy. A chambray shirt – another Closet VIP – and colored jeans are a totally classic pairing, while riding boots lend extra polish to the look. You can also swap in a striped shirt in place of the chambray for another perfectly preppy outfit!
Sugar & Spice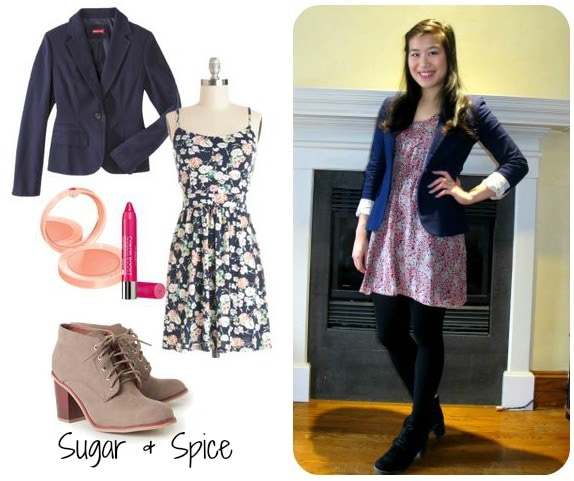 Product Information: Blazer, Dress, Blush/Lipstick, Shoes
Blazers might have originated in the menswear department, but that doesn't mean they can't be incorporated into a girly ensemble! I don't have a very defined waist, so I like pairing my blazer with fit-and-flare dresses to create the illusion of a more hourglass-like figure. A long pendant or belt at the waist can also help to visually streamline the midsection. Since this is a more casual outfit, I rolled up the sleeves of my blazer to show off the cute striped lining.
Blush and lipstick in a natural, flushed color and a side braid add to the femininity of the look. I always like a bit of contrast in my outfits, though, so I usually pair my floaty chiffon dresses with chunky ankle boots instead of heels or ballet flats.
Let's Get Down to Business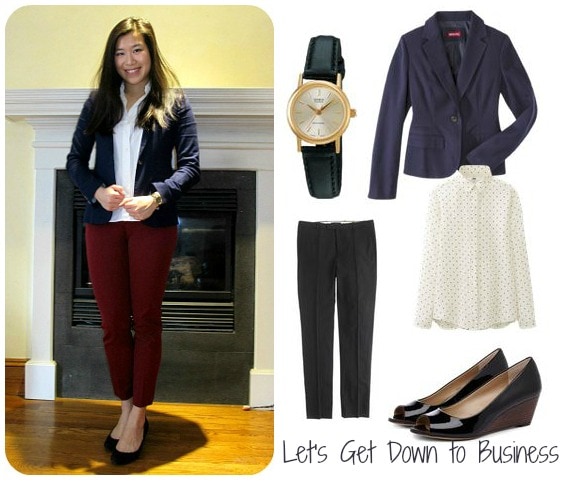 Product Info: Blazer, Blouse, Trousers, Shoes, Watch
A good blazer definitely helps to dress up any outfit and also lends an air of professionalism to the wearer. While this ensemble wouldn't fly in a super-corporate office, it is something I'd wear to a more casual job interview or to my old job as a medical secretary. Low wedges are way more comfortable than high heeled pumps, and my classic, leather-strap watch is always on my wrist!
What did you think?
Is a navy blazer an essential in your wardrobe? Would you wear these outfits? What are your Closet VIPs? Any suggestions or requests for a future Closet VIP article? Let me know in the comments!