The following post was written by Lauren, a student at a university in South Carolina.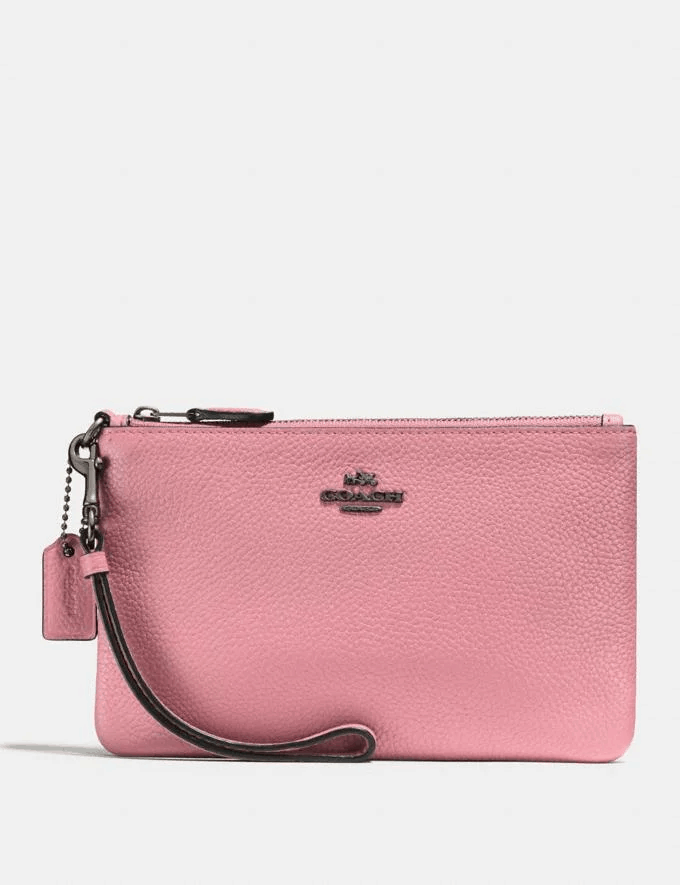 Before I started college a month ago, I was obsessed with handbags! At the mall, I always had my eye out for good deals on gorgeous bags. Every time I heard of a friend going to NYC I would always give her a wad of cash and a description of the latest designer bag I wanted her to grab from Chinatown.
Even when I had just bought one recently, I still kept my eyes peeled for fabulous handbags. I believed it's true what they say – you can never have enough of a good thing!
But once I arrived on campus, my favorite purse in hand, I realized I was in the minority. Most upperclassmen didn't carry huge bags around. I could always spot the other freshman girls because they too had big handbags held closely to their shoulders.
Wristlets are perfect for college
After a few days, I learned that the MUST HAVE PURSES for college girls are wristlets.
I discovered the magic of wristlets when I realized toting around my purse was just not worth it. When you think about it, it really makes sense to carry a wristlet instead of a regular handbag. Here are a few reasons why:
The weights of textbooks seem to have magically doubled from high school to college. Who wants to carry around a 50 pound bag filled with everything but the kitchen sink (which was how I used to keep my purse filled) on top of your textbooks and papers?
Once classes are over with, there is still a lot of walking to be done! A 50 pound bag is not your friend in this situation.
When going out at night, the parties are usually cramped. Let's just say the girl with the bag that takes up half the room is never a crowd favorite.
Handbags still have their place
Don't get me wrong, I still have a pile of handbags in the back of my closet. Purses will always be in style, and I still carry mine around occasionally! If I want to go to the mall or out to dinner, I shove my wristlet into my handbag (still full of everything but the kitchen sink), and I'm good to go!
Cute Wristlet Purses – Vera Bradley
When I first got to campus and realized my big purses weren't going to work, I didn't have to rush out and buy something new. Luckily, I had brought one of my wristlets, a cute one by Vera Bradley.
Here is the wristlet I carried along with some other cute Vera Bradley options:

From Left:Raspberry Fizz All in One Wristlet ($32), Java Blue Zip ID Case ($10), Mod Floral Pink Wristlet ($25)
Depending on what you are looking for, all of the wristlets above are great options! Each is between $10 and $35 — perfect for the college student budget!
The first wristlet I used was the one on the far right, the classic design. I love it because I can fit my cell phone, some cash, my student ID, a pack of gum, and even my camera inside if needed.
The middle item is very compact and a good thing to grab if you just want to run out of your room for a second. It can hold your ID, money, other cards, and has an easily accessible place for your room or mailbox keys. It also fits great inside of other wristlets if you want to keep things organized!
The wristlet on the far left is new to Vera Bradley. It has an outside compartment for your phone and has a wallet-like inside that has places for money and credit cards or ID's.
Cute Wristlet Purses – Designer Picks
Once I had a little more time to look around, I found some great deals on designer wristlets!
The best place to look once you find a style that you like (if you don't exactly have the money to pay for the label) is to go to eBay or Amazon.com! They have wonderful deals on designer items that may be brand new or just slightly used.
One thing to remember when buying designer goods on eBay or from a private seller on Amazon: if it looks too good to be true, it probably is. There are counterfeits, so be careful!

From Left:Coach Ergo Signature Capacity Wristlet ($98), Marc by Marc Jacobs Totally Turnlock Wristlet ($198), Lacoste New Classic Wristlet ($51)

From Left:Lucky Brand 60'S Swirl Kiss Lock Frame Wristlet ($54), Juicy Couture Flap-Lock Wristlet ($98), Betsey Johnson Heartland Betsey Wristlet ($121.50)
These are slightly more pricey but will last a long time!
I recently purchased a wristlet from Coach for about $40, and it was worth it! The classic look matches everything. The wristlet by Lucky Brand is funky and fun, good for adding a little spice to an outfit when going out! The Lacoste wristlet comes in several other colors and is a very classic choice. It would go with most every outfit as well.
Budget Friendly Wrist Huggers
If you can't afford a designer wristlet, and don't want a Vera Bradley, there are plenty of other options available. Here are some cute wristlets at bargain prices:

From Left:Merona Wristlet – Plum ($12.99), Xhilaration Fold-Over Clutch – Teal ($14.99), Forever 21 Quilted Wristlet ($4.80)

From Left:Marc by Marc Jacobs Wristlet ($21), Forever 21 Zipper Fold Wristlet Clutch ($14.80), Forever 21 Leila Faux Leather Wallet ($15.80)
All of these are perfect for a college budget. Most come in different colors too! One fun idea (if possible) is to try and find a wristlet purse with your school's colors. Then it can go with all of your game-day outfits!
Your Thoughts?
I'd love to hear what you have to say about carrying around clutches and wristlets versus carrying around a purse on campus! Do you still want to hang on to your big bag? Or are you ready to try something lighter?