This post may contain affiliate links, which means we may receive a commission if you purchase through our links. Please
read our full disclosure here
.
The real world seems like a scary place, and what's worse is that at our age, everyone seems equally qualified for every job. So often, two candidates have similar grades and are equally knowledgeable, with similar work experience and brilliant resumes. So, what sets one apart from the other? How could anyone possibly pick between the two? This is where the interview comes in; the chance to meet a member of the company face to face and show them what a wonderful personality you have.
Say it's a Monday evening, and you're in the lobby of an office waiting for your chance to knock the socks off a hiring manager. You look around and there are a couple of other people seated there, and all of them are extremely well dressed. Everyone in the room is wearing various shades of black, white and grey, in variations of pantsuits and skirt suits, with their shoes matching their belts. So the question is, how do you stand out?
Here are some ways to turn traditional interview outfits into something that is tasteful and appropriate, but will certainly stand out and make a killer first impression. Your interviewer simply won't be able to forget you!
(Note: Obviously these don't apply to the most conservative industries — accounting, etc. — where you are pretty much required to stick to the boring business formal dress code. But for anything more casual than that, give these looks a shot!)
A Colored Blazer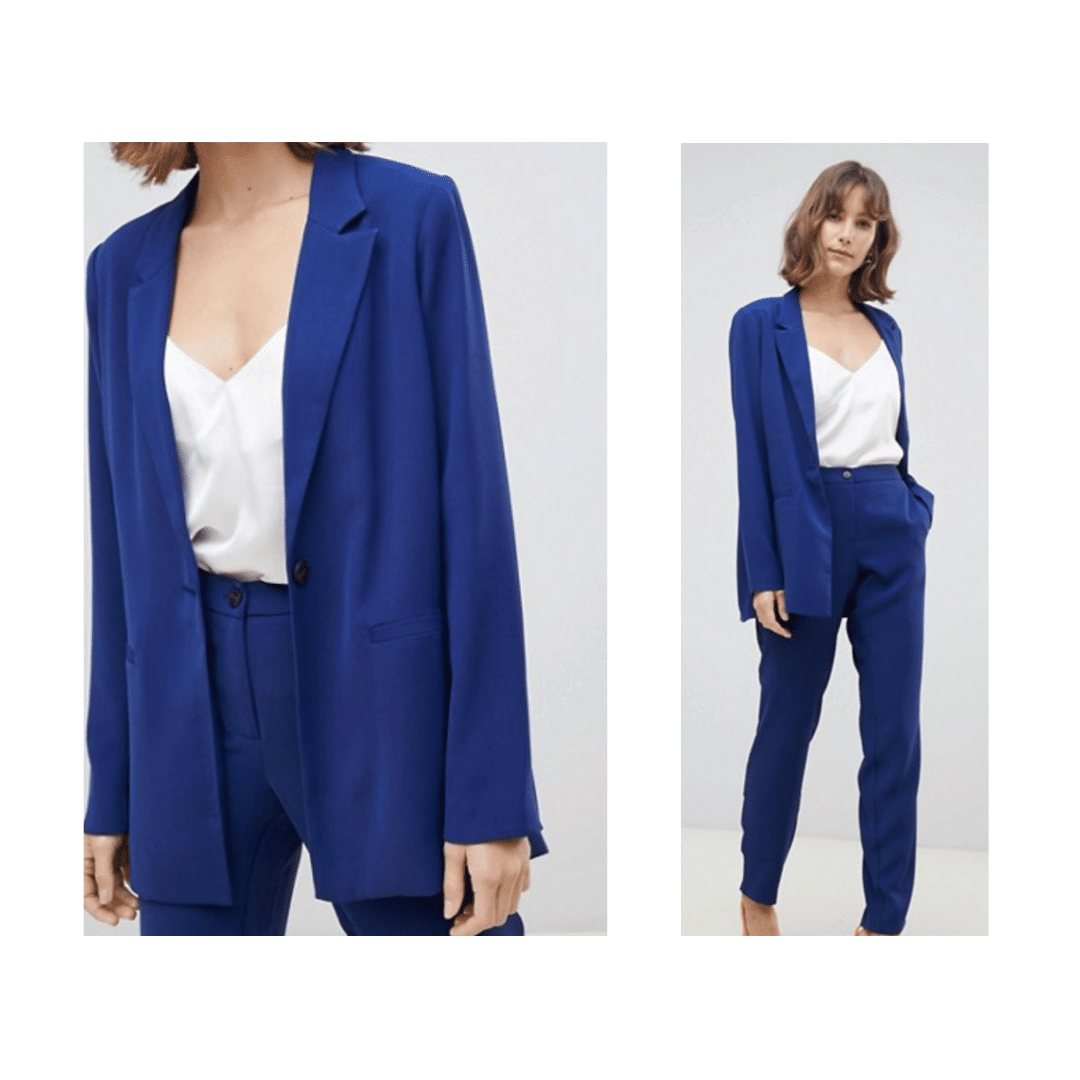 Product: Blazer – Selected
Instead of the traditional black blazer, why not opt for a blazer with some color — for example, this royal shade of blue? Other bright yet understated colors that I think could be nice include burgundy and maroon, and you don't necessarily have to match the blazer with pants of the same color — for example, the one pictured above would look great with brown or black pants instead, or even perhaps a black or white dress.
Unusual Shoes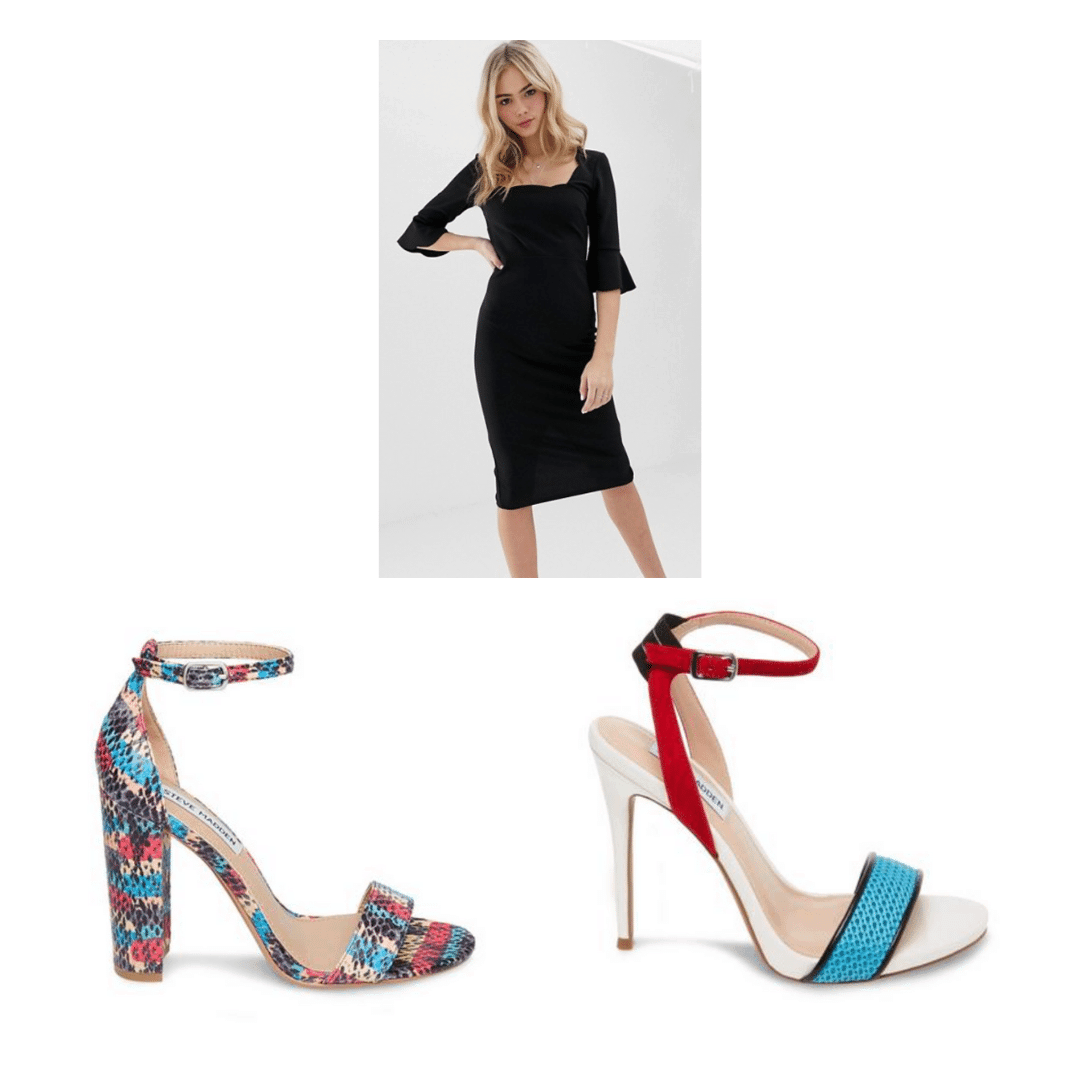 Products: Dress – ASOS, Print Shoes – Steve Madden, Color-block Shoes – Steve Madden
If you do want to stick with a traditional outfit (which is absolutely, totally fine!) you could jazz it up a little with some interesting shoes! They will make a statement on their own, and not too much of a bold one because they are, of course, on your feet, which will most likely not be a focal point during your interview. These are especially a good idea because a pair of funky heels is a great addition to your wardrobe in general as they are quite versatile, and so so cute!
Again, super conservative offices are not going to like open-toe shoes, so know the type of industry you're applying in and what they typically wear. If you're interviewing for a fashion position, though, these would be completely fine!
A Jumpsuit
Product: Jumpsuit – ASOS
Instead of a pantsuit, why not rock a formal jumpsuit? It will make you look super put together, but still add a touch of uniqueness to your look. Collars are preferable, of course, but there are definitely some collarless ones in muted tones or black that could also work! There is the added benefit that most jumpsuits are extremely comfortable, and you never have to fidget or worry about your blouse or shirt being tucked in properly.
Blazer Dress Instead of Blazer And Dress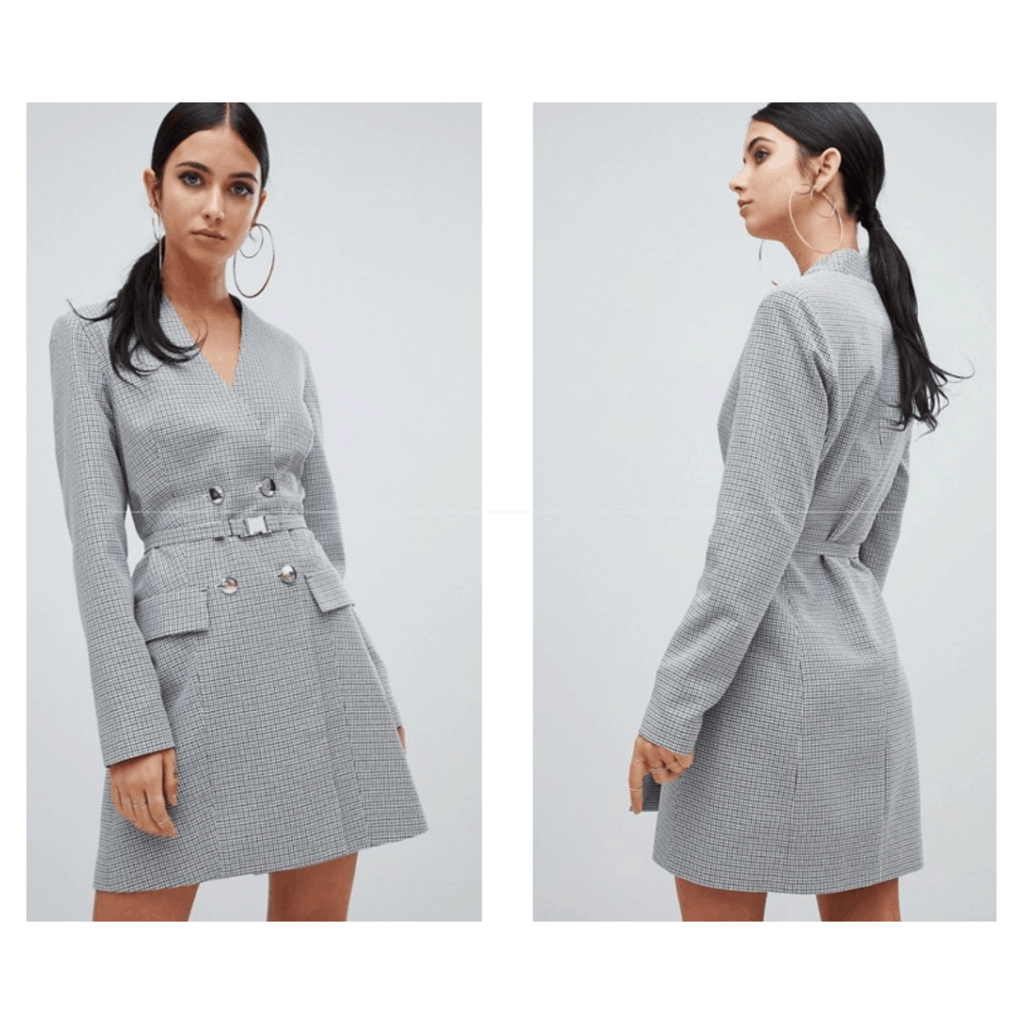 Product: Blazer Dress – Missguided
This is one of those brilliant ideas that blend two necessary items into one — like the skort (skirt + shorts) or spork (spoon + fork) — and the end result is both chic and flattering. With a cut like the one above, you'll definitely complement your figure while still keeping your outfit business-appropriate.
Neckerchiefs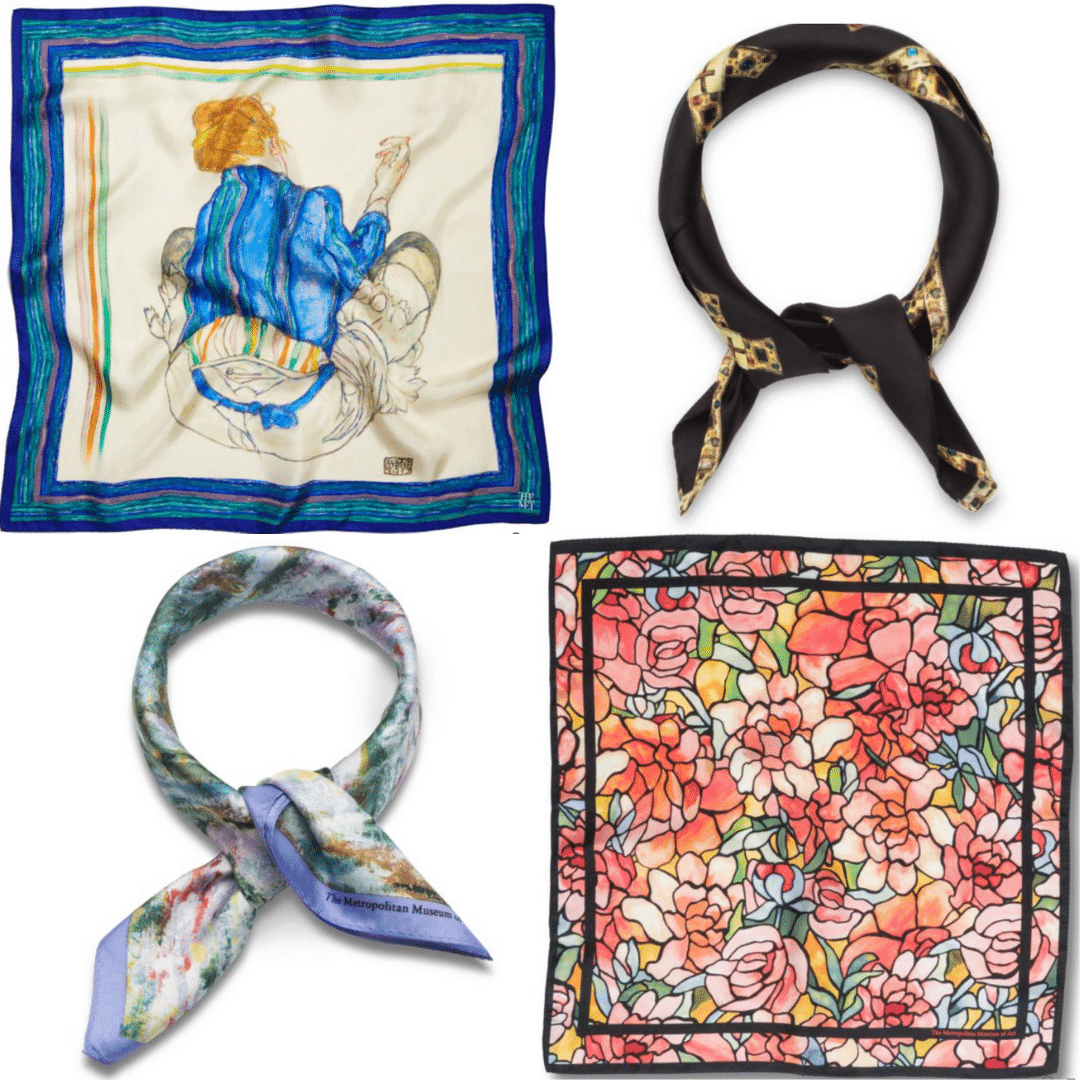 Products: Neckerchiefs – The Metropolitan Museum of Art Store
This is a classic and very classy way to spice up an outfit. I recommend wearing neckerchiefs with plain outfits for best results — avoid prints as the neckerchief will likely be printed itself, and given its vicinity to both your face and torso, it will be visible throughout the interview. That being said, these really are a timeless and elegant addition to most outfits, and the Metropolitan Museum of Art sells wonderful and affordable ones inspired by artists and their paintings.
Colorful Blouse and Pencil Skirt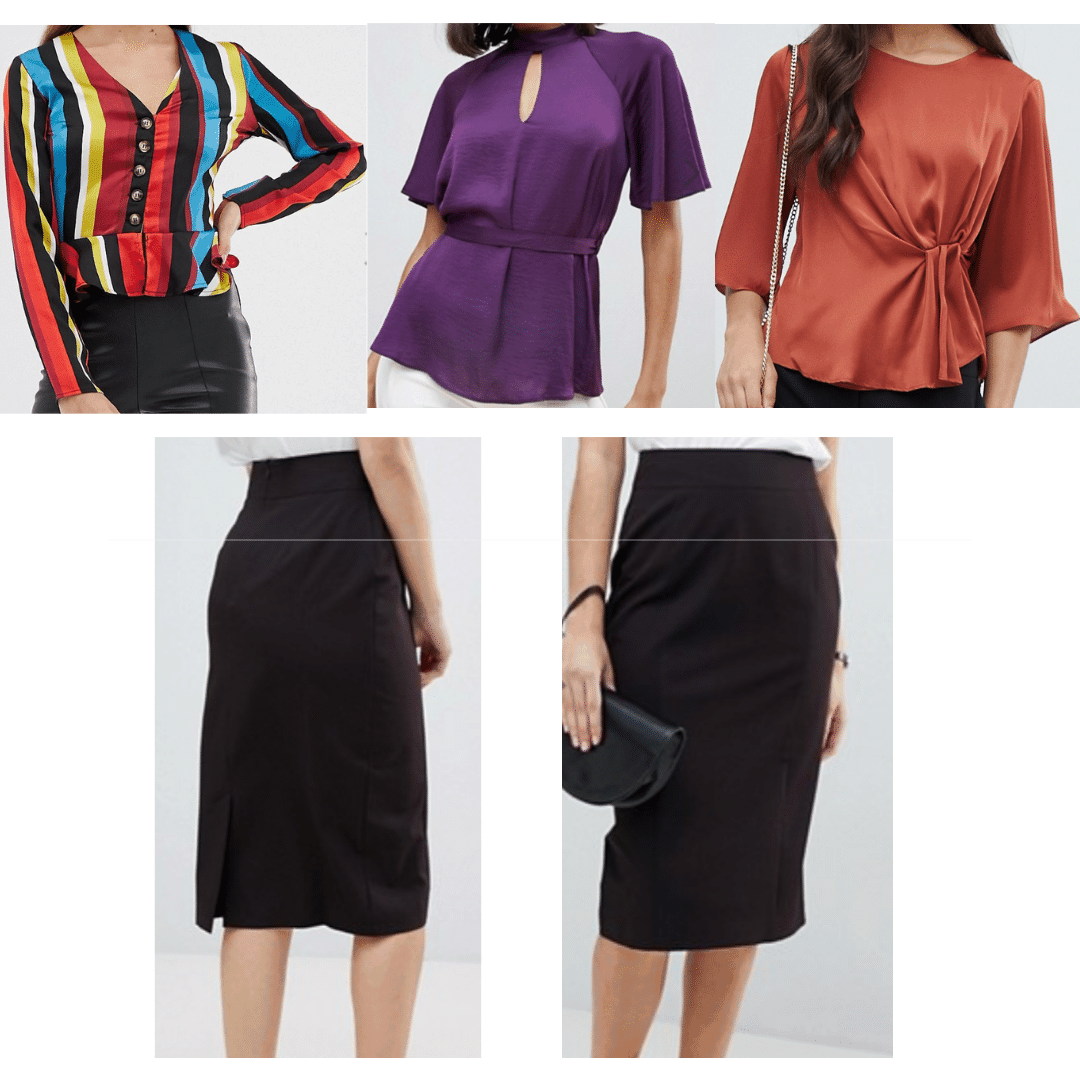 Products: Striped Blouse – Missguided, Purple Blouse – River Island, Rust Blouse – Miss Selfridge, Pencil Skirt – ASOS
This last suggestion seems a tad typical, yet the blouses above are anything but that. These are work appropriate, yet eye-catching, and would dress up any pencil skirt for sure. The emphasis here is to pick a slightly bolder color than grey or white, or even venture into a print if you feel like it! As for the pencil skirt, black is certainly not the only way to go; white, navy blue and deep green are some other interesting colors I've come across in a similar or the same cut.
First Impressions Matter
While I can't guarantee that you'll get the job, I can say with confidence that any of these suggestions will help make an even stronger first impression, and help your already-amazing personality shine. A little fun and spunk will boost your confidence too, which is always nice to counteract those pre-interview jitters!
So, I'll leave you with this famous quote by Will Rogers:
'You never get a second chance to make a first impression.'
How do you shake up your interview outfits?
Do you have a go-to outfit for interviews? If so, what is it? Care to share any outfits you've worn that landed you the job? Let us know in the comments section.