This post will show you the season's best loafers under $100 and how to wear loafers for women, with 15 trendy outfit ideas.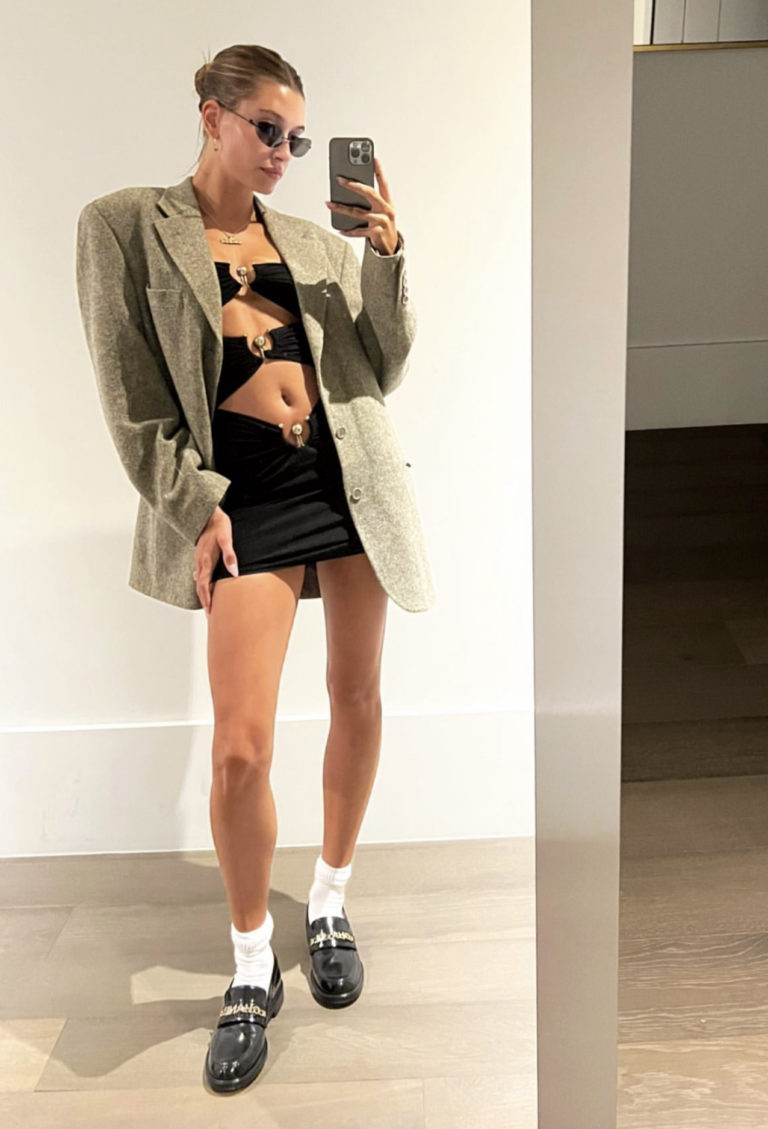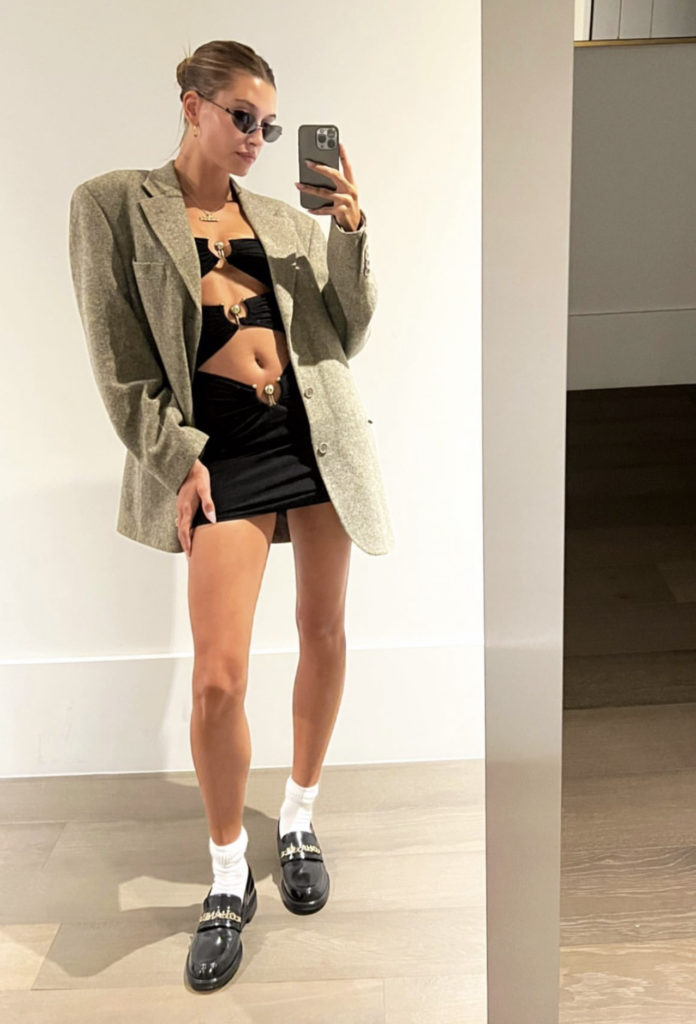 Set aside your sandals and sneakers… this season, it's all about loafers!
Loafers are back in a big way, and by big, I mean literally: big, chunky lug soles are the modern update to the classic shoe that makes them feel cool and edgy.
Of course, you can't go wrong with classic, sleek loafers with a low-profile design. These shoes are timeless and won't ever go out of style.
Whether you prefer classic or trendy loafers, you'll want to add a pair (or two) to your wardrobe –– they are such versatile shoes that add instant polish to your outfits. Plus, you'll be in good company: celebrities like Hailey Bieber, Gigi Hadid, Kendall Jenner, and Zoë Kravitz are all fans of loafers and have been spotted wearing them recently.
Read on, and I'll show you some of the best loafers of the season under $100, plus how to wear loafers with just about anything in your closet.
What is a Loafer?
In case you aren't familiar, loafers are slip-on shoes characterized by a low heel and a moccasin-like construction. Loafers are known for their versatility and can be dressed up or down depending on the occasion.
Tips on How to Choose the Best Loafers
Here are some tips to help you buy the best loafers for you:
Consider the occasion
Loafers come in various styles, ranging from casual to formal. Determine where you plan to wear yours most frequently. If you need loafers for formal occasions, opt for sleek and minimalistic designs in high-quality leather. For casual settings, you can explore a wider range of materials and styles.
Material quality
Loafers are commonly made from leather, suede, or synthetic materials. Genuine leather offers durability and a classic look, but it may require more care and maintenance. Suede provides a softer and more casual appearance but can be less resistant to water and stains. Synthetic materials are usually more affordable but may not be as breathable or long-lasting as genuine leather.
Fit and comfort
The right fit is crucial for loafers. Ensure they are neither too tight nor too loose. Your feet should feel comfortable and have enough space to move naturally. Consider the width and arch support as well. Loafers should provide adequate cushioning and support to avoid discomfort during prolonged wear.
Slip-on or lace-up
Decide whether you prefer slip-on or lace-up loafers. Slip-on styles offer convenience and ease of use, while lace-up loafers provide a more adjustable fit. Choose the style that suits your personal preference and the level of formality you desire.
Sole and traction
Pay attention to the sole of the loafers. Look for a durable and slip-resistant material, such as rubber or leather, with a textured pattern. This will provide good traction and stability, especially on slippery surfaces.
Stitching and craftsmanship
Examine the stitching and overall craftsmanship of the loafers. Neat and well-executed stitching indicates a higher level of quality and attention to detail. Check for any loose threads, uneven seams, or glue residue that could affect the durability and appearance of the loafers.
Versatility
Consider the loafers' versatility and how well they will integrate into your existing wardrobe. Opt for classic colors like black, brown, or tan, as they can be easily paired with different outfits and styles.
Brand reputation
Research and consider reputable brands known for their quality craftsmanship and materials. Reading reviews and checking customer feedback can provide valuable insights into the brand's reliability and the longevity of its loafers.
Budget:
Determine your budget range for loafers and try to find a balance between quality and affordability. Remember that investing in a well-made pair of loafers can result in long-term value and durability.
By considering these tips, you'll be able to choose loafers that suit your style, provide comfort, and meet your specific needs.
The Best Women's Loafers Under $100:
Want to get in on the loafers trend but don't want to break the bank? I've got you covered! These are the best loafers under $100 to shop for this season.
Chunky Platform Loafers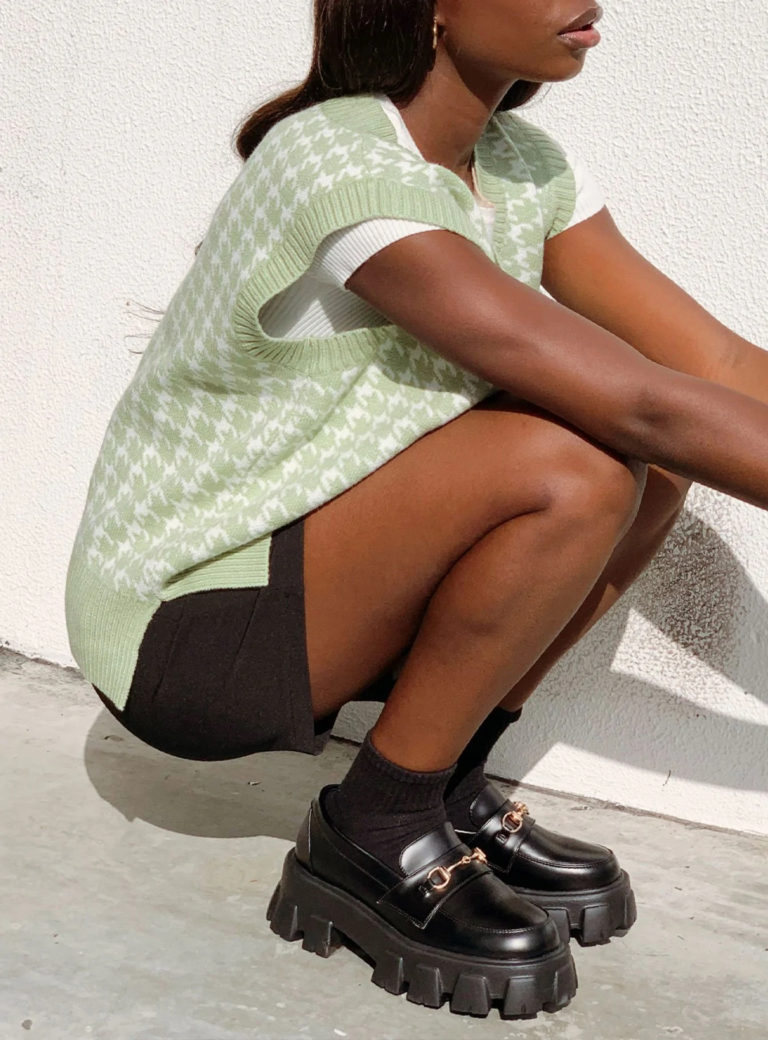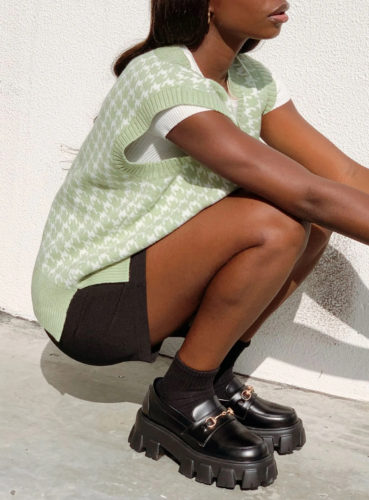 Make a statement this season with these ultra-chunky platform loafers. With a treaded rubber outsole that will lift you up by 6 cm, these are wearable day or night. Their gold-toned snaffle detail adds a luxe touch, as does their shiny faux leather material.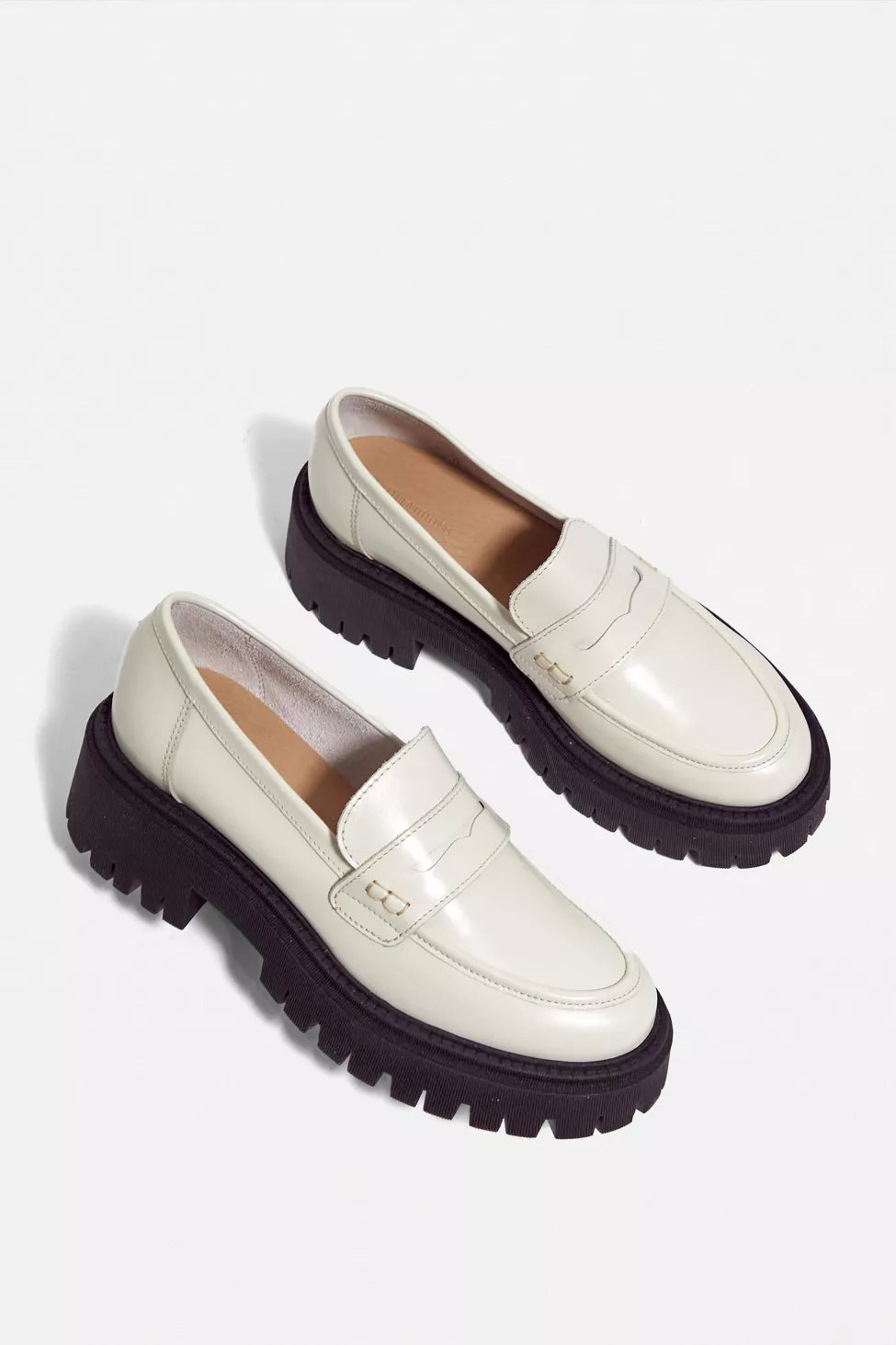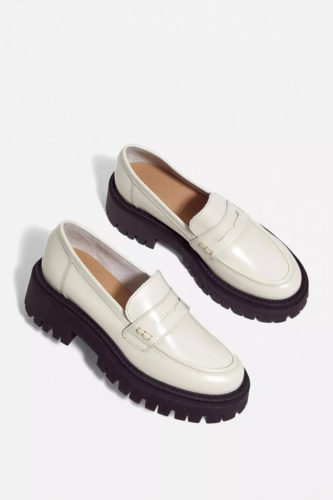 I love the two-tone design of these chunky loafers with an ecru upper and black soles. Ecru is less stark than white, and I consider it to be more of a neutral hue, making these loafers that much more versatile. These also feature visible stitching and a contoured strap.
Platform Lug Sole Loafers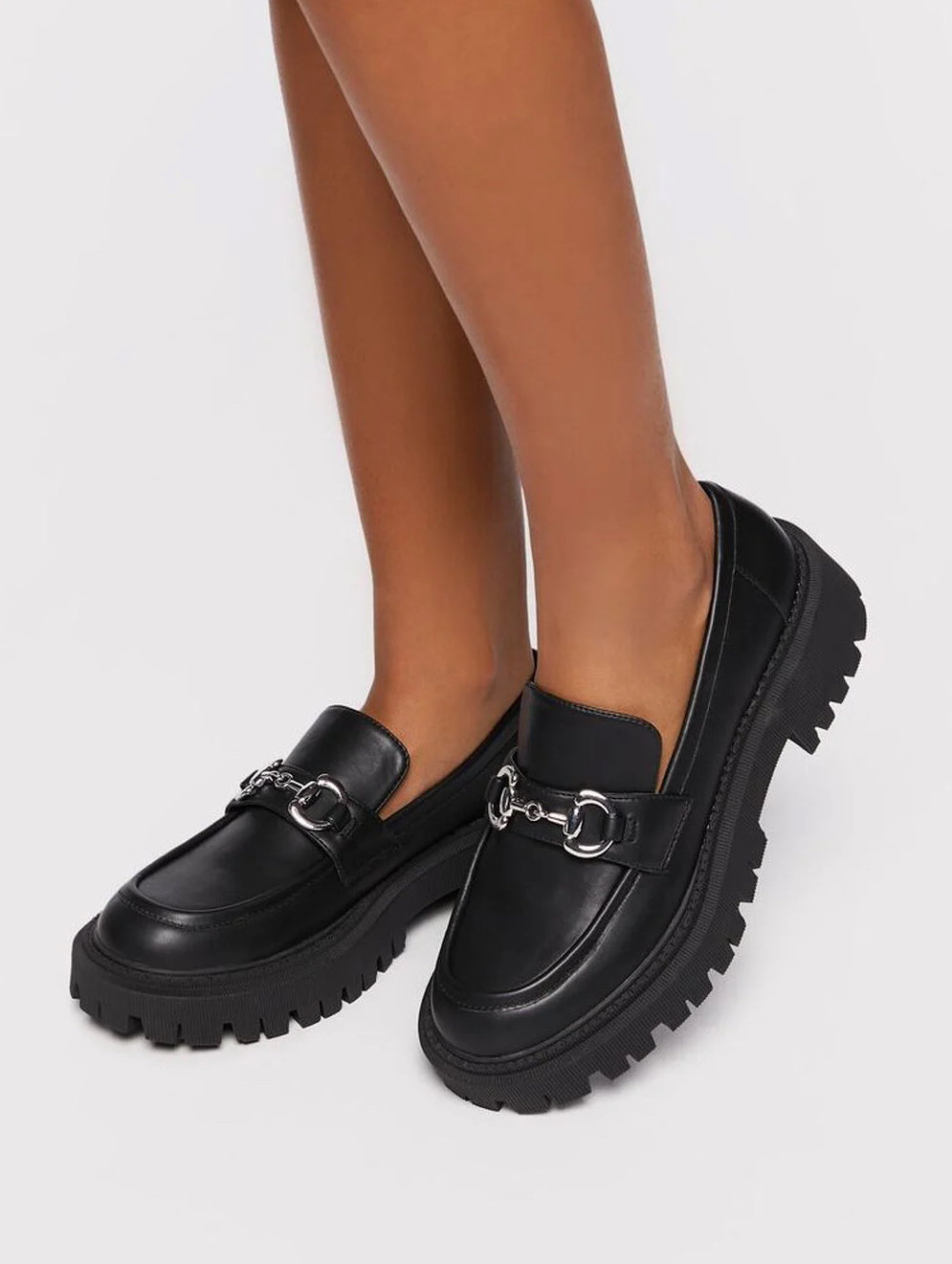 For an ultra budget-friendly option, try these platform lug sole loafers with silver snaffle hardware that are under $35. The platform lug sole will give you a little height boost while providing grippy traction when you walk.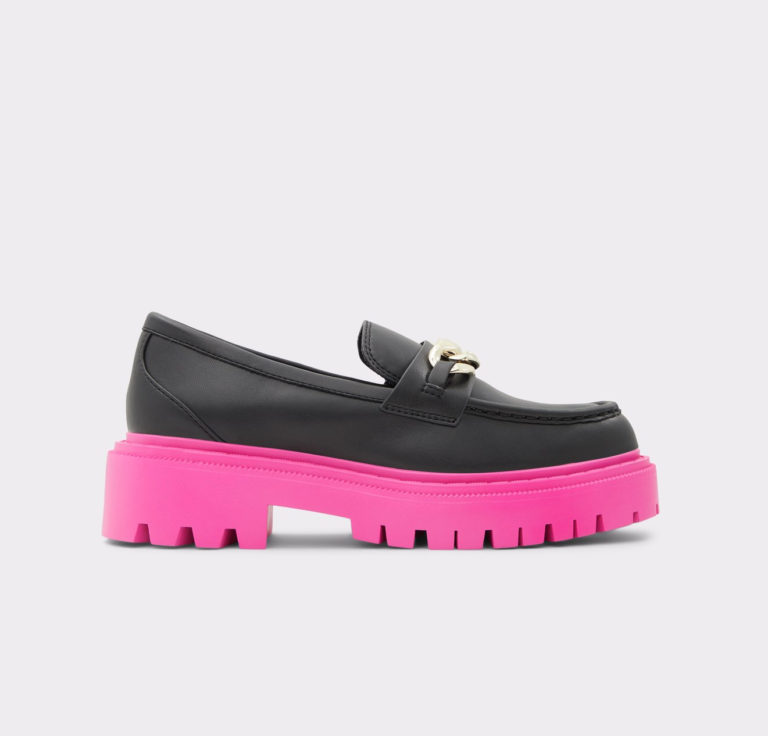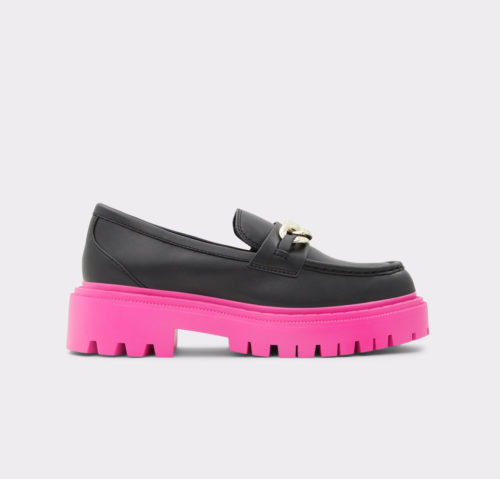 I am completely obsessed with the two-tone color scheme these chunky loafers have, with bright pink lug soles and a classic black upper, along with a gold chainlink detail. They are totally going to stand out and add an eye-catching pop of color to your outfits!
And if you're not into this color palette, these loafers also come in classic solid colors like black, beige, and off-white.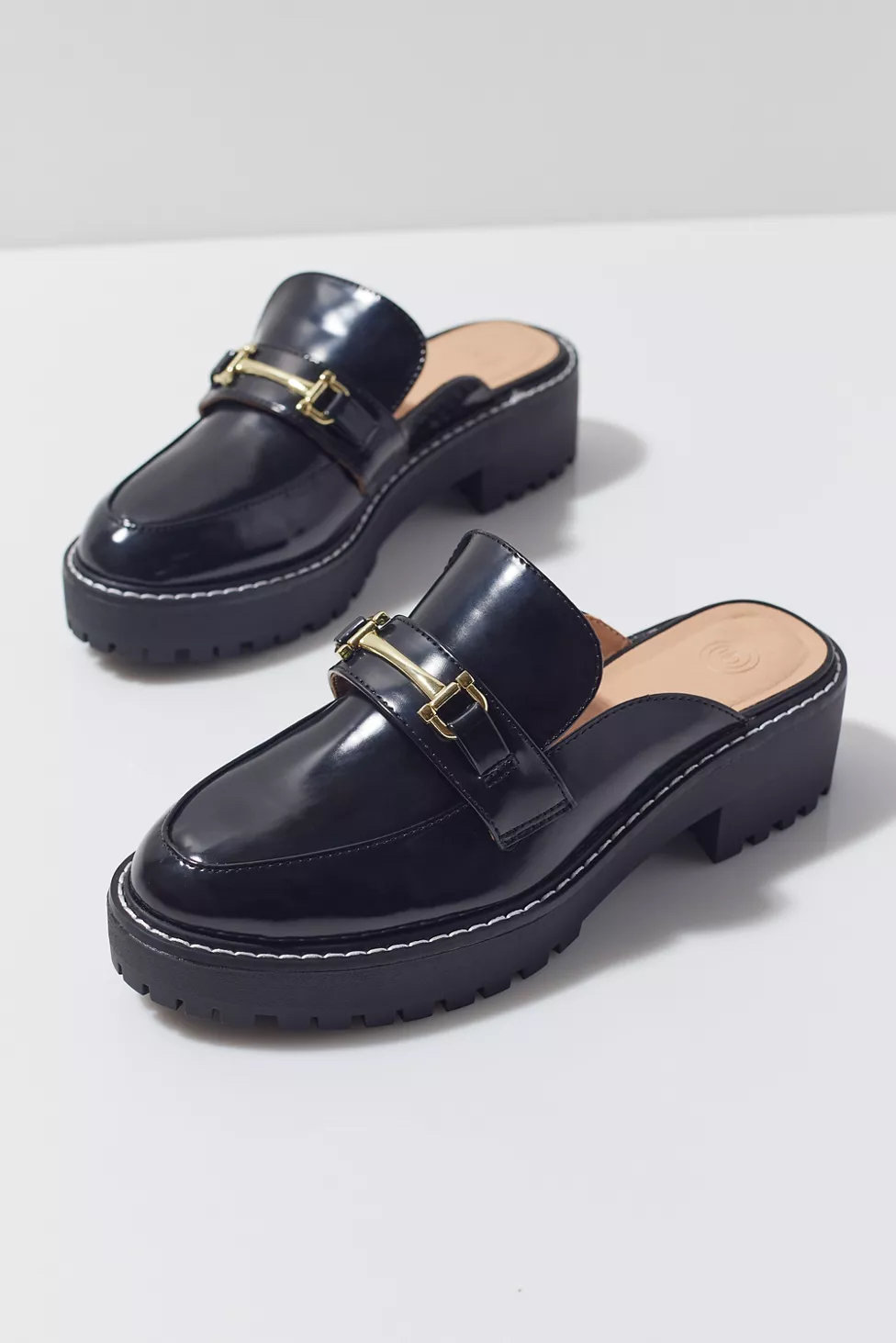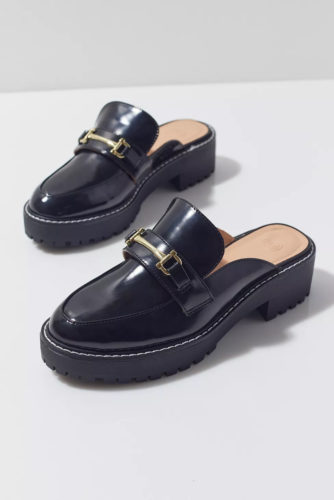 What's not to love about the ease of wearing mules, especially when they look so polished? These loafer mules will be a breeze to slip on and off but will make you look instantly put-together thanks to their faux patent leather, contrasting white stitching, and gold hardware.
Faux Patent Leather Loafers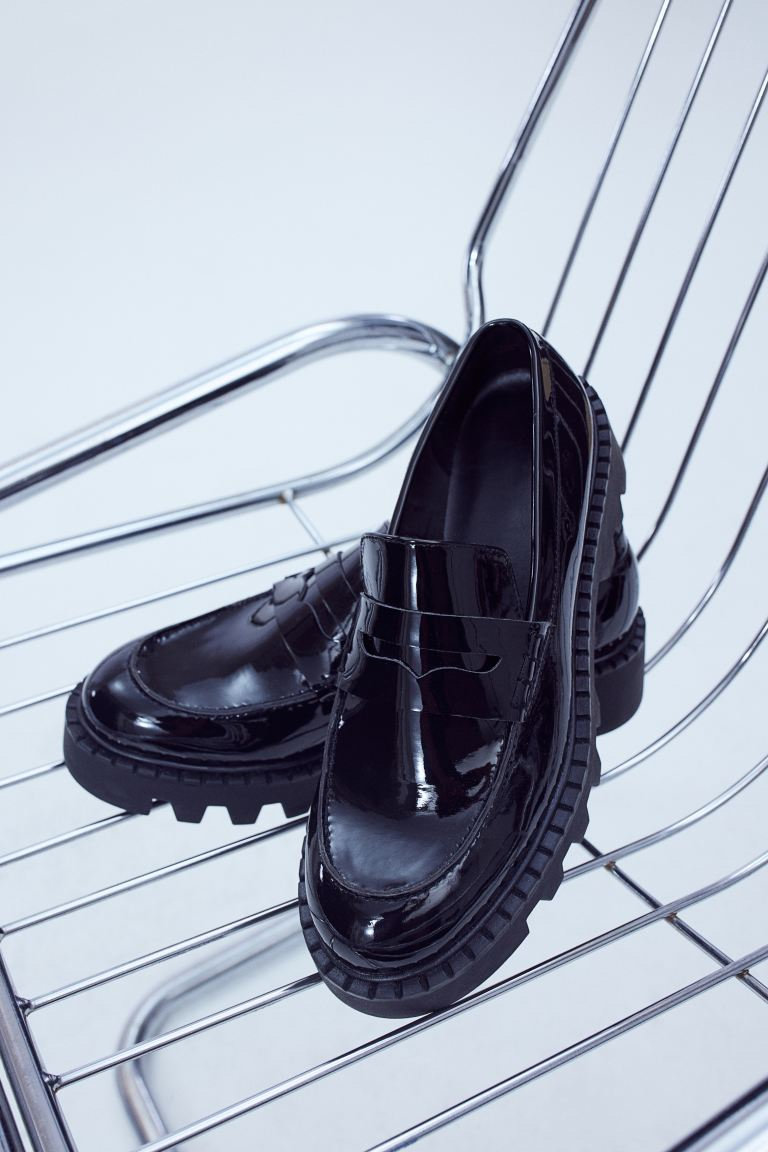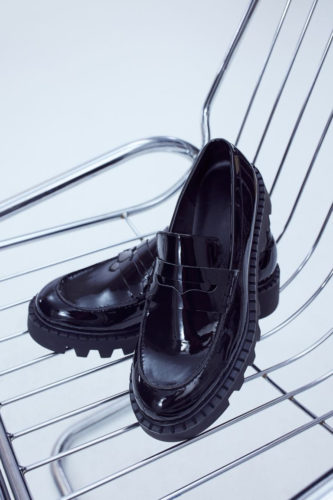 These loafers are classic but with a modern twist. The chunky lug soles and shiny faux patent leather design make this pair a must-have, and their price tag is a bonus. You'll also find a broader range of sizes in these loafers, ranging from sizes 4 – 11.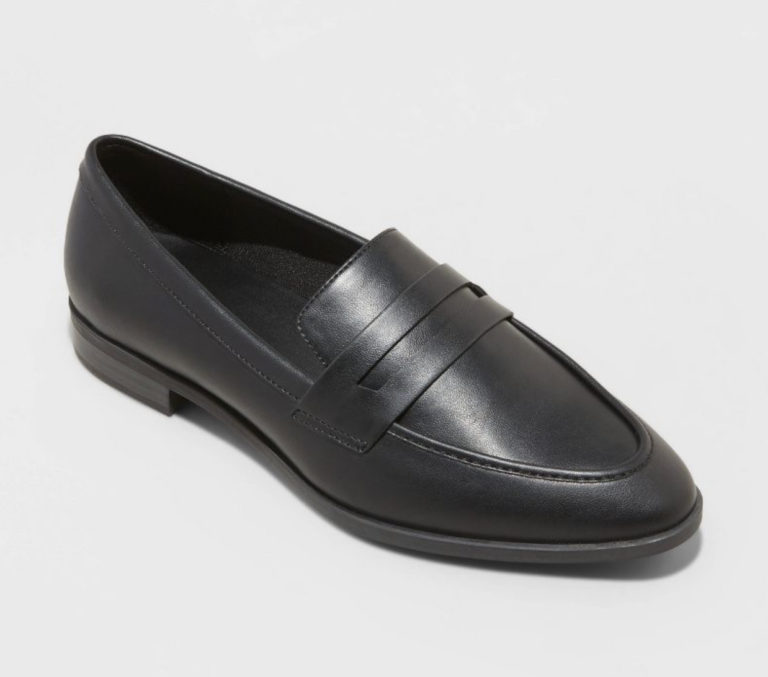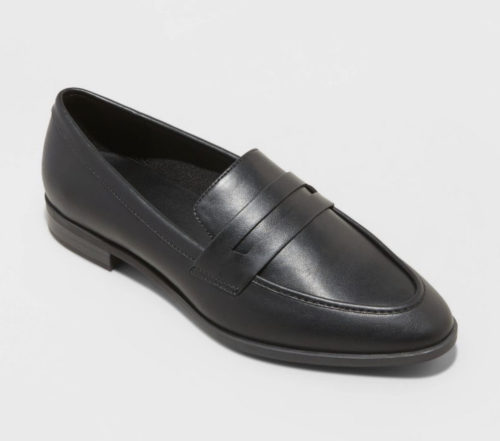 Not into chunky soles and looking for a sleeker, classic loafer style? Then try these loafer flats with a pointed toe. They have a more low-profile design that is timeless rather than trendy. You'll be able to wear these for years to come, and they are available in black and cognac brown.
How to Wear Loafers – Outfit Ideas for Women
Okay, now that you've picked out your perfect pair of loafers, it's time to style them! Here's how to wear loafers with practically any item in your closet, with outfit ideas ranging from casual to dressy.
1. How to Wear Loafers with Jeans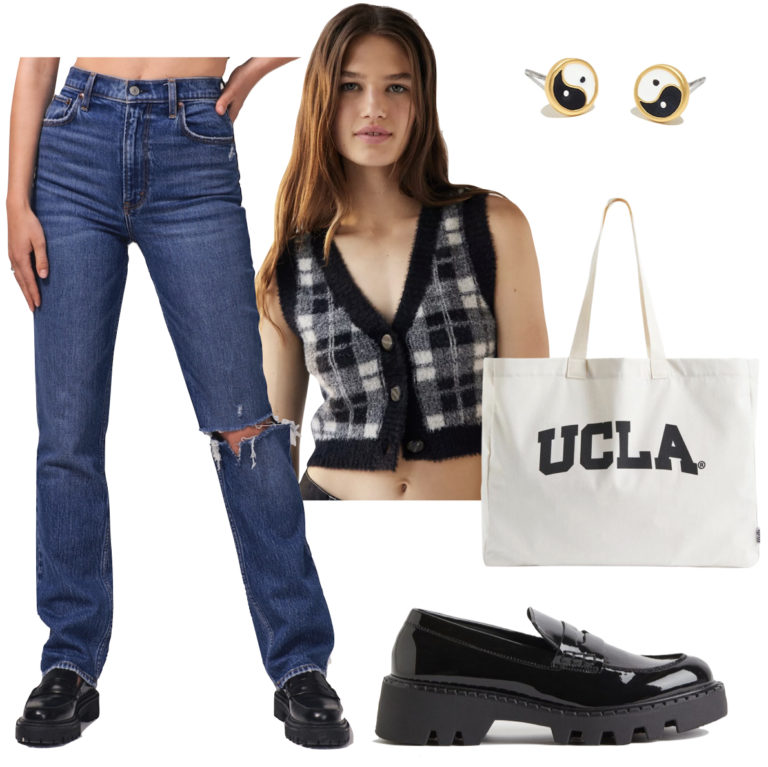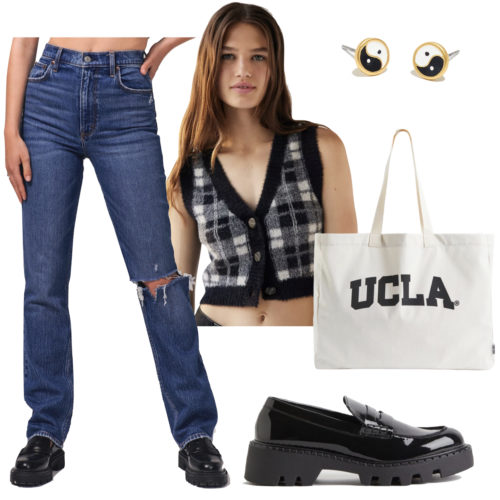 Products:
Wearing loafers with jeans is a no-brainer! Loafers will give your denim a more polished appearance while still looking laid-back.
While there are so many ways you can style your jeans with loafers, I love the idea of wearing a sleeveless sweater vest with black patent loafers and straight-leg jeans. A sweater vest has a retro, preppy vibe that works well with loafers, and this fuzzy plaid button-front sweater vest with a cropped length is right on-trend.
Accessorize the outfit with cute yin-yang stud earrings and a graphic print canvas tote bag, which you can rep your college with.
2. How to Wear Loafers with a Dress
Give your girly dresses a bit of edge by styling them with some chunky loafers for a cool, contrasting look. Plus, loafers are a great way to transition your summer dresses into the fall, by replacing your sandals (but not going full-on with boots yet, either). They are the perfect "in-between seasons" shoe!
This floral print dress with a body-skimming fit features seam detailing under the bust for a cute touch, and its dark color scheme makes it easier to transition into the fall; for example, you can wear it with a fitted, cropped split-hem cardigan over top.
The gold chain link detail on these chunky loafers adds a trend appeal and matches the gold split hoop huggie earrings.
Bring the ensemble together with a stylish crossbody bag that gives the outfit a subtle pop of color, like this chartreuse vegan leather crossbody bag that has gold chain link detailing.
3. How to Wear Loafers with a Blazer
Try a menswear-inspired look by wearing your loafers with a blazer –– both of which are key items to add to your fall shopping list.
Play with proportions by opting for a blazer with an oversized fit like this double-breasted blazer, and wear it with a simple black mini skirt, which is an ultra-versatile piece. You can wear either a crop top or a full-length top underneath, depending on your preference and where you're headed.
Complete the look with some patent loafers with a chunky treaded sole and gold chainlink detail which look adorable when paired with some white crew socks for a retro feel, along with a sleek faux leather baguette shoulder bag.
4. How to Wear Loafers Going Out
Think you can only wear heels or booties when you're going out? Think again! These cool loafers come in black with a hint of the famous "Bottega Green" that everyone is loving this year. They're perfect for a night out.
For this trendy ensemble, wear some menswear-inspired pinstriped trouser pants with a sultry strapless corset top (this one features an eye-catching lace-up back) to create a cool contrast.
Opt for simple yet statement-making accessories like some silver chunky hoop earrings and a metallic silver shoulder bag.
5. How to Wear Loafers with a Sweater
For a casual, laid-back look with loafers, wear them with a slouchy sweater and jeans this fall.
Half-zip sweaters have been trending since last season, and have a slightly preppy vibe which works really well with loafers. This striped funnel neck sweater has a semi-cropped length which makes it feel youthful, and its color palette compliments these sand-colored loafers which feature a bumped-up platform heel.
Wear them with a pair of high-rise bootcut jeans which are also on-trend, and throw on a dad hat with a cute graphic design (this one says "Self Care Club," which is something I can definitely get behind) for a relaxed look.
6. How to Wear Loafers with Trouser Pants
Go for a preppy look by styling your loafers with trouser pants –– preferably, plaid ones! I'm a huge fan of plaid pants (especially in the fall) and these straight-leg plaid trouser pants pair perfectly with a pair of tan-colored platform loafers.
Any top with a collar will add to the preppy vibe of this outfit, and this cardigan with a polo silhouette fits the bill. It's got a slightly cropped length and lightweight feel, so you can wear it on its own, or over a tank or t-shirt.
Since this outfit has an academia aesthetic, don't forget a vintage-style backpack in a neutral hue to round it out.
7. How to Wear Heeled Loafers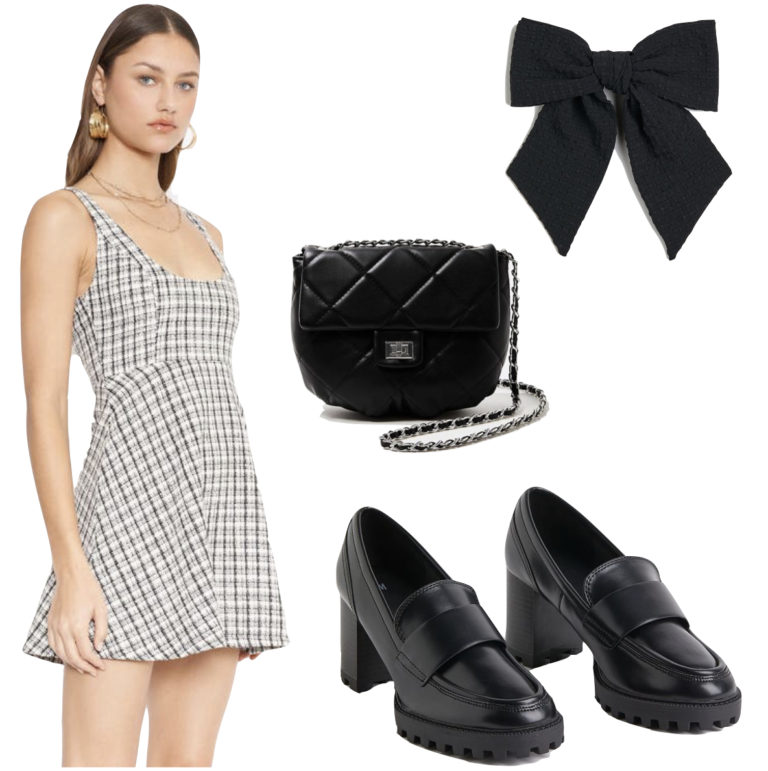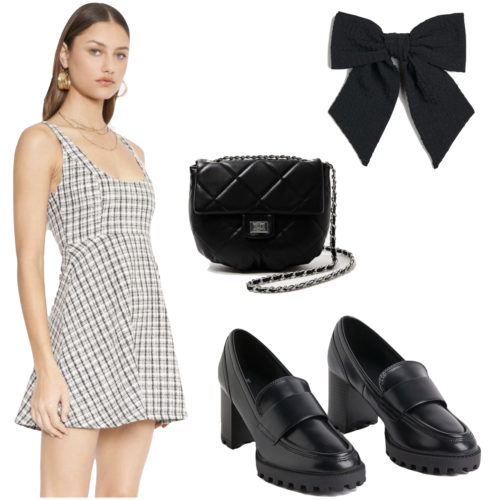 Products:
Channel your inner Blair Waldorf with this outfit featuring heeled loafers and a tweed mini dress that is giving major Gossip Girl vibes.
For this posh, feminine look, opt for loafers with a block heel (plus treaded soles which give this pair nice, grippy traction) and a tweed mini dress with flirty details like a low back and scoop neck.
Play up the glam, girly aesthetic with a bow hair clip, which BTW –– bow hair clips are set to be a big accessory trend this upcoming season.
Finally, get the look of a classic Chanel bag with this quilted faux leather flap-top bag with a chain strap for a luxe touch.
P.S. –– you can totally make this outfit work in colder seasons by wearing a turtleneck underneath the dress and adding tights.
More Loafer Outfit Ideas for Women:
Looking for additional ways to style your loafers? Here are some more outfit ideas with loafers to be inspired by the next time you're getting dressed.
8. Loafers with Shorts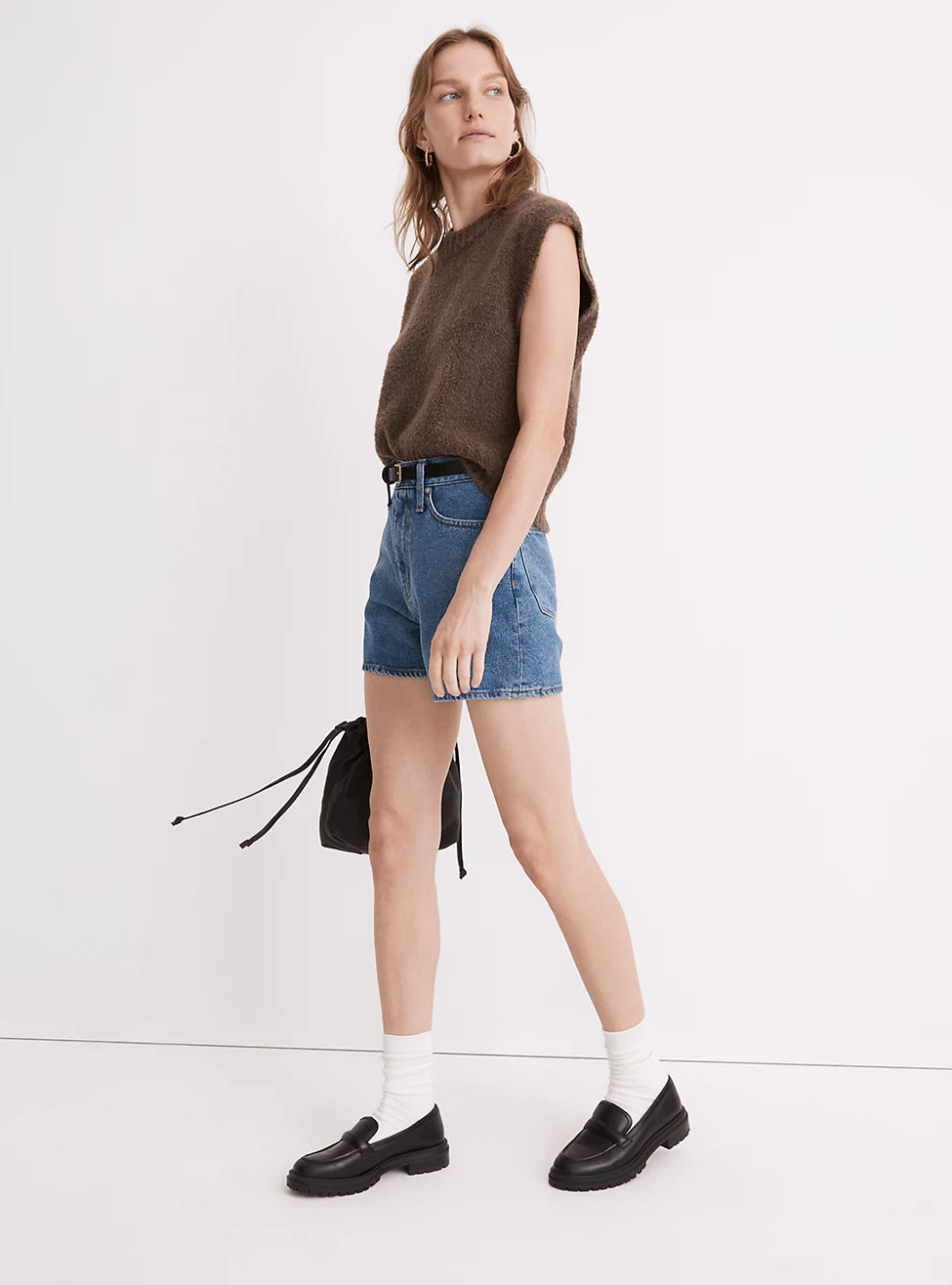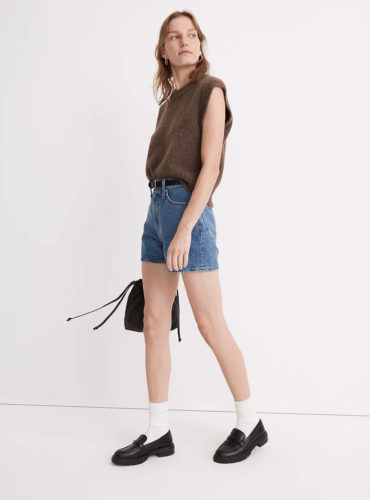 Yes, you can totally wear loafers with shorts! Like I've been telling you, they truly go with nearly everything.
This outfit is perfect for the end of the summertime –– ditch the sandals and slip on some loafers instead. They give a more polished look to casual denim shorts and look best with high-rise jean shorts like mom shorts.
Rock your shorts and loafers with a sweater vest, graphic print t-shirt, blazer, or lightweight cardigan.
9. Loafers with a Turtleneck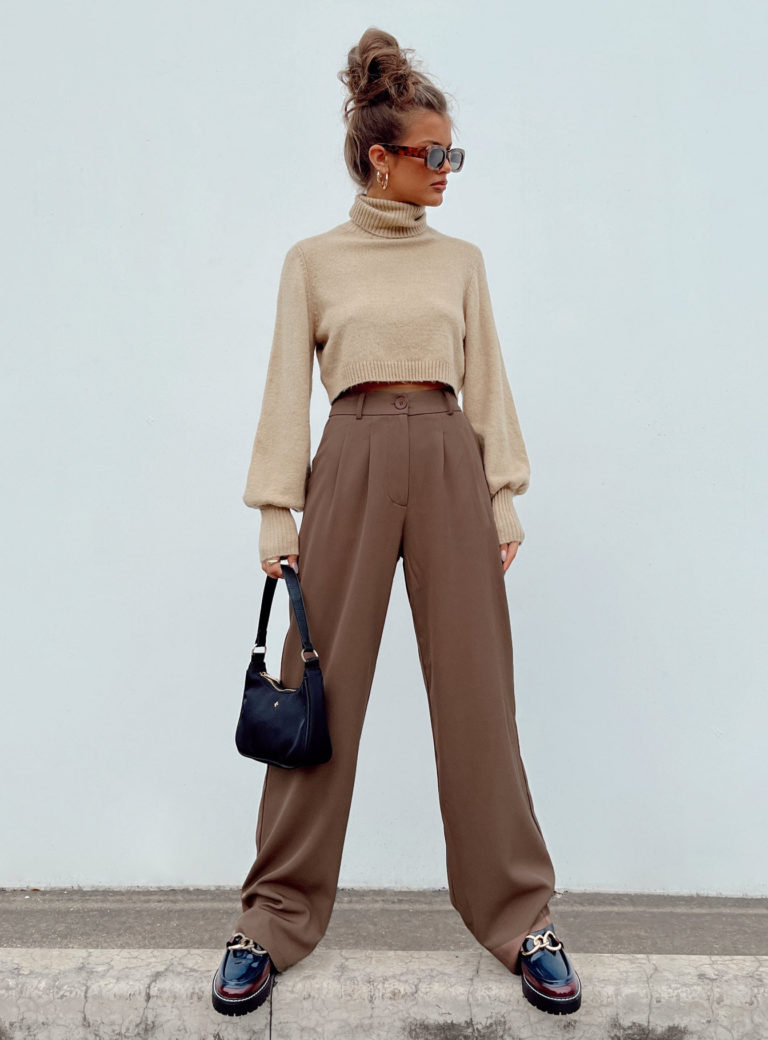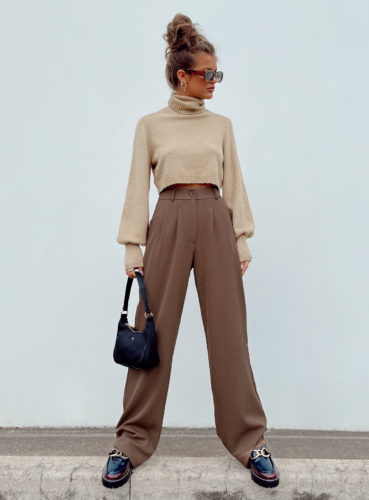 When it's time to break out the warmer layers, wear a cute, cropped turtleneck sweater with wide-leg pants and loafers, plus trendy accessories. This outfit is chic and polished with a cool, modern twist.
10. Loafers with a Faux Leather Blazer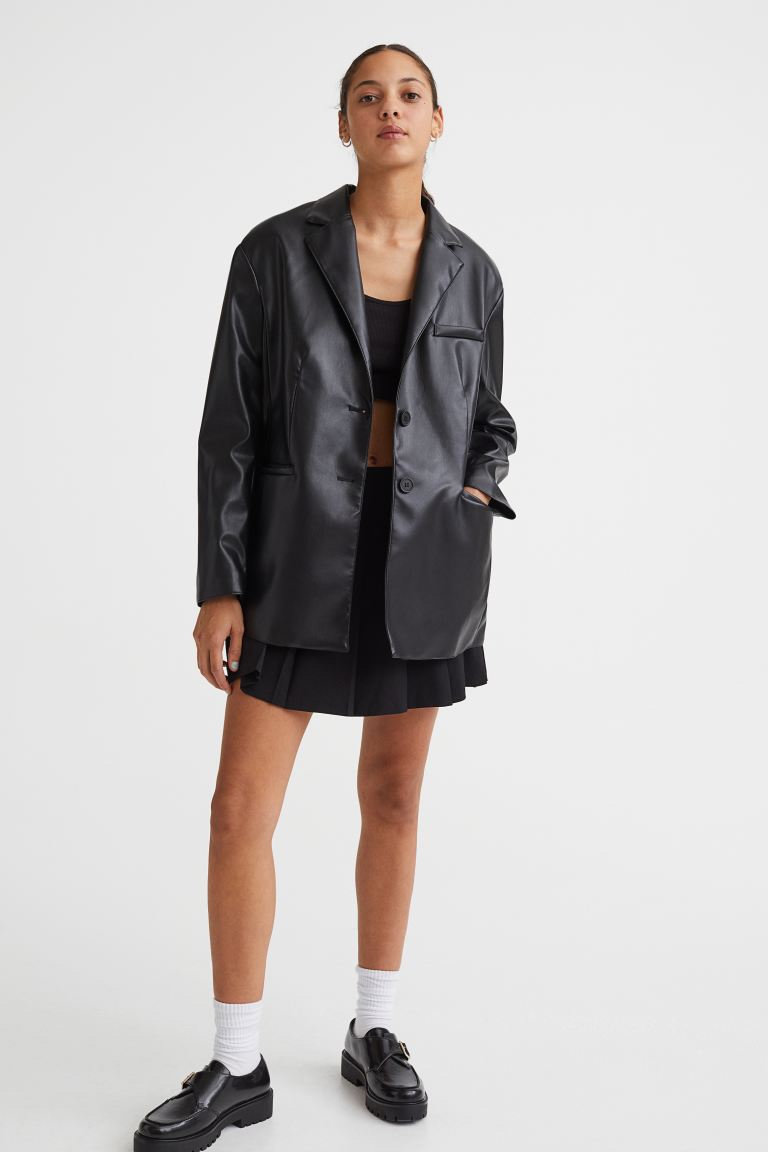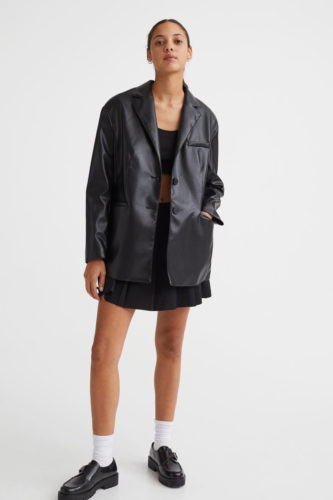 A faux leather blazer is a must-have for the fall season and looks extra stylish when worn with loafers. I'd suggest going up a size or two to achieve the cool-girl oversized look.
Style your loafers and faux leather blazer with a mini skirt (as shown above), a dress, jeans, or trousers… you really can't go wrong with any of these combos!
11. Loafers with a Suiting Skirt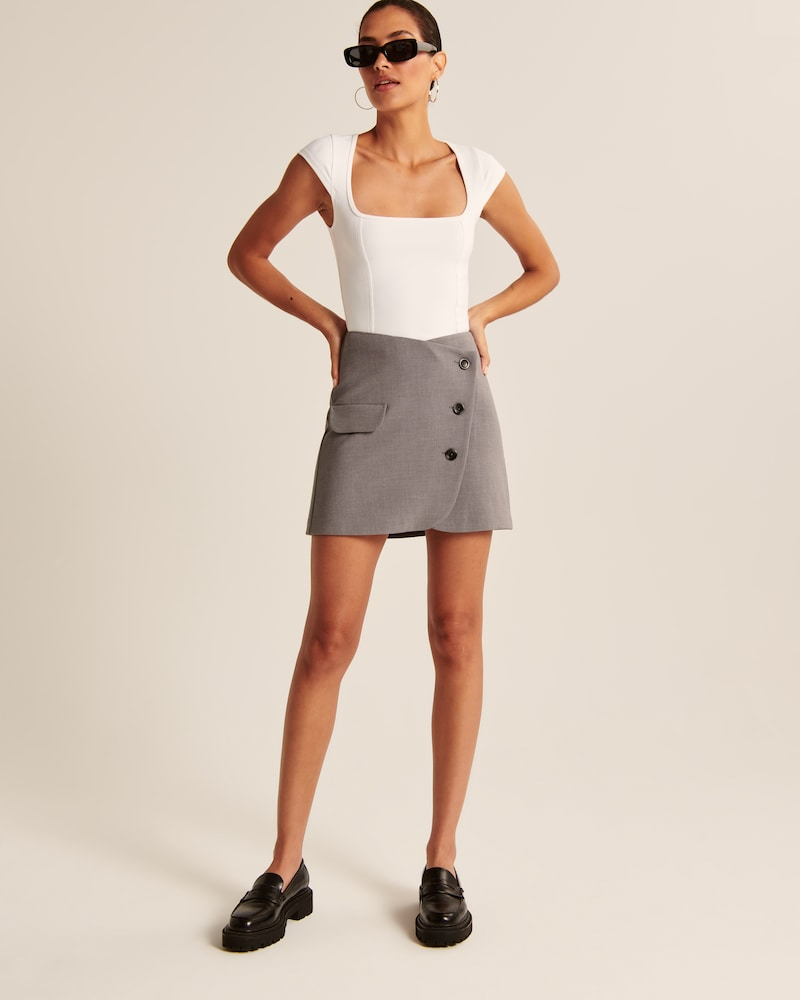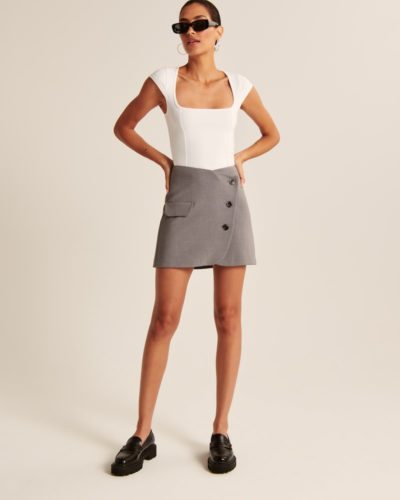 We're seeing tons of suiting pieces coming into style this season, from blazers to suiting skirts. And if you're wondering what a suiting skirt is, it's what its name suggests: a skirt inspired by a suit. This one is made from menswear fabric with suit-like details, including functional buttons.
A form-fitting bodysuit is a perfect contrast to the menswear-inspired skirt and shoes for a trendy look.
12. Loafers with Cropped Jeans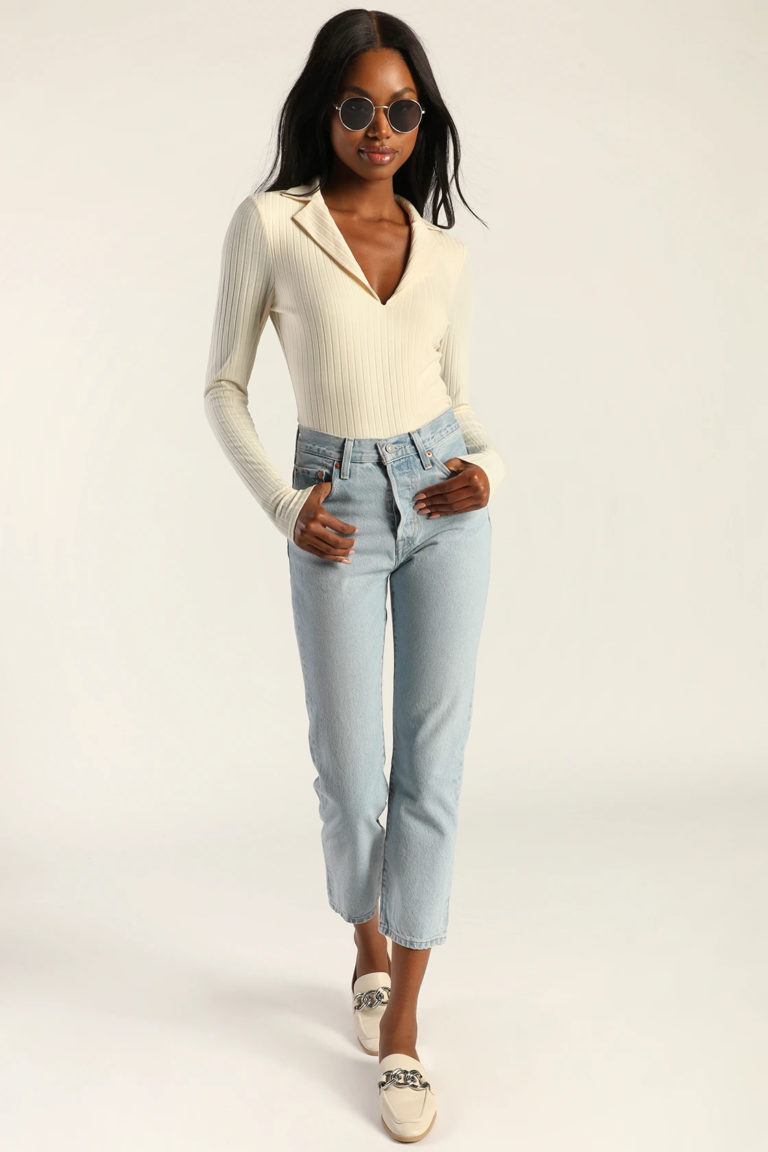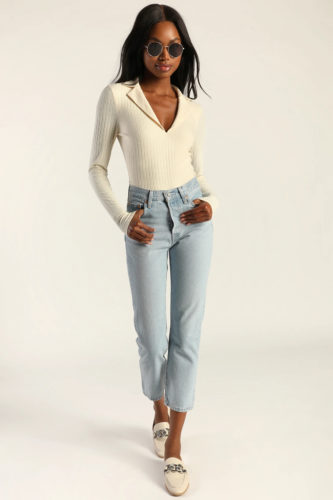 Show off your loafers by wearing them with a pair of cropped jeans. The cropped length of the denim will highlight your stylish shoes, plus cropped jeans are a great option towards the end of summer and early fall.
You can style these pieces with a bodysuit, button-down shirt, simple t-shirt, or cardigan sweater.
13. Loafers with Layers
Layering is an art, and loafers are the perfect complement to your fall layers. Try layering an oversized blazer over a sweater vest over a button-down shirt for a prep-school vibe that looks super chic.
14. Loafers with a Button-Down Shirt
Name a more classic combination than a crisp white button-down shirt and loafers. This timeless combo is always going to be in style, and is so versatile!
Whether you opt for an oversized button-down shirt (like the one above) or a regular fit that you tuck into your jeans is up to you, but both styles are going to give you that Clean Girl-approved classic look. (Bonus points if you accessorize with dainty gold jewelry and a sleek bun).
15. Loafers with High Socks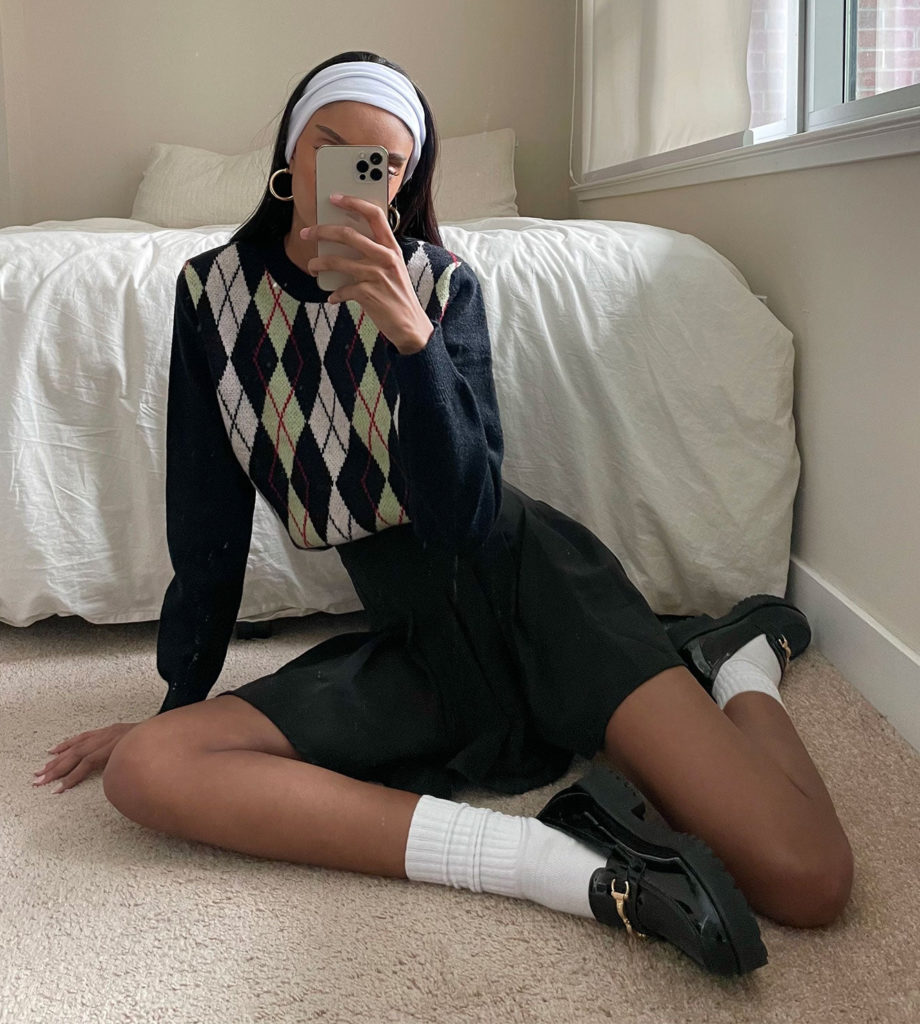 Go for a retro look by wearing your loafers with high socks, along with a school uniform-inspired outfit. This fall, schoolgirl-style pieces like pleated mini skirts and argyle sweaters (in addition to loafers, of course) are going to be trending, so don't be afraid to go all out and put your own spin on the private schoolgirl uniform look (think Gossip Girl). A contrasting pair of crew socks pull these ensembles together in the cutest way.
What do you think of our loafers outfit guide?
Would you wear loafers? Which loafers look is your favorite? Leave a comment and let us know!
If you found this guide to loafer outfits helpful, you may also find these articles below worth exploring –