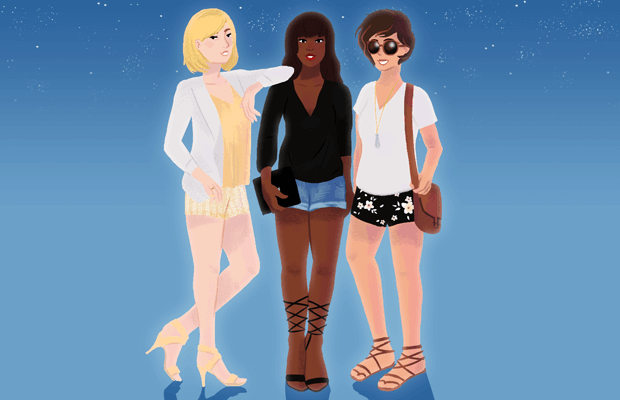 It's now May and we're far enough into spring that I'm looking for any chance to wear shorts. When it comes to shorts, there are so many options, from prints and patterns to cool denim washes, so there's sure to be a style to fit your look.
As the weather gets warmer, here is some inspiration for how to wear shorts for a date or night out. Below you'll find three affordable spring date night outfits featuring shorts:
Glam – $97.69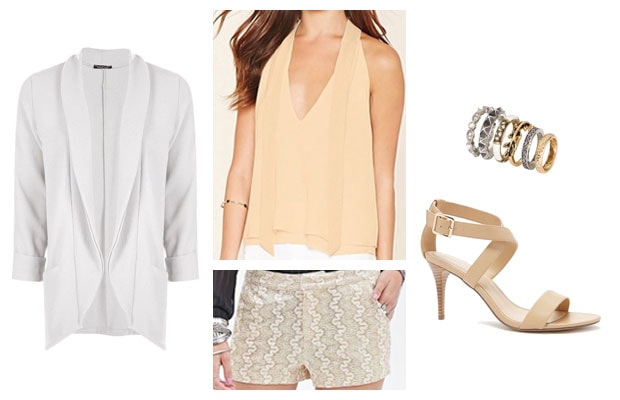 Products: Blazer, Top, Shorts, Rings, Heels
Who said shorts had to be casual? Get ready for a glam night out with these glittery gold high-waisted shorts! Pair them with a peachy nude loose top and some classic heels. Accessorize with bold rings or any other jewelry you want. Add on a casual white blazer if it's cool out, or leave the outfit as-is if not.
Classy – $98.68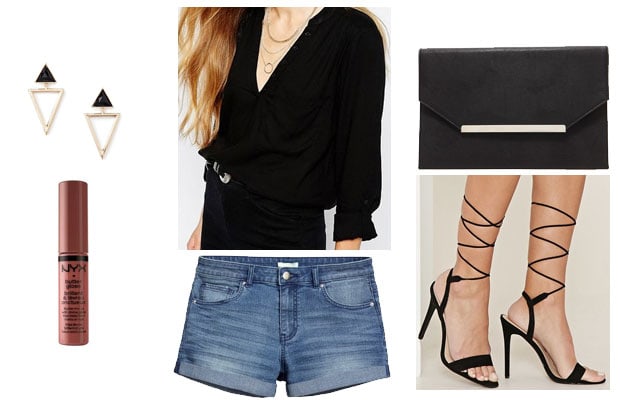 Products: Earrings, Lipgloss, Top, Shorts, Clutch, Heels
For an outfit that's not quite so bold but still looks nice, mix casual denim shorts with a neutral blouse. This black blouse helps give a little formality to the outfit. Add on some black heels – the style should depend on the event. The heels pictured are a little more casual and spring-y while still being feminine. Accessorize with some cute earrings, lip gloss, and a classy clutch.
Casual – $91.63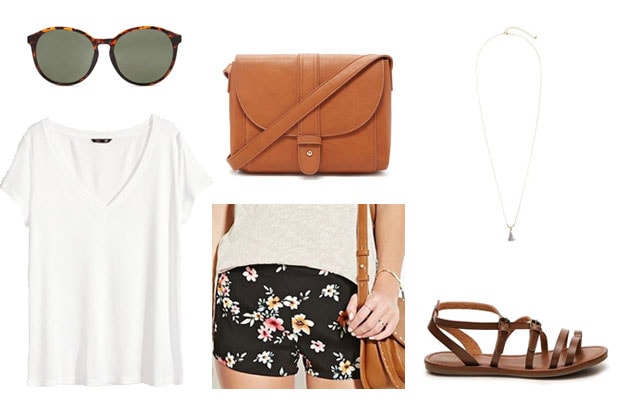 Products: Sunglasses, Tee, Bag, Shorts, Necklace, Sandals
For a casual night (or day) out, floral patterned shorts are fun! Shop around if this pattern doesn't speak to you — there are a ton of cute patterns to choose from. Colorful or patterned shorts make an easy outfit because all you have to add are neutrals. Throw on a plain t-shirt and some comfy sandals. Add a long necklace and some sunglasses to accessorize, and don't forget your bag.
What do you think?
Do you own any funky-patterned shorts? Which outfit is your favorite? Are there any other trends you would love to see in Outfits Under $100? Comment below to let me know what you think! I love reading your feedback. Thanks to Julie for this request on the last Outfits Under $100!