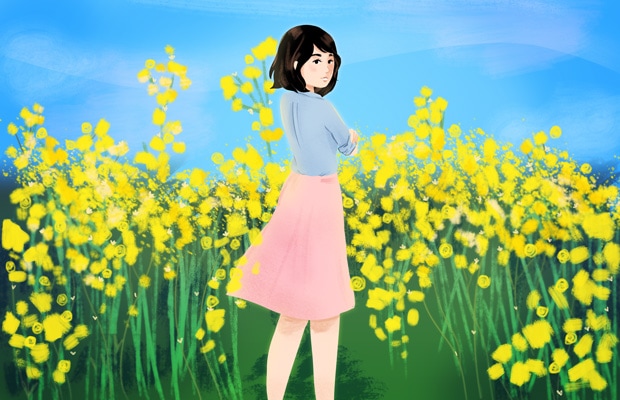 Midi skirts are a new love of mine because I've struggled with wanting to like skirts, only to be frustrated with trying on so many that are too short. Thankfully, midi skirts are easy to find, and as a general rule, they're right around knee-length. Short enough to be comfortable and easy to style, but long enough to not need to worry about pulling the ends down when you sit!
Midi skirts come in a variety of styles, so there's something for everyone! Below are three affordable outfits, plus tips on how to style midi skirts this spring.
Pleats – $69.79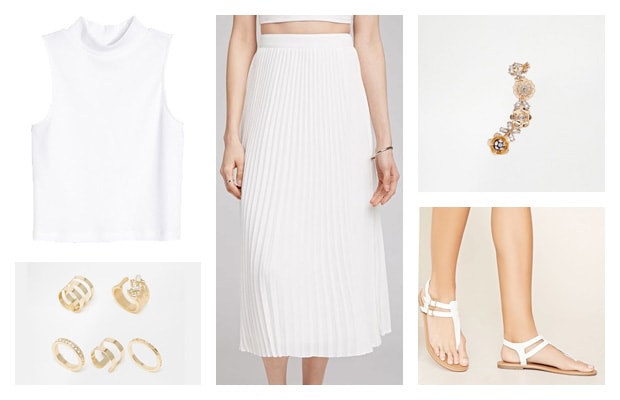 Products: Crop Top, Rings, Midi Skirt, Ear Cuff, Sandals
Pleated midi skirts have a fun texture that makes any outfit look a little more elegant. One way to style a midi skirt is in a completely monochromatic look, treating the outfit as though it's essentially a dress.
For this outfit, pair your pleated midi skirt with a sleek crop top in the same color. Keep it simple and spring-y with matching sandals. On monochromatic outfits, accessories tend to shine, so add on accessories that match your mood! For this outfit, the jewelry is small but has a lot of personality.
Bright Colors – $100.50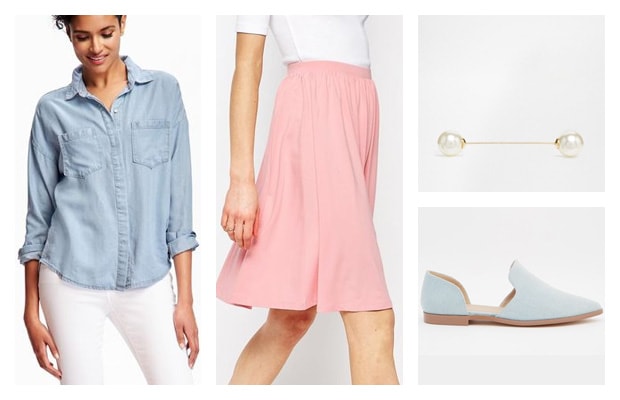 Products: Chambray, Midi Skirt, Collar Brooch, Flats
Bright, solid-colored midi skirts are another common style. One way to style them is with a tucked-in casual button down shirt, like this chambray one. Roll the sleeves up for a casual look if it's warm, or leave them long for a more polished look.
The great thing about this outfit is that the skirt can be any color you want and still look great. Here, I went with a pastel pink that works perfectly in spring! I love adding a brooch to the collars of button-ups, and this pearl brooch adds some extra elegance. Throw on your favorite flats to finish the outfit.
Sporty – $75.29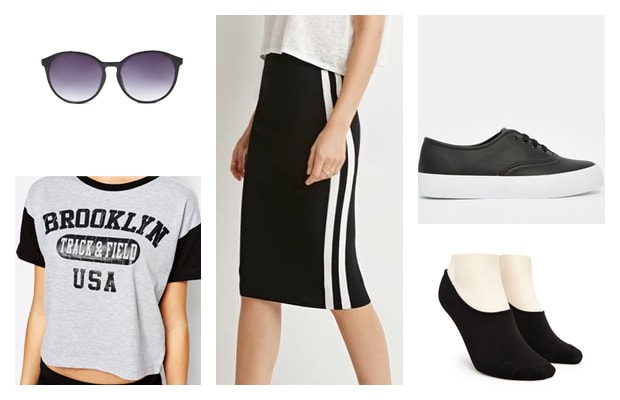 Products: Sunglasses, Top, Midi Skirt, Sneakers, No-Show Socks
If the last two outfits aren't your taste, never fear: midi skirts can also be super casual. This varsity stripe skirt makes it easy to create an athleisure-inspired outfit, but this would also work great with a plain black midi skirt.
Add a loose sporty shirt to balance out the bodycon cut of this midi skirt. (The product linked here is a crop top, but a regular shirt would also pair great with a bodycon midi skirt.) Add some sneakers to stay comfy while you're out and about, and throw on some shades to stay cool and keep the sun out of your eyes.
What do you think?
How do you wear midi skirts? Which of these outfits is your favorite? Are there any trends you would love to see in an Outfits Under $100? Please let me know your thoughts in the comments down below! I enjoy reading your feedback.