If you ever find yourself stuck in a style rut, playing with fun new color combinations is a great way to liven up your wardrobe. Bright and bold shades are definitely in for spring and one of my favorite color combinations to wear at the moment is red and pink.
Do Red and Pink Go Together
Red and pink are oftentimes considered "clashing colors," but since they're actually analogous colors (next to each other on the color wheel), these two shades can be paired together to create some surprisingly chic looks.
Need some outfit ideas before you try out this color combination? Scroll on down to check out three stylish red and pink outfits for inspiration:
3 Outfit Ideas for Wearing Red and Pink Together
Outfit #1: Ready for Class
If you're a little color shy, this outfit is a great way to test the waters of having red and pink, as both shades are muted rather than in-your-face-bright. Start by pairing a light pink gingham shirt with some dark red high-waisted shorts.
Add a pair of fun floral print oxfords and a structured cream-colored handbag. Accessorize with a geometric necklace and a few woven bracelets to create a cute and casual look that's perfect for classes or just hanging on campus.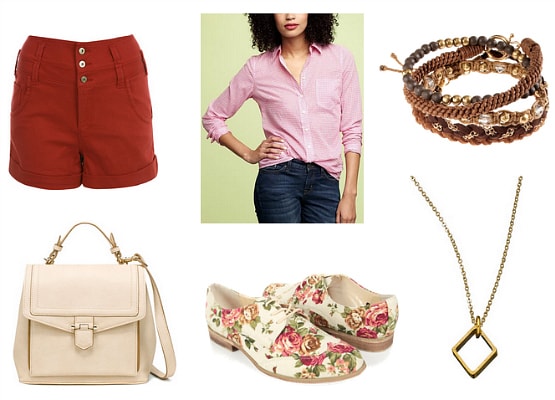 Product Info:
Outfit #2: Brunch with the Girls
For a more daring look, try to wear pink in a punchy red scalloped blouse with a bright pink asymmetrical maxi skirt. Metallic flat sandals keep the outfit casual, while a printed tote bag adds interest.
Light navy blue earrings pick up on the color of the tote, while several bold bangles add some glam. This dressy, yet low-key outfit is a great way to look stylish and on-trend when you're spending time with your besties.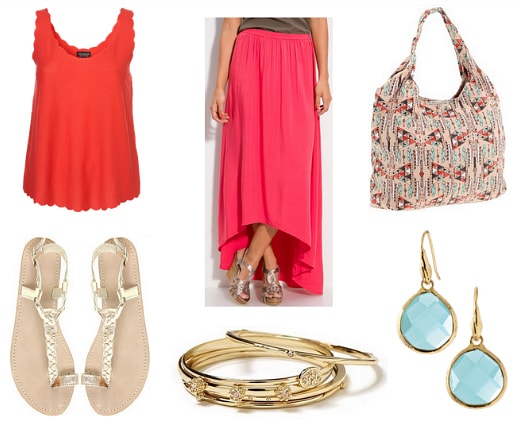 Product Info:
Outfit #3: Date Night
If you're looking for something dressy that still adds punch, try wearing pink dress with red accessories (or vice versa) for a chic look. Edge up a simple and sweet pink dress by pairing it with some bold red peep-toe pumps.
Add a matching red cross-body bag, then put on a few stackable rings. For the finishing touch, add a statement necklace in a neutral color, like the one below.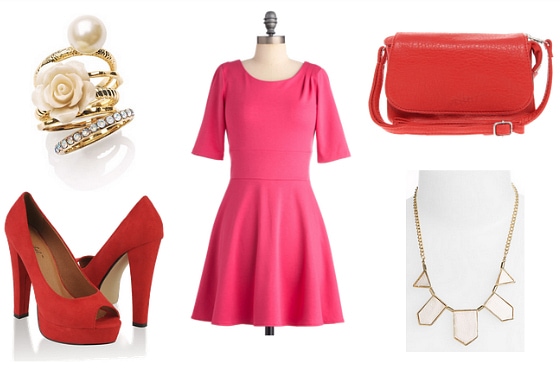 Product Info:
Bonus! Red + Pink Makeup
Red and pink are among the most common makeup shades, but have you ever considered wearing them together? Try wearing a bright red lipstick with some pale pink blush or test out some nail art that incorporates both hues. If you're feeling bold, you can even try wearing some super trendy two-tone lipstick!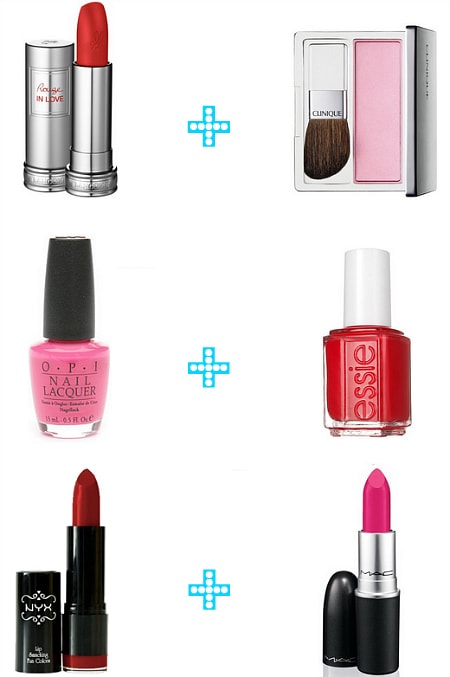 Product Info:
7 Tips on Wearing Red and Pink Together
Balance the colors: If you wear pink a lot, balance it out with a smaller amount of red and vice versa. This will create a harmonious look.
Choose complementary shades: Pairing shades of pink and red that complement each other well will create a cohesive look. For example, pairing a soft baby pink with a deep red will create a nice contrast.
Use patterns: Wearing a patterned piece that incorporates both pink and red can be an easy way to wear the colors together.
Add neutral colors: Adding neutral colors such as white, black, or gray can help ground a pink and red outfit and make it feel more cohesive.
Be Confident: Be confident and have fun with it, hot pink and red are playful and joyful color that might be a little bit tricky to pair but if you are confident it will be a perfect match!
Add texture: To add interest and depth to your outfit, try incorporating different textures such as lace, satin, or velvet in pink and red.
Experiment with different combinations: Try different combinations of pink and red to see what works best for you. Don't be afraid to experiment and try new things!
What do you think?
Would you wear red and pink together? What do you think of these outfits? Which one is your favorite? Would you ever combine red and pink makeup? How would you wear this color combo? Remember to leave a comment below and let me know what you think!
More Color Combo Fashion Tips
If you love these fashion tips on red and pink together, you might also want to check out our favorites below —