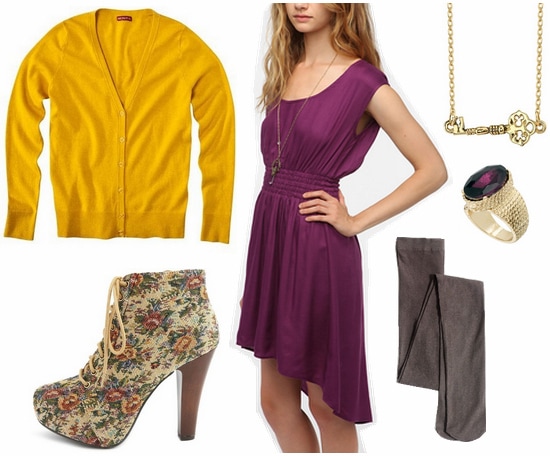 If you ever find yourself stuck in a style rut, playing with fun new color combinations is a great way to liven up your wardrobe. In this series, we feature unique and unexpected color combinations, then give you stylish outfit ideas so you can try out these color combos yourself. For more color-centric outfit ideas, be sure to check out our previous posts on combining Red + Pink, Mint + Mustard, Peach + Gray, Orange + Blue, Fuchsia + Teal, Olive + Coral and Black + Orange.
Want to stand out in a sea of neutrals this season? Don't be afraid to rock bold colors during the colder months of the year! For example, in this color combo post, we'll be pairing sunny yellow with luxe purple to create some colorful and stylish looks. These two hues are complementary (i.e. across from each other on the color wheel) so they were pretty much made to be worn together.
Need some outfit ideas before you rock this color combo? Simply scroll on down to check out four outfits featuring purple and yellow:
Outfit #1: Casual Cool
For this first outfit, we're going to pair purple skinnies with a yellow button-up to create a stylish yet casual color-blocked look. Leopard print looks fantastic with both of these colors, so throw on a pair of leopard flats. Accessorize with a wraparound watch and a unique zig zag bracelet, then slip on some cat-eyed sunglasses to finish this look.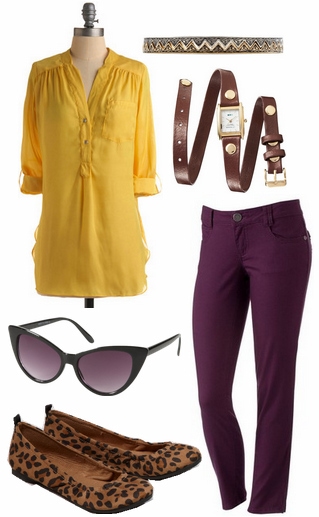 Product Info:
Outfit #2: Cute & Eclectic
Outerwear is a great way to add color to your wardrobe, so this next look centers around a double-breasted purple peacoat. Pair the coat with a long-sleeved striped tee and a yellow corduroy skirt for a cute and comfy look. Next, add gray tights and riding boots to continue the casual vibe. A printed scarf adds interest, while stud earrings are a simple way to glam up the outfit.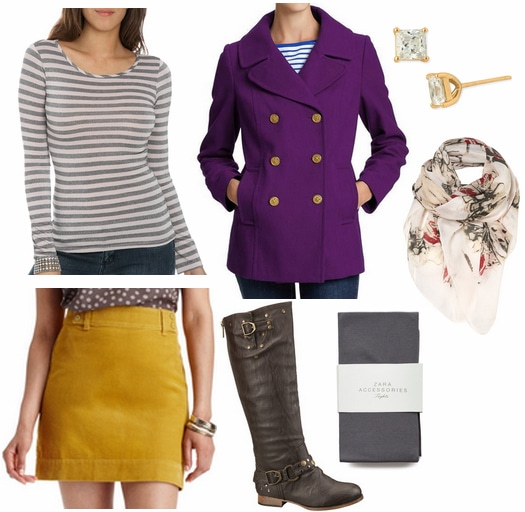 Product Info:
Outfit #3: Glamour Girl
Create a girly, yet low-key look by pairing a pretty purple dress with a mustard yellow cardigan. Opaque tights are a practical choice, while floral print ankle booties add a fashion-forward touch. Accessorize with a key-shaped necklace and purple gemstone ring.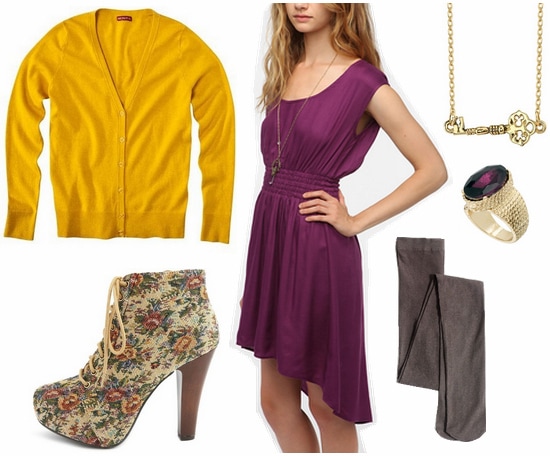 Product Info:
Outfit #4: Stylish & Comfy
Our final outfit is a comfortable and polished casual look for fall. Start by pairing a cozy purple sweater with your fave pair of bootcut jeans and some wedged ankle boots. Incorporate yellow into this look with a gorgeous bib statement necklace. For the finishing touch, paint your nails a chic grayish/purple shade.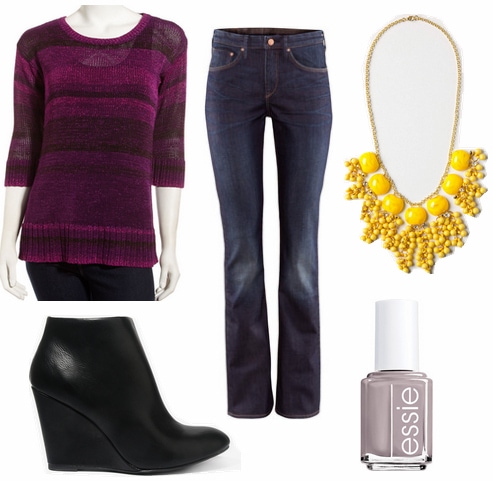 Product Info:
What do you think?
Would you wear purple and yellow together? What do you think of these outfits? Which one is your favorite? How would you wear these colors together? What other color combos would you like to see featured here? Remember to leave a comment below and let me know what you think!
More Color Combo Outfits That You Must Try