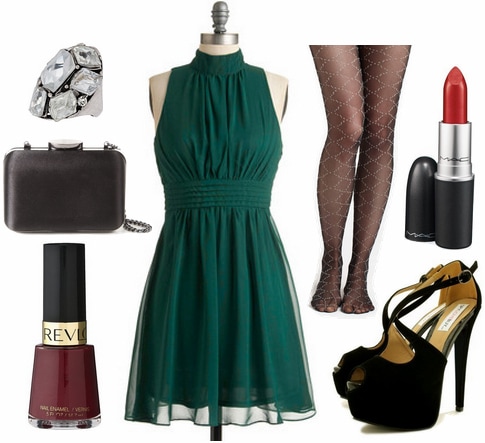 If you ever find yourself stuck in a style rut, playing with fun new color combinations is a great way to liven up your wardrobe. In this series, we feature unique and unexpected color combinations, then give you stylish outfit ideas so you can try out these color combos yourself. For more color-centric outfit ideas, be sure to check out our previous posts on combining Red + Pink, Mint + Mustard, Peach + Gray, Orange + Blue, Fuchsia + Teal, Olive + Coral, Black + Orange and Purple + Yellow.
Can You Wear Red and Green Together?
The short answer is yes, but there are a few things to keep in mind.
First, green and red are opposites on the color wheel, so they will create a high contrast look. This can be good or bad, depending on what you're going for. If you want a bold, attention-getting outfit, green and red is a great choice.
But if you're going for something more subdued, you might want to stick to one color or the other.
Indeed, this combination seems to get a bad rep in the fashion world, (Ever hear of the phrase "red and green should never be seen?") but we're here to show you that these two colors can in fact look chic when worn together.
Need some outfit inspiration before you test out this color combo? Scroll on down to see four stylish looks featuring red and green:
Outfit #1: Easy Does It
If you're wary of this combination, check out the outfit below. This plaid shirt already incorporates both hues, making it super-easy to rock some red and green. Add a pair of your favorite jeans, as well as brown lace-up combat boots. A beanie not only keeps your noggin toasty, but brings another dose of red to the party. Accessorize with a deer-adorned statement necklace for a practical, yet stylish winter look.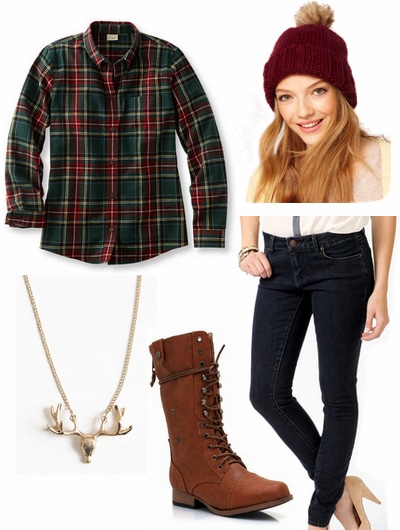 Product Info:
Outfit #2: A Bold Approach
Love bright colors? Then try this outfit on for size. Start by pairing a bright green pencil skirt with a trendy studded collar blouse. A red-and-gray knit sweater adds a cozy touch, while smoking flats keep the look casual. For the finishing touch, accessorize with a gold chain bracelet and fun leopard print watch.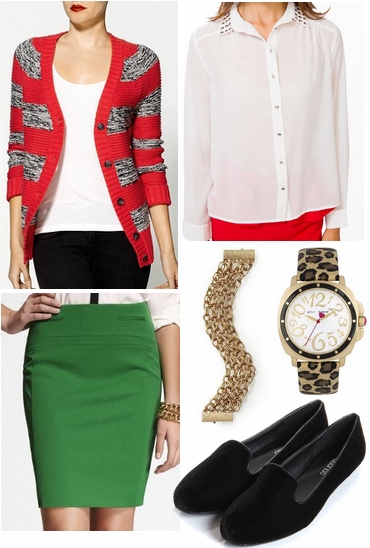 Product Info:
Outfit #3: Accent Colors
For this look, start by pairing a classic striped sweater with dark red velvet shorts to create a fashion-forward look. Sheer tights streamline the outfit, while studded ankle booties add some edge. A deep green scarf is the perfect accent to the shorts, while bow-shaped earrings add a girly touch.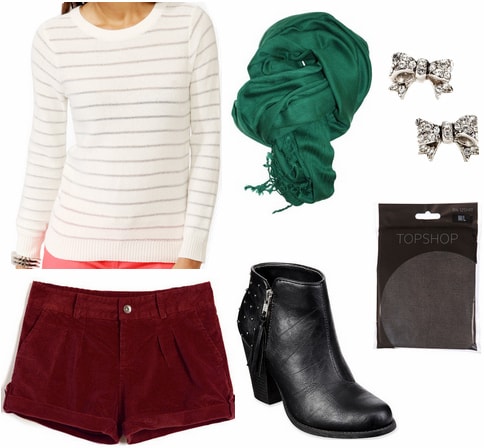 Product Info:
Outfit #4: Crimson & Clover
You don't have to limit yourself to just clothing with this color combo! Pairing an emerald green dress with red makeup can create a chic, sophisticated and party-worthy outfit. Pair this frock with some statement-making platform pumps and a sleek box clutch. Metallic patterned tights add some shimmer, as does the silver cocktail ring. Complement the green color of the dress with a gorgeous red lip, then paint your nails a dark, vampy, burgundy to complete this look.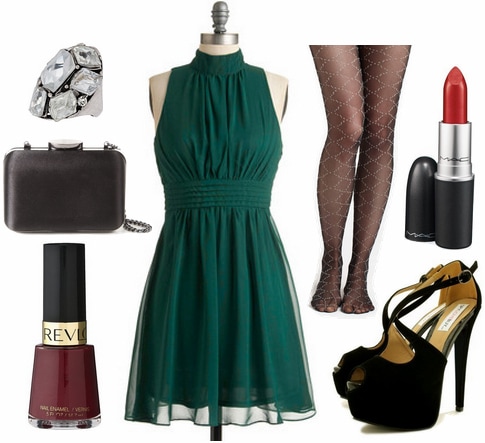 Product Info:
What do you think?
Would you ever wear red and green together? What do you think of these outfits? Which one is your favorite? How would you wear these colors together? What other color combos would you like to see featured here? Remember to leave a comment below and let me know what you think!
If you love these fashion tips on wearing the red and green combo, you might also want to our related posts below —