Anyone who has lived in a dorm or student apartment knows that the spaces are, well, plain. So as students, we need to find ways to add our own personal touches to liven them up. My favorite technique is hanging photos around the room. So this week I'm going to cover some photo wall ideas, plus tips and tricks to make your room personal and stylish using photos.
I have amassed a large collection of photographs over the years. The main contributor to this was a photo mural I put together in my dorm room a few years ago (photo above).
I used simple scotch tape to hang these. I went through a lot, but I had a large roll. (Word of advice if you go this route, avoid the super cheap tape because it is hard to remove from your pictures and it can leave residue — actual scotch tape is the gold standard.)
There are so many things you can do with photos on your walls — here are some of my favorite photo wall ideas to get your inspiration going:
Photo Collage Ideas
The best part about photo wall collages is that you can basically do whatever you want with them. You can choose images of different sizes, take pages from magazines, or include quotes.
Some cool photo wall collages I've seen used the corners of the room to create some depth. They also used different sized images. I even saw one that had images cut out in letter shapes that spelled out a quote. The options are limitless.
The ones listed below are some of the most popular and easiest to put together.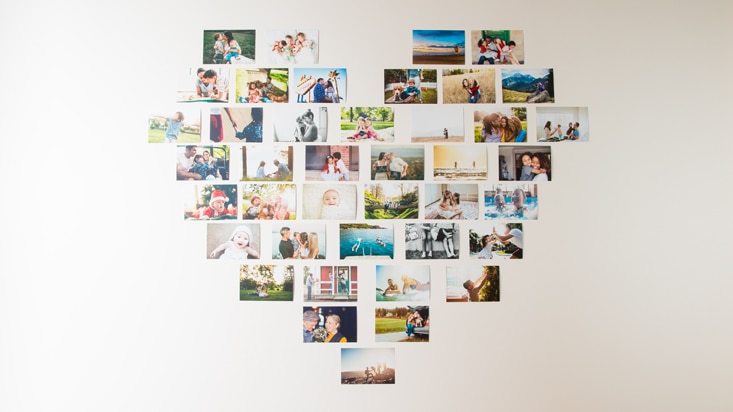 I have seen this idea everywhere over the years. It's really cute and really easy to put together.
This tutorial lays out all the steps to do this successfully, and it's through Shutterfly, a website I have used for numerous Christmas presents and photos. (BTW, when you download their mobile app you get free unlimited 4 by 4 and 4 by 6 prints — if you like your photos small, this is perfect!)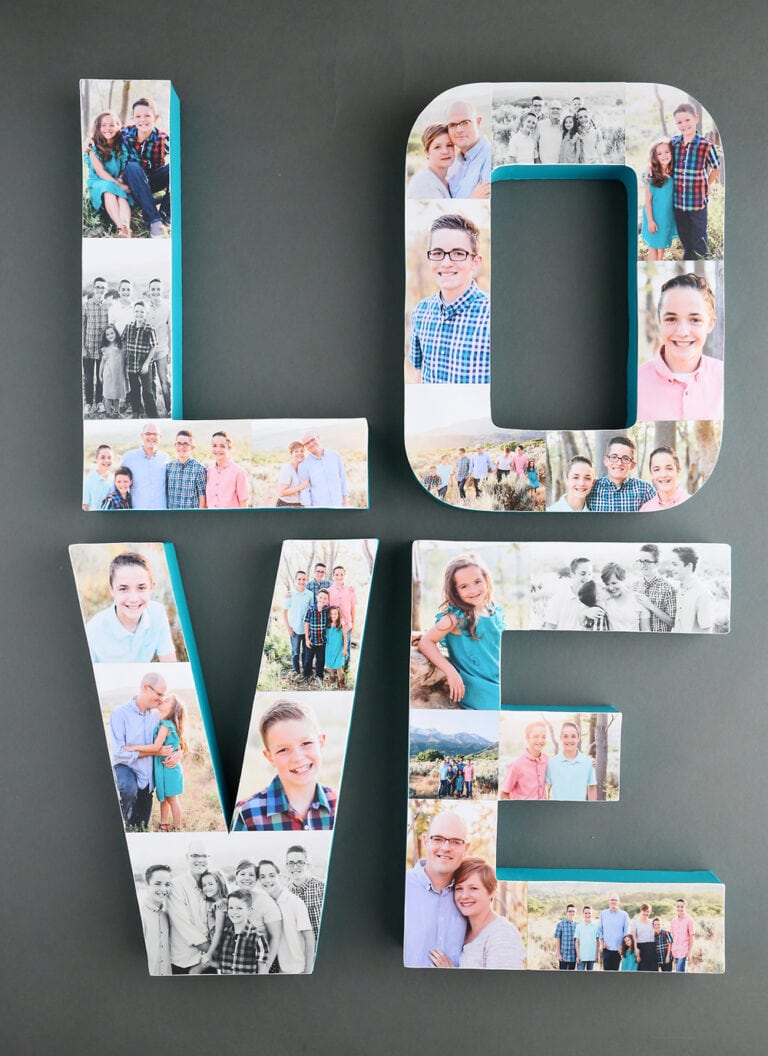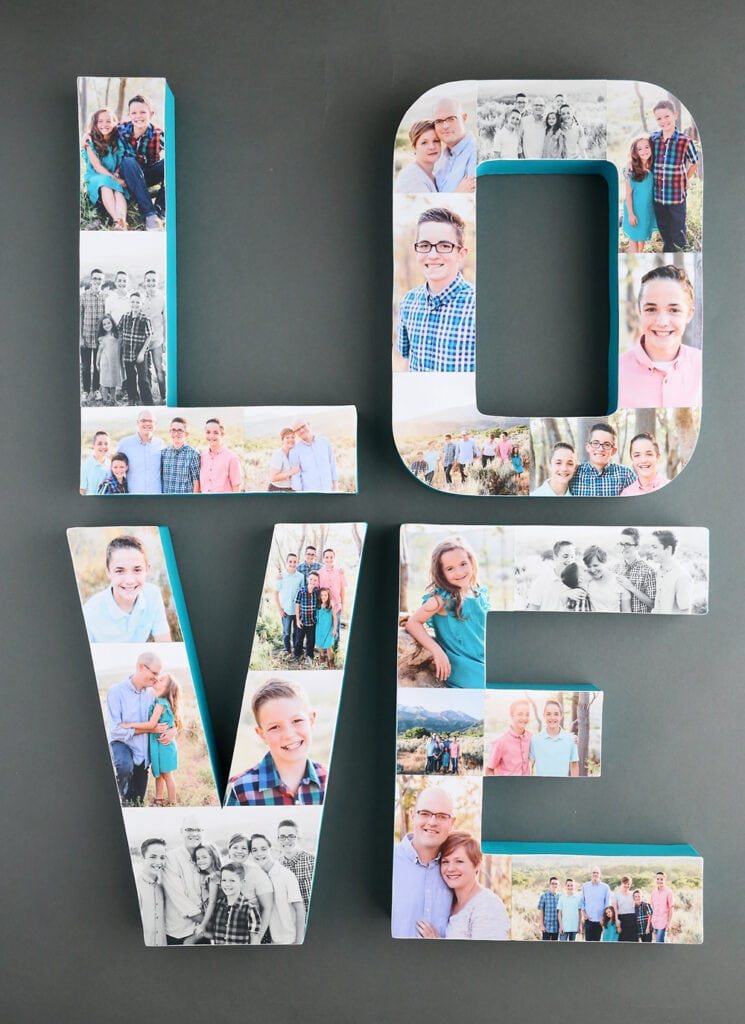 This project is great because it is entirely customizable. You could even do your initials or the year you graduated. You could also make it as a gift for someone and have pictures of the two of you. It also just looks really fun to put together!
Hanging Photo Wall Ideas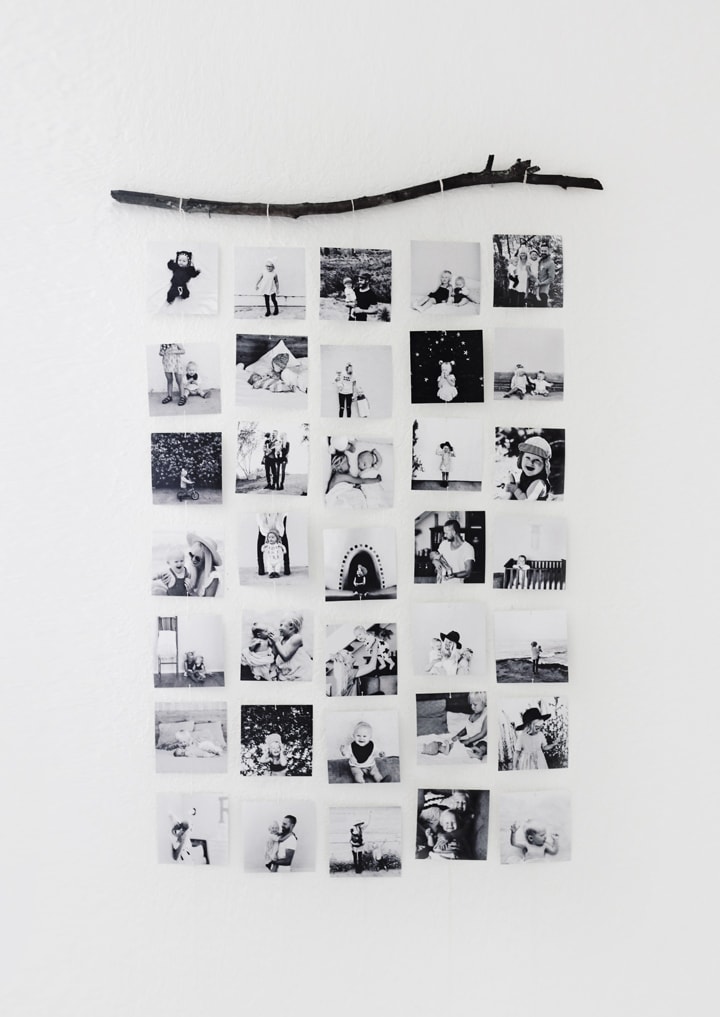 Although this tutorial uses a hole punch to thread the string through the photos, if you don't have a hole punch handy, or just wanted to do this quicker, you could attach the string using some tape. (Lazy version!) If you're going this route, I'd recommend something a little bit stronger than washi or scotch tape (like masking tape, for instance) so it can withstand the weight of the pictures.
You could also paint the wood if you want to do a type of color scheme. If you're looking for a unique or bohemian way to hang your photos, this is it.
Clip Lights Photo Wall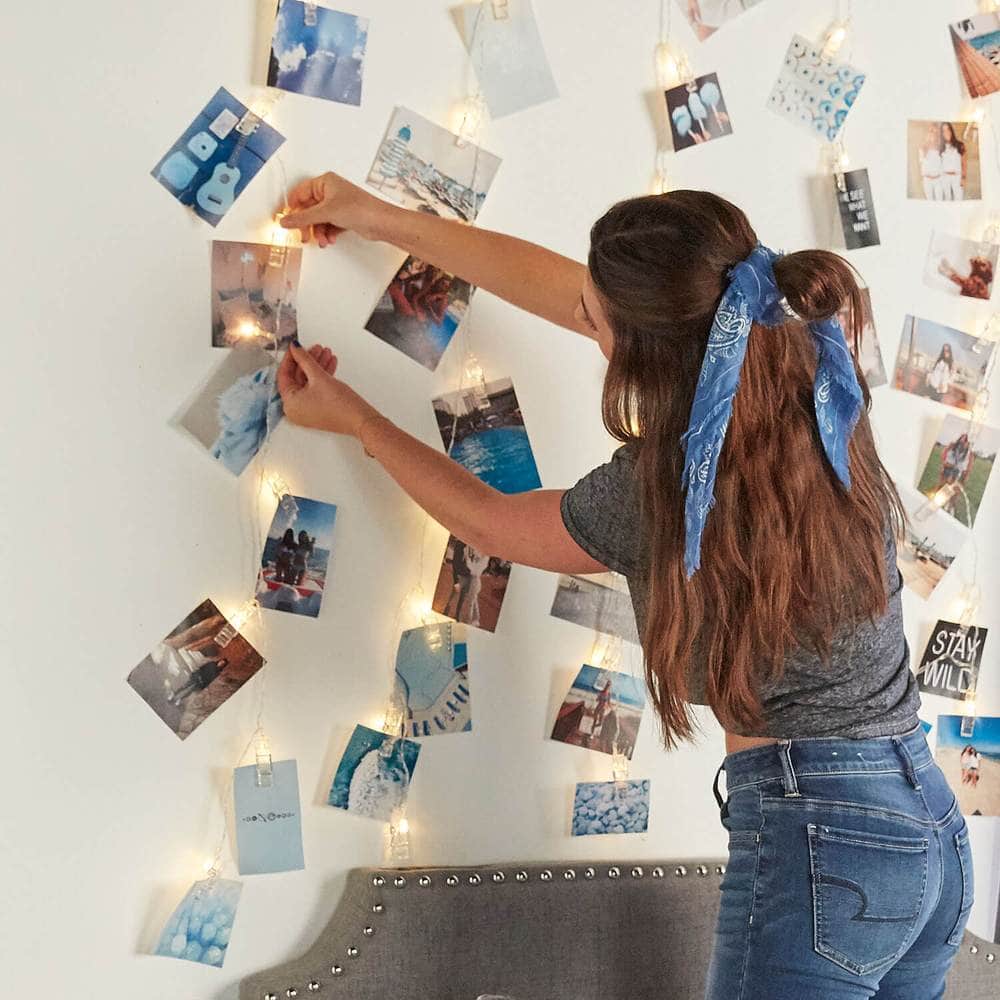 This isn't a DIY, it's a product, and an awesome one at that.
I got a set of these clip lights for Christmas one year and I'm still using them. They're a great investment. You can hang them basically anywhere and get the two hardest to come by things in a dorm room: lighting and style.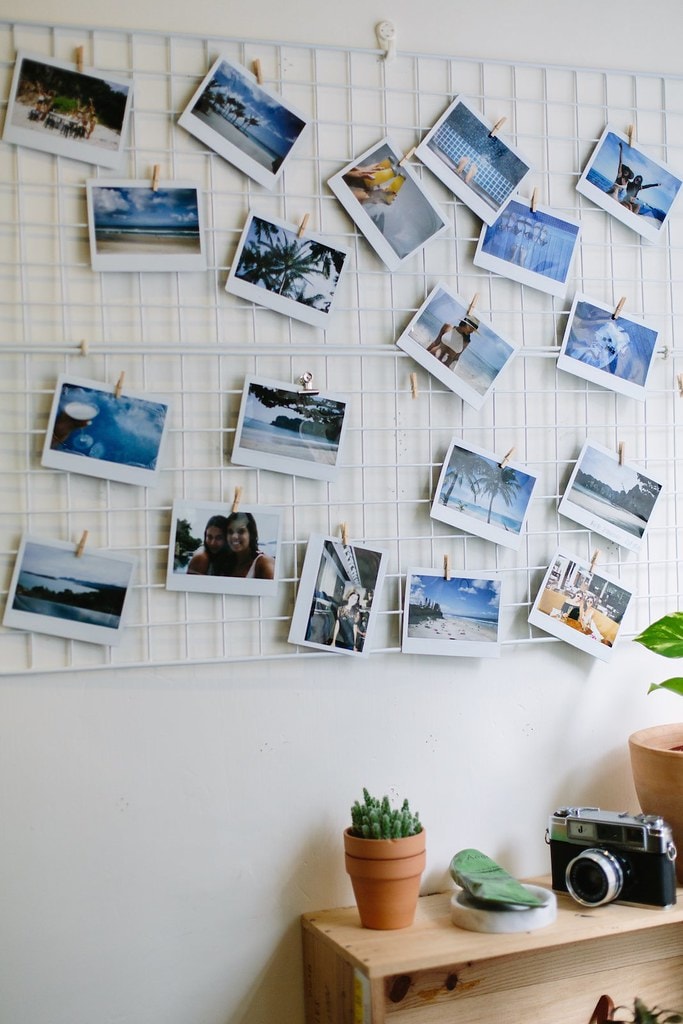 I have always wanted one of these mesh boards. (The problem is my cat would definitely use it as a jungle gym, sigh.)
This isn't a difficult tutorial. You can get the mesh pieces from a big supply or hardware store. You could also use pieces of locker shelves if you wanted. The tutorial includes a video so it's super simple to understand.
Note: I would recommend using something other than the mini clothespins. I've had them fall apart on me in the past. Binder clips might be a good alternative; you could even get colorful ones like these to make this extra pretty.
Non-Traditional Photo Frames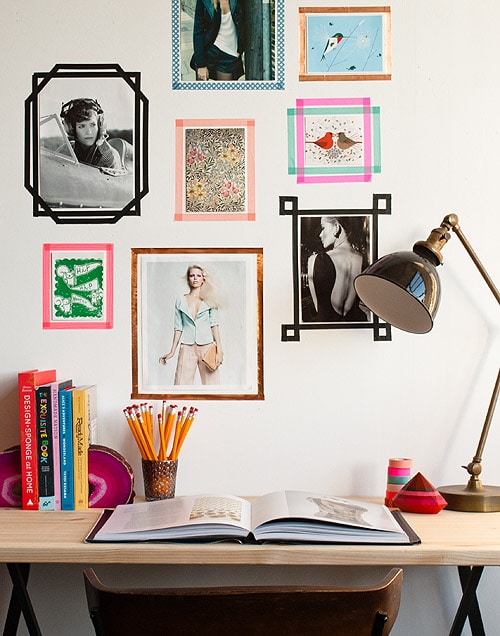 This idea, which we've covered on CF before, is a really cute and cheap way to frame photos, if washi tape will work with your walls. You can get 48 rolls of washi tape from Amazon for a really good price, and decorate everything in your dorm with it.
One caveat to note: I have not had the best luck with washi tape to hang things in my dorm. This is mainly because all of the dorms on my campus had brick walls, which washi tape does not agree with. I do use washi tape in my apartment now though. It depends on the campus and room which tape works best.
Clipboards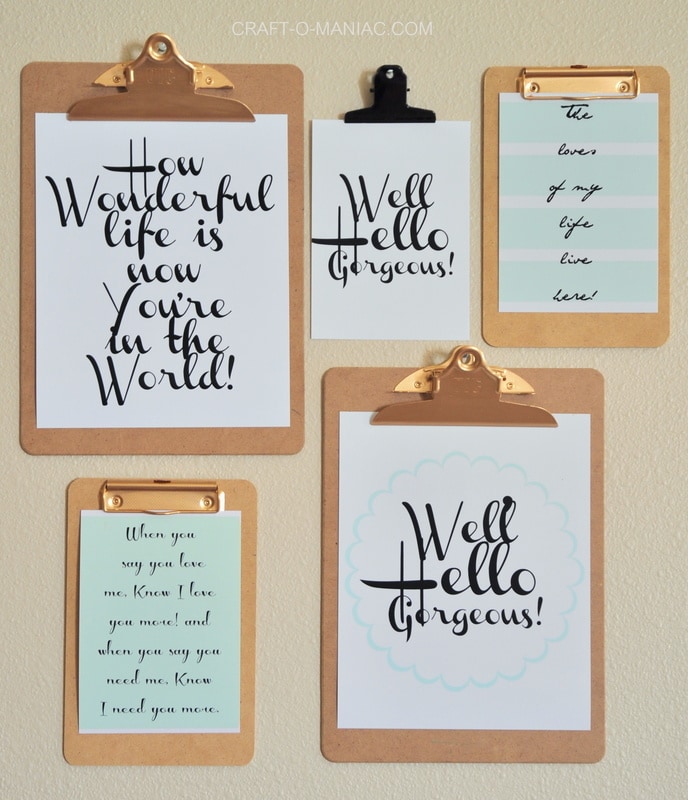 There is not a tutorial for this one, but it's a pretty self-explanatory process. Get some clipboards, some command hooks, and some photos. That's it. You could decorate your clipboards with scrapbook paper, washi tape, or paint if you like as well.
Most of the dorms on my campus have small cork/bulletin boards in the rooms. If your dorm doesn't come with one, you can get one for pretty cheap from Amazon and then follow this tutorial to deck it out.
The best part about this is you can change it out depending on your mood, the season, or your inspirations.
What are your favorite photo wall ideas on this list?
Do you have photo displays in your room, what kind? What do you find yourself taking the most pictures of? I take way too many pictures of my cat and sunsets.