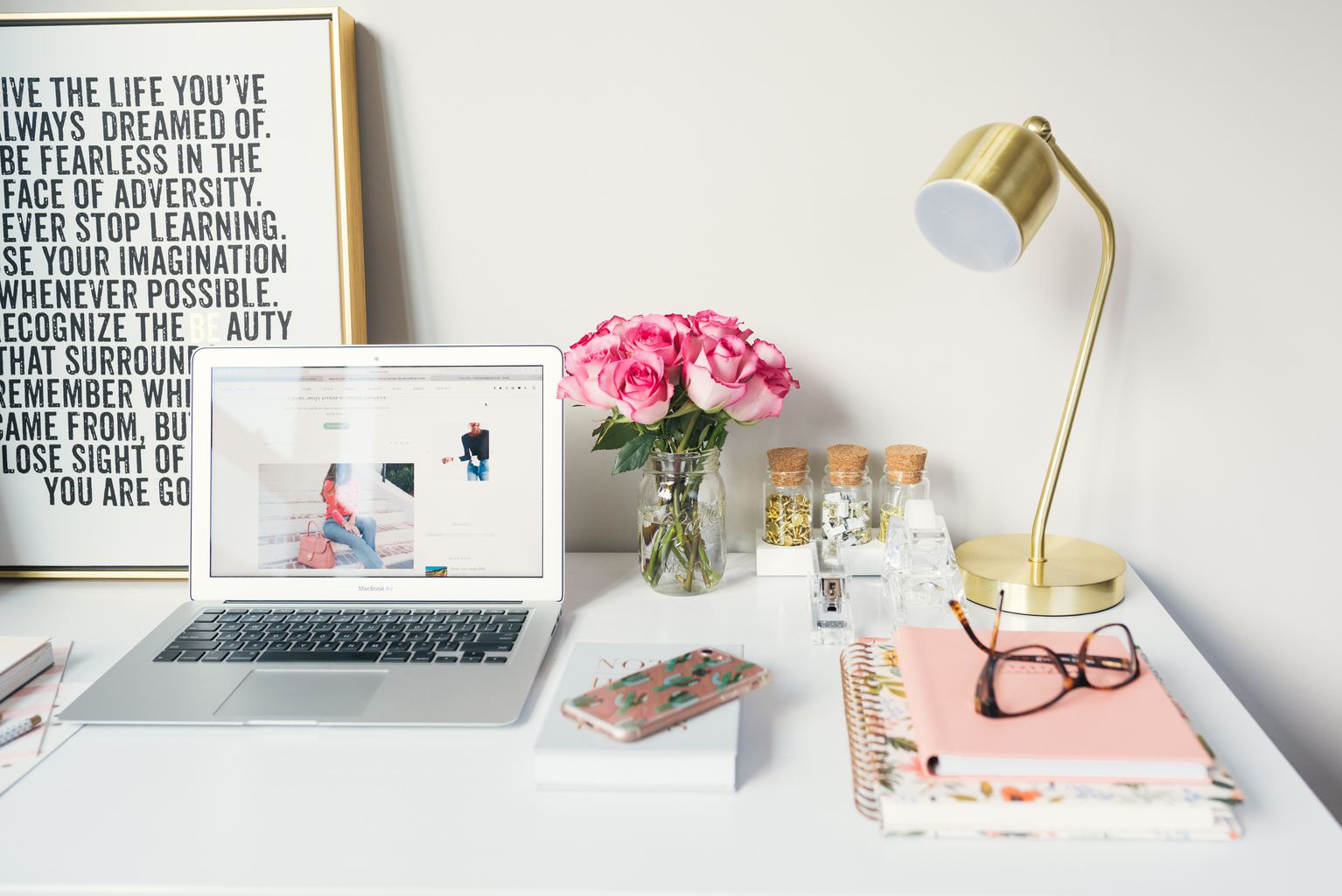 In this post, I'm going to show you how to organize and decorate your apartment or dorm room desk space for optimal productivity.
With classes over Zoom this semester, your desk is your main place of business.
You're joining meetings, doing your assignments, and online shopping all in the same place now. It can be pretty easy to get unorganized with this new routine. It can also get kind of bland.
Even though you can just roll out of bed and get to work at your desk, it's important to make your work station at place you actually want to be spending time.
Now that you're not sitting in a classroom every day, you might as well take advantage of the time you're spending at your desk by customizing it with cute decor and office essentials.
Your productivity and motivation will sky rocket after you've checked out these tips and tricks for making your desk your classroom away from the classroom.
1. Don't be tacky, but do use tacks
If you're desk currently sits in front of a big, empty wall, it's definitely time to make some changes.
Think of the wall space above your desk as blank canvas. You can use this space to make your aesthetic come to life.
By hanging certain posters, calendars, pictures etc. above your desk, it will make your priorities your focus.
Although it is tempting to hang photos with your friends, these photos may distract you more than motivate you. Save your social life pictures for another area in your room, such as a photo wall above your bed. For your workspace, think about the images that inspire you to work hard toward your goals.
With that being said, you don't have to get plain and boring office materials only. Get that silly kitten calendar or a poster of your dream city.
Tacking these images above your desk will invite you to sit down and begin working with positive thoughts in mind. Also, when purchasing posters or pictures, you have the opportunity to support an artist!
2. Stimulate your senses
We've all experienced variations of writers-block. Essentially, you're trying to get your work done, but nothing is coming to mind. Nothing fuels procrastination more than being in a slump.
If you want to meet your deadlines, you'll need to find a way to get your gears grinding asap. One way to do so is with some aromatherapy.
Candles, incense, and diffusers are must-have's when it comes to your work station. Scents help to stimulate your mind which will help get you out of any funk. Plus, they can be calming additions to your otherwise busy desk.
Find some scents that excite you to light them (brands like Bath & Body Works and NEST are CF faves). To help create some self-motivation, make it a rule that you can only light the candle when sitting at your desk. This way, you'll have a little reward every time you get some work done.
Additionally, your space will smell marvelous.
3. Spend a little extra on stationery
This tip is especially important in a mostly virtual time period.
Our computers have become our modus operandi during this pandemic period. Our lectures, notes, assignments, meetings etc. are all on a digital landscape. We also access large amounts of digital entertainment in our free time on tech devices.
Something that will provide you some separation from screens and enhance productivity is investing in some aesthetic stationery. Find a notepad with cute art that reflects your style, whether that be butterflies or abstract shapes, so that you can organize your thoughts on paper.
On these pads, you can write out your to-do lists that will keep you focused throughout the day. Plus, your stationery will work as both a practical tool and desk decor.
4. Get yourself a (comfy) chair
It may be time to give your desk chair an update.
No matter how you construct your desk, it won't amount to much in terms of productivity if your current desk chair is anything but comfortable. Your chair is responsible for more than just giving you a place to sit. It should accommodate your needs for long-term use.
Keep in mind when getting your desk chair, that it is still meant for working. You don't want to get so comfortable that you end up taking a nap instead of completing assignments. Go for a chair that you can see yourself sitting in for a long period of time, but one you'll eventually want to stand up from to go to your bed.
If buying a whole new chair is out of the question, invest in some chair covers and pillows, like this fuzzy chair cover (shown above). You'll be surprised at how quickly some ancient, rigid wood can transform into a stylish solace.
5. Make a secret snack drawer
Remember when sitting in class and thinking about food instead of listening to the lecture was a daily struggle?
Now, you can make your favorite snacks accessible to you when you're typing away.
Eating helps fuel your brain and gives you the energy you need to stay focused. Although filling your desk drawer with chocolate sounds like the right move, consider stocking up with some nutrient-rich bites.
While working, you can reach for a quick snack and stay on your A-game.
6. Get plants
Plants liven up a space unlike anything else, especially considering that they are actually alive. With winter around the corner, this decor hack will spruce up your space and give your study time some livelihood.
Invest in some low maintenance plants, such as succulents, for a quaint vibe. These plants don't require lots of sun or water, perfect for your desk in the cooler seasons. Additionally, buy some cute planters or paint some pots yourself. These will make for the cutest decorations on your desk.
However, if live-plants don't work for you, fake flowers still do the trick. Go to your local arts-and-crafts store and make a custom bouquet for your workspace.
Desk-game strong?
Now that you've included new ways to work, how does your desk look?
Let us know in the comments below!