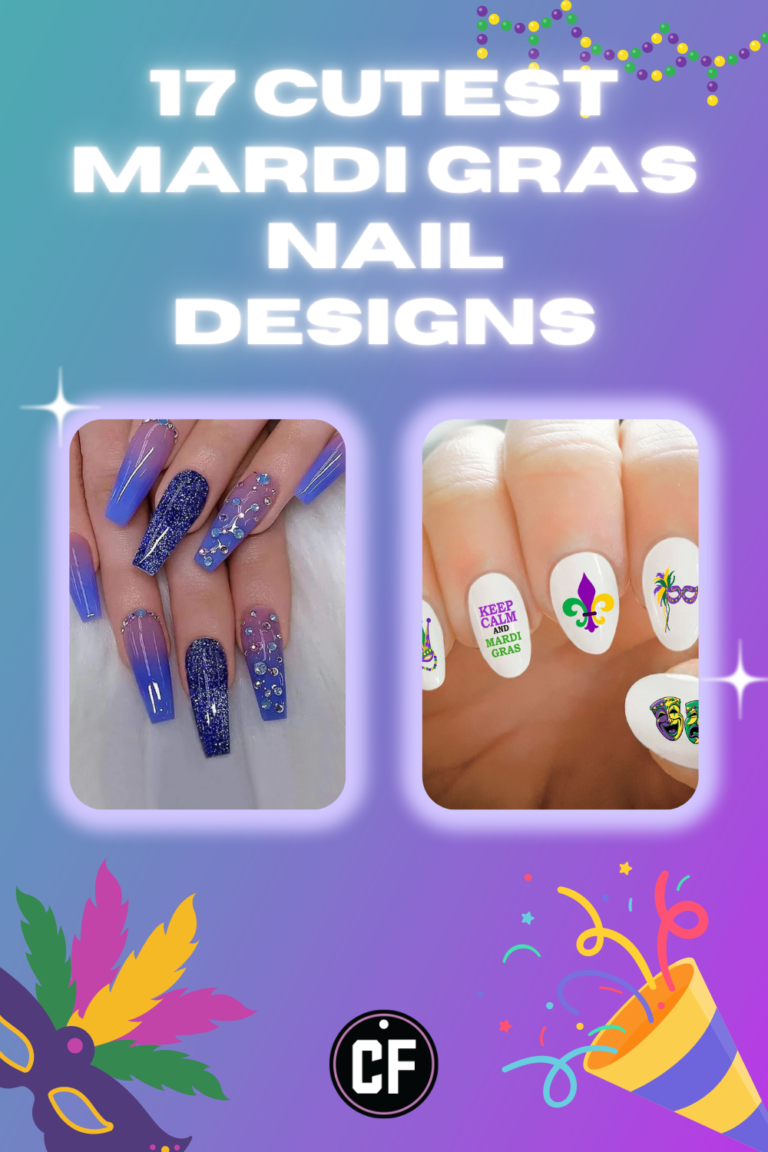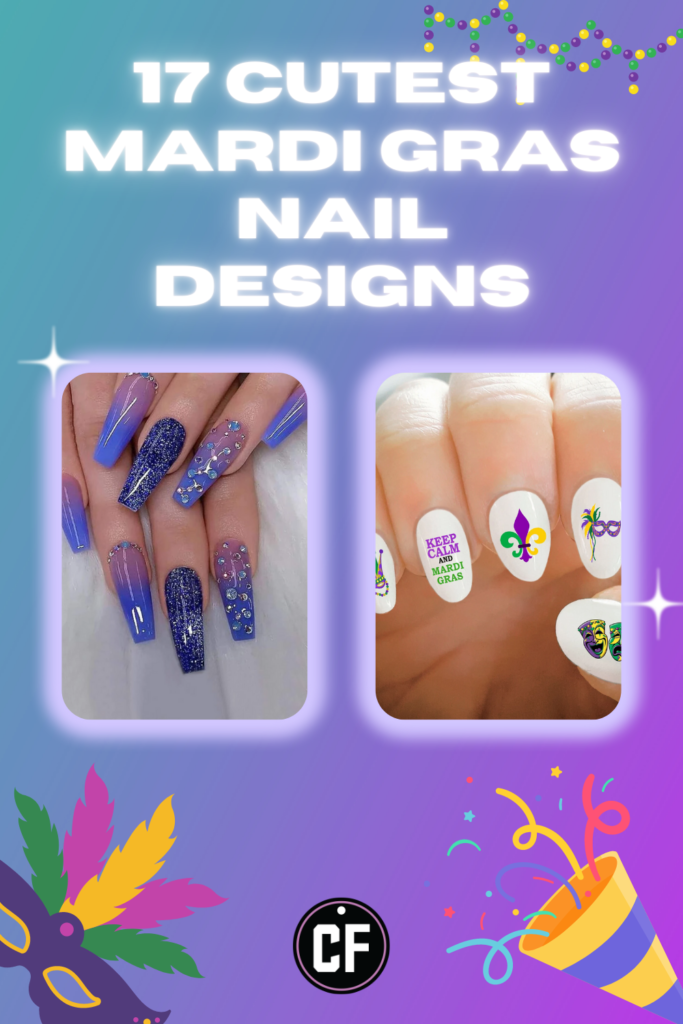 Mardi Gras is one of the biggest and most colorful celebrations of the year, and it's the perfect excuse to get creative with your look.
While you're thinking about a cute outfit to wear, don't neglect your fingertips! There are so many cute Mardi Gras nail designs that will have you feeling extra festive.
From glittery bead designs to playful masks and feathers, the possibilities for Mardi Gras nail art are endless. Whether you prefer bold and bright colors, intricate patterns, or minimal designs, there's a Mardi Gras manicure for everyone. Not to mention, a fun and festive manicure will bring a smile to your face and put you in the party mood.
So, why not embrace the holiday and rock a dazzling Mardi Gras manicure?
Below, I've rounded up 17 adorable Mardi Gras nail designs that you'll definitely want to copy. Get ready to catch some beads with your gorgeous nails!
Mardi Gras Nail Designs
Mardi Gras Hearts Mani
How cute is this Mardi Gras heart manicure? It's so detailed and intricate, meant to resemble shiny carnival beads.
Mardi Gras Gradient Color
Ombre manicures are always popular, but I especially love them when they're done with glitter. This pretty glitter ombre Mardi Gras design incorporates gold, green, and purple into a manicure that's simple to achieve at home. What could be better?
Related reading: 15 Beautiful Glitter Nail Designs You'll Be Obsessing Over
Purple and Green Tips
If you like your nails more on the subtly festive side, this nude, green, and purple Mardi Gras mani is for you. It's just a nude polish with lines of green and purple on the sides of the nails. If you want to spice it up, add a rhinestone accent nail, as seen above.
Mardi Gras Stripes
Here's another variation of the Mardi Gras glitter manicure. This time, the stripes are vertical and a bit thinner. You can't go wrong with this look and, again, it's so easy to do yourself at home!
Mardi Gras Dots Nails
A dotted manicure is easy to do yourself at home. All you need is your favorite polishes and a dotting tool, which you can get on Amazon for less than $7.
This simple dot manicure uses green, gold, and purple polishes to give the nails that Mardi Gras feel. The dots get more concentrated toward the tip of the nail, creating an ombre look.
Mardi Gras Water Marble
This Mardi Gras water marble manicure features shades of purple, green, and gold, creating a unique, marble-like pattern. To make it even more festive, use glitter or holographic polishes like they do in the video above.
Blinged Out Jewel Mardi Gras Nails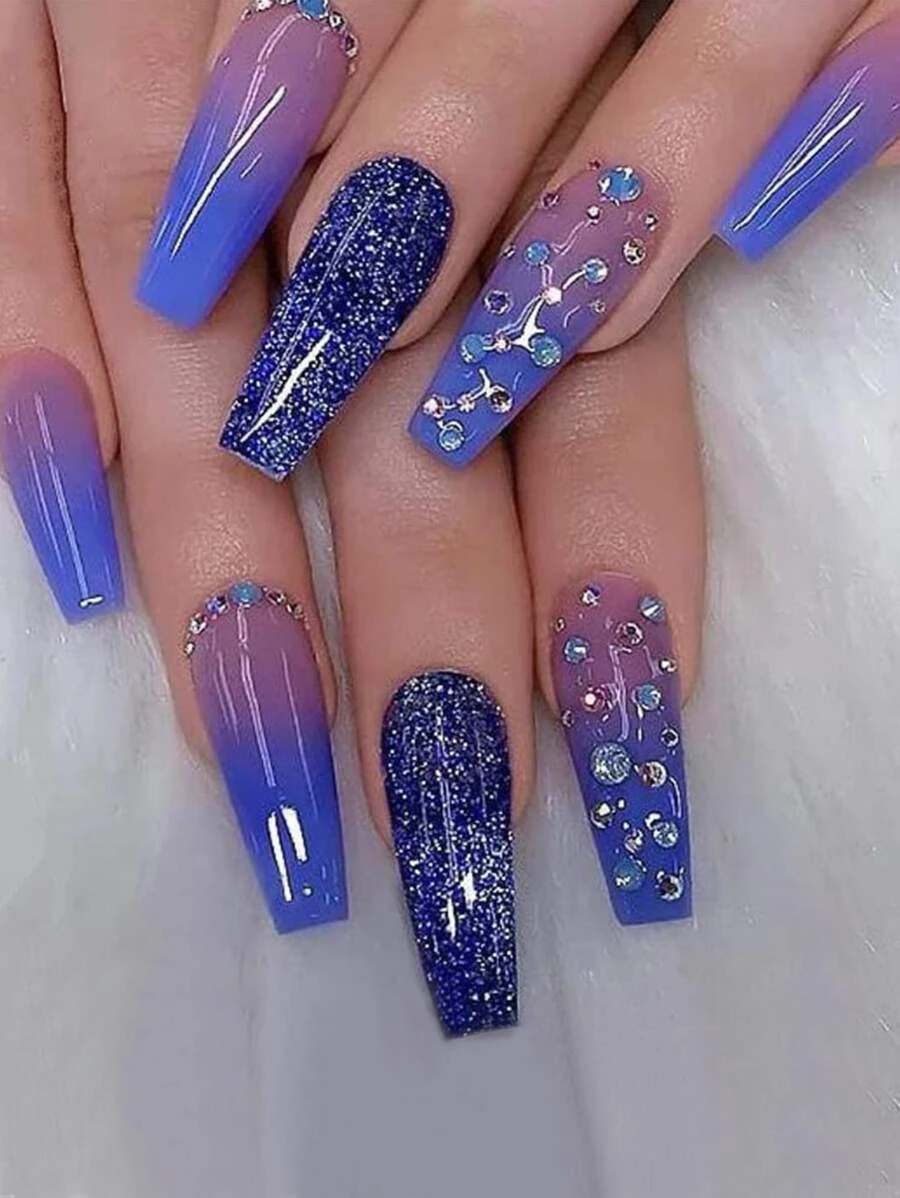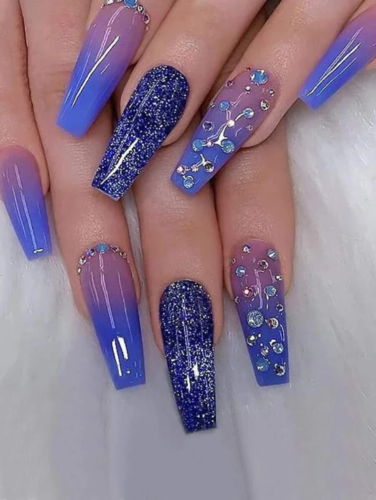 You don't necessarily have to use gold, green, and purple in your manicure for it to read as Mardi Gras. Just choose one of the colors and add tons of bling, as seen above.
These gorgeous purple rhinestone-embellished nails are actually press-ons, so it couldn't be easier to achieve this exact look at home. Plus, they're insanely affordable at just $3 for the set!
Mardi Gras Nail Art
Can't decide on a Mardi Gras nail design? Why not rock a different style on each finger?
This Mardi Gras nail art tutorial has a little bit of everything — masks and beads, feathers, Mardi Gras colors, and plenty of glitter. It's stunning and will get you tons of compliments.
Mardi Gras Press on Nails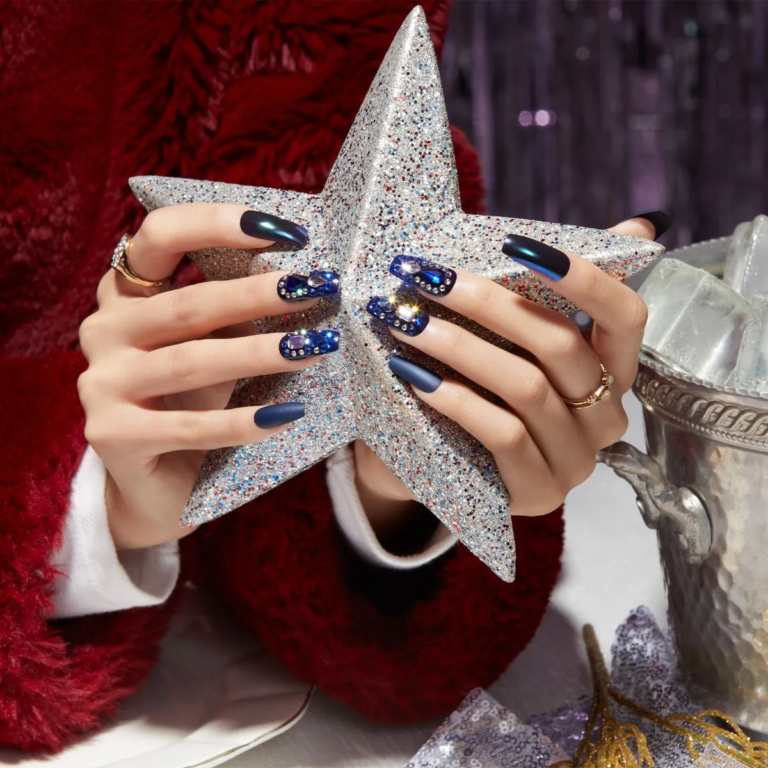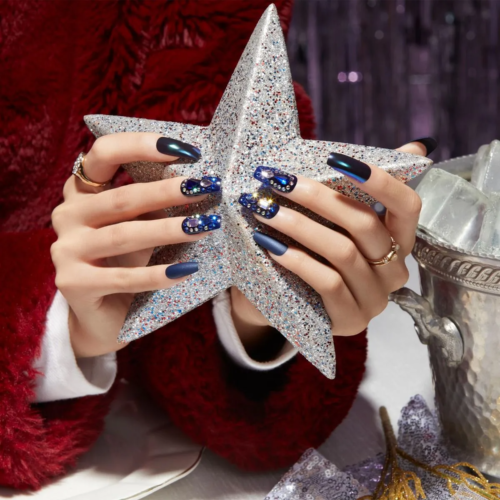 Here's another set of Mardi Gras press-on nails that give off the glam feel of the holiday without screaming Mardi-Gras-themed. These stunning nails are from Kiss Nails, a brand known for high-quality press-on nails that last up to two weeks.
Mardi Gras Glitter Nails
Here's another example of a manicure that combines a few different nail designs in one. Here we have a combo of glitter stripes, bead details, and checker print, all in the trademark Mardi Gras colors.
Mardi Gras Nail Stickers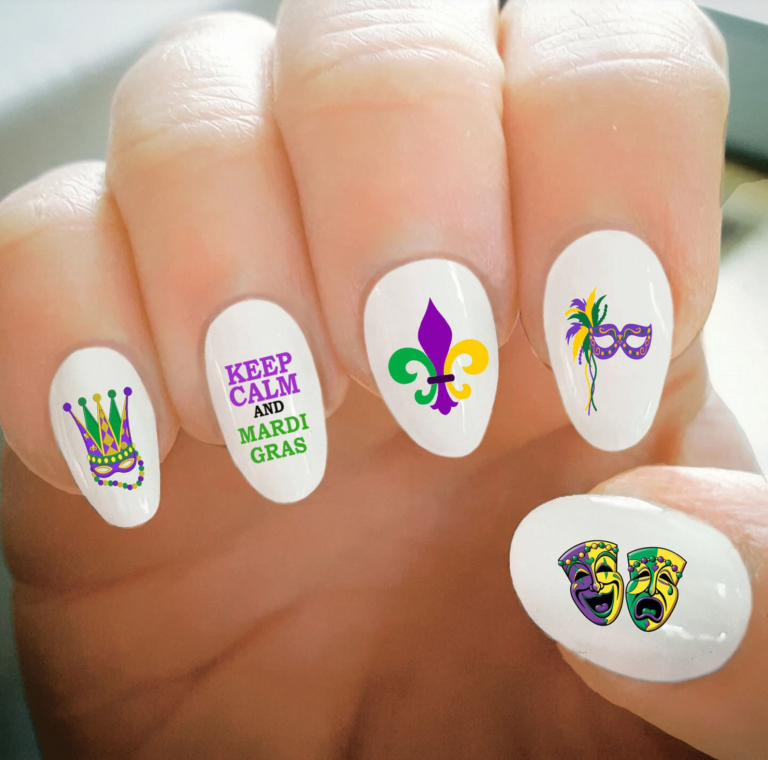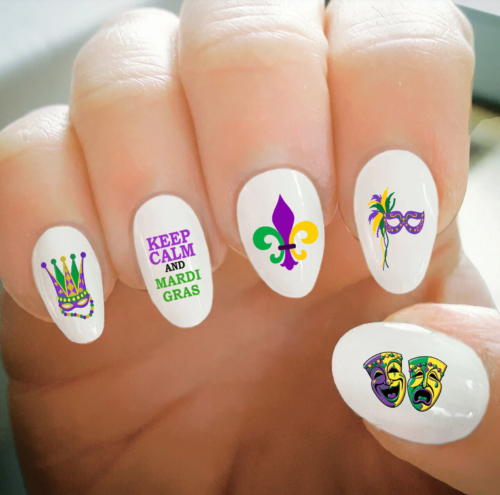 If you don't want to bother with complicated nail art but still want a cute mani, nail stickers are the answer!
These Mardi-Gras-themed stickers have masks, crowns, and the fleur-de-lis. They'd be great to use on a plain black or white mani, or to layer on top of glitter polishes for extra interest.
Mardi Gras Checkered Nails
Checker print is popularly associated with Mardi Gras, so naturally, I had to include a checker print nail design in this roundup.
This stunning manicure combines green and purple squares on top of a gold glitter base for a beautiful look that pops.
Purple and Black Mardi Gras Nail Design
This non-traditional Mardi Gras manicure uses purple, black, and silver to create a glam and eye-catching look.
There are so many variations you could do with this manicure, from switching up the colors to adding rhinestones or extra glitter. The choice is yours!
Purple, Green, and Gold Mardi Gras Nails
Purple, green, and gold glitter Mardi Gras nails epitomize carnival style. Paint your nails with these colors, using glitter polishes for sparkle, and feel like the queen of the parade.
Mardi Gras Outline Nails
If you like your nails nice and subtle rather than glam and eye-catching, this is your Mardi Gras manicure. This simple nude outline Mardi Gras nail design uses nude polish as a base and tiny ribbons of green, gold, and purple around the edges of each nail. So pretty!
Minimal Mardi Gras Nails
Here's a different example of a minimal Mardi Gras manicure. All you need to do is gather up green, yellow, and purple polishes and paint each nail in one of the shades. Anyone can do this!
Simple Mardi Gras Nails
Finally, here's a simple Mardi Gras manicure: glitter nail polish and a gold stripe accent nail. Paint your nails with glittery purple, green, or gold polish, then add two gold stripes on one accent nail. Easy and festive for Mardi Gras celebrations!
What do you think of these Mardi Gras nail designs?
Which of these designs is your favorite? Are you going to do your nails for Mardi Gras? Let me know by leaving a comment down below.