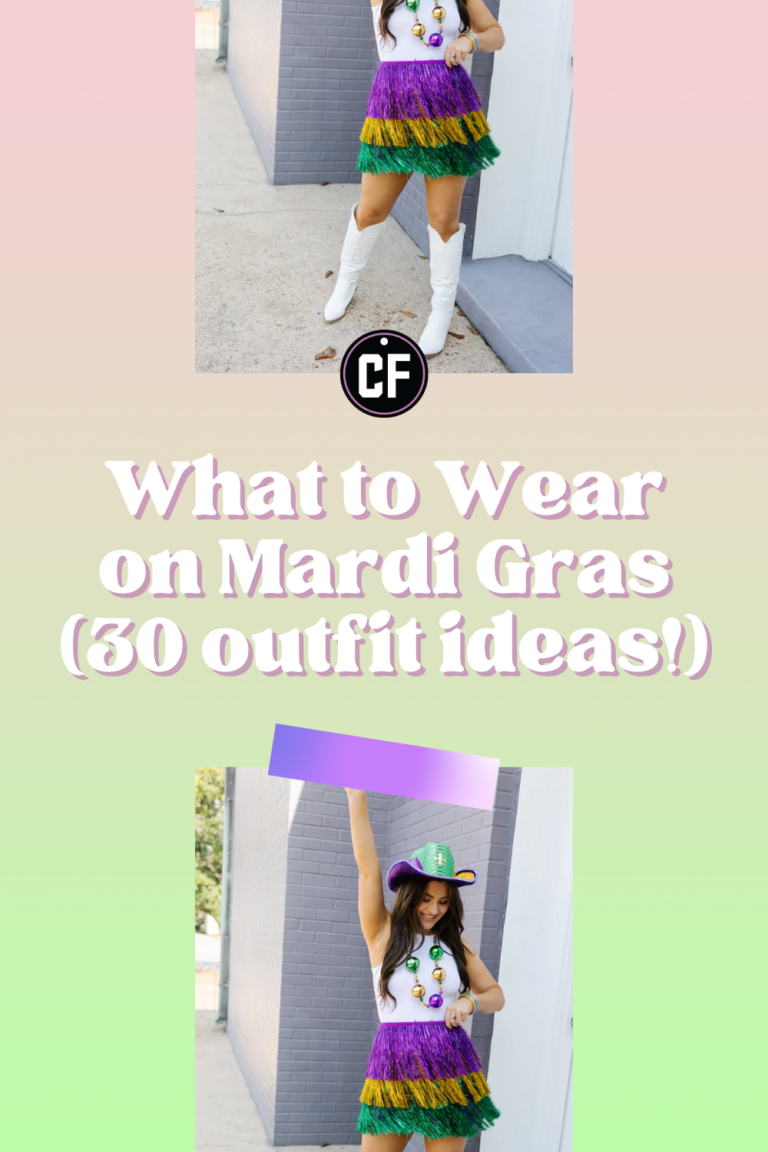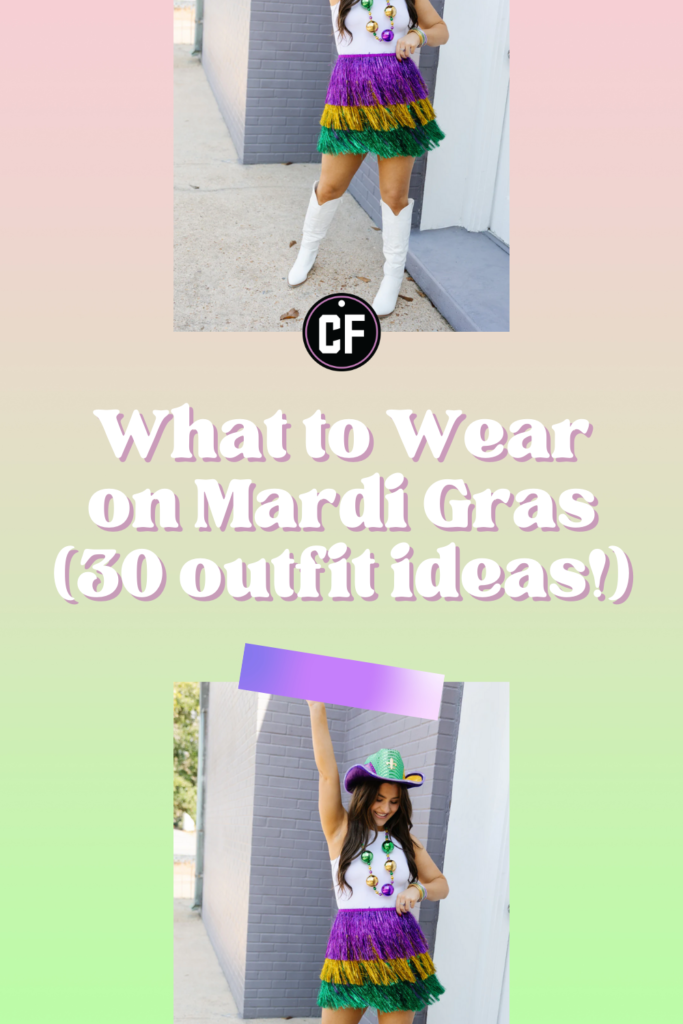 It's that time of year again! Mardi Gras season is back, and whether you're throwing a party or heading to Louisiana to celebrate on Fat Tuesday, a cute Mardi Gras outfit is critical.
In case you aren't familiar with the holiday, Mardi Gras is a one to three-month Carnival celebration known as a time for feasting, dancing, celebrating, bead-throwing, and partying the night away. The holiday officially begins on January 6th each year and lasts until Mardi Gras day (AKA Fat Tuesday), which is the day before Ash Wednesday.
In 2023, Mardi Gras falls on Tuesday, February 21st. So that gives you time to plan and find the perfect outfit.
In college, we know there is always at least one Mardi Gras party happening on campus, so it's essential to have some themed items on hand in February.
Read on for tips on creating a Mardi Gras outfit, plus 30 cute and on-trend Mardi Gras looks that will turn heads.
Related reading: 17 Fun Mardi Gras Nail Designs to Rock This Year
What Makes Up a Mardi Gras Outfit?
Mardi Gras fashion is all about celebration — the bolder, the better for this holiday! You want to stand out and make people smile with your look.
The prominent colors of Mardi Gras are gold, green, and purple, so any outfit in those colors will work. Embellishments like feathers, sequins, and rhinestones are also common elements of Mardi Gras fashion. Remember, this is a holiday about being fearless with your look.
Mardi Gras Outfits for Ladies
Here are 30 cute Mardi Gras outfits and costumes that will turn heads this year!
Casual Mardi Gras Outfit Ideas
Mardi Gras Sequin Jacket Outfit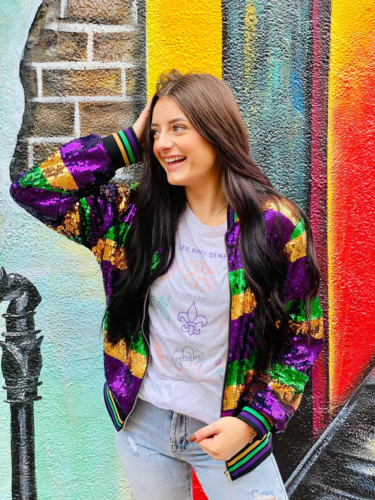 This outfit proves that you just need one statement piece for Mardi Gras! In this case, we're talking about a beautiful sequin jacket. Throw it on with anything, and you're good to go.
Casual Mardi Gras Striped Hoodie Look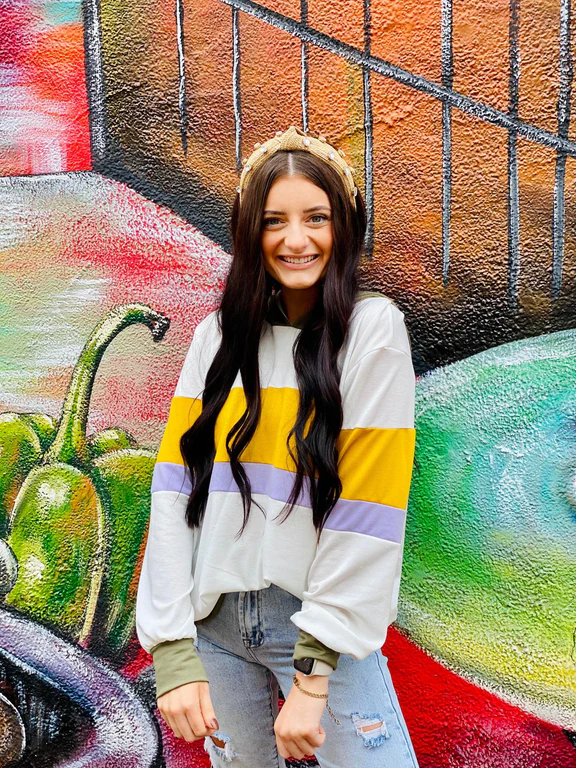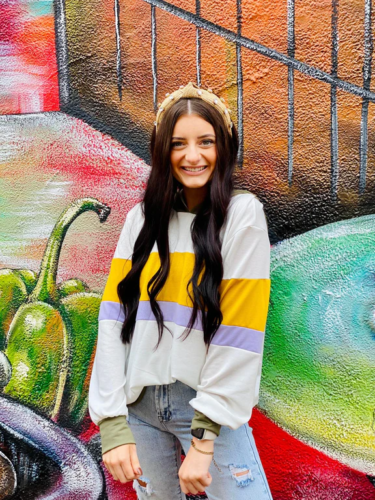 I love this casual take on a Mardi Gras look. A sweater in the holiday's colors is perfectly spirited, and the gold headband takes it over the top.
Rainbow Mardi Gras Dress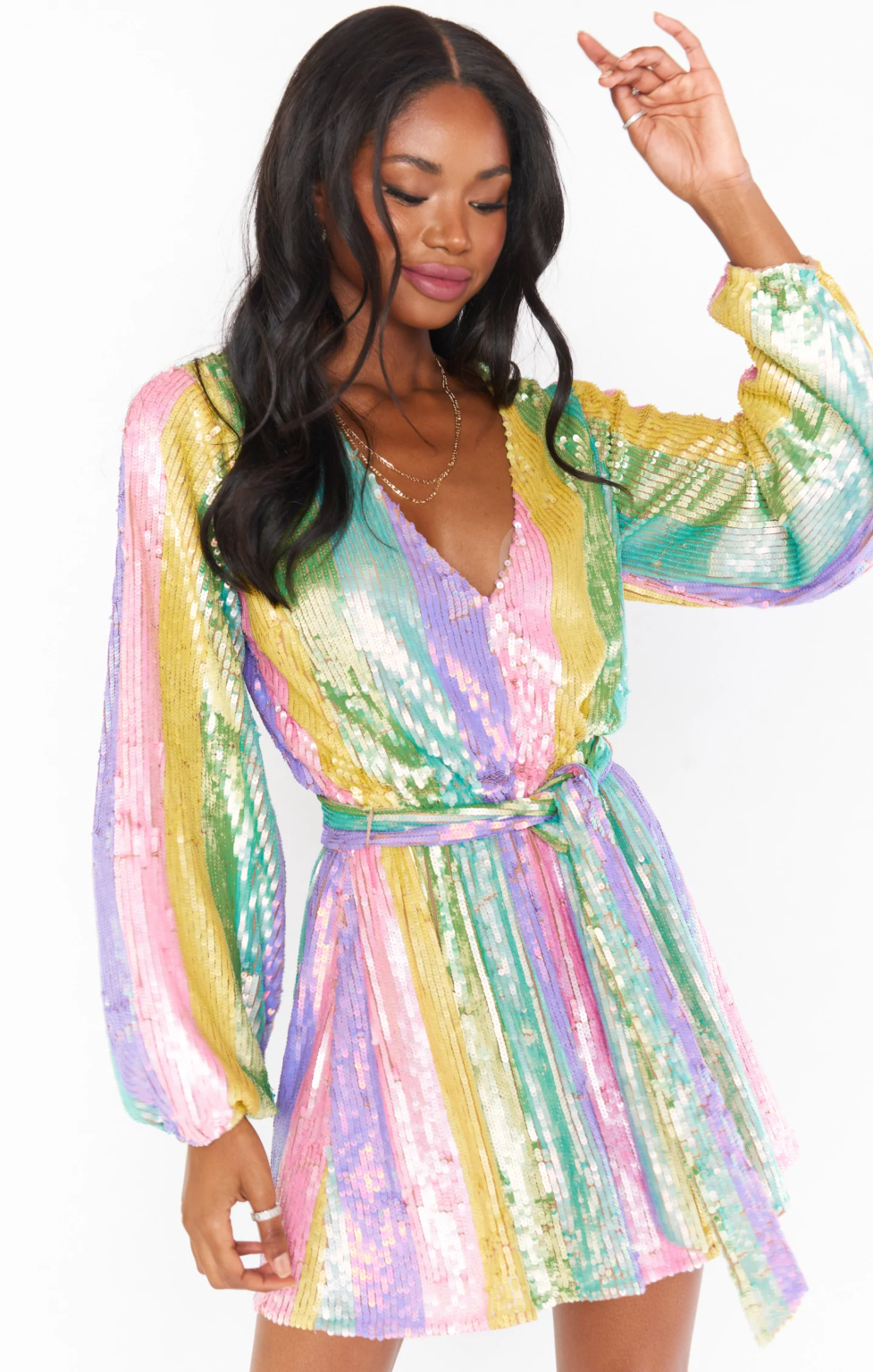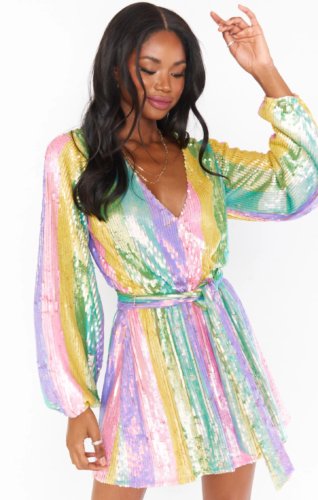 I mean, is there anything more beautiful than this dress? Wear it for Mardi Gras and again for parties, weddings, and bachelorette parties!
Mardi Gras Blazer Outfit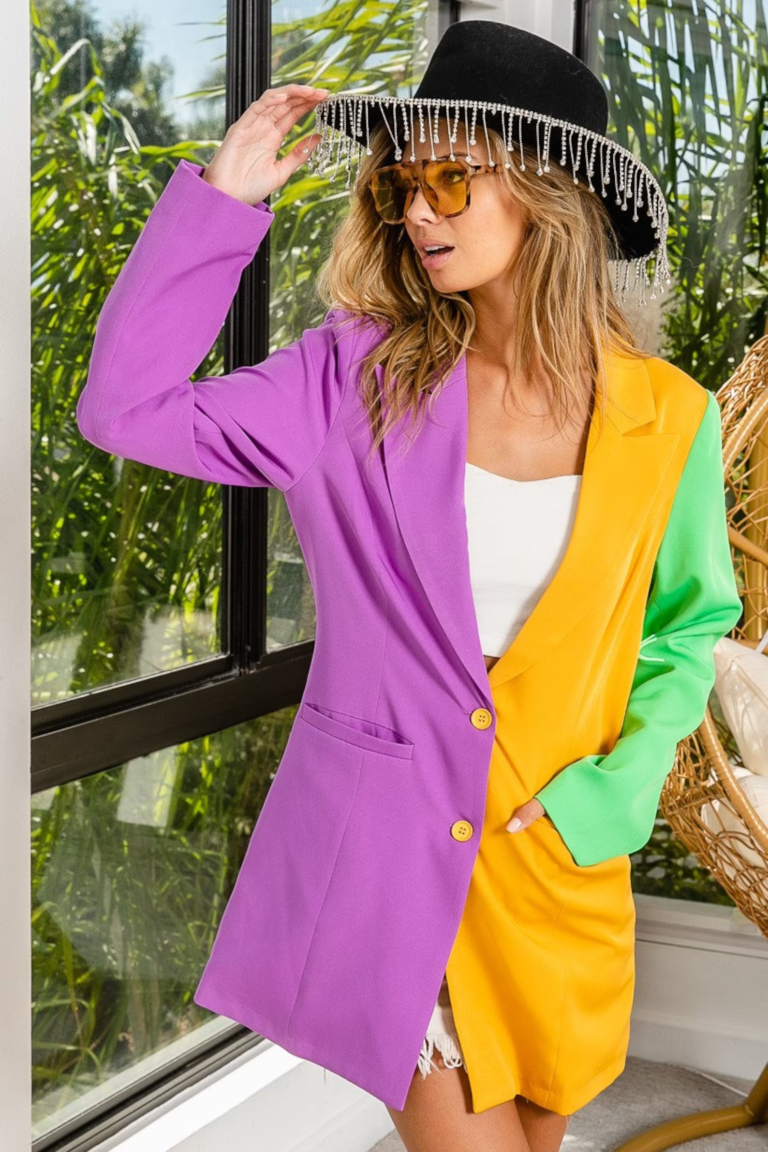 If you want to go bold, this blazer dress is all you need. Wear it alone or over ripped denim shorts and don't forget the fun accessories.
Cozy Mardi Gras Cropped Sweatshirt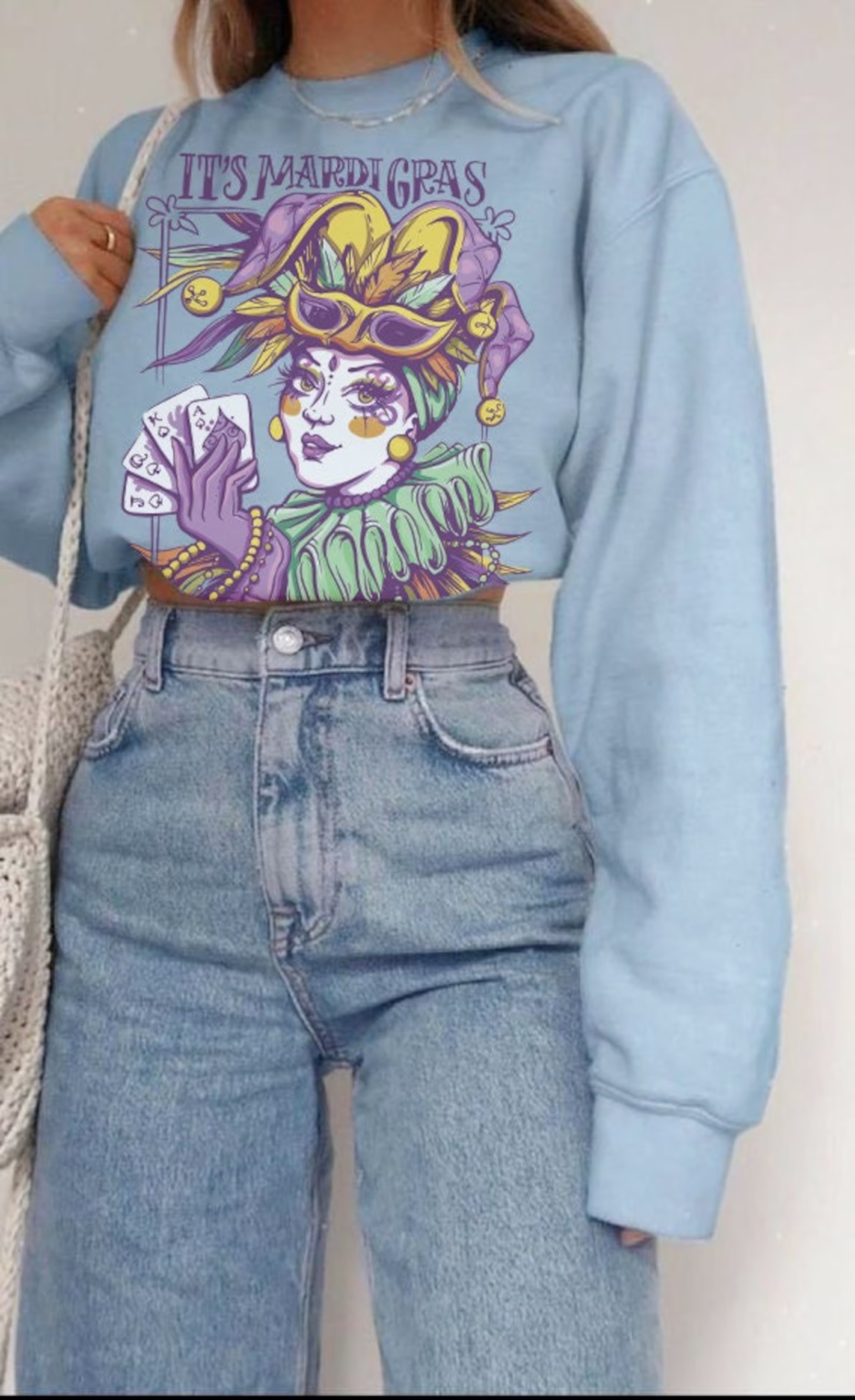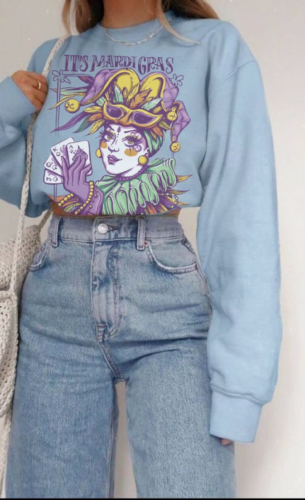 Another simple and casual Mardi Gras look is this themed sweatshirt and high-waisted jeans combo. So comfy and subtly spirited!
Sequin Mardi Gras Tee Outfit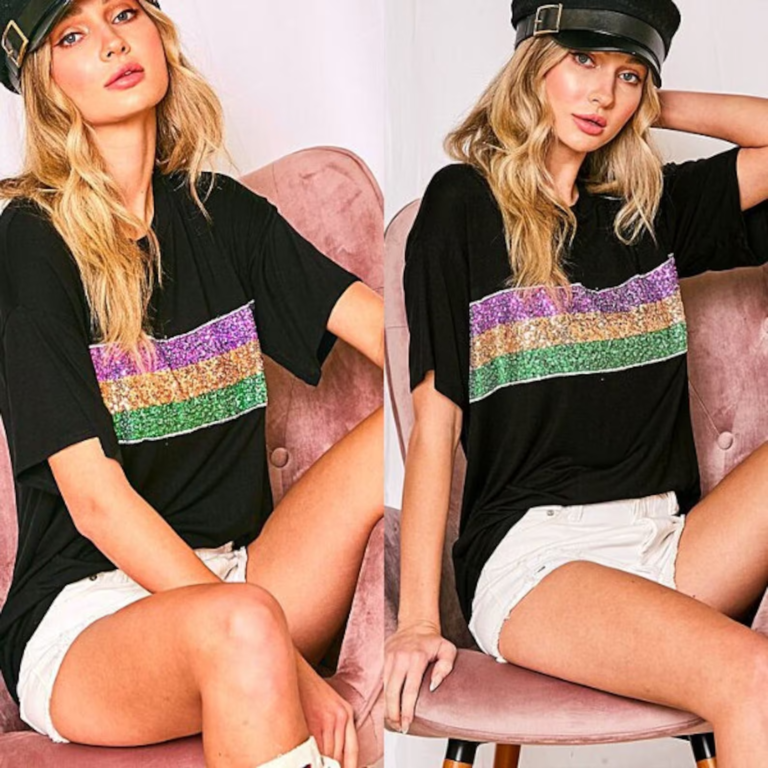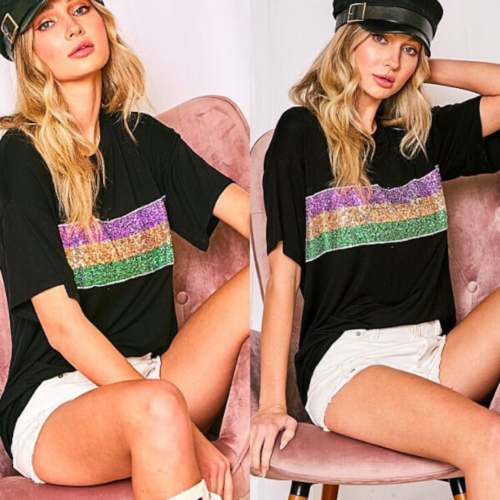 This cute t-shirt brings in Mardi Gras colors and sequin embellishment without looking crazy or over-the-top. It's basically perfection.
Mardi Gras Graphic Tee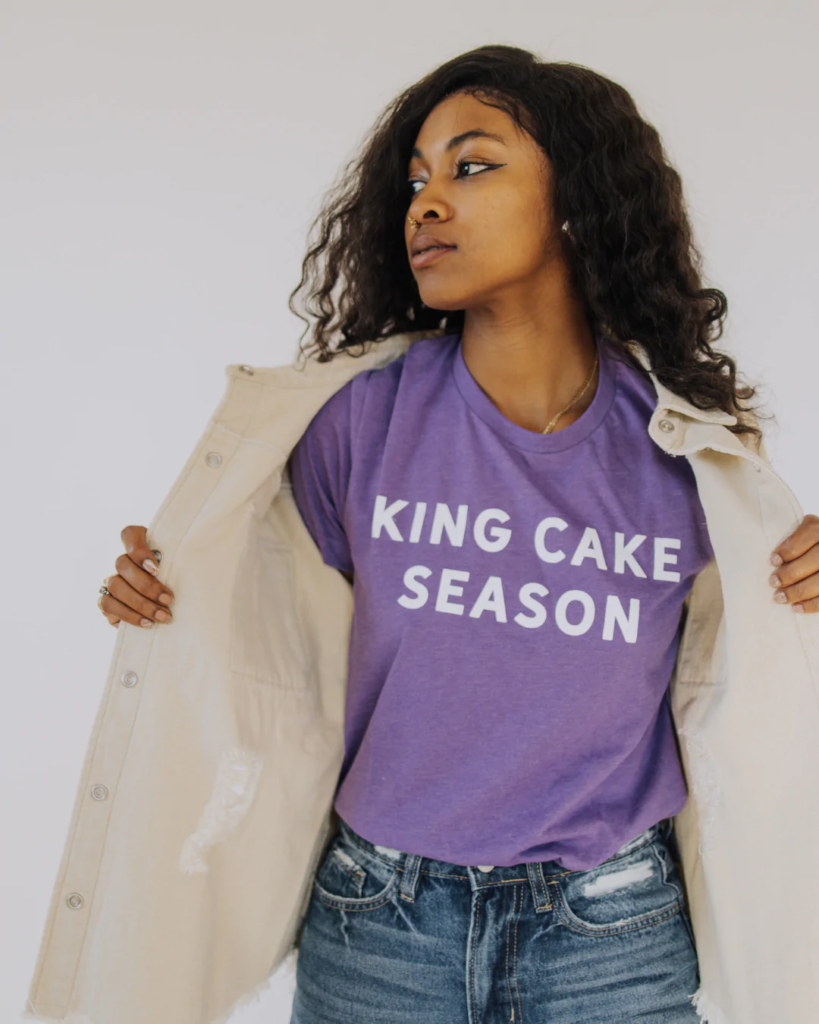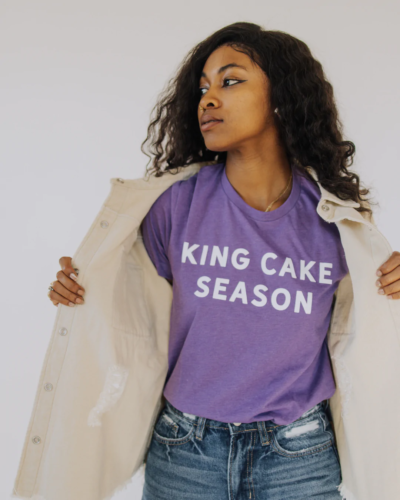 How cute is this Mardi Gras tee? Everyone knows King Cake is delicious, so pay homage to everyone's favorite seasonal treat with this shirt.
Y'all Shirt Outfit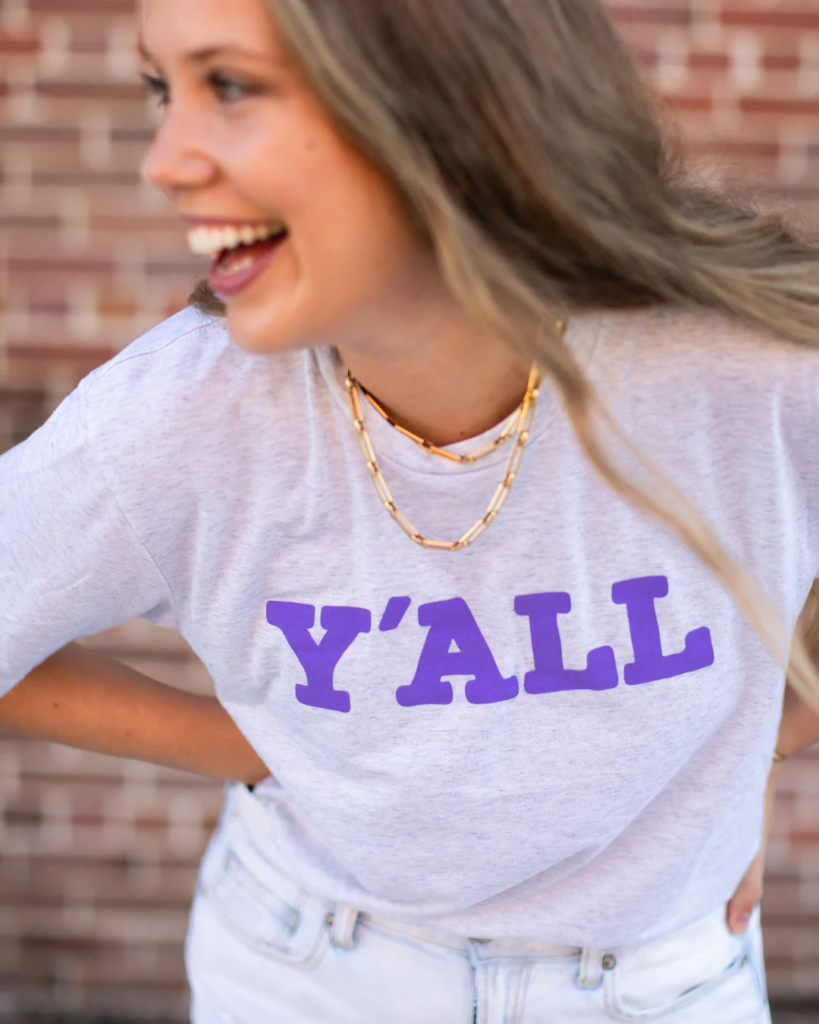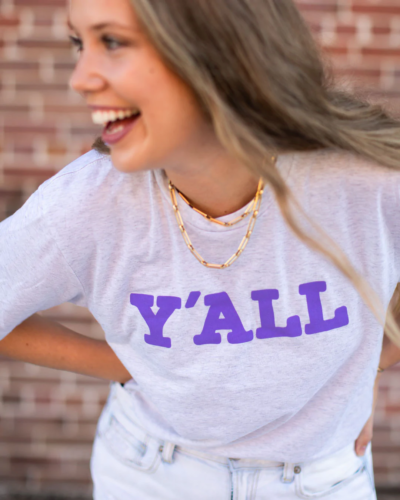 If you live in the South or want to pay tribute to your Southern roots, you gotta pick up this "y'all" tee for Mardi Gras!
Mardi Gras Feather Sweater Outfit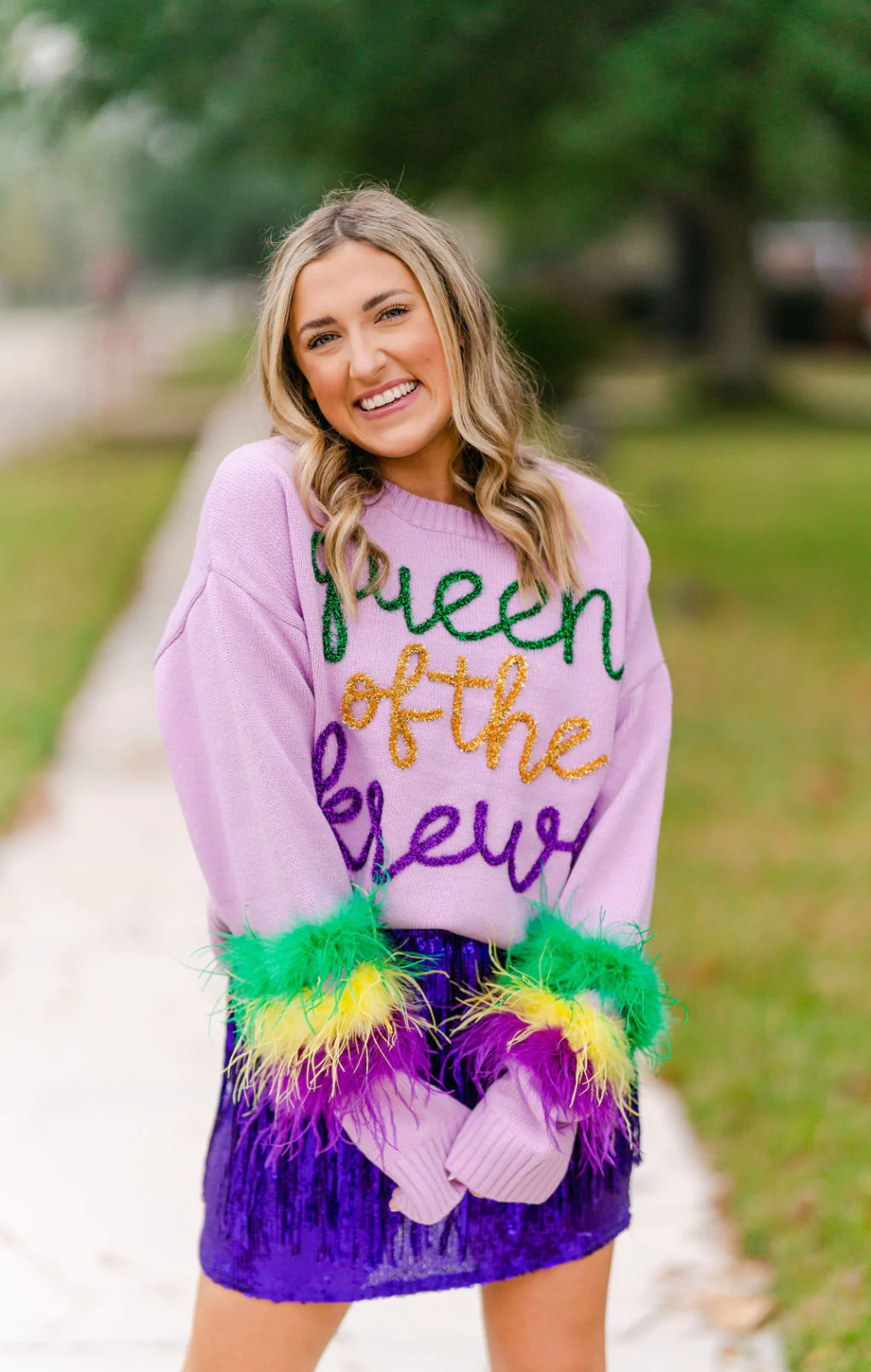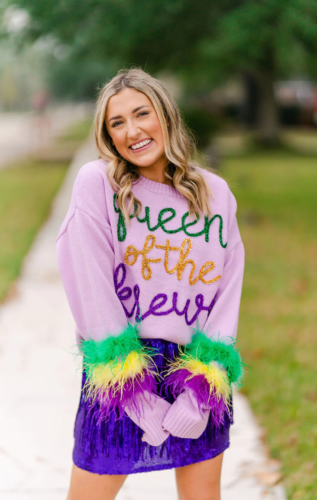 Sequins, feathers, embroidery, bright colors — this over-the-top sweater has it all! Wear it with a sequined skirt for a glam look or with jeans to dress it down.
Cozy Casual Striped Sweater Outfit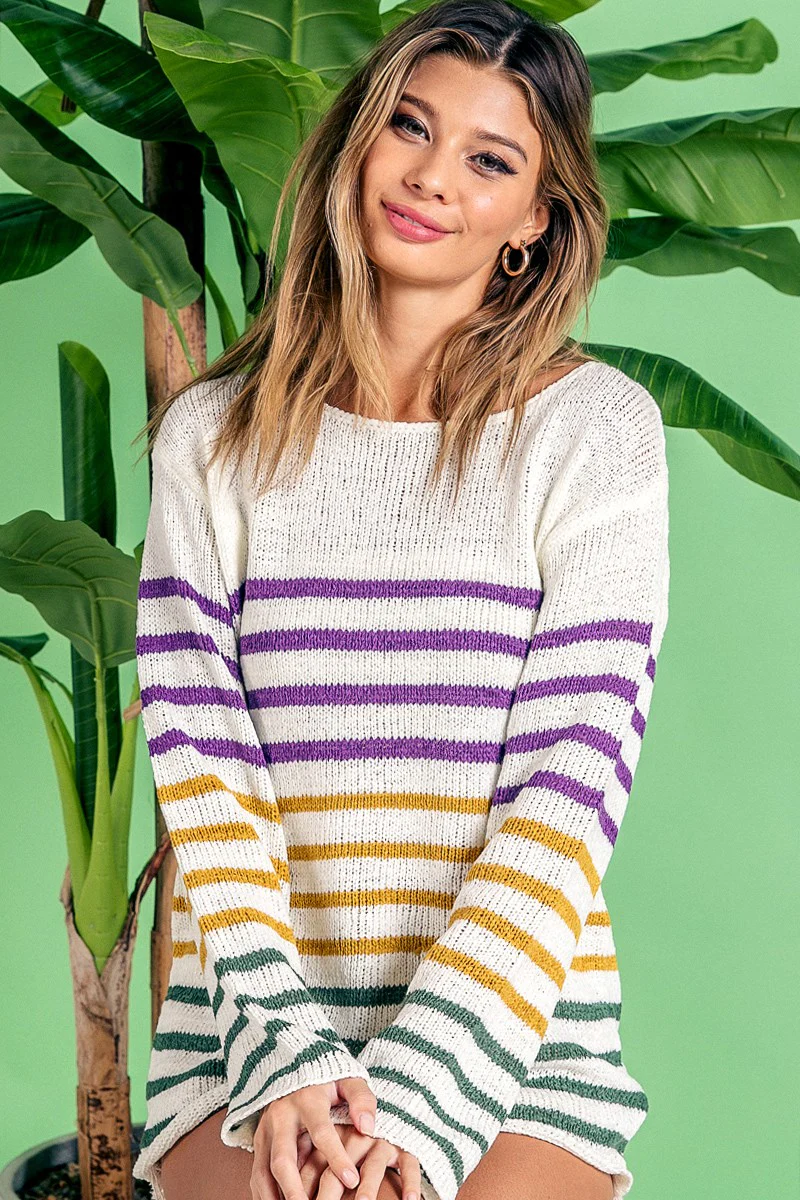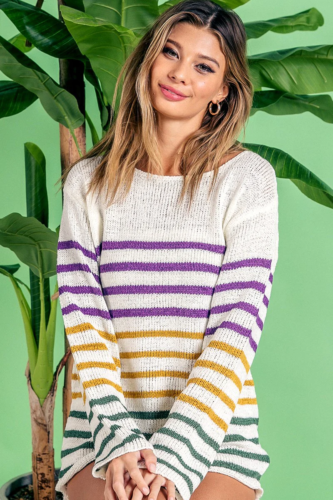 This sweater screams Mardi Gras thanks to its colorful stripes, but it's still simple enough to wear any day of the year.
Purple Shorts & Graphic Tee Outfit
I love this adorable outfit combo from Obsession Boutique! Recreate it with a pair of purple shorts, a pretty headband, and a white tee (Mardi Gras themed if possible).
Graphic Sweatshirt & Patterned Pants Outfit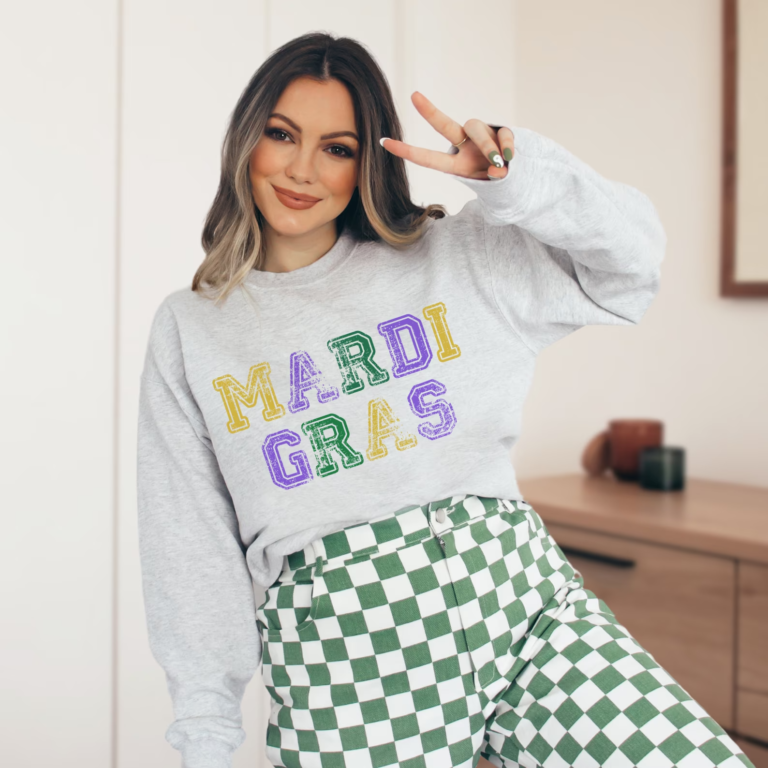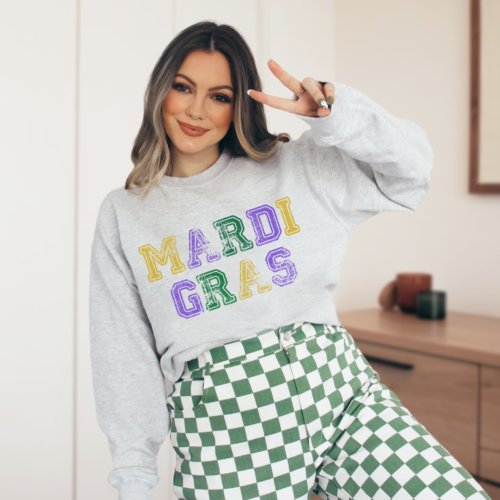 It doesn't get simpler than this Mardi Gras sweatshirt, but the look is made 10x more exciting thanks to the green and white checkerboard pants. Such a sweet, casual combo!
Mardi Gras Fringe Skirt Outfit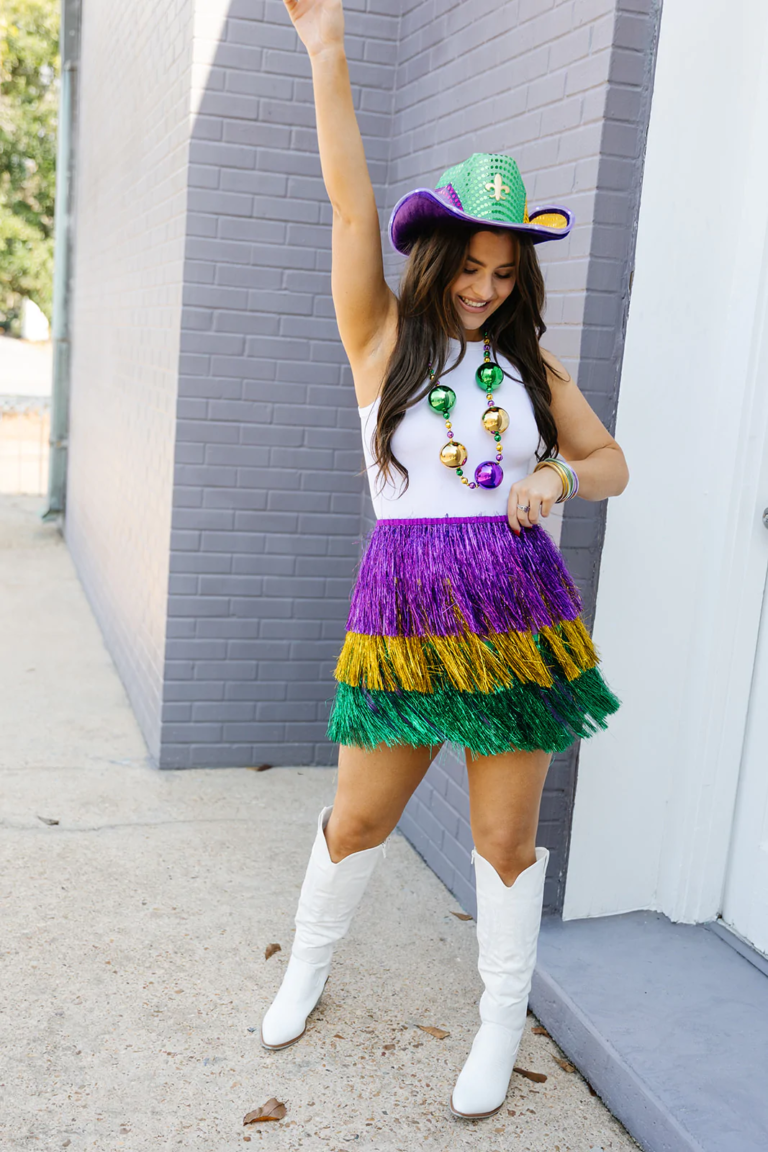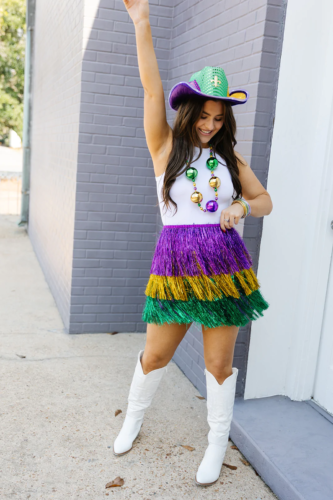 If you want to go bold, this is the Mardi Gras look for you! Cowboy boots, fringe, a colorful hat — what's not to love?
Metallic Skort & Sweatshirt Outfit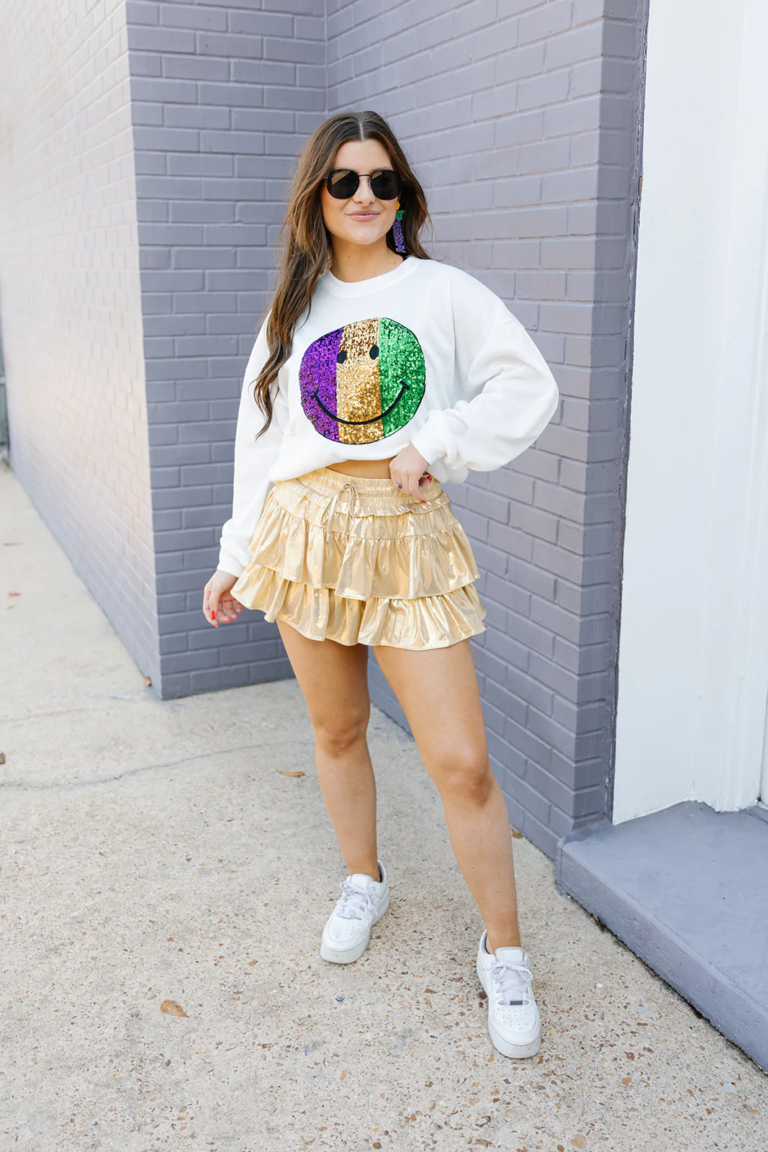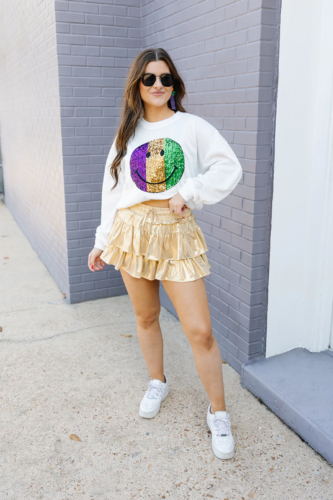 Here's another bold Mardi Gras look that's so much fun. This metallic skirt is actually a skort, so you can run around and party to your heart's content, without worrying about wardrobe malfunctions.
Satin Top & Sequin Jacket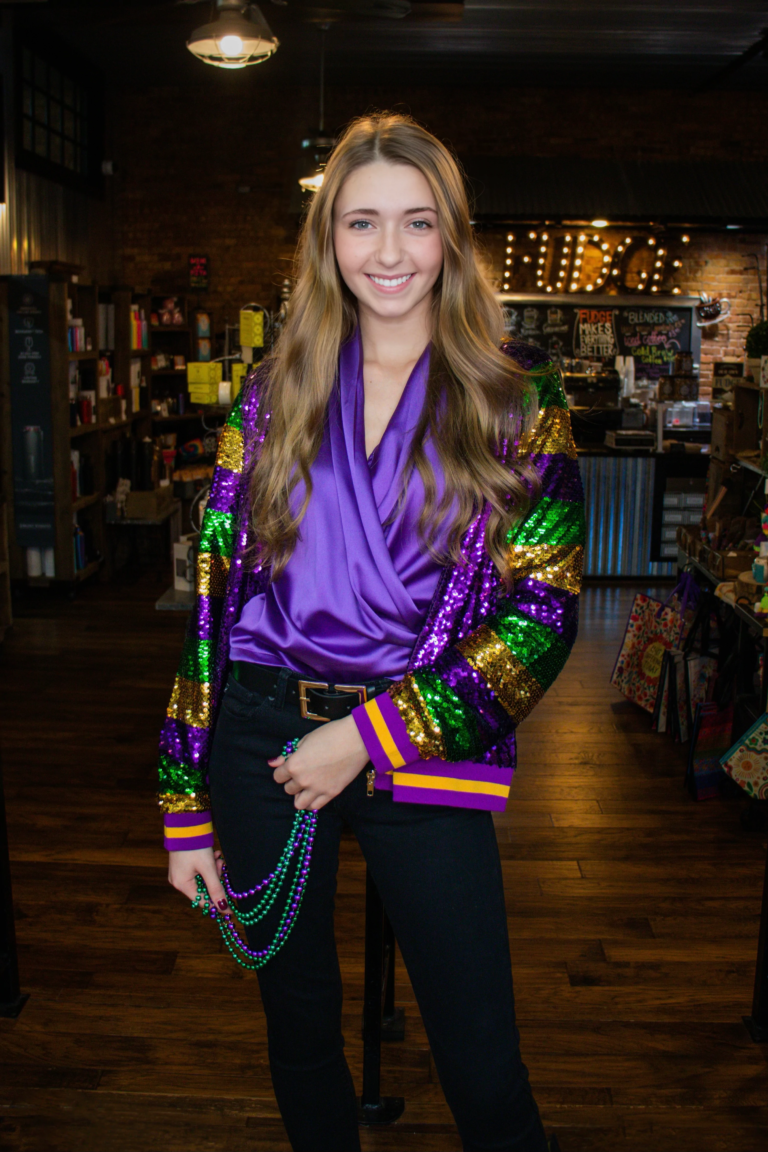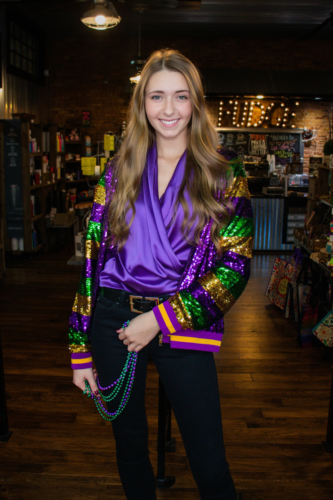 Satin and sequins, yes, please! This sequin jacket is the star of the show but honestly the look would be just as cute with just the purple sequin top and some beads.
Plus Size Mardi Gras Outfits
Two-Piece Set Outfit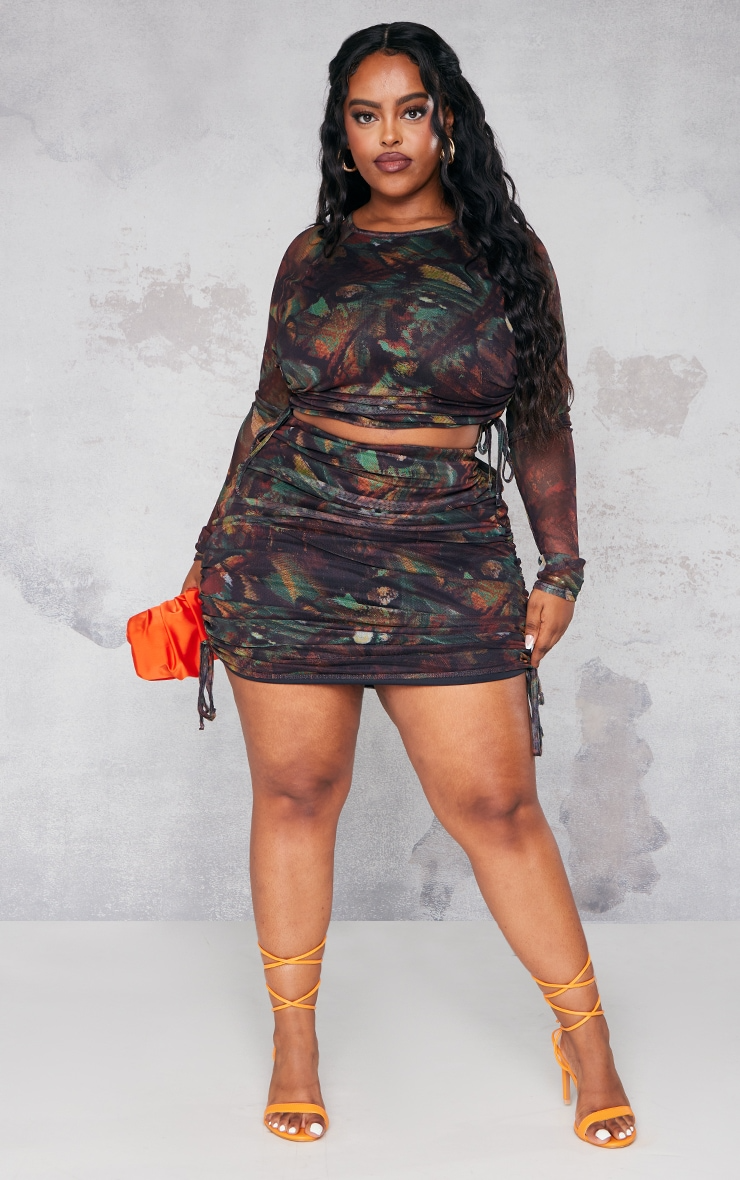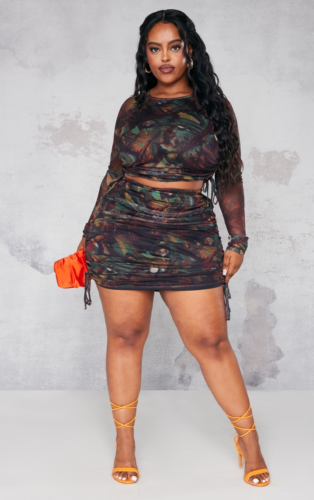 This long sleeve top and mini skirt combo is one of those perfect, versatile sets you need in your closet. It's subtly Mardi Gras colored, so it works for the holiday, but you can also re-wear it any time of year. Perfection!
Green Sequin Mini Dress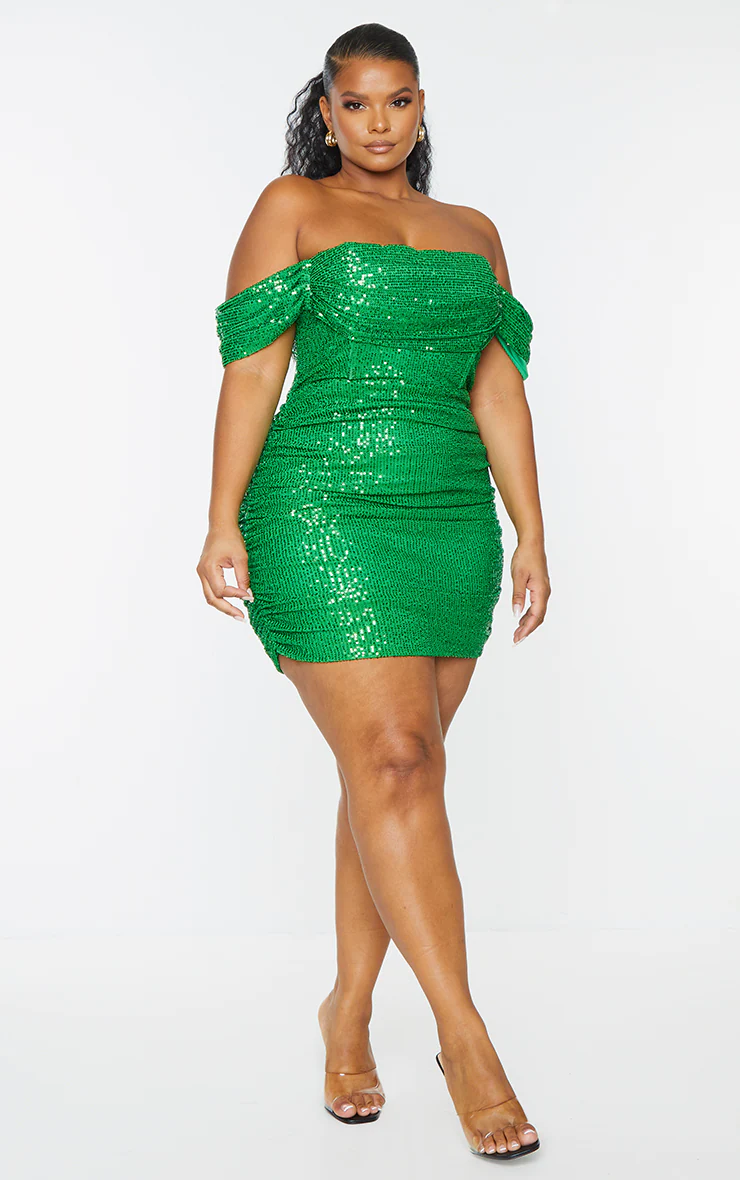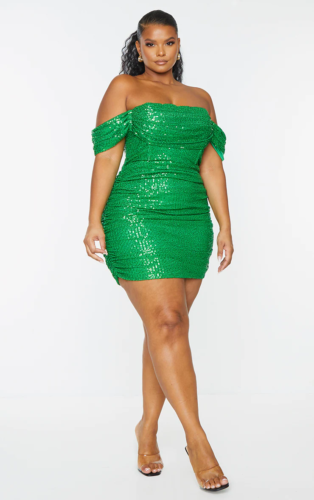 Prepare to turn heads in this one! A bold green sequined dress like this will give all the Disney Princess vibes on Mardi Gras and is sure to stun wherever you go.
Purple & Green Holographic Sequin Dress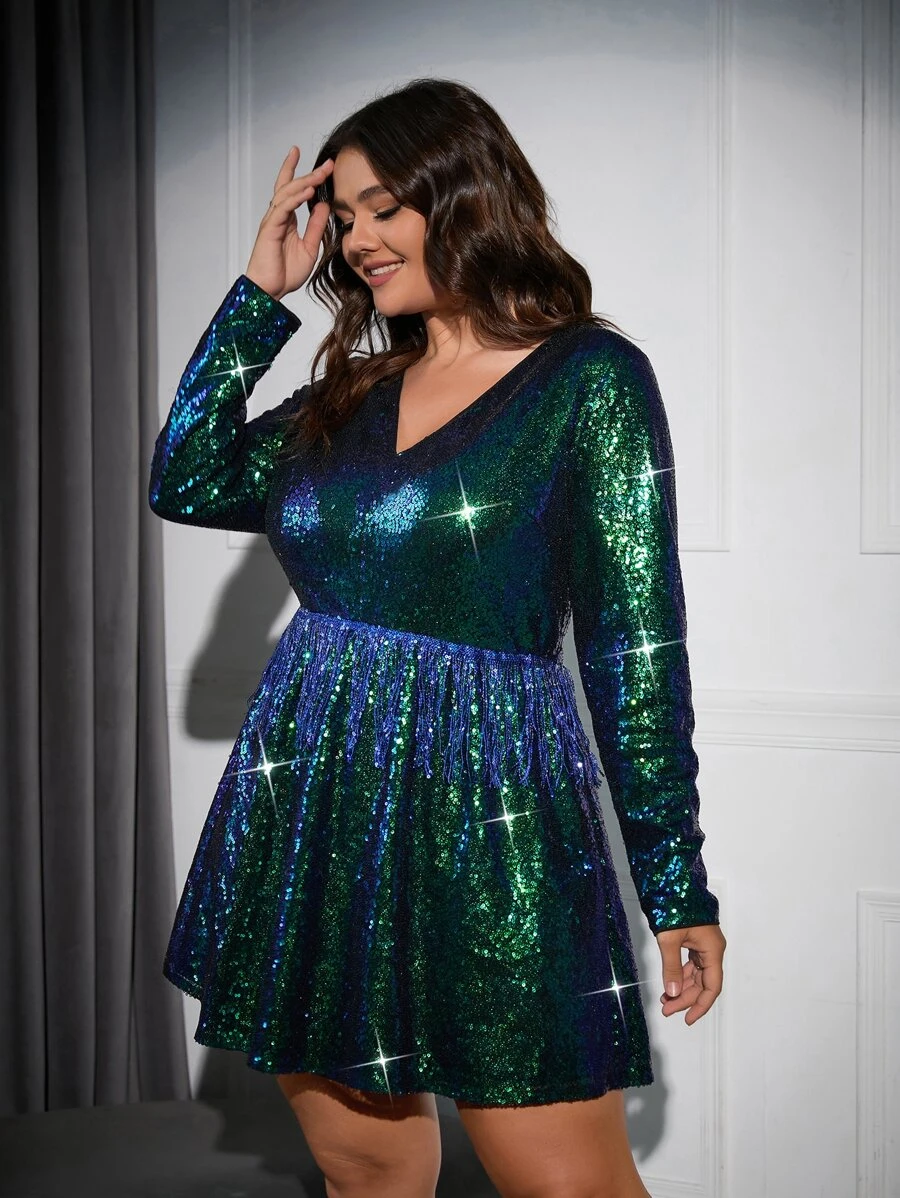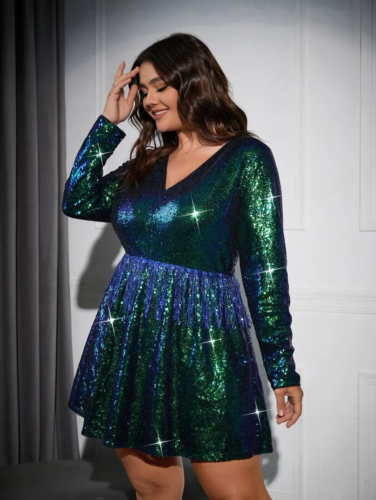 Can't choose between green or purple sequins? Good news, you don't have to! This dress incorporates both and even changes color depending on how the light hits it.
Casual Plus Size Mardi Gras Stripe Sweater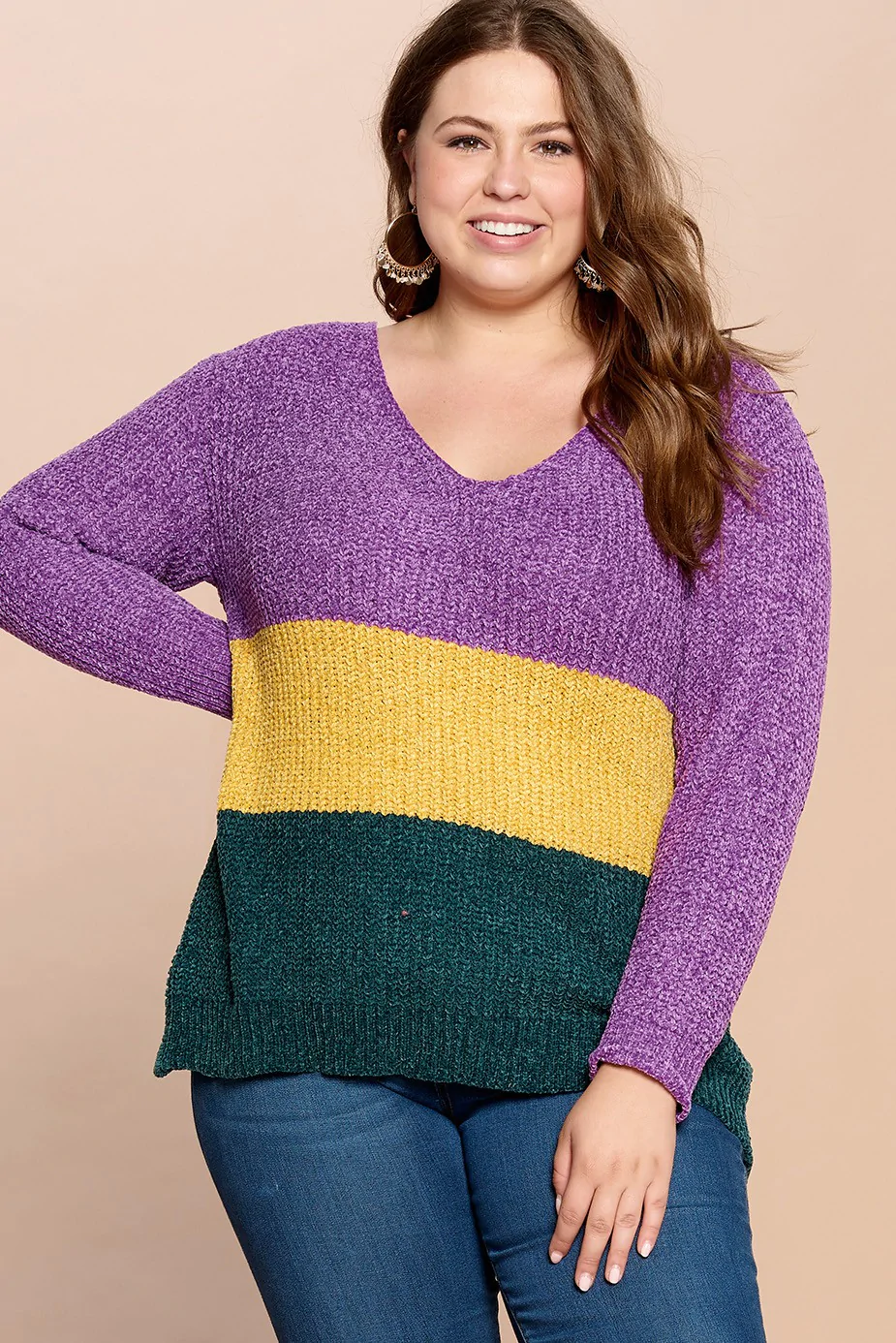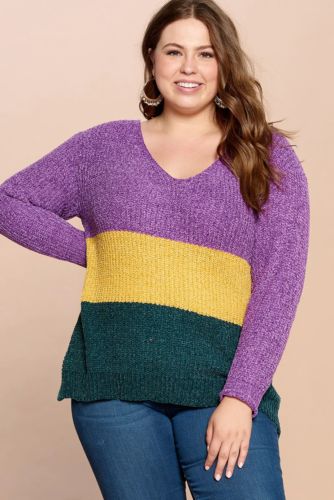 There's no more effortless Mardi Gras look than this simple striped sweater paired with jeans. Add sneakers, and you're ready for a casual Fat Tuesday get-together.
Mardi Gras Stripe Sweater & Ripped Jeans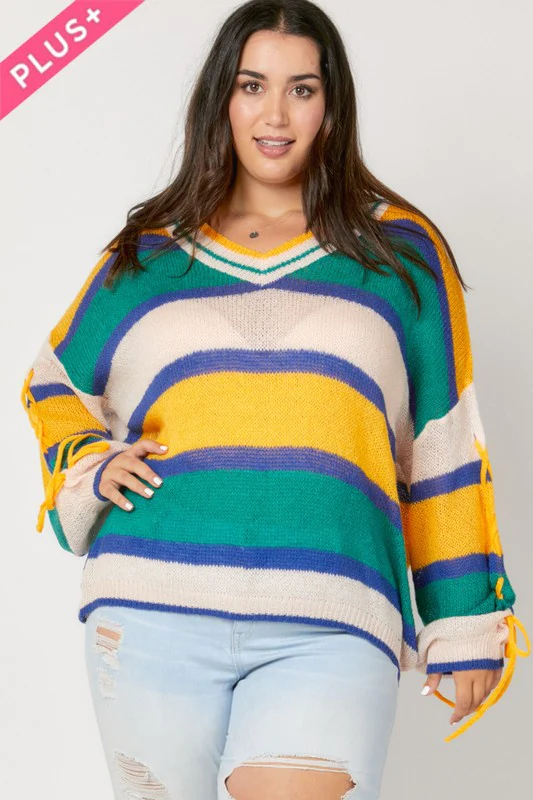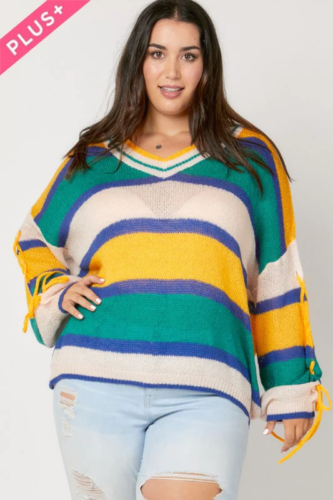 Much like the last look, this outfit is a sweater and jeans — proof that you don't have to dress up to be on theme. I love the side tie detailing on this pretty knit!
Green Metallic Midi Dress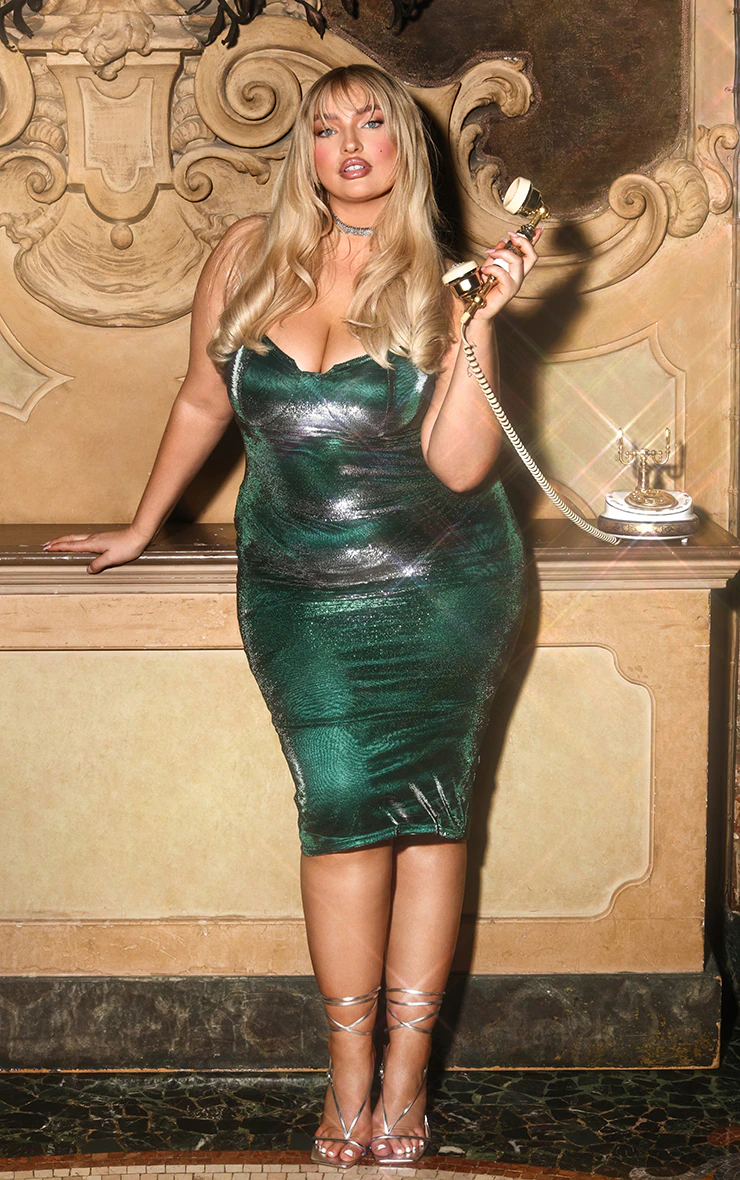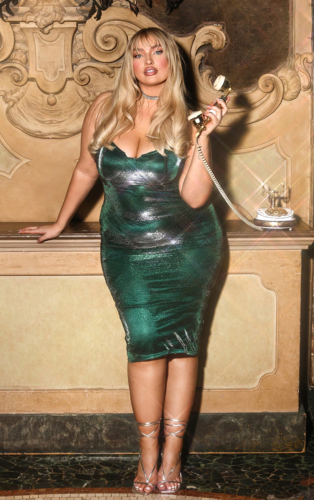 Hello, mermaid vibes! This metallic midi dress reads green and purple depending on the angle, making it perfect for a dressy Mardi Gras party.
Cool Girl Mardi Gras Outfit with Fur Coat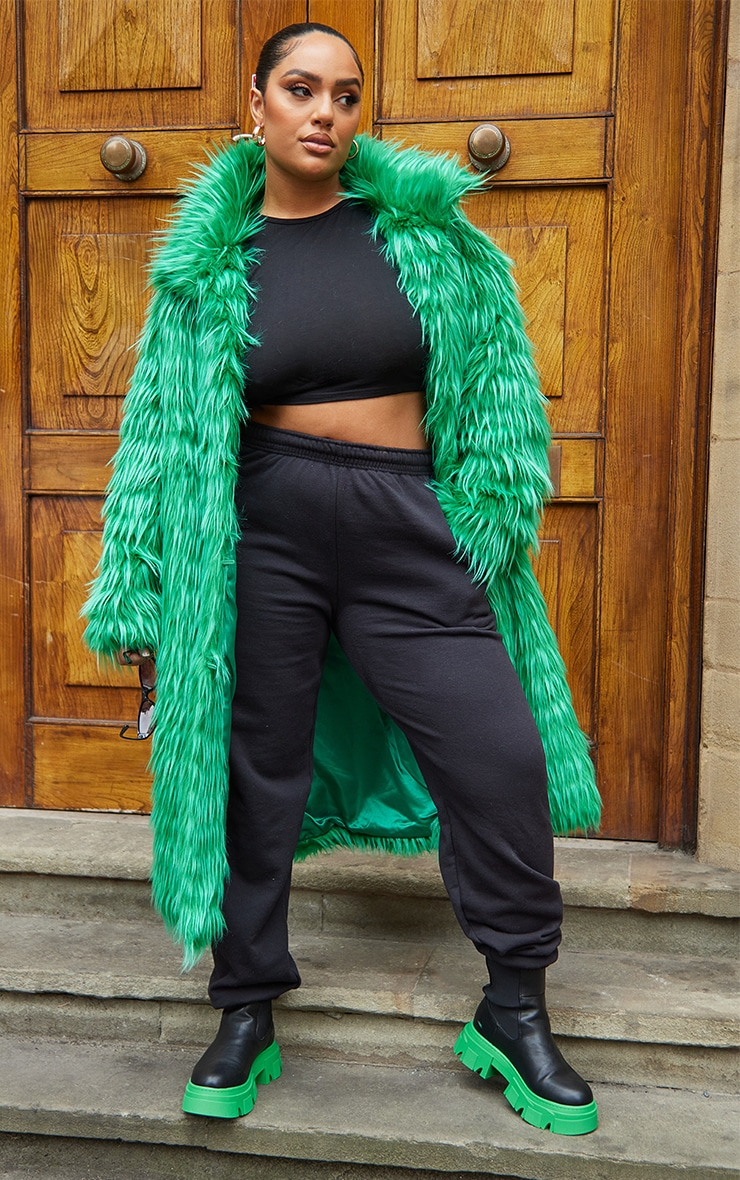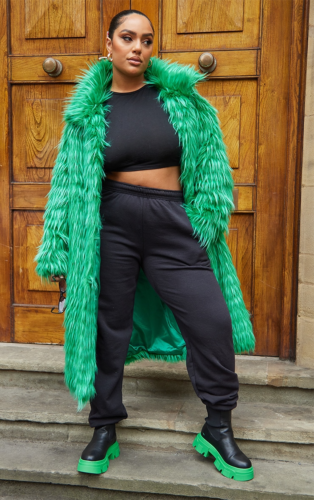 This might be my favorite outfit of all! It's so cool and unexpected, yet it still incorporates some Mardi Gras hallmarks, namely faux fur, and bright green. The best part is, you get to wear sweats and still look glam!
Purple Satin Mini Dress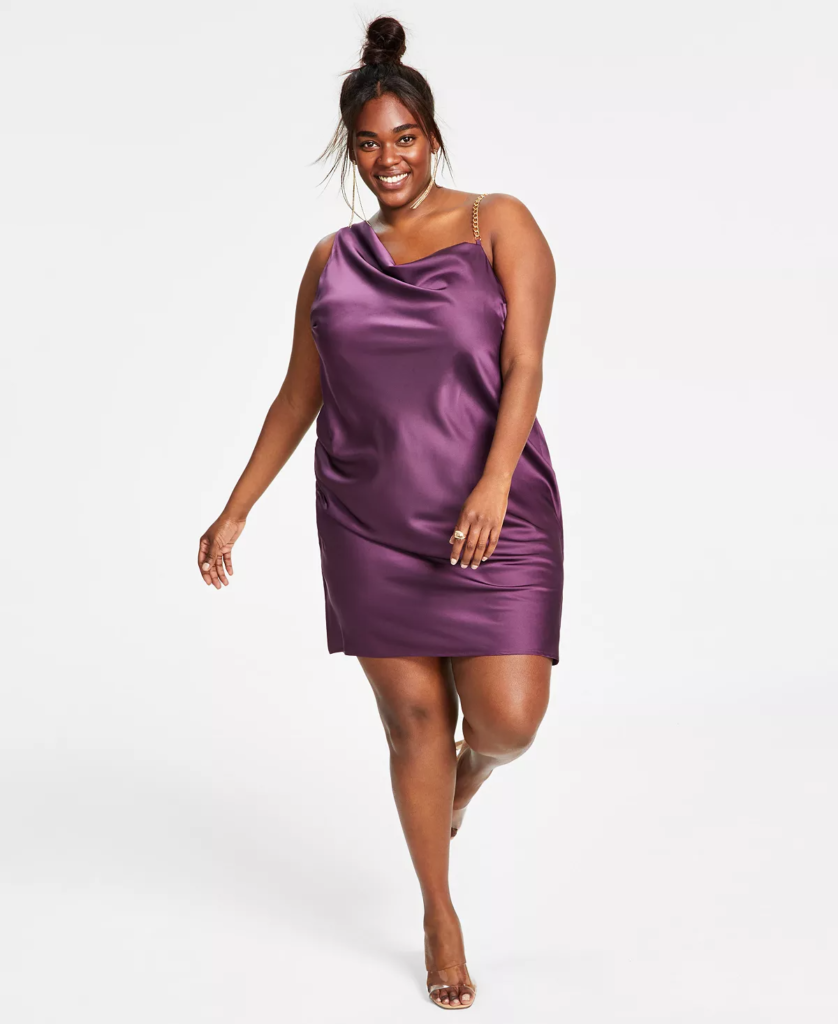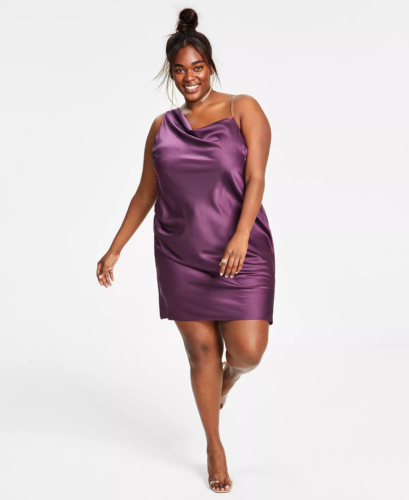 Want a Mardi Gras dress you can wear again and again? This is your winner! Rock this for the holiday and wear it again to weddings or birthday parties.
Sexy Mardi Gras Outfits
Butterfly Crop Top & Metallic Pants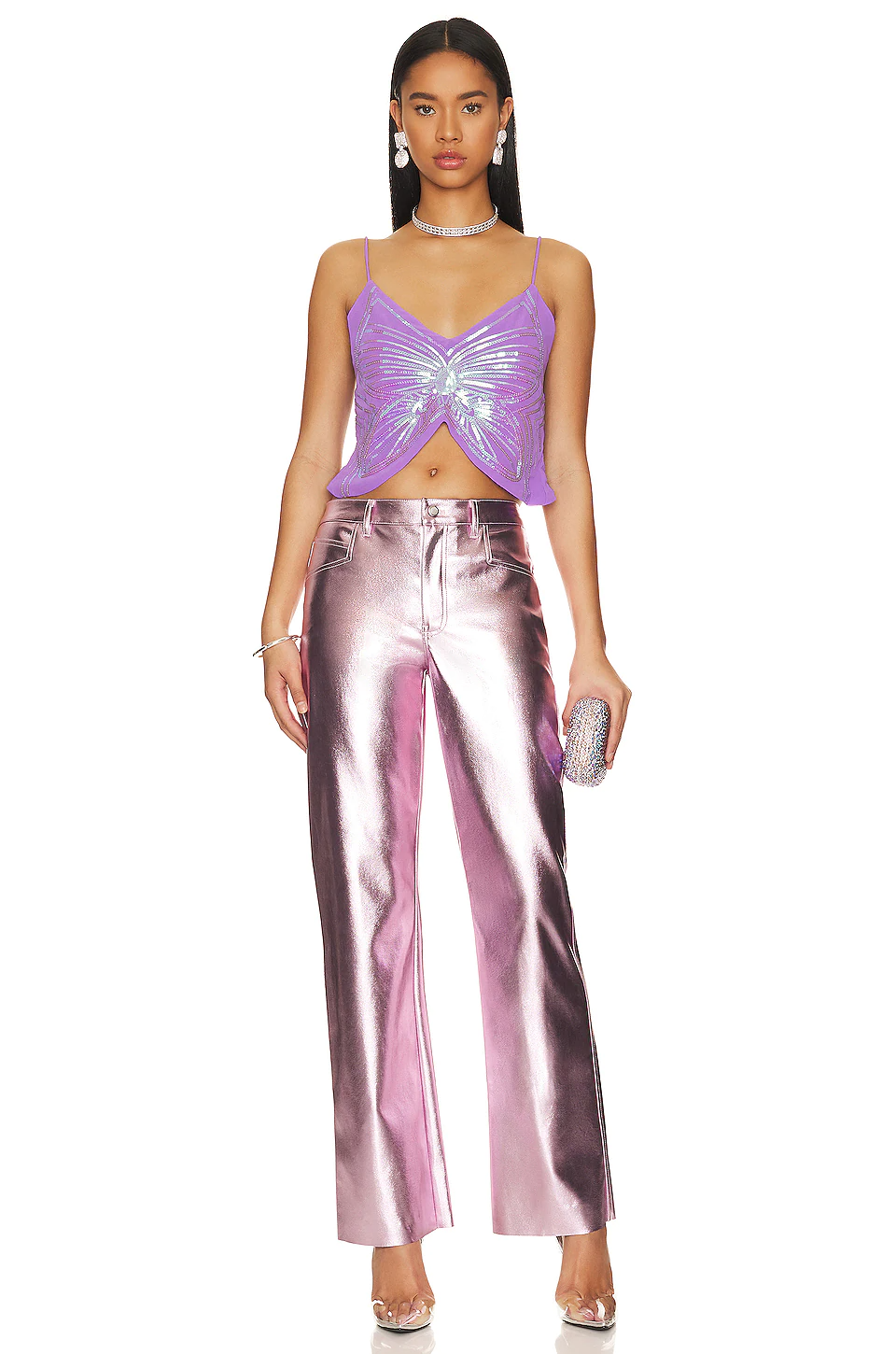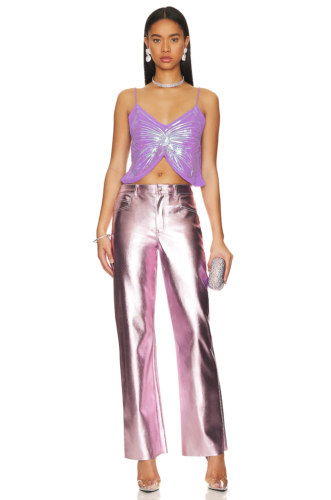 I'm obsessed with this sexy, Y2K style take on Mardi Gras dressing. The sequin butterfly top is fantastic on its own, but it becomes truly otherworldly when paired with cool pink metallic pants!
Sequin Mardi Gras Tube Top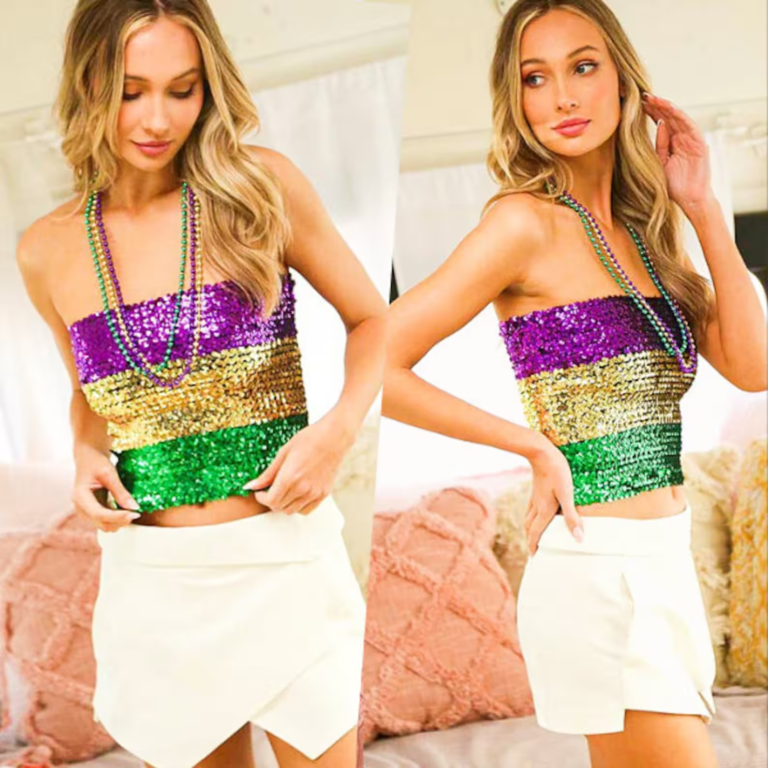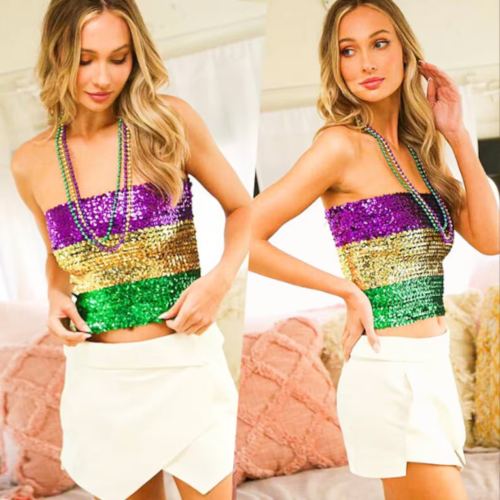 If you just want to buy a single Mardi Gras piece and call it a day, invest in this sequin tube top. It's got all the colors and sparkles you need. Just pair it with a simple bottom, like a white skort, and you're set.
Mardi Gras Sequin Jumpsuit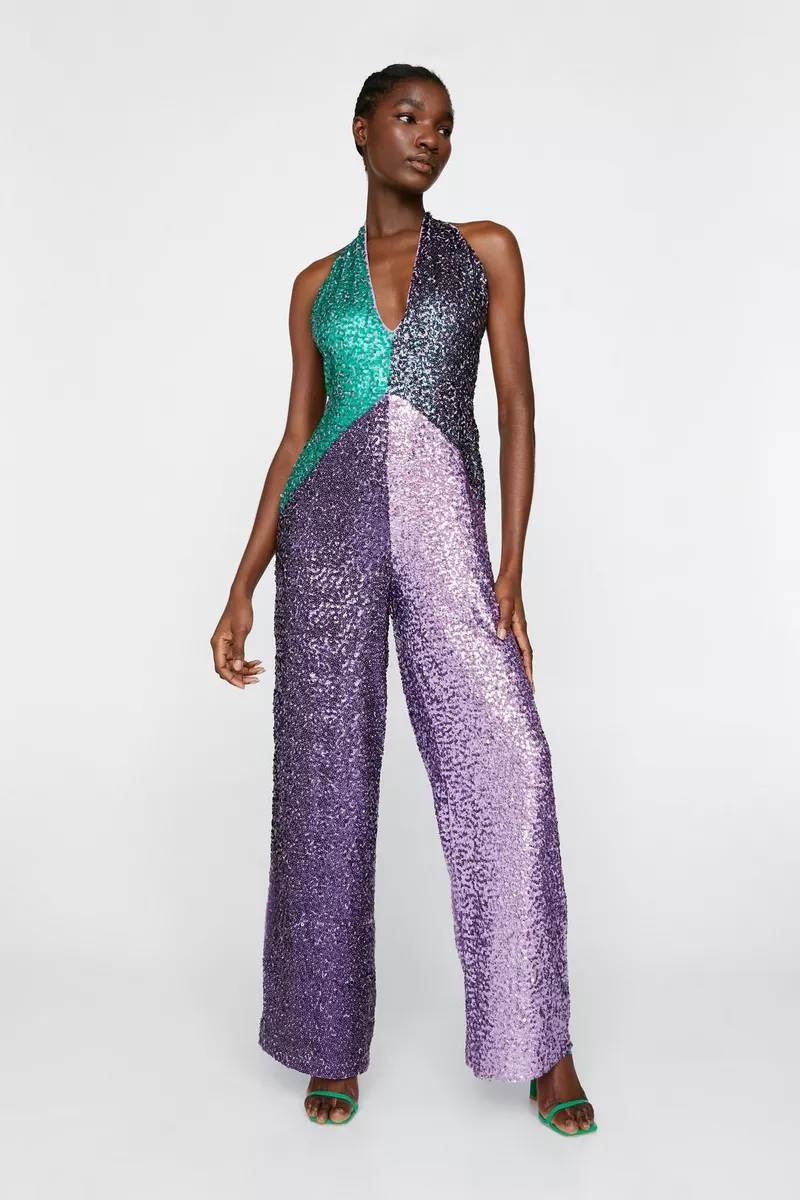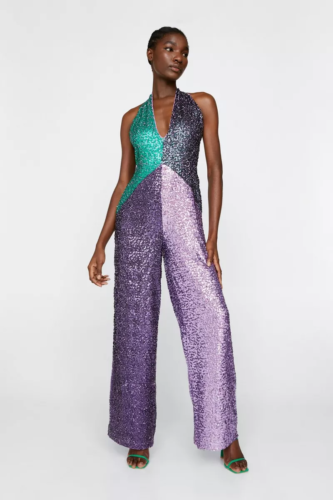 Hello, disco vibes! You'll feel like the queen of Mardi Gras in this stunning jumpsuit, featuring three shimmery shades of purple and green.
Long-Sleeve Sequin Wrap Mini Dress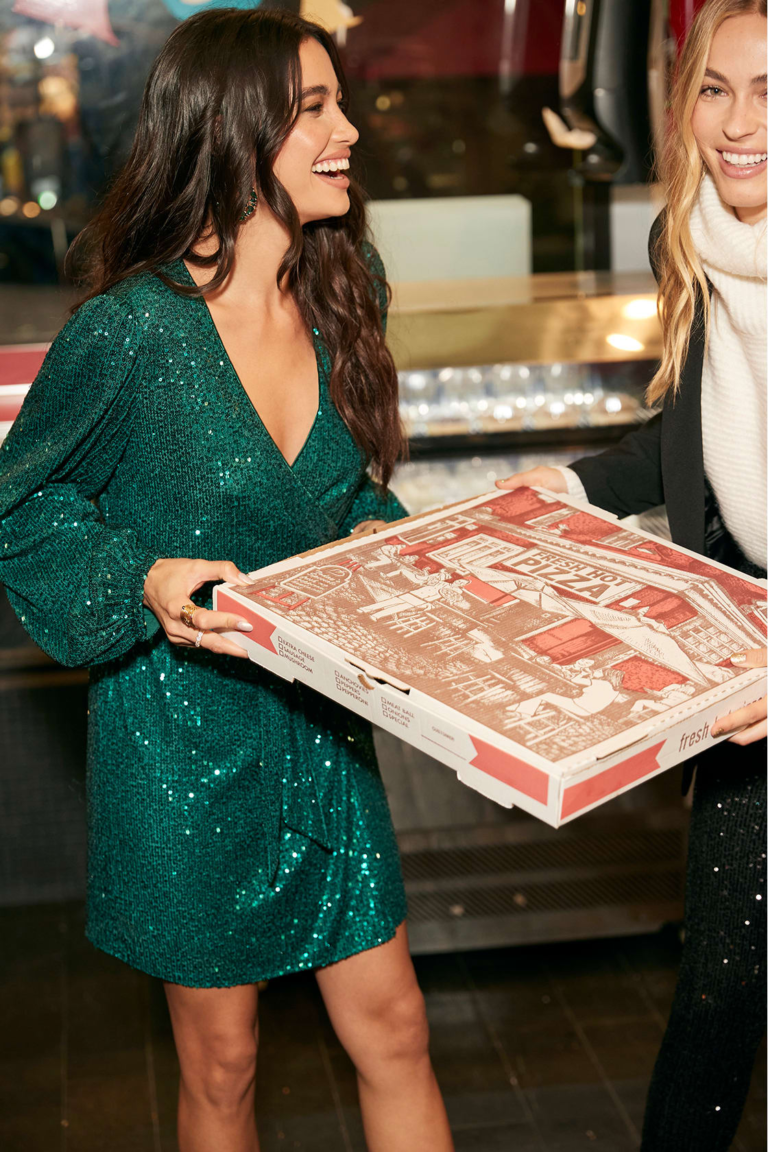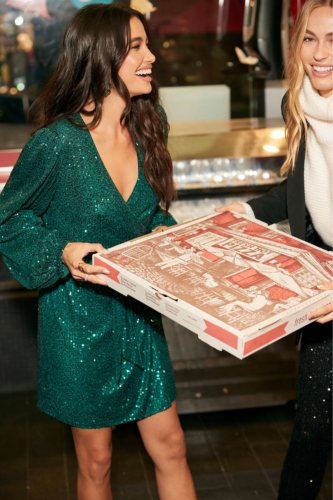 This green sequin wrap dress from Lulus is a total classic and something you'll wear again and again long after Mardi Gras. Invest now and thank yourself later.
Purple Sequin Corset Jumpsuit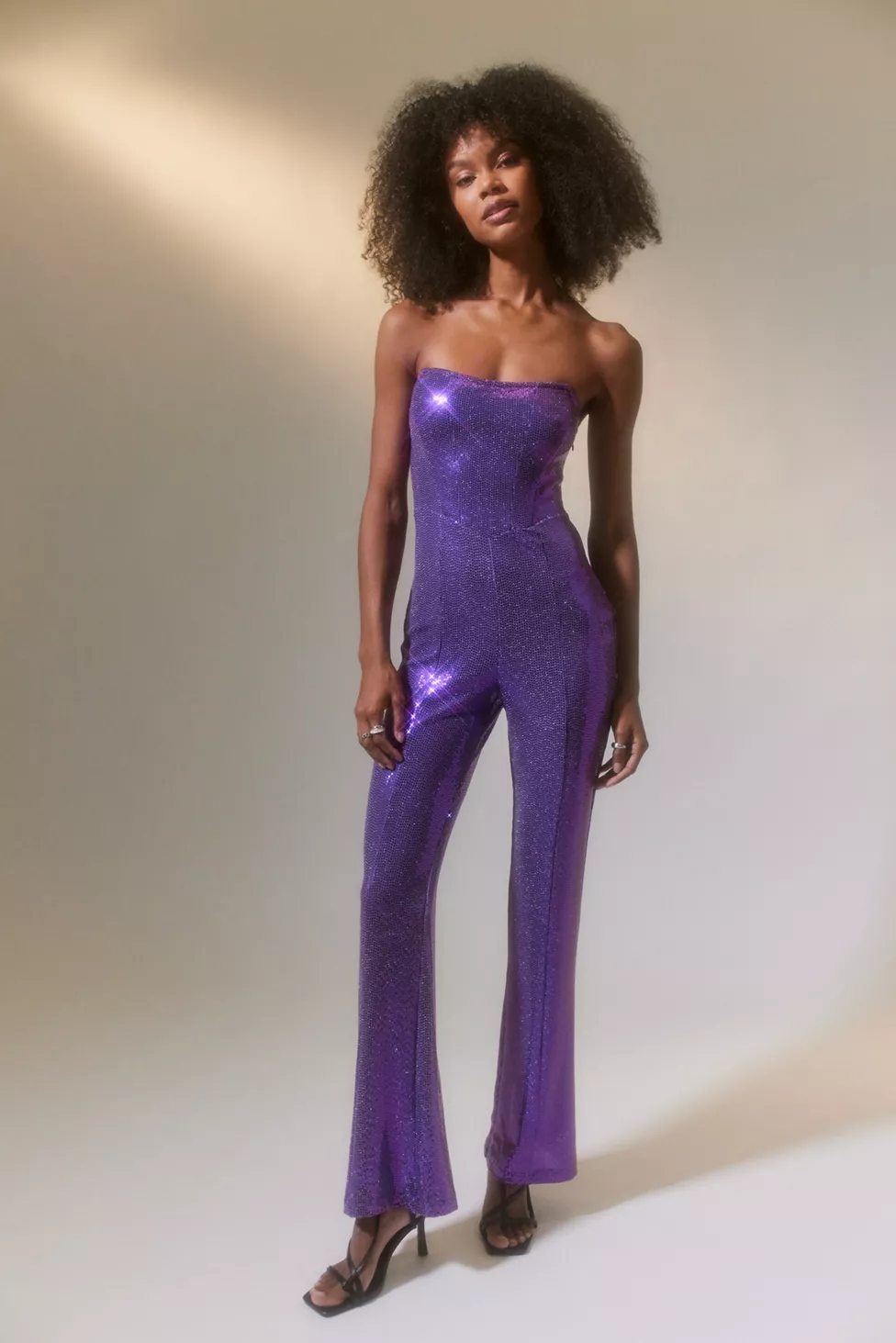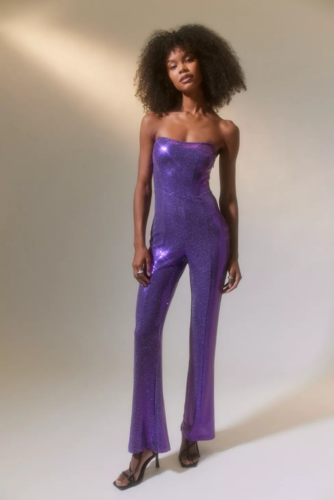 Here's another Disco queen jumpsuit option. (I couldn't choose just one!) I love this UO jumpsuit because it's got a flattering corset detail that snatches you in all the right places.
Green Sequin Fringe Deep-V Mini Dress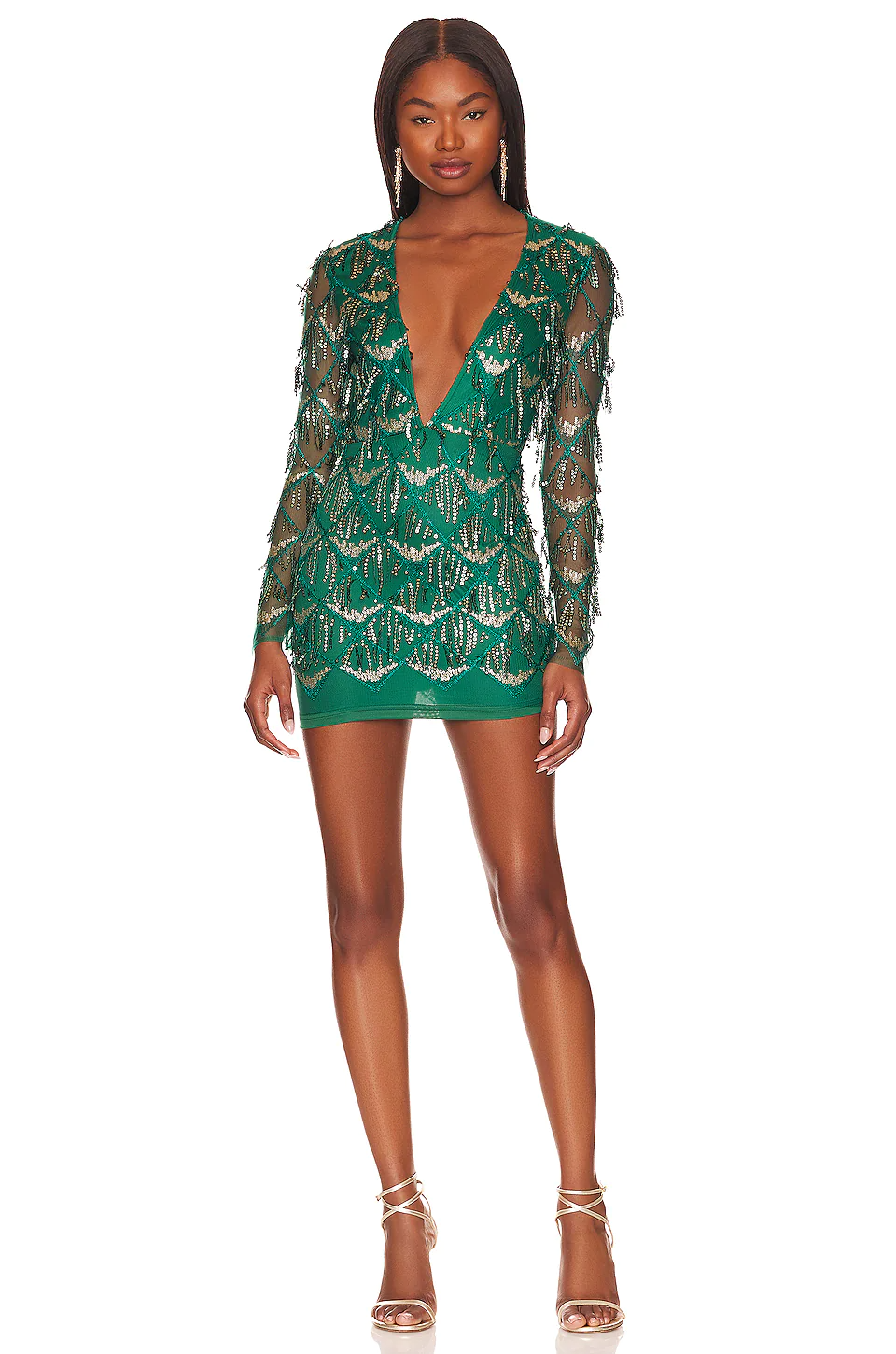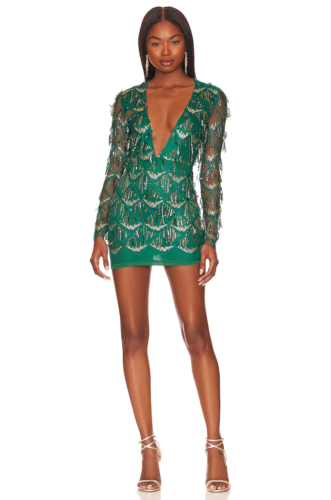 It does not get more glam than this stunning dress! Featuring a low v-neck, gold fringe, and a beautiful forest green color, it's everything you could want in a Mardi Gras dress.
Green Sequin Cutout Mini Dress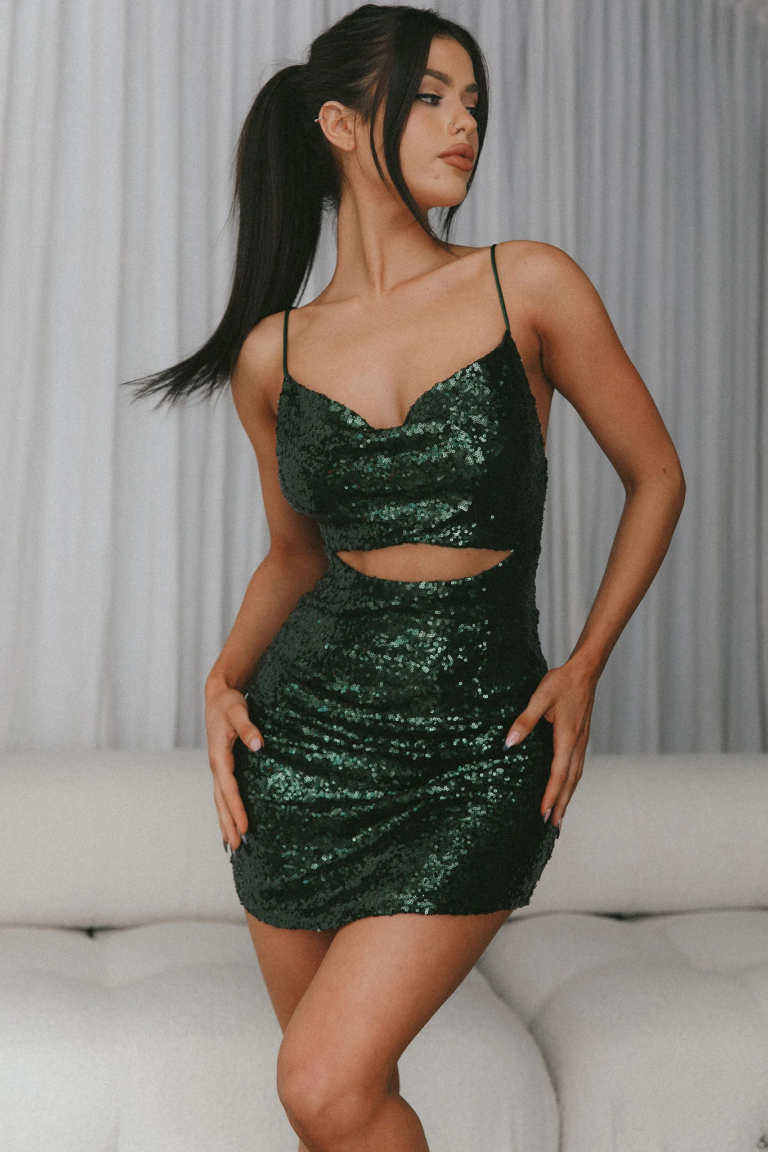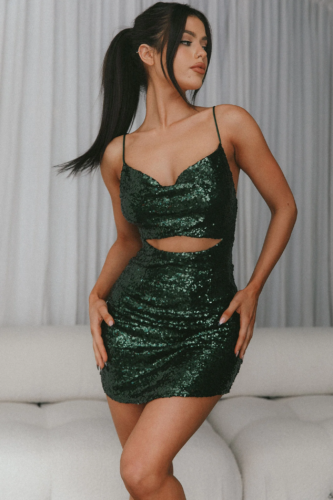 Finally, you cannot go wrong with a simple sequin mini dress for a sexy Mardi Gras look. I love that this one has a cutout for a subtle hint of skin.
Mardi Gras Costume Ideas for Women
Some people love to wear costumes on Mardi Gras. If that's the route you're going for, here are some super cute Mardi Gras costume ideas to wear this year.
Mardi Gras Flapper Costume
Mardi Gras Tutu
Mardi Gras Metallic Purple Leggings
Mardi Gras Sequin Fringe Skirt
Mardi Gras Costume Accessories
Multicolored Mardi Gras Wig
Long Purple Wavy Wig
Mardi Gras Crown
Mardi Gras Shawl and Mask Costume Set
Mardi Gras Boas
Mardi Gras Costume Masks
Classic Metallic Masquerade Mask
Mardi Gras Multicolored Mask
Mardi Gras Feather and Rhinestone Mask
Mardi Gras Costume Tips
If you want to wear a costume on Mardi Gras, here are a few quick tips to get it right:
Accessorize like crazy! You physically cannot wear too many accessories on Mardi Gras. More is more, so go for it with whatever extras you like.
Have fun with your shoes but keep them comfortable. As we'll mention again and again in this post, you need comfy shoes when you're partying all day! Wear something cute, like a metallic boot or colorful sneaker, but save your highest stilettos for another day.
Keep the mardi gras colors in mind. Green, purple, and gold are your go-tos. Incorporate them as much as possible into your look.
Try wigs and/or masks to switch up your look. Both are super popular on Mardi Gras and are so much fun to experiment with!
Don't wear anything super expensive that can't get ruined. Because beer spills are going to happen.
Have FUN! Never, ever take a Mardi Gras look too seriously. It's a Carnival celebration — let loose and enjoy!
What Shoes Should I Wear for Mardi Gras?
If you are attending Mardi Gras in New Orleans, do NOT mess around with uncomfortable shoes! You will be walking all day and cabs will be impossible to find, so you will be miserable if your shoes aren't comfy.
Also, do NOT wear open-toed shoes or sandals to Mardi Gras in New Orleans or, honestly, any rowdy Mardi Gas party. The same rule we use for frat party shoes applies — your shoes will get beer spilled on them, and you may be stepped on. Protect your feet with something closed-toed.
Personally, my go-to for big parades and parties like this is a solid, beat-up pair of Converse. If you want something dressier, you can't go wrong with a closed-toe pair of ankle boots.
What do you think of these Mardi Gras outfits for ladies?
Do you attend any Mardi Gras parties? Have you ever been to New Orleans for Mardi Gras? Any tips for your fellow fashion girls on what to wear? Tell us everything in the comments.