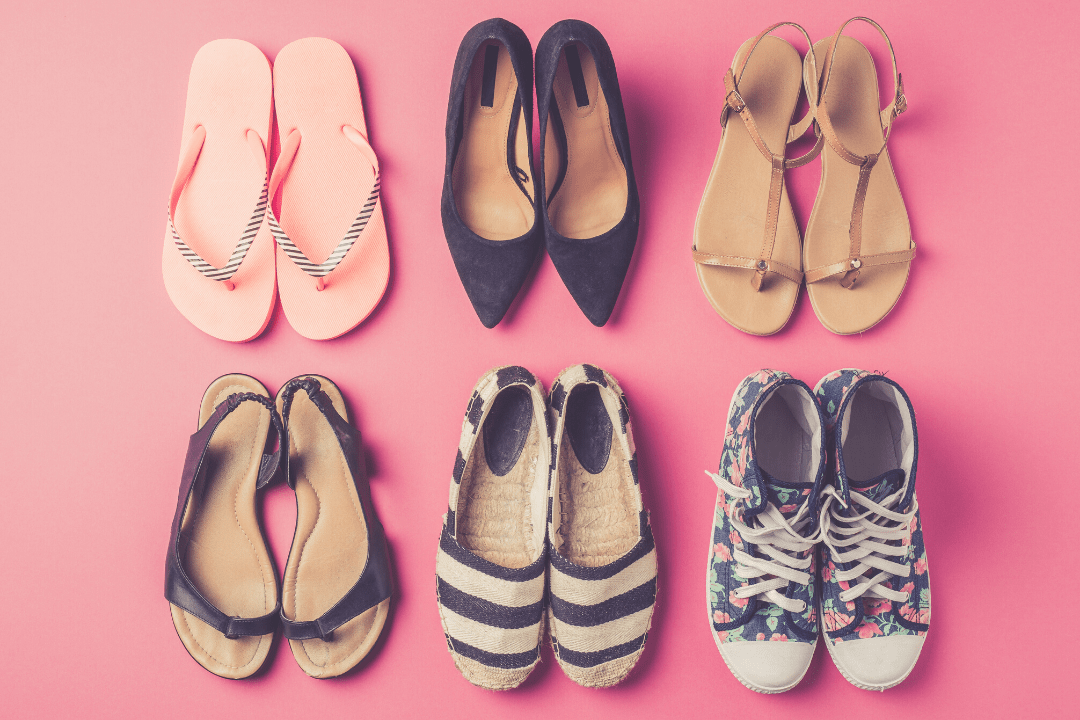 Today I'm compiling the ultimate guide to shoes for college — and you'll be surprised at how few shoes you actually need.
In full disclosure, when that fourth week of school hits, I'm usually wearing sneakers to class, parties, and everything in between. But some occasions require specific shoes for comfort and etiquette. Also, we never say no to a little "But mom I need it for college" shopping.
Wondering what to bring to college? Check out our complete guide to everything — and we mean EVERYTHING — you need to bring to college.
I have to say, I love shoes. Even coming up with JUST five pairs for this list seemed insane! But after thinking hard about what I – and you – truly need, I finally narrowed it down.
It's tempting to blow money on all sorts of shoes, but if you have these few pairs, you shouldn't need more. So without further ado, here are the five pairs of shoes every college girl needs in her closet:
Class/Everyday Shoes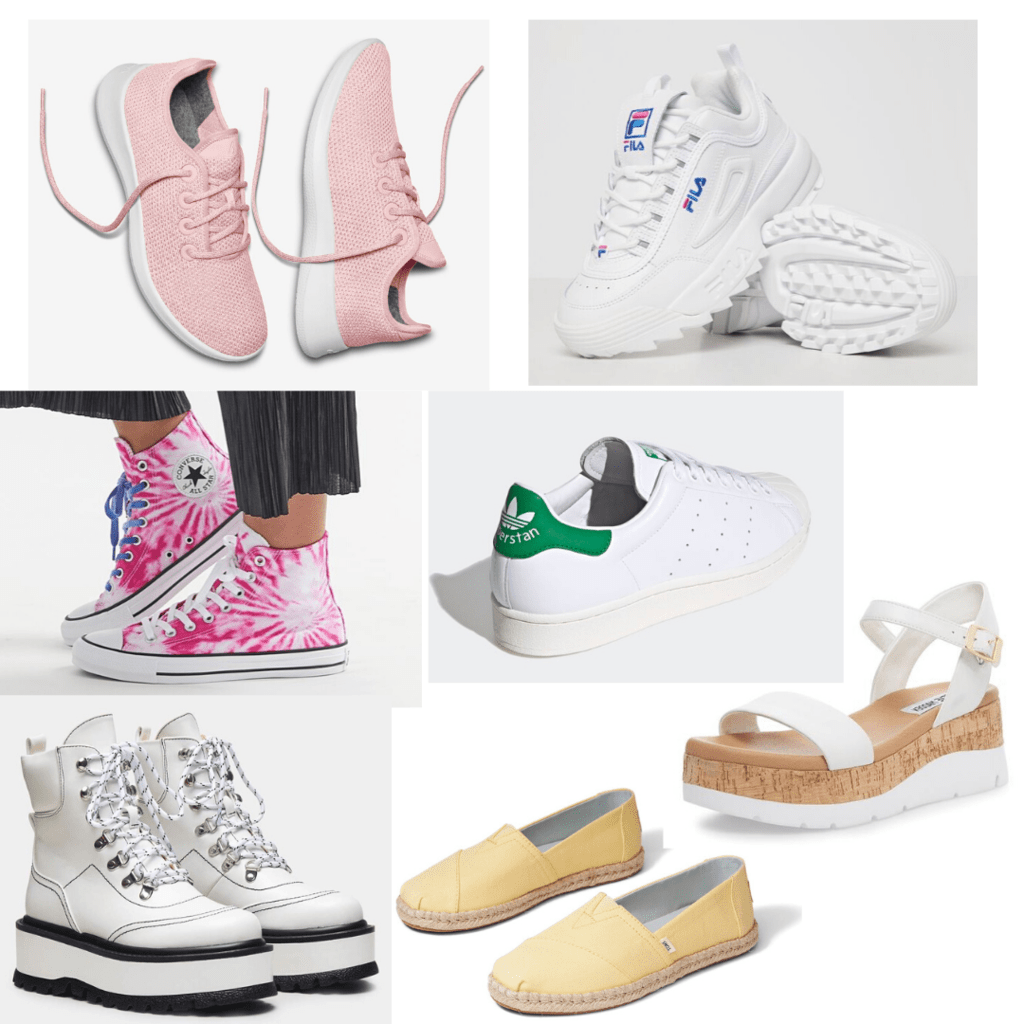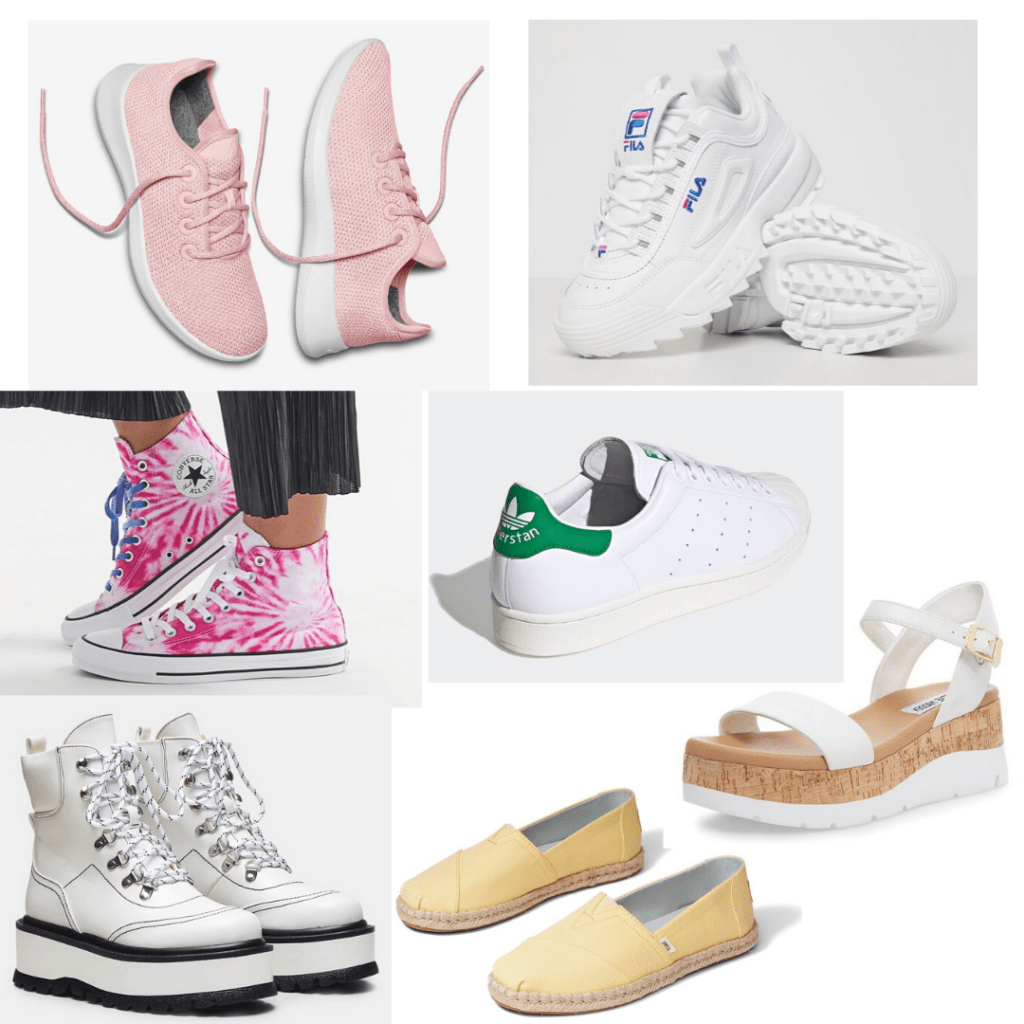 Products: Pink runners – Allbirds, Disruptors – Fila, Converse – Urban Outfitters, White sneakers – Adidas, Combat boots – Asos, Espadrilles – TOMS, Sandals – Steve Madden
Choosing casual shoes to wear to class every day is hard, so here are three requirements to keep in mind when shopping for your everyday shoes:
Comfort: When you're walking to and from class, your main concern should be your ability to do so in comfort and without incurring an injury.
Versatility: Choose a shoe that goes with most of your clothes. While it may seem obvious to choose a neutral color, if tie dye shoes go with your style, then why not go for it?
Weather: Your shoes should be adaptable to the primary weather concern of where you live. Obviously, if your area has polar opposite weather, this may mean adapting this rule to fit.
For example, I wear combat boots most of the year, because they are (1) extremely comfortable and not tight, (2) go with my neutral and pastel colored wardrobe, and (3) are perfect for the rainy and sunny weather of the Bay Area.
And you can't go wrong with casual sneakers — they're the shoe to go-to when you don't know what other shoes to wear. 99% of the time, they will match with whatever you have on at the moment. (For tips on how to keep them fresh all year, see: The Ultimate Guide on How to Clean Your White Shoes.)
If you're looking for sustainable option that helps the planet, Allbirds and TOMS are some of the coolest brands to check out. Also, Leonardo DiCaprio, my personal favorite tree hugger, is an investor in Allbirds, pretty much the comfiest shoes on the planet, what more could you want from your daily class shoes?
Day Out Shoes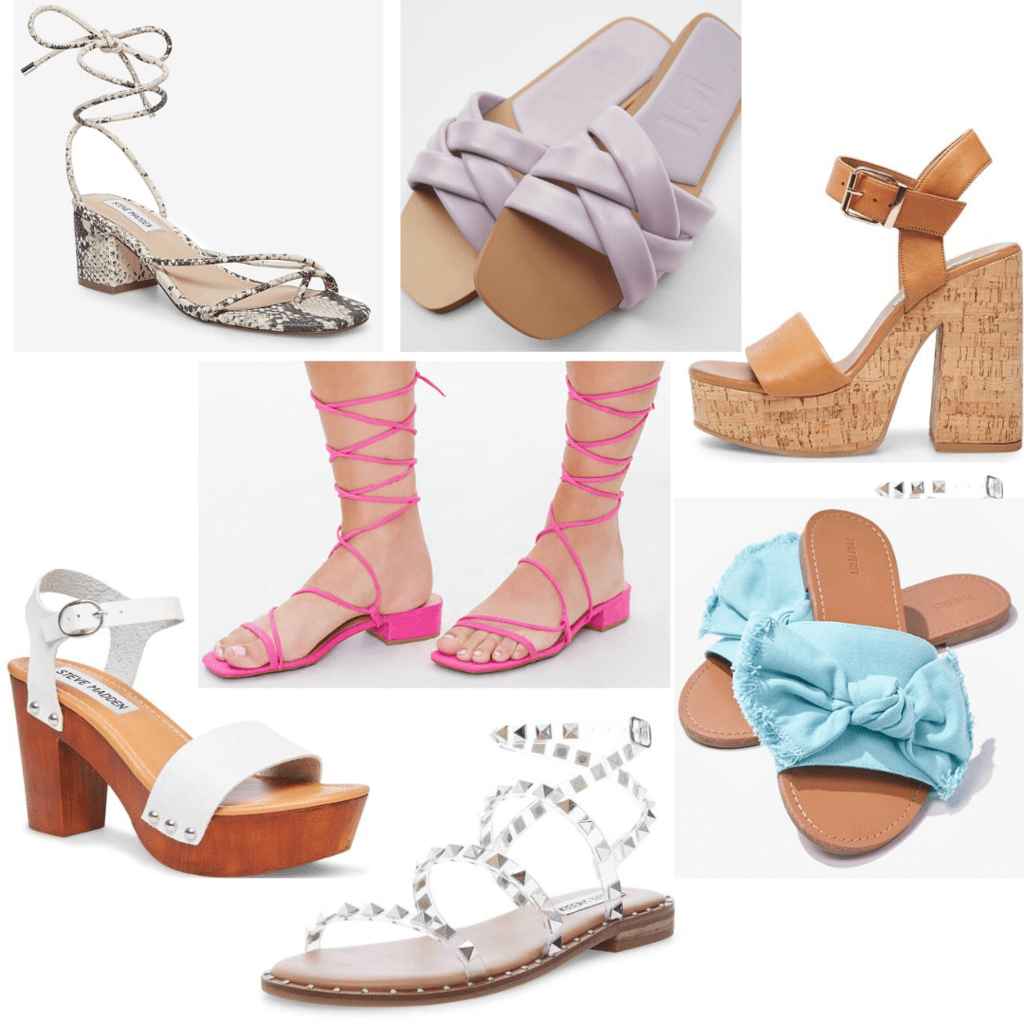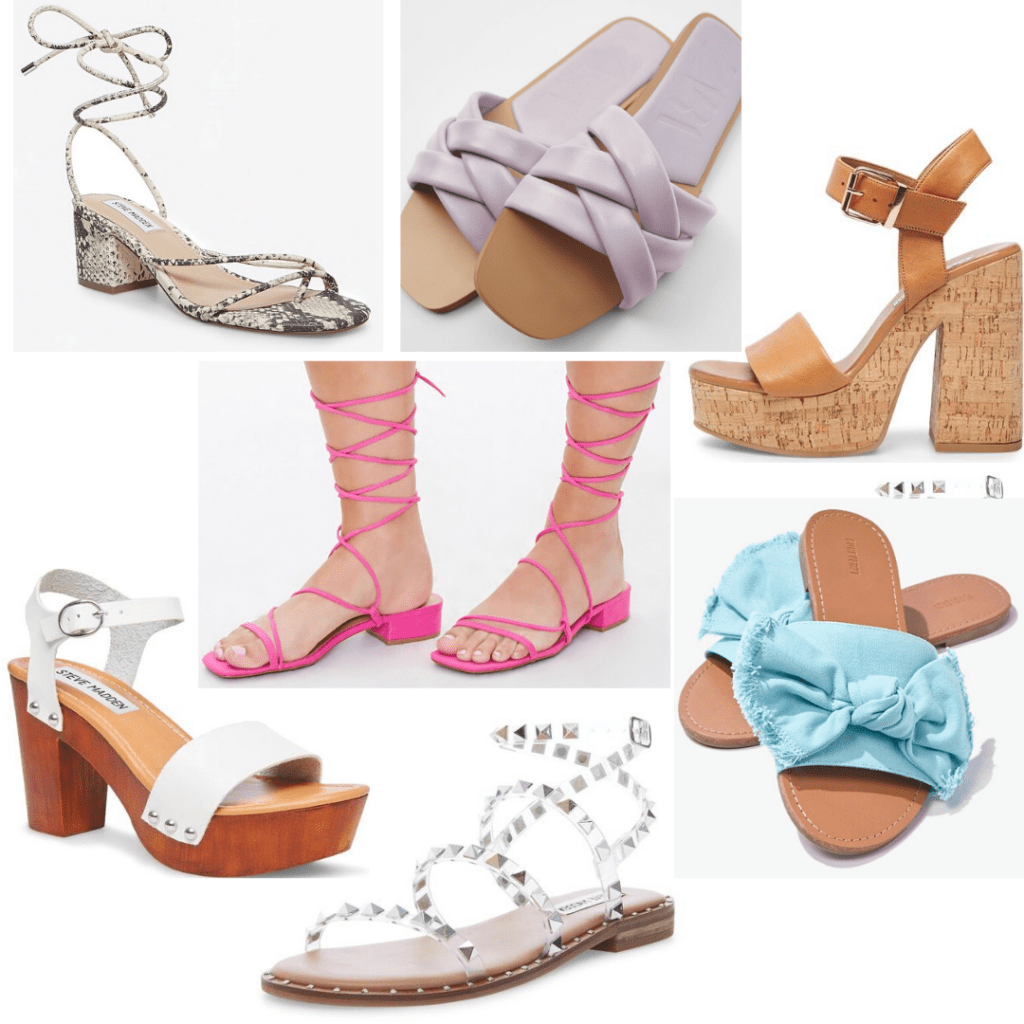 Products: Snake print sandals – Express, Lilac sandals – Zara, Cork platform heels – Steve Madden, Pink block heels – Forever 21, Blue sandals – Forever 21, White sandals – Steve Madden, Stud sandals – Steve Madden
From going to brunch with your friends, to shopping for your next formal, or hanging out with your friends, you'll need a nice pair of shoes that you can wear for daytime events.
Think lightweight materials, straps and comfort. From cutesy to edgy, there is a sandal for every college woman.
While I always prioritize comfort, there is nothing wrong with some height. Wearing heels during the day can actually be painless, just remember one word: wedges.
A wedge is perfect for the warmer months and gives you all the fashion points without all of the wobbling of a stiletto. These are great for the days when you know you'll be walking a lot. Wedges work with everything from flirty skirts during the day to sexy dresses at night!
Professional/Work Shoes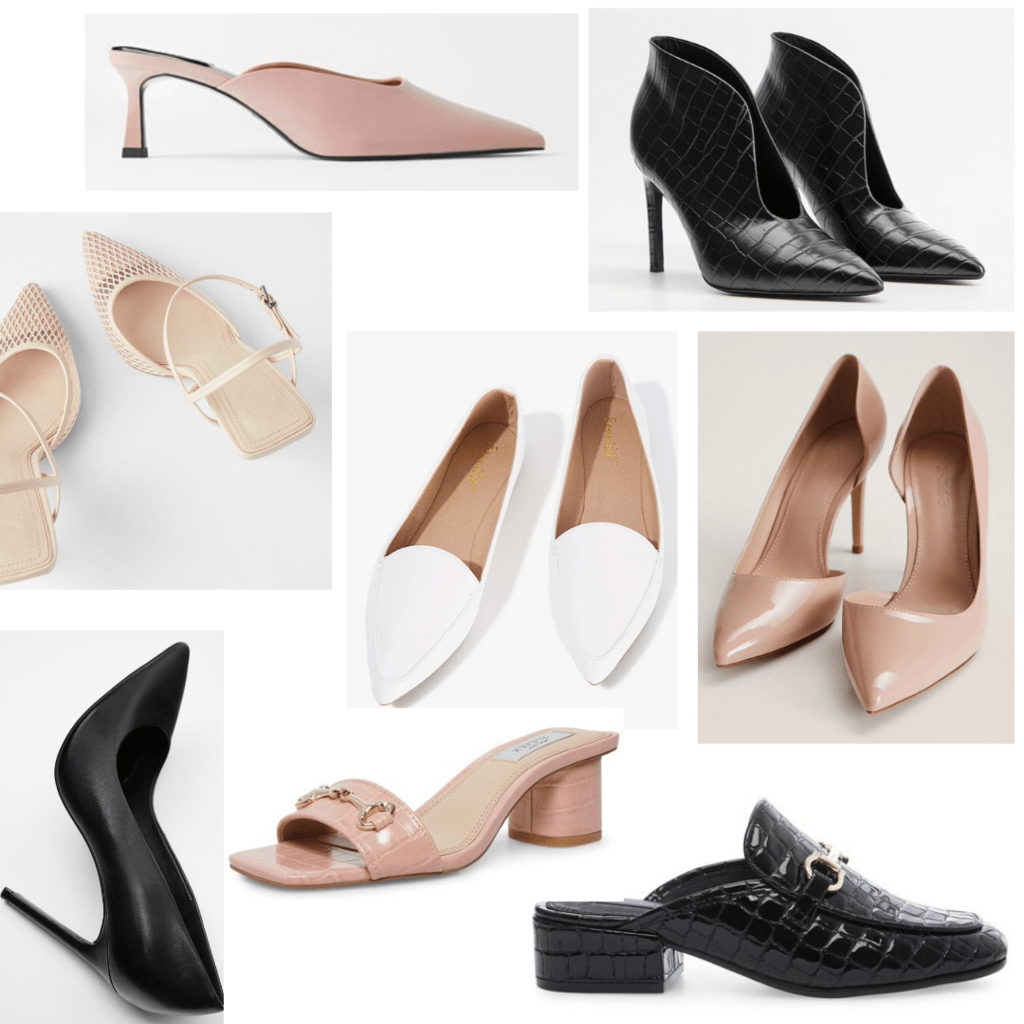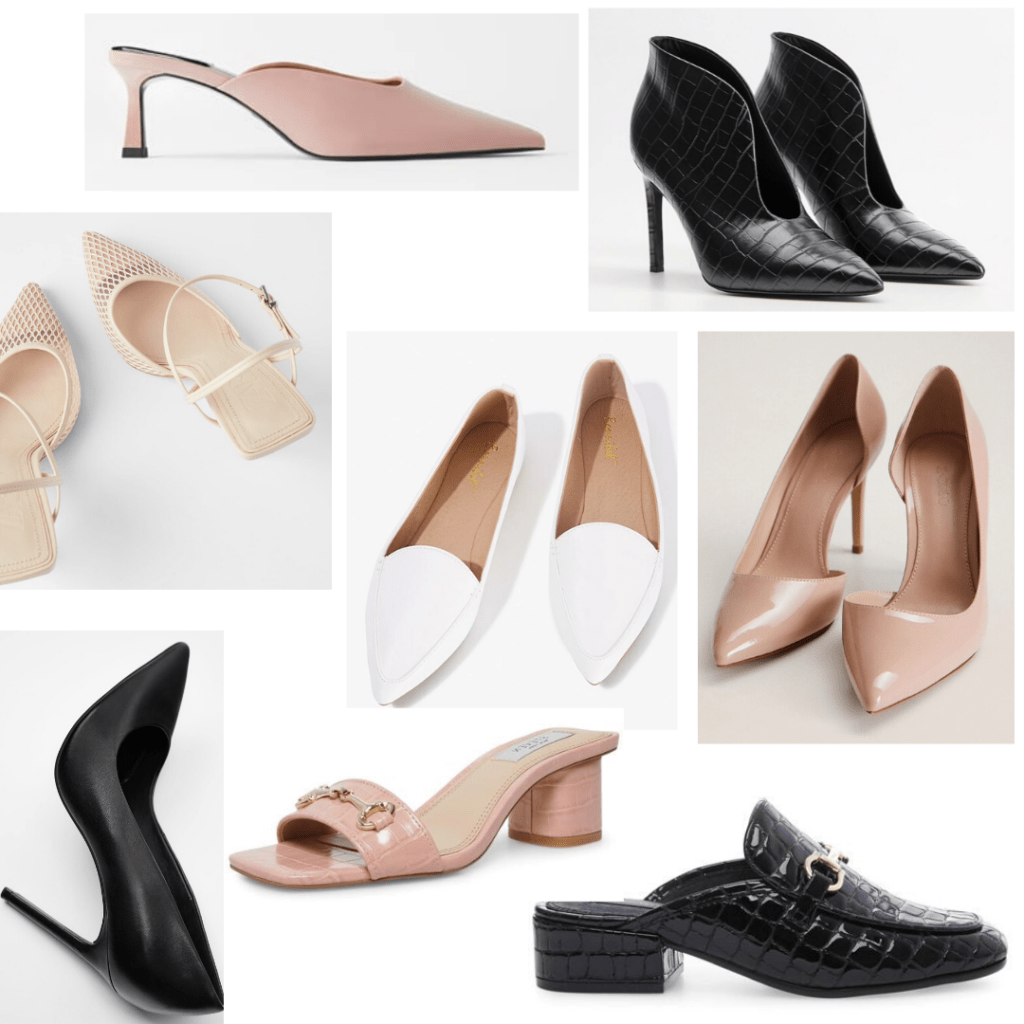 Products: Mid-heel mules – Zara, Black boots – Mango, Mesh nude heels – Zara, White loafers – Forever 21, Nude pumps – Mango, Black high heels – Zara, Pink croc heels – Steve Madden, Black loafers – Steve Madden
No matter what career path you choose, you will have to go in for interviews, you need a pair of professional shoes.
Unless you are in an extremely conservative industry with a strict dress code, you probably don't need to only wear heels. Most heels aren't comfortable to wear all day and they don't do anything for your back health. There are so many appropriate options if you choose to not wear heels. For example, consider loafers, which have been worn by men for centuries, but have been made 100 times better thanks to today's designers.
Whatever you choose to wear, it's important to keep in mind that in a professional setting less is more, unless of course you work somewhere fabulous like College Fashion. Pointed shoes make anything look professional. If you live somewhere with warm weather and choose to show your toes go for a very put together squared front shoe like the one above. Otherwise, you're not at the beach.
Fancy Occasion Shoes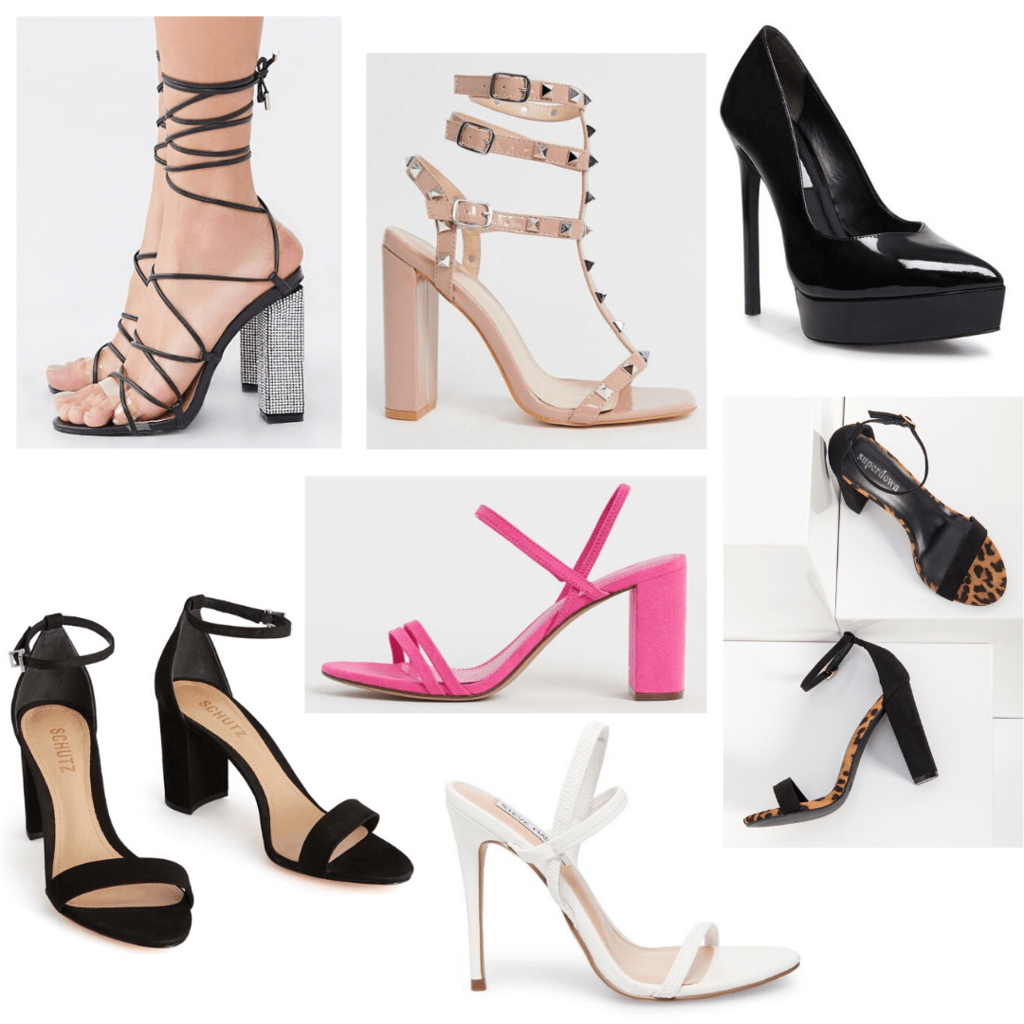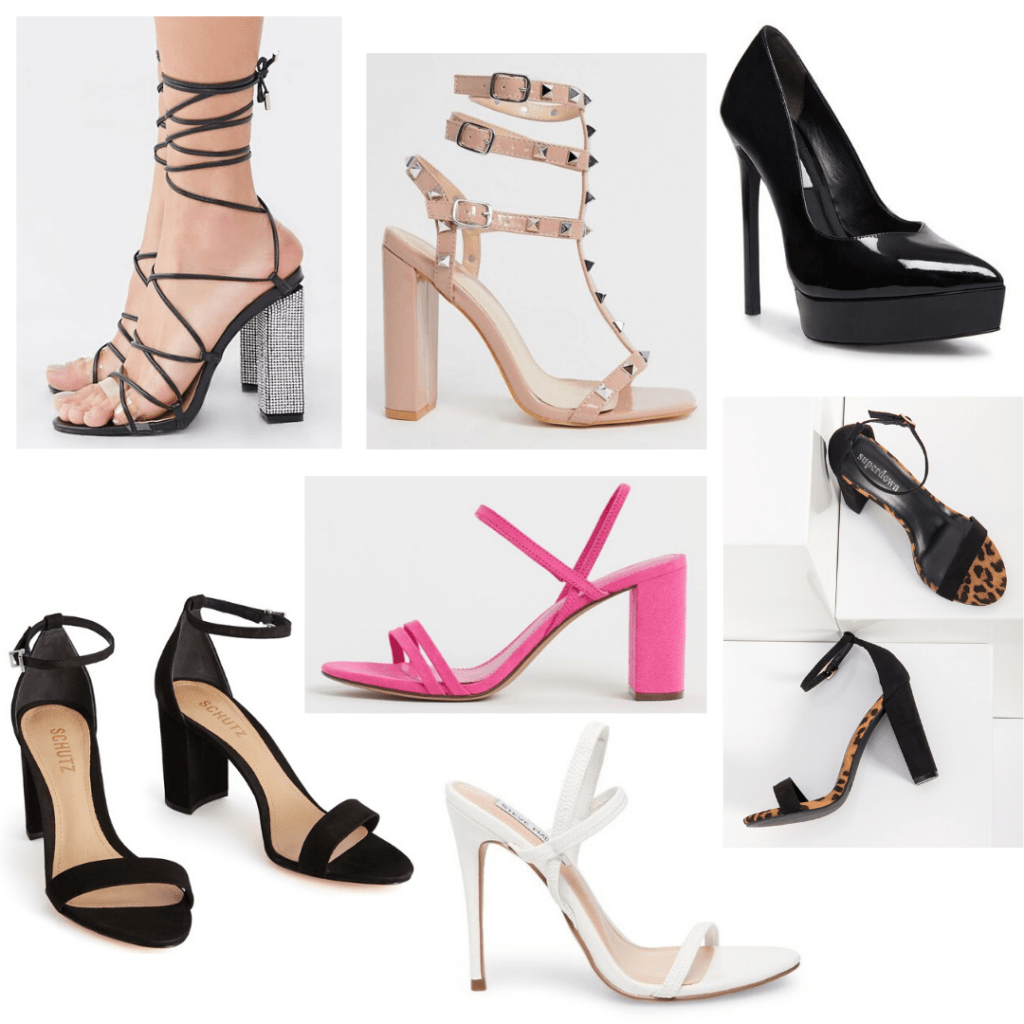 Products: Rhinestone heels – Forever 21, Blush studded heels – Public Desire, Black stiletto heel – Steve Madden, Black block heel – Schutz, Pink heels – H&M, Cheetah print heels – Superdown, White heels – Steve Madden
Okay, I'd like to think you're gonna have an endless array of occasions to wear fancy heels, but in reality, you'll maybe wear them twice a semester. But either way, you do need some, especially if you join a sorority — did someone say formal season?
Anything goes here, whatever is your style and makes you feel fierce when you go out at night. You can opt for low heels or high heels, or no heels. When it comes to looking fancy, it's all in the fabric — faux leather and suede are my trusty go-to's.
Party Shoes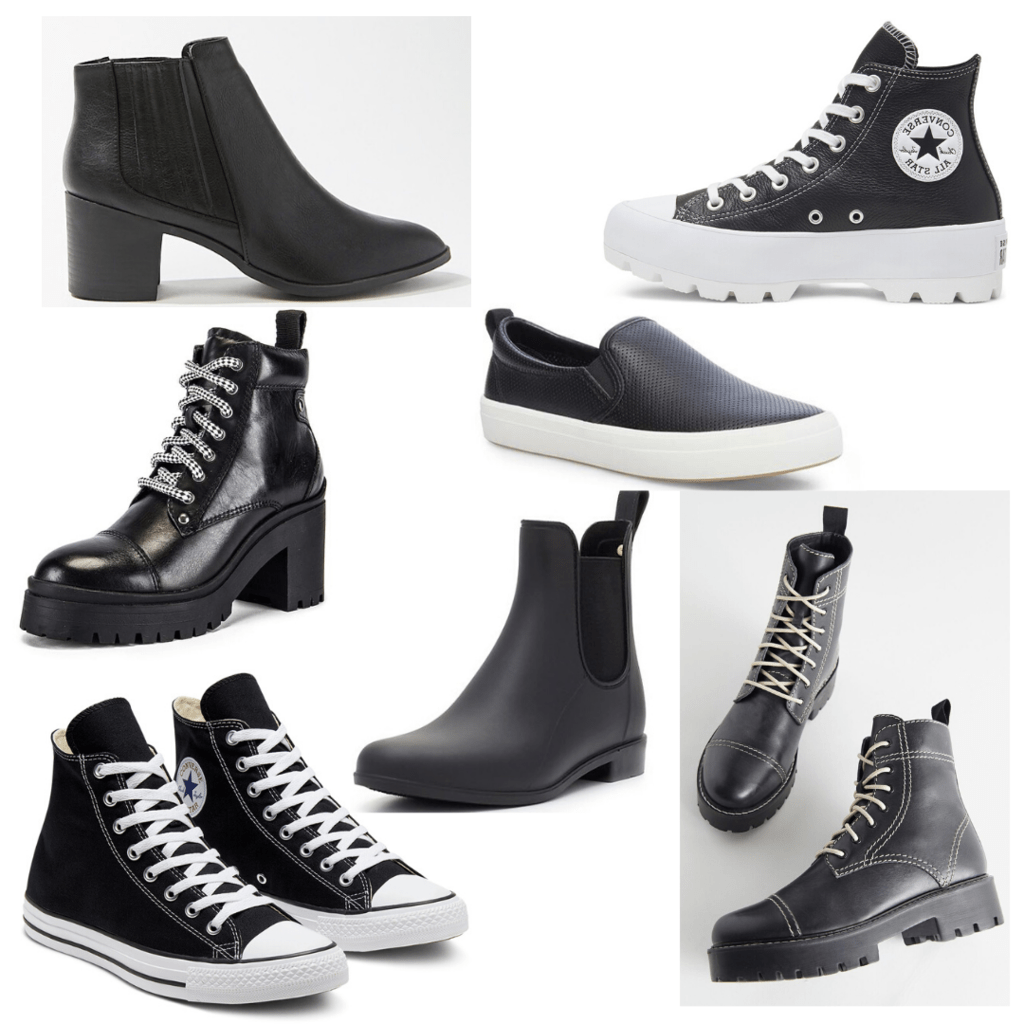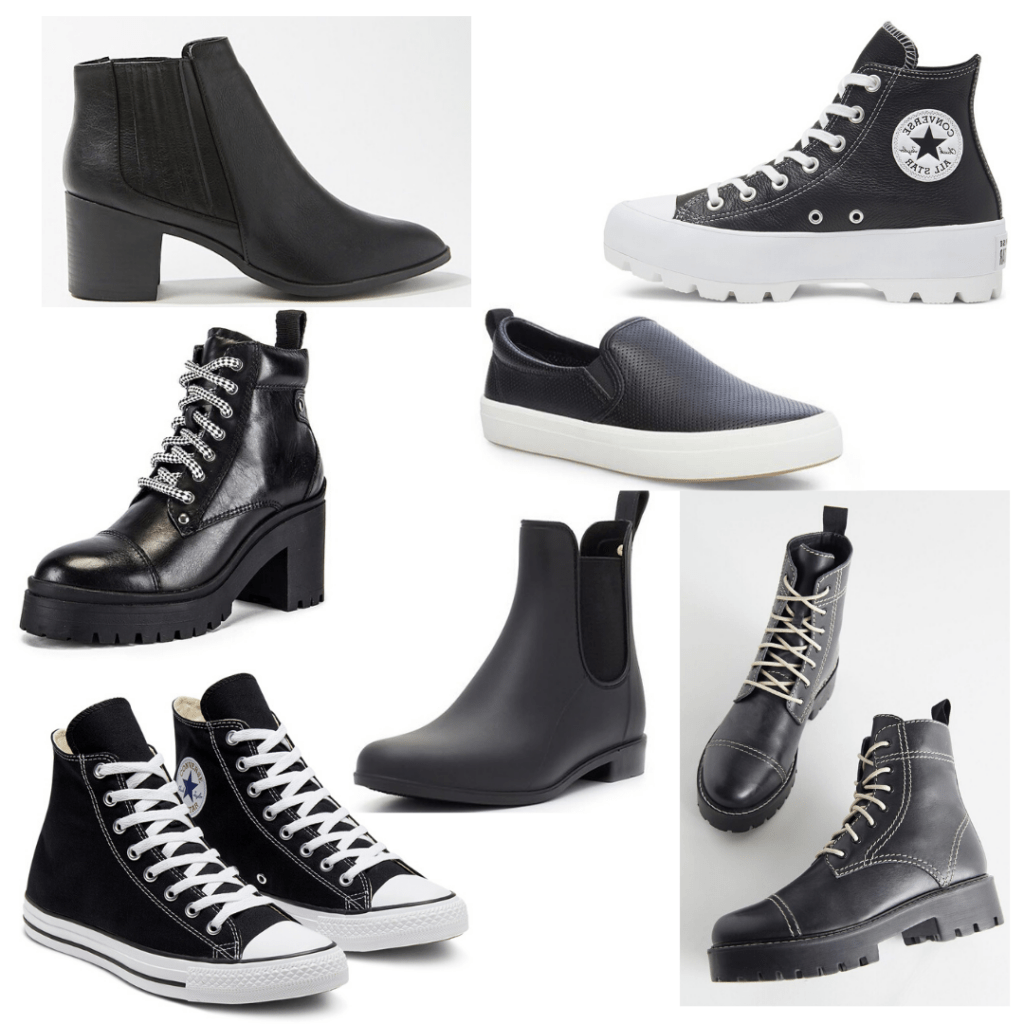 Products: Chelsea boots – Forever 21, Platform Chuck Taylor – Converse, Lace up bootie – Revolve, Slip-on's – Steve Madden, Rainboots – Sam Edelman, Classic Chuck Taylor – Converse, Treaded lace-up boot – Urban Outfitters
This is perhaps the most important one, that no one tells you about. Your party shoes have to withstand any and all types of disasters. They are NOT the same as your fancy occasion shoes.
Whether you're being stepped on or having things spilled on you, parties necessitate the shoe version of the indestructible iPhone case.
Black shoes are a must because they won't look as dirty as they are and they go with pretty much everything in your closet. The second thing to keep in mind is the material, you want something durable and most importantly: liquid proof.
That's why my go to party shoes are combat boots. Yes, I know I have an addiction to combat boots, but there is a reason they are called combat boots, because if they can withstand combat then they have a decent chance of not being destroyed at a college party.
Bonus: Personality Shoes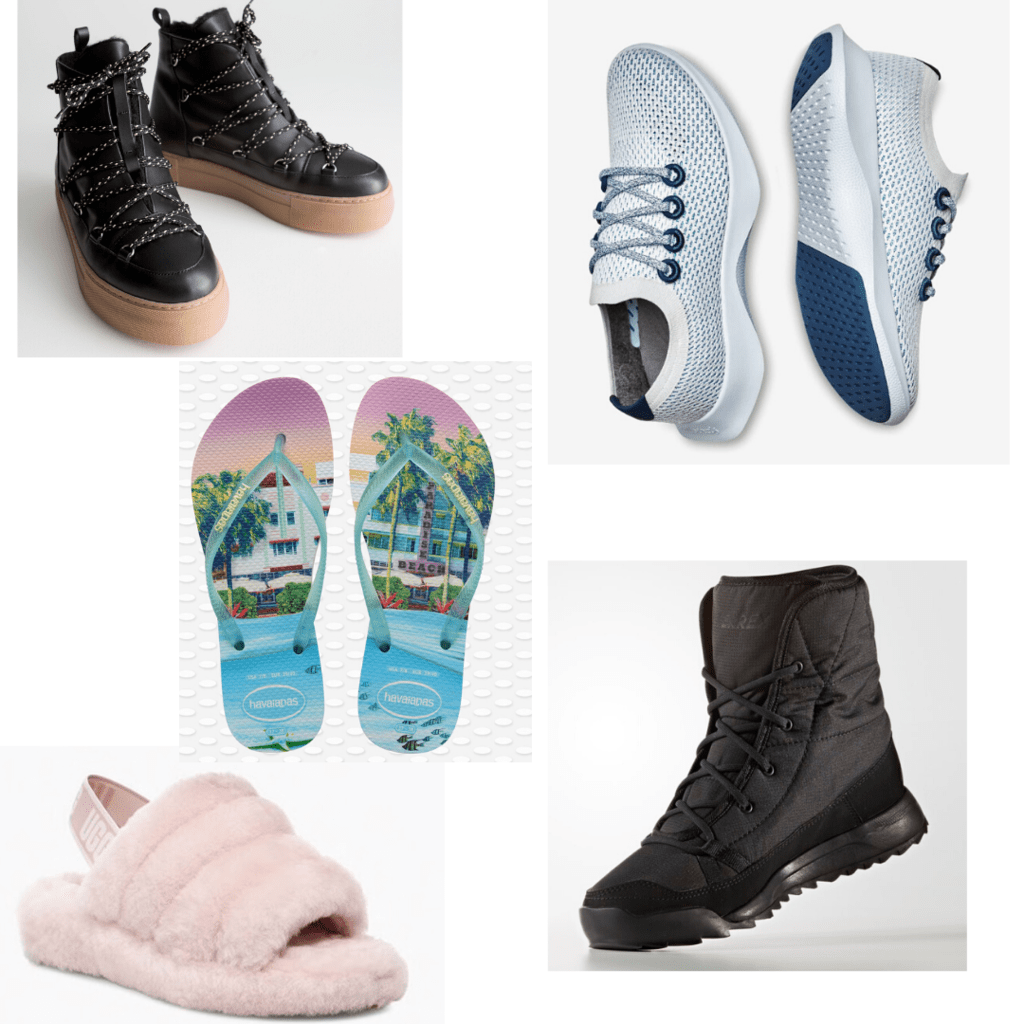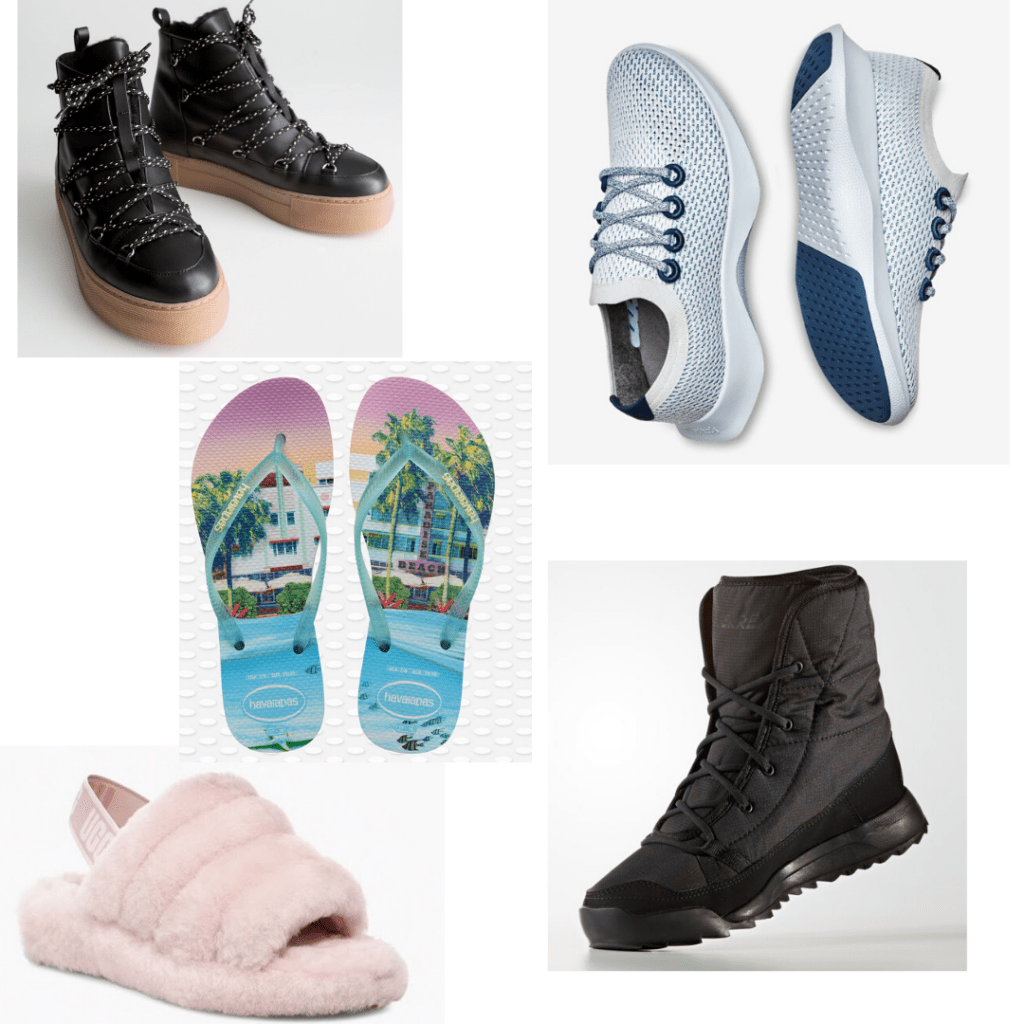 Products: Snow boots – & Other Stories, Workout shoes – Allbirds, Flip flops – Havaianas, Hiking boots – Adidas, Slippers – Ugg
While obviously my personality shoes are slippers (I mean pink, fuzzy, comfortable, it's like they made them for me); I actually have all of the shoes above. (Like I said, I love shoes.) And as a Brazilian I can't keep my citizenship without owning Havaianas.
One of the perks of living in California is that I have a reason to wear all of these shoes. Snow boots for a quick weekend skiing trip in Tahoe (see our ski fashion guide for more essentials), hiking boots for an after class hike overlooking the San Francisco Bay, and workout shoes so I feel a monetary burden to work out.
Of course, many shoes can overlap in these categories, like fancy shoes and professional shoes. By all means if downsizing is going to reduce clothing landfills and increase your bank account balance, I'm all for it.
Whether you own them all or overlap a couple of categories, with these five college girl shoe essentials, you should be covered for most occasions in college. Any other shoes are just a bonus.
What other shoes for college girls do you recommend?
What are your favorite pair of shoes for college? How many pairs of shoes do you own? Do you overlap in any of these shoe categories? Let us know!
Editor's note: This post was originally published in 2016; it was completely updated and revamped in 2020 with the latest styles and information.