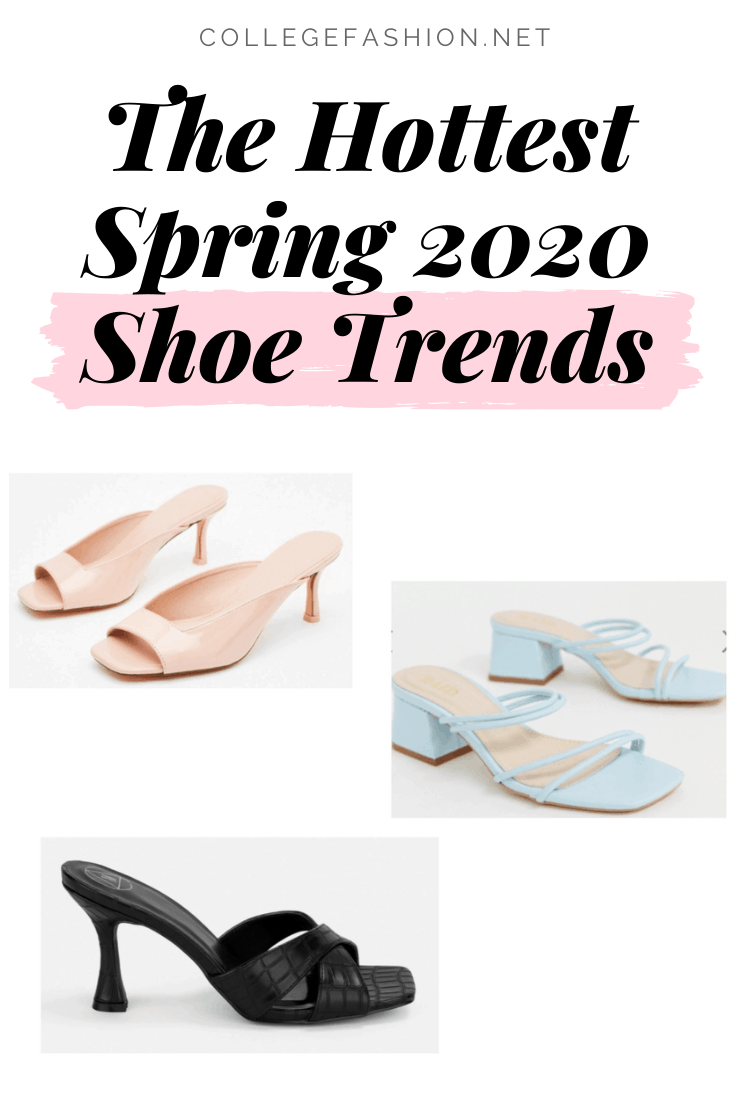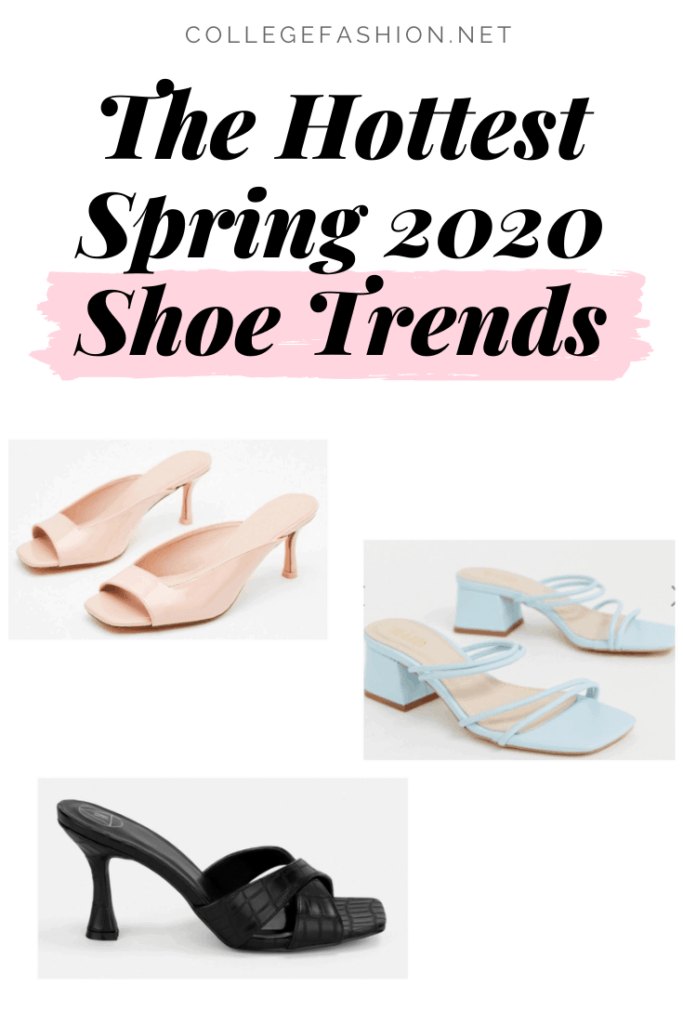 For me, shoes are an accessory in their own right — they can truly make or break your outfit. And when everything is stressful, cute shoes that are just for you are an instant mood-booster.
We talked about go-with-everything spring shoes a couple weeks back, but if you want to treat yourself to something more unique, this post is for you!
Whether you're more into traditional styles, or you love to try out-there looks, our guide to spring 2020 shoe trends will give you some ideas and inspiration.
1. Mules
Products: Pink patent heels – Nasty Gal, Blue strappy mule sandals – Asos, Black croc cross front feature heels – Missguided
Like many trends this season, mules are a blast from the past. They were super popular in the late '90s and early 2000s (think Sex and the City!), and they're back under the spotlight this spring.
Mules are a really versatile shoe style, and as you can see from the ones above, they come in all shapes and colors.
If you want to go for a '90s-inspired look, try pairing mules with a silky maxi dress, or t-shirt and a denim skirt. For a more modern and chic look, you could wear them with skinny jeans and an oversized white shirt.
2. Chain Shoes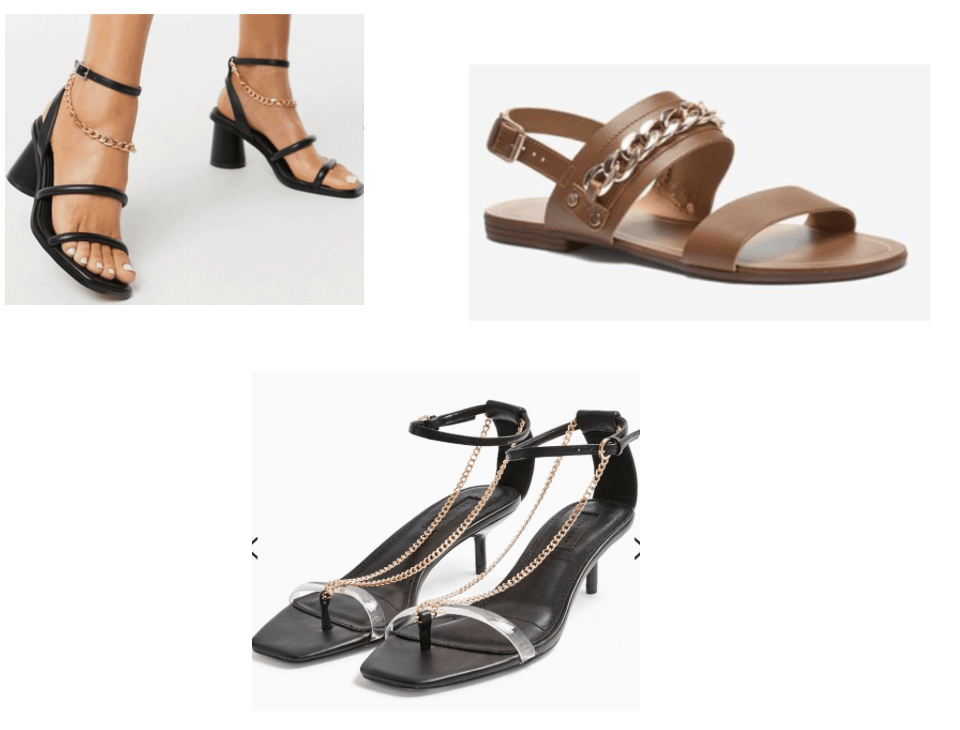 Products: Black mid-heeled sandals with chain – Asos, Brown two band sandals – Next, Black chain mini heels – Topshop
Ankle and combat boots with chains were really popular in the 2000s and 2010s and were mostly associated with the rocker aesthetics. This season, chains can be seen on all sorts of shoes, from dainty heels to chunky platform heels.
To help you try this spring 2020 shoe trend, I chose 3 different styles which can be worn on different occasions.
The black heeled sandals are perfect to wear on a spring day when you feel like dressing up with a sundress or jeans and a nice top. The brown chain sandals are more low-key, perfect to wear with more casual outfits like jeans and a t-shirt. The third pair is the most reminiscent of '90s fashion and is a great statement piece.
3. Loafers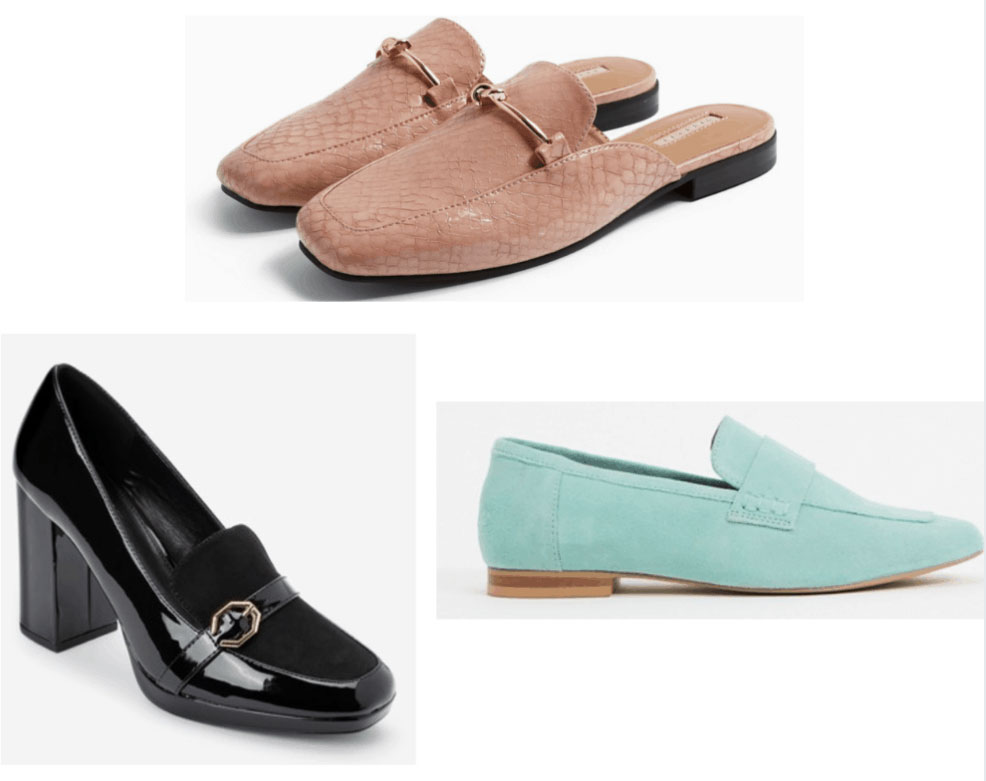 Products: Pink mule loafers – Topshop, Mint suede loafers – Asos, Trim platform loafers – Next
Loafers have always been in style, but they're not just 'serious office shoes' anymore. There are many different types of loafers out there, so you can be sure to find ones you'll love, whether you're looking for a casual or dressy shoe.
The pink loafers pictured above would look great with a white shirt and blue skinny jeans, for an effortless chic look. The mint suede loafers are a bold choice, but they're a great color to wear during spring, and they would look great paired with a black or white oversized t-shirt dress.
Finally, if you're looking for loafers that you can wear for a more formal event (never hurts to plan ahead), these black platform ones are a great choice, because they're classy without being too traditional thanks to them being platform.
Related post: How to Wear Loafers for Women (+ Outfit Ideas!)
4. Bow Shoes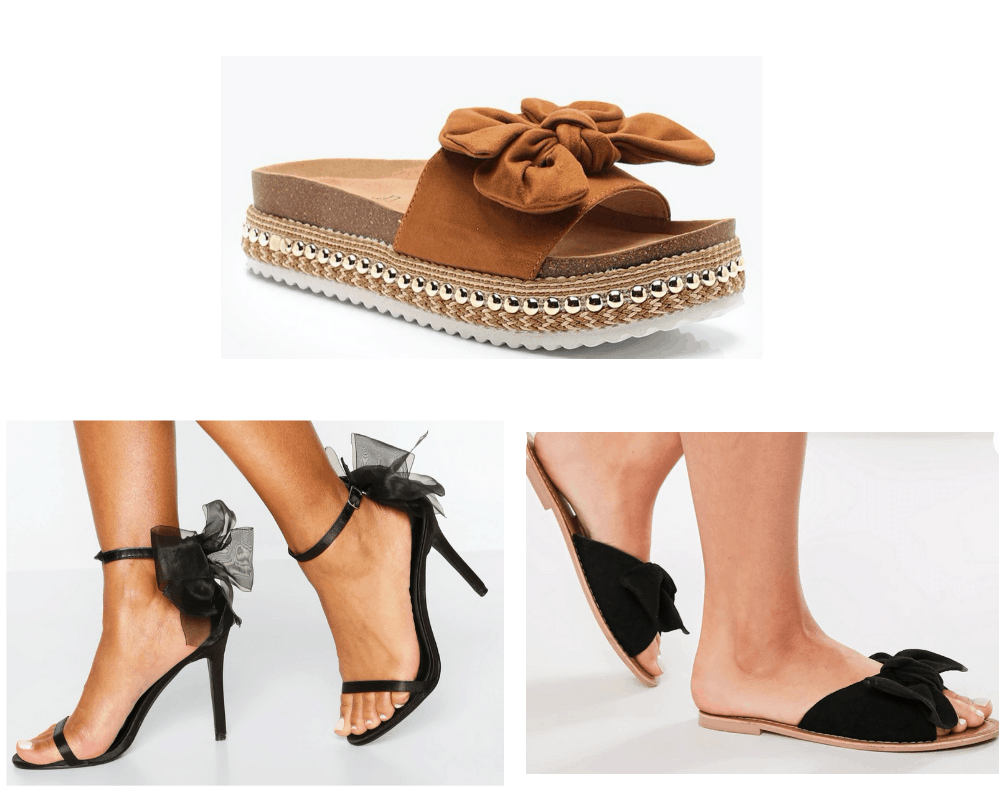 Products: Brown bow cleated flatforms – Boohoo, Bow back heels – Boohoo, Black bow flat sandals – Missguided
Shoes adorned with bows are a great fun and feminine trend to incorporate into your spring wardrobe.
The tan flatforms are the perfect shoes to wear to classes or for some shopping, because they're super comfy, but you can also dress them up with a denim dress or colourful maxi dress.
The black bow sandals are also ideal for girls who prefer flat shoes. Because they are black, they can be paired with pretty much anything, from jeans and a blouse, to leggings and a t-shirt, it's up to you how casual or how dressy you want to go.
Finally, the black bow heels are a really chic and classy pair of shoes, and they would look great for a date night outfit, or a dinner with friends (again, we are dreaming ahead here!). You can pair them with a body con dress, a bodysuit and jeans, or jeans and a nice top, depending on your own personal style.
Which spring 2020 shoe trend is your favorite?
What is your favorite shoe style this spring? Let us know in the comments section!