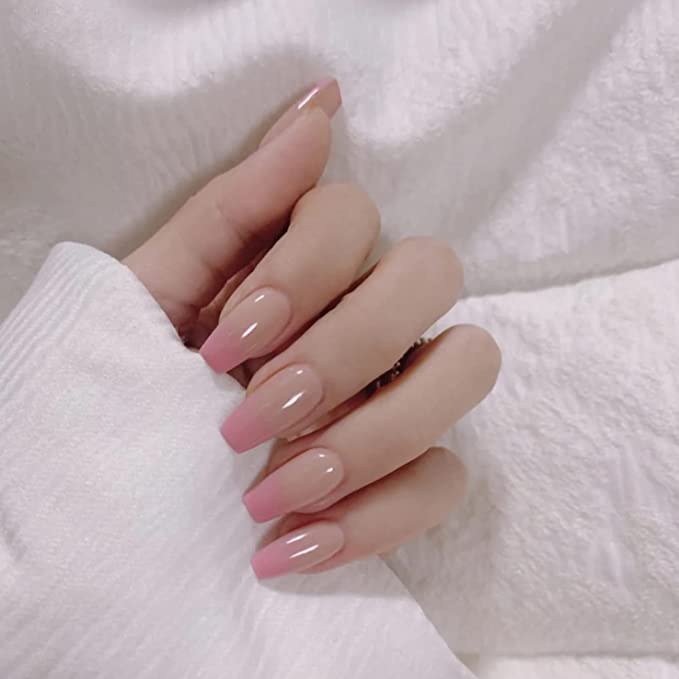 Are you considering getting your nails done soon? If you are, I highly recommend trying out some fun and trendy ombre nail designs.
When you think of ombre nails, your mind might jump to the basic nude and white ombre nails that are always popular. But, if you have already tried that nail look and want something different, don't worry because there are a lot of different colors and styles that you can do with ombre nails!
Also, if you love nail art and want to include it in your nail look, you totally can. Ombre nails look great paired with some cool nail art designs or accessories on your nails!
Lastly, don't worry if you have short or long nails because ombre nail designs look great on any nail length or nail shape.
If you are considering getting ombre nails for your next nail look, check out these 18 different ombre nail looks to find your next favorite mani!
What are ombre nails?
First, a quick primer on ombre nails. An ombre nail design refers to any manicure that includes a gradient effect. Ombre nails can go from light to dark, dark to light, or can include any mix of colors you choose. The ombre can be done vertically or horizontally. We've also seen ombre nails done with a single color fading into clear polish.
Honestly, the options are endless — there are so many cute ways to rock an ombre mani, as you'll see below.
Beautiful Ombre Nail Design Ideas
1. French Ombre
If you love the look of French nails, but want something that is a bit different, you could opt for the French ombre nail look!
French ombre will give you a classy nail look that will look good with any of your outfits, for any occasion. (This nail idea is great for weddings and formal events in particular.)
So, if you want to switch up your nail look from your usual French, this is the nail idea to try this season.
2. Sunset Ombre
Another gorgeous ombre nail design that you can try for your next nail look is sunset ombre! Sunset ombre combines gorgeous shades of yellow, orange, and red to give you a look that you will love! It's particularly perfect for summer.
Also, if you want to do this look at home, it is totally easy to achieve yourself. Just watch this short video to see exactly how it's done.
3. Pink & Purple Ombre Nails
If you want a girly nail look, you will absolutely love this pink & purple ombre nail idea! These nails are super cute, especially if you add on some glitter and rhinestones. They're so glam and fun, sure to get you tons of compliments.
So, if you want a cute nail look that you can also add some nail accessories to, this is the mani for you.
Related reading: 30 Trending Pink Nail Art Designs to Rock This Year
4. Mint Ombre
One unexpected color that looks great with ombre nails is mint green! Mint is a super pretty nail color that's a little bit girly and fun but not over-the-top bright, so it's great for lots of occasions.
For this look, I recommend using a nude nail polish color for your base, then adding mint at the tip of your nails as seen in this video tutorial.
5. Neon Ombre
While our last look was subtle, if you want a nail look that is really colorful and bright, you should definitely try a neon ombre manicure.
When you're getting neon ombre, you can choose to use as many colors as you want, to completely customize the mani to your preferences.
If you want some inspo for a neon ombre nail look, check out this short video tutorial on how to do it! This look is more rainbow but if you wanted fewer colors, you could totally do that as well.
6. Orange Ombre
Orange is also a really cool color for ombre nails, especially if you want a fall nail look. With orange ombre, you can combine different shades of orange or you can add yellow and red to make the ombre look stand out even more.
The tutorial above shows you how to get marble nails in red, yellow, and orange. This is a really cool nail look that you should try if you want to incorporate orange into your nail design.
Related post: 15 Cutest Orange Nail Designs to Try
7. Rainbow Ombre
If you also want to incorporate all the colors into your nail look, rainbow ombre nails are your solution.
Rainbow ombre is perfect if you really want your nails to stand out and want a colorful look! (Great for Pride in particular.) Also, to make this nail look stand out even more you can add glitter to your nails as shown in this video tutorial — so pretty.
8. Ombre Nail Art
Nail art can also be included in your ombre nail looks. So, the next time you want to do your nails and you want to incorporate some cool designs, you definitely can with ombre nails.
For example, check out these blue and pink ombre nail looks that have some cute nail art designs and accessories added to them for inspo!
9. Marble Ombre
If you love the marble nail look, have you ever considered combining marble and ombre nails? The look is super cute and unexpected.
You may not have seen marble ombre nails before, but they are so cool and will give your nails a smokey look if you use white & grey as seen in the video tutorial.
Related reading: The Best Clear Nail Designs to Try This Season
10. Ombre Nails with 3D Nail Art
If you really want to go all out with your nails, you could try a super cool design technique, which is adding 3D nail art to your mani.
As mentioned before, what's great about ombre nails and the thing that I love the most is they look good in so many colors and with so many different designs.
So, if you want to really make your ombre nails stand out, try adding some 3D nail art to your nails to make them really pop!
11. Yellow Ombre
Another super cool color you can totally use for ombre nails is yellow! Not only is this shade a little unexpected for nails, but yellow is becoming a popular color in fashion. That means your nails will go with all the clothes we're rocking this year.
If you want to see exactly how yellow ombre nails are done, check out this video, which shows the process step by step at the salon.
Related reading: 20 Trending Yellow Nail Ideas to Try in 2023
12. Blue & White Ombre
One other ombre design that I absolutely love is blue and white ombre nails! Blue and white ombre nails look super cool because the white makes the blue really stand out.
When doing this look, I would recommend using your white nail polish as the base and adding the blue nail polish to the tips of your nails, as shown above.
Also, you could go even further with this look by adding some pretty glitter to the tips of your nails!
13. Black & Red Ombre
If you want a darker nail look, using black and red to make ombre nails also looks super cool! This is a great nail idea for the Halloween season in particular.
If you are interested in this look, check out this video tutorial that shows you exactly how to get this look with red as your base and black nail polish on the tips of your nails.
14. Ombre Nails with Rhinestones
If you love adding nail accessories like rhinestones to your nails, these fun extras can absolutely be added to an ombre manicure.
You can do just about any type of ombre nail design underneath and you will still be able to add rhinestones to it to make a design as shown in this video. You can get super creative with this and use any embellishments and colors you like!
15. Mermaid Ombre
Another fun nail look for summer is the mermaid ombre nail design. This is basically when you use blue and purple colors, as well as flaky glitter, to create a "mermaid" effect.
The tutorial above uses dip powder to achieve this look but it isn't necessary. You can do this manicure at home with a few pastel polishes and a silver glitter for your statement nail.
16. Glitter Ombre
If you want a sparkly nail look, you absolutely have to try glitter ombre nails. Glitter ombre nails are as simple as they sound — it's when you add some sparkle to your nails by applying some glitter to the tips.
I love this look because you can choose whatever base coat that you want for your nails and it will still look amazing with the glitter ombre look.
For an example of how to create this look, watch this short tutorial!
17. Gold Foil Ombre
How gorgeous is this gold foil ombre nail design? I had never seen a look like this before but it's such a cute, glam take on the ombre nail trend.
This is a really cool look because you get to add a fun design to your nails while also adding sparkle without using glitter.
This look may seem super difficult, but don't worry because this video shows you exactly how it's done — and it's not as complex as it appears!
18. Baby Boomer Nails
Of course, if you want a more basic nail look you could always go with the baby boomer ombre nails.
These are the ombre nails that you have most likely seen before because they are one of the most popular ombre looks out there. While they are everywhere right now, they are still a great go-to nail look if you want something simple for your nails.
Which ombre nail design from this list is your favorite?
Which nail design will you be trying in 2023? What kind of ombre nails do you like?