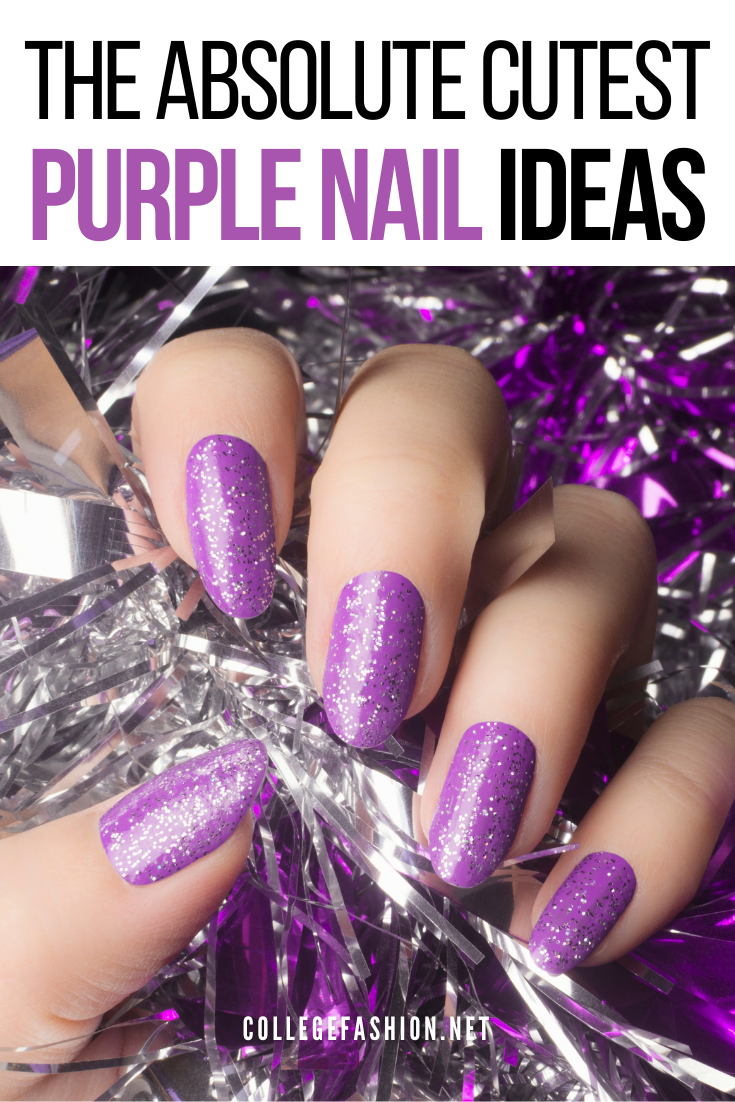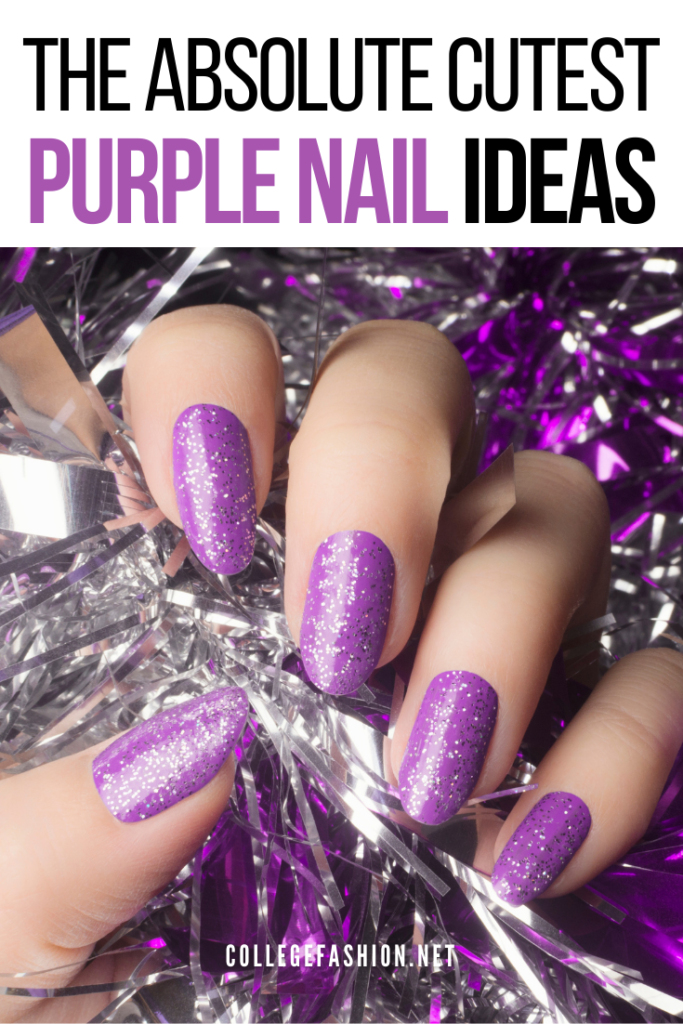 Over the past few months, we've been sharing a variety of nail ideas for every color in the rainbow. Today, we're touching on one of the hottest fashion color trends of the past year, purple.
Purple nails are definitely trendy this year and it's such a cute look! These nails feel fresh, fun, and somehow a little bit futuristic. Purple gives me Y2K fashion vibes and I'm not mad about it.
While I particularly love lilac nails in the springtime, you can't go wrong with purple nails year round. There are so many fun ways to wear purple nails, depending on your style.
Need some purple nail inspo? Read on for 18 gorgeous purple nail ideas to try for your next visit to the salon (or your next at-home mani).
Purple Acrylic Gel Nails
Gradient Purple
We're kicking things off with this gorgeous purple ombré nail look, done on acrylic nails. I love how this incorporates a bunch of different trends in one, mixing ombré with glitter, marble, and rhinestones. While this nail idea has a lot going on, it doesn't feel too crazy thanks to the light pastel color scheme.
This look is fun and eye-catching, perfect for a vacation, birthday party, or fun event you might have coming up. I could see this being super cute for prom, formals, or weddings as well.
Purple Marble
This acrylic nail look takes purple marble nails to the next level! It's a bold take on the marble nails trend, mixing a bunch of different shades of purple with glitter accents and rhinestones for a galaxy feel. If you want your mani to look like outer space, this is the nail idea for you.
These nails are super bold and in your face — definitely not for the timid! However, if you want to make a statement, get these nails done ASAP.
Related reading: 13 Birthday Nail Ideas to Celebrate Your Special Day in Style
Purple Butterfly Nails
I could not be more obsessed with these purple butterfly nails if I tried! They're so 2000s and they remind me of the early days of pop princesses like Britney Spears and Christina Aguilera.
I love that this nail tutorial shows you how to do gel at home. It's definitely not something I ever would have attempted, but the tutorial makes it seem so simple.
Whether you do these nails at home or at a salon, they're the perfect nude nail with a pop of fun color — perfect for tons of occasions! Pair them with all of your 2000s-inspired outfits this season; they'll look amazing.
Related reading: The Hottest Spring Nail Ideas That Are Seriously Trending RN
Pastel
Pastel nails are my favorite for the springtime and I love this fresh take on pastel purple nails, done with polish on natural nails.
I love the oval shape they chose, and I love how simple they make this tutorial to follow — a great easy nail look that anyone can do.
Purple To Pink Ombre
This pink and purple ombré nail look is so much fun! You could have this done with the ombré effect on all of the nails, or you could make it more interesting by copying the look above, which incorporates two floral glitter accent nails. (Encapsulated glitter is such a huge trend in acrylic nails right now.)
No matter how you choose to rock this one, you're sure to have nails that stand out from the rest.
Related reading: 21 Gorgeous Floral Nail Design Ideas to Try This Year
Glitter Nails
Glitter nails are always so much fun, and this is a stunning way to rock purple glitter nails! When you go to the salon next time, why not try nude nails with encapsulated glitter tips like these?
This nail look incorporates purple glitter and butterflies for a look that's ultra sparkly and glam. I could totally see these for a springtime formal or even New Year's Eve!
Purple Nail Art
Floral Purple
I can't stop staring at these lilac floral nails. They're so beautiful yet subtle, just the way I like my nails. While florals can sometimes look a little too sweet and cutesy, this is a cool girl take on the floral nail vibe.
Instead of your typical floral nail art, these press-on nails alternate lilac oval nails with clear floral-embellished nails for a look that's super of-the-moment and never cheesy. The best part is, these nails are more affordable than a trip to the salon, at $25 for the full set.
Purple Base With Rhinestones
Here's another glam purple rhinestone nail look that doesn't require a trip to the salon for acrylics!
These purple glitter and rhinestone press-on nails give you the salon look for less. I love how they incorporate a rhinestone accent nail — the shape of the rhinestones almost makes that nail look studded! So cool and perfect if you have an edgy sense of style.
The full set of nails is available on Amazon for a super affordable price.
Purple Heart Swirl Nails
As I mentioned in our post on green nails ideas, swirl nails have been EVERYWHERE this year and the trend looks super fun in purple, too!
This set of nails from Etsy takes the swirl look to the next level by incorporating a super cute heart detail and multiple shades of purple. I love that the design is limited to the tips of the nails, so the nude color of the nail base still comes through. I would 100% rock these nails year round; they're so adorable.
Purple Nails with Tip
This purple and white french manicure is such a chic way to try the purple nails trend. A white tip on purple nails is really unexpected, but the combo look amazing. I also love that this look is done on coffin-shaped nails for a trendy feel. These nails look so modern and cool.
This would definitely be a look to get done at the salon, or you could do it the easy way and buy these exact press-on nails on Etsy. I love that they can be reused again and again, too.
Related reading: 20 Pretty Coffin Nail Designs You Will Love
Purple Cloud Nails
Cloud nails are trending like crazy this year and purple cloud nails are such a cute idea. They remind me of a sunset on a summer day, and they're so much fun. If I had these, I'd be staring at my nails all day long!
Once again, these nails are press-ons, available to buy as a full set on Etsy. You could also attempt these as a DIY if you have nail art skills — the clouds are pretty forgiving, so mistakes won't be as noticeable.
Elegant Purple
Here's an elegant purple nail look that's a variation on the swirl nail idea seen earlier in this post. This one is more subtle than the first and includes a purple glitter swirl design on a nude nail base.
I love how this nail idea is subtle yet still fun, the perfect mix if you love glitter but don't want crazy, in your face nails. Just a cool, elegant nail idea to pair with all your neutral outfits for a pop of color.
Short Purple Nails
Shimmering Short Purple Nails
I can't stop staring at these shimmering, holographic purple nails. They look like something out of a music video in the 2000s! I think short nails are absolutely perfect for rocking fun, almost psychedelic finishes like this. On long nails, this metallic look would be extremely bold, but on short nails, it just looks cool.
The best part is, these are just $6.50 for the full set of press-on nails — such an amazing deal for nails you can re-wear again and again.
Square and Short Light Purple Nails
It doesn't get simpler than this pretty purple french manicure on short nails. Instead of the typical white tip, just swap in your favorite shade of purple, like this medium lilac hue. This would also look awesome with a darker, bold purple for an edgier vibe.
You could absolutely DIY these at home, or get them done at any nail salon. Alternatively, these short nails are actually press-ons, available on Amazon, if you want something super quick and easy.
Purple Lilac Oval Nails
Oval nails are my favorite shape on short nails, and I'm obsessed with this pretty lilac shade on short, oval nails.
This polish is by ColourLover Cosmetics on Etsy and it's the perfect lilac creme with a hint of pink. Not too light, not too dark, and the perfect mix of pink and purple. This one will look good on just about everyone.
The best part is, ColourLover's nail polishes don't contain the 10 most common chemicals found in nail polishes (Toluene, Formaldehyde, Parabens, etc). Also, their formulas are completely vegan!
Short Purple Sweater Nails
By now you've probably seen the sweater nails trend. It's one of the top winter nail trends that has really taken off this year. It's basically a 3-D nail effect that makes your nails look like they're adorned with a knit pattern. They're usually done in matte colors as well.
At first, I wasn't sure about sweater nails, but they've really grown on me! I especially love them on short nails, as seen with the press-ons above. This is another one of those looks that can be really statement-making on long nails, but becomes everyday-wearable on shorter nails. It's so pretty in purple, too.
Short Purple Nails with Glitter
You can never go wrong with any shade of glitter on your nails, and I absolutely love bold purple glitter nails for the cooler seasons. They just remind me of fall and winter somehow.
This glitter nails idea becomes a little more interesting thanks to an ombré effect, mixing purple glitter on the tips into silver glitter on the bottoms of the nails. This would be a super easy look to DIY, or you could just snap up these nail wraps from Etsy!
Metallic Short Purple Nails
To finish off our list of purple nail ideas, we have a classic — a bold purple nail polish with a metallic sheen and some subtle glitter. I honestly love this color on either short or long nails, it's so pretty and unique. I especially love this for fall or Halloween nail looks!
If you want to cop this cool nail polish shade for yourself, it's from BellaBosio on Etsy and the shade is called Tulip, a "light purple metallic."
Do you rock purple nails? Which idea is your favorite?
Tell me what you think in the comments. Are purple nails underrated? Which of these ideas would you be most likely to rock?