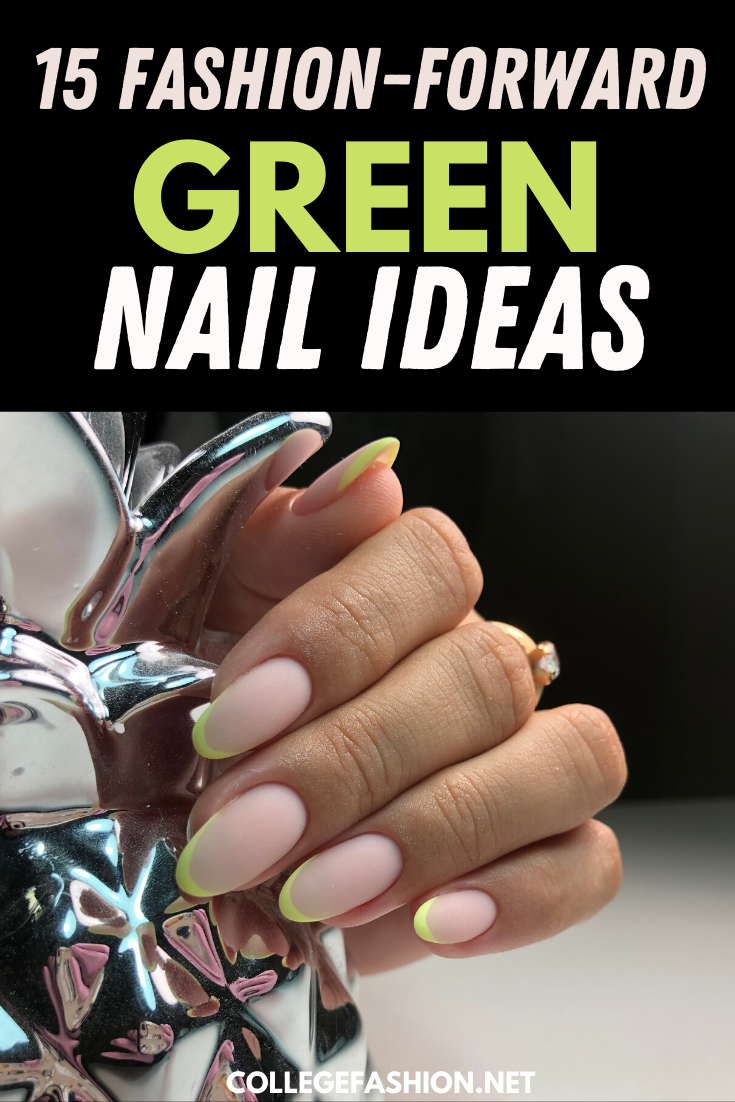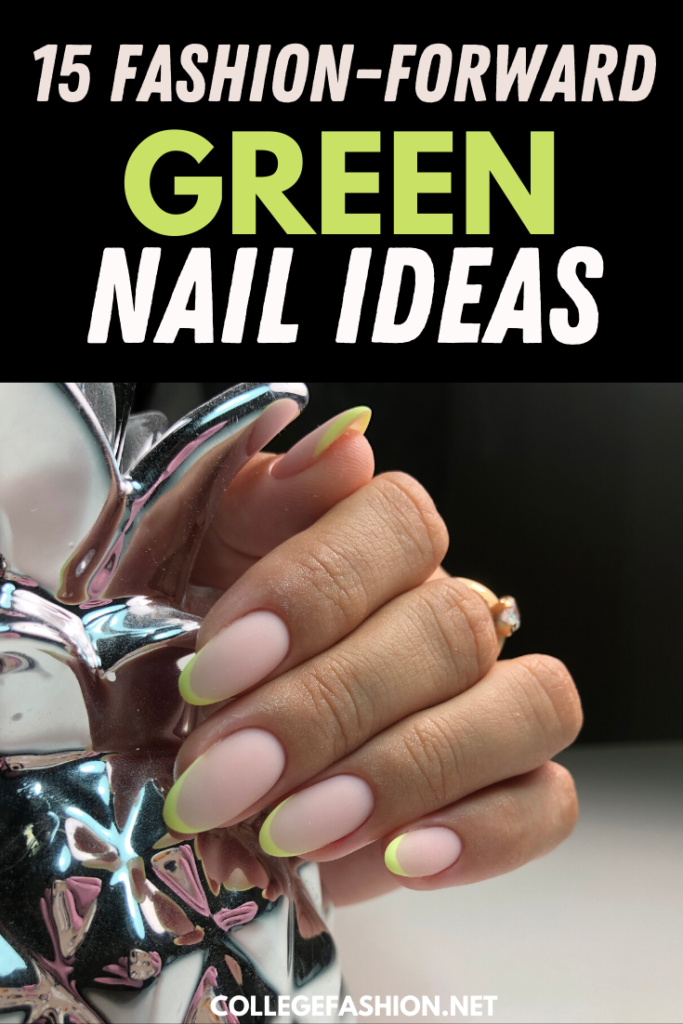 I don't know about you, but after years of rocking neutral-colored nails near-exclusively, I'm so excited that colorful nails are finally trending again!
In particular, I've seen green nails everywhere this year and the trend only seems to be growing in popularity.
Depending on what shade of green you choose, green nails are surprisingly versatile. They're perfect for the holidays, springtime, or any vacations you have coming up. They would also be an amazing choice for music festivals in the spring or summer!
Want some green nail inspo for your next manicure? Here are my 15 favorite green nail ideas that we're going to be seeing everywhere this season.
Green Nails Ideas to Try
1. Green Swirl Nails
These swirl nails are everywhere right now and they're so cute in green! They have a little bit of a retro vibe without being tacky at all. In fact, they somehow look fresh and completely modern.
You could definitely DIY these nails yourself with a neon green polish and a small detail brush, but for the easiest and most professional look, I recommend picking up these exact press-on nails on Etsy. They're so stunning and you can wear them over and over again.
Related reading: The 20 Best Neon Nail Designs to Try This Summer
2. Forest Green Nails
Forest green nails are classic, chic, and a little bit unexpected — just what I love in nail polish. Though these are colorful, they would totally still be work-appropriate.
These nails are especially beautiful for the holiday season and will pair well with all of your holiday party outfits. You could also incorporate red nail polish as an accent color.
3. Green and Gold Nail Art
If you want to go all out with your nails for the holiday season, look no further than this green and gold nail art look! It combines forest green nails with swirls, gold glitter, and an accent nail.
Though the tutorial is done at a salon, you could DIY these nails at home; unlike most nail art looks, this one is pretty abstract so you could easily do it yourself. And it's worth the effort — this is such a fresh and modern take on holiday nail art.
Related reading: The Prettiest Gold Nail Designs for an Elegant Nail Look
4. Green Chrome Nails
Green chrome nails are a more interesting take on the classic green nail. They remind me of holiday wrapping paper and I'm not mad about it. So glam!
For a salon-perfect look, these chrome press-on nails are perfect and cheaper than a trip to get your nails done. Or you can buy a green chrome polish to apply to your natural nails.
5. Green French Tip Nails
Fashion girls everywhere have been rocking these green french tip nails on Instagram. They combine a beige nude polish with a neon v-shaped french tip for a modern vibe.
I love these nails in a coffin shape, but if your natural nails won't get to this length, the nails above are a set of $5 press-ons!
6. Green and White Nails
Green and white nails are my go-tos for St. Patrick's day but they honestly work year-round.
There are a million ways to combine green and white for your nails, but I can't stop staring at these green and white swirl french tip nails. They are so chic and combine multiple nail trends into one look!
7. Green and Pink Nails
Pink and green nails are an unexpected color pairing that looks great together. I especially love the combination of pastel pink and mint green — so pretty, girly, and perfect for springtime.
In particular, how cute is this "strawberry kiwi dreams" mani from SugarCloudNails? (Although the tips look white in the picture, they're actually a pretty pale green.) These press-on nails would be so perfect for a vacation this spring!
Related reading: The Hottest Spring Nail Ideas That Are Seriously Trending RN
8. Different Shades Of Green Nails
The ombré manicure has been trending all year and it's something that anyone can do at home with a few polishes on hand. I really love a green ombré manicure like this one, with varying shades of green ranging from army green to mint.
If you want to get this look, you could buy a few different green polishes (Amazon has tons of options) or make it super easy on yourself and pick up these green ombré coffin nails on Etsy.
9. Emerald Green Nail Polish with Golden Accents
These green and gold glitter nails would be so much fun for the holidays or St. Patrick's Day! While these are nail wraps, you could also get this look at home with two chunky glitter polishes.
If you like to go bold with your nails, this green nail idea is perfect for you.
10. Green Acrylic Glitter Ombre Nails
Speaking of bold, it does not get brighter or more in-your-face than these neon green glitter ombré acrylic nails! I can't stop staring at them.
You'd definitely need to get these done at a salon, but it would be so worth it. This nail idea would be perfect for a birthday party, bachelorette weekend, or a girl's trip to Miami.
11. Mint Glitter
Mint glitter nails look so fresh and beautiful for spring. While we see a lot of mint nails in the springtime, I haven't seen mint glitter as much and I love how unexpected it is.
This is a super easy trend to try yourself as there's just one bottle of polish to buy. This shade by KBShimmer is called "Cactus if You Can," and is available on Amazon.
12. Matte Army Green Nail Polish
This is another simple green nails idea that's still stunning and unique. Matte army green nails are a nice, neutral way to wear the color green. There's nothing overly bold or flashy about them, but the matte finish gives them a little something extra.
The photo above features a set of press-on nails, but you could also get this look with an army green polish and a good matte top coat.
13. Green Jade Nails
Of all the green nail ideas on this list, this one is by far my favorite. These green jade nails make it look like you're wearing gemstones on your fingers. They're so realistic and gorgeous! I love the little vein of gold glitter as well.
While I have seen some tutorials for jade nails on Youtube, I'd much rather just buy this set of pre-made green jade press-on nails and call it a day. I'd never be able to make mine look this perfect!
14. Geometric Green Nail Design
Geometric nail designs are definitely trending this year (we talked about the trend in our guide to winter nails, as well as our fall trend guide). This look is amazing in green!
In particular, I love this set of pink and green geometric nails available on Amazon. They're so unique and look like something you'd get done at a salon. Once again, they're press-ons so it couldn't be any easier to get this pretty nail art design for yourself.
15. Olive Green Nail Art
To finish off our list of green nails ideas, I wanted to feature this pretty olive green nail art design that combines multiple trends in one. It mixes green nail polish, matte nails, a green french manicure, and a green marble accent nail.
If you want to get this trendy, unique set of nails for yourself, they're available as a set of press-ons on Etsy. This would be such a cute nail idea to wear in the springtime.
What do you think of these green nail ideas?
Which of these nail designs is your favorite? Do you ever rock green nails? Tell me in the comments section down below.
Looking for more green nail ideas? Here are some of our favorite nail art ideas that might also inspire you this season –