This post will show you the best cute red nails this year.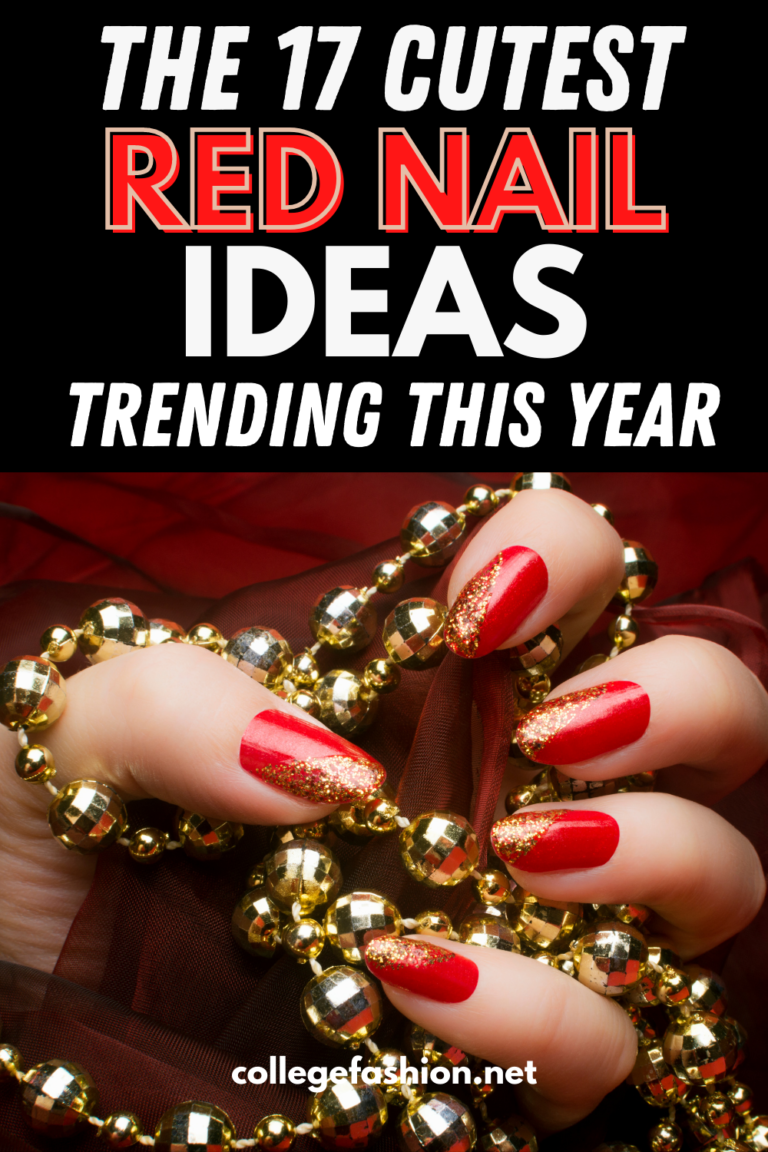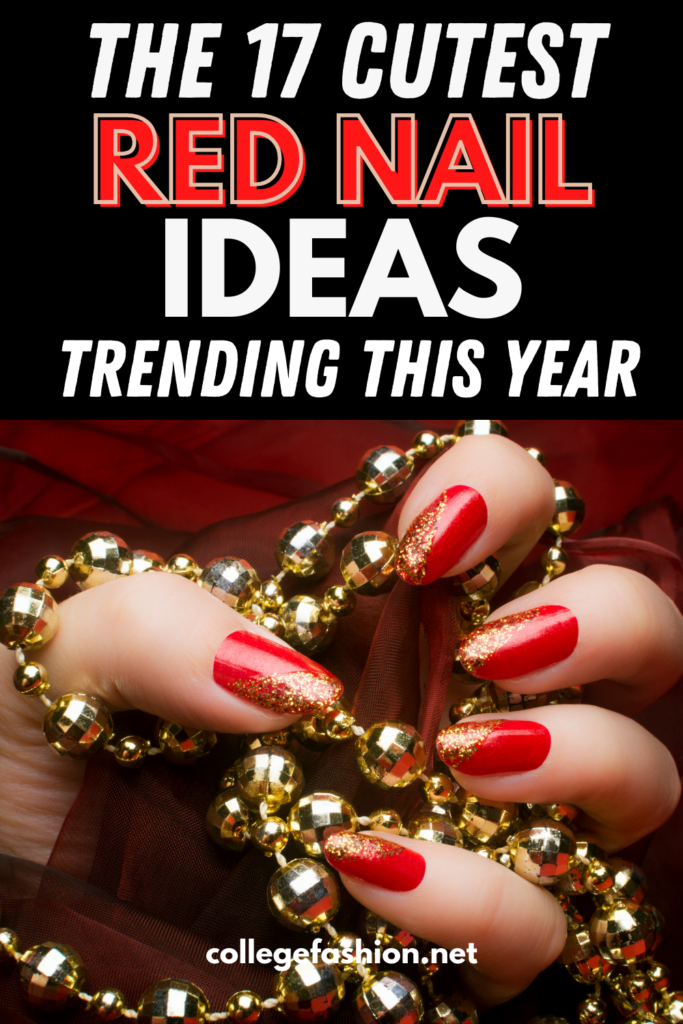 Doing your nails is always so much fun! There are so many different styles and colors to choose from. However, sometimes this can make it difficult to choose what nails to do next.
If you decide what nails to go for, I highly recommend experimenting with red nails. Not only do red nails always look classy, but they will also work perfectly for the holiday season.
And red nails don't have to be basic — there are so many super cute red nail ideas that you have never seen before!
Related reading: The 50 Hottest Winter Nail Trends to Try This Year
First: How to Choose a Nail Style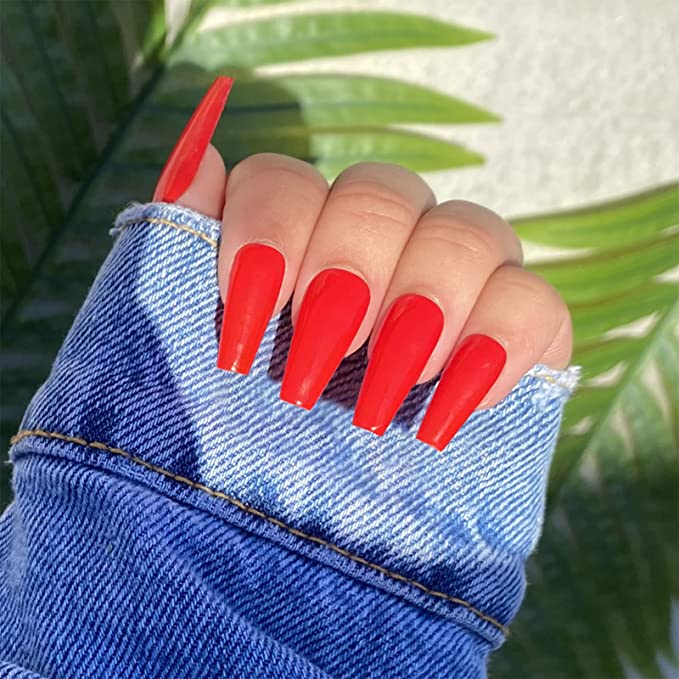 To help you pick out the best red nails for you, you will first want to consider a few things. There are a lot of different elements that go into getting the perfect nails, such as shape, design, color, etc.
For example, if you want a super easy and quick way to do your nails at home or if you are not as experienced with doing nail designs, you might want to opt for press-on nails.
If you have a little more experience, you can paint and do the designs on your nails yourself.
If you want to splurge and get something really intricate, you will want to go to the nail salon to get them done.
Also, you will want to decide whether you want short or long nails. For short nails, you can file your natural nails to the length and shape you want.
When going for the longer nail look, you will also want to decide what shape you would like, such as stiletto, almond, coffin, etc. (See all of our favorite long nail ideas here.)
Now that you have decided on all of those things, let's get inspired with some cute ideas.
If you are wondering what kind of cute red nail looks you can get with these options, check out these 17 gorgeous red nail ideas that are sure to turn heads.
Classy Red Nails
1. Red Gradient Nails
The gradient nail design has become an incredibly popular nail look recently, especially the French tip gradient nail style. However, you may not have thought to try this look with bold colors like red.
If you love the gradient nail look and also want red nails I would highly recommend trying out a red gradient nail design.
In particular, I'm loving these red gradient nails from Amazon. These nails will make your life so much easier because they are press-ons. You can reuse them multiple times to save money and have gorgeous nails for weeks on end.
2. Red with Gold Leaf Nails
This cute red nail style is perfect for the holiday season! Red nails with gold leaf accents look so incredibly festive and beautiful.
This is simple and fun nail design that you can do with red nails. Not only is it easy to do at home, but also it will look great on long or short nails.
To get this look, you just need a pretty red nail polish, some gold leaf flakes, and a good top coat to seal it all in.
3. Red Nails with Gold Cuticles
Another nail idea using red is this look, which features bold red nails with different colored cuticles.
This will look great on long or short nails, and you can choose whatever color you would like for the cuticles.
In this tutorial, they use gold and red because they look so amazing together! You could also do this with black, white, pink, or silver for great results.
4. Red French Tip Nails
I am sure all of you know what french nails are. They usually come with a nude base and white tip added onto the nail. However, if you have gotten regular french nails before and want to switch it up a bit, I recommend experimenting with a different color tip, like red.
I absolutely love this kind of nail because you can still get the French nail look but you can make it stand out with fun colors. As seen in our post on fall nails, this looks amazing with black, orange, yellow, beige, and burgundy too.
What I also love about this nail style is that it is actually very trendy right now, (just look at your Instagram for proof) so if you are looking for a great red nail look to try this year, I would highly recommend this one!
Cute Red Nails
5. Red Design Nails
You could also use red nails as a way to get a specific nail look, for instance, Minnie Mouse inspired nails like the ones shown in this tutorial!
If you love Disney or have a trip to the parks planned, I highly recommend trying out these nails because they are so adorable. Just make sure to have red, black and white nail polish on hand to do this look! (A good detail brush also helps.)
6. Red Cherry Nails
Doing designs on your nails can be hard especially if you are a beginner. This is why I love press-on nails because you don't have to worry about making a mistake on your nails and they are so easy to do at home!
So, if you want a cute red nail design, but are worried about getting the design to look perfect, don't worry because you can purchase these press-on cherry nails!
These will look so adorable and will take little effort to apply.
7. Red Coffin Press-On Nails
One of the most important parts of deciding what kind of nails that you want is the shape that you want to go for.
There are so many different kinds of fun shapes to go for, but if you want a super cute and trendy red nail look I would highly recommend getting red coffin-shaped nails like these red press-on nails from Amazon!
If you love adding rhinestones to your nails, but you want to avoid the struggle of having to add on each individual rhinestone for your design, you could get red press on nails that already have a rhinestone design like these red tip press-on nails with rhinestones!
This will save you the stress of having to do the design yourself, and it will give you a red glam nail look in no time.
9. Red Marble Nails
These kind of nails were super popular years ago, and they still are an amazing nail style that you can do with a ton of different colors including red!
All you will need is a red color to combine with another shade of red or even a different color to get a cool swirl marble look.
If you have never tried this nail look before, it's super easy — just watch this quick tutorial on how to do it!
Red Nails with Glitter
10. Sparkly Red Nails
If you want a red nail look that will really make your nails stand out for the holidays, I recommend going for sparkly red nails!
All you need to do is paint your nails with red sparkly nail polish and you will be good to go. You will be obsessed with how glam your nails look if you try this look.
11. Red Hearts Nails
Another one of those really cute red nail ideas that you can do with red nail polish is a red hearts nail look! This will be perfect for a Valentine's day nail look or even if you want to just get a girly nail look using red.
This will be an easy nail design look for you to do at home. You just need to have your base color and a red color for the hearts. You could even add in a little gold sparkle as seen in this tutorial.
12. Red Glam Nails
If you love to go to the salon for intricate designs, you could also try these extra glam long nails using red. These nails have everything you can think of — rhinestones, flowers, sparkle, so you will definitely feel really glam if you try this look.
If you want to learn how this extreme glam nail look is done, check out this tutorial to get all the details!
13. Red Holiday Nails
What I love about red nails is that they always looks good for the holiday season! So, you can definitely take advantage of this if you want to get into the holiday mood by doing red nails with a fun holiday design like the one in this tutorial.
This gold and red glitter nail look will look super cute throughout the holiday season, and the pretty gold nail color will make your nails really sparkle.
Red Acrylic Nail Ideas
14. Red Nails with Flowers
If you want a cute red nail idea, but you also want to do a girly, but simple nail design, I highly recommend doing red nails with flowers. These are so cute!
What's great about this nail look is flowers are not too hard to make; most salons can do them. Also, you can really get creative with how the flowers look by switching up the colors or size of the flowers.
Related reading: 21 Gorgeous Floral Nail Design Ideas to Try This Year
15. Short Red Nails
Now, if you don't want to add a super long tip to your nails but you still want acrylics, you could always just go for the classic red nail look with short acrylic nails.
This is one of those red nail ideas that's just so classic and simple but really packs a punch. I'd get these done in December to wear through the holidays.
16. Red Swirl Nails
I am sure you have seen this kind of nail design. It has been all over recently. It is the swirl nail design!
Swirl nails are super fun to do and are pretty easy if you are new to nail designs, so if you don't want to go the acrylic route, you could totally do them on yourself.
All you will need is a base color and some red nail polish to create your swirls, and you will be able to create the perfect red swirl nail look.
17. Red Nails with Accent
Another red nail idea that you will love is the red nails with an accent nail. This is another nail design that became popular a few years ago and is still a great nail look!
The tutorial above shows nails done at a salon, but you could also DIY at home. All you will need to do is decide what color or even design you would like to do for your accent nail (usually the ring finger) and paint the rest of your nails red!
I highly recommend doing a pretty sparkly gold for your accent nail because red and gold look so good together.
Which of these red nail ideas do you like the most?
Which ones are you excited to try? What nail design do you think you'll love?
If you liked these cute red nails ideas, you might also want to check out these articles below –