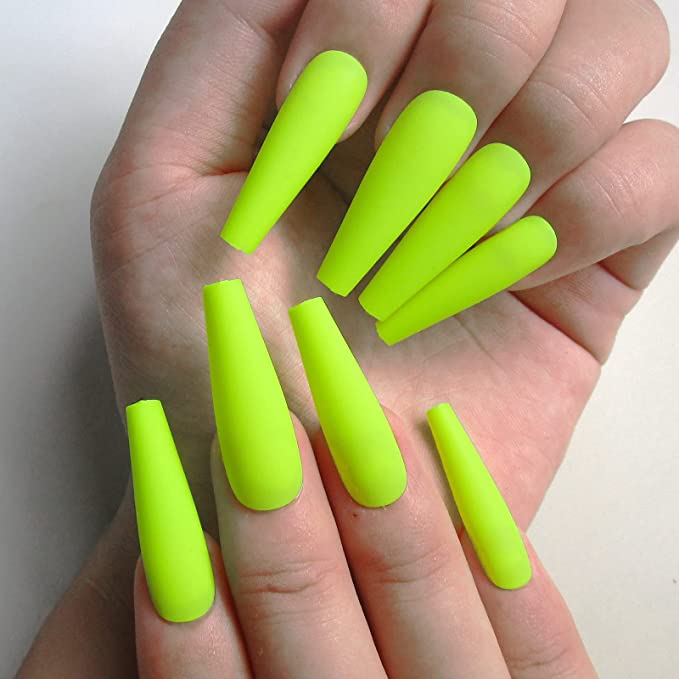 Are you looking to add some more color to your look? Neon nails are the way to go! With summer coming up, there's nothing like a neon manicure to add a little extra life to your look.
There is a neon nail design out there for any type of nail, you just need to find the one that is perfect for you! Neon works with all nail lengths and shapes.
If you have never tried wearing neon nails or you just need inspo for your next trip to the nail salon, don't worry because this post will show you 20 amazing neon nail designs that you should try, and how to get them!
1. Neon French Tip Nails
This nail look is one of the trendiest, coolest neon nail looks out there right now.
If you haven't tried them yet, you need to attempt neon micro French nails!
The micro French mani has been very popular recently, so if you are dying to try out this trend, but want to add some color to your nails, I would recommend adding some neon colors, as seen above.
Just watch this quick video tutorial to see how you can get this neon micro French look!
2. Neon Ombre Nails
If you're like me, you love ombre nails and get them all the time. But, if you always get just the regular nude and white ombre nail look, it can get kind of boring at times.
So, why not make your nails stand out more with some fun neon colors? You can totally get an ombre nail look using neon nail colors and a glitter overlay, as seen above.
For the easiest possible look, just buy the set of press-ons linked above and call it a day!
3. Neon Glitter Nails
If you love neon colors and want to add even more to your nails to make them stand out, I would recommend going for this neon encapsulated glitter nails look.
This will give you a nail look with a ton of neon colors and will add a girly feel to your nails with some glitter!
This is definitely one you need to get at the salon, but watch the tutorial above and you'll see how it's done.
Related reading: 15 Beautiful Glitter Nail Designs You'll Be Obsessing Over
4. 3D Neon Nails
You may not have thought of trying this kind of look. It is 3D nails! This 3D nail look will be just the thing to get everyone to notice your nails.
And, it especially looks cool using neon colors as shown in this video. If you're curious about how to achieve 3D neon nails, just watch this tutorial.
5. Matte Neon Nails
A ton of people love the matte nail look and it looks awesome when paired with neon colors.
Watch this nail tutorial to see an example of the kinds of designs you can do to get a super cool neon matte nail look!
6. Neon Swirl Nails
Who doesn't love the swirl nail design? I know that it is one of my personal favorites. However, have you ever thought of using neon nail colors to create the swirl design?
If you haven't, I would highly suggest trying it out by doing a design like this neon ombre swirl nail look shown in this video. This one would be so perfect for summer!
Related post: 20 Cute Summer Toe Nail Designs to Try This Year
7. Neon Marble Nails
Marble nails have been around for a while now. So if you love a good marble nail look, but want to try something a bit different, I would recommend using neon nail colors next time!
Marble nails can be hard to achieve especially if you want to use multiple colors, so if this is the kind of look you are going for, watch this tutorial to see how to do it. You can always get these done at a salon, too.
8. Neon Bling Nails
Bling is always a great choice. It's the perfect way to add something a little extra to your nails to make them really sparkle!
And if you want to create glam neon nails, you totally can! There are plenty of ways you can add some rhinestones to neon nails.
Just watch this tutorial to see a great example of a bling neon nail look.
9. Glow in the Dark Neon Nails
This is another nail look you may not have thought of, but is super cool! It is glow-in-the-dark neon nails.
This is a fun way to really do something different with your nails and this will make the neon colors really stand out! (And it would be perfect for a themed party or event.)
If you are curious about how to achieve glow-in-the-dark neon nails, just watch this quick tutorial!
Related post: 17 Amazing Dip Powder Nail Ideas to Try
10. Neon Marble and Nude Nails
Here's another cool take on the neon marble nails look, this time combining a nude base with swirls of neon blue, orange, red, and yellow.
The look is so painterly and romantic, not normally what I'd associate with "neon nails".
To get this look for yourself, just scoop up the set of press-ons linked above, and wear them again and again.
11. Rainbow Neon Nails
Rainbow designs are a popular nail trend these days. And, if you are looking for a way to add a lot of color to your nails, this is the perfect way to do it.
If you are going for the super cute rainbow nail look, I would recommend using neon colors to make the rainbows really stand out! The hearts and dots are optional but I think they add a lot of extra cuteness to this look.
12. Neon Smiley Face Nails
Another cool way to add some neon details or designs to your nails is doing neon colors on black, as seen on these neon smiley face nails. You could do so many different designs with this look — it's really versatile and cool.
This neon nail design could definitely be tricky to achieve at home, so I recommend buying the press-ons to make your life 10x easier and get the exact look.
13. Neon Flame Nails
The flame nail design is also pretty popular right now, so if you are going to do this nail design why not make the flames stand out even more by using neon colors?
This tutorial shows you a beautiful neon flames nail design that you should definitely try out if you want to get this kind of nail look.
14. Neon Hearts Nails
Of course, you can also draw some super cute designs on your nails using neon colors.
For example, hearts are a very common design for nails and would totally look cute in neon colors as shown in this neon hearts nail tutorial video.
15. Neon Nail Polish
If you want to try neon nails, but you want to go for just a solid color nail look, there are also plenty of neon nail polish colors that you can choose from.
This video will show you exactly what neon nail polish colors you should be buying!
16. Neon Smoke Nails
I am totally obsessed with the neon smoke nail look, seen above! It's unlike anything else on this list and really makes a statement.
These nails look super cool if you use a black base coat and multiple neon colors as shown in this tutorial!
Just watch this video to see all the details on how to get this nail look.
17. Neon Rainbow French Outline Nails
I love this look for those of us who always get French nails. While the French manicure is classic, I love the idea of switching it up with a neon French outline nail design!
If you are going for this look, I recommend going for a neon rainbow French outline look as shown in this video! It's beautiful, it's minimal, and it's really unique and cool.
18. Neon Slime Drip Nails
Did you ever watch Nickelodeon's Kids' Choice Awards when you were younger? If you have, you probably remember the green slime that they would throw on the celebrities.
This nail look will make you remember those times. It's a slime drip nail design using neon green. If you love this super cool nail design, check out this tutorial to see how you can get the look!
19. Neon Press-On Nails
If you prefer to use press-on nails, you totally can still get a neon nail look!
For example, these neon yellow press-on nails from Amazon are everything you need to get a cool neon nail look that you will love.
Related reading: The 20 Best Yellow Nail Ideas to Try This Year
20. Neon Gold Foil Nails
If a plain old neon nail look isn't enough for you and you want something even more extra, I recommend combining your neon nail look with some gold foil!
This actually looks awesome with neon nail colors and can be used to create some pretty nail designs. For example, this video tutorial will show you a neon and gold foil nail look that you will be obsessing over.
Which neon nail design from this list is your favorite?
Which neon nail designs will you be trying? What is your favorite neon nail polish color?