This post will show you the cutest birthday nail ideas this year.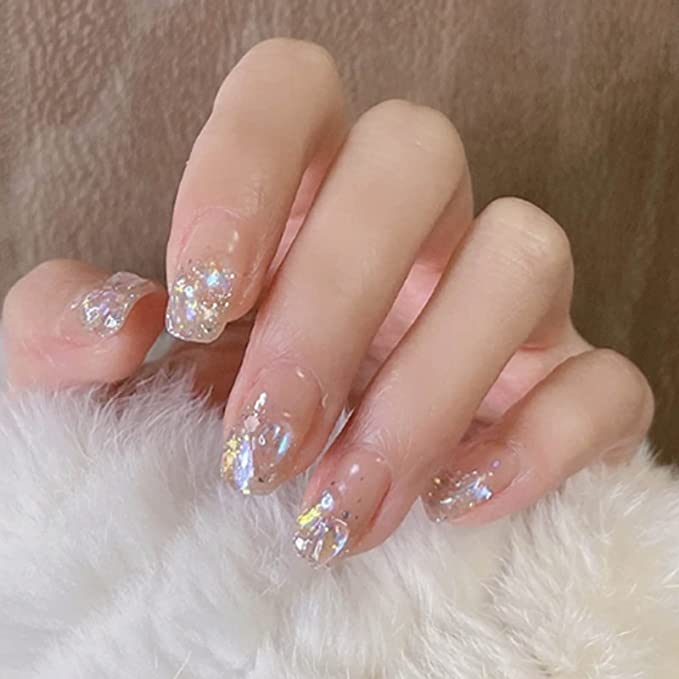 Celebrating your birthday is always a fun time! If your birthday is coming up, I am sure you are eager to start planning your birthday party and all the other ways that you are going to celebrate. (See our ideas for 18th birthdays and 21st birthdays for more on this.)
I'm also sure you have started thinking about your birthday look for all those photos you will take.
When thinking about your birthday look, your makeup, hair, and outfit are all critical. However, don't forget about your nails!
It's so much fun to do unique birthday nails, so I recommend treating yourself to a gorgeous nail look for your bday. You'll make your nails stand out on your big day, and you'll feel so special and glam.
If you want to try out a fun birthday nail look but aren't sure what kind of look you want, this post will show you a bunch of different nail looks that you can use as inspo for your birthday.
Without further ado, check out this list of 13 beautiful birthday nail ideas you will love for your big day!
1. Encapsulated Glitter Nails
If you are looking for a fun glitter nail idea to do on your birthday, but you also want to add a trendy design to it, this look is for you!
This encapsulated glitter nail look is so beautiful. This manicure combines beautiful purple shades with some glitter and decorative butterflies to give you a nail look you will be obsessed with.
If you have never tried out encapsulated glitter nails before, check out this video to get all the details!
Related reading: 15 Beautiful Glitter Nail Designs You'll Be Obsessing Over
2. Birthday Candle Nails
These birthday candle nails are one of my favorite birthday nail ideas because they're so cute and perfectly on theme.
What I love about this look is that it is simple to do at home. So, if you are a beginner at nail design, don't worry because you can achieve this look yourself.
Watch this quick video tutorial to see exactly how to get this fun birthday-inspired nail design!
3. Birth Year Nails
Another great birthday-inspired nail idea is birth year nails. If you have never seen birth year nails before, they usually look like this nail look with gothic lettering on each nail to show the year you were born.
So, if you want to do a fun but also simple birthday-inspired nail design, I recommend trying out this type of nail look for your big day.
4. Cupcake Nails
If you want a simple and cute birthday nail idea, this one is for you! This cupcake nail look uses some pretty pink shades to create an adorable cupcake design.
You can even add some extra interest to this look by adding some stripes to the rest of your nails, reminiscent of cupcake wrappers. So, if you are considering trying out this look, watch this video tutorial to see exactly how to do it.
5. Confetti Nails
Nothing says celebration quite like confetti! So obviously, the confetti nail look is one of the best birthday nail ideas ever.
This nail look will give the illusion that you have confetti on your nails to give you a fun and celebratory manicure for your birthday.
To see how to get this look on your next salon visit, I recommend watching this video tutorial!
6. Glitter Nails
Glitter nails are another fun option for your birthday to make your nails stand out!
This nail look is perfect for those who want to add some sparkle to their nails and don't want an overly complicated design. What I also love about this nail look is you can also choose from so many types of glitters and different application techniques.
For example, this glitter nail look uses a French design with a rainbow foil glitter to add a little something extra to this classic nail look.
7. Birthstone Nails
Another fantastic birthday nail idea you can try is this birthstone nail design. To create this look, you will want to be inspired by your month's birthstone. (Find your birthstone here.) You can use the primary color of your birthstone as a polish, apply birthstone-colored rhinestones to your nails, or approximate the stone's texture with your polish.
If you want to see an example, check out this video tutorial showing you how to get a sapphire-inspired nail look if your birth month is September.
8. Rhinestone Nails
If you want a simple but glamorous look for your birthday, you will be obsessed with this easy rhinestone nail look!
All you need to do to achieve this nail look is add a base coat to your nails of whatever color you like. Then, add some rhinestones to the cuticle area to add a little sparkle.
This look will be simple but will also make your nails look gorgeous for your birthday!
9. Celestial Nails
Another fun and unexpected nail look you can do for your birthday is a celestial nail look!
Celestial nail looks combine beautiful moon and star designs to create a gorgeous manicure you will love.
Just check out this video tutorial to see exactly how to get a celestial nail look for your birthday this year.
10. Age Nails
If your birthday is a special one this year, you may want to add the age you are turning to your nails.
For example, if you are turning 21 this year, that is a huge milestone for you. So, you may want to incorporate the number 21 in almost all of your birthday looks. You can create a 21st birthday nail design on your nails by adding a 21 with some sparkle, as shown in this video.
You can also totally do this for other ages as well, and you can even add some other fun design to this look!
11. Balloon Nails
Another birthday-inspired nail look that you should consider is balloon nails. To get this look, all you need to do is find a base color you like, then choose a few complementary shades to create the balloon designs.
For an example of an adorable balloon nail look, check out this video tutorial!
12. French Bling Nails
If you love French nails and you want to incorporate this kind of design into your birthday nail look, you totally can.
French nails are an excellent option for your birthday nail look because they will give you a simple and glamorous vibe that will make you feel special on your birthday. Plus, you can wear them well past your bday with ease.
You can even add bling to your French manicure if you want your nails to stand out even more!
13. Chrome Nails
If you are looking for a trendy nail look that you can wear on your birthday, I highly recommend doing the famous Hailey Bieber "glazed donut" nails.
These nails are essentially a chrome nail look that uses a very light color to give off a "glazed donut" look. (Technically, Hailey's nails were done using white nail polish dusted with chrome powder.)
So, if you have been dying to try out these nails, I recommend getting this look for your big day! This video tutorial shows you how they're done.
What do you think of these birthday nail ideas?
Which nail design from this list is your favorite? How are you going to be celebrating your birthday this year?