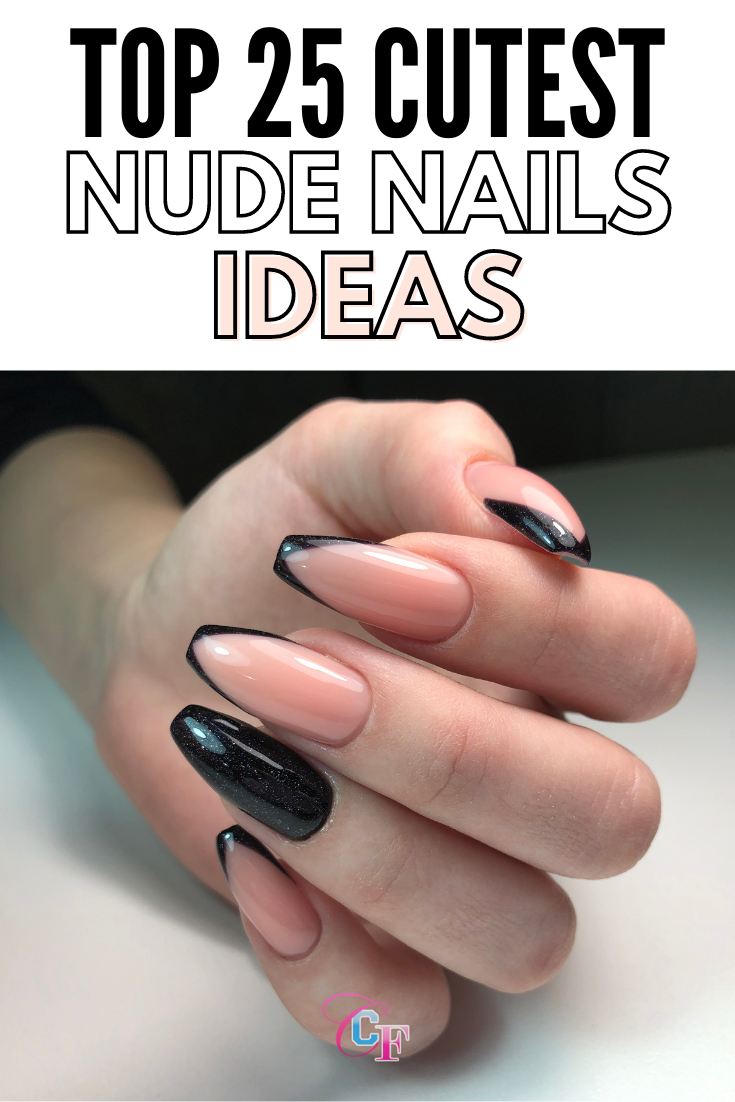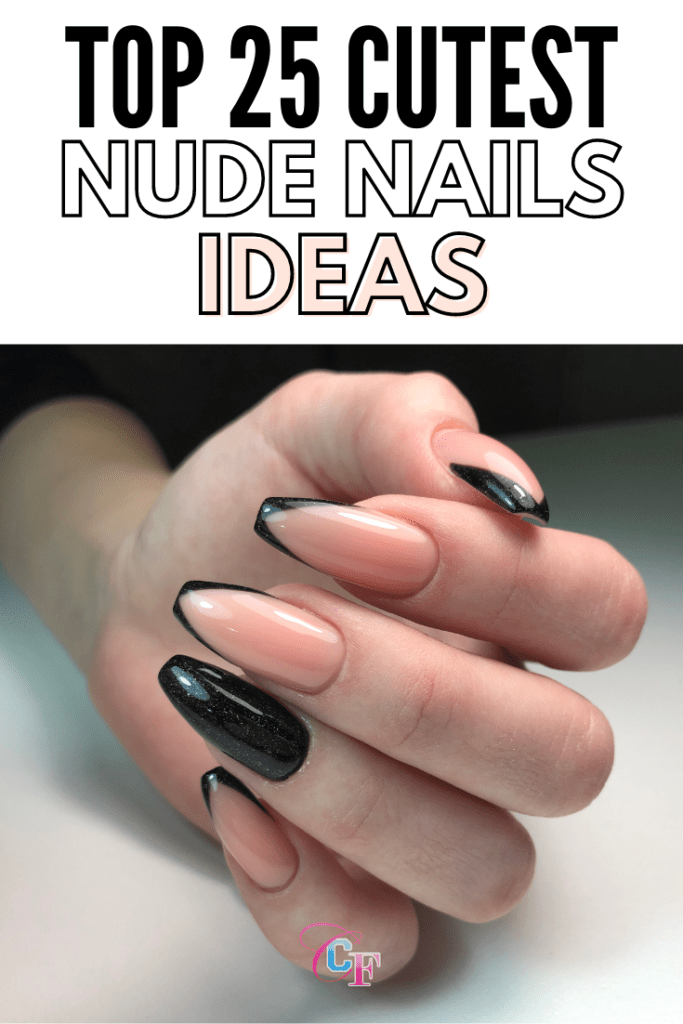 Nude nails are my absolute favorite nails to rock. I used to be all about bold and dark colors, but these days I just need something subtle, easy, and classy that will go with everything.
But, lest you think nude nails are boring, let me assure you: there are tons of fun variations on this look. Today, I'm sharing 25 of my favorite nude nail ideas to get your inspiration going.
Before we get to the ideas, it's worth mentioning that "nude nails" are different for everyone depending on skin tone. For example, nude could mean beige for someone with very light skin, or brown for someone with dark skin.
For our purposes, "nude" in this post means "your nails but better," so definitely adapt these styles to fit your skin tone!
Below, I'll share a variety of nude nail ideas, with options that will work on all different skin tones.
Nude Nail Design Ideas
1. Nude Nails with Glitter
First up on our list is a nude glitter nail polish that's anything but boring. It will also look amazing on most skin tones!
This shade from Cirque Colors is called "Rose' All Day" and it's a clear rose-toned glitter topcoat that you can apply over any nude or pink polish you own.
As an alternative, you could definitely get these nails done at a salon — just ask for nude polish with a glitter top coat.
Related reading: The Hottest Spring Nail Ideas That Are Seriously Trending RN
2. Long, Coffin-Shaped Nude Nails
Here's a classic look — and if you love long nails, this is the nude nail style for you!
Long, coffin-shaped nude nails are trending everywhere this year, and I love this style. It's a bold look that's still simple and chic.
Normally, you'd have to get these done by a professional. However, these nails are press-ons, which is a great way to get this nude nail look without a trip to the salon.
3. Short & Natural Nude Nails
Another total classic, glossy, natural nude nails are so incredibly pretty — and easy to achieve.
It just wouldn't be a nude nails post if I didn't mention the cult favorite nude polish everyone is obsessed with on Amazon. This Memeda gel polish has thousands of five-star reviews and is just stunning! It's the easiest way to get this natural, pretty look.
4. Long Nude Nails With French Tips
If you want a chic look with a little something extra, I love classic long nude nails with french tips.
These nails truly go with everything and would be just as at home at the office as they would be at a wedding or formal event. You can't go wrong with a french tip!
Related reading: Cute and Trendy French Tip Nail Designs to Try This Year
5. Ombre Nude Nails
This is the most modern way to wear the french tip nail style. If you want an of-the-moment look, try ombré nude nails, and thank me later!
Check out the tutorial above to see these done at home — it's a lot simpler than I expected.
6. Nude Nails with Gold Tips
If you want to spice up your nude manicure, consider adding gold accents to the tips. You can add an ombré glitter look, foil, or stripes — it's totally up to you.
I love these press-on nude nails with gold glitter tips because they're affordable and look like your real nails!
Related reading: The Prettiest Gold Nail Designs for an Elegant Nail Look
7. Pink Nude Nails
For another variation on the nude nails look, try pink nude nails for a sweet, romantic vibe. The cool thing about this look is that it's sheer, so it will add a pink tone to your natural nail color. This means it will look good on everyone!
The video tutorial above is one of my all-time favorites — it's so beautiful. (We also mentioned it in our post on classy nail ideas.) Even if you can't get those exact products, this is amazing inspo to take to the salon for a simple and stunning nail look.
See related: 30 Stunning Pink Nails Ideas to Try This Year
8. Dark Nude Nails
If you search for the term "dark nude nails," you're going to see a lot of variation in terms of what that means. This rosy shade, however, seems to appear the most.
You could definitely achieve this look with a dark nude nail polish, but I love these press-on nails because their shape is so trendy and perfect! You could wear these again and again and for every occasion.
9. Nude Nails With Sequins
These '90s sequin and encapsulated glitter nails are so over-the-top and amazing! They start with a nude base, and then the clear overlay is applied on top with the sequins placed with tweezers. (See the full tutorial to understand how it's done.)
You'd definitely need to get these done at a salon but it would be so worth it.
10. Sparkly Mauve Nude Nails
Here's another variation on the pink nude nails — this one is a sparkly mauve nail polish and it's so unique! This shade, called "Reverie" by Cirque Colors, has a holographic finish that flashes purple depending on how the light hits it.
I also love how easy this is if you want an interesting nude nail look in a hurry — just a couple of coats of this pretty polish and you're good to go.
Related reading: 22 Cute Nail Designs to Try This Year
11. Natural Oval Nude Nails
Oval shaped nails are classic, so oval shaped nude nails are about as timeless as it gets. These aren't flashy or statement-making, but everyone will still notice your beautiful, neutral nails.
You could definitely get this look with your natural nails and a nude polish in your skin tone, but if you want to have it easy, scoop up these press-on nails on Etsy.
12. Nude Cloud Nails
I am obsessed with these nude cloud nails — I've never seen this done with nude polish before and I can't believe how gorgeous it looks! This is such a trendy nail look that's somehow also understated and chic.
Again, these are press-on nails so you can get the look in minutes at home. No nail art skill is required.
13. Natural Nails With Flowers
If you want to rock your natural nails, I love this floral nail art look on natural nails. It combines clear polish with a yellow flower overlay and the tutorial above shows you how to do it.
My favorite thing about this look is how customizable it is. You could use any colors you wanted for the flowers, or you could mix up the look with fewer flowers per nail. It's up to you!
Related reading: 21 Gorgeous Floral Nail Design Ideas to Try This Year
14. Square French Tip Nails
These square french tip nails are insanely trendy this year. They're the cool girl's take on the classic french mani and you can get them done with the tips in any color you can imagine.
I love the classic white tips on these press-on nails, but they're also available in green and red if you prefer a bolder color.
Related reading: The 20 Cutest Square Nail Ideas to Copy Right Now
15. Nude Marble Nails
These nude marble nails are so incredibly beautiful! They combine a pink nude base with sheer white swirls, clear tips, and gold glitter accents.
For nails with so much going on, these still appear classy and chic, not overdone. I definitely want to get a set of these for myself.
If you want to get this look, pick up this affordable set of press-on nails on Etsy, currently on sale for less than $15!
Related post: 15 Gorgeous Marble Nail Ideas to Try
16. Long Nude Nails with Black French Tips
Here's an edgier take on nude nails. These long nude nails with black french tips are the downtown version of the french mani.
If you love to wear all black or just prefer a little edge with your nail looks, you can't go wrong with these.
17. Almond Swirl Tip Nails
As I mentioned in my post on green nail ideas, swirl nails are incredibly trendy this year. This take on them uses nude polishes for a subtle look.
Once again, these are press-on nails for an affordable manicure you can use again.
18. Nude Cheetah Nails
Leopard print nails are always popular, but I love this more subtle take on the look with cheetah print nail art done in nude shades. Watch the tutorial above to see how it's done.
This look gets some extra interest with the addition of gold glitter accents. It would be so pretty for the holidays or a glam vacation.
19. Matte Ombre Nude Nails
The ombré nail look is another trendy style this year, and I love it with matte nude polishes — so cool and different from the ombré manis you'd normally see.
You could do this nail look with a few different nude polishes and a matte top coat, or you could just buy this set of coffin-shaped press-ons from Etsy.
20. Nude Squiggly Line Nails
I've been seeing these squiggly line manicures everywhere this year too, and they're so fresh and fun. I especially love them in neutral colors like this nude and black squiggle mani.
This is another nail look you could definitely DIY with a small nail detail brush, but if you want to do it the easy way, pick up this set of nail wraps on Etsy.
21. Nude Nails with Crystal Accent Nail
Crystals are always fun to add to your nails for any special events — they're so glam and statement-making.
If you want to combine nude nails with crystals, why not try these nude nails with a crystal accent nail? They're so beautiful and would be perfect for a wedding or formal.
22. Nude Moon and Stars Nails
For all the celestial vibes, glam up your nails with this nude moon and stars manicure. This nude nails idea combines a sheer pink nude polish with gold moon and star accents. It's super glitzy and sure to turn heads.
These press-on nails from Etsy will give you this exact look on a budget. So pretty!
23. Nude Nails with Rainbow Nail Art
Show off your pride by rocking this nude mani with rainbow nail art. I love that the rainbow covers three of the nails so it's bold but still understated.
This would be a fun nail art look to attempt as a DIY, but if you, like me, do not have the skills, you can buy this manicure as a set of press-ons.
24. Nude Nails with Pick and Mix French Tips
I absolutely love the idea of "pick and mix" nails! Named after the candy, these nude nails with "pick and mix" french tips in various designs are so quirky and fun. The nail art includes strawberries, swirls, cow print, and even a frog graphic. So cute!
If you love whimsical nail art but don't have the skills to do it yourself, snap up this set of press-on nails ASAP!
25. Nude Glitter Reverse French Manicure
Finally, we have a classic nude nail idea that never goes out of style. This tutorial shows you how to do a reverse french mani with nude and silver glitter polishes.
This is a great way to rock glitter in a cool, unexpected way. The nude polish keeps this look neutral and you can use a shade that matches your skin tone for the most seamless look.
26. Nude Stiletto Nails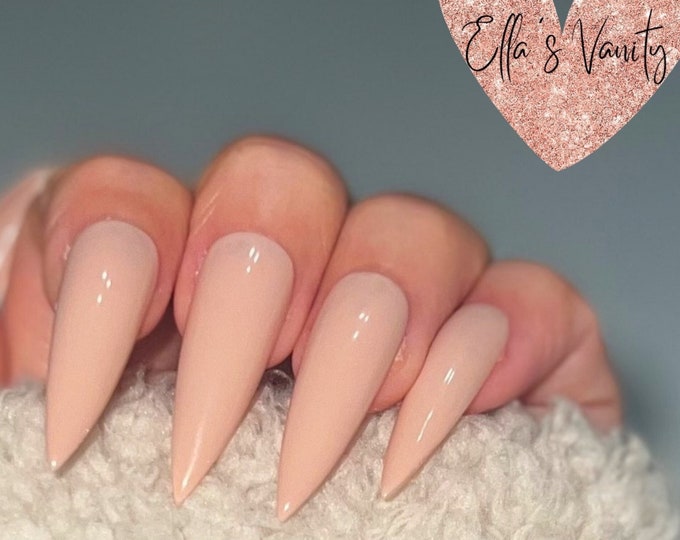 Nude stiletto nails are chic and sophisticated nail designs. They are perfect for any formal or special occasion, and they also make a great everyday look. Nude stilettos are versatile nail designs that can be worn in many different ways.
If you're looking for a nail design that's both stylish and sophisticated, yet also super simple, then you can't go wrong with nude stilettos.
Related post: 15 Incredibly Stunning Stiletto Nail Designs You'll Obsess Over
27. Nude Nails with Diamonds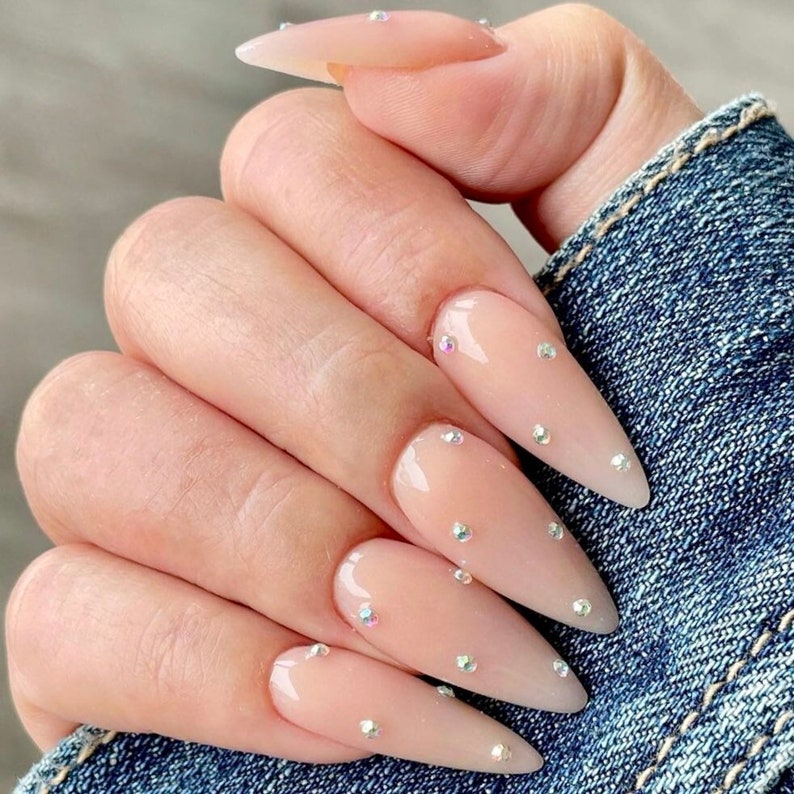 If you're looking for a nude nail design with a bit of extra sparkle, this nude nail with diamonds is perfect for you. Simply paint your nails with a nude polish and then add some diamond-shaped rhinestones to create this stylish look.
Nude nails with diamonds are perfect for special occasions or everyday wear. So if you're looking for a nude nail design with a little something extra, this is the perfect option for you.
28. Blue & Nude French Tip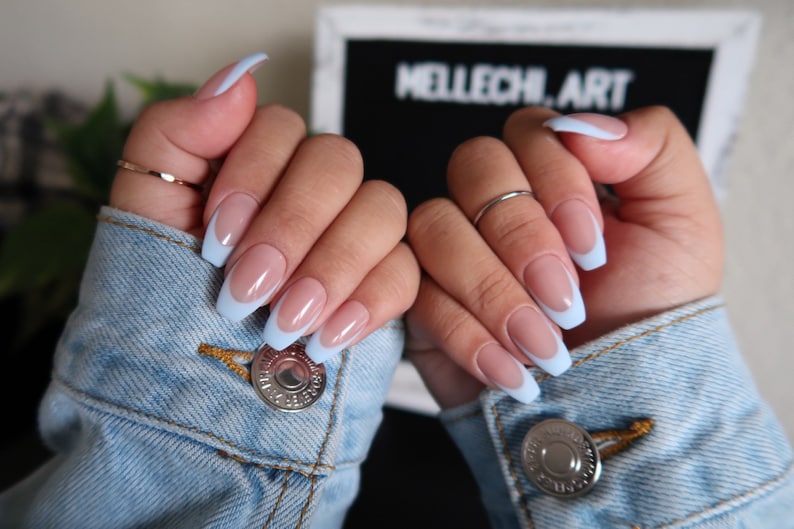 This nail design is both unique and stylish and is sure to turn heads. To create this look, start by painting your nails with a nude polish. Once that's dry, use a baby blue polish to create a French tip design at the tips of your nails.
Finish things off with a top coat, and you're good to go! (Or for an even easier look, just buy the press-on nails linked above!)
29. Nude Butterfly Almond Nails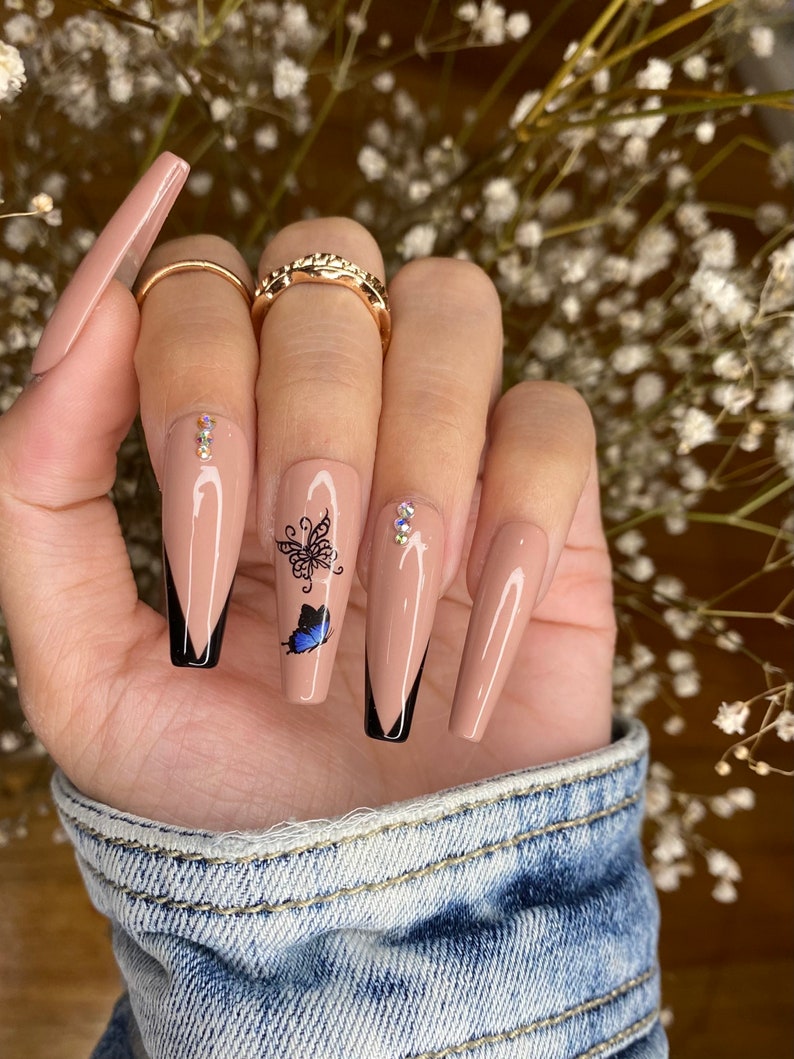 If you're looking for something a little different, try nude butterfly almond nails. They're a beautiful and unique take on the classic nude nail.
Nude butterfly almond nails are perfect for summertime events like weddings, graduations, and more. So if you're looking for a fresh and stylish nude nail design, give this one a try!
30. Nude and Pink Almond Nails with Hearts and Swirls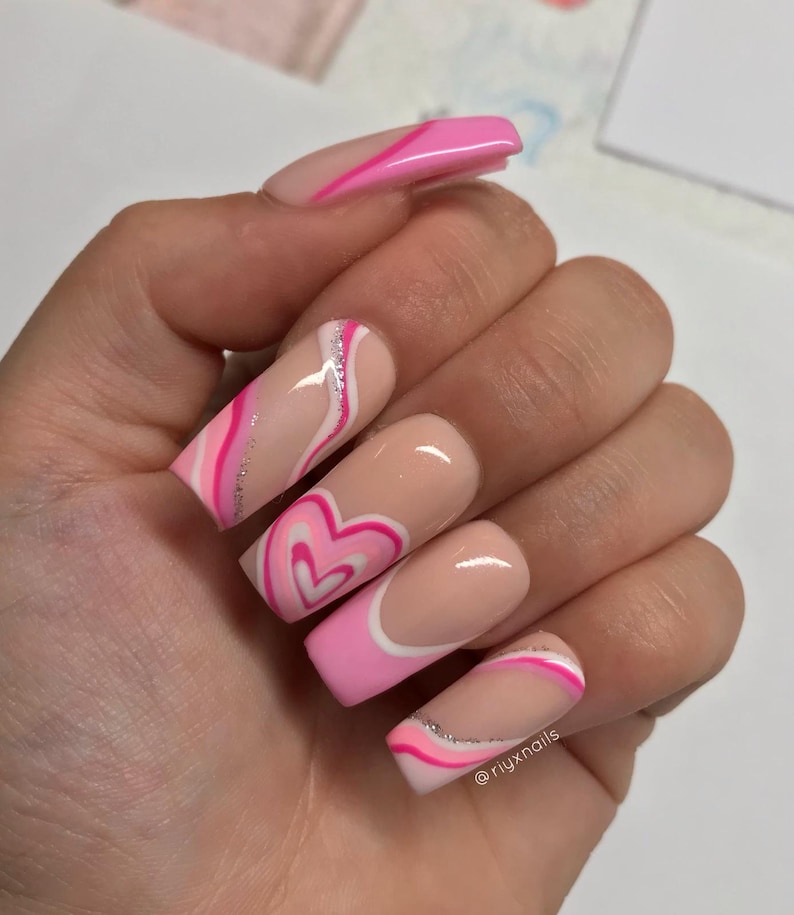 If you're looking for a way to show your loved ones how much you care, or simply want to treat yourself to a festive manicure, these nude and pink almond nails are a perfect choice.
Whether you're single or taken, these nails are sure to put a smile on your face. The nude base is the perfect canvas for the pink hearts and swirls, and the overall design is both playful and chic.
What's your favorite nude nail design?
What do you think of these nude nails ideas? Let me know in the comments section down below.
If these nude nail ideas inspire you, you might want to consider the related posts below –