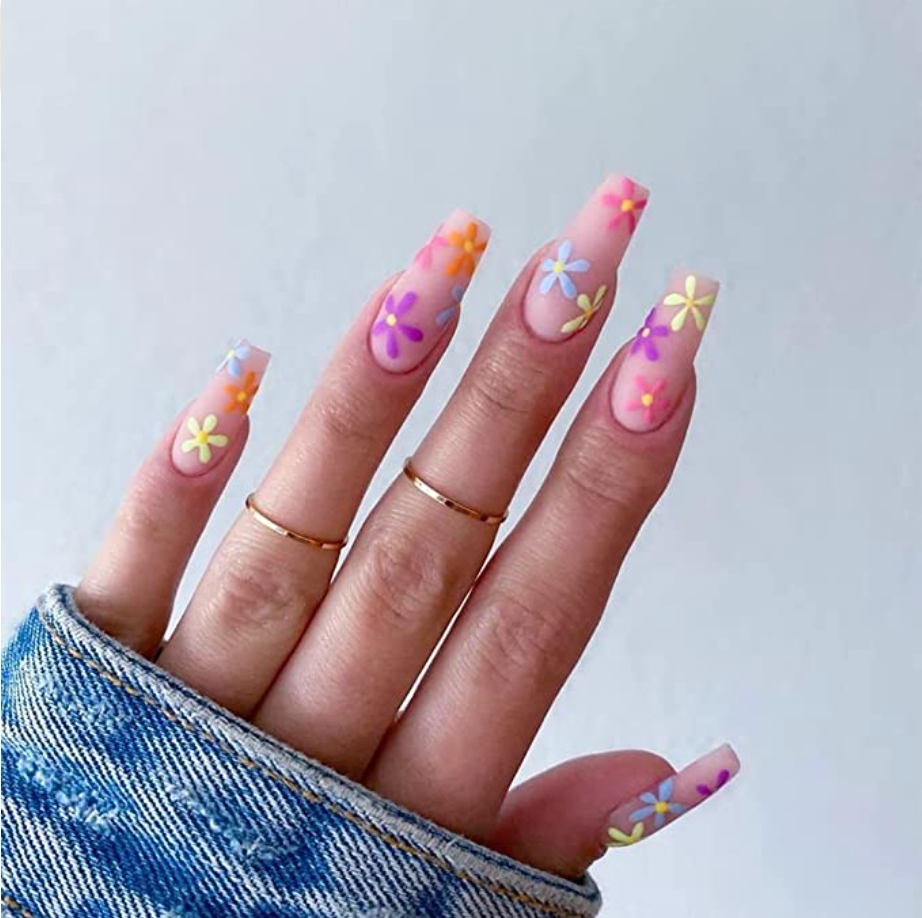 Have you rocked the coffin nails trend yet? Coffin-shaped nails became popular a few years ago as the new go-to nail shape for acrylic nails, and they're still trending in a big way.
So, if you are looking for something different to do to your nails this year, I would highly recommend trying out coffin-shaped nails if you haven't already!
First, what are coffin nails?
Coffin nails are made of straight lines on all three sides, coming to a rectangular point at the end. They're named because they – yup – resemble the shape of of a coffin.
What's great about coffin nails is that you actually don't have to get acrylics to do this nail shape! This nail shape is subtle enough, so that you can do it on natural nails as long as you have a good nail file handy.
Another thing that I love about this nail shape is it looks good on short or long nails, so whatever nail length you are feeling will go perfectly with this nail shape.
Lastly, you can't forget about nail designs! Trust me, there are so many cool designs that look great with the coffin nail shape.
So, if you are excited about trying out this nail shape the next time you do your nails, check out this list of 20 different designs that you should try out on coffin nails.
Short Coffin Nails
1. Flower Coffin Nails
If your go-to nail design is always something girly, you should definitely try this floral design on your coffin nails.
Flower designs like this one will always give your nails a super feminine vibe, especially if you also use pink nail polish. (See more of our favorite pink nail designs here.)
If you are obsessed with this look like I am, I would totally recommend buying these press-on coffin nails!
You will love these nails, especially if you like to save a lot of time by doing your nails at home.
2. Accent Coffin Nails
Another popular nail design that also looks good on coffin-shaped nails is the accent nail design.
If you don't know what that looks like, it is basically when you paint one or two of your nails a different color than the rest to make them stand out.
So, if you want to recreate a look like this, pick out two of your favorite nail polishes and play around with the colors. Or, to make your life easier, you could just purchase this press-on nail set from Amazon.
3. Outline Coffin Nails
You have probably seen the outline nails design trend on social media. It has become popular very recently and it's always showing up on my For You page.
What I love about this nail trend is it is actually super easy to recreate on your own because all you have to do is create a small outline on the tips of your nails. (Use scotch tape strips to keep the lines super crisp.)
Just make sure to also paint your nails with a base coat and your nails will be looking super trendy.
4. Marble Coffin Nails
Of course, I am sure you have probably seen this nail design before, which is marble nails.
Now, whenever I think of marble nails, I always think of coffin-shaped nails because they look so good together!
For example, if you want to get marble coffin-shaped nails at home, check out this short video on how they're done.
5. Glitter Coffin Nails
If you love to add some sparkle to your nails, great news: Coffin nails look amazing with glitter.
One of my favorite ways to add a little sparkle to my nails is painting some glitter at the base of my nail, as shown here.
So, the next time you want to try out coffin nails and add some glitter, definitely try this look. It would be perfect for prom or any summer weddings you might have coming up.
6. Colorful French Coffin Nails
Another very popular nail trend recently is colorful french tips.
If you are someone who loves the classic french tip nail design, but wants to add some color, this is the way to do it!
What I love about this design is it also looks super cute with coffin-shaped nails, as shown in this tutorial. These are super short nails but you can do this design on any length.
7. Shiny Green Coffin Nails
Of course, if you want something a little bit more subtle for your coffin-shaped nails, you could always go for just the classic one nail polish color, as shown in this tutorial.
Here, they used a glossy green and it's such an unexpected shade (that's actually trending this year).
8. Glitter Coffin Nails
Another option to add something extra to your coffin-shaped nails is some big flakes of glitter, as shown on these nails!
The best way to do this is to purchase some glitter meant for nail polish designs. (This set comes with tons of different colors in the large flake style seen above.) If you want to see exactly how to get the look, just watch this tutorial!
9. Flame Coffin Nails
If you want an edgier nail look for your coffin nails, flame nails are the way to go!
You may have seen a similar design to this one recently, because this specific design has been all over social media.
And, what's great about this design is it looks the best on coffin nails, so for your next coffin nail look, definitely give it a shot if you want something edgy.
10. Rhinestone Coffin Nails
A simple yet super cute coffin nail design idea is adding rhinestones to your nails.
There are obviously a bunch of different ways you can create designs using rhinestones, but one design that I think looks especially good on coffin nails is shown in this tutorial, which is rhinestones at the base of the nail.
11. Summer Coffin Nail Style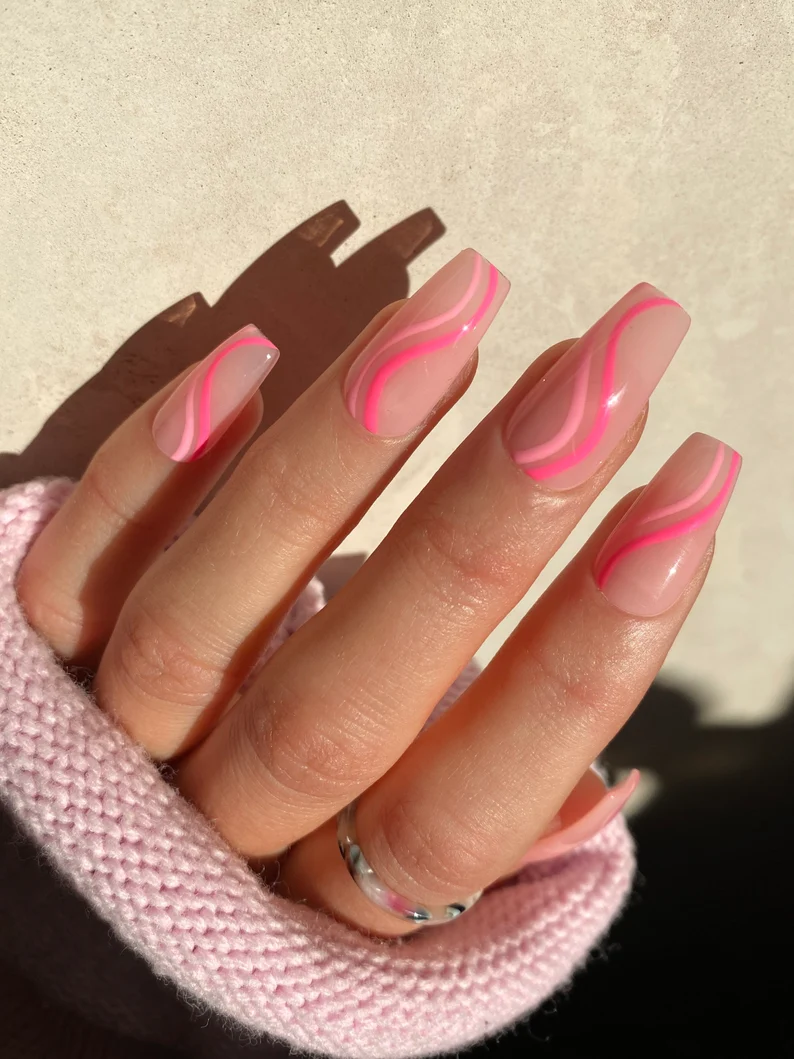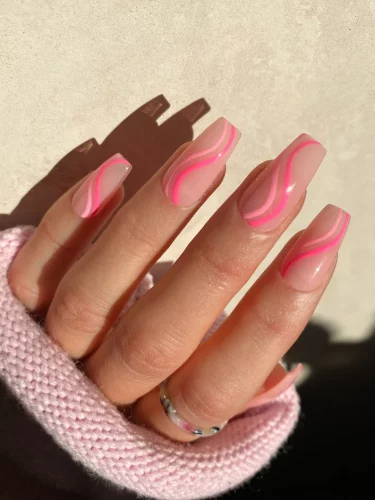 These nails are simple and elegant, and they go with any outfit. When you're out and about in the summer, you'll want season-matching nails, too! These simple swirl nails are designed in summer-inspired colors – nude and hot pink — so they won't be too overwhelming.
12. Nude Coffin Nail Design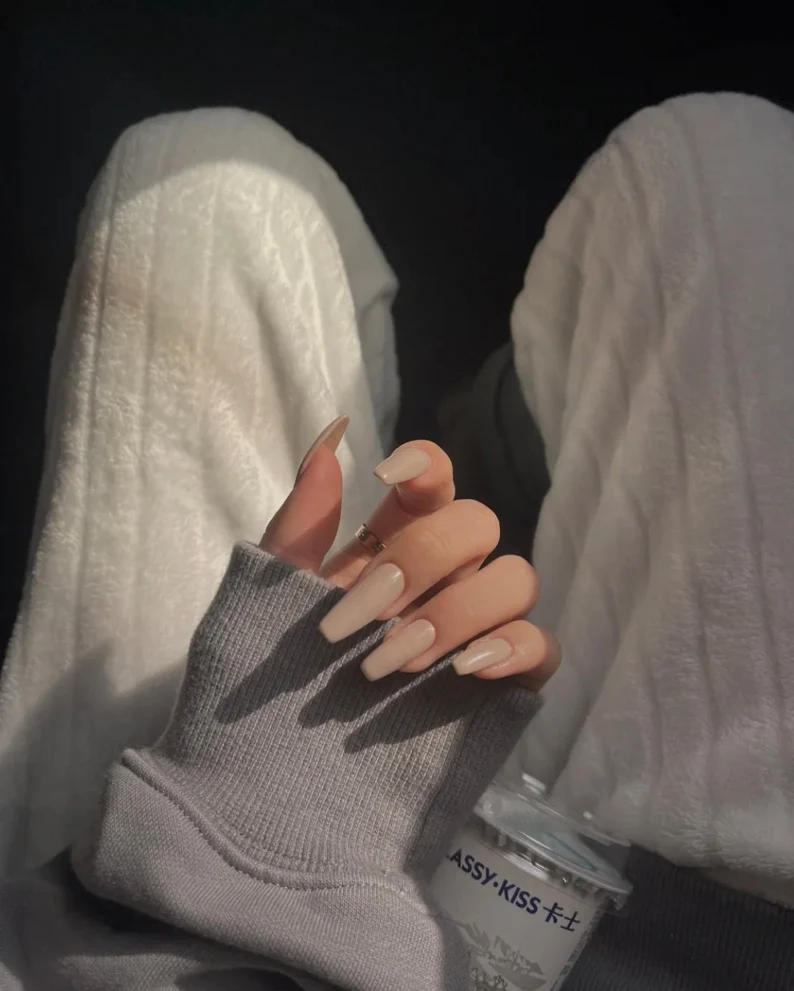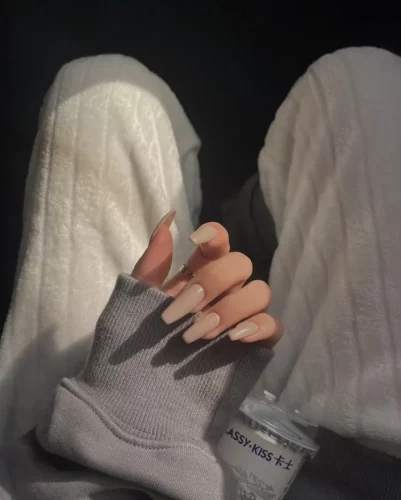 This design is perfect for those who want something subtle and chic.
If you're thinking about trying nude coffin nails, there are a few things you should keep in mind.
First, you'll need to choose a nude polish that goes with your skin tone. You don't want your nails to look too washed out, so it's important to find a polish that's the right shade for you.
Second, nude coffin nails are all about simplicity, so don't go overboard with the design. Keep it simple and elegant, and you'll definitely make a statement.
13. Coffin Black Acrylic Nail Style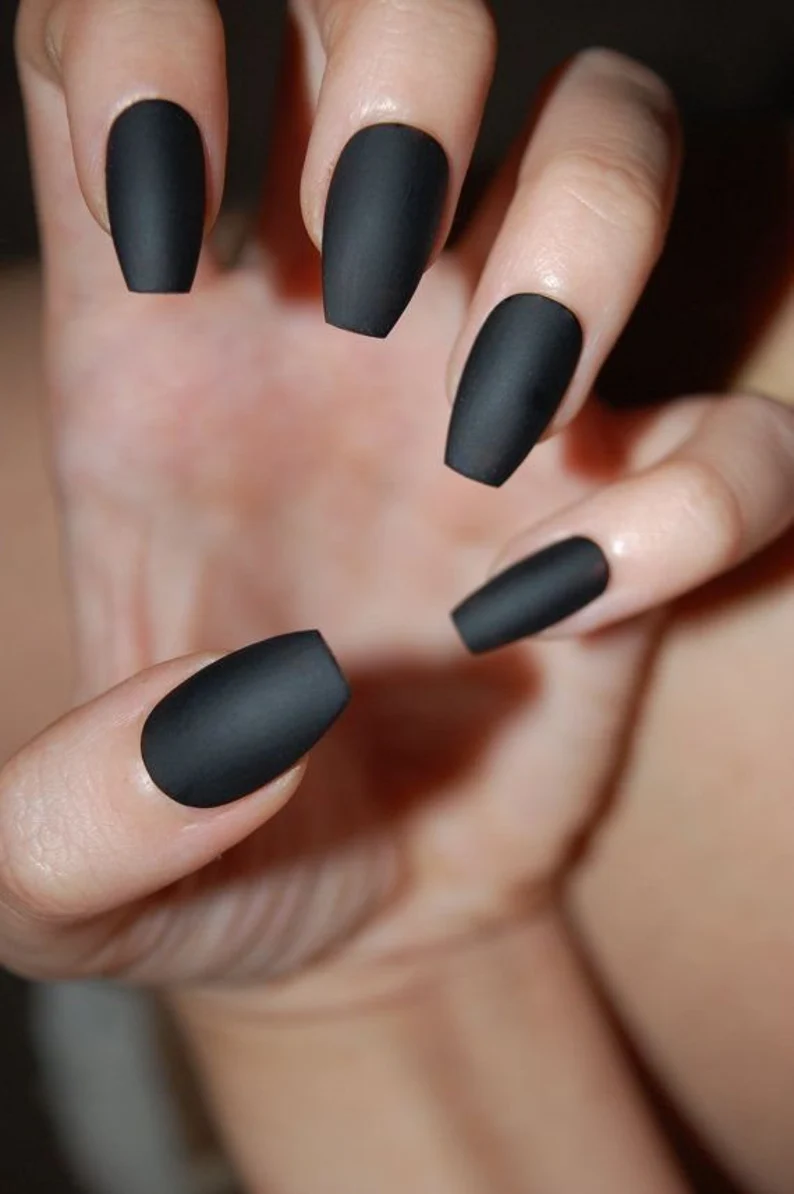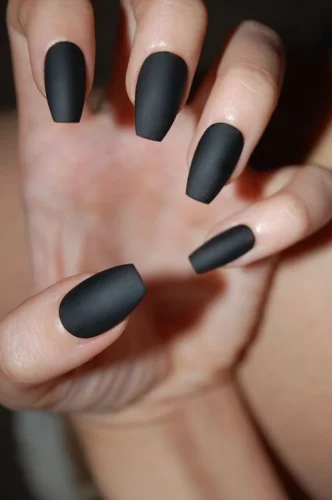 When it comes to coffin black acrylic nails, the sky is the limit. You can go for a glossy or matte finish or even add some sparkle with glitter. Despite the color's boldness, the shorter length of the nails balances it out. These are so chic and would be perfect for the fall and Halloween season!
Long Coffin Nails
14. French Tip Nails
Of course, if you love getting long nails or have long natural nails, you can totally do coffin-shaped nails and there are so many options for you to choose from.
A classic and one of my favorites with coffin nails is the French tip style manicure.
This is one of the most elegant and classy nail looks of all time, and it will look good for any occasion. So if this is the kind of nail design you are looking for, watch this quick tutorial to see exactly how to do it.
15. Swirl Coffin Nails
If you love the swirl design that's everywhere this year, you can also rock that kind of look when doing coffin nails.
This is a great design if you want to get a trendy nail look for the summer season. For an example, check out this cute vibrant-colored swirl nail look for coffin nails! It would be so perfect for summer days by the pool or your next girls trip.
16. Heart Coffin Nails
This is a nail look that you will be obsessed with! It is heart-shaped cut outs on your nails!
When looking at this nail design, you may be worried about recreating it because it looks a little difficult, but don't worry because you can purchase these press-on nails that will give you the exact look.
If you want a unique and super girly design for your coffin nails, I recommend combining a couple of different things to create your nail look like shimmer, holographic flash, and some color.
A great example of a glam look that you can create with coffin nails is this fairy-inspired nail look, as shown on the gorgeous set of press-ons linked above.
18. Pink & Black Coffin Nails
If you want to add some color to your coffin-shaped nails, I would recommend going for a pink & black look.
There are a bunch of different looks you can go for, but one design that looks really cute with these colors is this fun take on the outline nails trend, see on these-press ons on Etsy.
19. Gradient French Tip Coffin Nails
If you love gradient nails, this is also a very popular favorite idea for coffin-shaped nails.
You could choose to do the gradient design on all your nails or you could even add in some other design styles as shown on these press-on nails, which incorporate rhinestones and french tips.
20. Butterfly Coffin Nails
Nail stickers are becoming a very popular trend as well right now, and these easy-to-find stickers are a great way to take your coffin manicure to the next level.
The best part is, this look is super easy to achieve at home. Above, I've linked a pair of butterfly-adorned press-on nails, but you could also DIY this on natural nails with some butterfly stickers like these.
21. Fruit Coffin Nails
Another nail trend I love for the coffin shape is fruit nails!
There are a couple of different ways you can get this look. You could either put the fruit designs all over your nails or apply the design just to the tips, as shown on these adorable press-on nails.
Also, there are plenty of super cute fruit designs to choose from like strawberries, peaches, etc. Have fun and incorporate your favorite fruit!
22. Rainbow Coffin Nails
It seems that colorful/rainbow nails are becoming a popular new trend. And we are all here for it!
A super cute way to get the rainbow nail look while using coffin-shaped nails is by doing colorful gradient nails, as seen on this fun set of press-on nails.
23. Leopard French Tip Coffin Nails
If you are into the french tip design look but want to do something different than a fruit design, I would recommend doing an animal print design. Animal print nails are super popular and very chic.
These leopard print french tip press-on nails are a great option if you are going for this kind of look in a coffin shape.
24. Coffin Nails with Diamond Style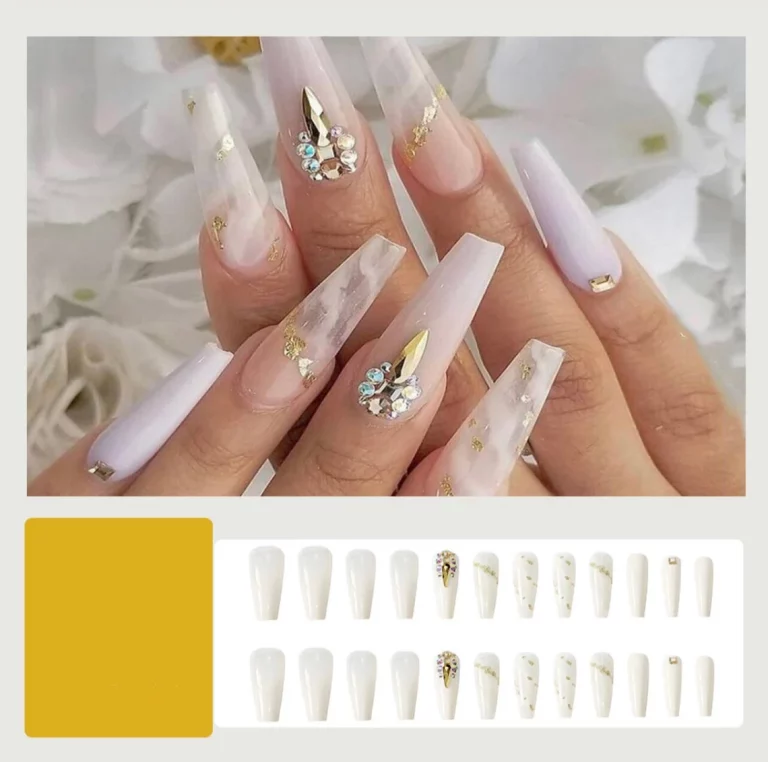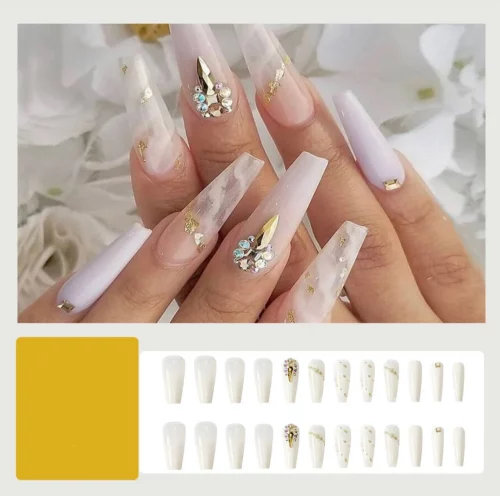 One popular option for rocking the coffin look is to add a touch of glamour with coffin nails in a diamond style.
These coffin nails feature some beautiful diamond accents, with gold leaf detailing to create a sleek and elegant look. Coffin nails in a diamond style are perfect for any occasion, from a night out on the town to a formal event.
25. Sassy Long Red Coffin Nails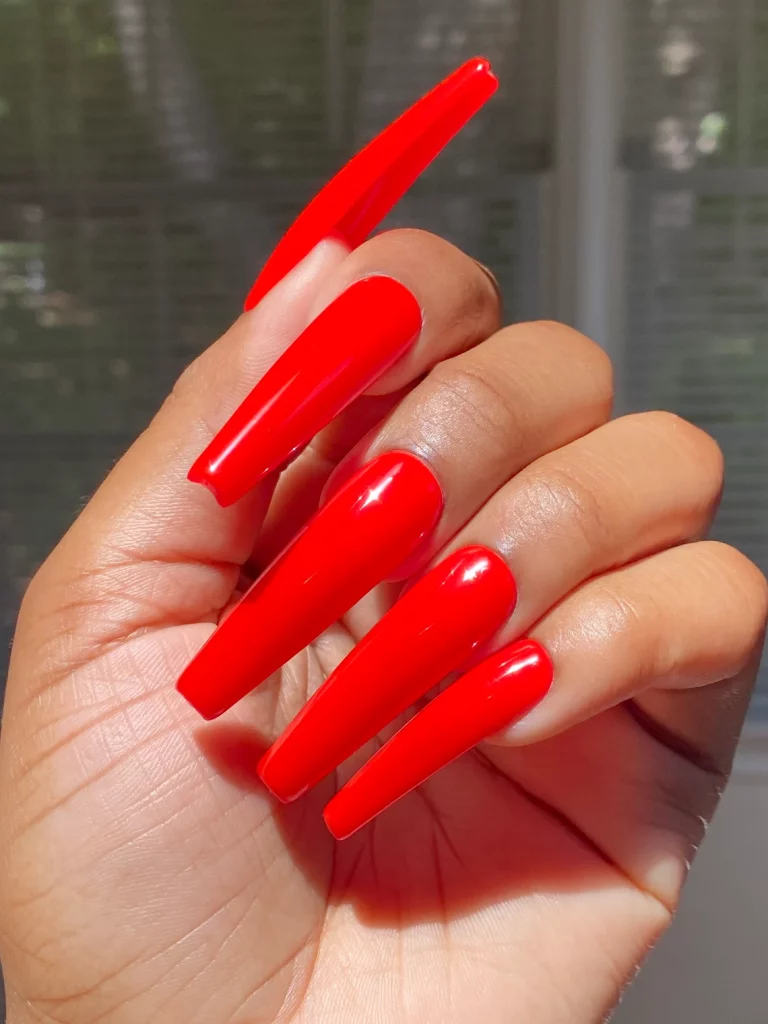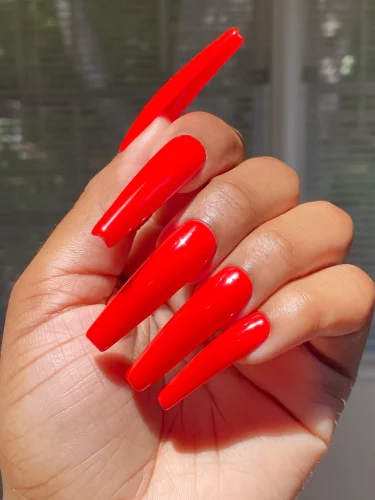 Which of these coffin nail designs will you be trying?
What coffin nail designs are your favorite? What kind of coffin nail designs do you want to wear on your nails in 2022?
You can check out more of our favorite nail designs and ideas below —