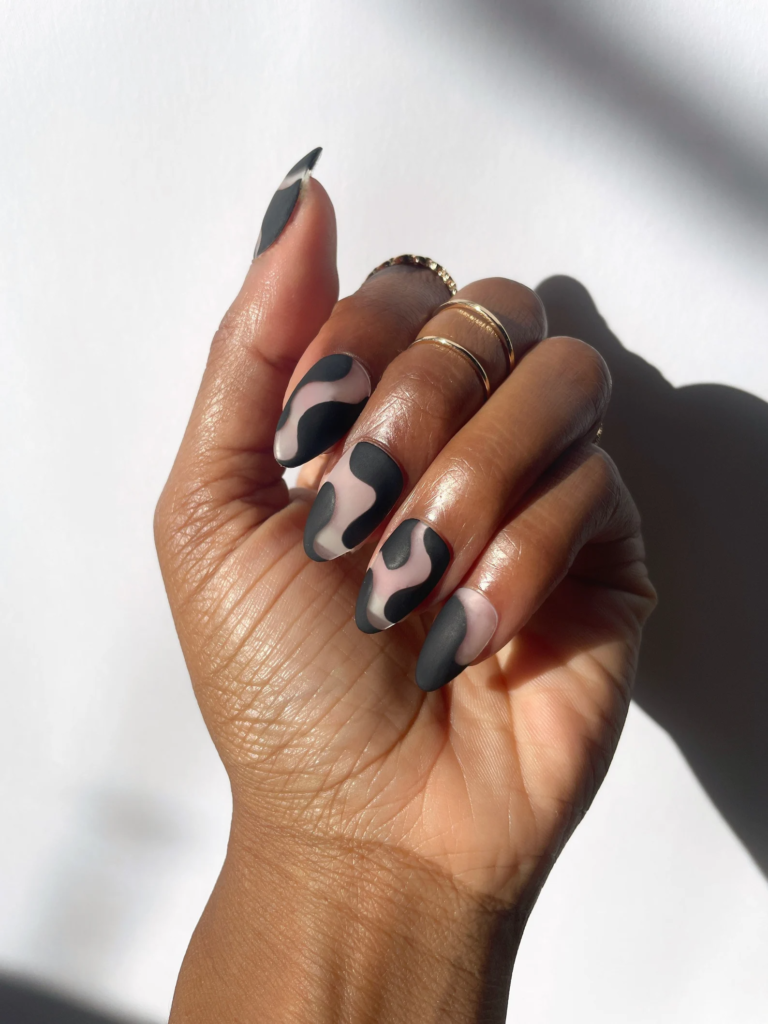 Are you looking for a fun and trendy new nail look for your nails? I highly suggest going for the clear nail look.
When thinking of fun nail looks, clear nails probably doesn't immediately come to mind. But, there are actually so many fun ways that you can use clear nails to make super cute and fun nail looks! You just need a little inspo.
So, this post will show you 13 of the trendiest and most fun ways to create clear nail looks.
What I love about clear nails is they look good on any nail length or shape. And there are so many designs to choose from, to fit any aesthetic.
Some of the most popular clear nail designs around right now include clear nails with swirls (otherwise known as swirl nails). Glitter designs are popular, too. Also, you have probably seen the flower designs on clear nails that people usually get during the summertime.
If these nail designs sound interesting to you and you want some more ideas, check out this list of the best clear nail designs that you should try.
Related reading: 15 Beautiful Glitter Nail Designs You'll Be Obsessing Over
Short Clear Nail Ideas
1. Glitter French Tip Nails
If you are tired of getting the classic French nail look, don't worry because there are so many different ways you can style French nails.
For example, you could try out this glitter French nail look with clear nails! This look is super cute and is very easy to achieve. All you need is a clear base and some glitter for the tips of your nails and you will be able to create this look at home.
This especially looks great if you have shorter nails, and you can switch up your color of glitter depending upon your mood.
Related reading: 13 Birthday Nail Ideas to Celebrate Your Special Day in Style
2. Encapsulated Glitter Nails
If you love glitter but want to try something different than the French nail style, you could also totally try out this super fun encapsulated glitter nail look!
If you have never heard of "encapsulated" glitter nail looks, they are basically when you make the nails look as though there is glitter inside of them by layering clear polish on top of loose glitter.
This is a really cool way to do your nails that will definitely make them stand out. Just check out this video to see exactly how to get the look.
3. Classic Clear Nails
Of course, if you want a simple clear nail look, you could also go for the classic clear nails that look stunning on shorter nails.
This will give you an elegant and simple nail look that you will love — and that will work for any scenario, including the workplace. Just check out this quick video tutorial to see how to achieve this look.
Long Clear Nail Ideas
4. Frame Nails
If you have longer nails, you have even more options when it comes to cool clear nail looks. A great example of one that looks amazing on longer nails is frame nails.
If you have never heard of frame nails before, this design is basically when you outline the outer parts of your nail with polish. It's especially cute if you try using glitter for the outline as shown in this video tutorial!
5. Ice Nails
Ice nails are another really cool option for those of us with longer nails or who want longer nails. Ice nails basically give off the illusion that the nails are made out of ice. (They're also really similar to Hailey Bieber's famous "glazed donut nails" that we discussed in our fall trend guide!)
If you are going to try this look, this video tutorial will teach you everything you need to know.
6. Sparkle Nails
Another super cute clear nail design idea is a simple sparkle design! To create a sparkle design, you use clear nail polish for your base and draw on sparkles as shown in this video.
I love this design because it is simple, but it also adds a little something to your nails to make them stand out. It's super easy to achieve at home, too. (And if you want to cheat, you could always use sparkle nail stickers instead of drawing them by hand.)
Clear Nail Ideas with Swirls
7. Green & White Swirl Nails
You have probably seen the swirl nail look by now; it's been the biggest trend in nails for the past two years. While their popularity has peaked, they are still a great nail look that you should be trying, especially if you want a clear nail design!
It is very simple to create clear swirl nails. All you have to do is use clear nail polish as your base and draw on whatever kind of swirls that you want.
These green & white swirl nails are a great example of the types of colors and swirl designs that you can use in creating this look. (These are done on a nude base, but the look would be extremely similar over a clear base.)
Oftentimes making swirl nails look exactly how you want them to can seem hard, especially if you are a beginner at nail designs, so you can purchase these press-on nails for an easier option.
8. Black and Matte Clear Nails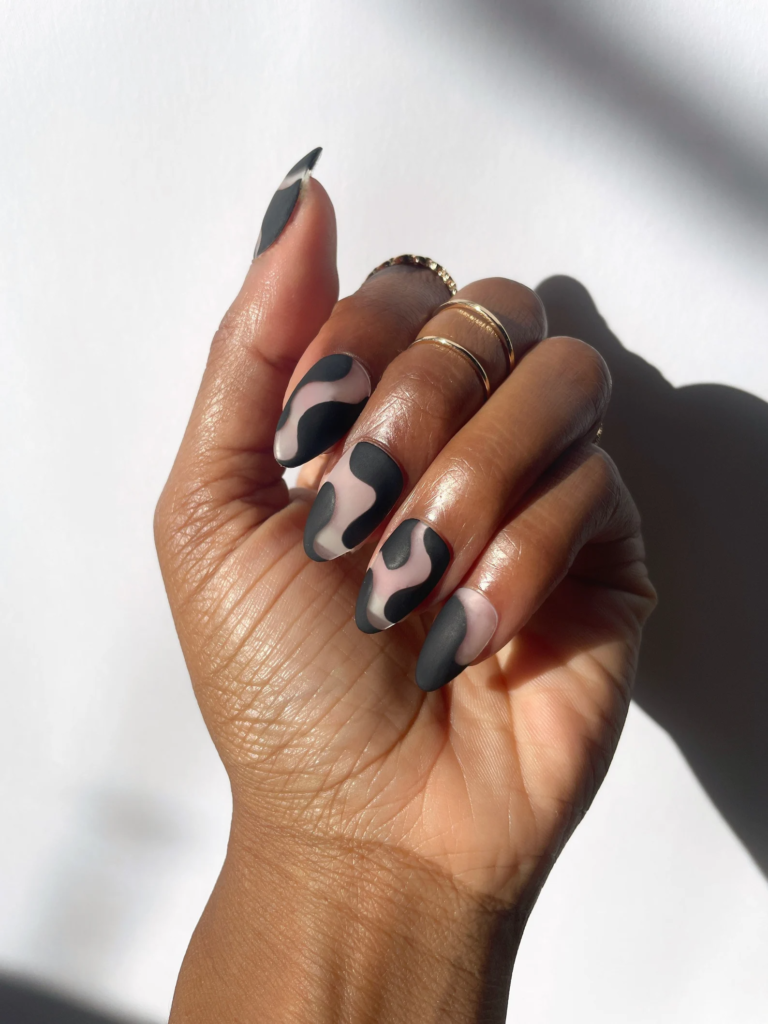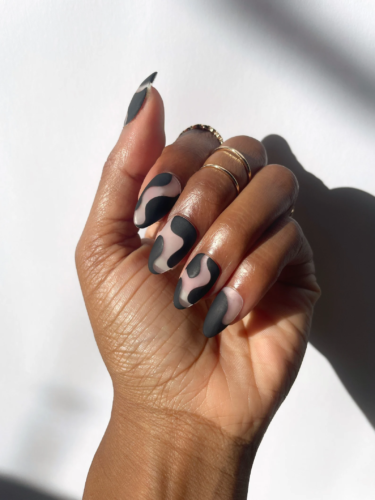 How cool are these black matte clear nails? I love the look of the matte black abstract polish paired over a clear base. It's so modern and unexpected.
While you could definitely DIY these nails at home with some black polish and your favorite matte topcoat, these nails are available as a set of press-ons to get the exact look shown above. (Bonus: They have SO many positive reviews!)
9. Black Swirl Nails
If you don't want super colorful swirl nails, you can also go for something more simple, like using black with a clear base to create a swirl nail look.
Even though this look is not as colorful as the green design above, it still will give you a super cool and trendy nail design.
And, you can purchase these press-on nails too, if you want to save yourself some time while doing your nails.
10. Swirl Nails with Glitter
If you want swirl nails that will really make your nails stand out, I recommend doing colorful swirls with glitter on a clear base.
This video will show you exactly how to get a colorful swirl nail look with glitter at home!
Clear Nail Ideas with Flowers
11. Rose Petal Nails
Another really cool clear nail design is encapsulated flowers. Encapsulated flower nails will create the illusion that there are flower petals inside your nails. So beautiful!
As shown in this video tutorial, this kind of nail look is a stunning example of a clear nail design. And, if you have a specific type of flower that is your favorite like roses, you can totally use rose petals to create this look.
12. French Encapsulated Flowers
Another type of encapsulated flower nail look for clear nail designs is French encapsulated flowers. This is when you use a nude or pink base for your nails, then leave the tip, so that you can add in flowers to make it seem as though you have flowers inside the tips of your nails.
This look turns out super cool and this video tutorial will show you exactly how it's done! This is probably one to get at the salon, but it's cool to see the process as it's completed in the video.
13. Black & White Flower Art
You have probably seen the classic flower nail design before because it is usually the nail look that people do for the summertime, especially on their toenails. (See: Our Favorite Summer Toe Nail Designs.) But, it also looks super cute if done on the nails!
All you have to do to get this look is use a clear base and draw on some cute flowers in whatever color you like. For example, this video shows a flower nail design using black and white nail polish. You could also use floral nail stickers instead — just seal with a glossy top coat.
Which clear nail designs are your favorite?
Which ones will you be trying? Which design do you think is the most trendy?