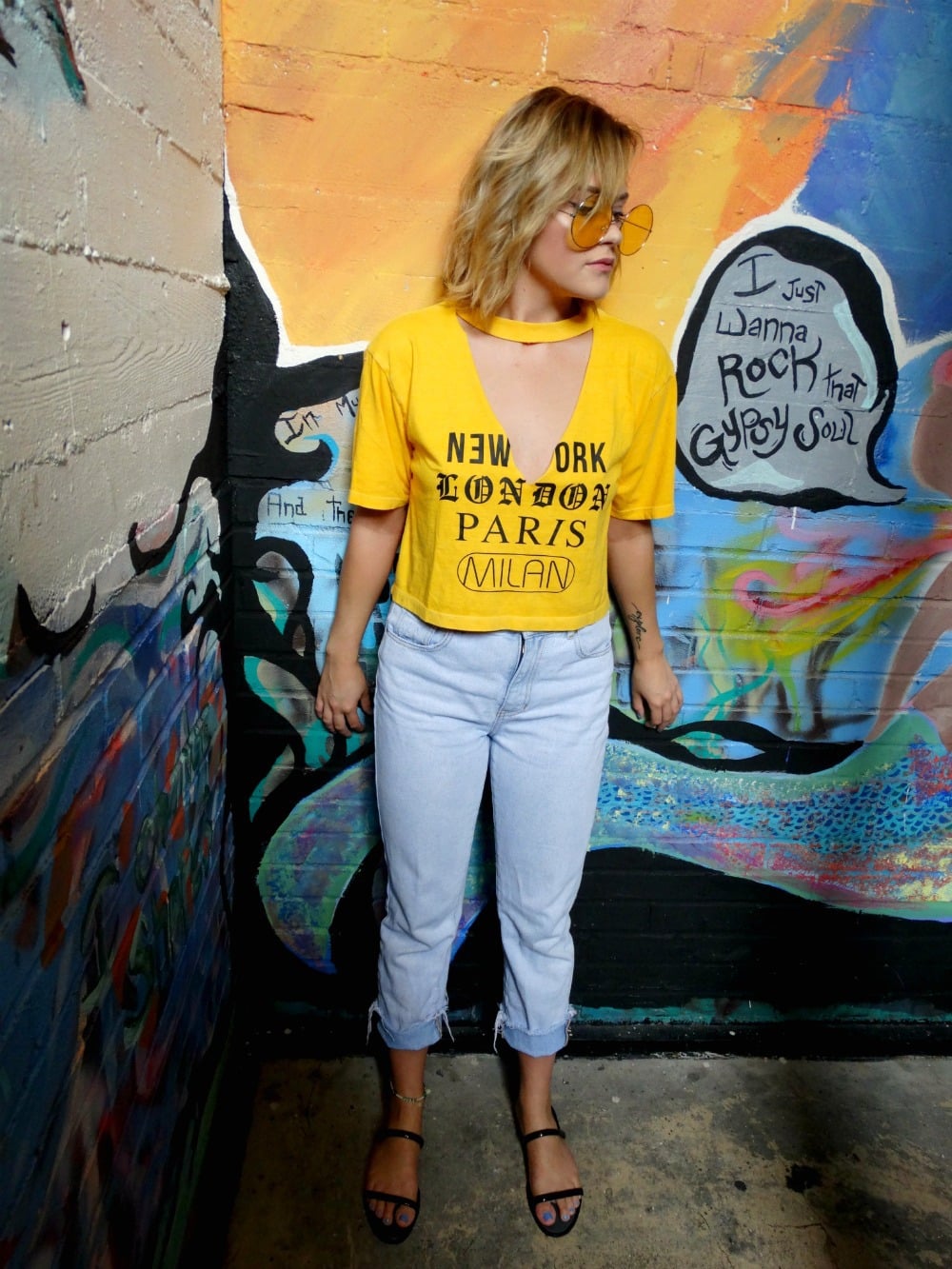 Summer is for part-time jobs and hot weekends spent by the pool, however Shelby spent this unusually cool day shopping downtown while sporting a simple and stylish outfit.
She channeled some grunge vibes by mixing '90s jeans with large, round sunglasses and a distressed tee. After talking with her, I learned that Shelby loves picking unique items to show off her personality and bring simple outfits to a new level.
Shelby 101
Name: Shelby
School: West Virginia University
Year: Junior
Major: Journalism
Hometown: Martins Ferry, OH
Let's Talk Fashion
Who or what inspires your style? "Fashion has always been something I have been interested in. Not only does it give me a way to express myself for who I am, it makes me feel good. If you've ever heard the quote, 'look good, feel good,' then you might understand why fashion is so important to some people, including me. The inspiration towards my style comes mostly from a mixture of media, window shopping, and working in retail. Working in a boutique can open your eyes to a lot of different combinations [in] fashion, especially when you're helping people all throughout the day meet their fashion goals."
Where do you like to shop and why? "There's no specific place I like to do all of my shopping. When I see a look I like online, I typically just shop around to see what styles fit what my mind is thinking of. I love using Pinterest to see the latest fashions and I really enjoy finding fashion that is not only in style, but is my style."
Why did you choose the outfit you're wearing for the photo? "I love expressing myself through the clothes I wear and this is something that really represents the type of style I strive [for]."
What fashion advice would you give to other students looking to improve their style? "Honestly, my best advice would be to just be yourself and to reflect a fashion that really represents what you like and who you are. There is so much diversity in the world that fashion doesn't just stop at one style or one outfit. There are so many different ways to be fashionable because everyone has their own unique twist."
What are your favorite trends right now? "I'm really into older looking fashion and throwback styles. I love when old fashion circulates back into 'new' fashion."
Do you have any favorite fashion designers? If so, who? "I wouldn't say I have any favorite fashion designers just because my fashion is such a mixture of anything that catches my eye. Whether it be a retail store, online shop, or a hand-me-down store, whatever catches my eye works best for me."
What do you do for fun – do you have any unique hobbies or interests? "I love hiking and being outdoors, and I'm also really big into photography and editing. I love capturing beautiful things and enhancing the beauty of things."
If you could raid anyone's closet who would it be and why? "I would have to say any bohemian chic model, because their styles are so eclectic and that's one thing I really enjoy."
Elements of Shelby's Outfit
1. Round Sunglasses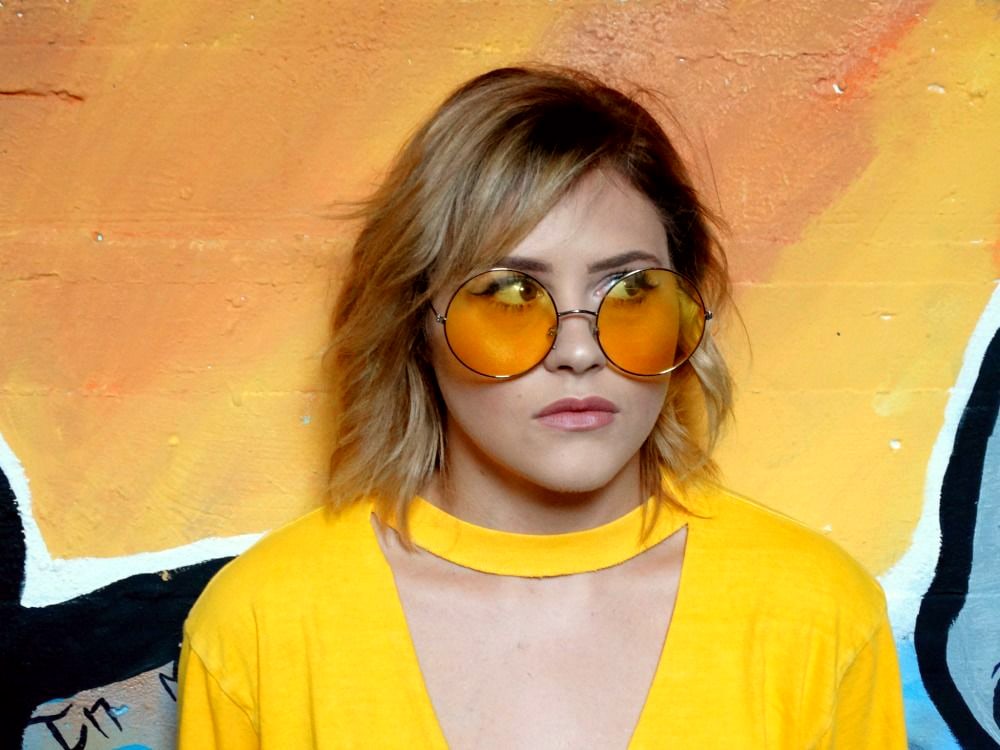 Shelby made her outfit pop with a pair of round orange sunglasses. Sometimes large sunglasses are a hit or miss, but these are perfection. Shelby pulls them off well and they are the ideal addition to her simple jeans-and-tee combo.
2. Cutout Tee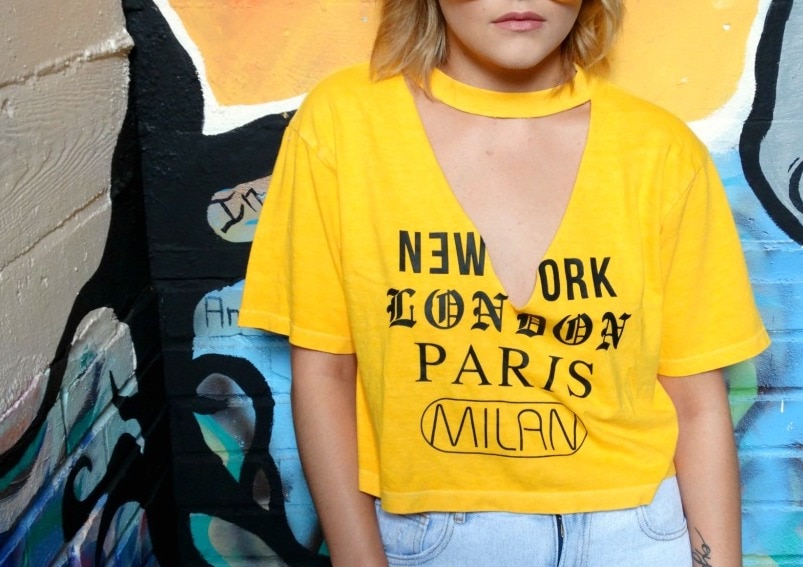 Cutout tees are trending on college campuses across the nation and are very popular here at West Virginia University, especially during football season. Shelby followed this trend and paired her cutout tee with light-wash jeans and simple sandals.
Now we want to know what you think!
Would you rock Shelby's look? What do you think of her round sunglasses? Comment below and share your thoughts!