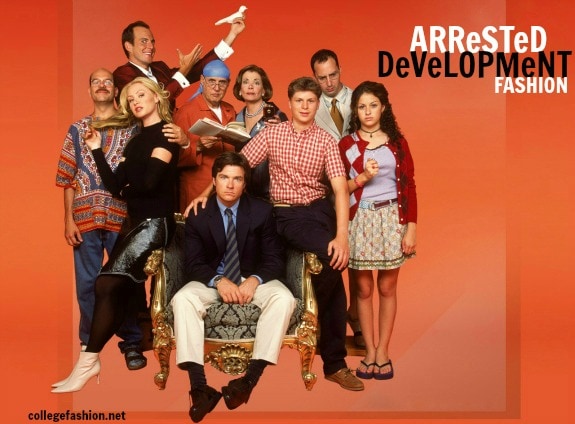 With the season four premiere of Arrested Development just one week away, we decided to celebrate our love for this critically acclaimed comedy with a fashion post inspired by the dysfunctional, yet hilarious Bluth family.
In case you hadn't heard, Arrested Development is being brought back from the depths of cancellation (after 7 years!) with a brand-new season that will stream exclusively on Netflix starting May 26th. (We could not be more excited!)
Never seen the show? The opening credits sum up the basic premise and all the familial relations perfectly:
Arrested Development Opening
Want to channel the style of your favorite character? Simply scroll down to check out four outfits inspired by members of the Bluth family:
Michael Bluth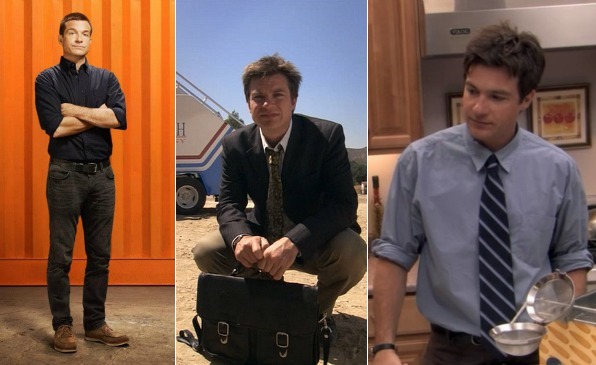 After his father is arrested for fraud and some "light treason," it's up to middle son Michael (Jason Bateman) to clean up the Bluth family's image and sort through their financial and legal problems. Always the straight-man, Michael sticks by his motto of "family first" — even when they have him at his wit's end. Also? Michael has the best facial expressions. Ever.
Outfit Inspired by Michael:
Product Info: Notebook- Cafepress, Blazer- JCP, Blouse- Tilly's, Pants- Gap, Bag- Nordstrom, Bracelet- Etsy, Shoes- DSW, Watch- Urban Outfitters
Show them you're worthy of running the (Bluth) company at your summer job or internship with this stylish business casual ensemble. Michael typically pairs light-colored trousers with a darker jacket, which is exactly what we did for this look. Add a textured button-up and ribbon-laced oxfords to give this traditional menswear-inspired outfit a slightly feminine vibe.
The bicycle-shaped bracelet is a nod to Michael's main mode of transportation — aside from the stair car, of course — while a classic wristwatch is just as grounded and practical as Michael. Add a pop of color with a sturdy red satchel, then grab a notebook inspired by the infamous Bluth chicken dance. (Has anyone in this family ever even seen a chicken?)
Maeby Fünke
Always the quick-witted schemer, Michael's niece Maeby (Alia Shawkat) eventually moved on from her oft-failed attempts to rebel against her parents and conned her way into a job as a movie studio executive — at 15. Needless to say… marry me!
Outfit Inspired by Maeby: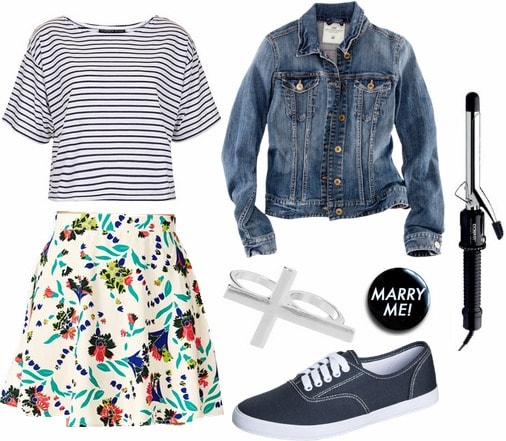 Product Info: Tee- Topshop, Jacket- H&M, Skirt- Nasty Gal, Ring- Wet Seal, Pin- Etsy, Curling Iron- Target, Shoes- Target
Maeby rocked mixed prints long before they were popular, so we're going to recreate her style by pairing a striped tee with a printed A-line skirt. Add a versatile denim jacket as well as a pair of comfy canvas sneakers for a cute and low-key summertime look.
Accessorize with one of those rings with a "T" on it, then pin on a button donning Maeby's catchphrase. Last but not least, use a curling iron to style your hair and get curly locks like Maeby's.
Lucille Bluth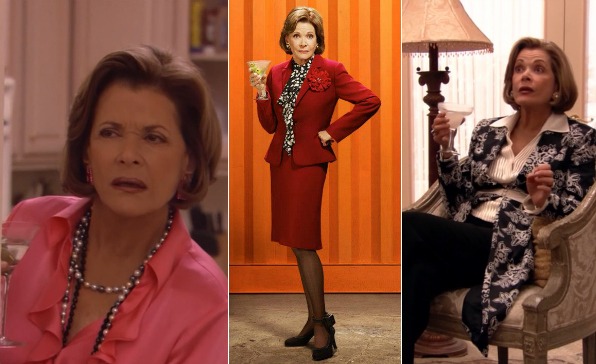 Michael's mom Lucille (Jessica Walter) may not have the milk of mother's kindness in her anymore, but she is the master of the well-timed eyeroll. Although she's critical, conniving, and pretentious, Lucille is without a doubt my favorite character on the show. Why, you ask? I don't understand the question, and I won't respond to it.
Outfit Inspired by Lucille: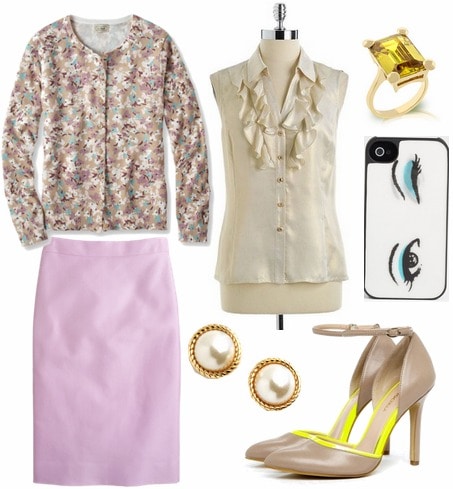 Product Info: Cardigan- L.L. Bean, Blouse- Lord & Taylor, Ring- Fantasy Jewelery Box, Phone Case- Kate Spade, Skirt- J. Crew, Earrings- Kate Spade, Shoes- Sole Society
To Lucille, social status is everything, so mimic her prim and polished look with a lilac-colored pencil skirt and luxe ruffled blouse. Layer on a matching floral print cardigan, then add a fashion-forward touch with a pair of yellow-trimmed ankle strap pumps. Lucille doesn't skimp on the accessories, so adorn yourself with a flashy cocktail ring and classic pearl earrings. Lastly, swap our your phone case with one that pays homage her fabulous wink.
This outfit would be a stylish choice for a nice dinner out or a similar dressy event. Wherever you go in this ensemble, just be sure to channel your inner-Lucille (if you're 21-plus, of course!) and order a vodka rocks.
Tobias Fünke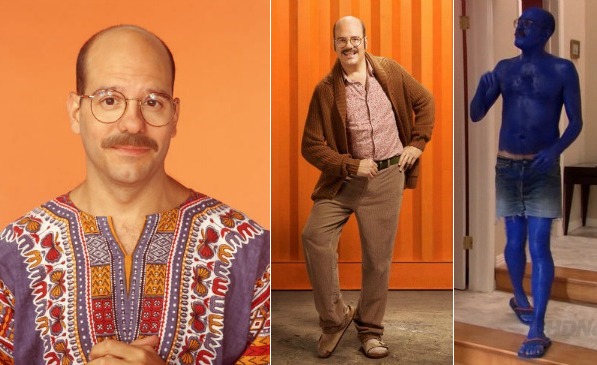 Tobias (David Cross) is not only Michael's brother-in-law and Maeby's father, but he's also the world's first analyst and therapist. He has an affinity for (unintentionally) spewing hilarious double-entendres, which has the rest of the Bluth family wondering about, well, The Man Inside Him.
Outfit Inspired by Tobias: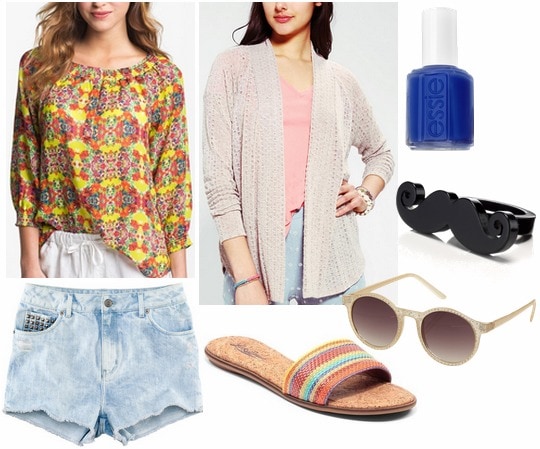 Product Info: Blouse- Nordstrom, Cardigan- Urban Outfitters, Nail Polish- Essie, Ring- Accessorize, Shorts- H&M, Shoes- Lucky Brand, Sunglasses- Topshop
Since Tobias is a never nude (it's exactly what it sounds like), snag his look by pairing denim cut-offs with a colorful printed peasant blouse. A lightweight knit cardigan and slip-on sandals continue the casual feel of this summer-appropriate outfit.
Accessorize with a mustache-shaped ring and circle sunglasses — stylish versions of Tobias' facial hair and glasses, respectively. For the finishing touch, blue yourself with a coat of cobalt-colored nail polish.
So, are you excited for the return of Arrested Development?
Which character is your favorite? Whose style do you like best? What do think of the outfits? Tell me your thoughts by leaving a comment below!