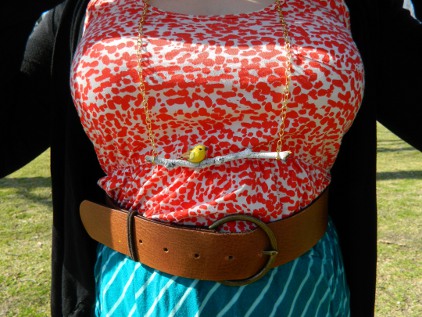 For most of us, springtime is the air, and we're counting down the days until we can wear our brightest, happiest wardrobe staples. So with the sun shining here in Boston, I decided it was time to break out the prints. Although I was apprehensive at first, this week's Real-Life Style Challenge proved to be one of my favorites, and a great lesson in maximizing one's closet.
The Challenge:
We've discussed the mixed prints trend here on CF before, and this week, I'm trying it out in a big way! For this week's style challenge, I'll be mixing two (or more!) prints and patterns in every single outfit. The goal is to look stylish and hopefully not like I got dressed in the dark!
The Results: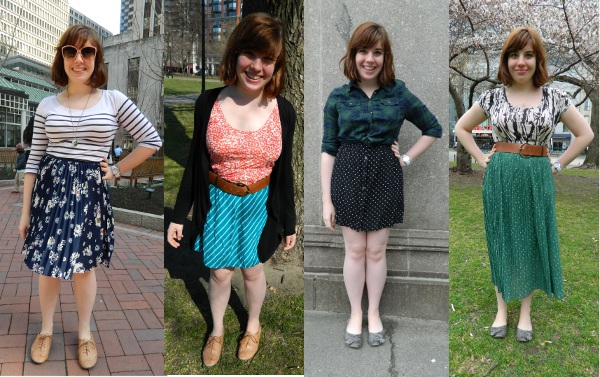 Monday: Today I wore a blue and white striped nautical tee with a blue floral skirt, and added my favorite oxford flats. I then added an extra pop of pattern with some printed sunglasses.
Tuesday: I paired a bright orange leopard print tee with a bright teal striped skirt and accessorized with a black cardigan, brown belt, and my trusty oxfords.
Wednesday: Thinking back to my first style challenge, I wore a green plaid shirt over a black polka dot dress, and finished the look with simple grey flats.
Thursday: Towards the end of the week I wore a black and white abstract print dress under a green maxi skirt. This skirt's print may fool you – those aren't polka dots; they're actually small daisies, which I thought were a fun nod to springtime.
What I Learned:
This challenge taught me that I actually own more prints than I thought I did! I started this challenge worrying that I wouldn't be able to create enough outfits. But a quick trip through my closet showed me that there were prints lurking everywhere.
However, just because I had lots of prints, that didn't mean they all worked together. And as I quickly learned, with print mixing, not only do the patterns have to work together, but so do the colors! More than once an outfit was scrapped because the elements didn't come together.
However, when everything did gel together, it was really fun to watch the unexpected combinations appear. For example, at first I hated the idea of wearing the green plaid shirt over the polka dot dress, but when I put it on, it became my favorite look of the week!
A few more tips I picked up from this challenge:
Don't restrict your patterns to tops and bottoms. Pay attention to accessories, too! Look for tights, shoes and even sunglasses with fun patterns!
When mixing prints, try to vary the size of the prints. Two large prints will always be competing for attention. Mix smaller designs with larger ones, like thin stripes worn next to large, bold flowers. Think about mixing print styles, too: A more abstract print will stand out next to a more structured print, like plaid or stripes.
Be careful mixing stars and stripes. You don't want to look like you belong in an independence day parade!
Be confident! Mixing prints can be tricky but if you think you've nailed it, so will everyone else!
What do you think?
What are your favorite prints? What are your rules for matching prints? What challenge do you want to see me tackle next? Let me know in the comments!