This post may contain affiliate links, which means we may receive a commission if you purchase through our links. Please
read our full disclosure here
.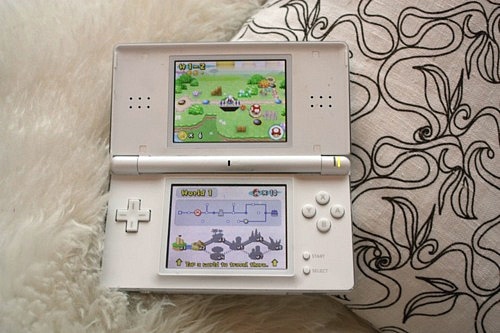 If you're an avid reader of CF, you'll know that we believe fashion inspiration goes beyond storefronts, magazines and runways. In the past we've found inspiration from Disney characters, books, TV shows and even music. However, we haven't covered one of the more recent forms of media entertainment, video games.
Whether you've played on an N64, a Gameboy Color or a Wii, you're probably familiar with Nintendo's series of Mario games, which has over 200 titles. Since I used to adore playing Nintendo games, (Heck, I still do!) I thought it would be fun to create some looks inspired by Mario and the gang. No worries though, these won't be cosplay outfits, but instead totally wearable looks for every day.
Ready to get your game on? Check out four outfits inspired by some of Nintendo's most popular characters:
Mario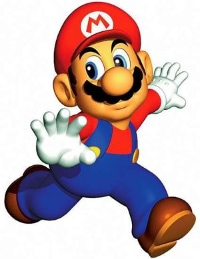 This short, Italian-American plumber resides in the Mushroom Kingdom and is the main protagonist in a slew of games. He spends a majority of his time traveling through warp pipes, stomping out enemies and rescuing princesses. In his free time, Mario seems to enjoy hosting parties and playing sports like tennis and golf.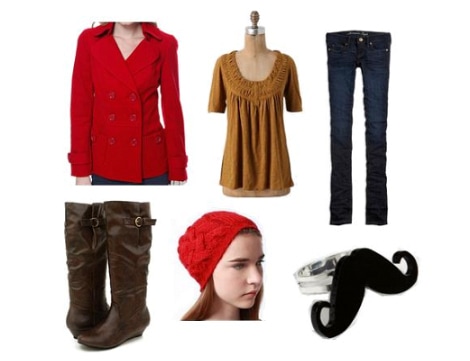 Coat, Top, Jeans, Boots, Hat, Ring
Don't worry, no unflattering overalls here. Instead, I went for a nice pair of basic dark-wash jeans and paired them with a yellow blouse, which picks up on the gold color of Mario's buttons. Add a warm coat in Mario's signature color and some sturdy brown boots. Mario's nothing without his hat, so wear a crimson cable-knit hat and finally, for a touch of quirk, add a ring that mimics his iconic mustache.
Yoshi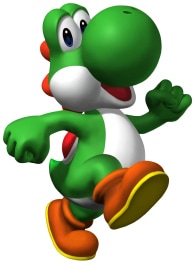 This good-natured dinosaur is Mario's companion Yoshi. He usually carries Mario around and flutter jumps– which is almost like flying, but not really. Yoshi can also wipe out enemies with his long, sticky tongue and hurls spotted eggs at the bad guys. All in all, he's a pretty awesome guy to have around. He even stars in his own game– Yoshi's Island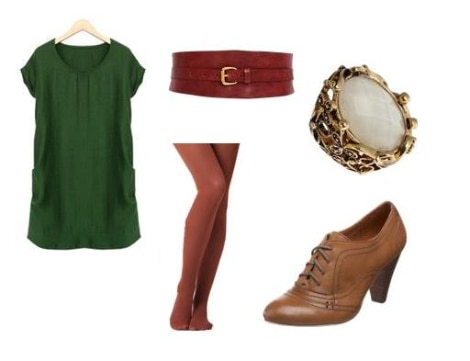 Dress, Belt, Ring, Tights, Oxfords
Since Yoshi is a green dinosaur, I chose a simple dress in a slightly darker hue. A reddish belt cinches the waist while textured tights add interest. Some sleek heeled oxfords are much chicer than Yoshi's clunky-looking shoes, while the cocktail ring mimics those eggs that he throws.
Princess Peach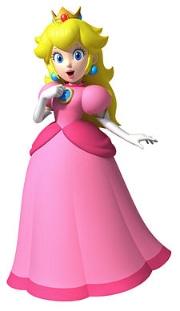 Princess Peach rules over the Mushroom Kingdom and resides in a giant, opulent castle. Peach is good-natured, generous, gorgeous– pretty much perfect in every way. Although she's sometimes portrayed as the damsel in distress, don't let her delicate nature fool you. Peach is a tough competitor in all of the Mario sport games. In fact, she's always been my go-to girl for Mario Kart 64.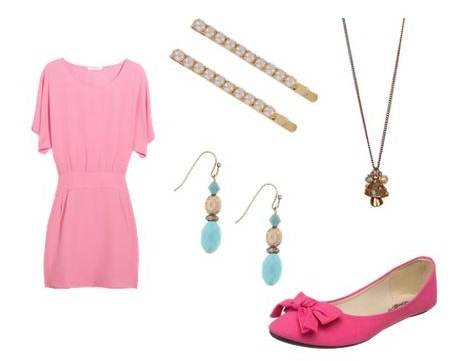 Dress, Hair Clips, Necklace, Earrings, Flats
To channel Princess Peach, wear a pretty pink dress in a modern silhouette with some feminine flats in a darker shade of pink. Accessorize with some turquoise earrings and bejeweled hair clips, which are much more subtle than Peach's crown. Finally, since she rules over the Mushroom Kingdom, add a delicate necklace with a mushroom-shaped charm.
Bowser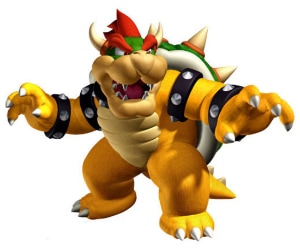 This baddie is Mario's arch-nemesis, Bowser or King Koopa. He wants to be rich, powerful and take over the Mushroom Kingdom. Oh, and he breathes fire. King Koopa also has a penchant for kidnapping Princess Peach, so it's up to Mario to save her and restore order in the Mushroom Kingdom. You think Bowser would learn his lesson the first ten-or-so times he loses, but of course, he never does.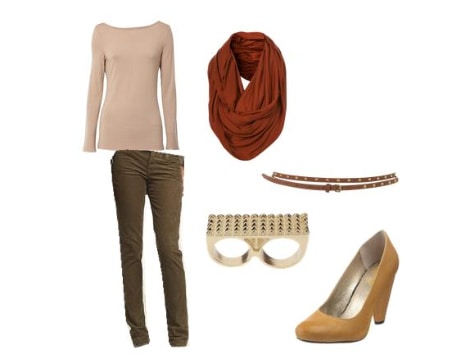 Top, Scarf, Cords, Belt, Ring, Pumps
For this Bowser-inspired look, I translated all of the bright hues found on the character into a more muted color palette. I paired some olive green cords with a neutral-colored long sleeved top. A rust-colored scarf adds volume, while the yellow pumps are similar to the coloring found on Bowser. Finally a studded belt and pyramid-studded ring pick up on the armbands King Koopa wears as well as his spiked shell.
What do you think?
Do you like these outfits? Which ones would you wear? Are you a fan of video games? Are you familiar with the Mario series? Be sure to leave a comment and let me know your thoughts!