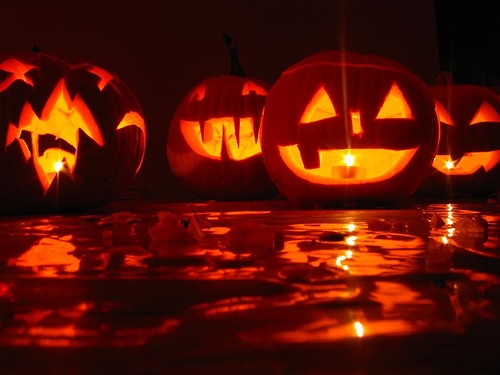 I know I'm preaching to the choir on this one, but I absolutely LOVE celebrating Halloween in college! TV specials are so fun to watch with your best girlfriends (Hocus Pocus or Halloweentown, anyone?) and anything crazy that happens on Halloween is sure to be a lasting memory. Great parties, delicious treats, and your favorite friends — what's not to love?
Well, for starters, Halloween always seems to fall on the same week as midterms, homecoming, and/or sorority initiations. Every year, I begin October with ambitious costume plans, but usually scrap them due to lack of time. The other challenge to finding a great costume is the financial aspect. Sure, you could run to a Halloween store, but those pre-packaged costumes can run from $40-$100 each. I don't know about you, but that's a lot for me to spend on something I'll only wear once.
Also, there's that little thing I like to call the Mean Girls Paradox. Many college girls see Halloween as an opportunity to dress "slutty", or as a "sexy insert-noun-here." Of course, if this makes you feel sexy and confident, then more power to you! I think we should love our bodies and enjoy our youth while we can. But, at the same time, you should listen to your intuition.
Somewhere around junior year, I realized that while sexy costumes are exciting in a way, they just don't fit my personality. I have a quirky sense of humor, and I hate looking like everyone else. From that point on, I vowed to only wear Halloween outfits that I truly felt comfortable in. And you know what? More cute guys and fun girls struck up conversations with me because of the creative, homemade costumes I assembled. New friends AND hot guys chatting you up? Definitely a win-win in my book!
College Halloween Costume Ideas
If you've been stressin' over Halloween, don't worry anymore — CF has got your back! Below, we've listed 13 great college Halloween costumes that can be made with items you probably already have in your closet. From current pop culture costumes to tried and true classics, we've got plenty of costume ideas for you.
Be sure to leave a comment with your suggestions and tips when you're done reading our list!
1. Little Edie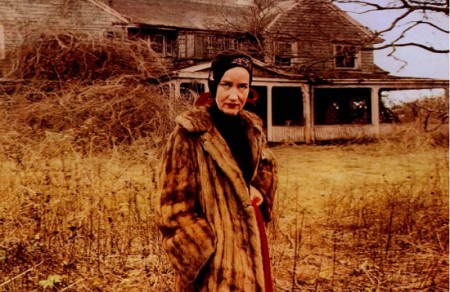 Here's another problem with the Mean Girls Paradox that girls sometimes forget to consider — regardless of where you live in the US, the weather on October 31st is almost never balmy. Sure, you could drag a coat from party to party, but that makes you vulnerable to losing or spilling punch on your favorite jacket. If you know you'll be outside for a significant portion of your night, constructing a costume that will protect you from the elements is crucial.
For all of you history buffs with a sense of humor, Edith "Edie" Bouvier Beale is probably the most famous "crazy cat lady" out there. A Little Edie costume could easily be comprised of mismatched tights, a flowing skirt and top, and a bulky faux-fur coat. What will make this costume recognizable is the black headwrap, which you can make out of either a scarf or a black t-shirt pinned around your head with a gaudy brooch. Be sure to speak in an exaggerated New England accent all night!
For a more detailed description on the types of clothes Little Edie would wear, check out our post, Fashion Inspired by Edie Bouvier Beale.
2. Katniss Everdeen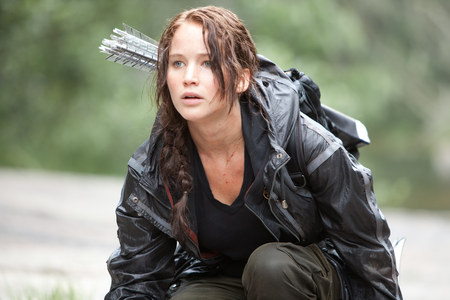 Due to the insane popularity of the Hunger Games novels and movie, a Katniss Everdeen costume is recognizable, trendy, and extremely easy to put together. As an added bonus, this costume will be warm and comfortable, perfect if you will be going to an outdoor shindig, or just party-hopping and walking a lot.
Remember those skinny cargo pants that were so popular a couple years ago? A green or tan pair will work great with a black t-shirt, a tough pair of boots, a parka, and a single braid for the base of Katniss' look. You'll only have to get two things to really make this costume work — a bow and arrow set (most costume or party shops will have these for cheap) and a Mockingjay pin, which you can either make yourself or purchase at those Hunger Games pop-up promotion stands you'll find at Walmart or Barnes and Noble. Prepare to hear people quoting Effie Trinket's memorable lines all night!
For more ideas for a Katniss costume, plus the other Hunger Games characters, see our post, Geek Chic: Fashion Inspired by The Hunger Games.
3. Alex DeLarge from A Clockwork Orange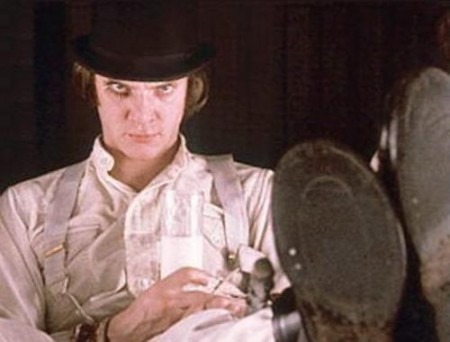 If you're a film geek and want to catch the eye of other cinephiles, Alex DeLarge from A Clockwork Orange would be an awesome and edgy costume option. This controversial movie is a cult favorite, so you'd better catch the movie on Netflix and read up on a few trivia facts on the film's IMDB page if you plan on rocking this look!
Clothing-wise, Alex's look is pretty simple — you really just need a white top, white pants, black boots, and suspenders. You can make this costume a little more sexy by substituting the pants and long sleeve top for shorts and a tank top instead. A black bowler hat and cane will be easy to find at any Halloween or party supply store.
And now for the fun part of your costume — the eye makeup. While leaving one eye bare (or with very light makeup on), heavily line your other eye with black liquid liner, and add false eyelashes to emphasize the look. This costume is also great for any of you girls who want to dress as someone sinister, but not look too "scary-scary" on Halloween.
4. Mia Wallace from Pulp Fiction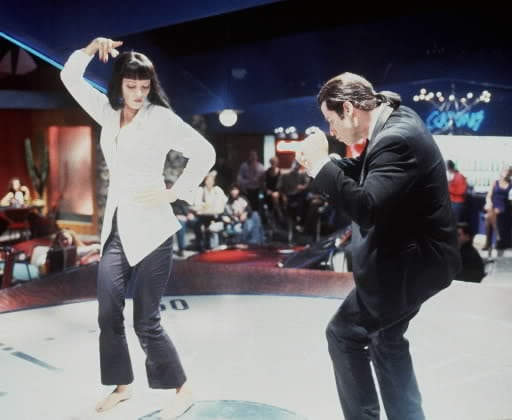 This costume idea is a classic for a reason — everyone LOVES the movie Pulp Fiction, and Mia Wallace's look is immediately recognizable and SO easy to put together.
All you'll really need are black pants, a men's white dress shirt, and a way to make your hair look just like Uma Thurman's did in the movie. You can either buy a black bob wig from the Halloween store, or fake it by rolling your ponytail under to form a "faux-bob" and using temporary spray hair color. Carry a candy cigarette around with you all night (a trophy is optional), and always be the first girl out on the dance floor!
5. Justin Bieber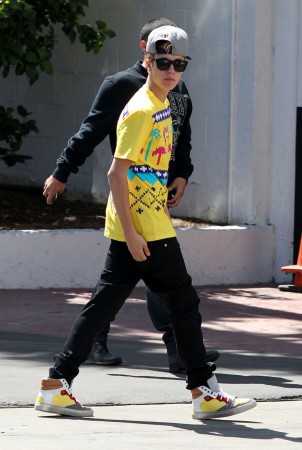 If you're looking for a funny yet comfy costume, a Justin Bieber ensemble is the way to go! Not only will you be the center of attention due to your awesome sense of humor, but you'll be ready to party all night long in the chilly weather in comfy sneakers and a hoodie!
The kicker to get people to recognize your costume will definitely be Justin's signature locks. A wig would help, but I bet you creative girls can figure out a way to rig your natural bangs into Justin's 'do with a little help from a flat-billed baseball cap. Don't forget to wear your hood over your hat, and accessorize with colorful kicks, and large diamond studs in each ear!
6. Marty McFly from Back to the Future

Here's another great option for all of you film buffs. Dress as the ultimate '80s teenage hero — Marty McFly from Back to the Future!
To get Marty's look, wear a button-down shirt with a jean jacket (pick one up at any thrift shop if you don't have one) and your staple down vest (bonus points if it's orange). Add jeans and white tennis shoes, and look for a pair of aviation goggles at a Halloween store to wear pushed up on your forehead.
This costume idea would be fun because there are so many quotable lines from the film, and it will keep you warm if you happen to be at a bonfire or some other type of outdoor gathering. Plus, if you have a boyfriend or a best friend, they could easily make a Dr. Emmett Brown costume by wearing a lab coat and a gray wig!
7. Punny Halloween Costumes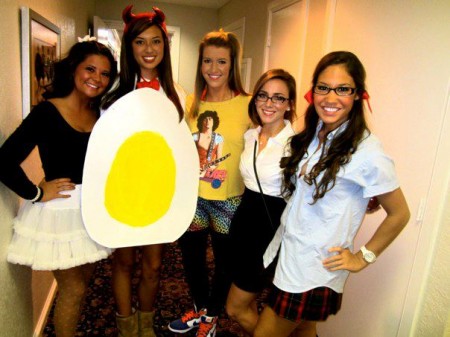 I know these costumes are love/hate for some of you, but if you have a quirky sense of humor, a bit of imagination, and a small budget, this route might be the perfect one for you.
Pictured above is my little sister dressed as a Deviled Egg last year!
Other funny options are a Cereal Killer, a Black Eyed "P", a Baller-rina, Cat Burglar, a Pastafarian, or a Pig in a Blanket.
8. The Cast of The Breakfast Club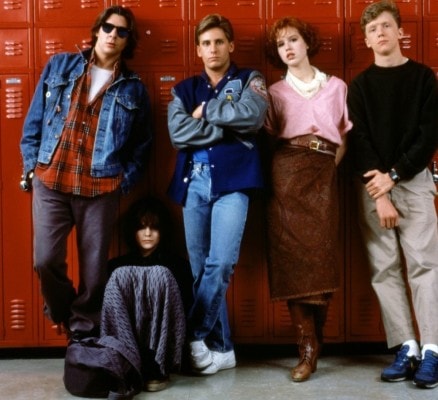 This idea will only work if you have a group of five friends. The great thing about The Breakfast Club is, the characters (and stereotypes) of the film are so recognizable, that you could totally make this work with either a co-ed group or a pack of girls!
For Bender, you'll need a pair of pants (the color's not that important), a red flannel shirt, denim jacket, wayfarers, and black fingerless gloves, which you can make by snipping the ends off of some cheap black ones. Andy will need jeans and a varsity jacket (most Forever 21s have them in stock) and Brian will need a green sweater, khaki pants, and a geeky lunchbox. Allison's look is achieved by wearing baggy black clothes and a faux-fur lined winter coat, while Claire's outfit requires a long brown skirt, brown boots, a pink top, and a silk scarf.
For a more detailed breakdown of the outfits from the film, check out our post, Fashion Inspired by The Breakfast Club.
9. The Black Widow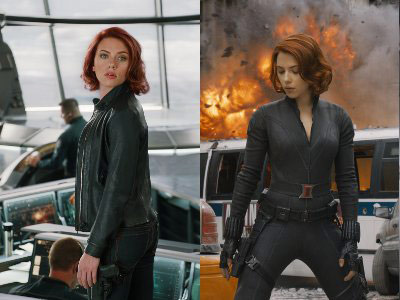 You can always channel one of our fave superhero movies, The Avengers! The hit film brought in serious cash at the box office this summer. While we loved Tony Stark's witty one-liners, the fashionista of the group was definitely Scarlett Johansson's character Natasha Romanoff, AKA The Black Widow.
While her catsuit would be crazy expensive to buy, it would be easy to do Natasha's casual look for Halloween. The key is the red wig – which you could probably grab for cheap – but you could also use red Halloween hair spray. (Editor's note: Just be careful with these if you have blonde hair – I know from experience that they do not always wash out!) Then just grab coated jeans and a moto jacket, and rock a big, bold red lip.
You could even make your face look more like Scarlett's with contouring makeup. (Yes, there is a tutorial for this!)
10. Selina Kyle / Catwoman
Another crazy popular superhero film, The Dark Knight Rises broke box office records like crazy. Like Scarlett in the Avengers, Selina Kyle, the catsuit-clad leading lady (Anne Hathaway), was the movie's fashion force.
This costume is beyond easy if you're a brunette. As in the case of the Black Widow, you probably don't want to buy the actual catsuit. However, Selina's Catwoman outfit has enough accessories that the suit isn't required. Again, go for coated jeans and add a tight black long sleeved top and high heeled boots. Buy (or make) a black mask and get goggles or sunglasses to wear on your head as "ears". Rock a red lip and tell everyone you meet, "there's a storm coming, Mr. Wayne."
11. Joel Goodson in Risky Business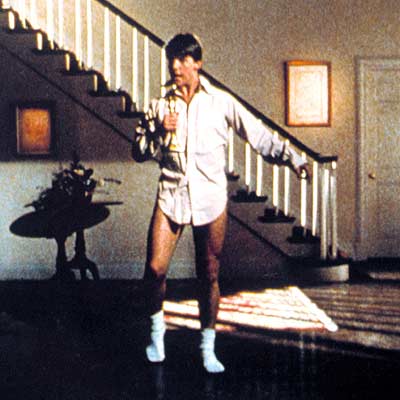 You've probably seen this costume at parties before — but it's such a classic, I couldn't leave it off my list!
To do a Risky Business costume, you just need a men's button-down dress shirt and a pair of tube socks. I recommend wearing a small pair of exercise shorts under your shirt instead of tighty whiteys, though! Add a pair of wayfarers to this outfit, too — although Tom Cruise doesn't wear them in this particular scene, Risky Business is credited as one of the main reasons why Ray Ban wayfarers made a huge comeback in the '80s!
12. Cruella De Vil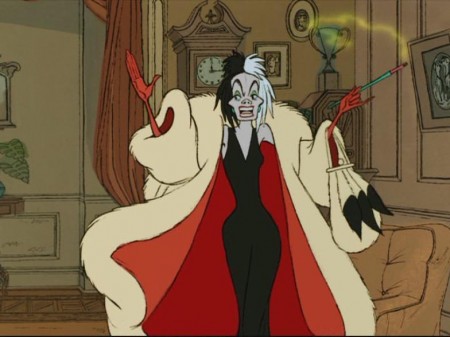 It's popular to dress a Disney princess for Halloween, but what about everyone's favorite villain? Cruella De Vil would be a glamorous and unexpected outfit to wear to any Halloween party! All you'll really need is a fitted black dress, a white faux fur coat or shawl, and black and white temporary spray-in color for your hair.
Accessorize your costume with red heels and lipstick, elbow-length gloves, and a long cigarette holder. Be sure to wear very gaudy jewelry, and exaggerate your eyebrows with dark makeup. As a funny extra, you could let a stuffed dalmatian peek its head out of your purse throughout the night!
For more tips on dressing like this villain, check out our post, Fashion Inspired by Cruella De Vil.
13. One Direction (Reunited!)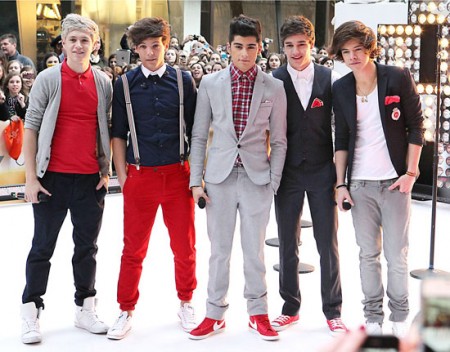 The boys of One Direction were a popular group costume a while back, but now that they've "taken a hiatus," we think it's time to bring this costume back, with a twist. Since they're all so good looking, they're an easy group costume choice for you and your girlfriends.
To do this costume, just grab four friends, slick your hair back (or forward, depending on the boy), and recreate some of our outfits inspired by One Direction, or maybe each dude's "solo vibe" (with a baby doll for Liam). The best part? 90% of these just involve jeans, sneakers, plaid shirts, and/or blazers and bow ties. Easy!
What are your Halloween costume ideas?
We all go to different colleges — so let's help our fellow fashionista sisters out!
What college Halloween costumes have worked for you in the past? What are you dressing up as this year? What costumes did you see way too many times last year? How do you feel about the Mean Girls Paradox, or wearing sexy outfits on Halloween?
Leave a comment and let's share our ideas and keep the discussion going!