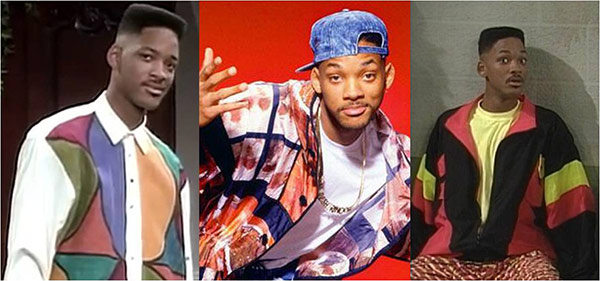 Photos: 1 & 3: TV screencaps, 2: Official Fresh Prince promotional photo
After a hiatus, Old School TV Style is back! This column aims to explore the fashions from your favorite bygone TV shows, then remix said looks into ensembles that would work today. (As always, if you have a TV show you'd like to see covered next, let us know by leaving a comment!)
The award for favorite '90s after-school sitcom (and best opening sequence ever) goes to The Fresh Prince of Bel-Air. In the off chance you don't know this show (where have you been?), here's the basic premise: Will Smith plays a fictionalized version of himself that gets into trouble while living in West Philadelphia, and is sent to Bel-Air to live with his wealthy aunt and uncle, and their kids. The show's funniest moments come from Will's street-smart ways clashing with the high-class lifestyle of his new guardians.
The show originally aired from 1990 to 1996, but rather than highlighting the grungy styles of the era, Fresh Prince's look focused on the brightly colored California hip-hop aesthetic. Want to steal some of — okay, cheese disclaimer — Big Willy's Style? Read on, girls!
Fresh Prince Style
Will Smith basically played himself in The Fresh Prince of Bel-Air, so his outfits stuck pretty close to the young, bright, eccentric, and colorful styles he rocked as a rapper. Fresh Prince Will is always seen in color — from pastels to day-glow brights. He also rocks patterned pieces, mostly sticking to geometric patterns and abstract, arty prints.
Will Smith's favorite pieces reflected the popular trends of the era. He often wore windbreakers, parachute pants reminiscent of MC Hammer, overalls, and stone-washed denim. Though harem pants and stone washed jeans have made a bit of a comeback, rocking overalls or a multi-colored windbreaker takes serious sartorial guts — and, well, I'm always up for a challenge! To pull these looks off without looking costumey, try to keep the rest of your outfit somewhat basic and modern for a healthy mix of old and new.
We all know Will had swag — he liked to rock cool accessories like funky kicks and neon hats. Funny enough, neon baseball caps have been all the rage on my college campus, especially in the Greek scene. Have they hit your campus yet? Although I couldn't see myself wearing them as a fashion statement, they're fun for casual, outdoor activities like concerts or some date parties. On the sneaker front, Nike Dunks are always in, but the sneaker wedge trend is a great way to get the Fresh Prince look plus some extra height!
In addition to Will Smith's signature Cali hip-hop style, he also mixed in some preppy pieces as well. His cousin Carlton was the champion of cardigans, pastel dress shirts, and chinos, and Will would sometimes adopt that style as well for different family functions. He always kept it his own, though, by mixing prints and wearing several colors at once.
Today, you can see hints of Will Smith's '90s style in the clothes worn by many pop culture figures. Tyler, the Creator's style incorporates Will-esque bright colors, hats with the bill popped back, patterned outerwear, and more. NBA star Russell Westbrook is known for wearing bold graphic patterned shirts to press conferences, and spent his formative years in California around the same time that this show would have been popular. Kinda cool, right?
Outfit Ideas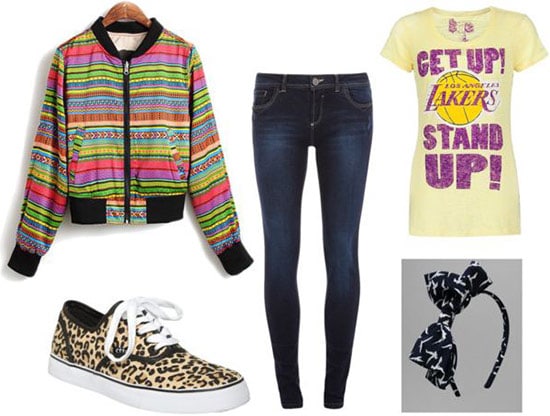 Jacket, Jeans, Shoes, Shirt, Headband
If you're bold enough to wear a neon printed windbreaker, embrace the awesome and make it the centerpiece of your look. Wear your statement jacket with a simple pair of skinny jeans and a graphic tee. (I picked a Lakers shirt since the show was set in LA, but let it be known that my allegiance will always be to the OKC Thunder!) Keep this looking modern and not too throwback-y by pairing the look with cool sneakers and an eye-catching headband.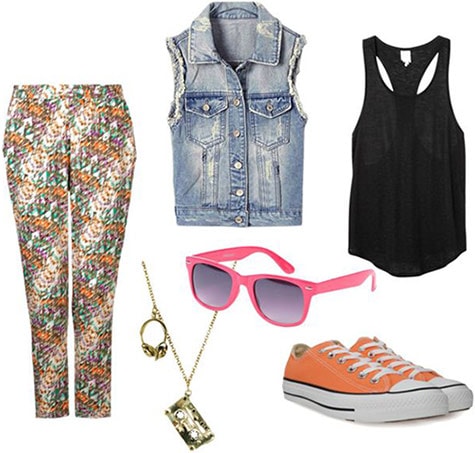 Pants, Tank, Vest, Sunglasses, Shoes, Necklace
We all have mixed feelings on harem pants. I like them because they're comfortable like sweats but look really fashionable, but I know not everyone feels the same. The key to pulling them off (especially if they're loudly patterned, like these) is to stick to solid colors for the rest of your outfit. A black tank and denim vest finish the ensemble, and look great when accessorized with cute sunglasses, fun sneakers, and a funky necklace.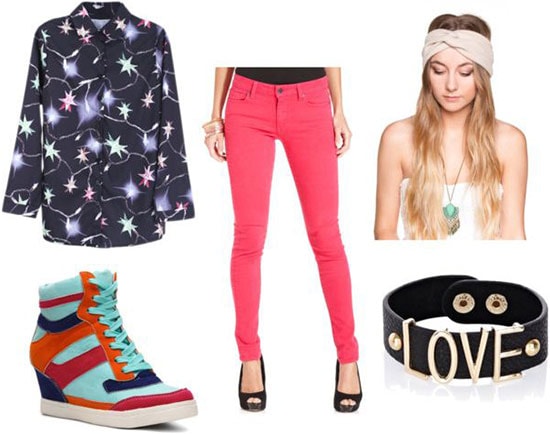 Shirt, Pants, Shoes, Turband, Bracelet
One of Will Smith's '90s signatures, both on TV and off, was a loudly patterned button-up shirt. As mentioned before, pop culture heavyweights like Tyler, the Creator and NBA star Russell Westbrook are keeping that trend alive today. To make it college girl-friendly, though, try rolling up the sleeves and buttoning it up halfway. Add a pair of colored jeans and bold sneaker wedges for a playful, '90s hip-hop vibe. Finish with a bracelet and a cool hair accessory.
What Do You Think?
Did you watch the Fresh Prince of Bel-Air? What are some of your favorite episodes? Do you ever listen to any of Will Smith's rap music? What do you think of this style? What do you think about other celebrities who emulate the Fresh Prince's style? What other TV shows would you like to see us cover? Leave a comment and tell us what you think!