This post may contain affiliate links, which means we may receive a commission if you purchase through our links. Please
read our full disclosure here
.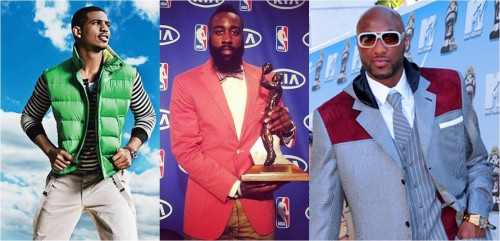 It's no secret to my friends and family that I'm going through MAJOR basketball withdrawal. Please, someone tell me that I'm not the only one who has been sleeping in their lucky jersey and listening to the Space Jam soundtrack every day! Although my sweet Thunder boys didn't take home the NBA championship, it was still a great season and I'm already thirsty for more. So for this week's Stylish Men column, I decided to combine the two things that are occupying most of my free time…basketball players and of course, fashion!
Today, we're highlighting the awesome style of some of the biggest names in basketball today: Blake Griffin, Carmelo Anthony, Russell Westbrook, and LeBron James. Hopefully, this will tide your NBA fever over until the Olympics in August. Ready to get your swag on? Read on!
Blake Griffin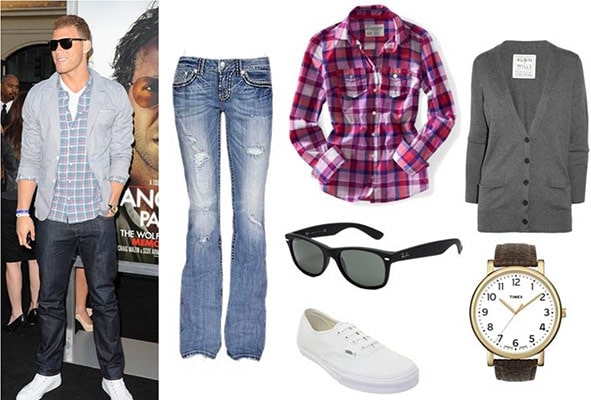 Photo | Products: Jeans, Shirt, Cardigan, Sunglasses, Shoes, Watch
Maybe I'm showing a little Okie nepotism here, but I think Blake Griffin is one of the coolest young players in the league! Blake Griffin was the first pick in the 2009 draft and has been an integral part of the Los Angeles Clippers ever since (well, aside from his first year off due to an injury). In 2011, he won both the NBA Slam Dunk contest and Rookie of the Year. Blake has landed endorsement deals with Vizio, Subway, AT&T, Kia, and more, and has even had an web series documenting his "internship" with Funny or Die.
Blake maintains some Oklahoma small town boy-next-door charm even while attending red carpet events in Hollywood. To recreate this ensemble in a feminine way, any plaid woven shirt will look great under a gray blazer, cardigan, or motorcycle jacket! Add your favorite pair of jeans and trusty pair of sneakers. Finish with wayfarer sunglasses and a menswear timepiece!
Carmelo Anthony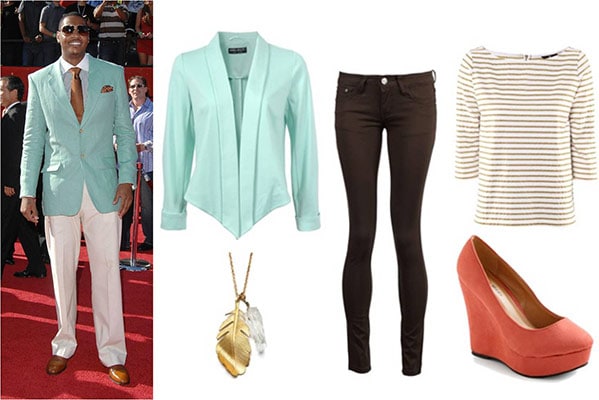 Photo | Products: Jacket, Shirt, Pants, Shoes, Necklace
Carmelo Anthony is a seasoned veteran in the league. He played for the Denver Nuggets for eight years, and was traded to the New York Knicks this past season. 'Melo has also been a key player in our last few Olympic teams, and is going to be a part of Team USA again in London this August. You all might also might recognize him as the husband of MTV VJ La La Vasquez!
Melo recently ditched his corn rows of a more debonair look. To recreate this dressy red carpet look, a mint jacket, layered on top of a striped shirt, is a fun remix of Carmelo's pinstripe shirt and sports coat look. Add brown skinnies, and finish with dressy close-toed wedges and a cute necklace.
Russell Westbrook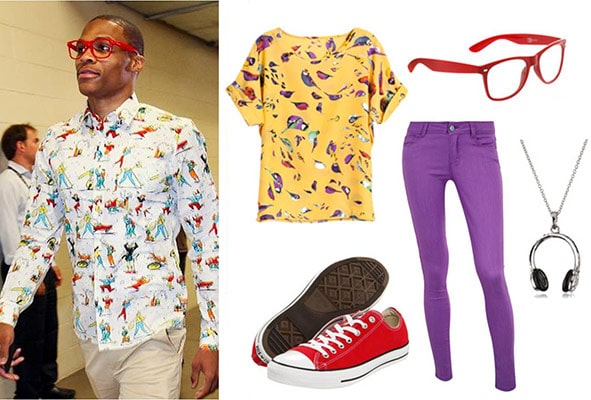 Photo | Products: Shirt, Pants, Shoes, Glasses, Necklace
Let me count the ways I adore Russell Westbrook! Russell Westbrook co-stars on the Oklahoma City Thunder. He's regarded as one of the most athletic men in the league, and helped carry the Thunder all the way to the finals this year. Although the Thunder met a disappointing end, Westbrook went out on a high note, scoring 43 points in Game 4 of the series. Like the other players mentioned in this post, RussWest will also represent the United States at the Olympics this year. August just can't come soon enough!
Russell Westbrook is known for wearing eccentric, "geek chic" outfits at press conferences. He's often seen in printed shirts, thick-framed glasses, and colored pants. Get Russell's look by pairing one of your patterned shirts — like this bird print one — with a pair of bright pants. Finish with sneakers, a necklace, and his signature red framed glasses.
LeBron James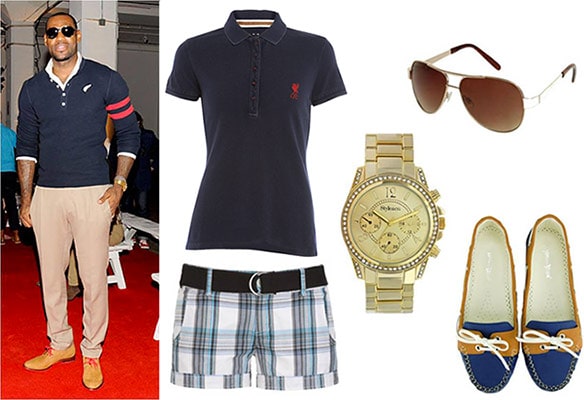 Photo | Products: Shirt, Shorts, Shoes, Watch, Sunglasses
No NBA post would be complete without LeBron James! Many consider LeBron, a three-time MVP title winner, to be the best player in the league. He was the last player drafted straight out of high school to the NBA. King James has endorsement deals with, well, pretty much everyone — McDonald's, Nike, State Farm, and Sprite are just a few examples. LeBron led the Miami Heat to the Finals this year, and subsequently won his first championship. Lebron is regarded by many as the best basketball player in the world right now, and, well, it's hard to disagree.
LBJ's style is very debonair and polished, and has a bit of a retro feel to it. He's often seen in three-piece suits, vests, bow ties, and collared polo shirts. To recreate his look, start with a navy polo emblazoned with the crest of Liverpool FC, the English soccer team that Lebron part-owns. Pair it with plaid shorts for a preppy, polished look. Add boat shoes, a classic watch, and LeBron's signature aviator sunglasses to finish the look.
Thoughts?
Are you an NBA fan? Who is your favorite team? What do you think about basketball players' style? Is there anyone who dresses really uniquely that we left out? Are you excited for the Olympics? What other stylish men would you like to see CF cover? Leave a comment and tell us what you think!