This post may contain affiliate links, which means we may receive a commission if you purchase through our links. Please
read our full disclosure here
.
Photo Credits (from left): Pacific Coast News, 2, 3, and 4
Tyler, the Creator did not go gently into those bright lights. This California-born rapper, producer, and artist took the alternative music scene by storm with his sophomore album Bastard, and later won the 2011 MTV Best New Artist award for the music video "Yonkers," which he directed, produced, and starred in.
Though Tyler, the Creator has gained widespread recognition over the past year, not all of the attention he receives is positive. His controversial lyrics have been criticized as highly offensive and described as either damaging or avant-garde, depending on who you talk to.
Love him or hate him, it's hard to deny Tyler's talent and — of course — his California hipster sense of style. Today, we're getting inspired by his fashion sense. Keep calm and read on!
(For more on stylish men, check out our posts on Mick Jagger, Freddy Mercury, Michael Jackson, Andre 3000, David Beckham, Seth Cohen from the O.C., Adam Levine, Kanye West, Steven Tyler, Pete Doherty, Scott Disick, David Bowie, Kurt Cobain, and Johnny Depp.)
A Little More About Tyler, The Creator
Tyler, the Creator, who has flourished as a solo artist, is also the leader and co-founder of alternative hip hop collective Odd Future. What first drew me to the group was their carefree attitude – every interview I've seen shows them being silly, playful, fun teenagers. Tyler and Odd Future's songs sound almost like they were mixed in someone's basement… in the best way possible. There's an authenticity about the music that I absolutely love.
Tyler, the Creator's music is often compared to Eminem's because of its graphic imagery and violent lyrics. While I agree that Tyler's shocking narratives can be offensive and disturbing, I also think it's cool that he's apologized for some things he's said in the past and seems to mature with every new album and interview.
2012 is shaping up to be the best year yet for the group: Tyler, the Creator and his Odd Future friends released an acclaimed album The OF Tape Vol. 2 a few months ago, and just wrapped up their first season of Loitersquad, a Jackass-esque television prank show. Odd Future even has a clothing line, designed by Tyler himself.
Photo Credits (from left): 1, 2, 3, and 4
Tyler, the Creator's Style
Tyler, the Creator's California hipster mentality manifests itself in not only his song topics, but also the way he dresses. Tyler lives in graphic print shirts with either crazy patterns or eye-catching pictures. He's also a big fan of hoodies, both simple and patterned.
Tyler's hats and shoes are another big part of his look. It's hard to find a picture where he's not wearing a flat-billed hat of some sort. Tyler is into skateboarding, and often wears skate shoes, Vans, and Converse All-Stars with athletic socks pulled over his ankles.
What I love most about Tyler's look is that he approaches style with reckless abandon. He mixes leopard print with tie-dye, baseball caps with collared shirts, and almost NEVER wears dressy clothes, even to award shows. He's never afraid to clash patterns or colors, and it all turns out looking amazing and artsy.
Outfit Inspiration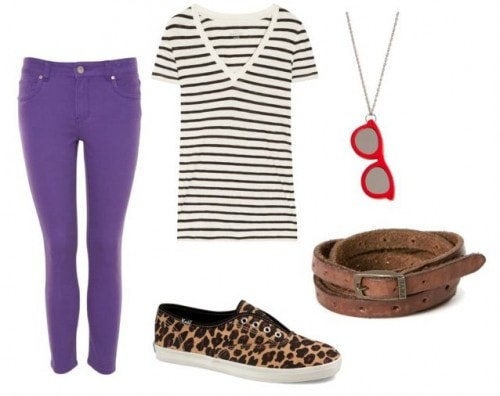 Pants, Shirt, Shoes, Bracelet, Necklace
This outfit is perfect if you just want a hint of Tyler's bold style. A striped shirt with purple jeans might seem tame, but amp up the style with a pair of leopard-print sneakers. Finish with a wrap bracelet and a cute necklace.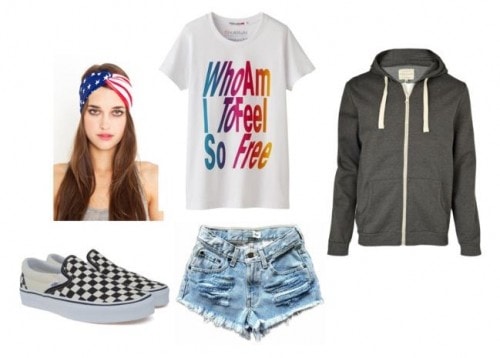 Shorts, Shirt, Hoodie, Turband, Shoes
This outfit is casual and fun, but the unique touches keep it from looking sloppy. A hoodie-and-tee combo can be boring, but channel an artsy vibe by pairing it with short shorts and a stylish turband. Finish with slip-on sneakers.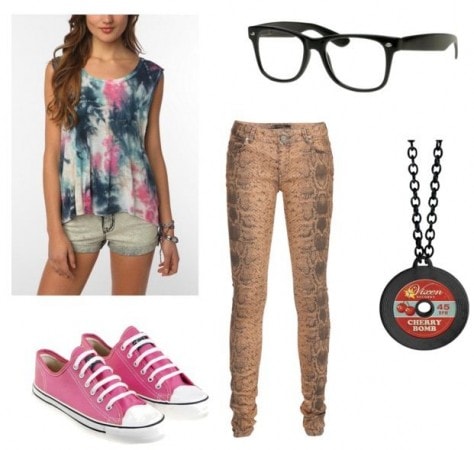 Shirt, Pants, Shoes, Glasses, Necklace
This look is really bold, but is also totally something Tyler, the Creator would approve of. A tie-dyed shirt is interesting on its own, but channel some of Tyler's style by pairing it with printed pants as well. Add your favorite Chuck Taylor's and a record necklace, and finish with some cool statement glasses (if you dare!).
What Do You Think?
Do you listen to any of Tyler, the Creator or Odd Future's music? What do you think of their music videos? What do you think about Tyler's style? Who else would you like to see CF cover? Leave a comment and tell us what you think!