This post may contain affiliate links, which means we may receive a commission if you purchase through our links. Please
read our full disclosure here
.
Going along with the recent spring trend of boho, '70s-inspired style, Birkenstock sandals have had a major resurgence. Once considered chunky and unflattering, they've now been embraced by fashionistas everywhere.
Versatile, trendy, and— of course— super-comfortable, they're a worthwhile addition to your wardrobe. However, they do have a price tag of around $100 or more, so if you're on a student budget, scroll down for some cheaper lookalikes.
Like the look of Birks, but don't know how to wear them? Here are three ways to wear these iconic sandals:
Look #1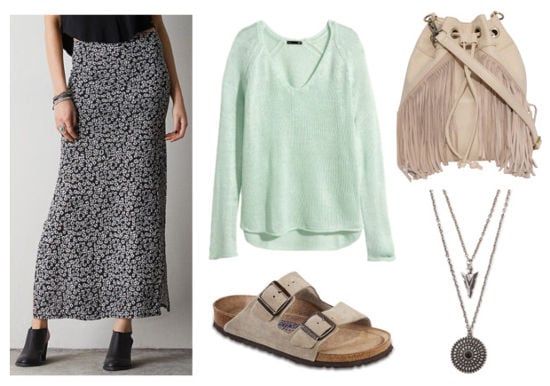 Products: Skirt | Sweater | Bag | Necklace | Sandals
This outfit is perfect if you're still in that winter-to-spring transitional phase. Start by pairing a floral maxi skirt with a lightweight, mint green sweater. Add a few trendy, boho touches, like a fringed bucket bag and medallion necklace. Finish the look by slipping on a pair of taupe-colored suede Birkenstocks.
Look #2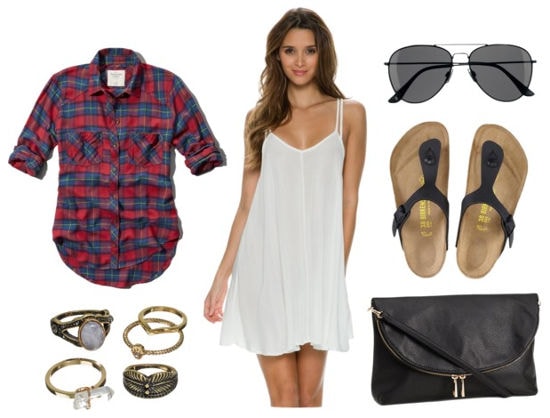 Products: Dress | Shirt | Bag | Sunglasses | Rings | Sandals
For a grungy ensemble that has a mix of masculine and feminine elements, start with a flowy slip dress, then tie a plaid flannel shirt around the waist. Add some edge with a black zippered bag and aviator sunglasses, then slip on your black Birkenstocks to keep the look casual. Lastly, stack several rings of different sizes and shapes for a bit of metallic sparkle.
Look #3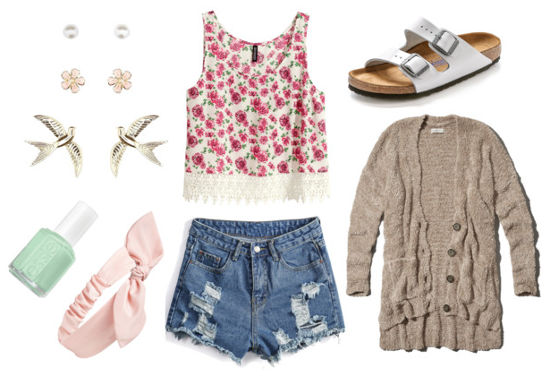 Products: Tank | Shorts | Cardigan | Earrings | Headband | Nail Polish | Sandals
For a girlier take on this casual sandal trend, pair your white patent leather Birkenstocks with a floral, lace-detailed tank and denim cut-offs. Layer on a neutral cardigan for chilly spring weather. Accesorize with feminine details, like a pink bow headband, charm earrings, and a pastel green nail polish.
5 Budget Birkenstock Lookalikes
Not ready to shell out $100 on a pair of sandals? Not to worry! Here are some cheaper alternatives to traditional Birkenstocks that will let you test-drive the trend without breaking the bank.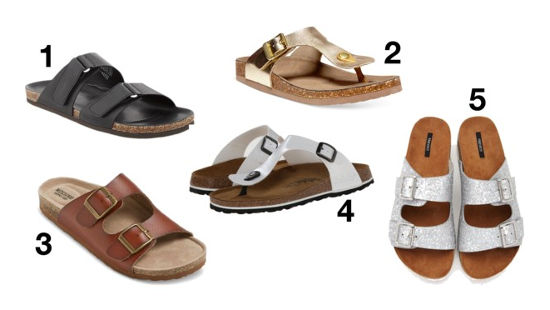 Products: 1. Old Navy, $25 | 2. Madden Girl via Macy's, $49 | 3. Target, $25 | 4. Betula by Birkenstock via 6pm, $50 | 5. Forever 21, $30
Thoughts?
Do you own a pair of Birkenstock-style sandals? What do you think of the trend? How would you wear them? Let us know your thoughts in the comments section!