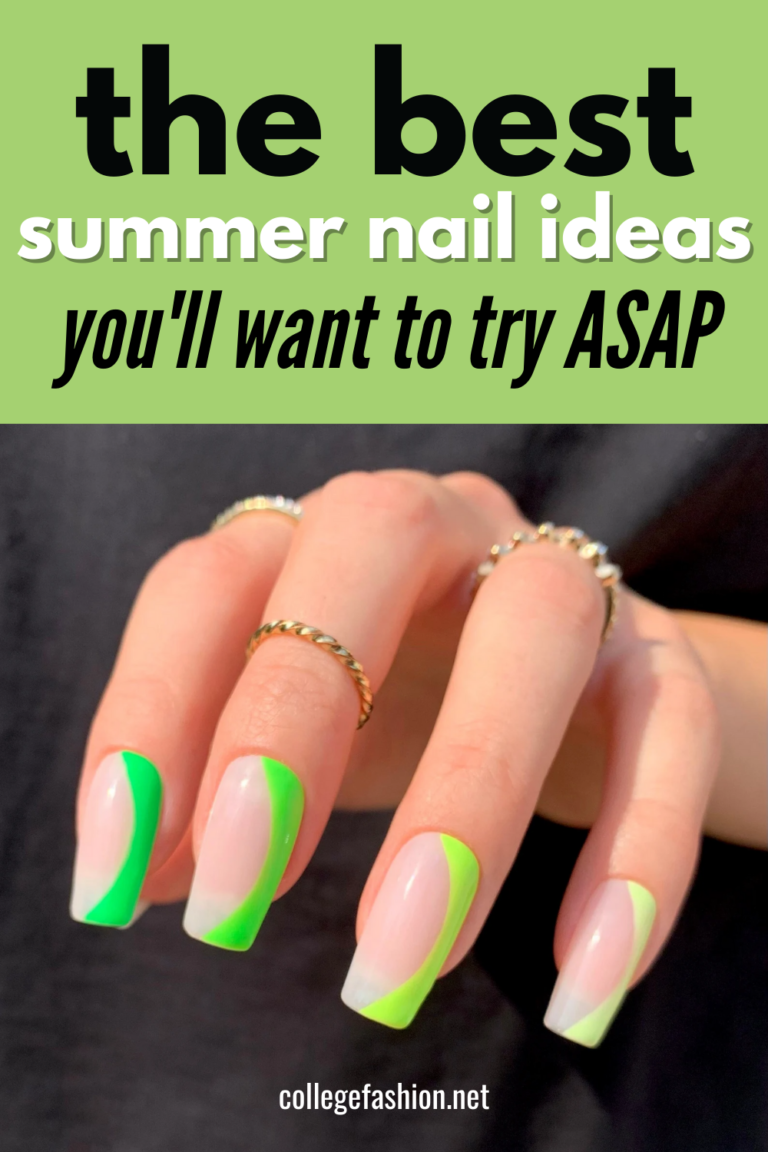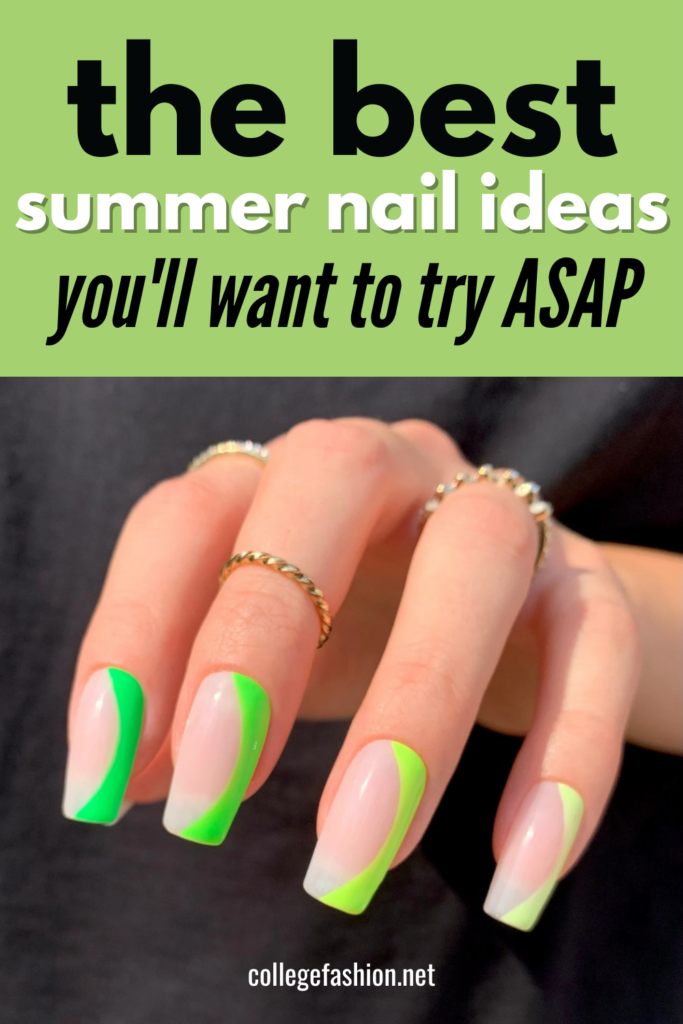 I know it's hard to believe, but summer will be here before we know it. And what better way to celebrate the new season than with cute nails to match?
We've already talked about the hottest spring nail ideas for 2023, and now it's time for all the summer nail ideas you need to get those "that girl" vibes.
Read on to check out the hottest summer nail ideas you'll want to try this year.
Related reading: The 20 Best Summer Toe Nail Designs to Spice Up Your Pedi
Cute Almond Nails Ideas for Summer
Peachy Flower Nails
Peachy nails go so well with a summer tan (real or faux), and I love these pretty peach french nails with multicolored flowers. They're a little retro yet they still feel modern thanks to the shape.
You could definitely DIY these at home or just pick up the set of press-ons to get the exact look in seconds.
Jelly Cloud Nails
I am obsessed with the look of jelly nails, particularly for the summer season! Something about the bright, transparent colors just screams summer vibes to me.
These blue jelly nails with cloud and star details are so pretty and are sure to turn heads!
Pretty in Pink and Orange Nails
Pink and orange is a classic summer color combo and it looks so fresh on these stunning abstract nails.
Swirl nails like these have been super trendy all year, and I love the idea of using two bold, summery colors to get the look. These would be a surprisingly easy DIY!
Related post: 15 Cutest Orange Nail Designs to Try
Rainbow French Nails in Round Shape
Rainbow nails have been another hot trend this year but I haven't seen them done quite like this before!
These pretty rainbow outline nails use ten (that's right, ten) different colors for a fresh, unexpected take on rainbow nails. You could DIY these if you have a ton of colors lying around, or just scoop up the press ons to get the exact look.
Related reading: 20 Gorgeous & Eye-Catching Rainbow Nail Ideas
Heart Nails
I love these retro swirl heart nails! They would honestly look amazing in any color but I'm taken with the bright purple and white combo. It would look so pretty with any summer outfit.
(Also, FYI: purple is one of the hottest nail polish colors to rock this year!)
70s Swirls
Here's another cool take on the retro swirl nails trend, this time with a decidedly '70s vibe.
These '70s daisy swirl nails combine a nude base with swipes of hot pink, peach, and white, with a yellow and white daisy accent nail.
These nails might be my favorite manicure on this whole list — they're perfectly done and look insanely expensive. (But they're actually press-ons!)
Star Nails
If you want to try a more neutral nail art look for summer, these white and silver star nails are a great option.
These would be so perfect for the Fourth of July! They're a cool girl take on the typical flag nails you see everywhere.
Summer Nail Art Designs
Summer Lilac & Glitter Swirl Nails
Pastel colors are another great manicure choice for the summer months. They look great on most skin tones and they're a more toned-down way to wear summer's bright colors.
These purple and white swirl nails with stars give off unicorn vibes but are totally wearable for any event you might have coming up.
Bright Orange Creamsicle Nails
There's nothing better than an orange creamsicle on a hot summer day, so why not channel this treat with your nails?
Orange is a quintessential summer color and it looks amazing swirled with white to make these marble coffin nails. So pretty and not too difficult to do!
Starry Summer Rhinestone Glitter Nails
Summer vacation is a great time to go all out with nails that might be too bold for the rest of the year. Case in point: These ultra glam starry summer rhinestone nails.
This is a stunning summer nail idea for any weddings or formal events you might have coming up. (These would also make incredible prom nails!)
Retro Summer Daisy Nails
Get all the retro surfer vibes with these '70s inspired daisy nails. They remind me of old school Roxy bathing suits and I couldn't love them more.
Bonus: These would be an amazing addition to any coconut girl outfits you might be trying this summer.
Minimalist Nail Art
If you want to rock some nail art this summer but you don't want to go crazy, these are the minimalist nails of your dreams.
It doesn't get more classic than white and nude for nails, and the best part is, these nails are press-ons that you can buy once and wear over and over.
Smiley Sakura Nails
While cherry blossom season takes place in the springtime, these Sakura nails would be so cute for summer!
This cool nail art design mixes swirls, stars, clouds, and cute sakura graphics for the brightest, most adorable manicure around. You're sure to get tons of compliments!
Butterflies
You can find butterfly nails in any color under the sun this year — they're a massive, insanely popular nail art trend right now.
While any color would look amazing in this style, I love these milky white butterfly nails. They would really set off a summer tan and they're neutral enough to look classic and classy.
Summer Acrylic Nails
Colorful Rainbow Vibes
Here's a super cute summer nail idea to try if you love bright colors!
These pretty multicolored coffin nails combine shades of green, orange, yellow, and neon pink into a cool watercolor pattern. The best part is, they're press-ons so you can get the exact look at home.
Purple Tones
As mentioned earlier, butterfly nails are a huge trend this year and the look works in any color you can imagine.
These super glam nails come in bright purple, so cute for summer! I especially love the rhinestone accents on the cuticle of the butterfly nails.
Bright Green Tips
Multicolored french nails are trending hard this year, and you can't go wrong with any version of this style.
For a unique, unexpected look, try this cool nail idea — these are square nails in nude with kelly green tips. They give off such a cool girl feel.
Acrylic Neon Green Nails
When you think "summer nail ideas," all over neon nails are probably the first style that pops into your head. This look is a perennial summer favorite and it's so much fun.
Want to give this look a try? You can't go wrong with these short coffin nails in matte highlighter green.
Pastel Rainbow
Can't decide which color to rock on your nails? Why not try them all?
These pastel rainbow tip nails combine all of your favorite shades into one cute yet simple nail art look. What's not to love?
Unicorn Nail Design
If you want to go bold, unicorn nails are still super trendy this year and they're perfect for summer, when crazy nails are the norm.
This is definitely a look you need to get at a salon, but check out the tutorial above to see how it's done on acrylic nails.
Orange "Fire Nails"
Here's another beautiful acrylic nails look for summer. It doesn't get hotter than "fire nails!"
The tutorial above shows a master nail artist at work creating these stunning nude to orange ombre flame effect nails. These would be an amazing choice for a girls weekend somewhere tropical, or anytime you want to majorly turn heads.
Summer Coffin Nails Ideas
Bright Ocean Summer Nails
Even if you don't live near a beach, you can pretend you do with these bright ocean summer nails.
This summer nail idea is really cool because it's a lot simpler than it looks — it's basically a marble technique done with blue polish on top of milky white nails. That said, if you don't have the nail DIY skills needed, you can pick up these exact nails as a set of press-ons.
Related post: The Cutest Beach Nail Designs for Summer (or Your Next Vacay!)
Neon Green Side Swoop Summer Nails
This simple yet stunning neon summer nail idea is one of my favorites of this entire list.
Instead of your typical french tip, this cool manicure flips the concept on its side (literally), using different shades of neon polish to create swoop shapes on the edge of each nail.
This would be simple to DIY with some french manicure guide stickers but I recommend you buy these beautiful press-ons to make it super easy on yourself — they're absolutely stunning! (The artist, PaulinaNailedIt, has a ton of other beautiful designs in her Etsy shop, too.)
Pink and White Swirl Coffin Nails
Abstract squiggle nails are another popular manicure trend this year. We typically see them done in black and white, but this pale pink and white version is so cute!
This nail idea would be perfect for a summer wedding or event, or to rock daily if you have a girly sense of style.
Pink Summer Gradient Matte Nails
Here's another take on pink nails that's super simple, yet still bold and interesting.
This pink gradient ombre matte manicure uses a variety of pink, red, and lavender shades for a beautiful look that gives off a sunset kind of vibe.
Don't want the length of the press-ons? You could definitely DIY these at home with your favorite pink and red nail polishes and a good matte top coat.
Peachy Summer Coffin Nails
A simple peachy pink manicure is summer's take on classic pink nails. A warm, peachy pink looks great on most skin tones in the summer, especially so for those with olive, tan, or dark skin.
I particularly love these peachy pink coffin nails because they look so modern — definitely not your grandma's pink nails!
Neon Edge French Coffin Nails
This summer nail idea is another great example of a way to wear neon nails.
This milky white and neon yellow mani includes a mix of outlined and v-shaped french nails for a look that's anything but basic. Scoop up the press-ons here for less than the cost of a salon visit!
Rainbow Holographic Coffin Nails
If you want to DIY some showstopping summer nails at home, this gorgeous rainbow holographic nail polish is a must-buy.
The shade, called "Chasing Rainbows" from Polish Me Silly, is a true holographic silver chrome that is absolutely mesmerizing in sunlight. With so many positive reviews, this polish is the real deal — it will make your nails look like sparkling rainbows.
Summer Short Nails Designs
Cute Beach Nails
If you want a super easy way to add a little nail art to your mani this summer, look no further than this peel and stick beach nail art kit!
The kit comes with five unique designs — a hammock and palm trees, flip flops, a crab, a sun, and an anchor — and you can just peel them and stick them to your nails. Best part is, you can get super creative with these by switching up your base color or the placement of the stickers.
Summer Bright Short Nails
This beautiful little summer manicure reminds me of rainbow sherbet, with a mix of pastel pink, orange, green, and blue offset by stark white.
You could attempt this nail look as a DIY, or it's available as a set of short press-ons to give you the look in minutes. No one will know you are wearing fake nails!
Glitter Madness Summer Nails
I love a good glitter polish in the summer months, and it doesn't get more fun than this confetti polish from Glimmer By Erica.
Described as a "glitterbomb of epic proportions," this bright, glittery polish is so much fun and the perfect way to celebrate the summer season. This would be super cute for a birthday party or bachelorette weekend!
Pearly Mint Square Nails
These pearly mint square nails give me total mermaid vibes — perfect for the summer!
To get this look, the polish you need is "Mint to Be" by Polish Me Silly. It's a solid satin mint green polish that's 5-free and looks so beautiful when it catches the light. Plus, it's handmade by a small business owner!
Related reading: The 20 Cutest Square Nail Ideas to Try This Year
Watermelon Sugar Nail Art
Pay tribute to our favorite summer fruit (and Harry Styles song) by doing watermelon nails this summer.
These cute nail wraps feature watermelon seeds and slices, plus white stripes, on a pale pink background. So cute and so easy to apply!
Nautical Nails
While researching for this post, I found that there are a LOT of cheesy nautical manicures out there. This one, however, is a chic take on those nautical vibes.
To get this look, you need the wave-shaped nail strips seen above. First, apply white polish to your whole nail and let dry. Then, apply the nail strips and cover with a thin layer of pigmented blue polish. Pull the strips off while your blue polish is still wet, and let dry.
Beach Nails
How cute are these beach nails? The combination of teal blue polish with white "foam" and gold glitter "sand" makes for such a unique nail art idea.
Believe it or not, these are actually nail wraps, so you can apply them in minutes to get this exact look. You could also attempt this as a DIY if you're skilled at nail art.
Mermaid Scale Nails
If you want to feel like a literal mermaid this summer, you have to try this super cute mermaid scales manicure.
To get this look, just pick up the set of nail wraps on Etsy — no nail art skills required!
What do you think of these summer nail ideas?
Do you like to switch up your nails for the summer? Do you gravitate toward bright colors in summer or do you prefer neutrals? Tell me what you think in the comments section down below.