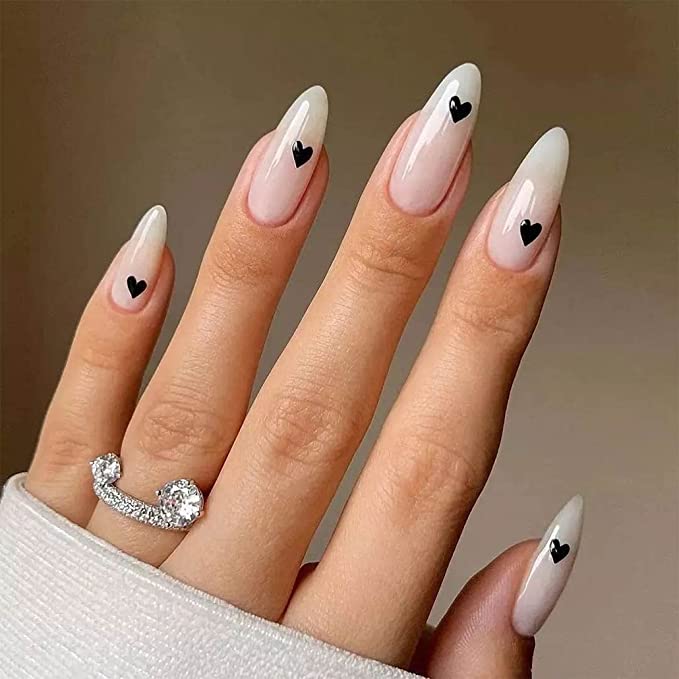 Have you been looking for some simple nail ideas that you can do at home? If so, this post will show you all you need to know about getting the perfect simple nail design that you will love!
Nail designs can be challenging, especially if you are trying to do them on your own nails, but don't worry because there are still plenty of super cute nail designs you can do if you are a beginner at nails.
Tips for Doing Simple Nail Designs:
Decide on your nail length and shape. Be realistic about how you like to wear your nails! If your nails are constantly breaking, keep them short. If you need the length to feel like yourself, consider starting with a press-on or long natural nail. Below, I've featured various simple nail ideas that will work for different nail lengths and shapes.
Choose a design with 1-2 colors. You don't have to go crazy to have a beautiful nail design. Start small with a couple of shades and go from there.
Consider doing one statement nail and the rest solid colored. Most of the ideas below can be adapted to a statement nail look, where you only do the design on one nail (usually your ring finger). This is a great way to start out doing nail art if you want to practice your skills and don't want something too overwhelming.
If you need some help thinking of some simple nail looks, this post will show you 12 different simple nail ideas that will look good on both short and long nails!
Short Simple Nail Ideas
1. Swirl Nails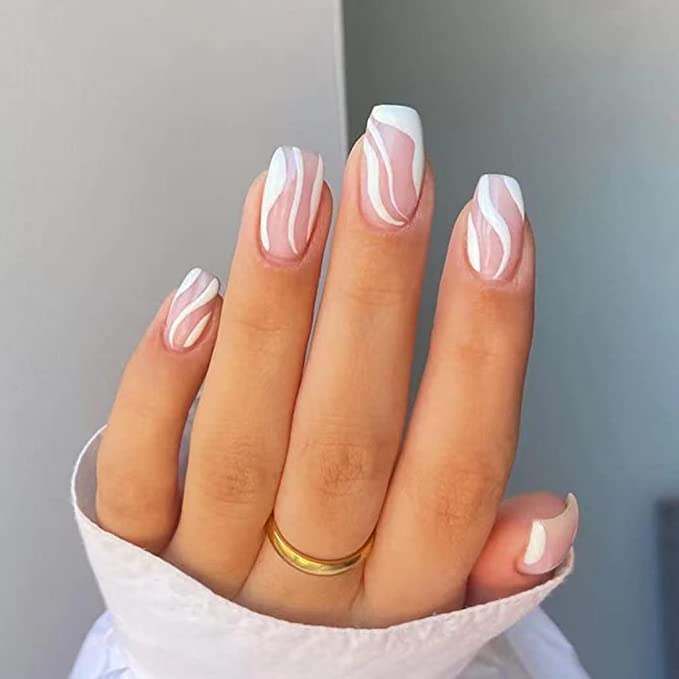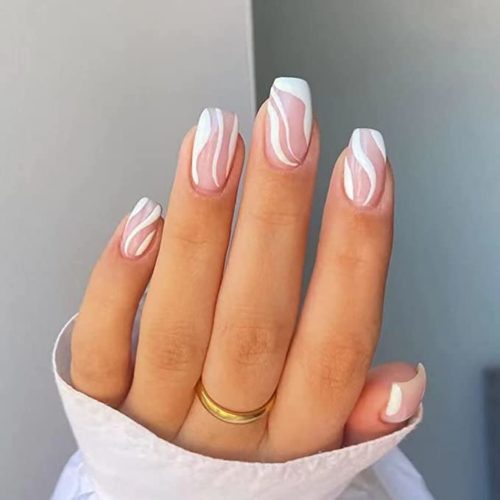 Swirl nails are not only trendy but also an excellent simple nail design that you can do yourself.
At first glance, swirl nails may seem difficult to recreate, but they are actually pretty easy and perfect for beginners.
This is because, with swirl nails, you can do whatever kind of design you want. All you need is your favorite nail polish color and a nail detail brush (this affordable nail brush set from Amazon is our fave!) to paint on whatever kind of swirl nail look you are going for. The more abstract, the better.
2. Floral Nails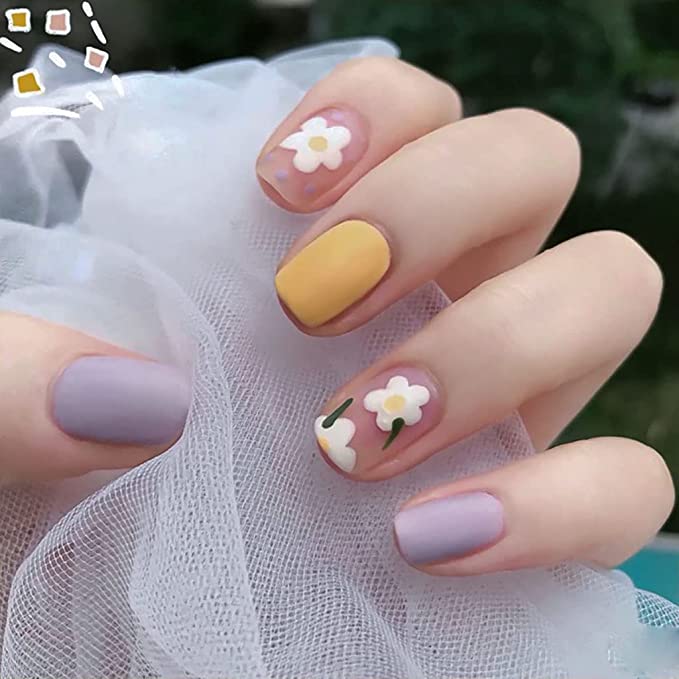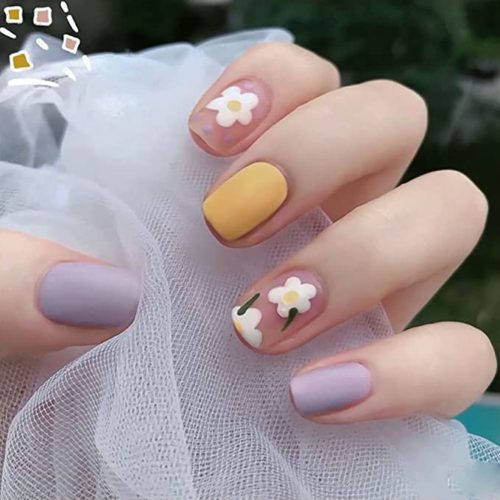 Another beautiful and simple nail idea for those of us who want something girly is a floral nail design.
Floral nails are also easy to do at home, especially if you try out this floral nail design. For this look, you will want to get a nail dotting pen to create the flowers. (Our fave nail art set comes with a dotting pen, btw.)
This will make it super easy to recreate this look on your own nails! (Alternatively, you could also go the easier route and purchase these press-on floral nails.)
3. Simple Glossy Nails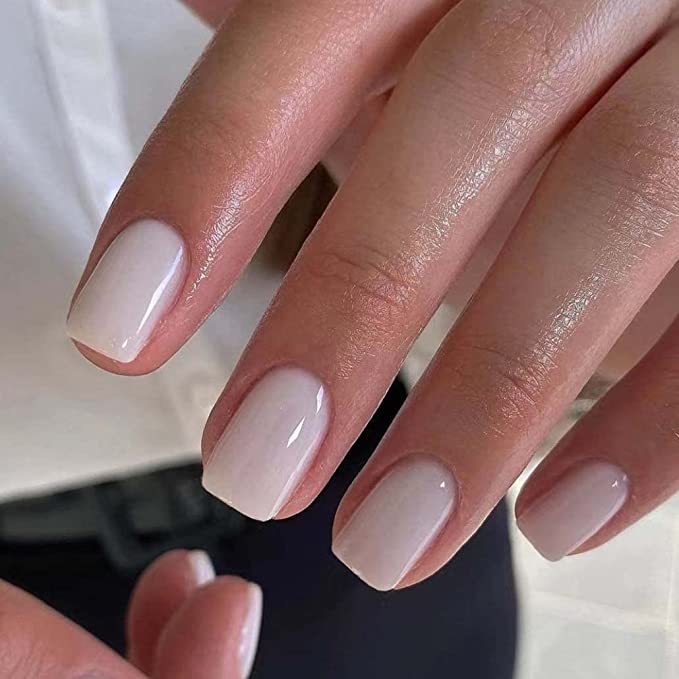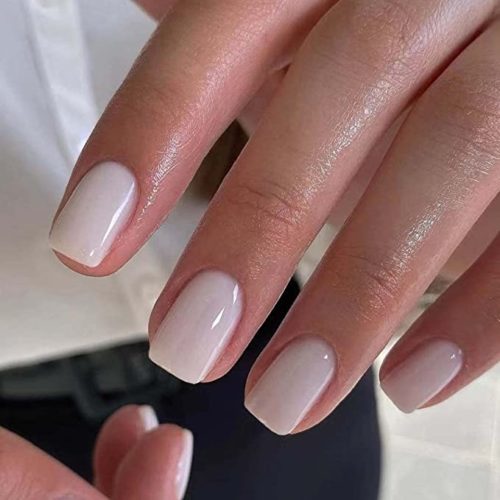 Simple nail looks are trendy recently because of the "clean girl" and "glazed donut nails" trends on TikTok. So, this will be perfect if you are trying to get a simple nail look or design at home!
One of the easiest trendy nail looks you can do is this simple glossy look. All you need is a light neutral nail polish shade to paint your nails with, and you will have this look in no time! (I love OPI Funny Bunny for this look.)
4. French Tip Design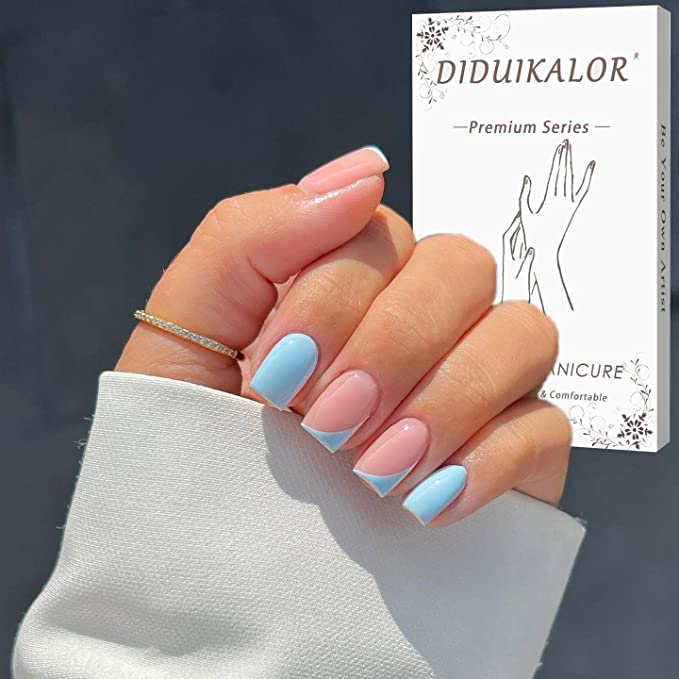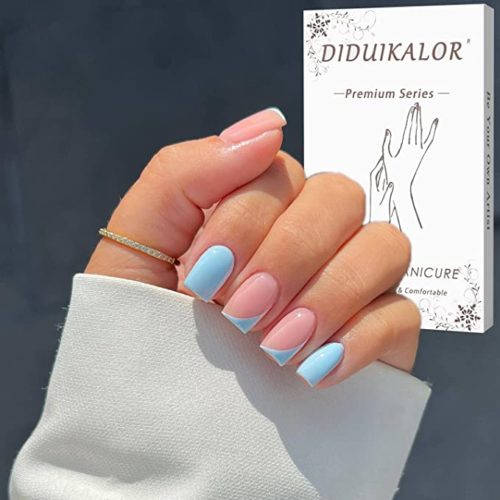 If you like to do French nails, but you want to try something different, this half French nail look will be perfect for you!
The classic French manicure inspires this look, but instead of doing French tips, you do one side of the French tip to create this kind of abstract French tip design.
This is also a very easy look to recreate at home, and you won't need to buy any tools to create this design.
All you'll need is the nail polish color of your choice and some french nail stickers or scotch tape to create your line, and you'll be able to create a look exactly like this one!
Simple Almond Nail Ideas
5. Glitter Almond Nails
If you want to do a simple nail look but want to add some glitter to your nails, you will love this look!
When recreating this look, I highly recommend doing almond-shaped nails because it looks great with this type of look, as shown in this video. (Note that the video uses dip powder but you can do this look with regular polish.)
Also, for this look, you will want to make sure that you have a base coat color and some sparkly nail polish (this shade from Amazon is stunning) to make your nails really stand out with some glitter!
6. Simple Abstract Nails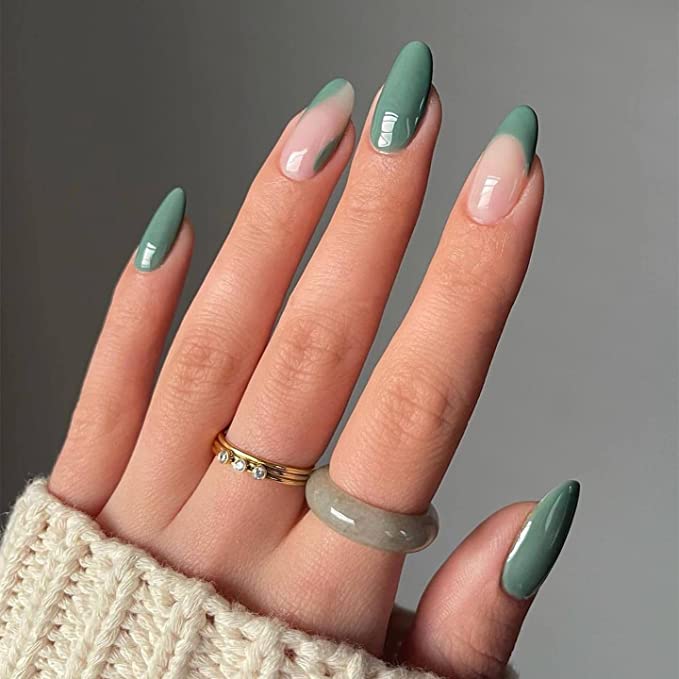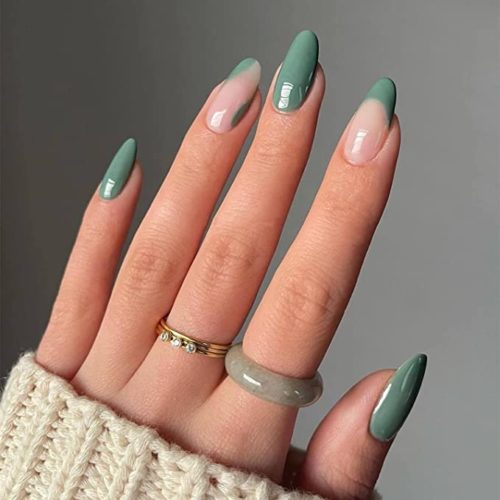 Abstract nail designs are among the best nail looks to DIY because you can be as creative or minimal as you want. And you can get creative with the nail polish colors that you use!
For example, this abstract nail design uses a gorgeous green color to create a fun but simple nail look that you can easily recreate at home.
Or, you can also save yourself some time and purchase these press-on abstract nails to get the exact look.
7. Mini French Tips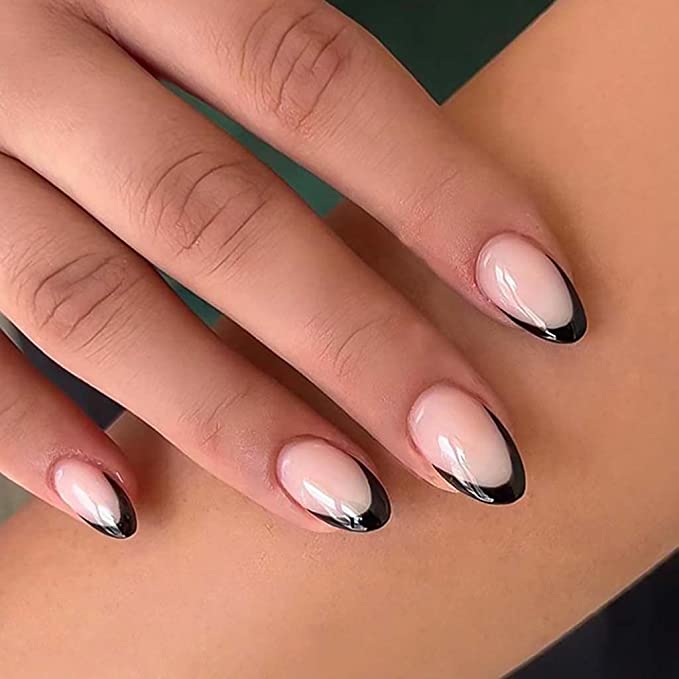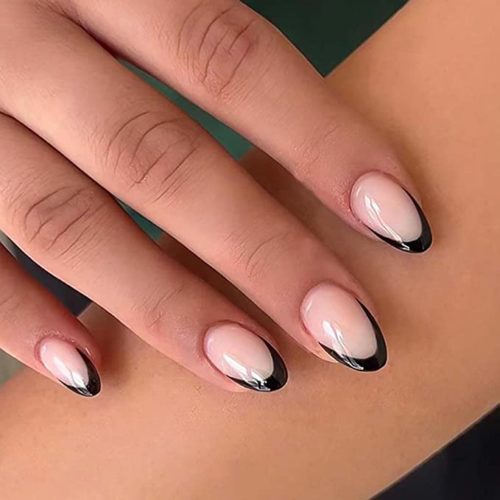 Another super cute and simple nail look for shorter nails is this mini French nail look! This look is adorable if you have almond-shaped nails.
What is also fun about this look is you can use any color that you want to paint on your French tips. For example, instead of using white, you could try this black french tips look. The secret to a perfect french nail every time is these nail guide stickers — they're game changers.
You can also make doing your nails easier by purchasing these press-on French nails!
Simple Long Nail Ideas
8. Ombre Nails
Of course, another one of my go-to simple nail looks would have to be ombre nails! Ombre nails are always in style and they're so pretty and classy.
So, if you adore this look, why not try to recreate it at home? Just check out this video tutorial to see exactly how to do the ombre nail look on your own nails with pink and white nail polish!
9. Butterfly Nails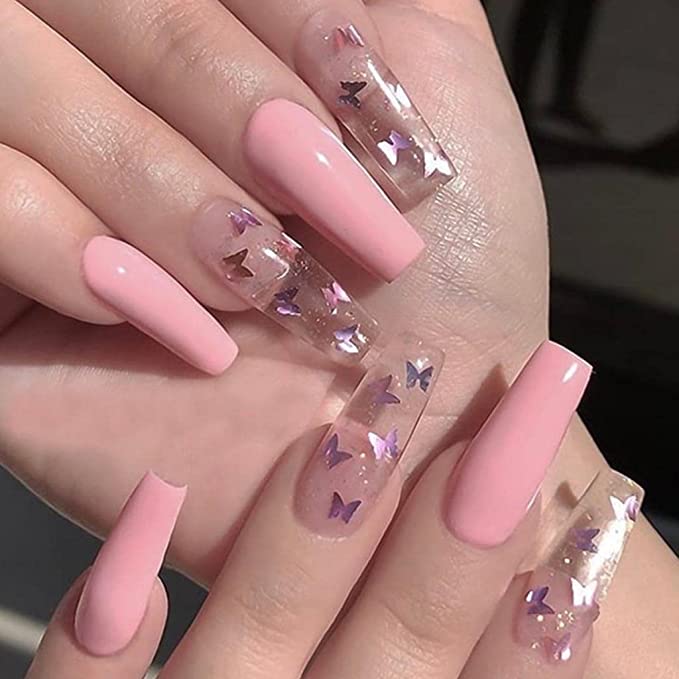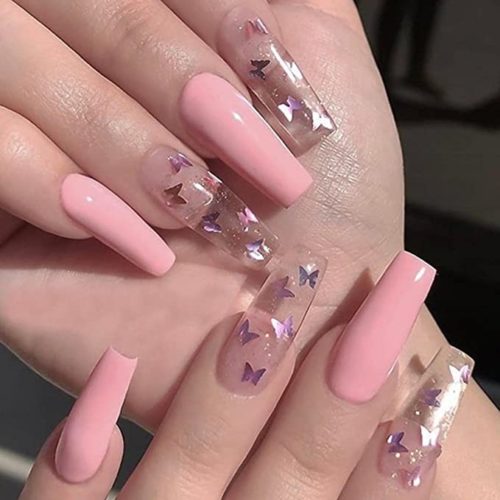 Another easy way to create a simple design on your nails is to use nail accessories like butterfly stickers!
For these kinds of looks, you won't have to worry about drawing on your designs. Instead, all you have to do is paint your nails with a base coat color and just add on some super cute holographic butterfly nail flakes, then seal with a clear top coat.
And, if you want this exact look, you can also purchase these exact press-on butterfly nails that will give you a super cute pink simple nail look!
10. Rhinestone French Nails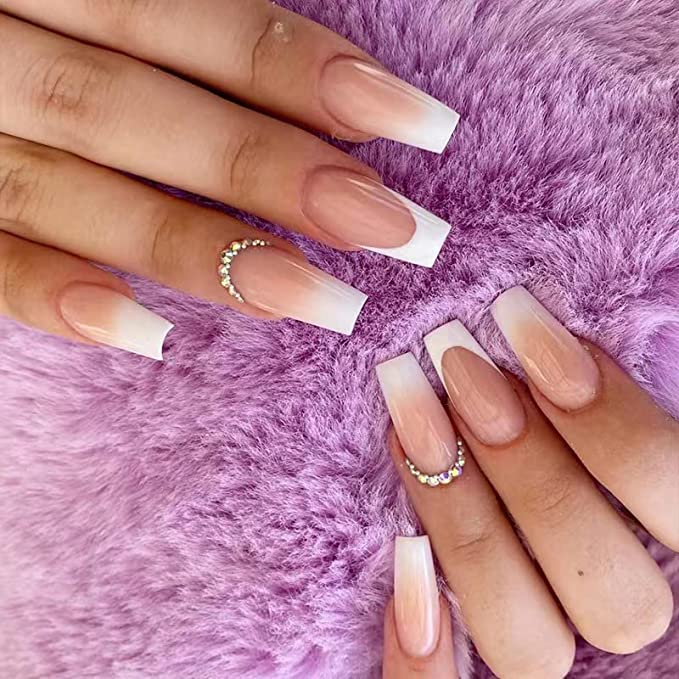 Another great simple nail look you should try is French nails with rhinestones. Adding rhinestones to your nails is super easy and it will allow you to create some fun sparkly designs on your nails!
When you use rhinestones on your nails, you can place them wherever you want. For example, you could try to recreate this look by putting rhinestones at the base of your nail. You just need some nail rhinestones and adhesive. (The set I linked comes with both.)
This will give you a simple yet glamorous nail look that you will love!
11. Gold Foil Nails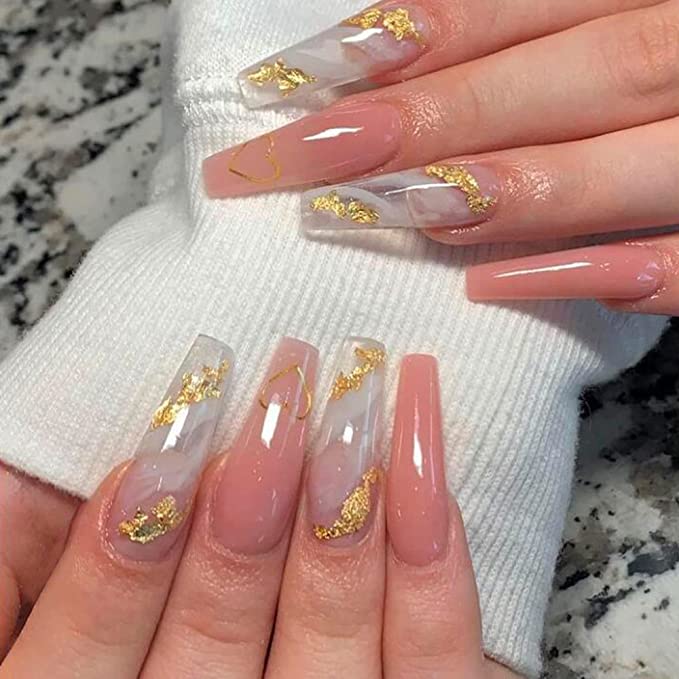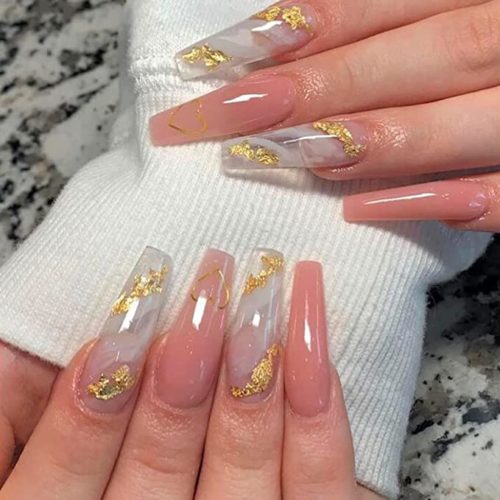 If you like gold and silver nail looks, good news: you can create so many simple nail designs using these colors.
For example, you could try out this gold foil nail look. This look is pretty simple to recreate at home because you only need a base coat color and some gold foil. (You can buy a big set of gold leaf flakes on Amazon for less than $7.)
So, the next time you want a simple nail look, I recommend trying out this gold foil nail look to make your nails stand out!
12. Aesthetic Nail Art
If you are obsessed with Pinterest like me, you have probably seen all the super cute simple nail art looks on Pinterest.
You will need a nail detail brush to achieve most of the looks above (again, this is the brush set we love), but she lays out what she does step by step to make it super simple. You can totally do this!
Which simple nail idea from this list are you are excited to try?
Have you ever done nail designs on your own nail before? What are your favorite types of designs to create?