We've been breaking down our list of 16 classic fashion icons everyone should know. Last week, we took things back to the 1920s and covered dancer-activist extraordinaire Josephine Baker.
This week, we're hopping over to France to talk about one of the most famous models and actresses in Europe… Brigitte Bardot!
All About Brigitte
J'adore B.B
Brigitte was born in 1934 in Paris, France. Her family nicknamed her "B.B." because of her initials. The moniker stuck, and fans and writers alike still use it to describe the fashion icon.
Just like American rival Marilyn Monroe, the blonde bombshell was born a brunette. She dyed her hair for a movie role and loved it so she kept it up for the rest of her career.
Her mom encouraged her to get involved with music and dance. She trained in ballet for many years and was a skilled ballerina, even being accepted to the Conservatoire de Paris.
But she soon quit ballet and was discovered as a model. Her first major appearance was on the cover of Elle magazine at just 15 years old!
A Life of Glamour
Brigitte's successful modeling career opened the doors to other glamorous avenues like acting and singing.
Bardot was adored for her "sex kitten" style and beauty. In fact, the term "sex kitten" was created to describe her! She offered a youthful alternative to the very formal and mature fashion of the era.
She appeared in over 40 films during her acting career, which lasted more than 20 years.
Her many whirlwind romances with several well-to-do men of the time fueled the tabloid fever around the starlet, who was one of the most famous and sought-after women around. She's been married four times.
Apparently, Bob Dylan dedicated his first song to her, and John Lennon considered her to be the perfect woman.
Retired Life
In 1973, Brigitte announced her retirement from entertainment. She secluded herself from the limelight and chose to focus her efforts on animal rights activism.
She has supported several animal rights charities and movements, even founding The Brigitte Bardot Foundation for the Welfare and Protection of Animals.
Brigitte's outstanding work has contributed to government bans on fur and ivory products.
However, in recent years, Bardot has become something of a controversial figure. She has been fined five times for "inciting racial hatred," and has criticized the "Me Too" movement.
But back in the day, Brigitte had a super modern approach to sexuality and femininity. She inspired a generation of women with her young, empowered, sexy style.
So let's take a look at how we can copy that powerful, sensual sense of fashion that captivated magazine covers so many decades ago.
Fashion Inspired by Brigitte Bardot
Brigitte was the definition of an it-girl. With her songs on the radio, movies in the theaters, and pictures on the cover of countless magazines, Bardot-mania was real. Young women everywhere aspired to dress just like the French superstar.
Her outfits were figure-flattering and feminine but always had a youthful edge. Her bouffant hairstyle was just tousled enough to look sexy without looking messy. She created an image that even today's celebrities frequently copy.
Teeny Tiny Dress
The teeny-tiny dress was a Bardot must-have. She loved showing off her long, toned legs by wearing them with heels or knee-high boots. Whether with a slip dress or turtleneck, she kept things short and sweet!
Today, you're in luck because slip dresses have made a major comeback. They make for an effortlessly sexy ensemble that's cool but casual.
The dresses themselves were simple, which helped to take away some of the shock of how short they were and gave her plenty of room to accessorize.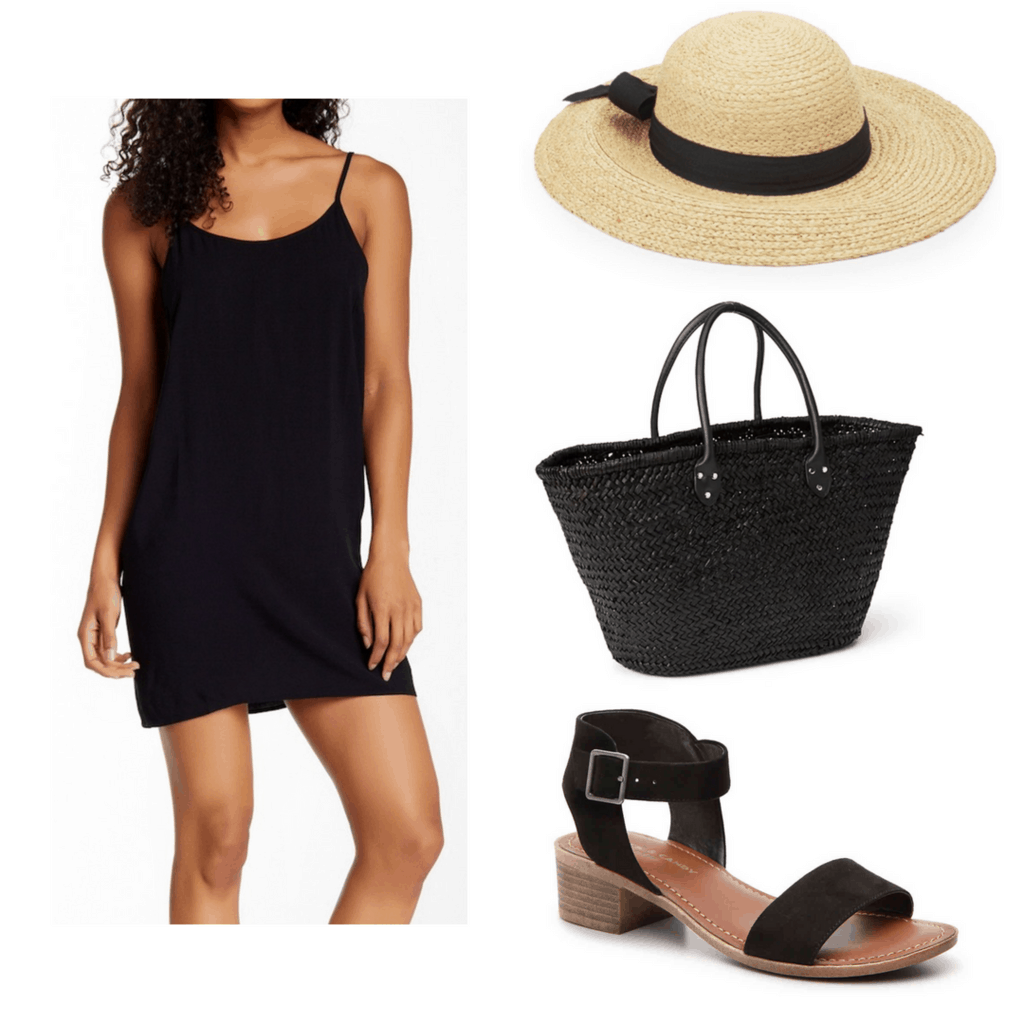 Products: Dress – Nordstrom Rack, Hat – Saks Off 5th, Bag – Gap, Shoes – DSW
I've gone for a laid-back daytime Brigitte look. A sandal with a just a small heel will elongate your legs for that supermodel silhouette but still be comfortable enough to walk around in all day. Paired with some beachy accessories, you can turn a plain short slip dress into a totally chic lunch date look.
Alternatively, you could pair a plain slip dress with knee-high boots and throw on something like a denim or bomber jacket for a completely different outfit. Trade in the sun hat for some statement earrings and a simple choker to transform the same basic piece into a night look.
Too Cute Two-Piece
This is the kind of adorable, ultra-modern '60s set I'm talking about! More stylish than a dress, but way more convenient than a romper (we all know the struggle of using the ladies' room in one of those), a matching two-piece is easily the most fashionable happy medium.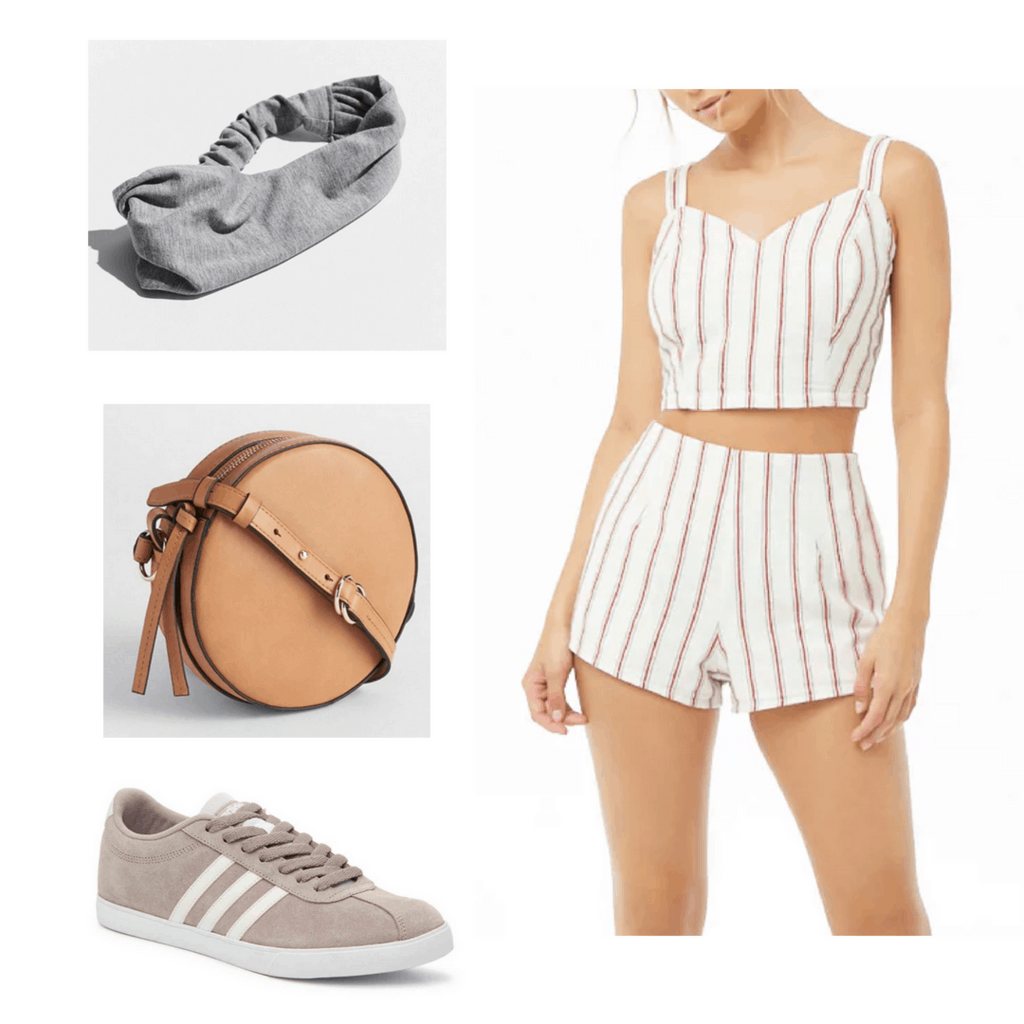 Products: Shorts – Forever 21, Top – Forever 21, Shoes – DSW, Headband – Urban Outfitters, Bag – Gap
Brigitte loved highlighting her small waistline. But the cool thing about finding your perfect two-piece set is that you can find one that leaves as large or as little a gap as you'd like. It's a universally flattering concept that looks timeless on all shapes and sizes.
Tip: If you stick to a basic solid color set, you don't have to buy both pieces from one store. Find plain shorts that fit you just right and keep looking for the right top in the same color.
Classic Silhouette
Brigitte donned dozens of famous costumes during her acting career. Some of my favorites are those that feature the classic retro shape of a flared midi skirt drawn in with a belted waist. By the '60s, we'd outgrown the poodle skirt but not yet the hourglass.
Anyone can look amazing in a retro belted waist, and there are so many ways to do it. The top doesn't have to be fitted, the bottoms don't have to flare.
A belt adds dimension to an ensemble and creates a division between two distinct pieces. For the adventurous fashionistas out there, you can play around with contrasting patterns and colors. Or you could keep things simple and go for classic combos, like black and white or solid and pattern.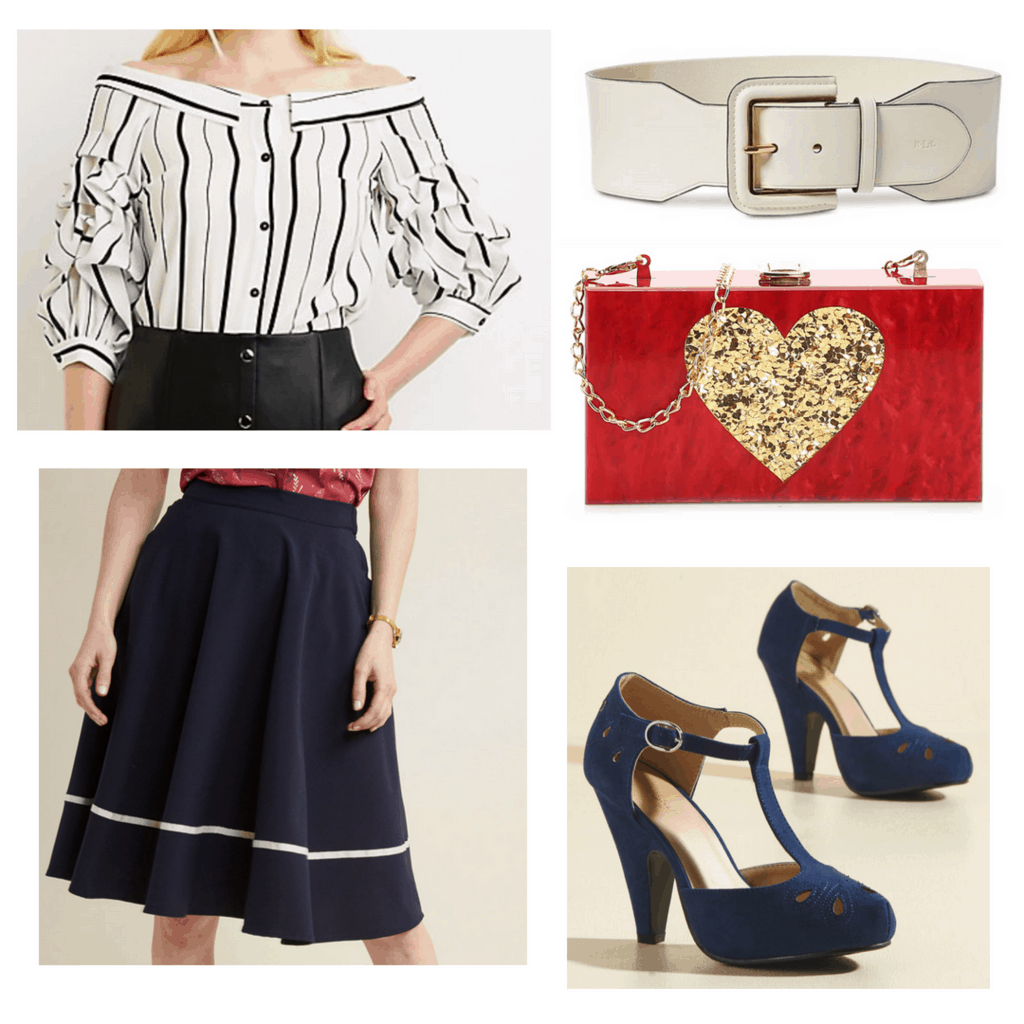 Products: Top – Charlotte Russe, Skirt – Modcloth, Belt – Macy's, Bag – DSW, Shoes – Modcloth
You can't go wrong with stripes! This look is basically the oldest trick in the book, so spice things up with accents like pops-of-color or novelty jewelry. You can get creative with your bag by trying a box-shaped handbag or something clear. These are modern shapes and styles that will contrast well.
You might also forgo the traditional retro heels for something more modern. We've all seen this look before, so find something that makes it your own!
Will you be channeling Brigitte Bardot?
Will we see you rocking Brigitte's classic hairstyle? Are you pulling out your short-shorts and knee-high boots? Let us know in the comments!
For more information on Brigitte Bardot, check out these sources:
Allmusic.com Brigitte Bardot
Biography.com Brigitte Bardot
France Today "All About Brigitte Bardot"
IMDb Brigitte Bardot
Independent "Chic, unique: Why Brigitte Bardot is back in vogue"
The Guardian "Brigitte Bardot: sexual harassment protesters are 'hypocritical' and 'ridiculous'"
TV Guide Brigitte Bardot Biography
Wikipedia Brigitte Bardot